In the 2007 remake, Russell Crowe is a badass captured outlaw and Christian Bale is a small time rancher who agrees to escort Crowe on the 3:10 train to Yuma for trial.
In the 2019 version, Eric is a badass RV driver and Sheri is a willing accomplice who are on an I-8, 3 hour and 10 minute race to Yuma Proving Grounds to capture the last no-reservation-partial-hook-up site before another RV racer gets there first.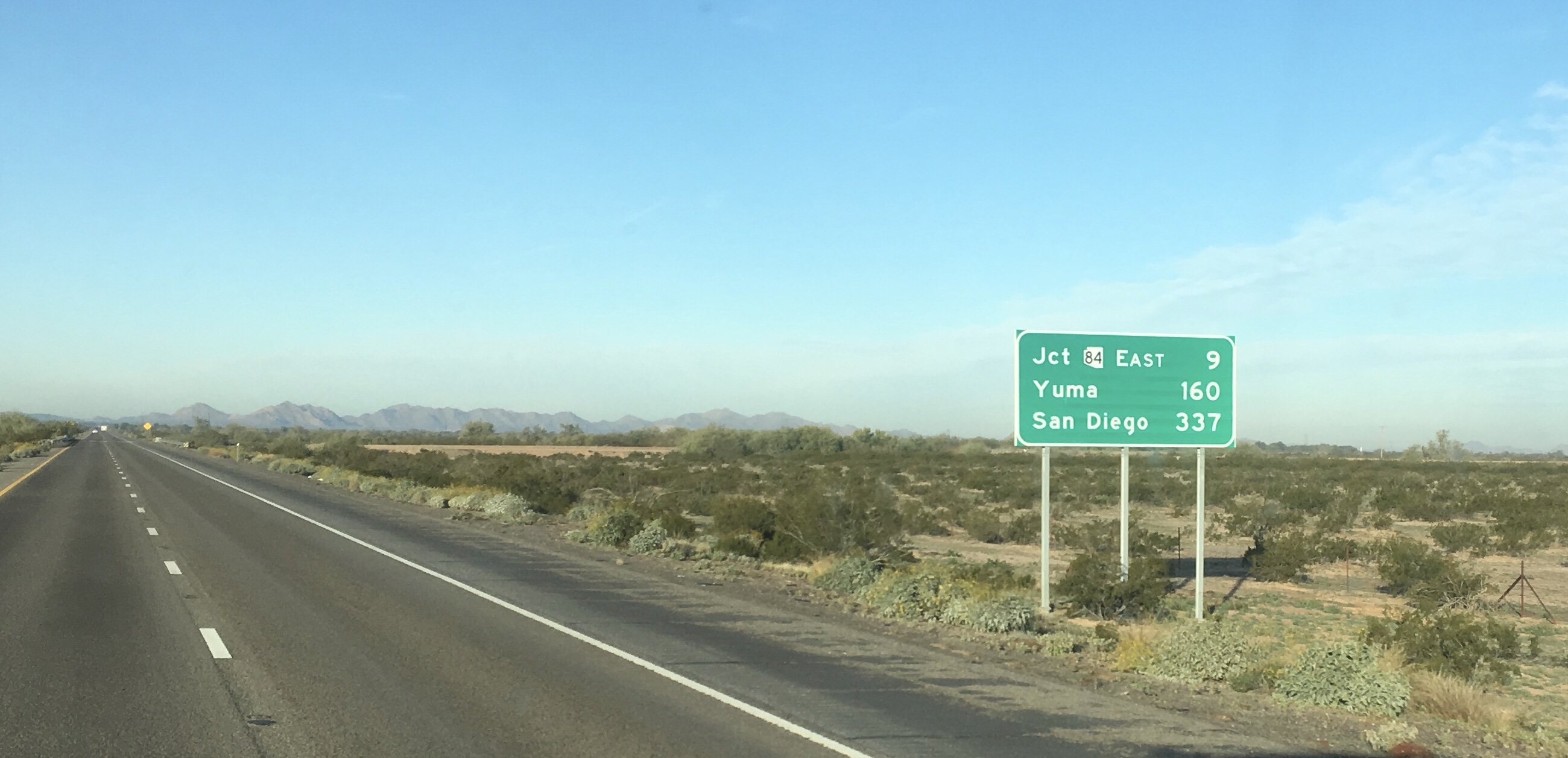 The route from Picacho to Yuma looks like this picture most of the way – no traffic and desert scrub. With the radio on scan, we sang our way through the decades and genres and had a hearty laugh when both of us knew all the words to 1984's Cruel Summer. Bananarama!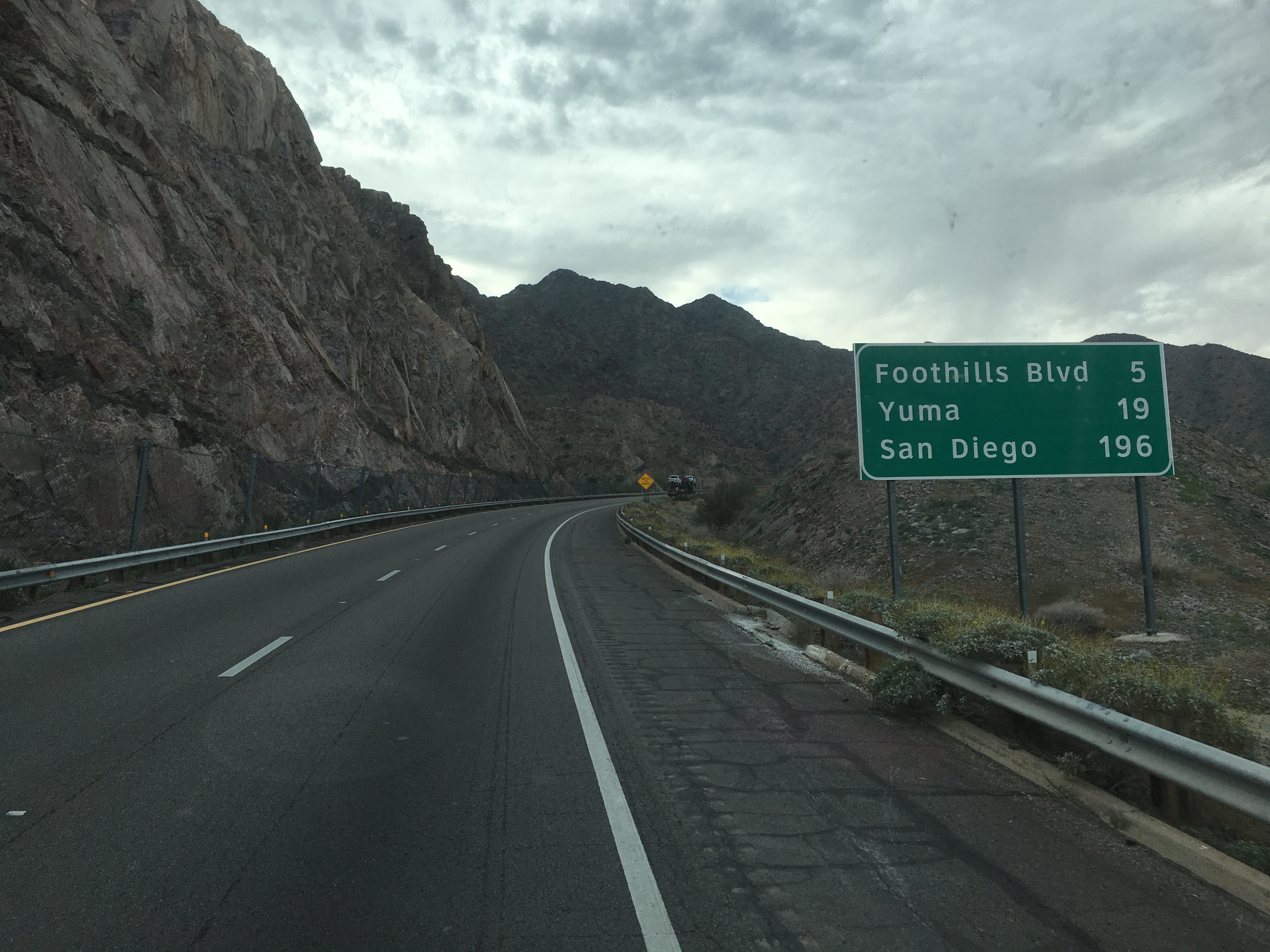 Twenty miles out, the clouds came in at the mountain pass. Sheri called the weekend camp host Nick who said the spot was still available so Eric hit the gas accelerating from 55 mph to 58 mph. Besides a place to sleep, there were NFL playoff games to watch.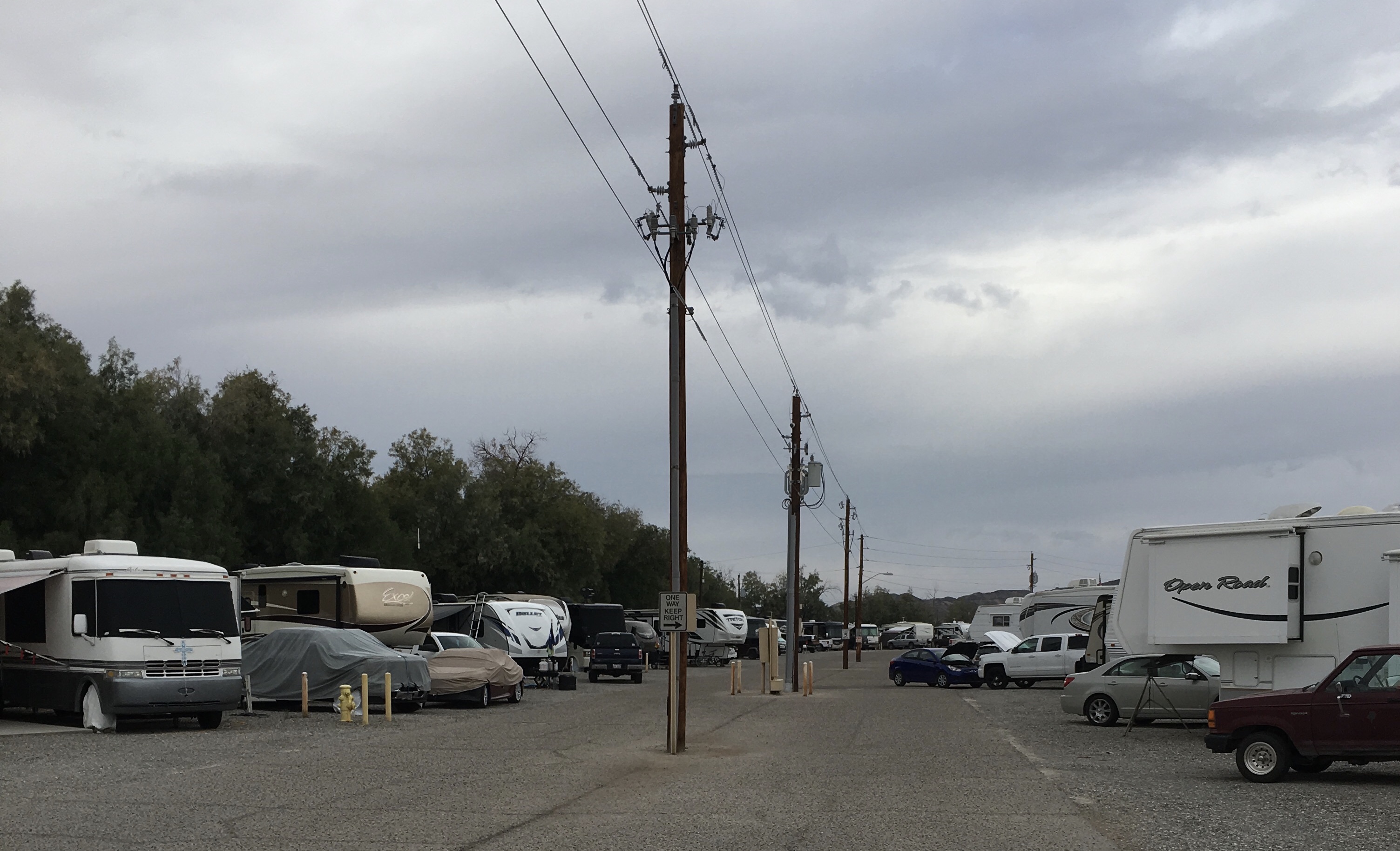 For $20 bucks a night, or $3,000 a year, you can live at the Desert Breeze Travel Camp. You'll be living on desert hard-pack, 15 feet from your neighbor, but you will have great amenities like a Rec Room with TV viewing room, pool tables/ping pong/cards/socializing room and a computer center with 4 desktops and free WiFi. Full laundry, bathhouse and car/RV wash station keeps everything clean.
Desert Breeze sits inside the gates of the Army's Yuma Proving Grounds. The isolated base maintains a nice commissary, fitness center, gas station, etc., for the army personnel lucky enough to be stationed here. These are valuable resources for the RV'ers as civilization is 30 miles by car.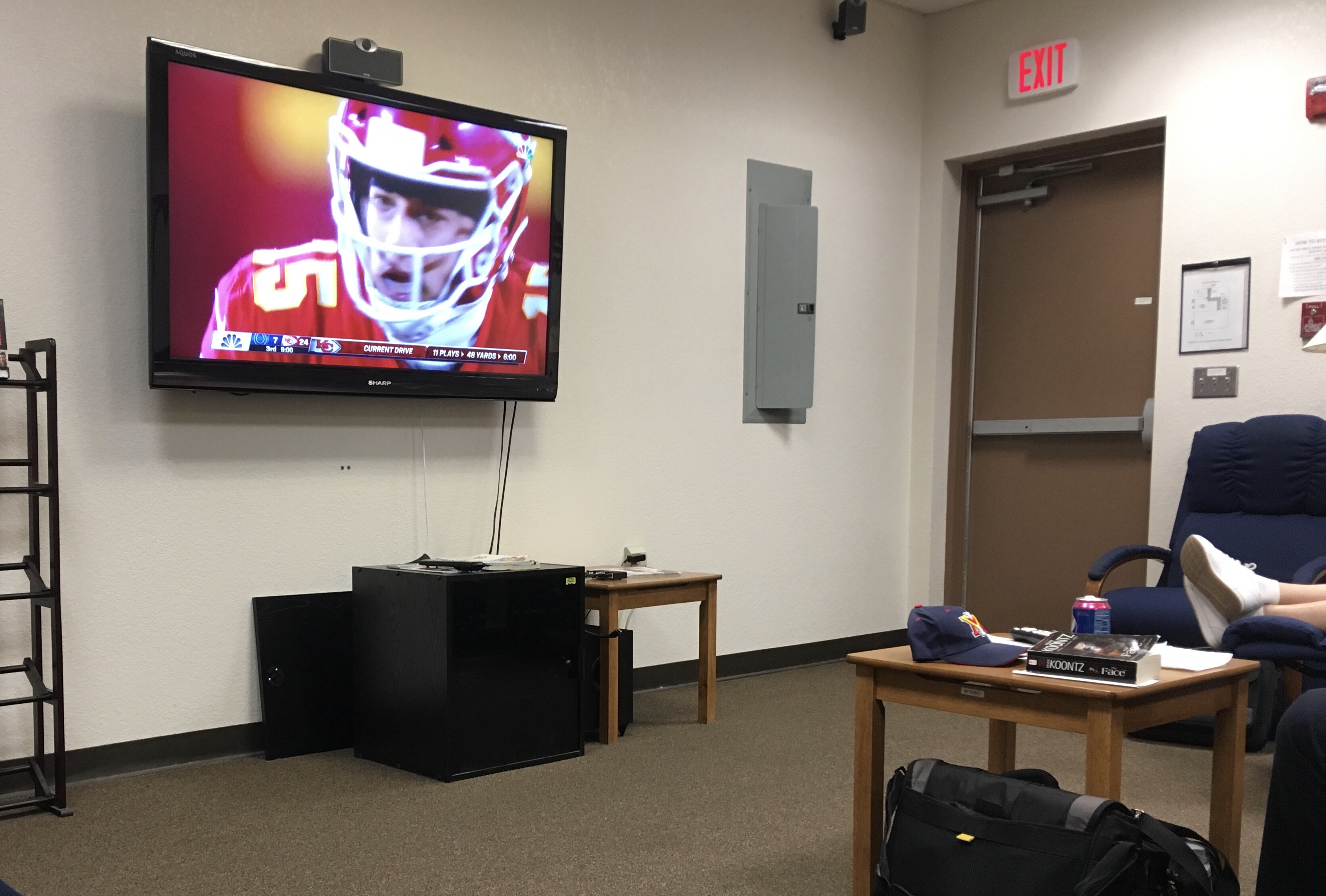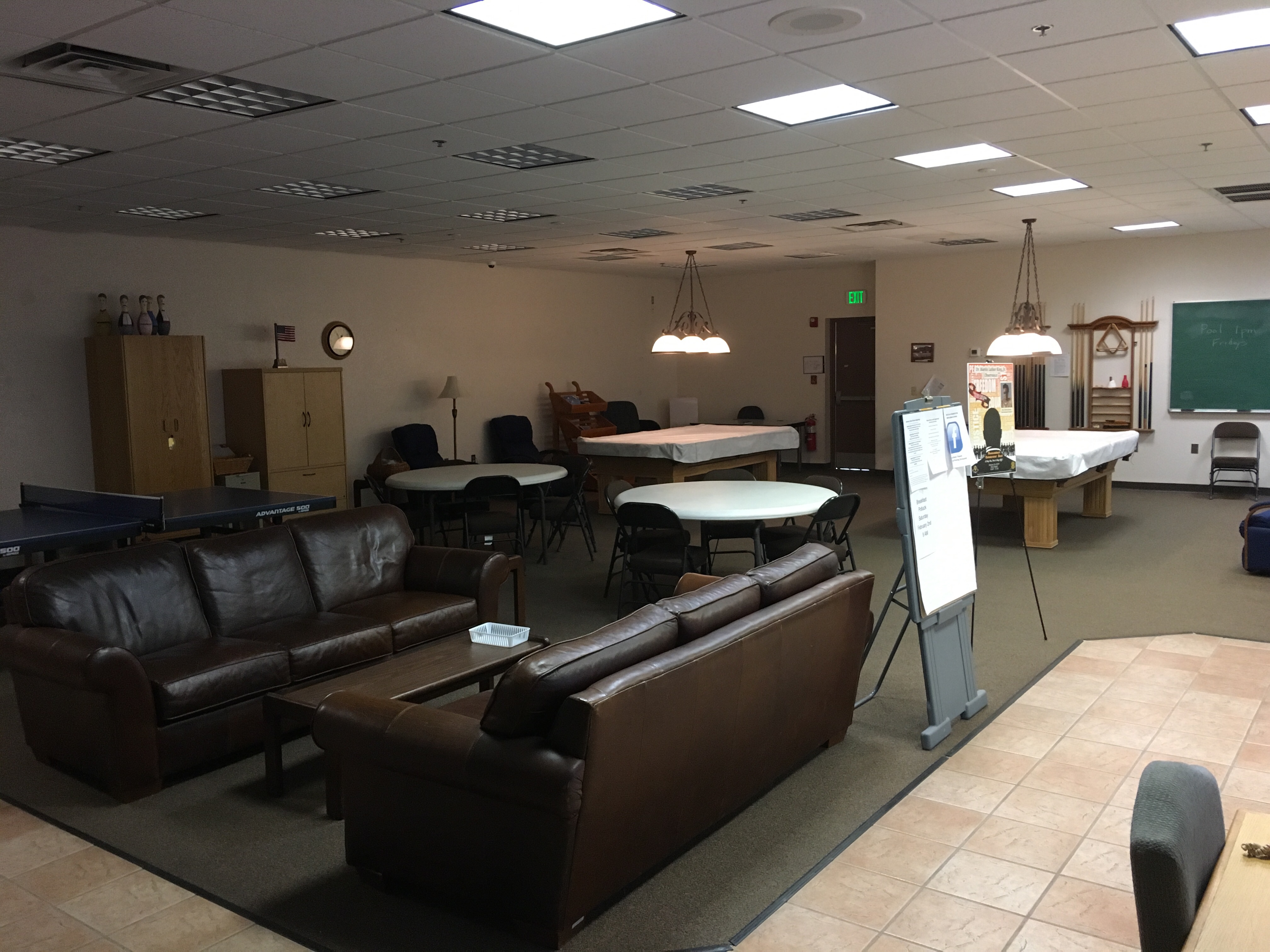 There was no socializing going on when we first stopped by, but there was one woman puzzling, which we're told is a hot activity at the Desert Breeze. Carol – if you ever decide to move West, you might consider Yuma!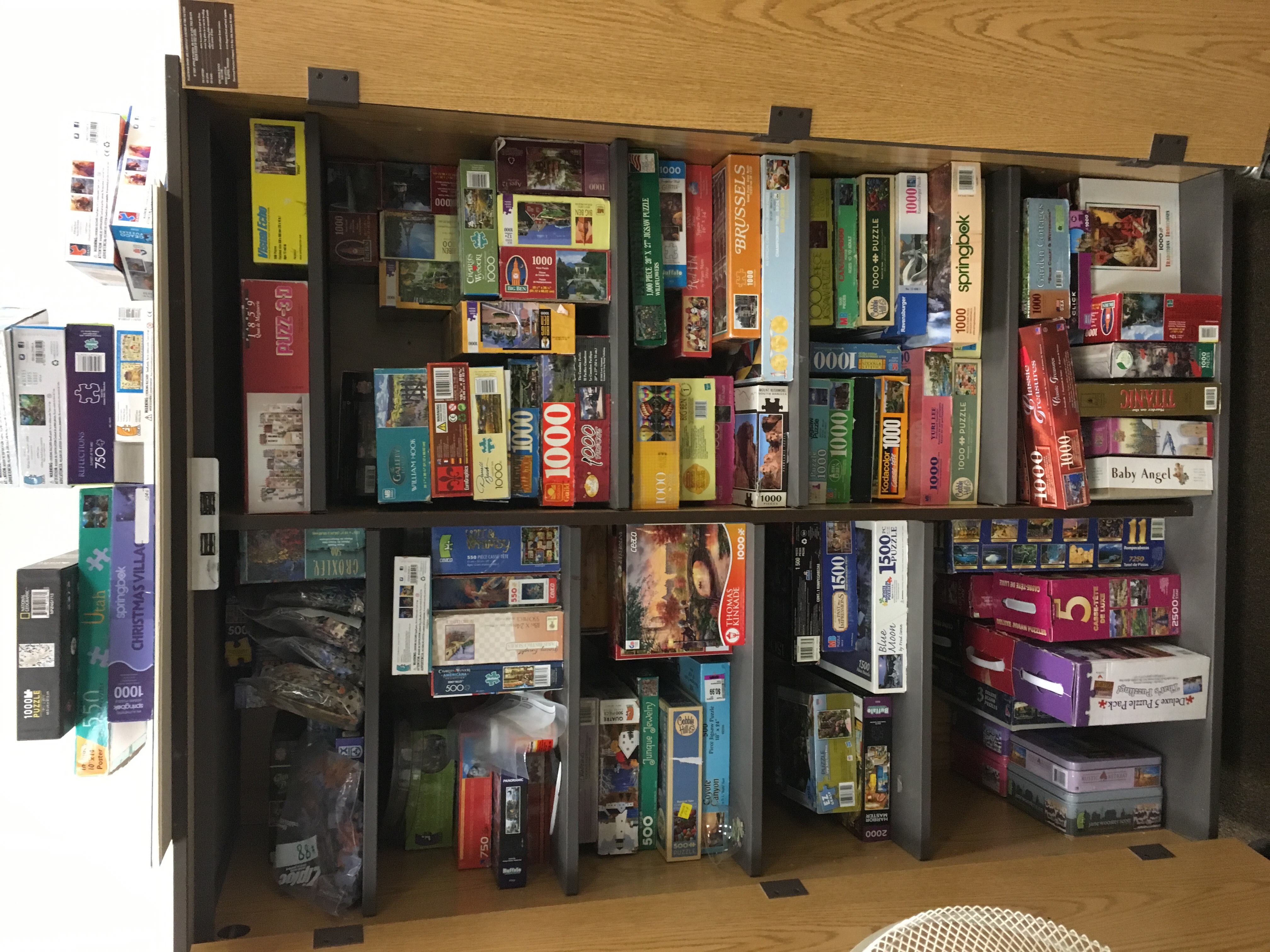 Later a small group had gathered for the play-off games. Betty could not antenna CBS for the Chief's game, so we joined a couple in the lounge, also escaping the cold in DC. More folks rolled in for the Cowboys then the 7pm card game, including a couple down from their home 50 miles outside Bismarck, ND. They had moved south to sunny Bismarck to escape the Alaskan winters where they had lived for 60 years. They hated the NFL because of "take a knee", and never watch it, which seemed odd considering the game plastered the big screen, until they related that their RV was the 13 ft Scamp tow-behind in which they have been living for the past 3 months and 3 months more to go.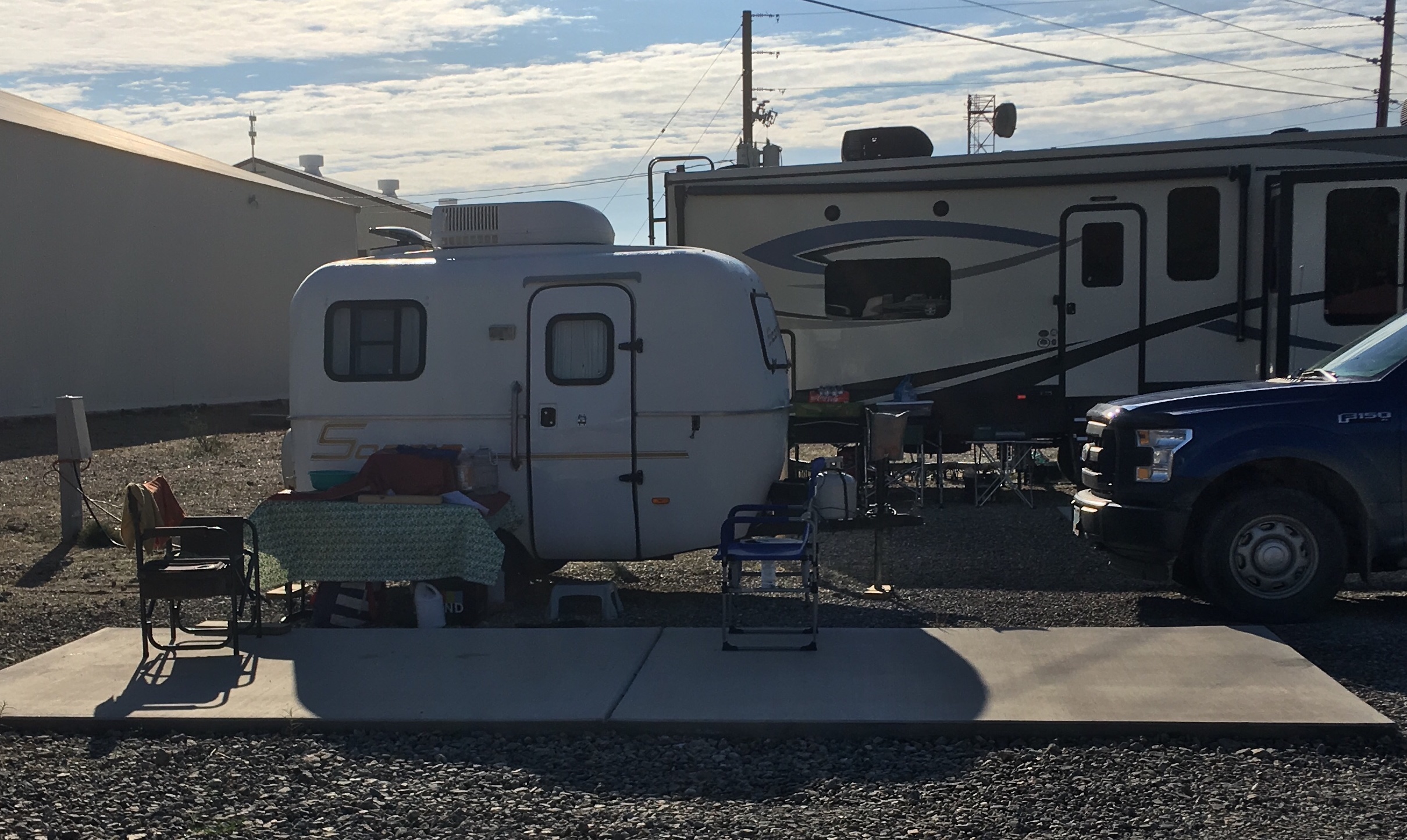 Dave started riffing on his experiences killing wolves by hand in the wilderness while Nancy found puzzle pieces and made them fit one way or another. Having only slightly less exotic DC beltway stories to share, we took our cue and retired to Betty to watch the second half on Fox, which we pulled in clearly over-the-air.
Earlier in the day, we took a quick spin on the Comos and saw the inhabited part of the base in about 10 minutes. Commissary, Fitness Center, Tennis Court, Driving Range, Batting Cage, Bowling Alley and this tiny evacuation plane. Surrounding the base are huge expanses of desert where one can assume that powerful weapons systems are being live-fire tested. We did not hear any explosions, but our neighbor did fire up his Harley at 7 am, which was pretty loud.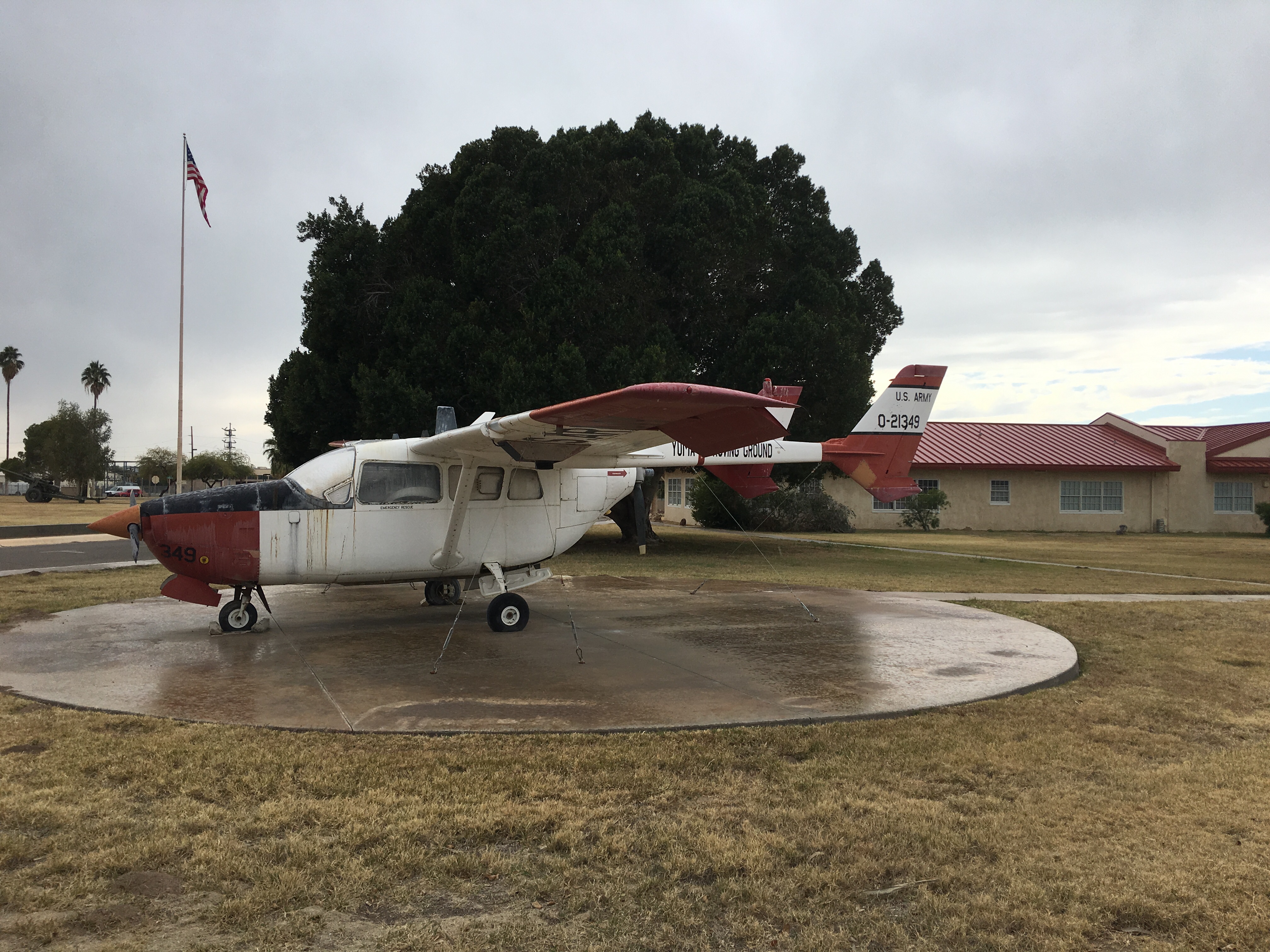 Thirty miles north of downtown Yuma and the Andrade Border Patrol Station, it's isolated, car-dependent living. We're hanging out this weekend, watching football, doing laundry and trying to figure out Desert Breeze humor.