Her E-Bike Review of the Specialized Como 3.0
When we were planning our Reboot Roadtrip, we knew we were borrowing my parents' 18 year old RV and that we wanted to stay in government parks, but what about getting around? To tow or not to tow, that was the question.
The point of Reboot Roadtrip was to get active, connect with nature, do something radically different than our DC beltway, metro and bus commutes to demanding corporate and government jobs. We explored every possible scenario before landing on electric bikes.
The RV had a hitch to tow a car. My parents have a Jeep Liberty, which can be flat towed. We have 2 Ford trucks and a Nissan Altima, none of which can be flat towed.
Option 1 – Rent a tow dolly or auto transport from U-haul for one of our vehicles. Then hook and unhook for each leg to lug and store a 750 pound piece of equipment in the campsite, or at a lot in the park. Less than ideal considering we'd also have to install a Brake Buddy since we were going into the mountains. Estimated cost: $4,000
Option 2 – Buy a new or cheapy vehicle of the flat tow list. Do we sell one of our beloved vehicles or add another car to our collection? And we still have to install the brake thingy. Sounds expensive and impractical for a 33 day trip. Estimated cost: $10-25,000
Option 3 – We own a Honda Ruckus – buy another and put a lift platform on the back of the RV. Better yet, since Eric has his motorcycle license, buy a Honda Gold Wing and install a hydraulic lift. Estimated cost – $7 – 35,000.
Alas, none of these fit the get active, connect with nature objectives. Then there was Option 5 – Electric Bikes. Could we use them as our primary means of transportation?
On our trip to British Columbia in 2012, we rented electric bikes and blogged about them in Vancouver and Victoria and peddled til we lost our legs, seeing every inch of what these cities had to offer. In every vacation thereafter we tried to rent them, but unlike the rest of the world with 34 million bought in 2017, the US has not adopted assisted cycling as a mainstream offering with only 268,000 sold stateside last year. E-bikes are trending now, with Uber in the game with their Jump bikes in San Francisco in DC, taking over traditional bike share programs, the Boomer crowd catching on to the active lifestyle benefits and the urban Millennials seeing them as an eco-friendly car-replacement. Why own when you can Zipcar AND save the planet?
Unlike my husband, I was never an avid biker. I owned a banana bike as a child, a ten speed as a teen and a cruiser as an adult, but never participated in the street or mountain biking culture. The road crowd wore silly outfits and got in my driving way and the few times I hit a trail, the bouncing on unpaved roads hurt my butt. So while I always owned a bike, I used it sparingly (until I met Eric).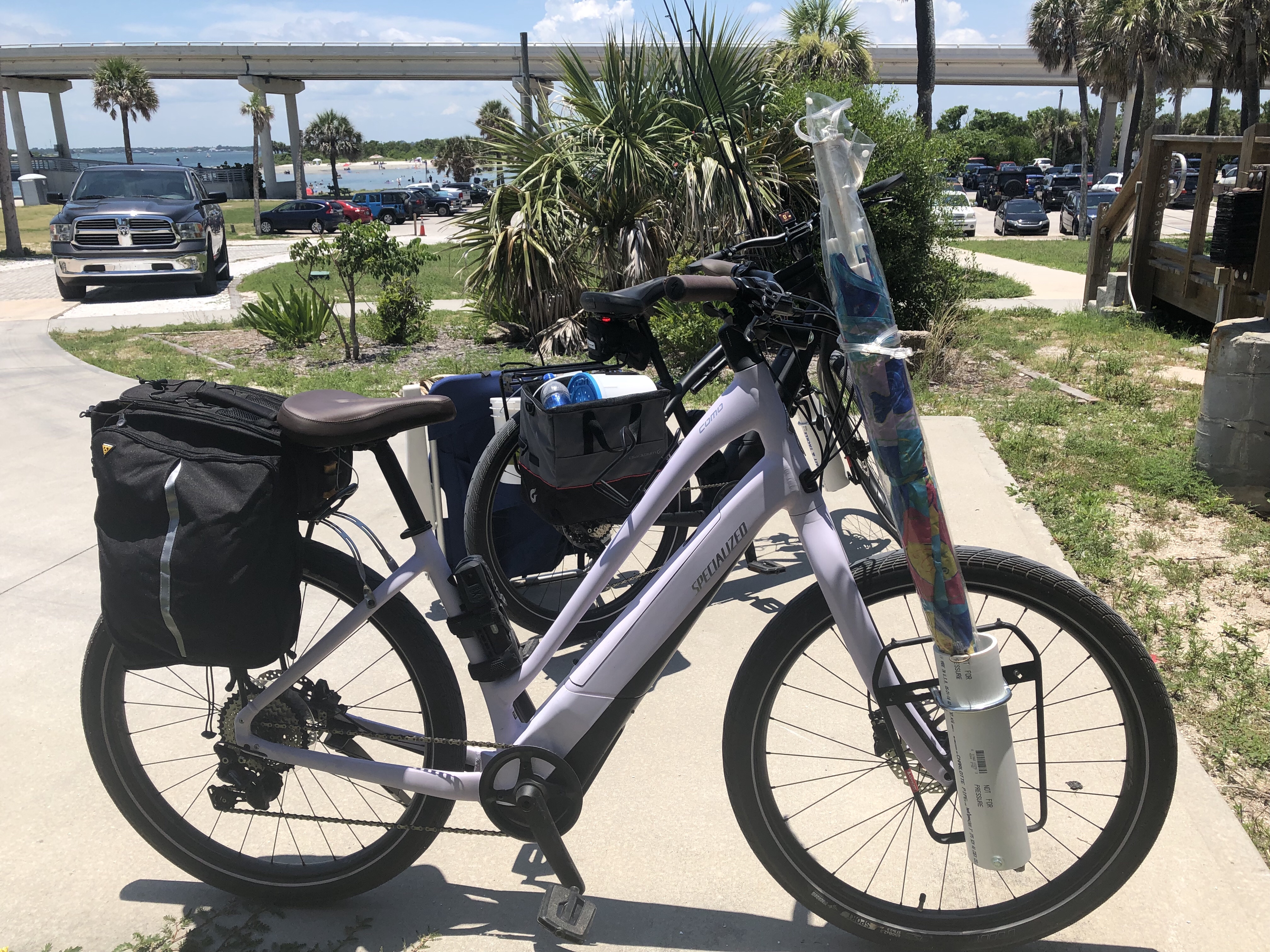 Electric bikes are different. Even though it has a motor, you always have to peddle. When it's flat, you can keep the motor off and ride it like a normal bike, albeit in a lower gear since it weighs 50 pounds. When you need help, such as on a hill, or when you want to go faster or when your thighs are burning and you need some relief, you can pulse up for help.When we decided e-bikes were a viable alternative, my former road-biking husband went into his geeky engineer research mode and looked at every bike on the market, ultimately choosing the Specialized Como 3.0. Read the HIS version of this subject tomorrow and you'll know why. This HER version is what I think of our choice and how it makes me feel.
BEYOND MY EXPECTATIONS!!
Yesterday we round-tripped 40 miles from a remote campground in central Georgia to another remote campground for free WiFi, a round of disc golf and a slice of pizza at a mini mart. Remote for me is 30+ miles from a city with anything to offer besides bait and gas. I did that 40 miles on 20% of the battery's capacity, which is advertised at around 50 miles, but with good management I think we could get 60 – 80 miles on it. Since it was relatively flat, I was able to bike without assistance, only needing assist in high speed limit zones and on hills. The Como 3.0 has a turbo motor than goes 28 mph when I want it. I will gear all the way up and shift to full power on a 45 mph road with a tight shoulder. I'll gear all the way down and shift to full power on a steep hill and pass every road bike in their silly outfits along the way.
Aside: Speaking of outfits, if you are interested in creating a line of e-bikewear, email me. I know exactly what the GenX/Boomer woman e-biker wants, it's not what's sold in the stores now and there will be a lucrative market for it as the e-bike active lifestyle trends.
What I also love about my Como is how comfortable it is. The seat is large and cushy and the handlebars are up high. I feel like I'm riding a cruiser, but I am cruising way faster and further than I could on a regular bike.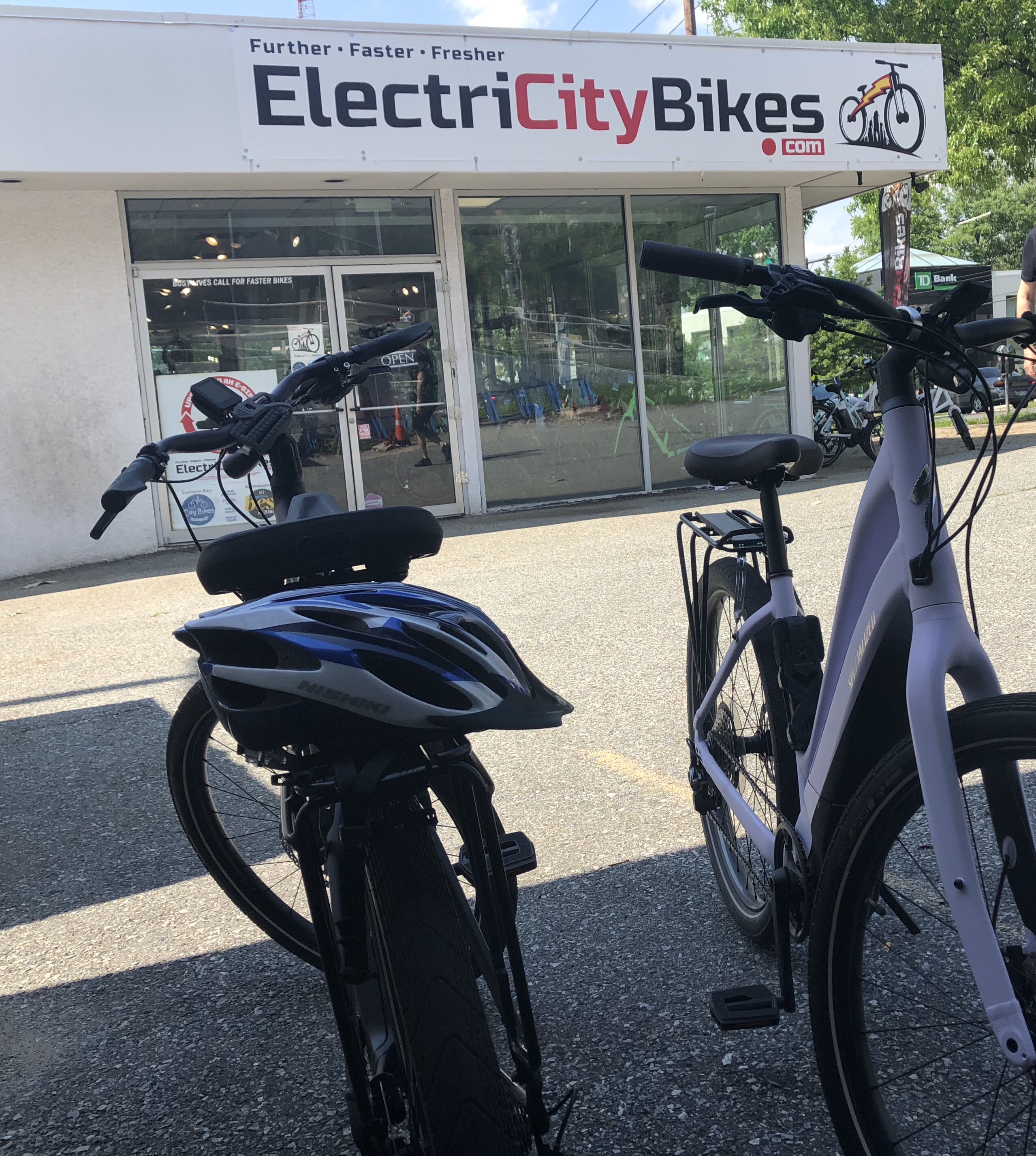 One of the advantages of a car is that you can take all your gear with you, no matter what the activity. We wanted to have that same feeling on e-bikes, so rigging mattered. First thing you need is a shelf on the back of the bike to hold bags that can hold stuff. I have this Topeak Rear Rack and Eric has this one, both recommended by Chad at Electric City Bikes in Tenleytown, District of Columbia. They are the leading bike shop in the city with the largest selection of electrics. Shout out for their amazing knowledge and service. We bought the bikes in May to break them in before our July reboot and they attended to every little question or issue we had. Five Stars all the way!
Aside: we are not compensated in any way by any of the brands we talk about. We would like to be, though 🙂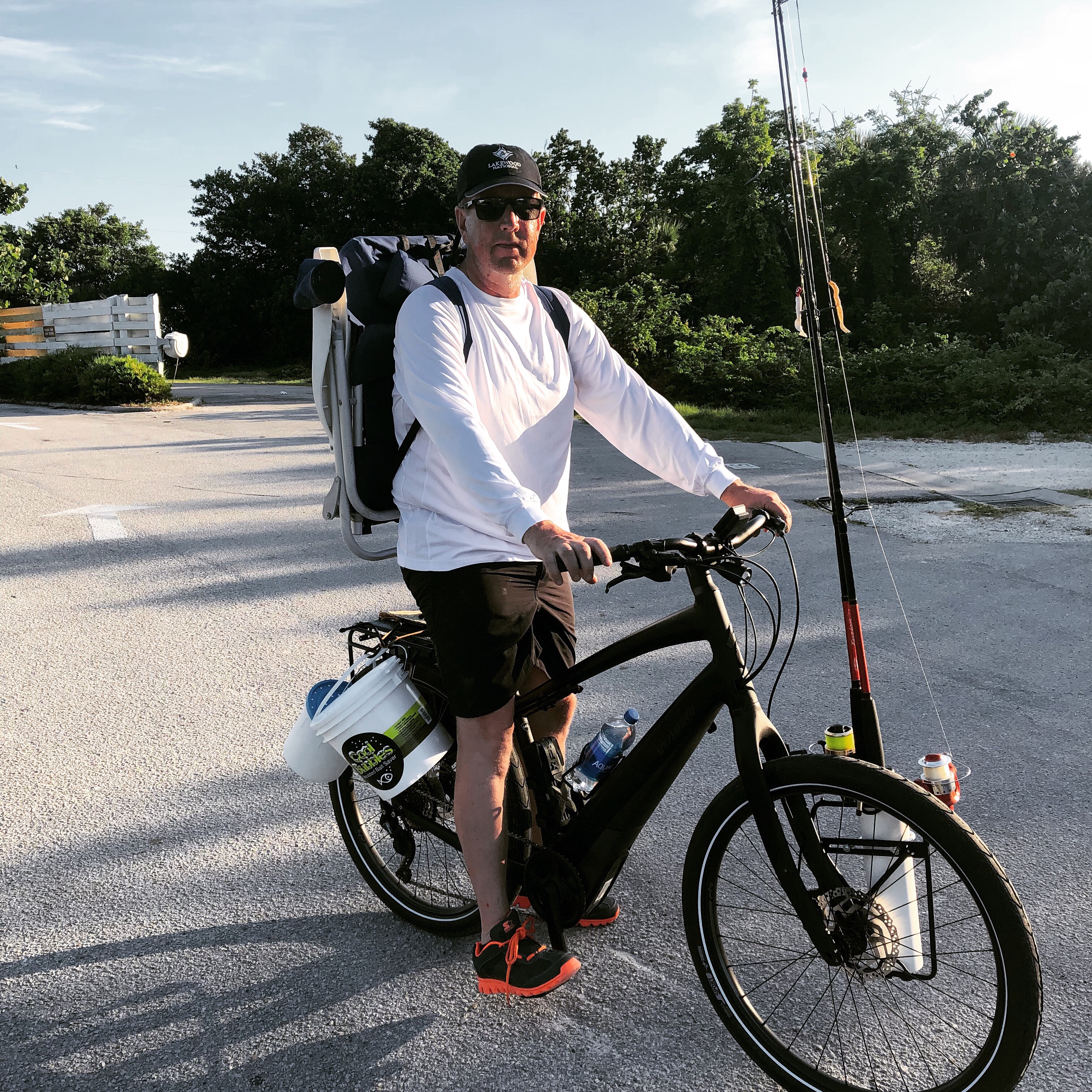 Once we had the shelf, we started researching bags, reading blogs about outfitting bikes, looking at google images of cargo bikes and decided we needed 2 waterproof panniers for carrying cargo, a grocery bag for light trips, and a transportable gear bag for personal items like cellphones, wallets, tire kits, battery chargers, etc. But what about beach chairs, umbrella and fishing poles? Eric solved that with a front tire rack and some PVC pipe. We have both backpack beach chairs and collapsible camp chairs depending on how much we want to carry. So far, we've been able to take everything we want with us. And when we want to do something like Boat or Kayak, we rent.Total cost of our Not to Tow option – $10k fully outfitted transported on a super duty Kuat carrier.
The Como is fun to ride, improving my strength and endurance and giving me the change I was craving. I'm ready to pack the saddles and get on the road.