Specialized Como 3.0 Review – one year and 2,000 miles logged
After spending the last 15 years behind the wheel of a car commuting around a beltway 75 minutes in the morning and 2 hours in the evening, we were literally dying for a change. Too much time in the car and on the D.C. Metro was contributing to hypertension, weight gain and a sedentary lifestyle. We decided we wanted to go places we had only seen in magazines, do it all without a car and write about our experiences.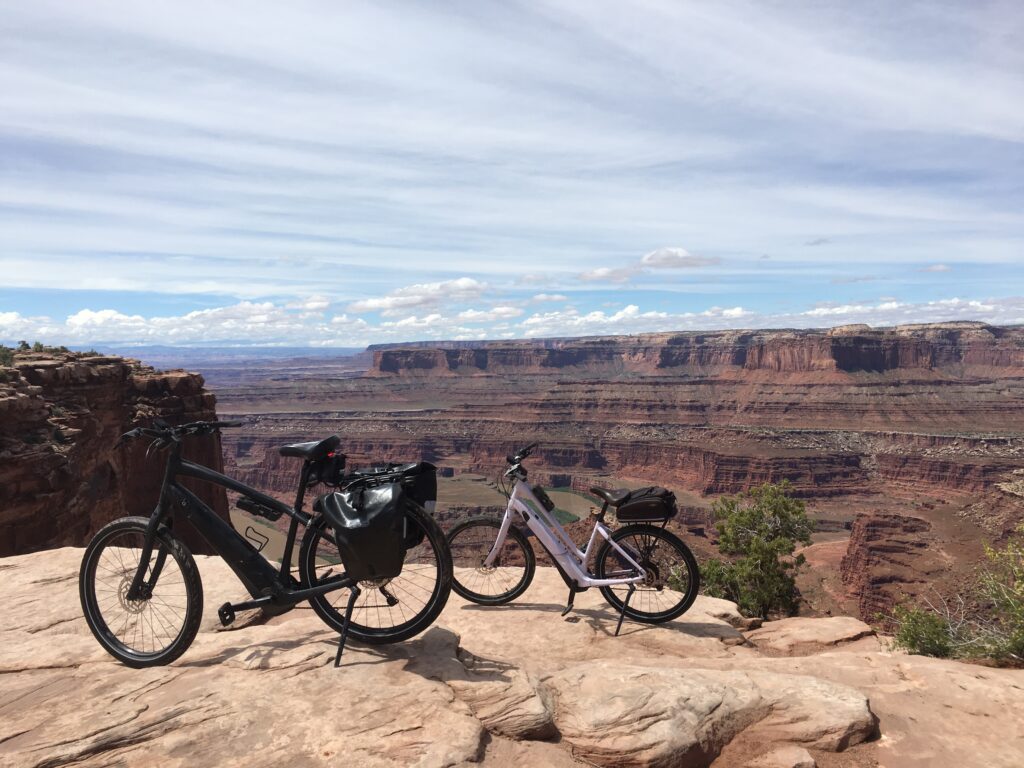 So we retired in June 2018 and took off in our Fleetwood Pace Arrow 34W Class A motorhome with two Specialized Turbo Como bicycles on a Kuat NV 2.0 bike rack on the hitch. Since then, we've logged 2,000 miles each on the bikes and 9,000 miles on the coach. This is the Como review.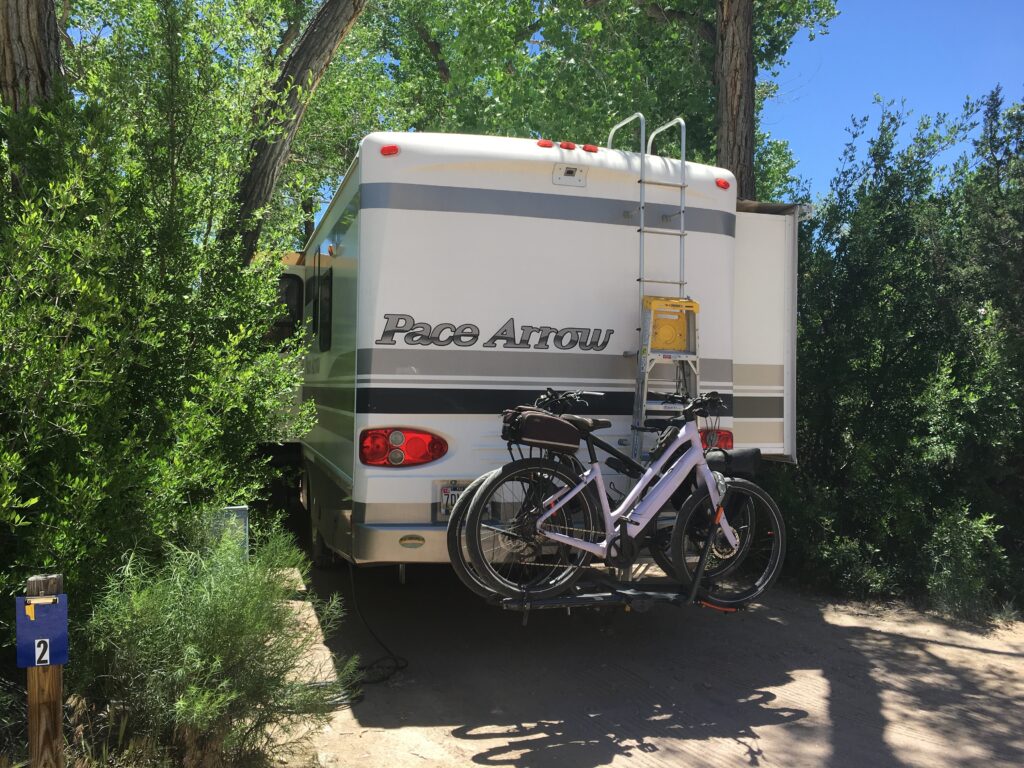 The absence of a tow car was intentional and a result of a desire to push ourselves to lead an active lifestyle. Sure the 35 foot rolling condo known as Betty is a motor vehicle and does not require much physical exertion to drive. But once parked, we would rely on our e-bikes to explore cities, parks and attractions, as well as shop for groceries and run errands.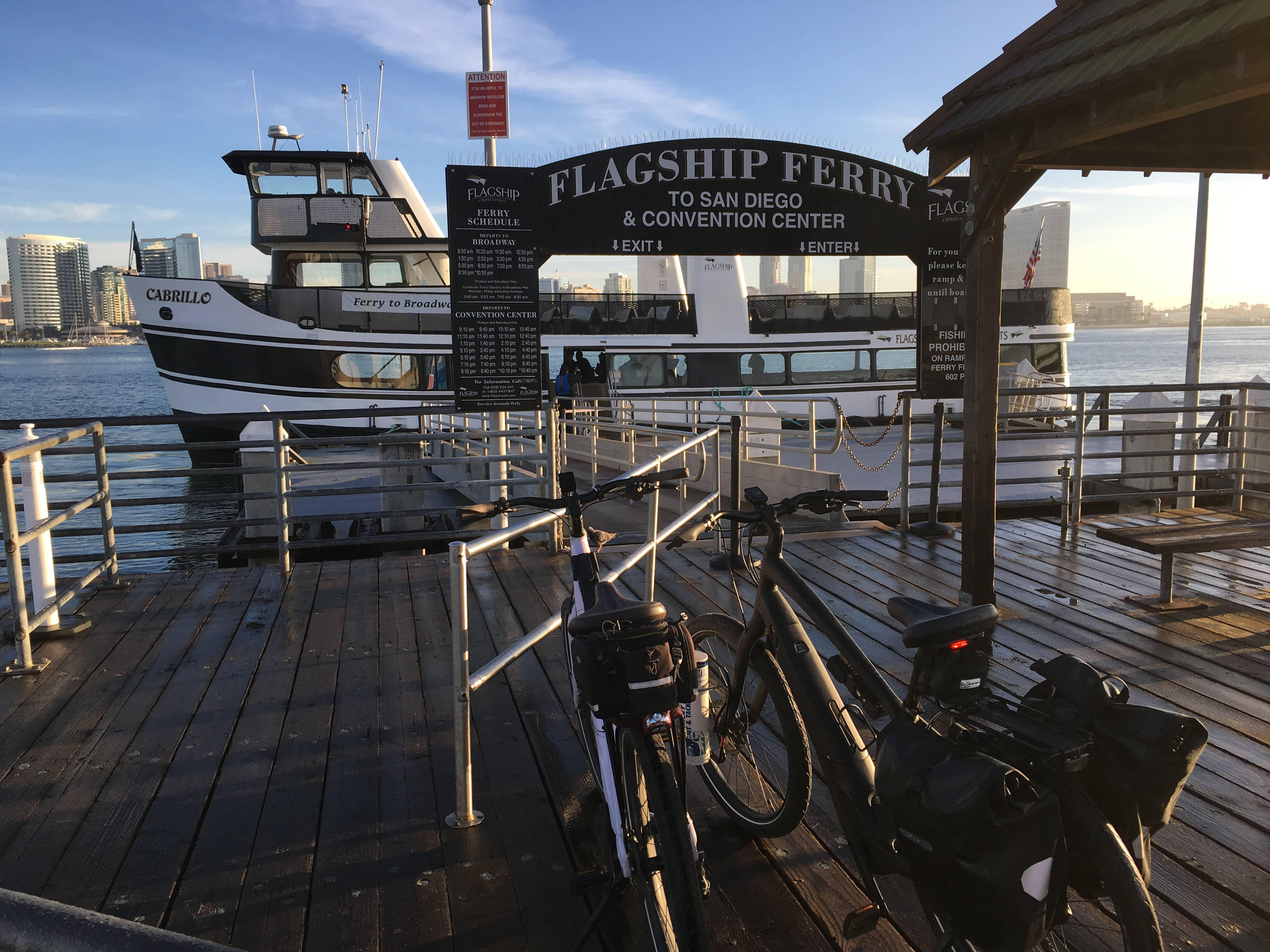 Three months prior to leaving, we purchased a matte black Turbo Como 3.0 for Eric and a lavender Turbo Como 3.0 step-through model for Sheri from Electric City Bikes in Tenleytown, Washington D.C. At the time, the 3.0 was the quickest e-bike offered by Specialized. The pedal assist function on this model works up to a speed of 28 mph. The 2.0 with the pedal assist was limited to 20 mph and probably adequate for most trails or bike lanes. But when we are on the roads, especially in a busy city, we want to go with the traffic flow or at least look like we're trying to keep up at 25+ mph. It feels safer to be moving at a brisk pace in the city rather than having them continually passing us.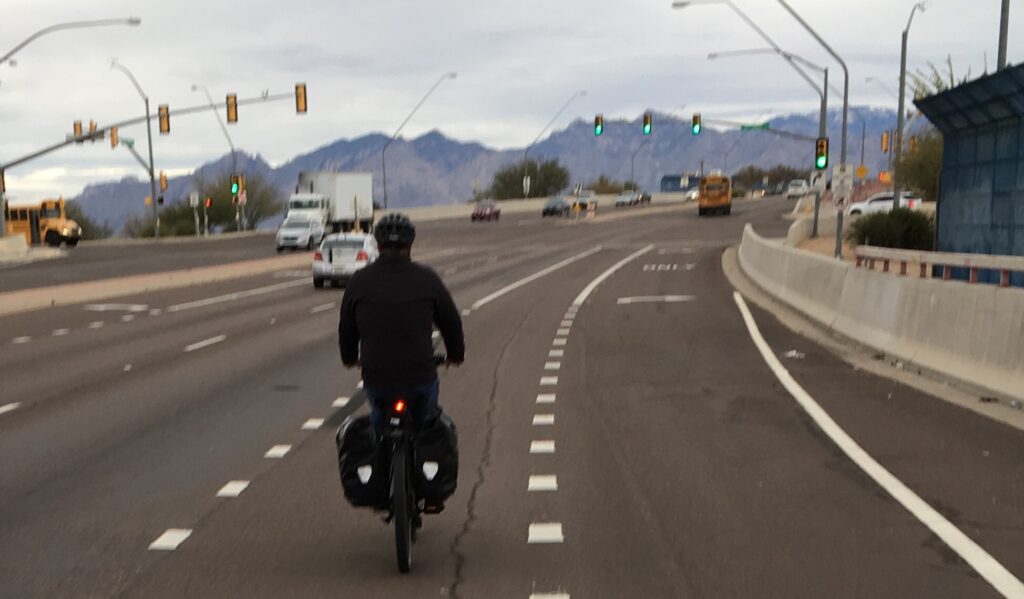 In preparation for the adventure, we outfitted the bikes for as many eventualities as we could anticipate. Both have rear racks mounted on the back axle. Sheri's bike matched a Topeak Trunk Bag with stowable panniers to a Topeak Super Tourist rear rack. Eric's bike fitted twin Ortlieb Back-Roller City panniers to a compatible rear rack. Both rides also have a single small triangular front rack to which we mounted a 4 inch PVC tube. The tube is used to carry umbrellas, or other long, thin objects like fishing poles on this excursion to the pier in Sebastian Inlet, FL.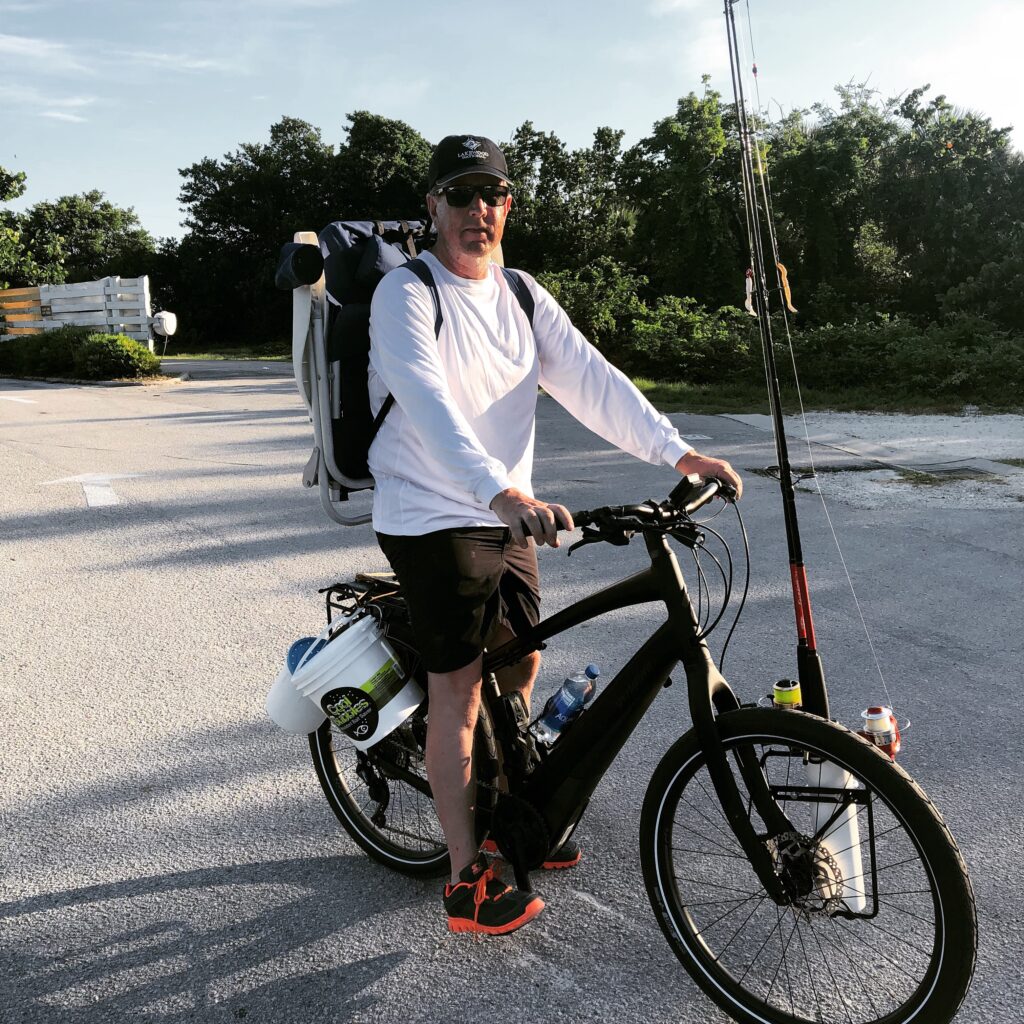 It also came in handy on a trip in Appeling, GA when we purchased an axe at the local hardware store to chop firewood.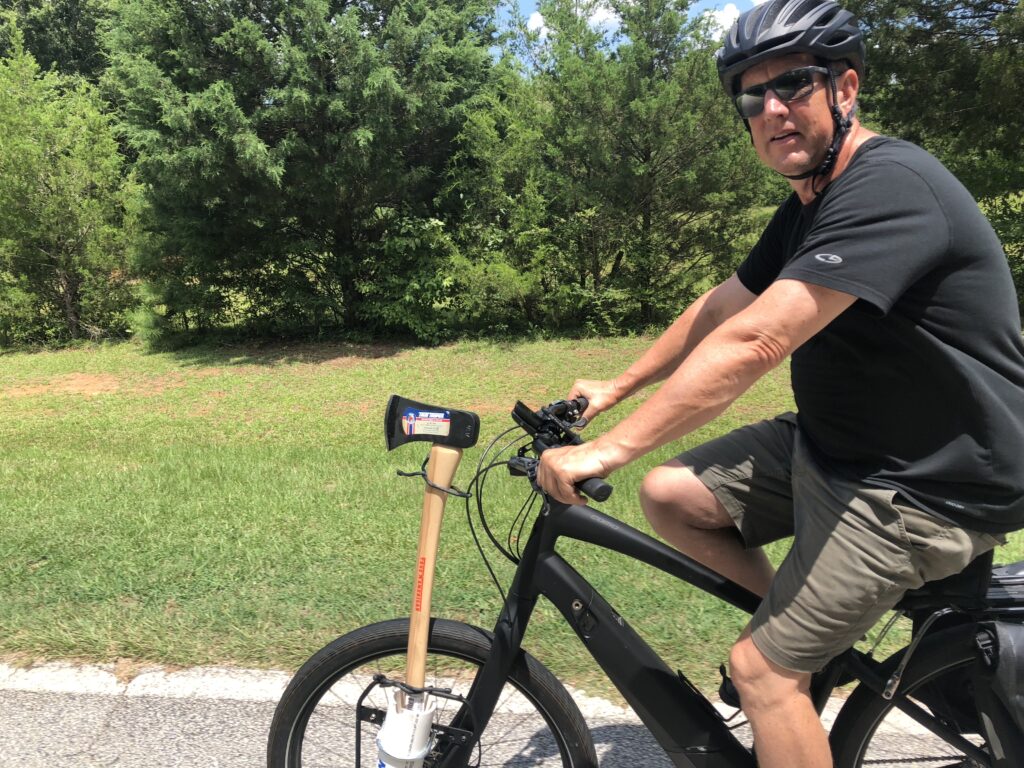 A year later, we have just logged 2000 miles on the Specialized Comos.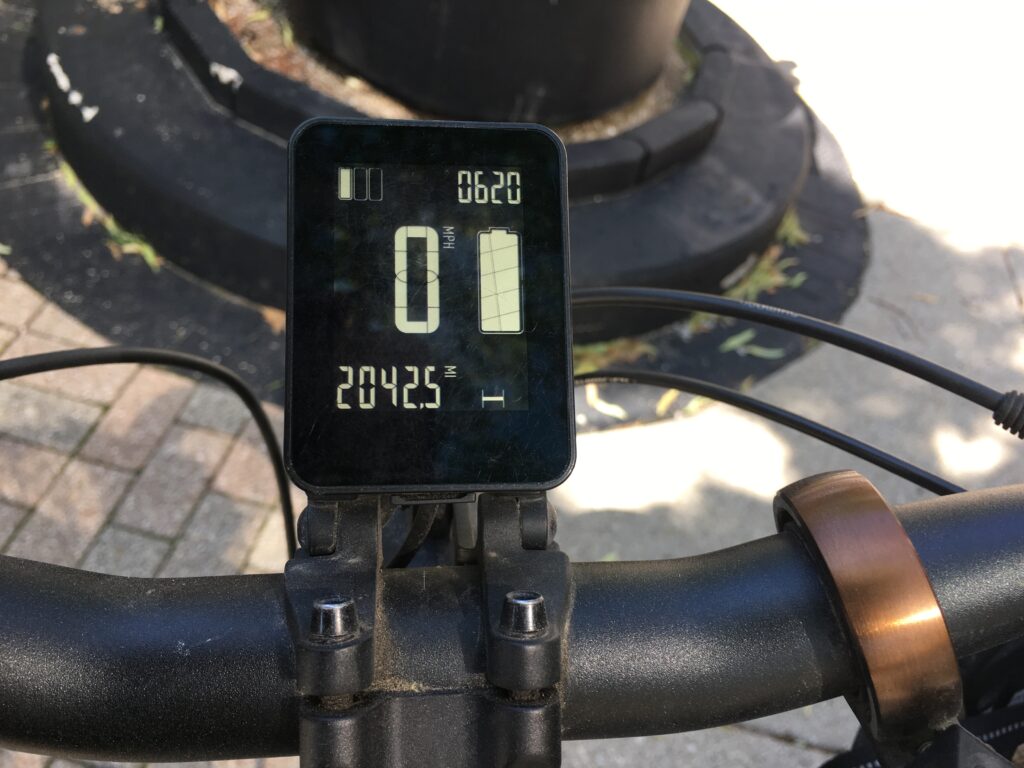 We have ridden them in all kinds of conditions from Washington D.C. to San Diego California. What follows is our impression on how the Specialized Turbo Como 3.0 e-bikes have performed; what they have done well and what we wish they would have done better.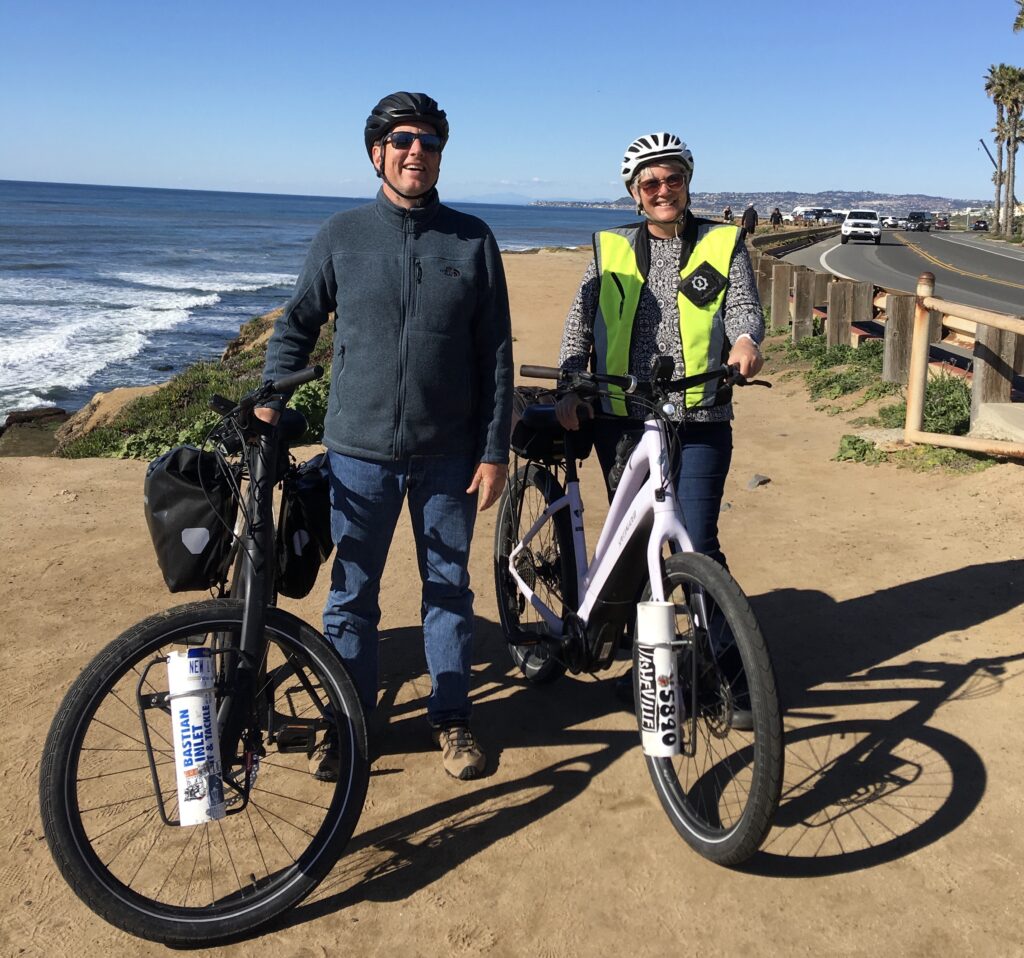 This is a supremely comfortable bike. The riding position can vary from beach cruiser to city commuter depending on where you set the seat. Eric was coming off of a road bike so it took a bit to get used to the heads-up orientation. Once you realize that you don't need the aggressive, layed-out posture to achieve sustained speed, the upright position is marvelous for touring and a dream on the back and neck. The riding position is akin to a cross country motorcycle with only light pressure on your hands, and you feel a bit like a motorcycle when you push on the pedals and find yourself moving at over 25 mph.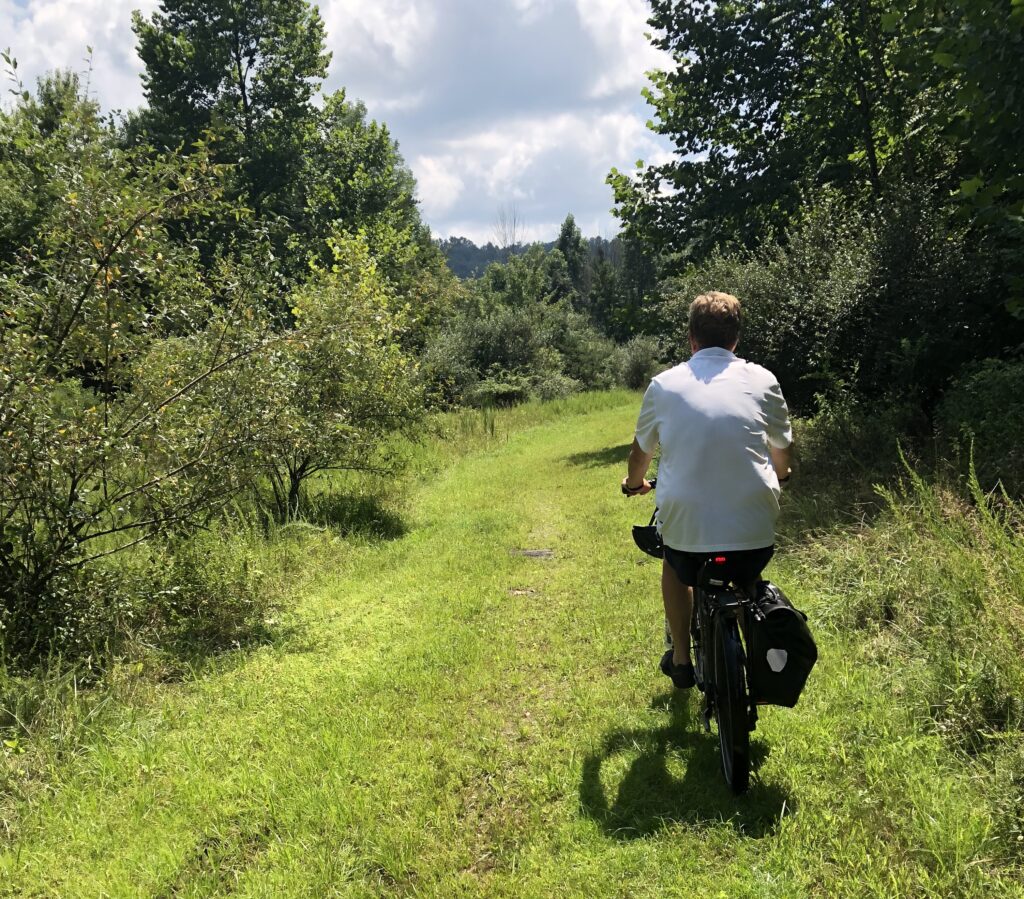 The tires are 2.3 inch wide Nimbus on 650B wheels. The Nimbus is smooth like a road tire with only slight treads to shed water. Tubes for the wheels can be hard to find with a Schrader valve. Mountain bikers tend to use 3″+ tubes for a fatter wheel, more commonly on a larger rim. Road bikes, of course, use a less than an inch thinner tube. That basically summarizes the compromise of the Nimbus; fat enough to act as suspension for the bike but not so fat that it feels slow on pavement. In the end, the Como sports a better on-road tire than off-road tire, which is appropriate for its car replacement purpose. Yet it still works on grass, gravel, dirt, water and the packed sand along the shoreline south of San Diego where we road along the beach to get to Friendship Park at the border of Mexico.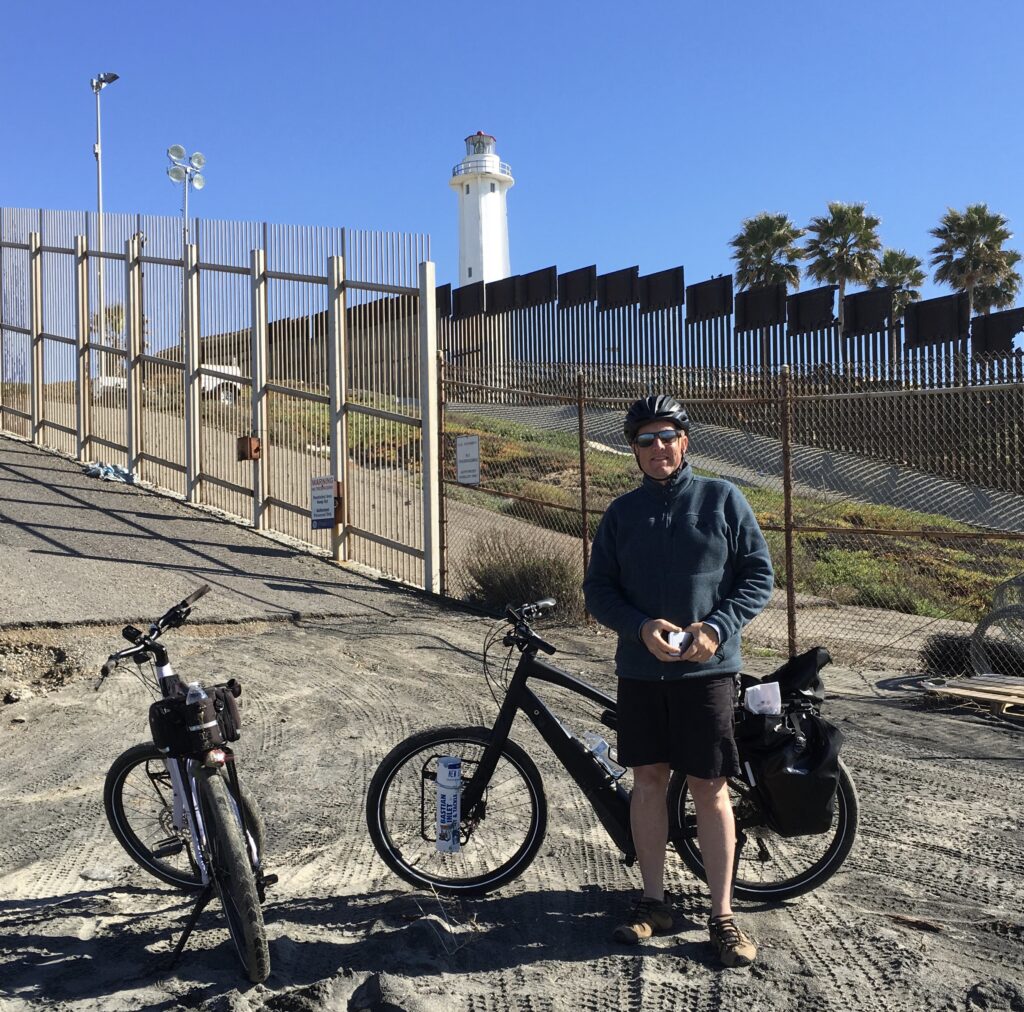 It also kind of worked for about ¾ of the ride from the Visitor Center at Needles in Canyonland National Park, 7 miles out to the Colorado River overlook. It was the rocky terrain and lack of suspension that eventually forced us to park the bikes and hike the rest of the way on that ride.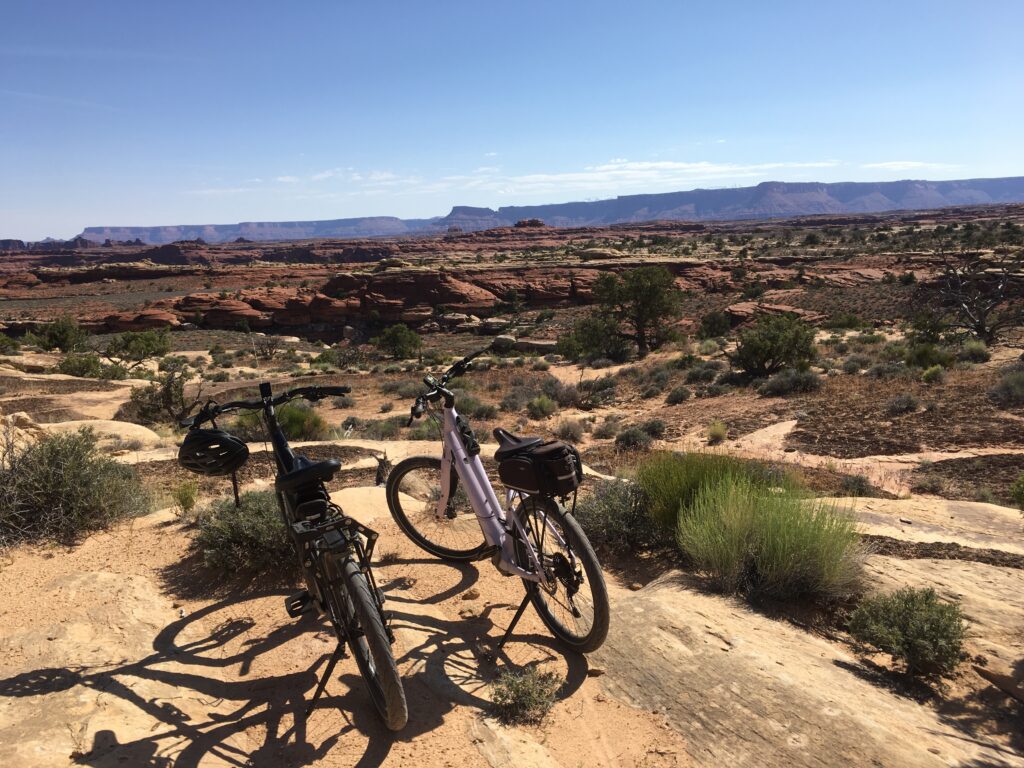 There was not nearly enough tread to tackle the red mud of Goblin Valley State Park, although we tried.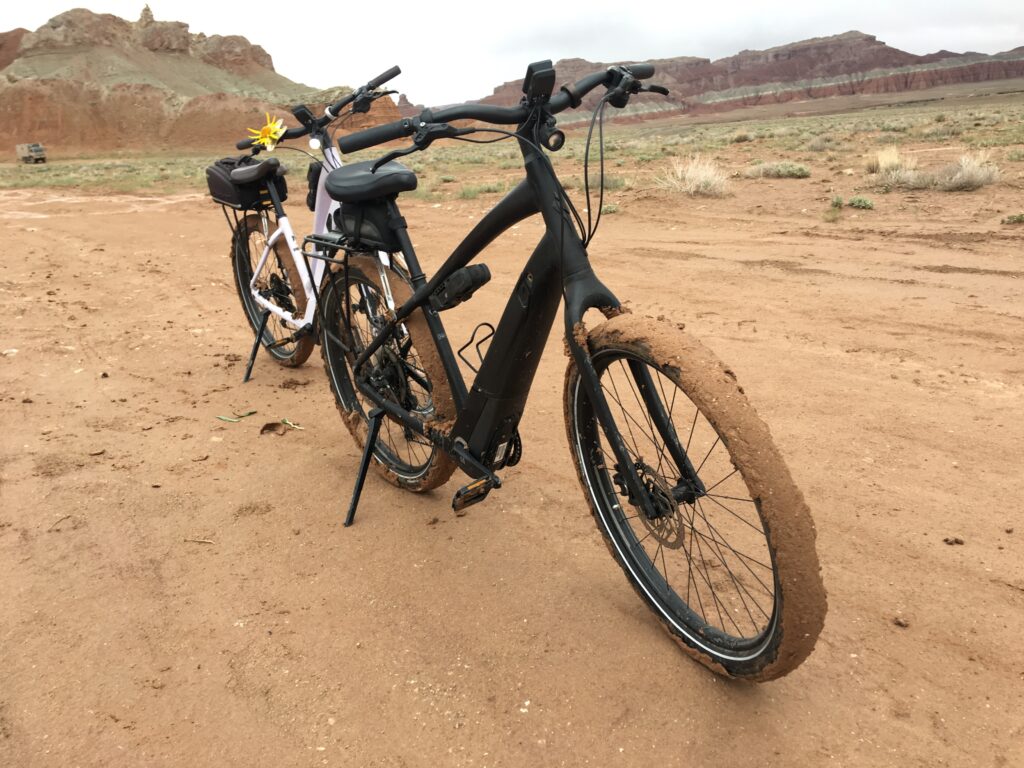 The thorns of Tucson paralyzed us, although to be fair, even the mountain bikers had that problem. We never could get rid of all the thorns, and after going through eight tubes on two bikes from a post-cactus thorn ride, we traded out the tires which had nearly 2,000 miles on them anyway.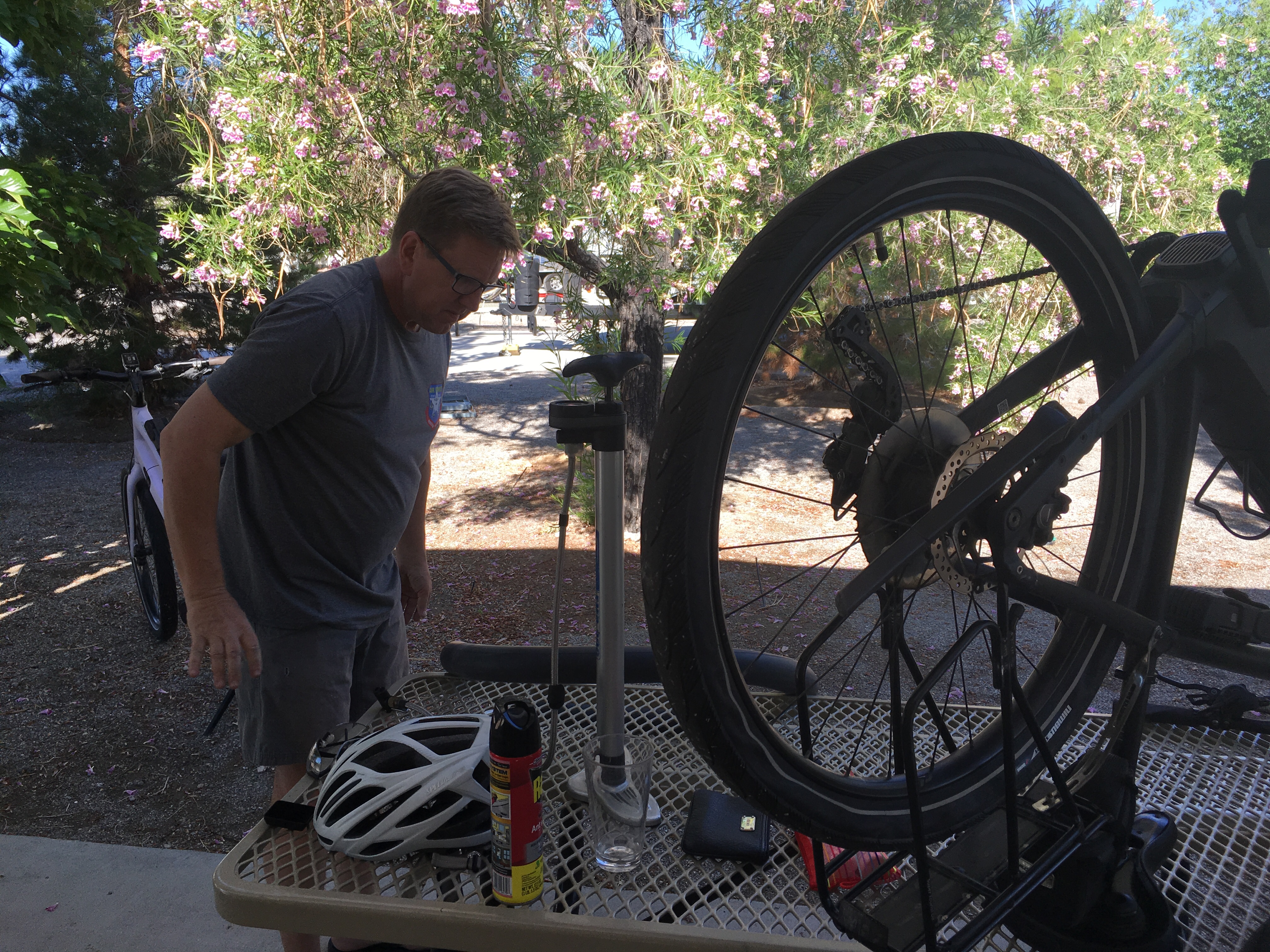 The front and rear hydraulic brakes do a great job of scrubbing the speed. Even on the steepest grades, the brakes inspire confidence and trust. We used them liberally on the elevation fall offs near Fayetteville, West Virginia and in southern Utah. After about 8 months, we had the pads replaced at great specialized dealers in Coronado, CA and Tucson, AZ, which restored them to like-new again. Considering the weight of the bikes loaded with rider and gear and the high speeds, excellent brakes are a must-have.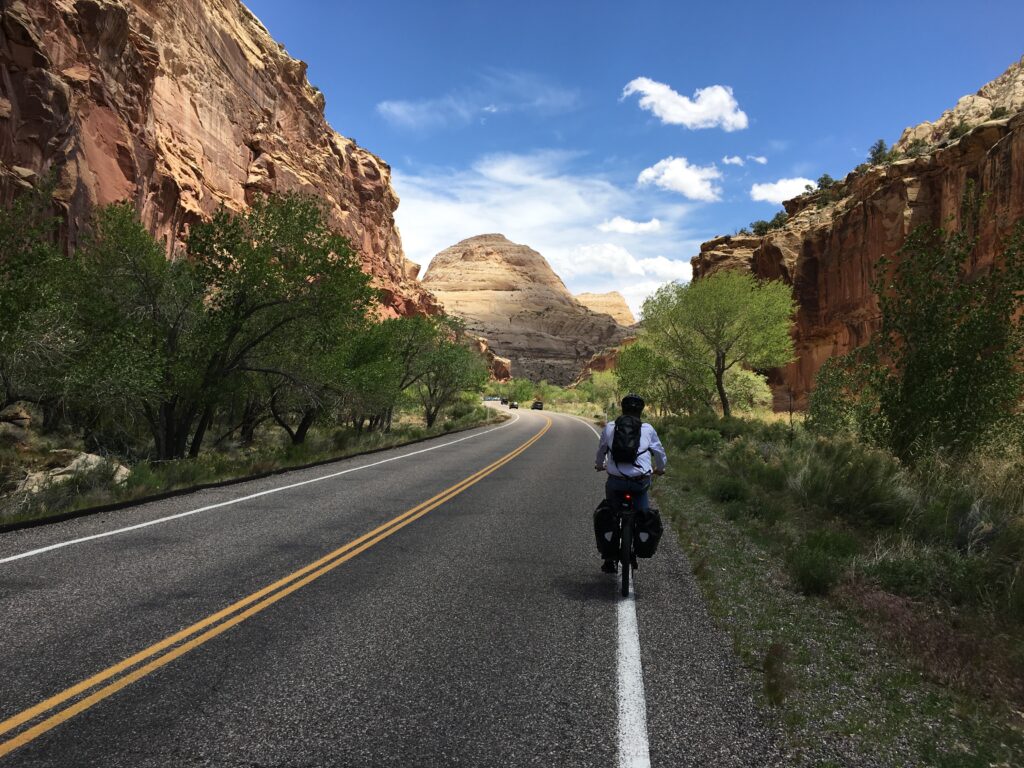 The Brose mid-drive motors have performed flawlessly. With the exception of one Ubloc display, which went out when we dropped it and was graciously replaced free, the hidden mid-drive system has had no issues. We have not been careful with using the motor either in where we ride or how we clean the bike. It makes a low humming sound which is barely noticeable. All-in-all, the drive system which in many ways is the heart of the ebike is the least outwardly noticeable part since it is integrated into the crank. Most onlookers cannot tell where it is located.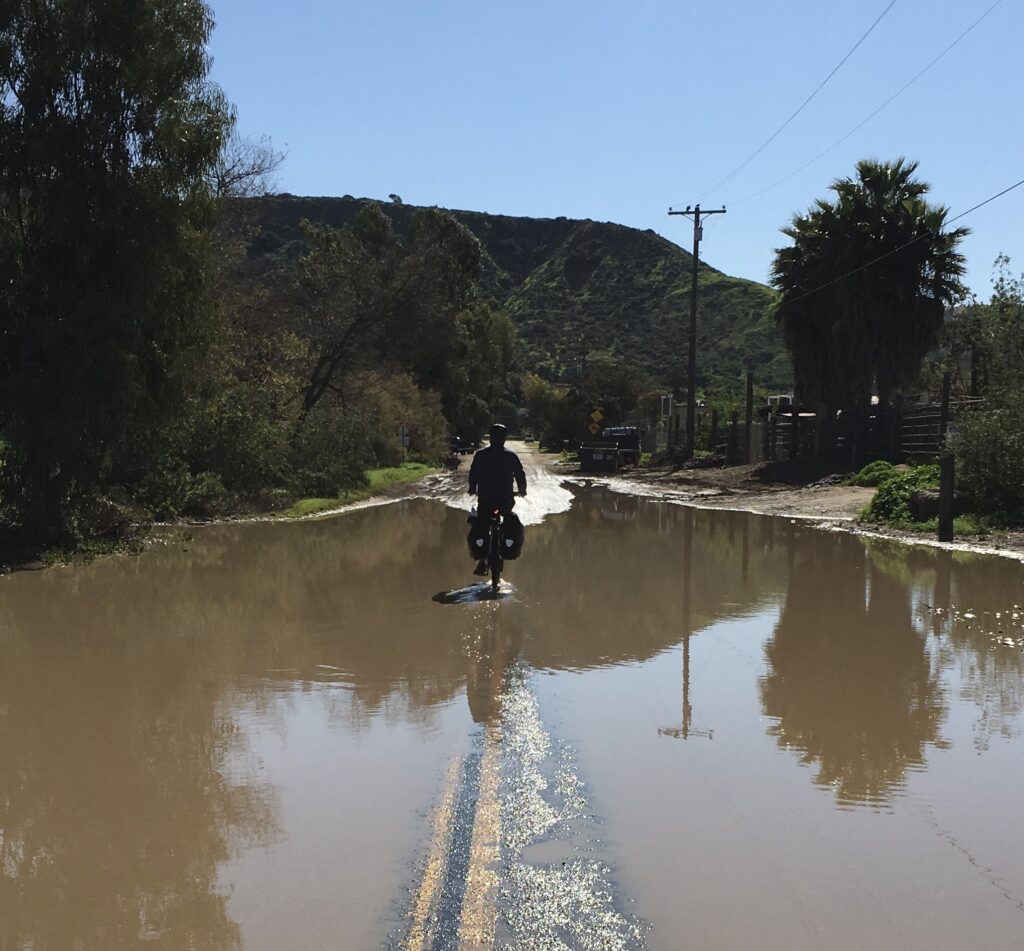 The integrated Lithium Ion battery removes for recharging. We left the batteries in the coach for three months in a hot but covered Tucson storage lot, unattended and at half charge. Their condition did not change when we popped them back in on return and they ran great with no issue.
The batteries typically take 3 ½ hours to charge from 20% remaining. We generally do not run them down more than that to preserve their life. We think we can get 10,000 miles of life if we treat them right. The last 30 to 45 minutes of charging seems to be the charger balancing the various cells. Not typically knowing how much charge we will need, we always leave with a full charge and then manage the assist level to arrive back with at least 20% remaining. After 2,000 miles, there is no perceptible change in how far we can ride on a full battery from when we bought them new. Our typical rides are from 30 to 40 miles, which is well within the capacity of the batteries.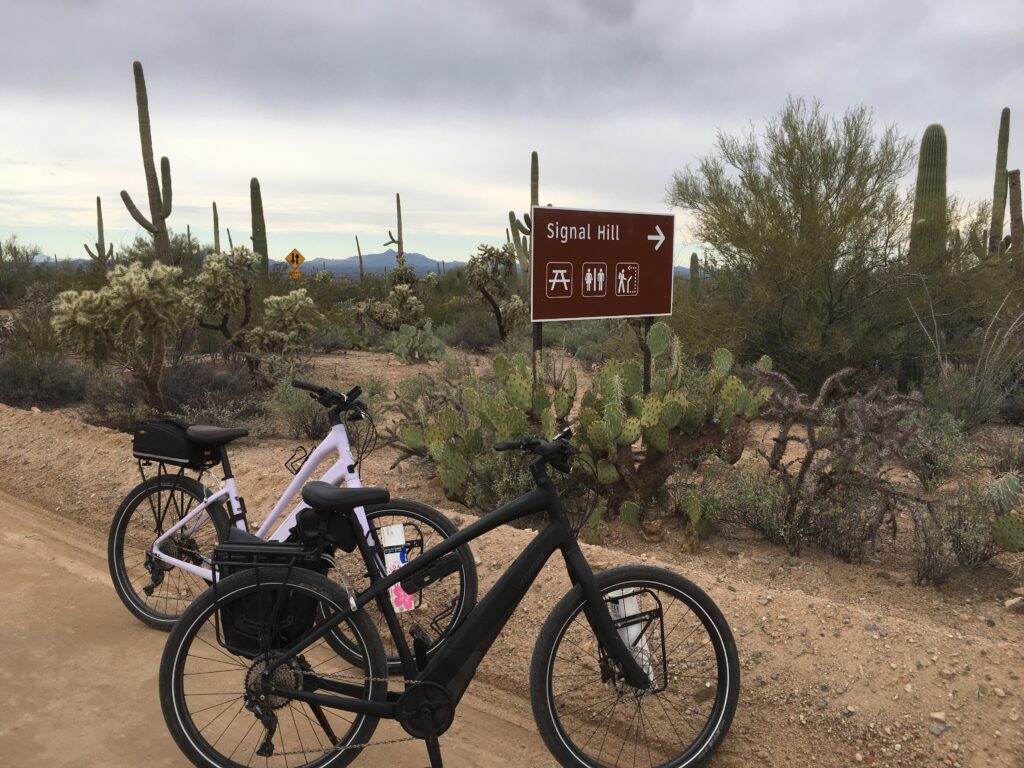 We watch weather radar, as it is never our intention to ride in the rain, but it happens a lot. In Asheville, NC, we rode into town before the rain arrived bringing the bike cover in the saddle bag to cover the bikes. They sat covered during the rainy day while we shopped and caught a movie downtown. Unfortunately, the rain never cleared and the ride home was in a downpour. Our Comos do not have fenders which contributes to the soaking in inclement weather. It is a simple matter to add them, but we are not sure if they would interfere with the Kuat bike carrier. This is the most likely upgrade we'll make to the bike after this trip.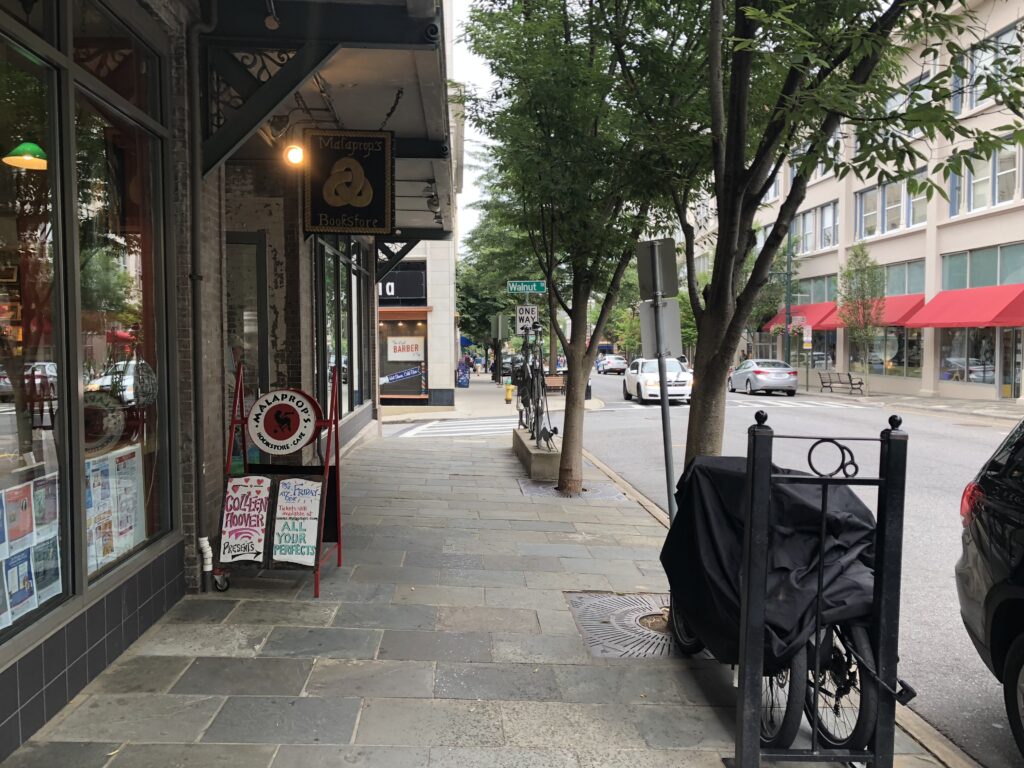 As a car replacement, the Turbo Como e-bikes have to carry alot of stuff. When we go out for the day, the panniers carry all of the clothes and outerwear that we may need for the day. When we go hiking, the panniers carry collapsible hiking poles, backpacks, snacks and water. When we go grocery shopping, the basket full of supplies has to be carried back home. The trunk on Sheri's bike always carries the roadkit of tubes, a hand pump, and tire change kit. We routinely rope a bundle of firewood onto the top of Eric's panniers to have a fire back at camp.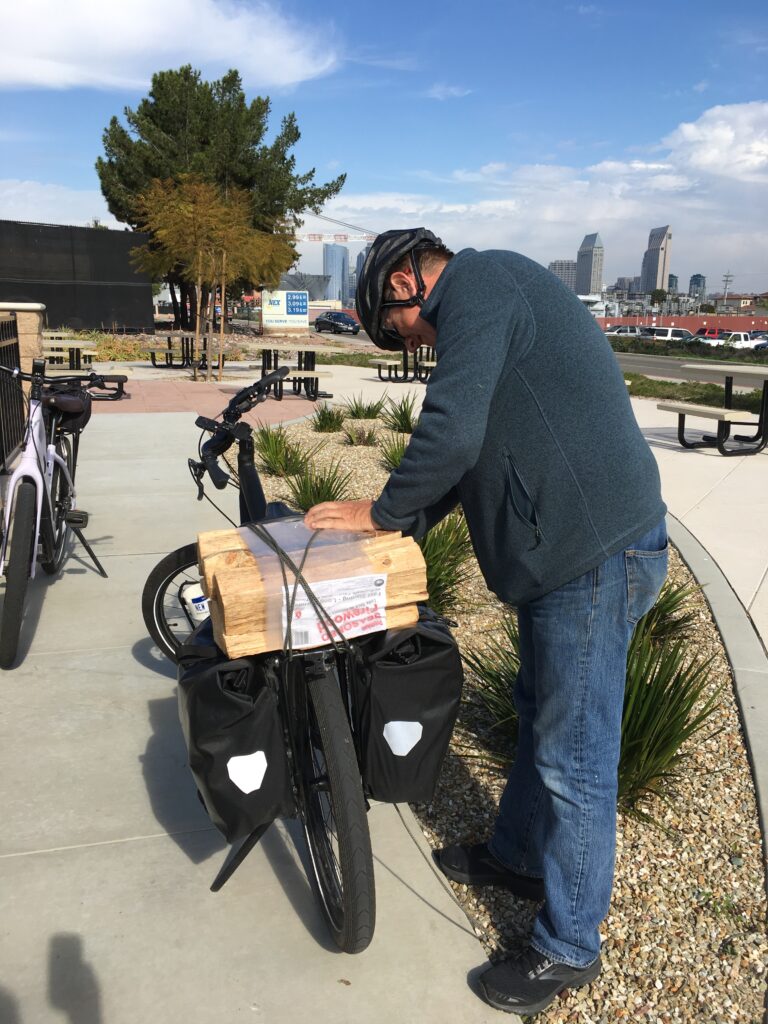 On a conventional bike, all of the added weight would make the bikes feel lethargic. Hills would be magnified in their intensity. A lot of time would be spent on how to ride with as little extra weight as possible. The electric pedal assist negates the added weight making the bike feel lighter than it is. People stop and inquire about the Turbo Como all the time wondering how it feels. Eric describes the feeling as being in great shape, clipped into a road bike with that incredible responsiveness to the movement of his legs and the sense of speed of traveling in excess of 20 mph. That is how the Como feels, except you are also carrying 35 lbs. of groceries and going uphill. Sheri calls it a push of possibility. Elevation, distance, speed … double, no triple what you think you can do – nothing can stop you.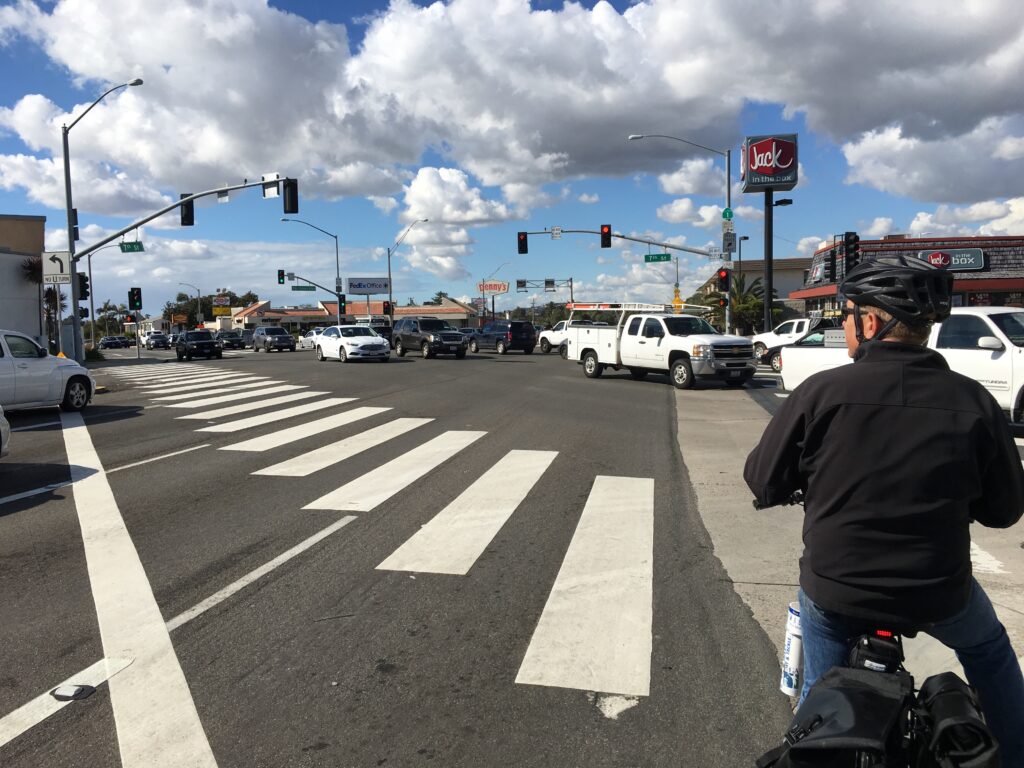 At a little over a year of heavy use, the Turbo Comos have held up well. The list of gripes reads pretty small considering all that the bikes have been through. The lavender finish on her bike is hard to keep clean. The matte black on his shows scratches. The once very comfortable grips on both bikes have begun to get sticky and leave rubber residue on your hands after a long ride. Specialized never was able to make their phone app, MasterControl, work with the UBLOC display. While the engineer in Eric would love to 'tune' the programming of the bike, he has no legit complaints about its current configuration as it doesn't prevent us from exploring Badlands National Park in any way.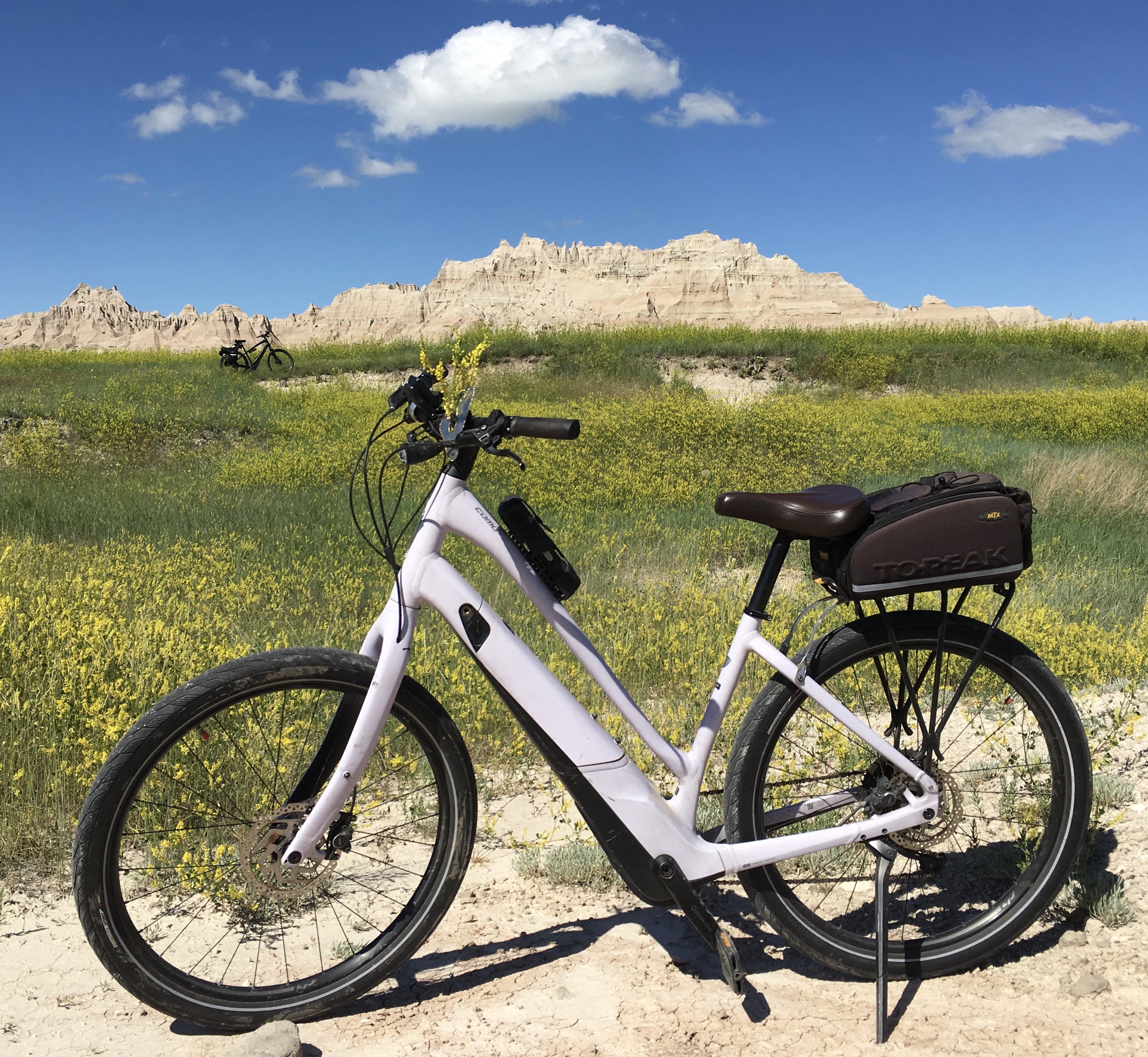 Considering that we totally depend on the Turbo Comos as transportation when traveling in our motorhome – at all hours of the day and night in cities foreign to us – we are beyond greatful for their rock solid dependability.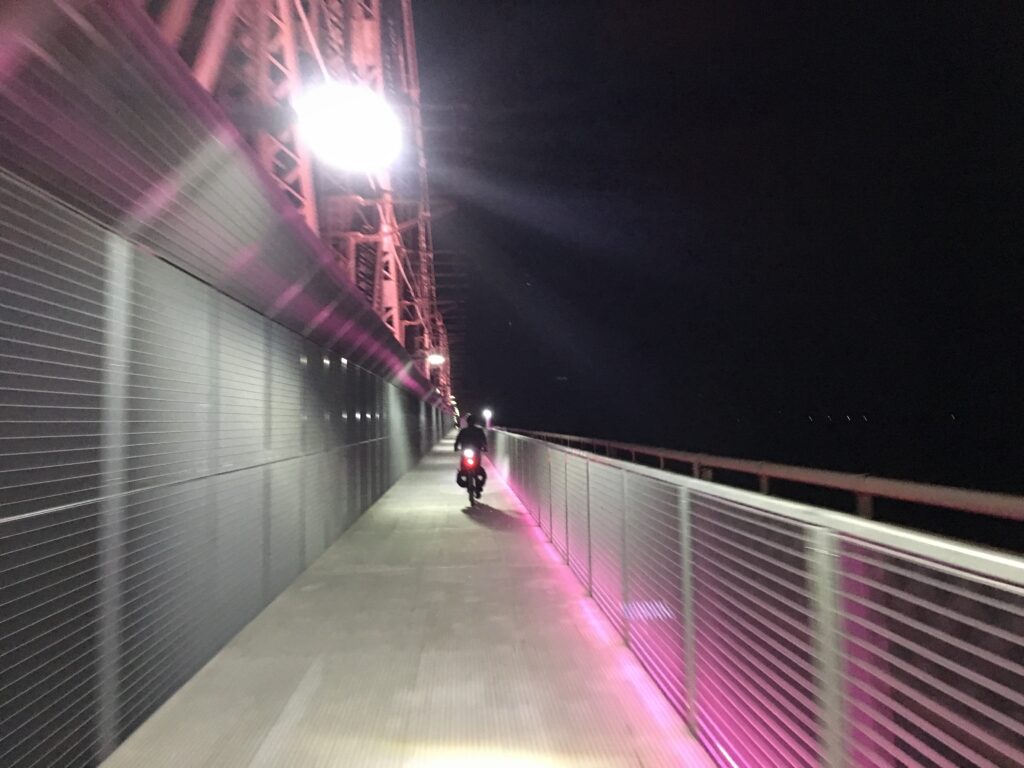 They have never stopped working, broke a chain, or left us stranded. Being a Specialized product, we have always been able to find a local bike shop for worn parts, like brake pads and tubes, and the friendly folks at the shop have always given the bikes a quick tune whether they be in Washington D.C, San Diego, Tucson, Boulder City, St. George, Taos, Green Bay or any of the other 20+ cities we've toured over the past year.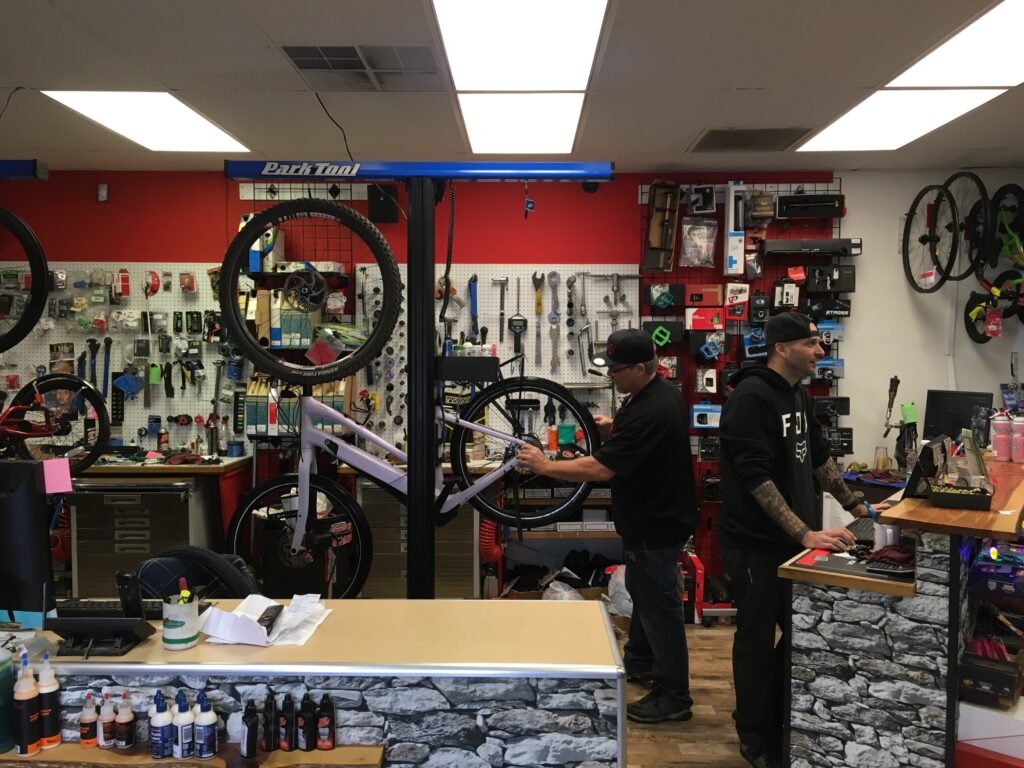 Considering how often we are approached by strangers curious about our Turbo Comos, we think the bikes have a bright future. We keep our eyes out for the latest and greatest in e-bikes, too. The other day we came across a woman riding a Como 5.0 outfitted with a rear pannier with integrated basket. Her goal was to give up the use of her car for the summer. The fresh finish, larger battery, fenders and new display all looked like nice upgrades and we were tempted to consider trading up. But our current Como 3.0s, except for a good bit of road dirt from the wet ride the day before, are just getting broken in. We decided to check back on the line up in another year, and hopefully another 2,000 miles. Cause nobody knows where our Comos will go!