If you've ever wondered what's at The End of The World, it's an old Dodge Minivan stuck nose deep in the sand, 20 miles outside Joshua Tree National Park.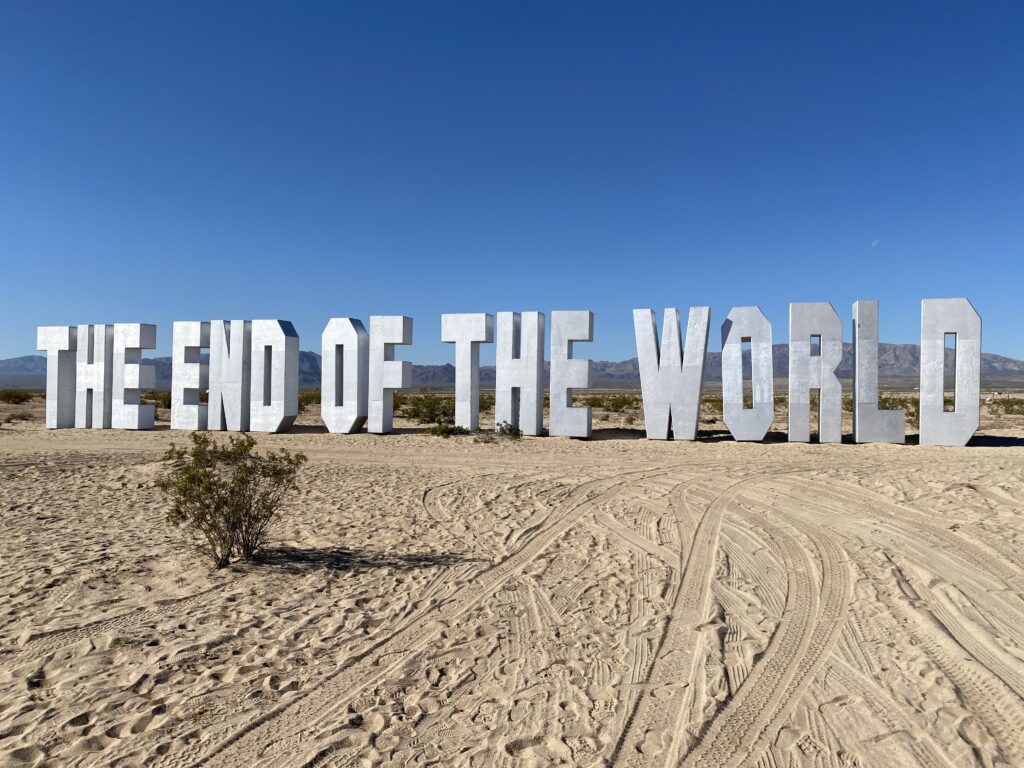 In all our NP experiences, we've got a nose for one day and one week+ parks. Like Cuyahoga Falls, Indiana Dunes, Hot Springs and Congaree, Joshua Tree is a one and done. See giant rock formations and gnarly trees, camp if you can, get the sticker. Its proximity to mass population and nod from U2 elevates it to top 10 most visited status which means conga lines in high season.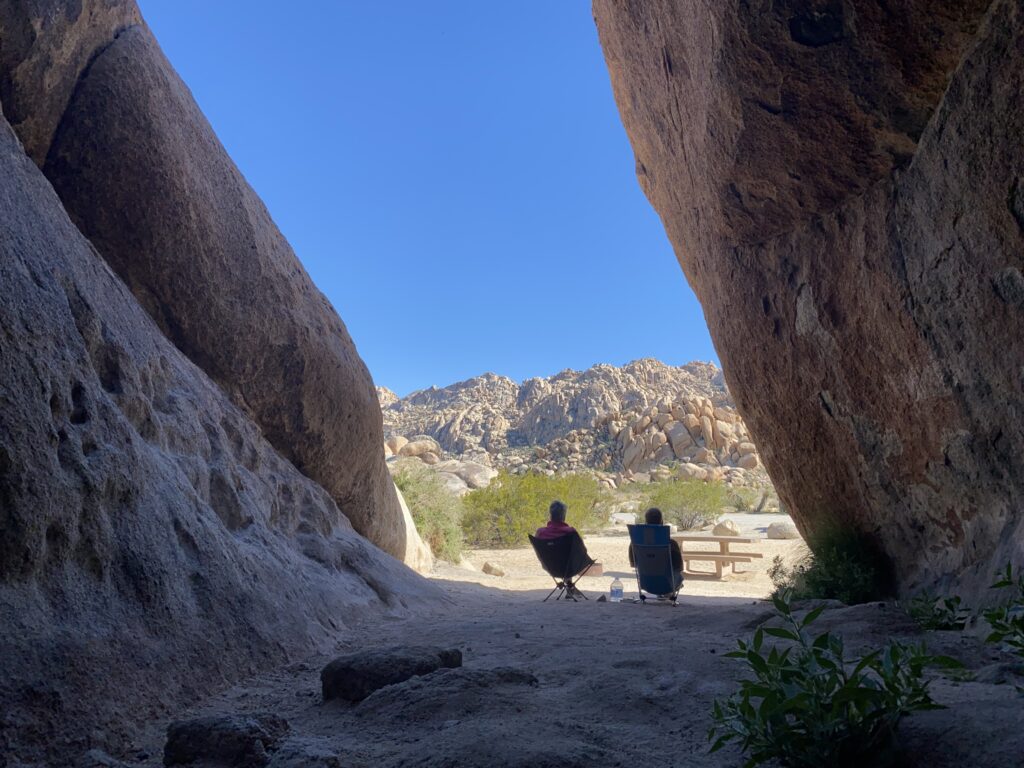 On our second night, Indian Cove campground was the polar opposite of Ryan, mostly because it has weak reviews on Google. People don't like that the campground is isolated from other parts of the park. Even though it was full, it felt deserted. Sites are huge so you can't see or hear your neighbors. We rested in the shade of big boulders, finished reading our books and made the childhood favorite dinner of hot dogs and baked beans while the sun set behind the nature stacked boulder mountains in the distance.
Filling up with $6.50 cents a gallon gas, we explored 300 miles of Mojave Desert backroads en route to Death Valley. 15 foot tall block letters declaring "The End of the World" caught our attention and we peeled off onto a sandy path for a photo opportunity. As we waited for a mini-van parked in front to clear the picture, it became obvious that the mini-van was stuck.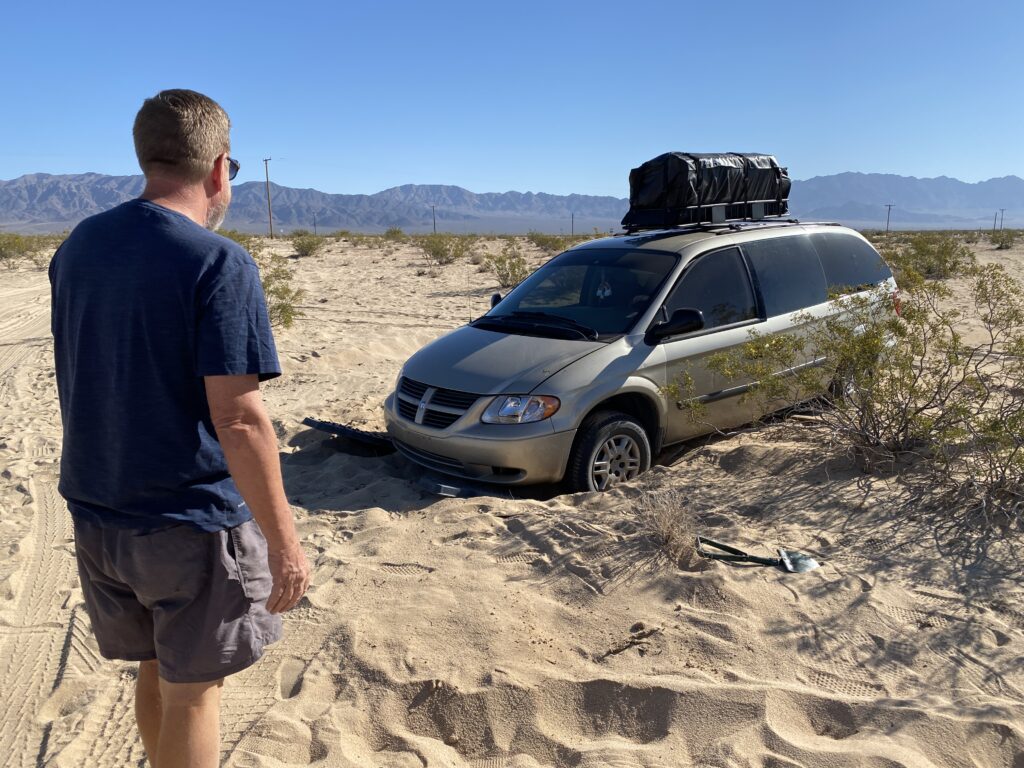 Michelle and her 13 year old half St Bernard, half German Shepherd Cujo were madly spinning the tires in deep sand as the van buried itself down to the door sills. She had converted the old Dodge into a camper of sorts and was on her way to Wisconsin to #vanlife on a farm and Ranger at a state park. Cujo is very ill, so she was stopping at friends across the country so everyone could say their goodbyes. She had a cheerful can-do spirit and was busy digging sand out from under the van with her entrenching tool. It was not going to work, but she wasn't going to give up.
Fortunately we knew there was a reason we had extraction boards, tow ropes, entrenching tools, and an air inflation kit with Boss. After 2 hours of dig and pull, Eric had towed Michelle, her van and poor frightened Cujo the 1/4 mile back onto hard ground. How she ever got so far into the desert we will never know. Just sheer determination we guessed.
We went from way ahead of schedule to way behind. A late arrival to 100 feet below sea level gave us 105 degree temps and 35 mph winds. Wondering where to camp and how to get our not-for-high-wind tent staked, we asked the Ranger at the Furnace Creek Visitor Center for advice. She wrote us a permit suggesting we try Echo Canyon site 3 which turned out to be totally wind exposed and camping on rocks so we retreated to the Texas Spring campground where we tried to wedge the tent between two bushes, Boss and an unwitting accomplice matte black Econoline van in the site next to us. Eric used every rope and stake to fight the wild whipping wind which repeatedly drug our rain fly into a bush of thorns.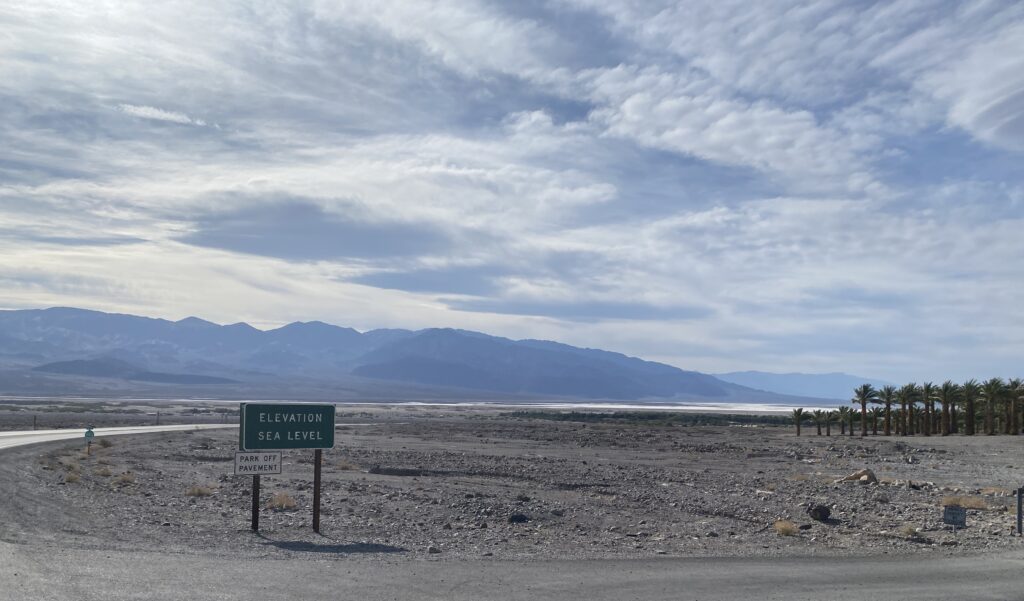 Defeated, we phoned all lodging options within 75 miles only to find that the combination of our spotty 2G coverage, overworked front desk operators, and an oversold Spring Break returned zero options. Further defeated, we packed up and headed 30 miles further into Death Valley to Stovepipe Wells, 10 feet above sea level. With the sun setting fast, we were looking for anything that was not the front seats in the truck.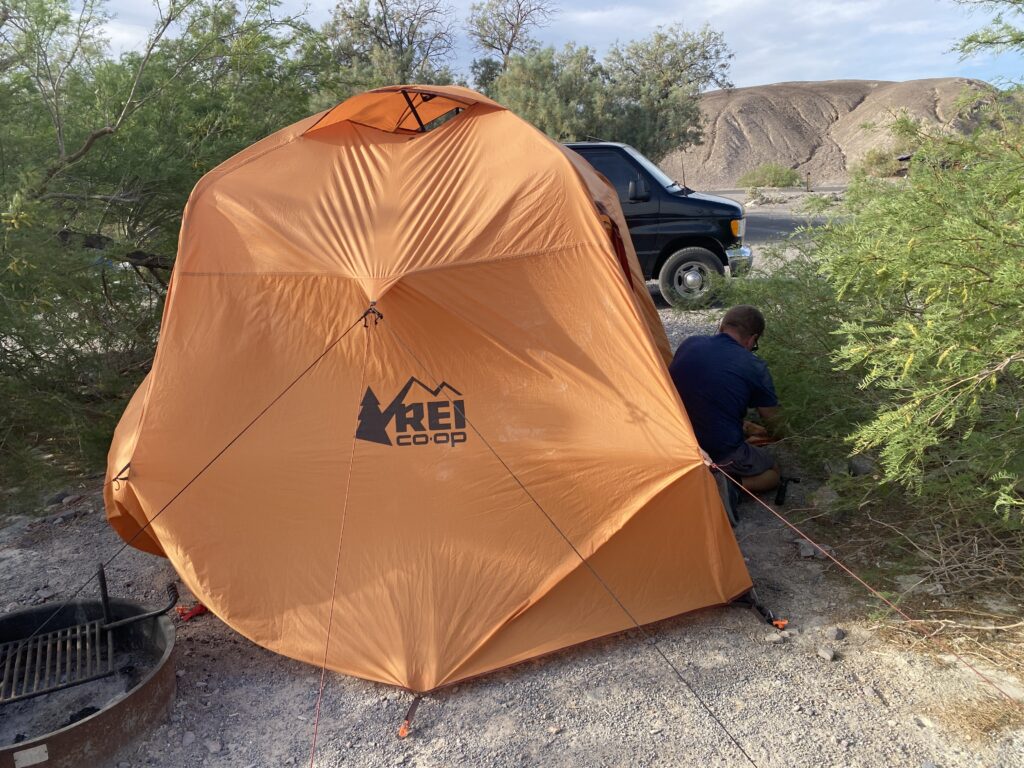 Surprised, we found a village with a store open til 10pm, an empty campground with bathroom and dishwashing station, light wind and cooling temps. Eric staked out the tent while Sheri bought two Mojave Golds by Indian Wells Brewing Company because in Death Valley you buy singles, not six packs. We ate grilled cheese and tomato sandwiches in the dark as the temps dropped to a chilly 85.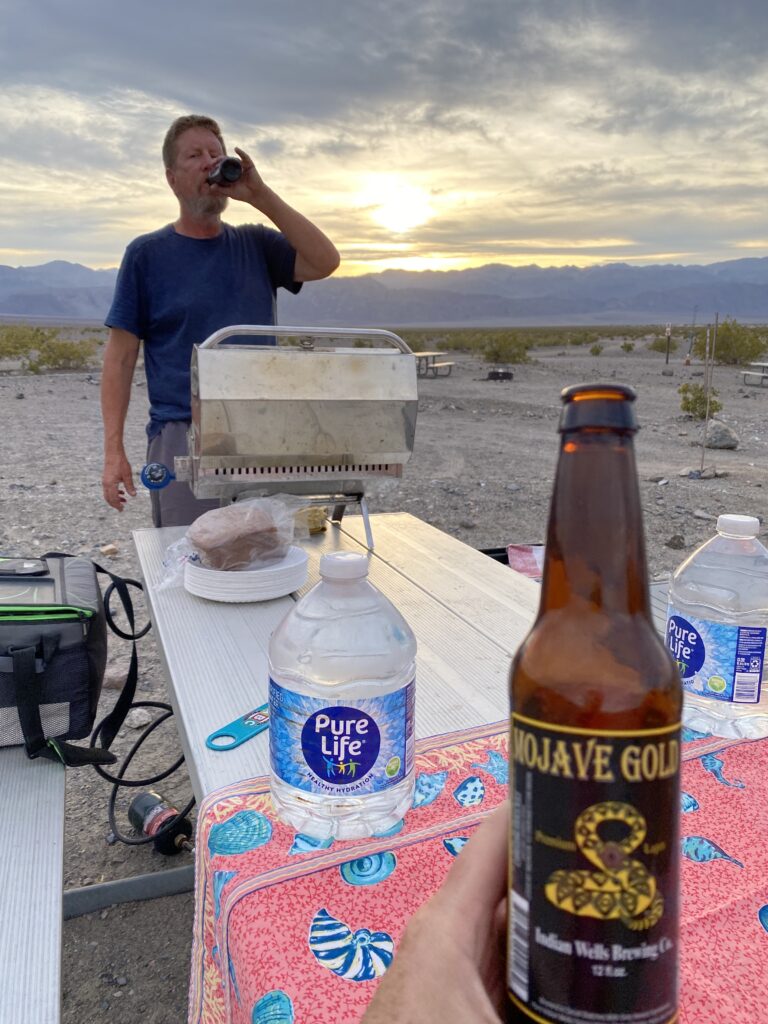 We feel like we completed the Mojave triathalon – Dig a Dodge out of deep sand, drive 300 miles through the chloride mines and salt flats then drag a tent through thorn bushes in a hurricane. We can't do another triathlon. If something doesn't break, we might.