As far as streaming series go, The HBO series Deadwood, which ran just 3 seasons from 2004 to 2006, would easily stream for 9 or 10 seasons today. But in 2005 when the decision was made to axe it, HBO had The Sopranos and The Wire. It was a time when Netflix mailed you a DVD. The Dark Ages! How did anyone survive?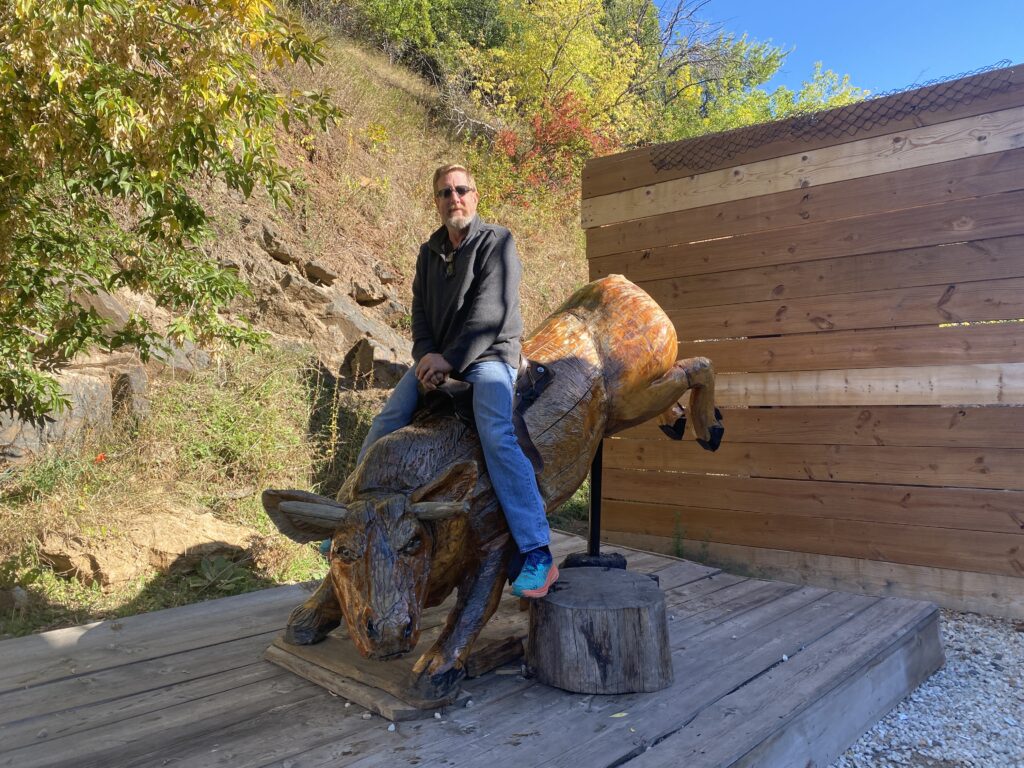 We streamed Deadwood a few months ago, ten years after it was cancelled, falling in love with the idea of living a hard western life in a hard tough town. Deadwood is an actual place in South Dakota, near Sturgis, where the biker crowd rallies big in August. Camped on a ridge line overlooking the city on Custer National Forest government land, it was just like Calamity Jane in the series, but not as wrecked. In turning the big F-250 pickup around on the dirt road, Eric smacked the tailgate into a tree stump and now it is damaged and stuck in the up position. We last had a shower on the prairies of Montana and are not feeling too clean. Fresh water from a bottle is running low and indoor plumbing has not been available for days. Trouble abounds. It is just like Season 1 of Deadwood!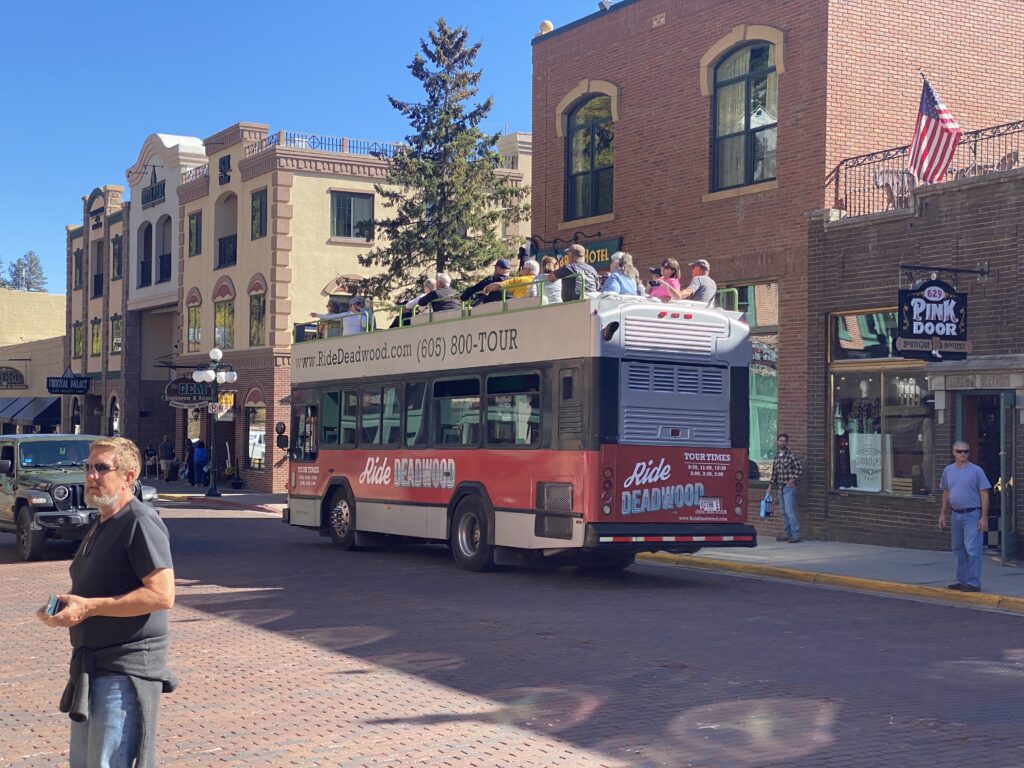 It is hard and definitely unfair to judge modern Deadwood by historical standards. We want to hate it because gone are the dirt streets, shootouts, and colorful characters that we are sure were there based on our research of watching the series. Alas, it has become a 2023 movie set kind of town. The shady characters have been replaced by senior citizens on bus tours which would definitely fail any casting director's cut for a new series.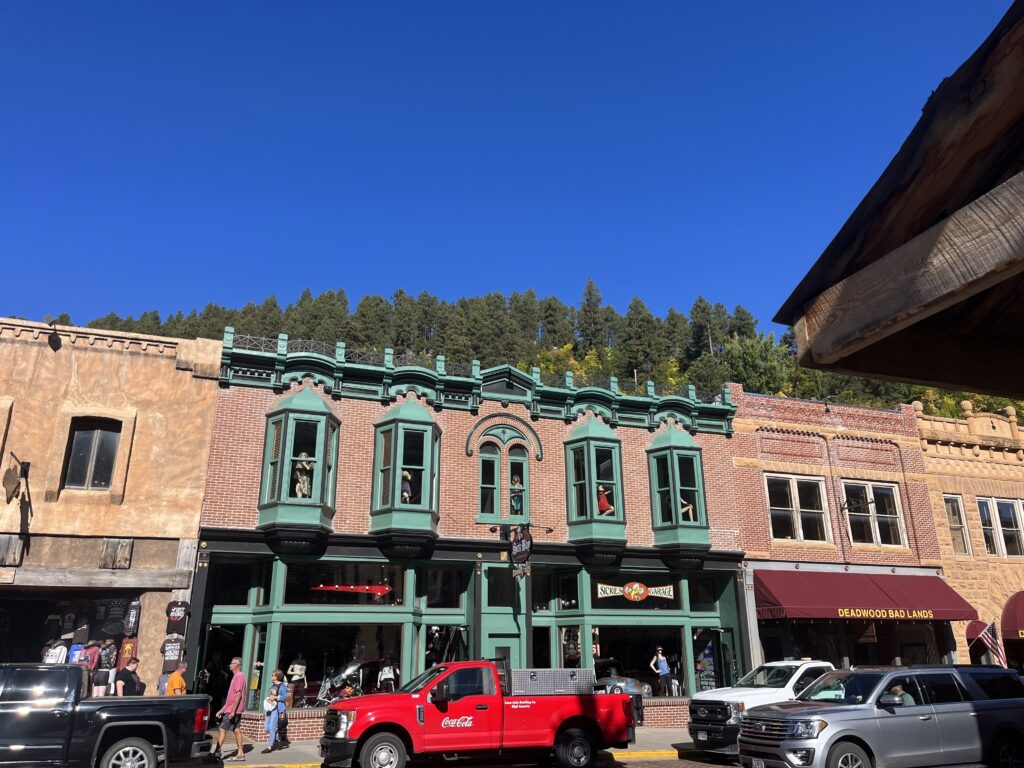 The stores, bars, and casinos are on theme, too well-manicured and over-priced for our tastes. We had a way above expectations breakfast at The Gem which was founded by Al Swearingen 175 years ago when he was the owner of the same named saloon and brothel in Deadwood. We wanted to make fun of it cause there were no signs that Al or his henchmen Dority or EB were ever there, but good food and service is good food and service. It is not the Deadwood of 1876, but it was darn accommodating.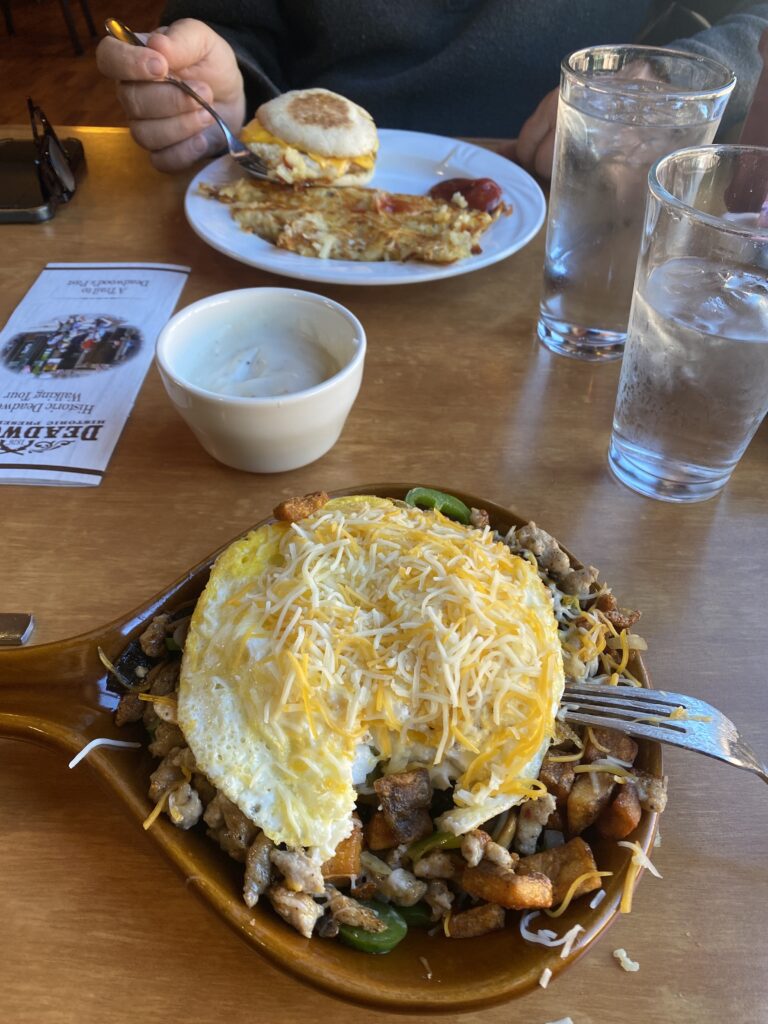 The town looks to be thriving. No stores for rent and tourist kept buses rolling in. If you are in South Dakota, you do not have an Ocean City or Siesta Key. The oceans are far away. For tourist vacation fun you have Mt Rushmore, Crazy Horse and western themed entertainment where Deadwood hits the mark.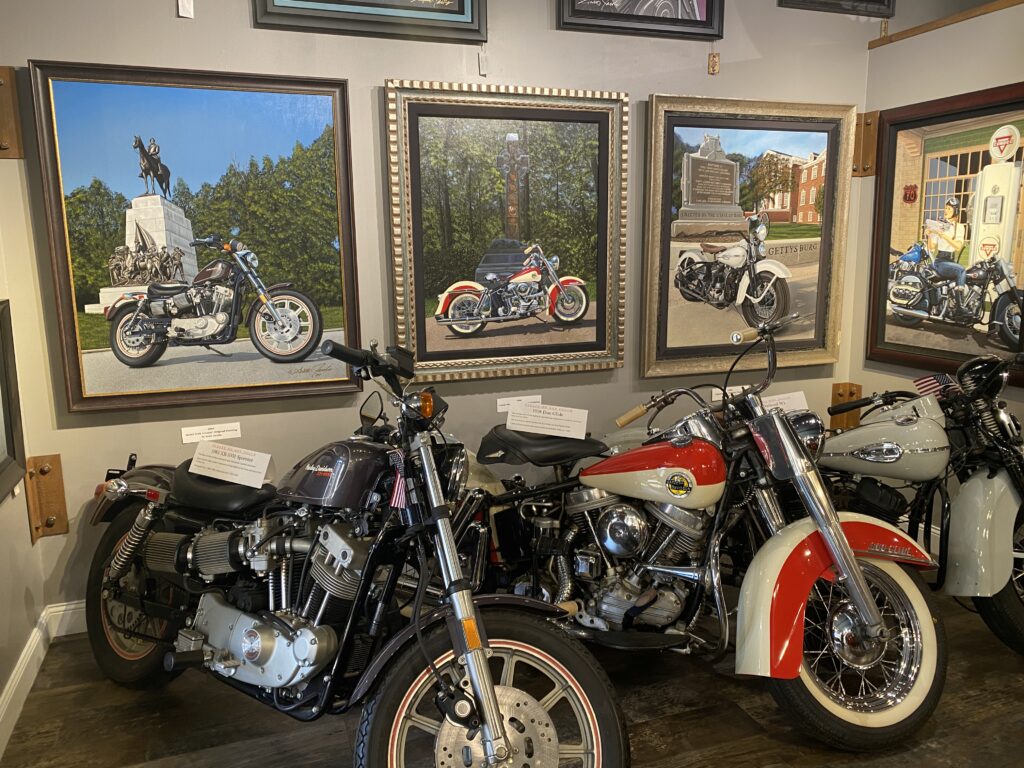 It is a one and done for us, but if you like to wine, dine, and pull the handle on the one armed bandit, Deadwood can keep you entertained. There's a summer music pavilion in town square and tons of shopping with Wild West memorabilia made in China. The cemetery on the hill where Wild Bill Hickok is buried is a major tourist trap for sure. But, it is a nice stroll with good overlook of the town and it only runs two dollars.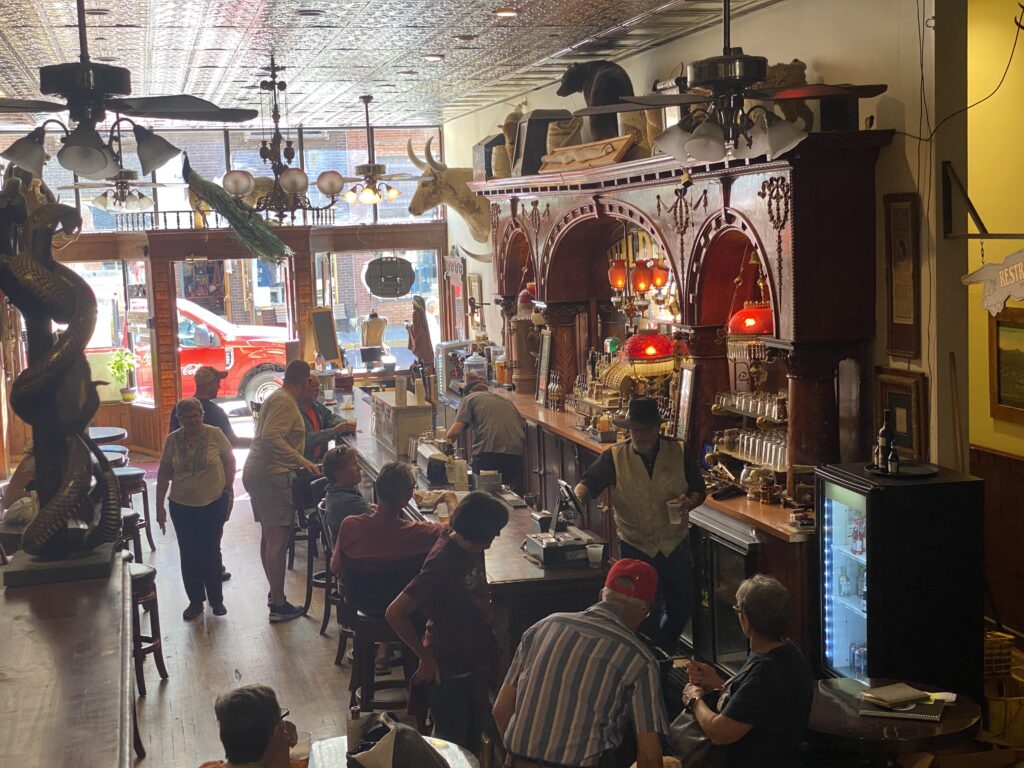 There's no Deadwood on the Hi Line of Montana. Where Glasgow, Wolf Point and Harlem are dusty, deserted drive-bys, the Black Hills of South Dakota, famous for gold rushes and Custer's Last Stand are stocked with quaint, amenity rich towns. Belle Fourche, Hill City and Custer are all within 80 miles of each other, all with thrifting, library and replenishment choices. Even so, we still hunt for a hospitable overnight on government land.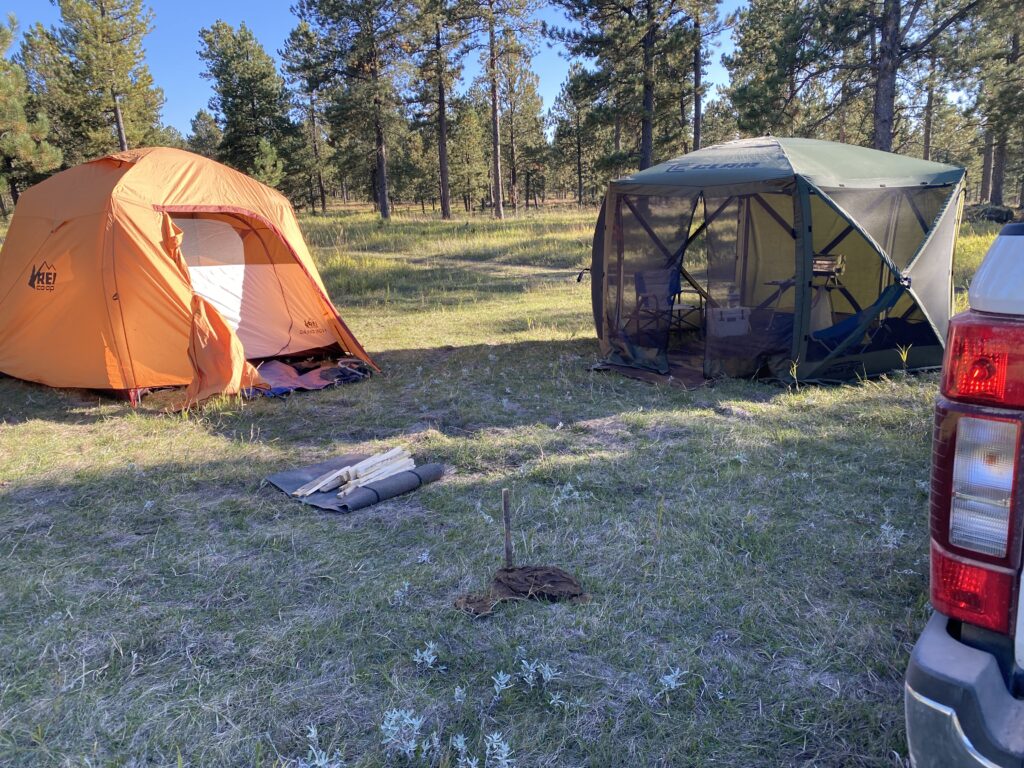 Deep in the forest back on yet another fire road with our now damaged 4×4 pick up, we set up camp and embraced the vibe that the Deadwood series sold us. Sort of level ground trying to avoid the cow dung.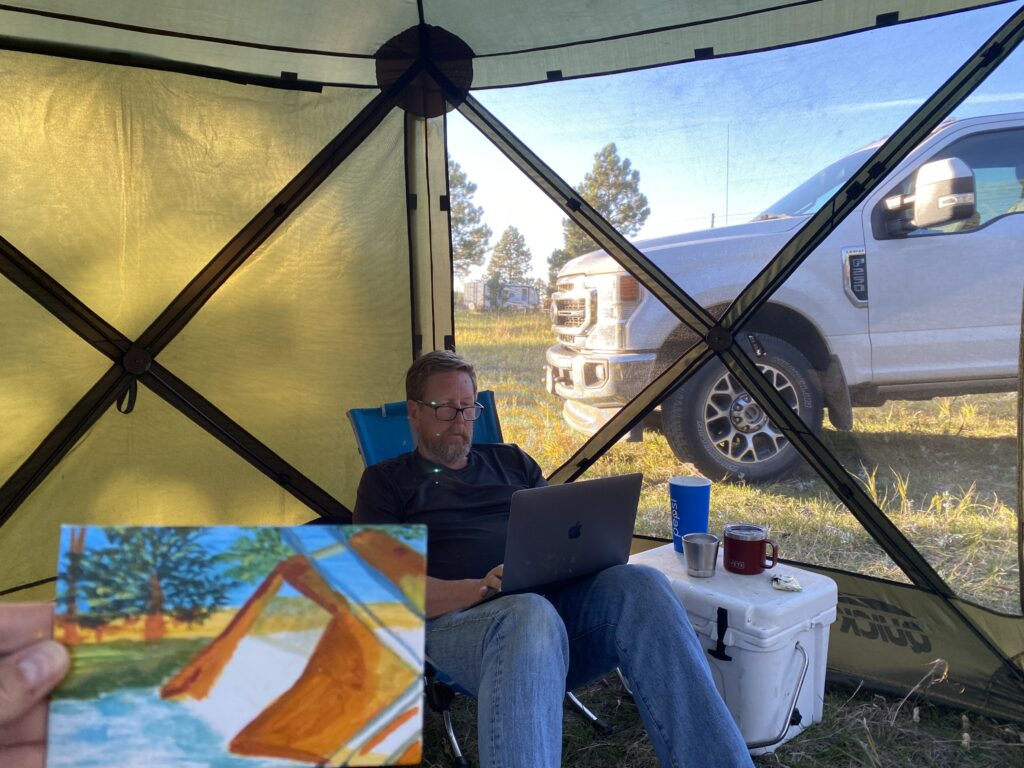 The Clam continues to provide a soft sided sanctuary when bugs, bees, and flies want to claim their territory. It's surprising that a tent, a pop-up screened room and a truck bed of just the necessities feels like home.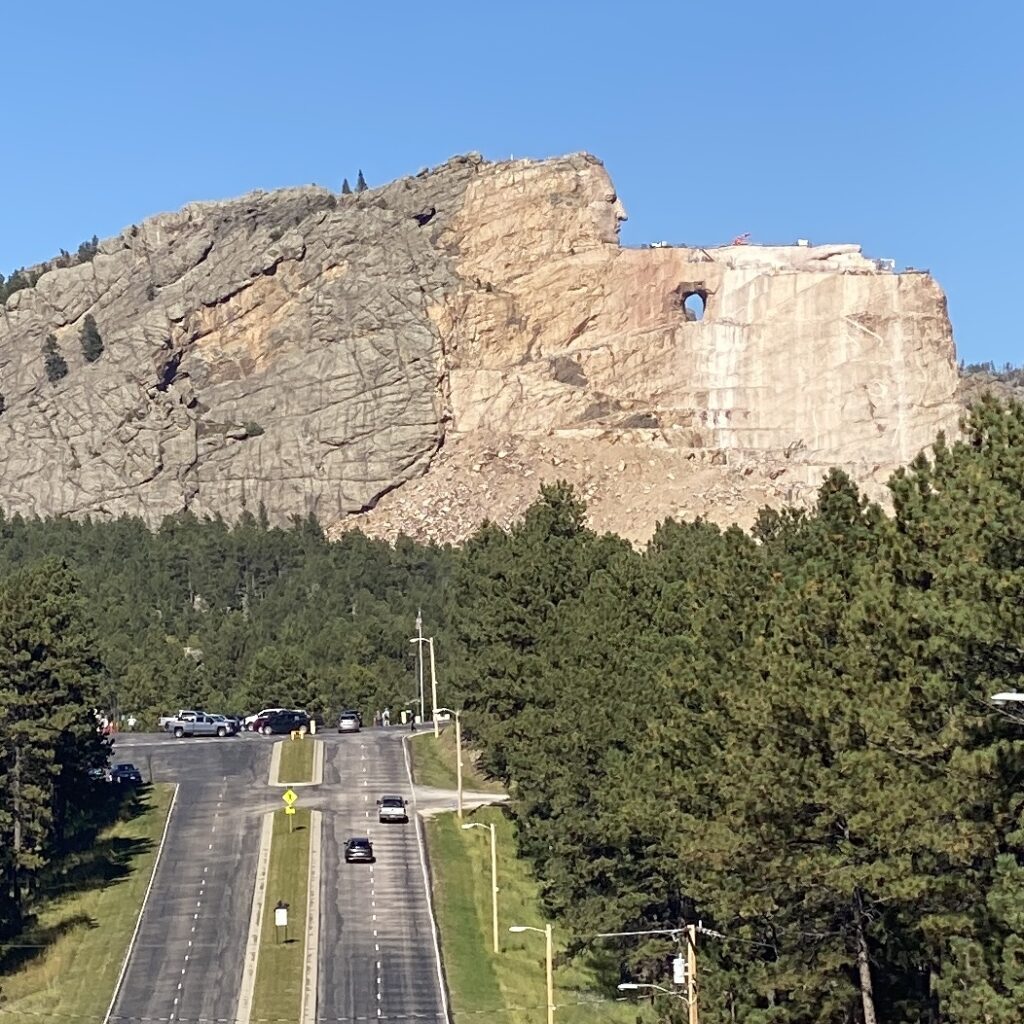 Like Al Swearingen in Deadwood (played so perfectly by Ian McShane), we live our life in the Black Hills unwashed and unrepentant. We spit peanut shells at our feet while sipping cheap whiskey, pee wherever there is a modicum of privacy, cook simple foods that fill our bellies, and sleep on the ground. Long live Deadwood!