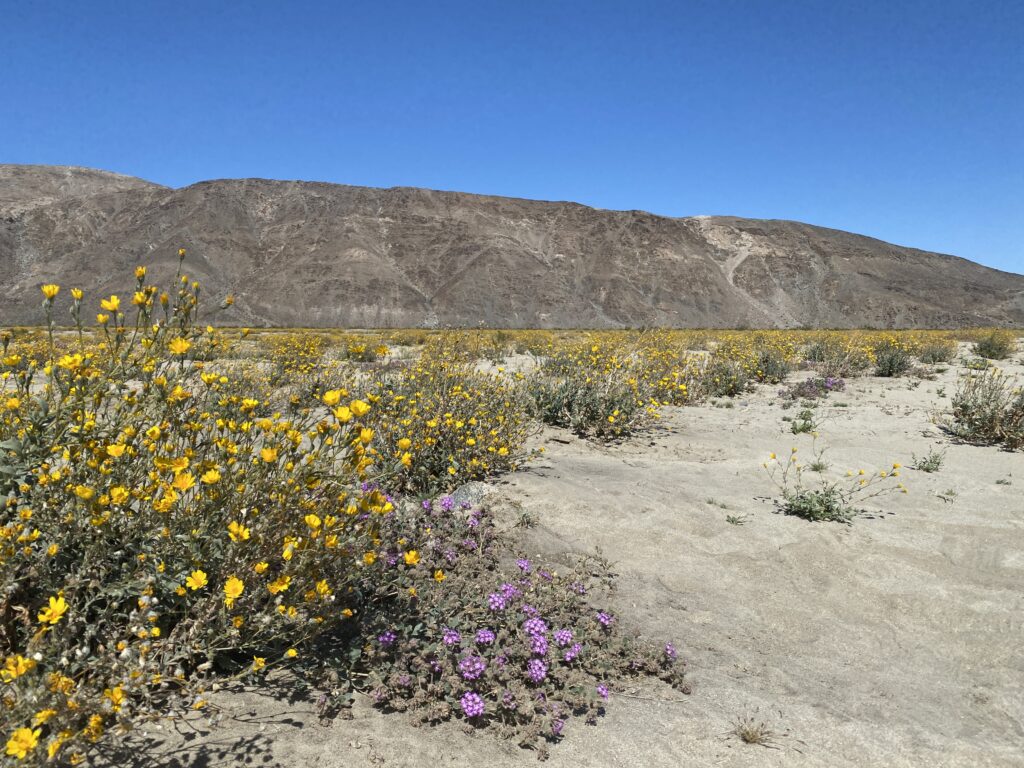 Let's just go. That's what we finally said to each other after months of back and forth on whether or not Sheri would get to see carpets of wildflowers if we took a 7,000 mile road trip. If the bloom was a bust, we may as well make an event out of it and call it 10T-iversary. And while we may have missed peak abundance, Sheri got some blankets and Eric got his camping but the most rewarding things we are calling Fruits of the Bloom.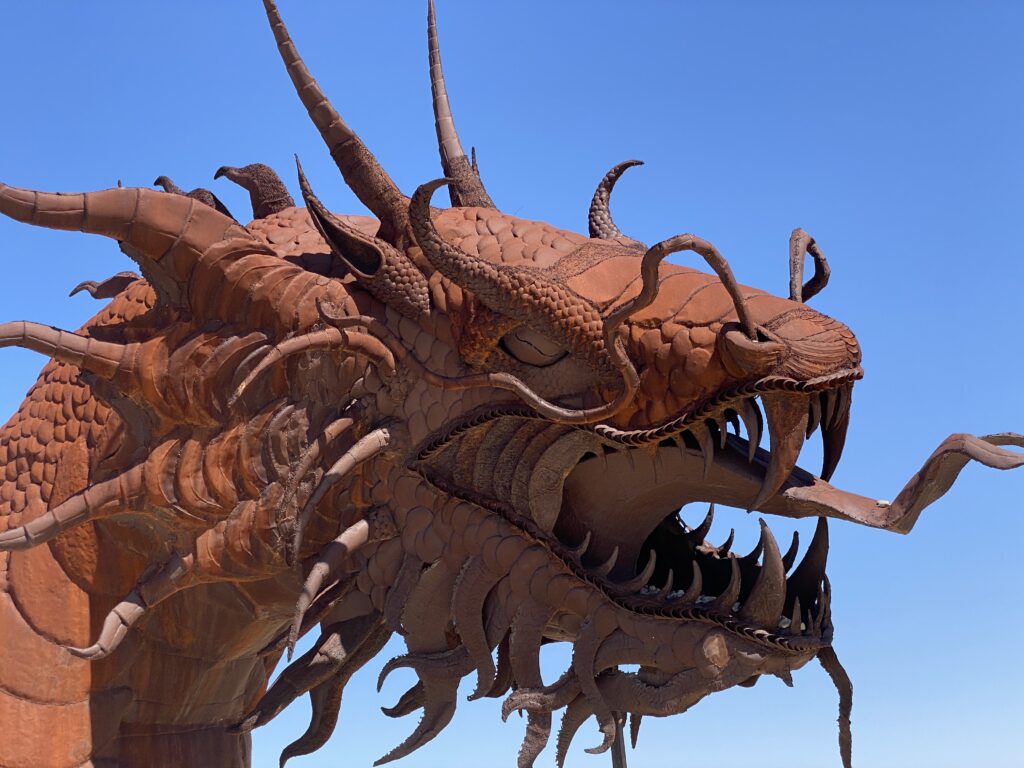 Borrego Springs, CA is the epicenter of the 1 million acre Anza Borrego Desert State Park. Coming into town we stopped to photograph some of the 130 large metal sculptures depicting the paleontological and mythical significance of the region. The Art Institute and Desert Museum anchors the downtown, along with a state of the art library and every amenity a townie or tourist could need. We did laundry at Tubs, ate street tacos at Los Jilbertos and bought art at The Frugal Coyote Thrift Shop. Sheri window shopped her way thought the eclectic stores around the main drag while Eric took a zoom meeting in one of the library's conference rooms.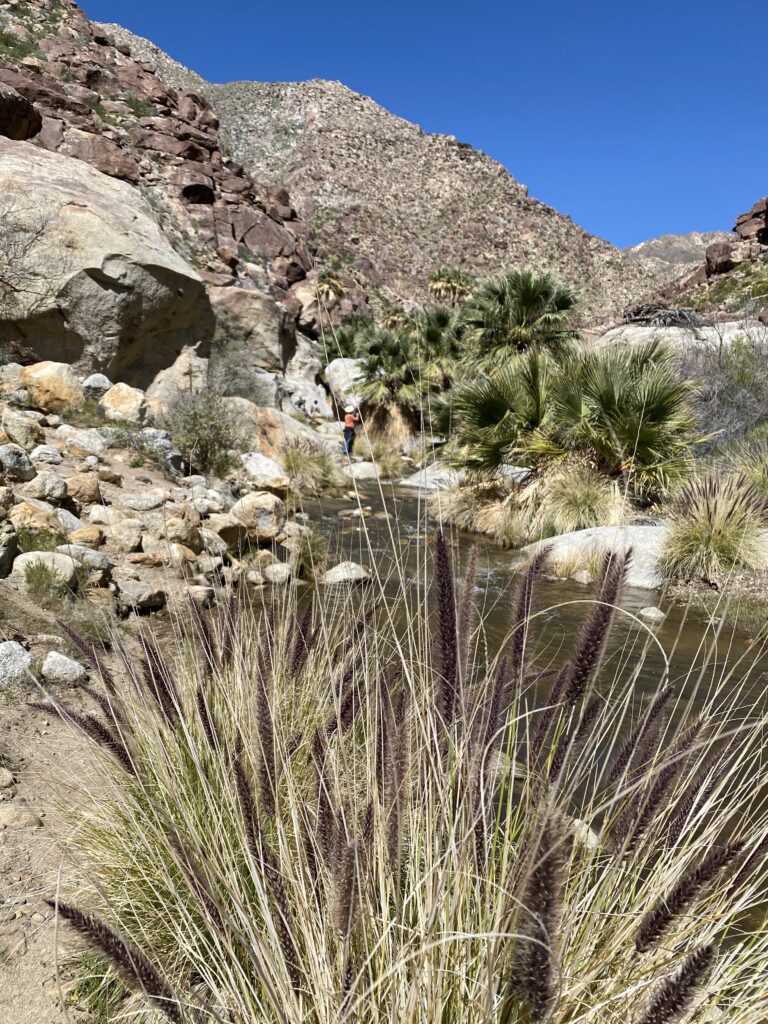 Housing is affordable and the park is your playground. As much as we were ready to leave it all behind for Taos (NM), Marfa (West TX), Fayetteville (WV) and Pacific Beach (WA), Borrego Springs could be the one. We are serious this time. An hour from Palm Springs, two from San Diego and three from L.A., it's up the street from Coachella and around the corner from El Centro. It is a topographical version of all our favorite American landscapes in one jaw dropping location. Did we mention the tennis/pickleball center and 3 golf courses? But what about summer desert temps and lack of water? Minor details … it's a dry heat.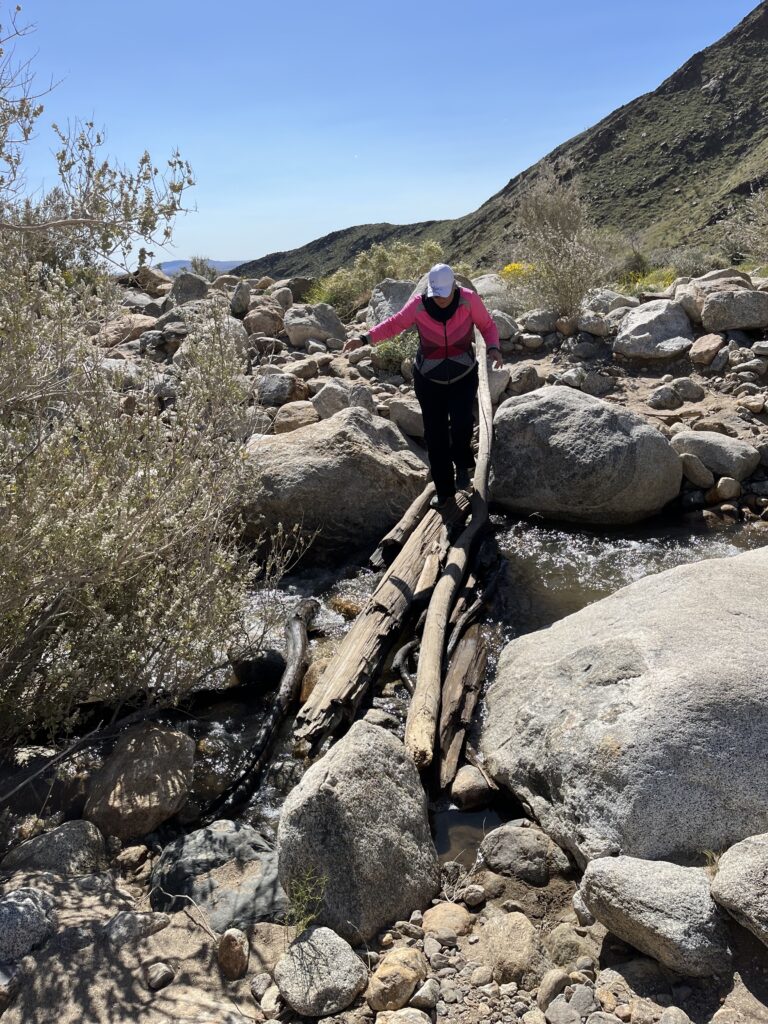 Up at the Visitor Center, Volunteer Ranger Nancy offered 3 pearls – Hike the Palm Desert Trail, hike The Slot, 4WD to Font's Point to see a birdseye view of the California Badlands. We bought the Anza Borrego bible and tried to map out a loose itinerary before we came but the park is so huge that you really can't figure it out until you get here or until you talk to Nancy.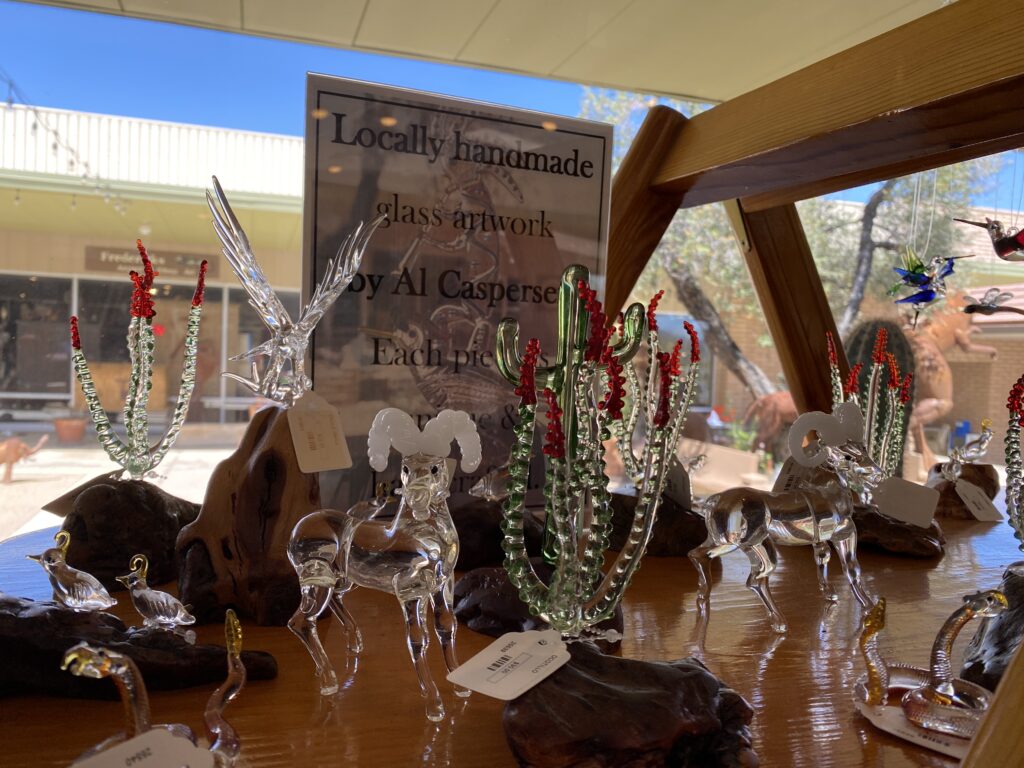 The southern parts of the park are more deserted because everyone is busy hiking the Palm Desert Trail. At 3 miles roundtrip, it's the perfect length to wind through blankets of wildflowers, boulder scramble through cactus gardens and see native palms in their natural habitat with a bonus waterfall at the end. If Disney were to create Desert Garden Oasis Land Hike, it would be just like this.
Camping in the park is picture perfect and if we had Roxie and if we were feeling less adventurous, we'd have gladly lined up at 2pm to try to score a cancellation spot. Instead we took hot, 50 cent showers in their bathhouse and picnicked under their shaded ramadas before heading into the dusty desert.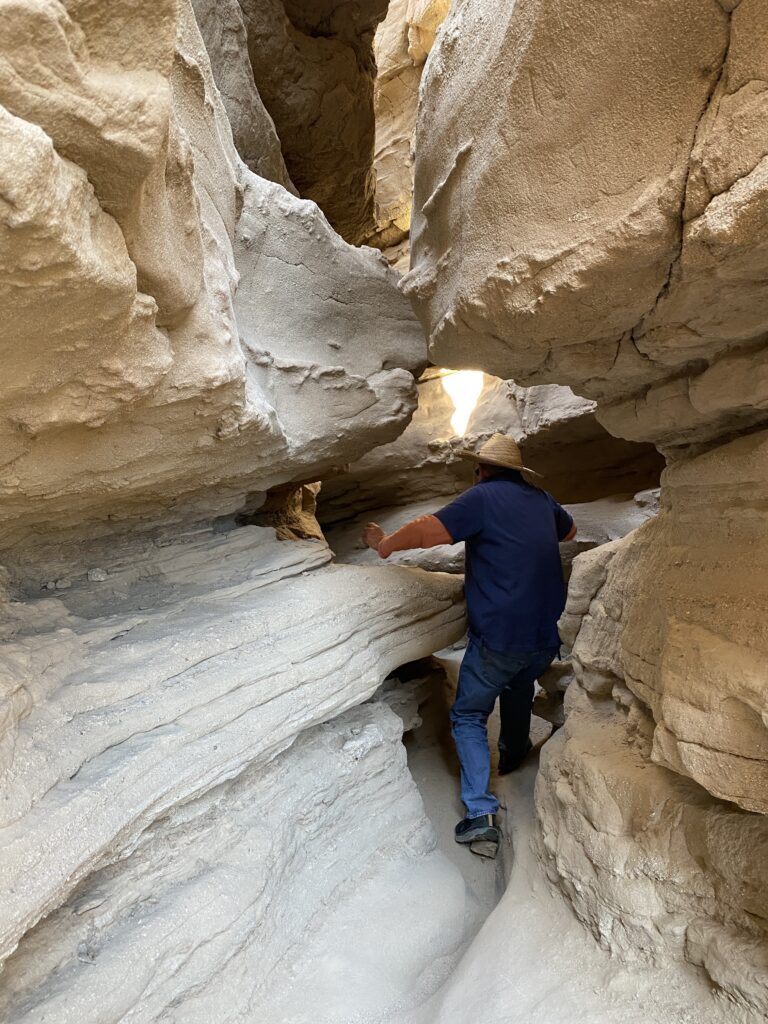 We came ready to stay outside of the campgrounds. First you have to have Avenza maps on your cellphone. The maps work even without coverage and map every nook and cranny of the location you choose. Next you have to have high clearance 4WD and know how to drive over rocks and through deep sand. Then you have to be willing to go up and down unmarked dirt roads until you find suitable level ground for tenting. Finally you have to embrace being 100% alone and remind yourself that a rustling tent in the wind is not strangers coming to rob or kill you. It's an out there opportunity to be one with nature.
In a nutshell, this is why we drove cross country to camp out of a truck. We 4WD our way into deep, narrow Hawk Canyon where the most vocal resident is an owl and pitch camp under a giant willow tree with the dramatic hoo-doo architecture of the canyon walls in the background. The next morning we spy the owl again as it hunts for swallow nests in the adjacent slot canyon we are hiking. The Slot rivals the famous Antelope Canyon in Arizona in beauty, except you do not have to get bused in with a tour group to "experience" it for your 20 allotted minutes. Just drive over from adjacent Hawk Canyon and hike with a few other people who managed the 4WD ingress.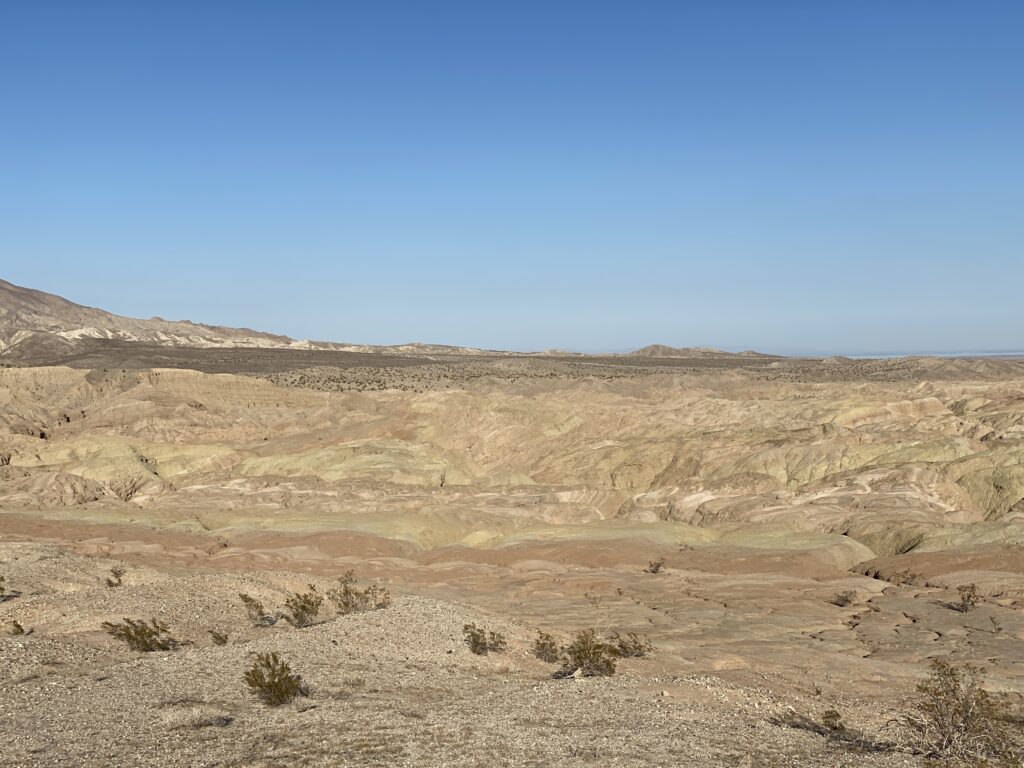 The following night we followed ancient washes up onto a high plateau until sweeping views of chromatic Badlands spread out in front of us for miles. We sat all alone on the ridge drinking tea at sunset and watched a full moon rise over the Salton Sea 40 miles to the east. You could mistake being in one of the Utah Big 5 National Parks. In Anza Borrego, just drive up and drive off road. Set up your camp. It's crazy. How is this possible?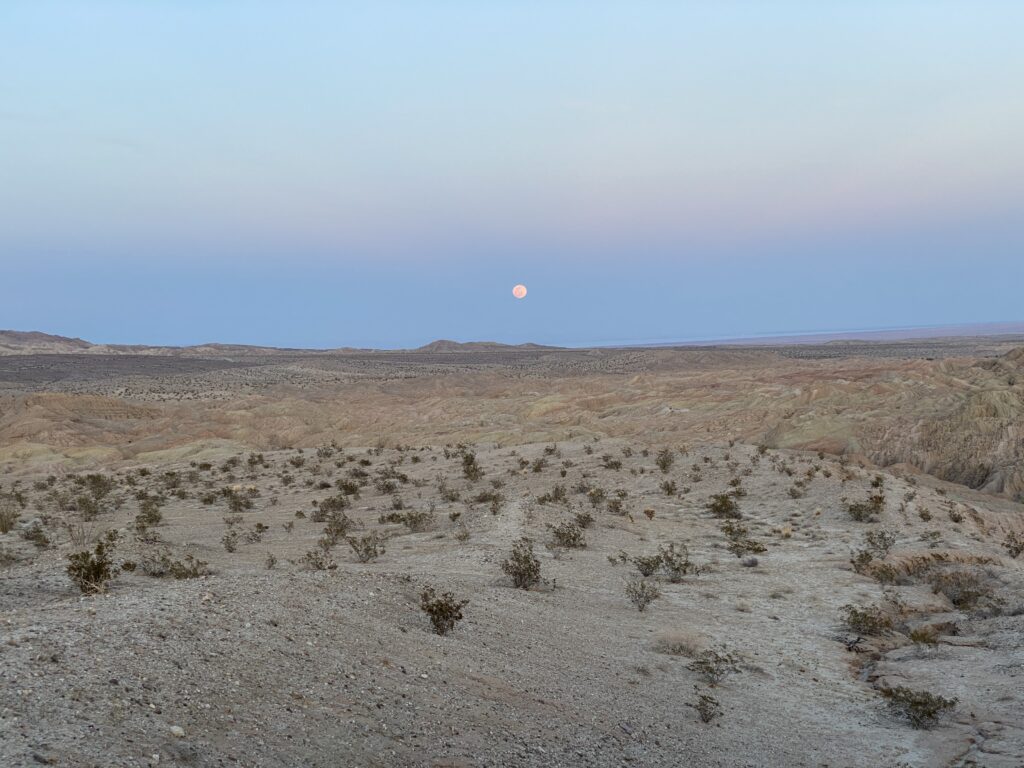 In truth, Mother Nature gave us a few livable days and nights of environmental conditions. The Anza Borrego Desert cares not at all about our comfort. We got lucky. Like winning a poker hand when you were dealt a full house, the best thing you can probably do is take your winnings off the table and cherish the memory. Last month it snowed. Next week the temps will be triple digits. We may not have had much of a camping plan but it worked and that's another fruit of the bloom.