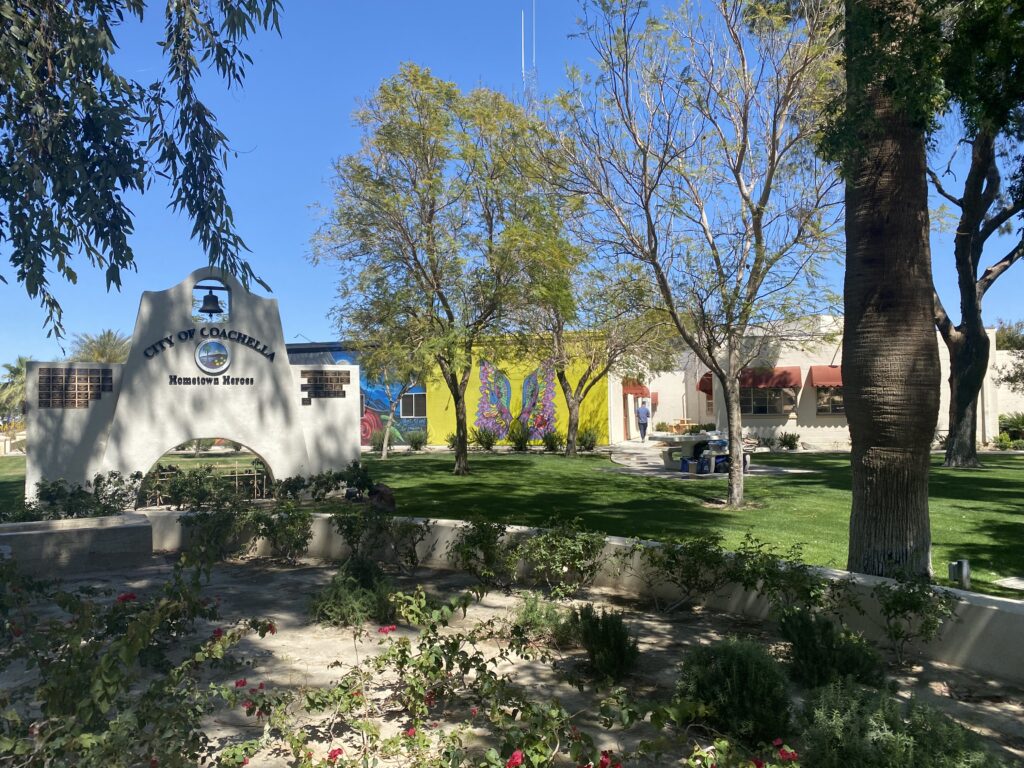 Sheri's wish list for 10T-iversary weekend: Coachella, Wind Farm, Palm Springs MCM motel, and The Integratron. Eric's wish list: To make it happen.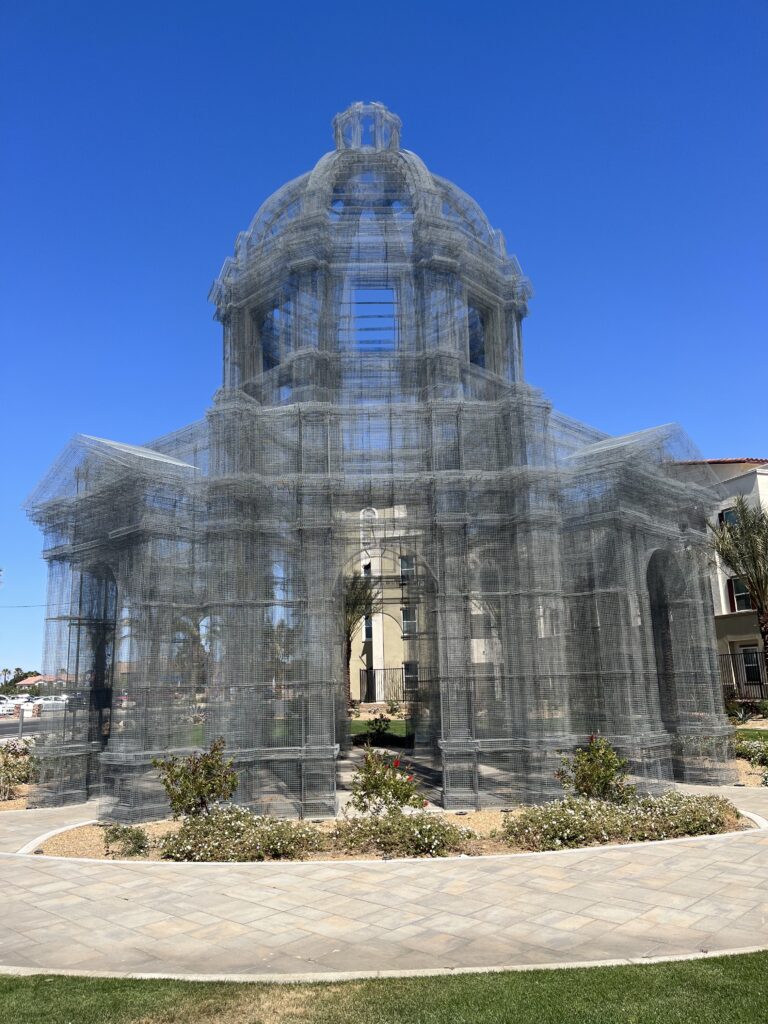 Sheri didn't actually want to attend Coachella, she just wanted to see the place where the cheapest ticket is $600 for a 3 day general admission and $450+ to car camp and see Bad Bunny and 100+ artists we've never heard of. In typical Sheric fashion, we hit the library, thrift stores and local El Salvadoran restaurant for the Pupusa lunch special on the one side of town before checking out the concert Polo grounds amid stunning multi million dollar homes set 10 feet apart on micro-sized lots behind majestic walls and gates where every median strip is a superbloom on the other side of town.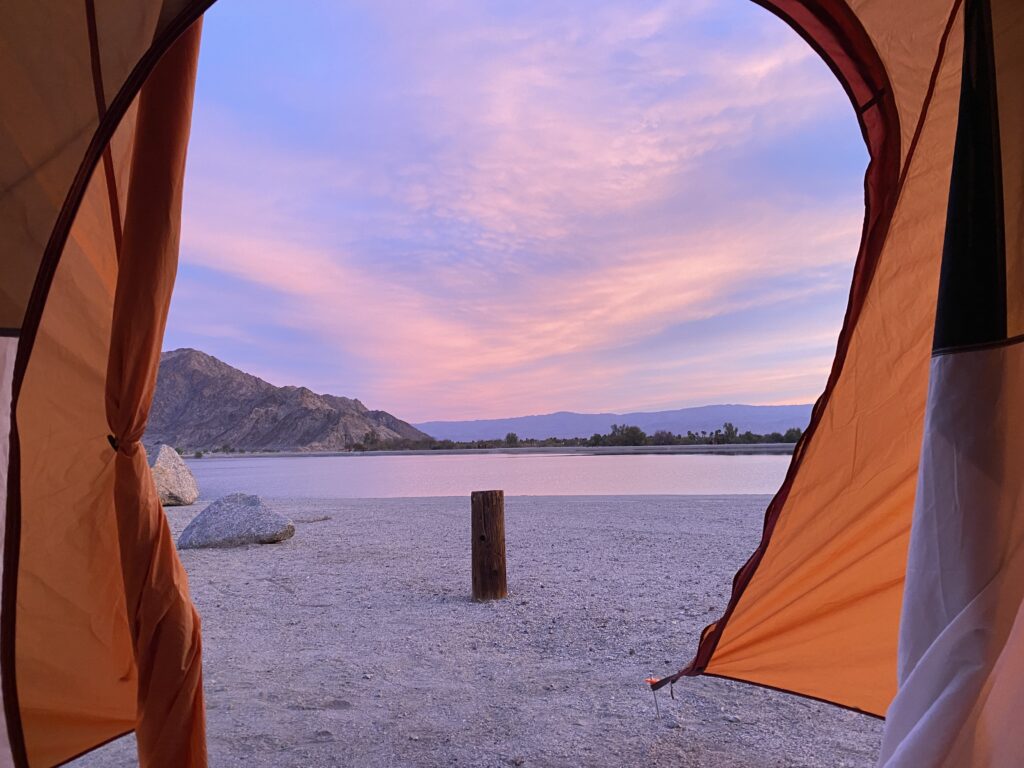 Not fitting into either local scene, we found the fringe in the Lake Cahuilla County Park where we set up camp on a waterfront lot but were banned from touching the water. Nothing entering the park was allowed to touch the water. While we were not visibly covered in invasive Quagga mussels from our stay in the desert, we weren't to sure about the couple camping next to us.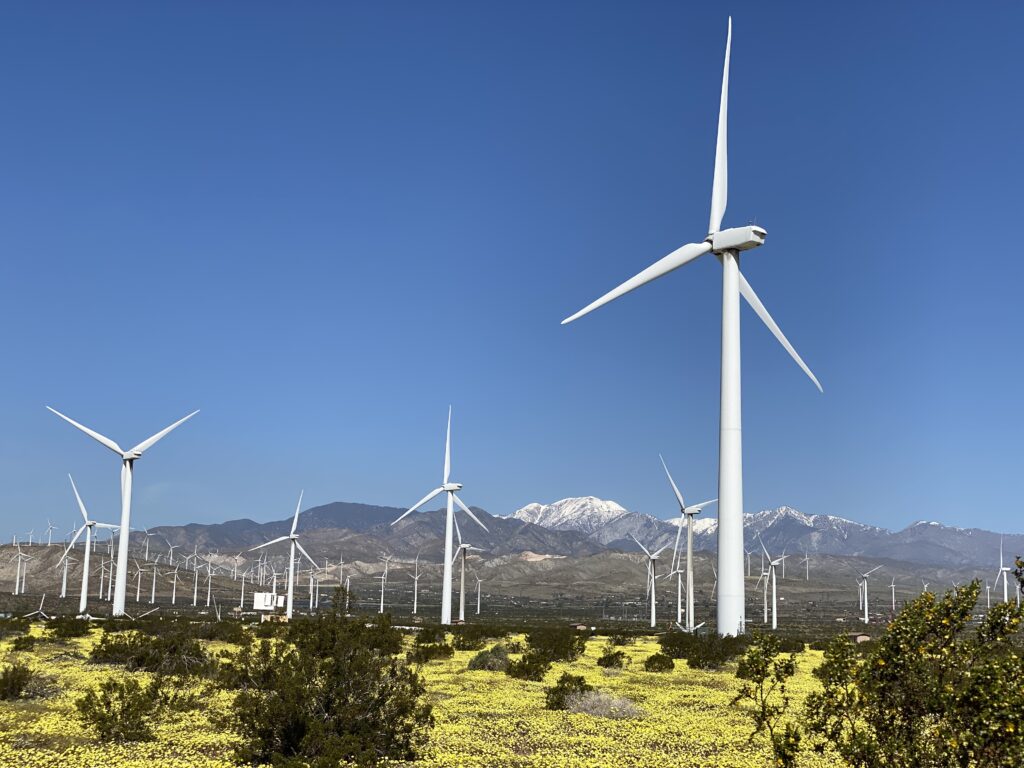 A half hour up I-10 is the Palm Springs Wind Farm Tour. Obsessed with wind turbines, this $55 self-driving tour was Sheri's chance to get up close for killer pictures with a surprise bonus of a carpet of wildflowers. The audio tour was surprisingly technical with plenty of engineering on the history and mechanics of these elegant giants. From megawatts to NASA airfoils, the presentation was either fascinating or a good reason to get out of the car and photograph wildflowers.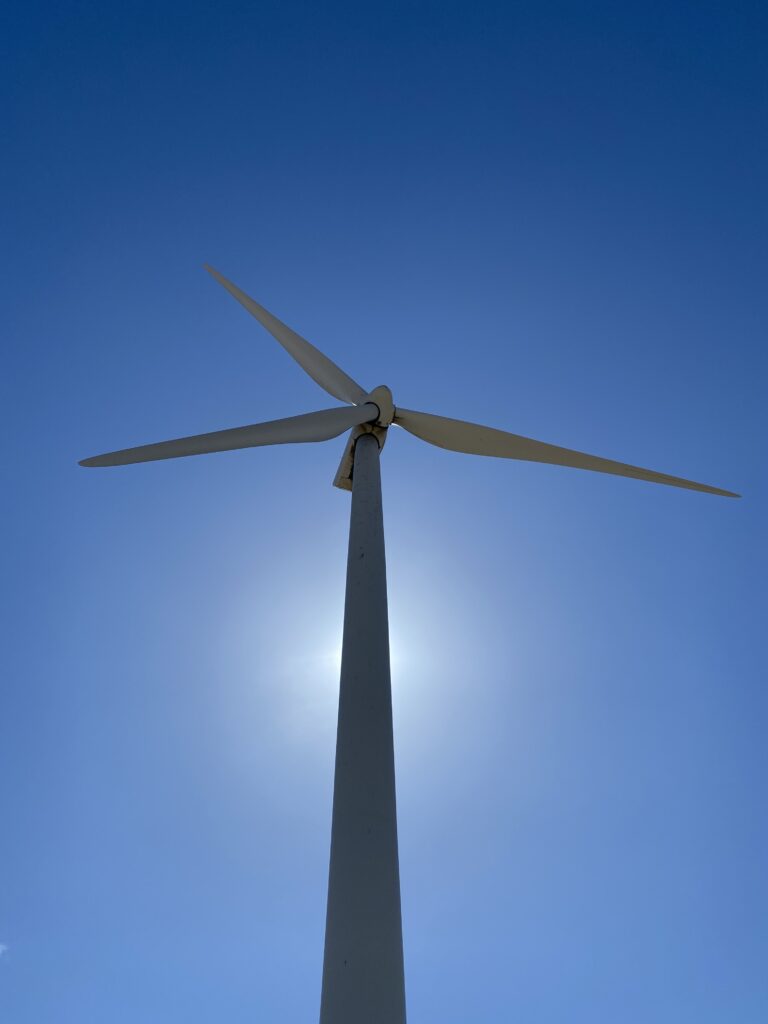 The Coachella Valley contains nine cities from Palm Springs in the north to Coachella in the south that have each created a premium brand around a resort experience. Tourists can shop Tommy Bahama and sip Jimmy Buffet cocktails along the main street in Palm Desert or along the main street in Palm Springs, or along seven other main streets. The options are endless as long it is eating drinking and shopping.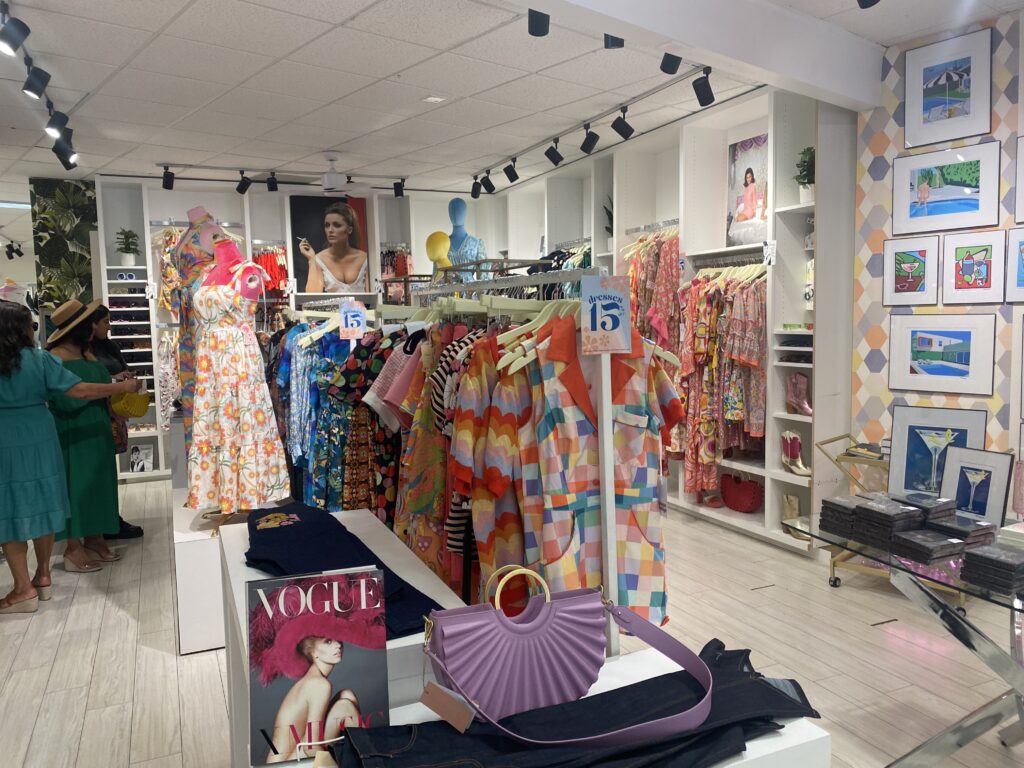 Palm Springs is known as the preserver and champion of mid century modern architecture and style. To learn more about that Sheri wanted to tour the Palm Springs Architecture and Design Center. After paying the admission we discovered on the mandatory tour that this center was one exhibit that had nothing to do with MCM architecture or design, but instead was an exhibition on wood frame barns from the 1800s through 1966. The best part of that stop was that Eric was able to parallel park our 23 foot truck between a Vette and a Porsche on the main drag.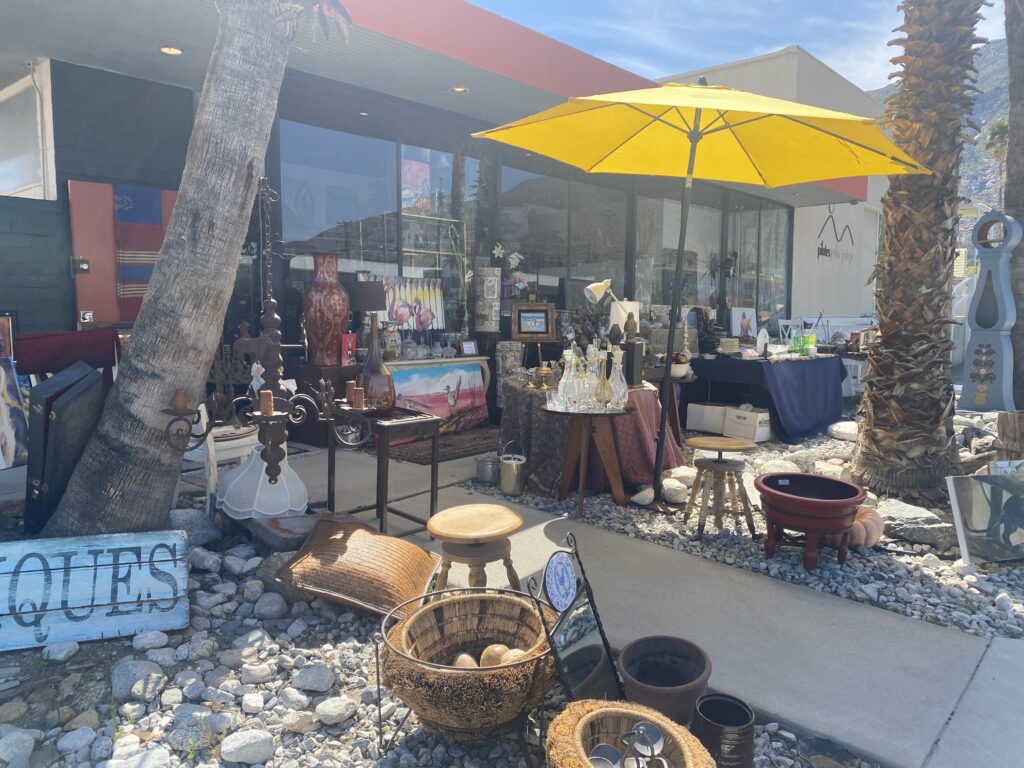 The retailers of Palm Springs have embraced mid-century modern the way a four year old girl embraces Elsa from Frozen, whole heatedly and beyond reason. Anything kitsch is MCM and the throngs of tourists were buying it, even the Brady Bunch placemats and tie-dye t-shirts. After 4 blocks of window shopping and a delicious Greek lunch of falafel and gyro sandwiches, we hit our limit and navigated to the thrift and eclectic shops on the other side of town where the only limiting factor to the awesome artifacts was that none of them would fit in the truck.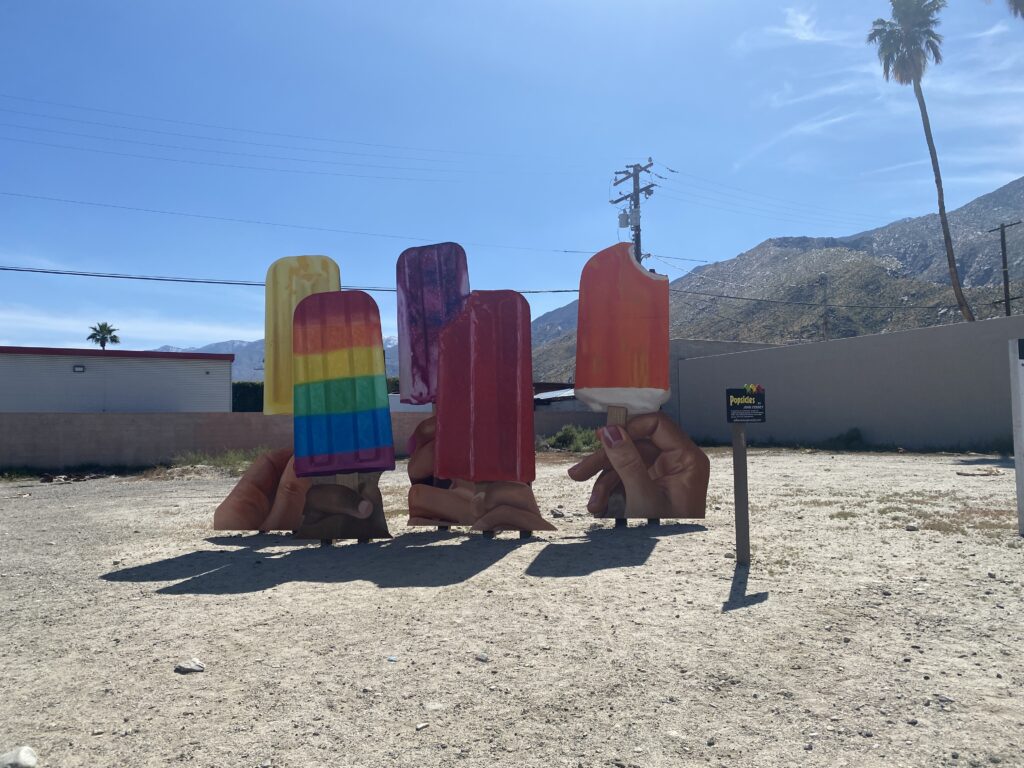 It was all going great until the sinking sun reminded us that we needed to find a trendy, cool yet not too overly priced, MCM styled, safe and secure motel. "No Reservations" works great when searching for a camp site in one million acres of public land. That is not a great policy on a holiday weekend in a trendy town. Our options were coming down to some motels that made the Econolodge in Hammond, LA look high end. After two weeks in the wilderness and out of time, we found ourselves incapable of booking an anniversary night motel in Palm Springs. Nomadic life in the desert was so much simpler.