Poll: Who's the Key West OG? Hemingway or Buffett?
While they both might be drunks, one was a bully, bragger and myth-monger, writing punishing stories of hardship and death while the other embraced outcasts, writing songs you know by heart about experience and choices with an it's-all-good anthem.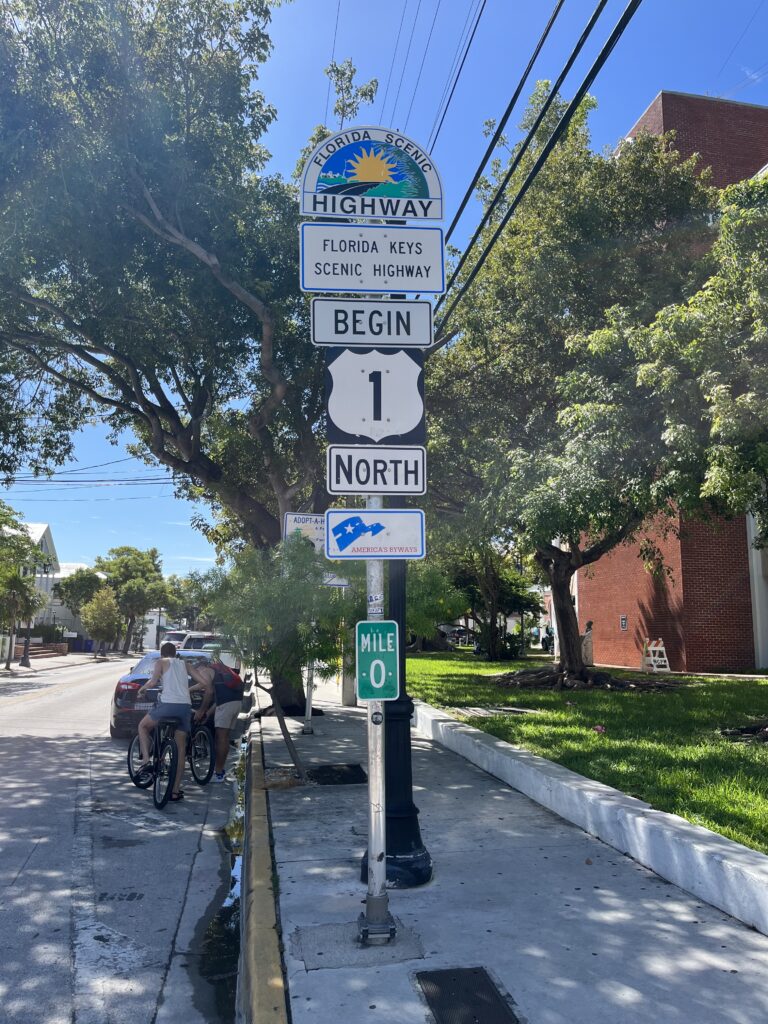 On our third day in Key West, we set out to live like we thought an OG might.  Thunder and spitting at 8 am put Comos undercover and Boss on the road.  Most of the bikes we've seen are beaters or fat tires so locals would have probably peddled on under their plastic ponchos.  Hemingway had a chauffer.  Buffett bummed a ride with a friend.  We rolled into town more Hemingway-style than Buffett we suppose.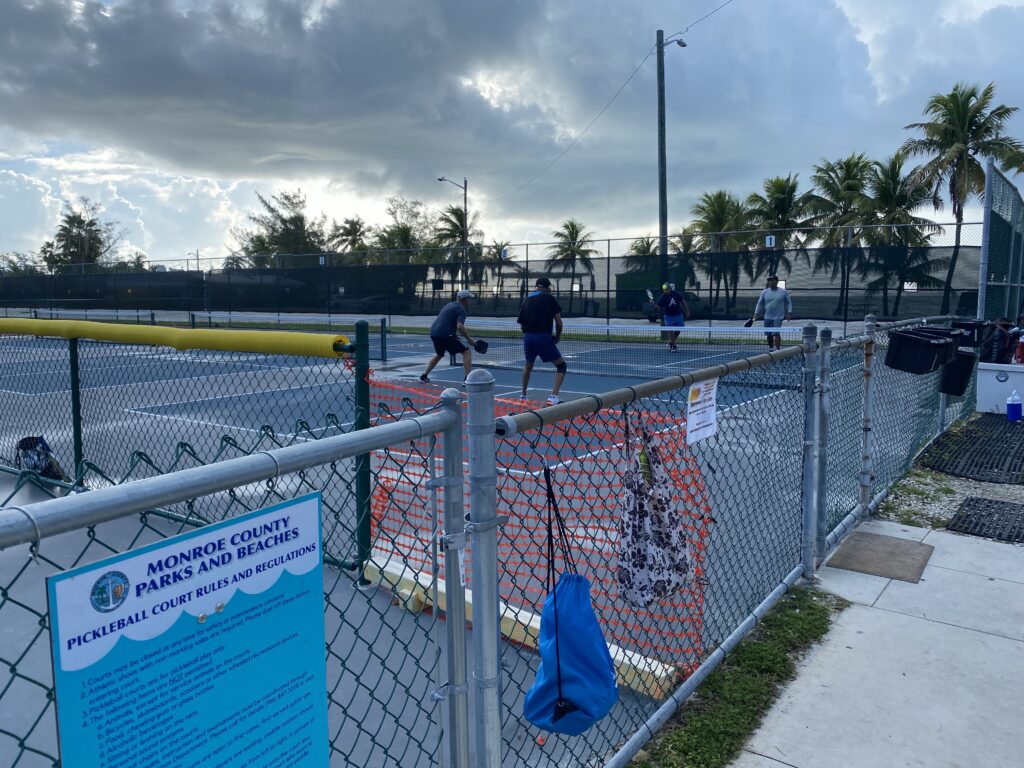 Four miles from Sigsbee is Higgs Beach, sporting six pickleball courts that hold puddles after rain. Twelve die hard seniors and a junior in flip flops hustling to give lessons hit the asphalt. Eric took the opposing side on Junior's court and after a shoe change and two close losses, Junior took his pickleballs and went home. He didn't quite like being beat by the out-of-towner in front of his potential customers. Most players were just trying to move about the court and make some social connections, just like most pick-up play around the country. But once you reach a certain level, it's hard to play when there's no real game so this round goes to Hemingway.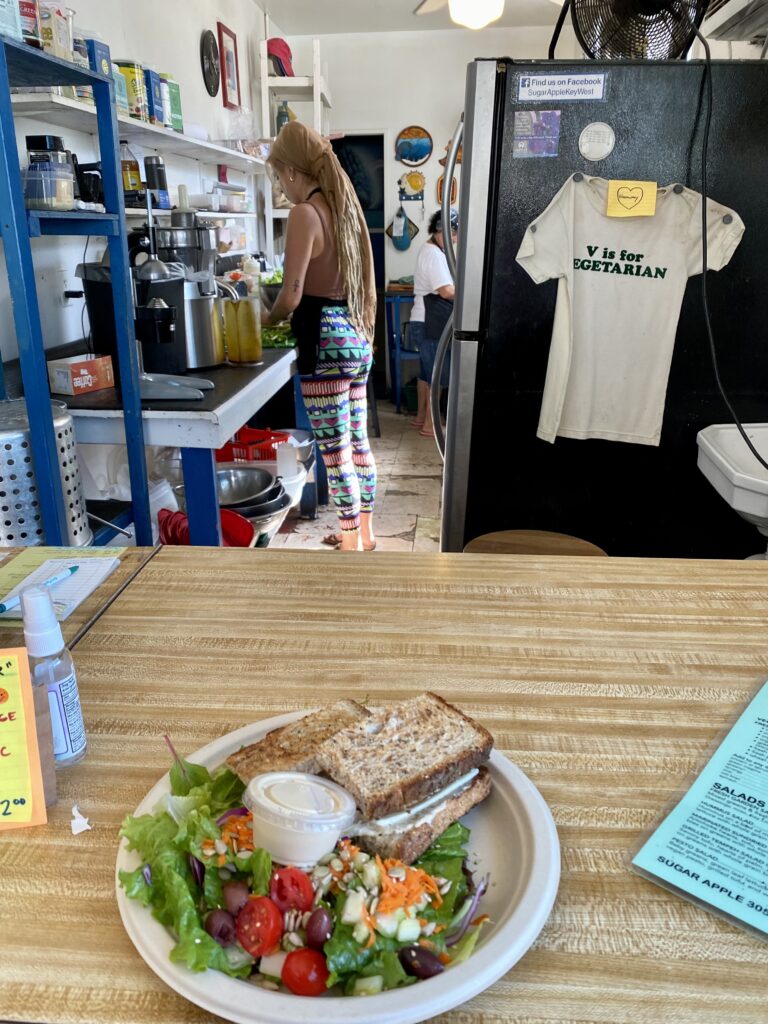 Moving Boss into the narrow streets of town, he muscled into a tight spot while we visited the Sugar Apple Market and Cafe, the most extensive plant based food alternative in town. Sheri picked up a book in Colorado earlier this month about the health benefits of going vegan and we're now on a 21 day Kickstart plan and consuming videos on How Not to Die, reviews on plant based food brands and recipes for "nice" cream. There are no Cheesburgers in Paradise this trip. But you can get a we're not kidding delicious $12.50 Tempeh Reuben – pressed wheat gluten on bakery rye bread with organic sauerkraut and vegan thousand island dressing and a side salad with tahini dressing. Embracing change is totally Buffett.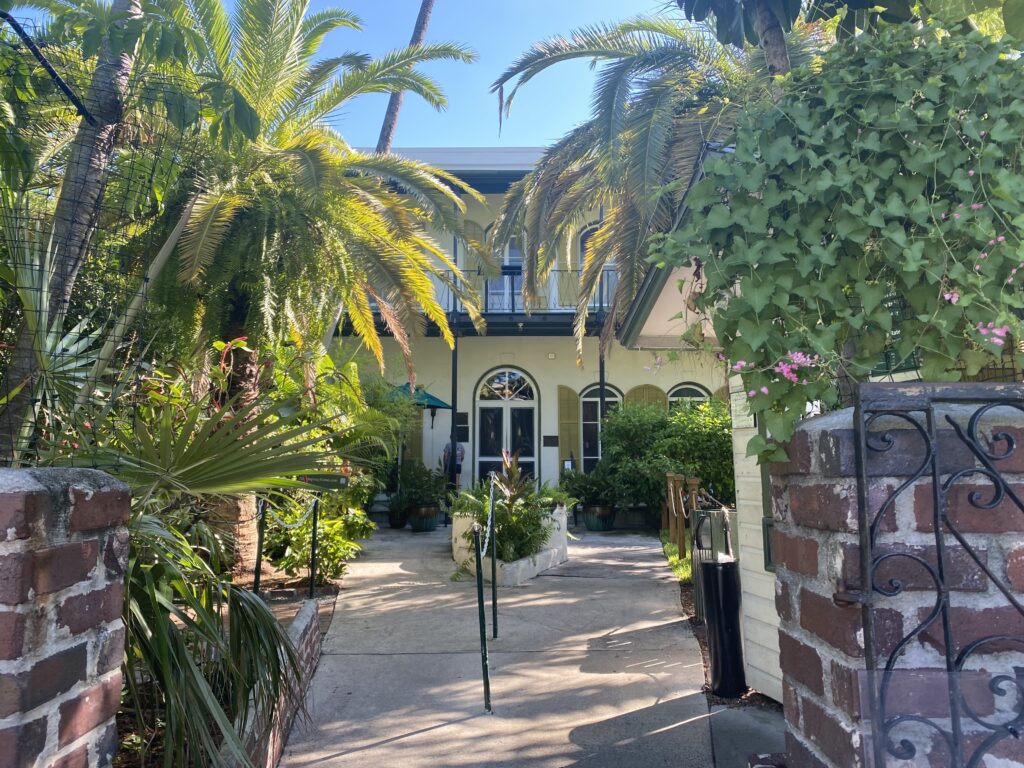 Walking from the Sugar Apple to the library, you're either living in house turned hotel/apartment or in a bungalow behind a fence in your multimillion dollar, if you ever sell you're not coming back home. We wonder where the workers live because unless you bought during the period before Key West became a legendary destination, you can't afford it. The streets are still flooded from the morning rain, bikes and scooters rule the road and tourists are scarce during this hurricane humid hotspot. We stop to read a few vegan cookbooks at the local library en route to The Bobbyshop, Sheri's google researched choice for a southernmost haircut.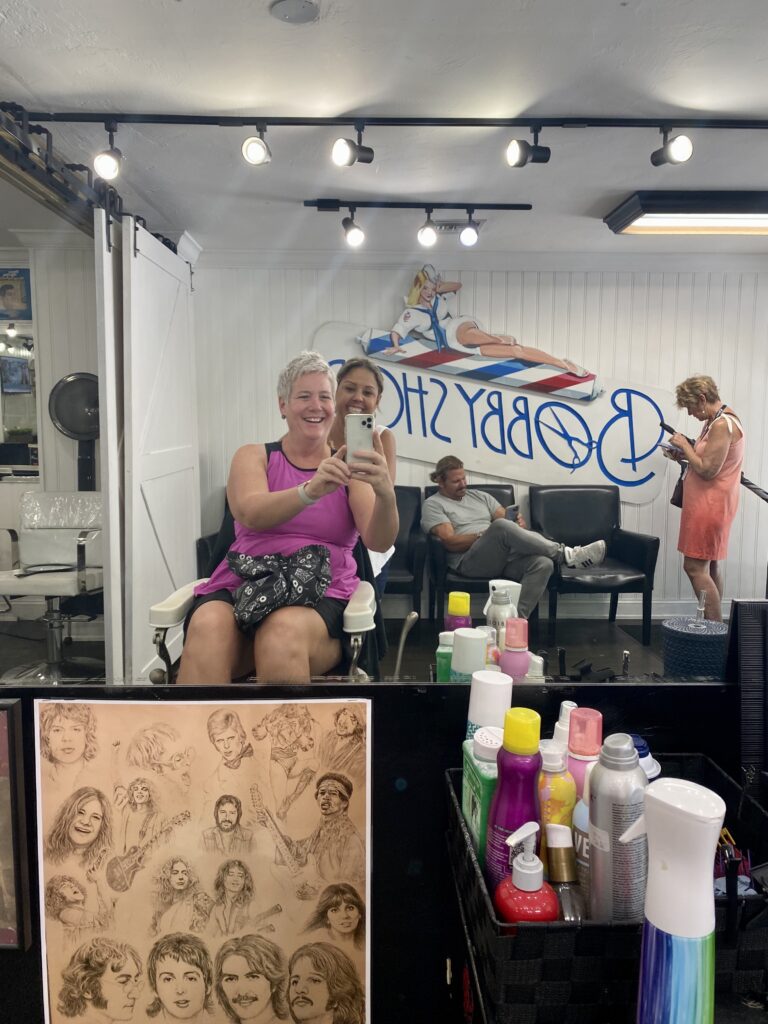 Getting a once a month haircut when you're moving about the country is playing stylist roulette. Most are exceedingly average, but sometimes you hit jackpot, like Angela in Marfa or in this case, Melissa in Key West. When you google Haircut Key West, read the reviews and website or facebook page, it's completely underwhelming. Except for The Bobbyshop. Bobby grew up loving Elvis and Marilyn, enrolled in beauty academy then got recruited to be a Chippendale dancer. After stripping his way around the globe, he bounced around the US cutting hair and appearing on Bravo reality TV. Arthritis ended his cutting career but he still has a license to chill. Another round for Buffett.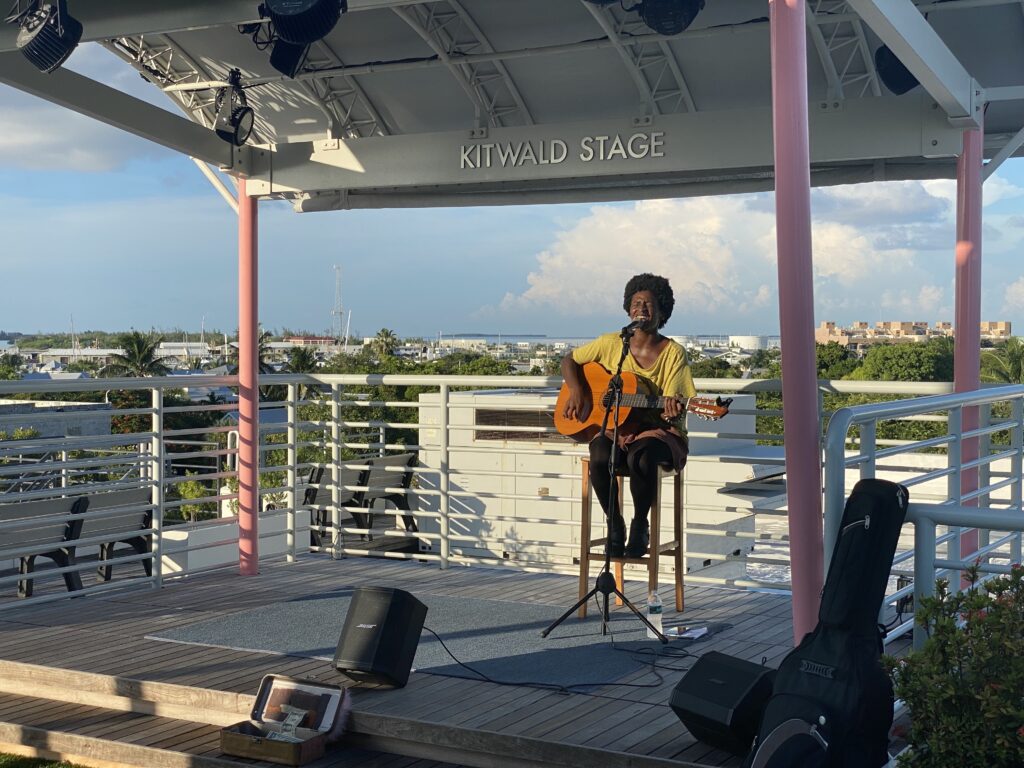 Roxie is in menopause down here – she just can't get cool so we left her to get the sweats out with an evening ride into the arts district for Tuesday Glow at Hugh's View in the Key West Arts Society building. Four floors up on the roof the panoramic view from Gulf of Mexico to Atlantic Ocean was not obstructed by any patrons. We sipped a couple of Havana beers waiting for the party to start then tipped out the solo guitarist secretly hoping she uses the proceeds to seed a new career that does not involve singing. If this is a local's hot spot, perhaps we were just early. Hemingway vibes for the bar's namesake nod to a British World War II veteran.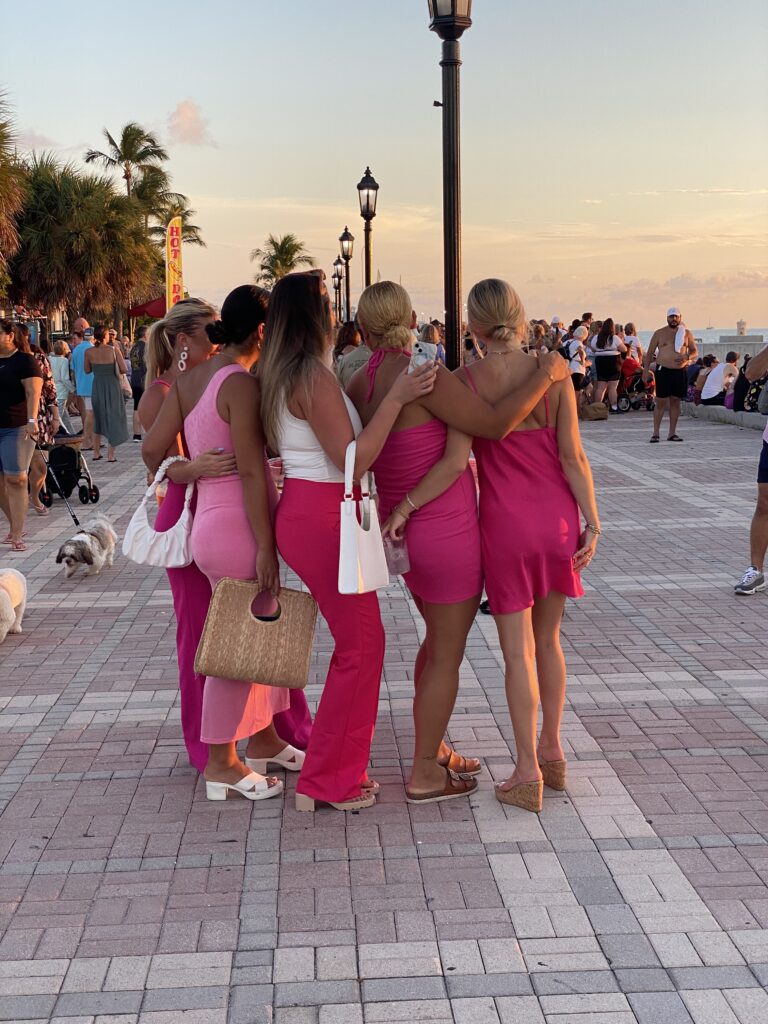 As the sun got ready to set, Key West converged on Mallory Square with its west-facing ocean views.  With a zillion pictures taken every night, Apple and Google have a genius goldmine in 99 Cents a month to store them all in a cloud that no one ever accesses.   Kind of like the genius goldmine in everything named Margaritaville.  The Avante garde performers were in short supply as we eavesdropped on the keyboard guy complaining to the unicycle guy.  If you've seen one unicycle guy juggle flaming batons you've seen 'em all so we took off for a leisurely roll down famous Duval St.  Buffett could probably relate to the hungry street performers.  Hemingway would have punched them.  Another Buffett win.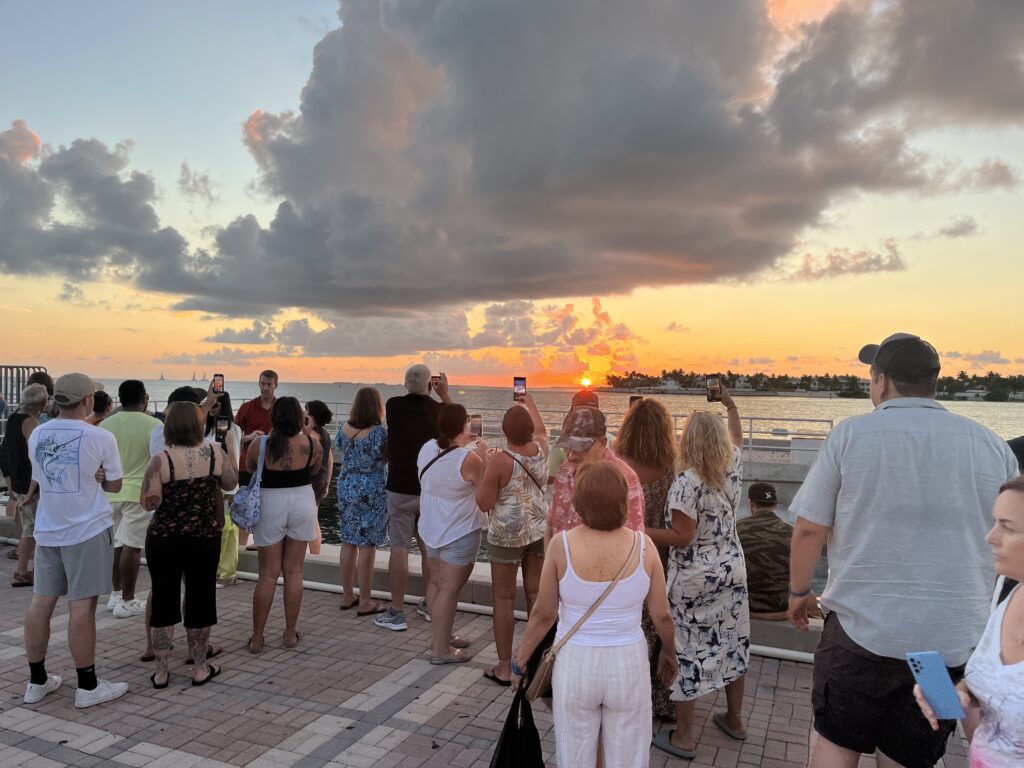 Tuesday night in off season is probably not the best night to find wild in the West. We looked for Big Uns, the bar with an obnoxious name, and a Chris Farley look alike doing Meatloaf covers on St Patricks Day in 2010, but it had become some other dive venue with a Weird Al lookalike doing Beatles covers proving you can't go home again. Sloppy Joe's, Hemingway's old haunt, still has a big presence on the street but it is hard to picture the author under the neon lights. Call us crazy but we still think their may be some local joint a block off of Duval where a Hemingway-type is drinking a scotch. We didn't find it (this time!) so we left depressed and disillusioned, just what Hemingway ordered.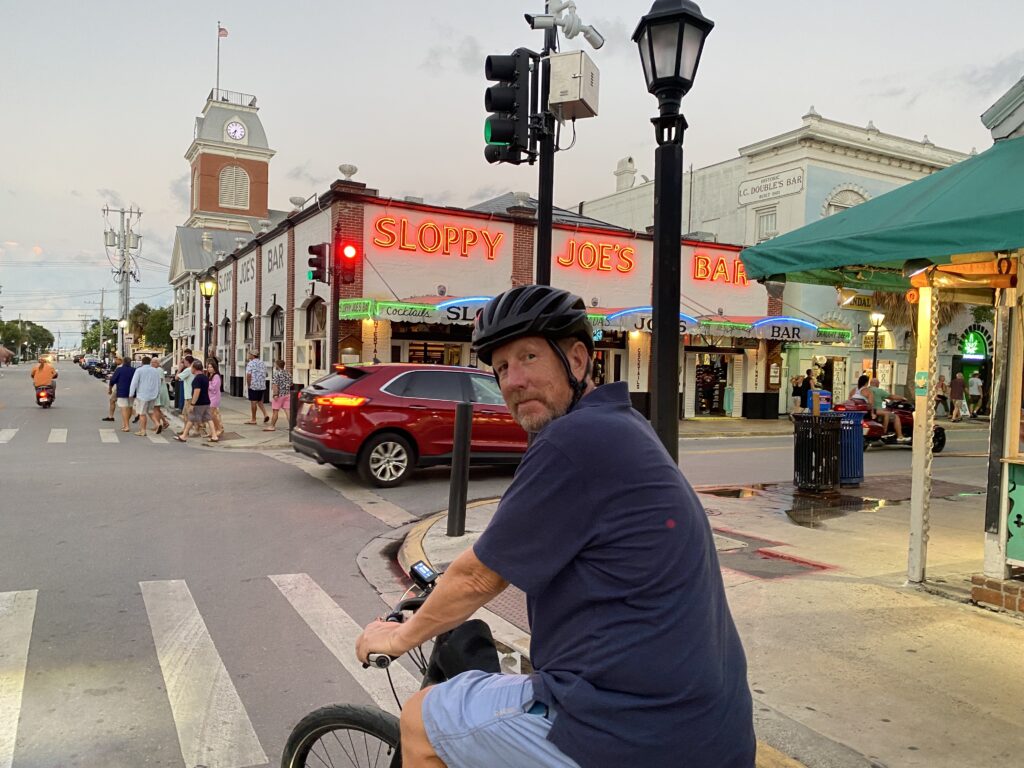 When you've exhausted the day with pickleball, vegan market, library, haircuts, art social, sunset festival and bar-hopping, what's a local left to do? Night ride Rt 1 to the Publix to pick up some Forager Project cashew based yogurt alternative to mix with bran cereal and a banana for a late night vegan dessert. We don't know that either OG would endorse that nonsense.