Truth be told, we had no idea what Great Basin National Park was having done no research other than Apple-mapping directions from Zion. Since we arrived four days ago, we've come to learn that Great Basin National Park is not the Great Basin like Grand Canyon National Park is basically the Grand Canyon. Great Basin National Park is a comparatively small area which represents the ecology of the enormous Great Basin.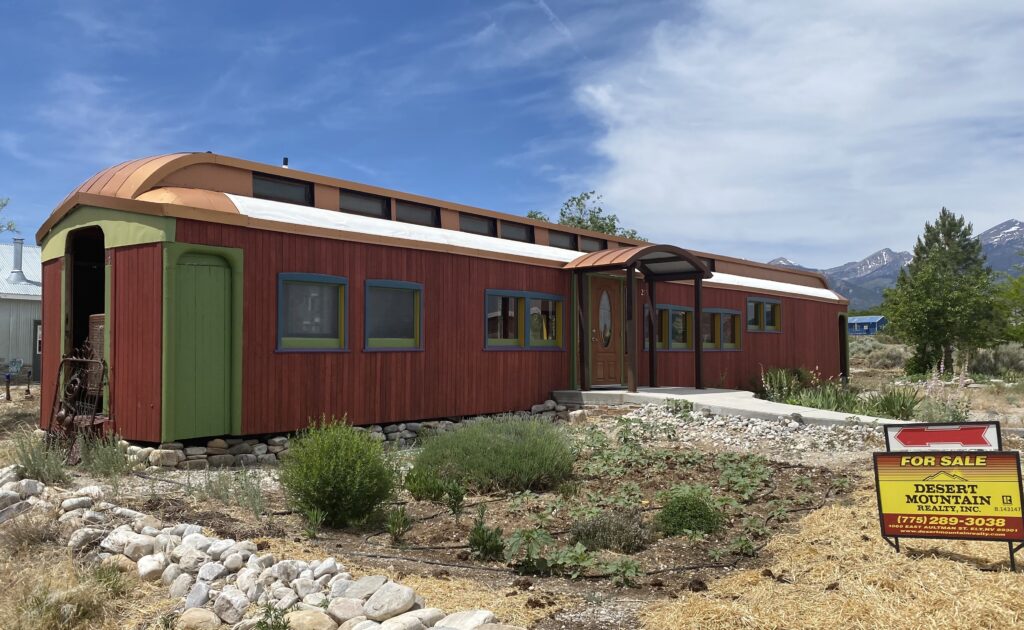 THE Great Basin is the western expanse that includes nearly all of Nevada, lots of Utah, Idaho, Oregon, some of California and more, where streams, rivers and rainfall does not eventually flow to the sea. It includes both the lowest point in the US 48, Death Valley, as well as the highest point, Mount Whitney. Who knew that was a thing?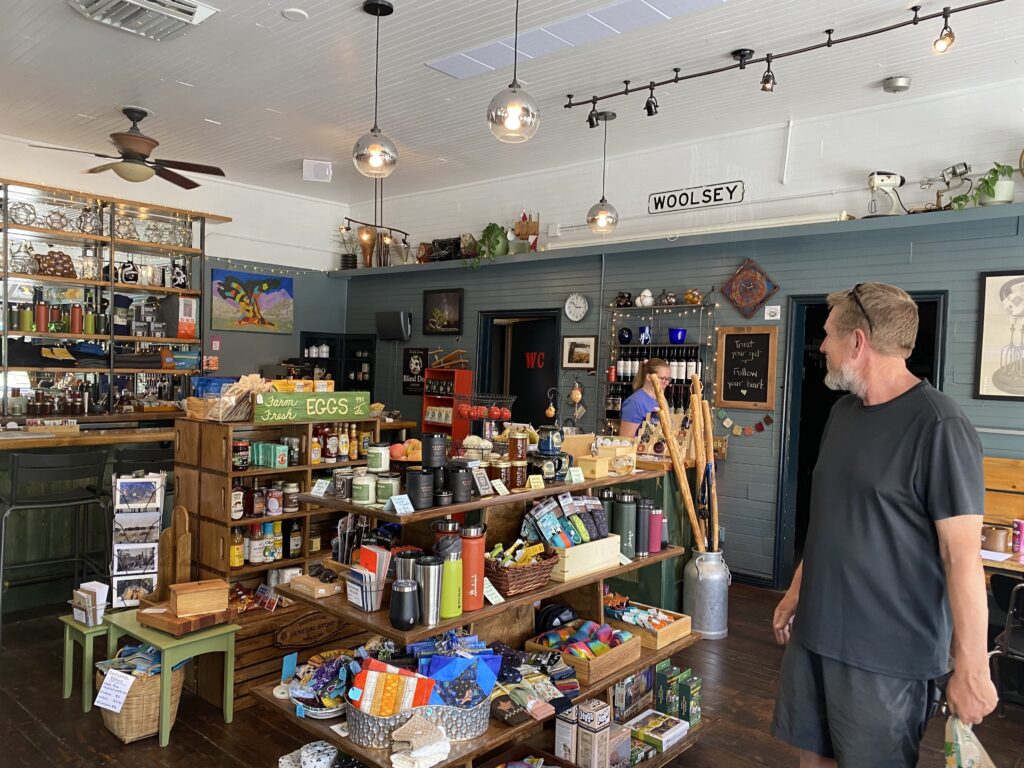 Baker, NV anchors the entrance to Great Basin National Park with two gas pumps plus Stargazer Inn & Bristlecone General Store owned by the Park Superintendent's wife. There's the Sugar, Salt & Malt, 487Grill and Sandra's Mexican food truck that serves homemade tamales on Fridays and Saturdays. "Town" is behind the Inn with a population of 80. A small trailer serves as a community center and the free little library is the place to get a book.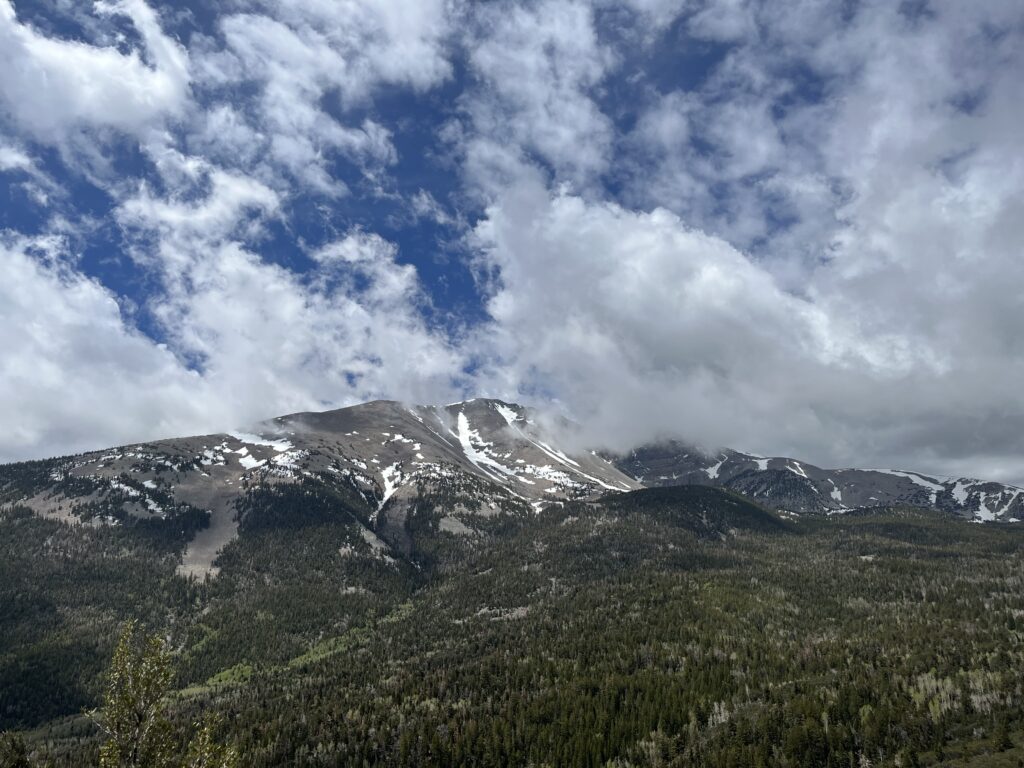 There's 2.5 bars of 3G, which is surprisingly enough to let us slowly upload pics and post a blog on Eric's phone.  Baker, NV is ready to become that cute National Park  village that typically sits outside the gates.  The creative folks are there stocking the general store and cooking the gourmet dinners.  All they need is the right PR which they hope is never found.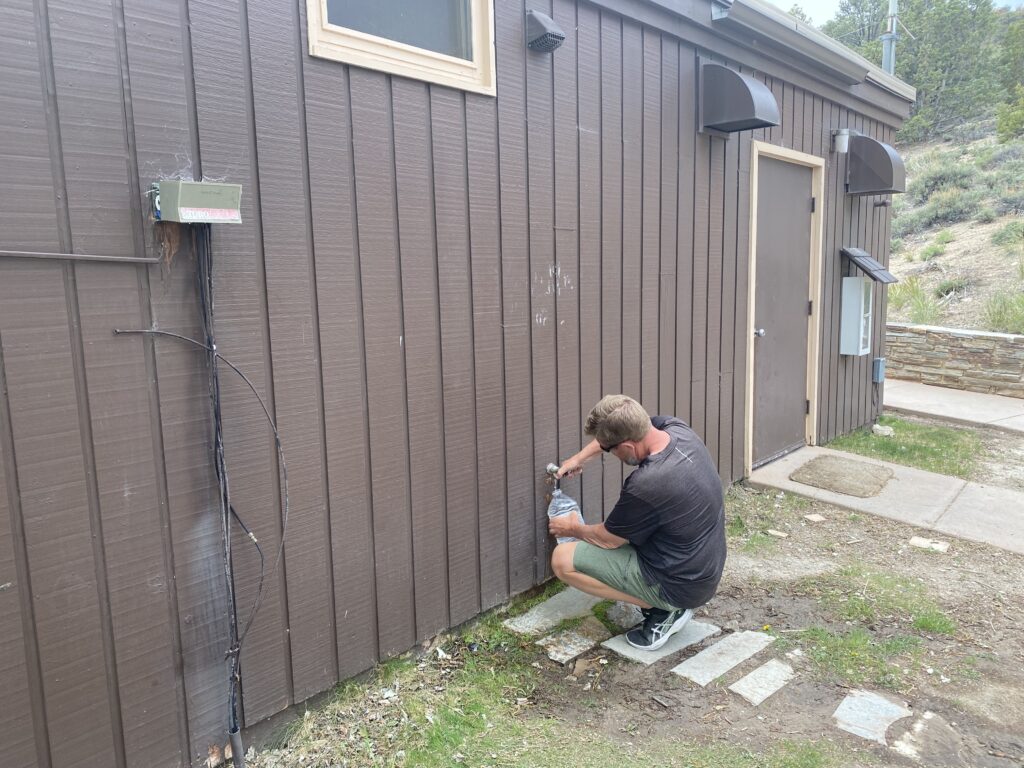 A sign on the shut-off water fountain at the Lehman Caves Visitor Center informs that the only potable water in the park is from a spigot on the side of the building. The Park is in a lawsuit with some entity over water usage in the area so they shut down most access. Who will win? Unnamed corporations growing cotton in the middle of a desert, or citizens trying to use a water fountain at a National Park? Read Cadillac Desert like Eric is before jumping on the answer. You may not like the likely outcome.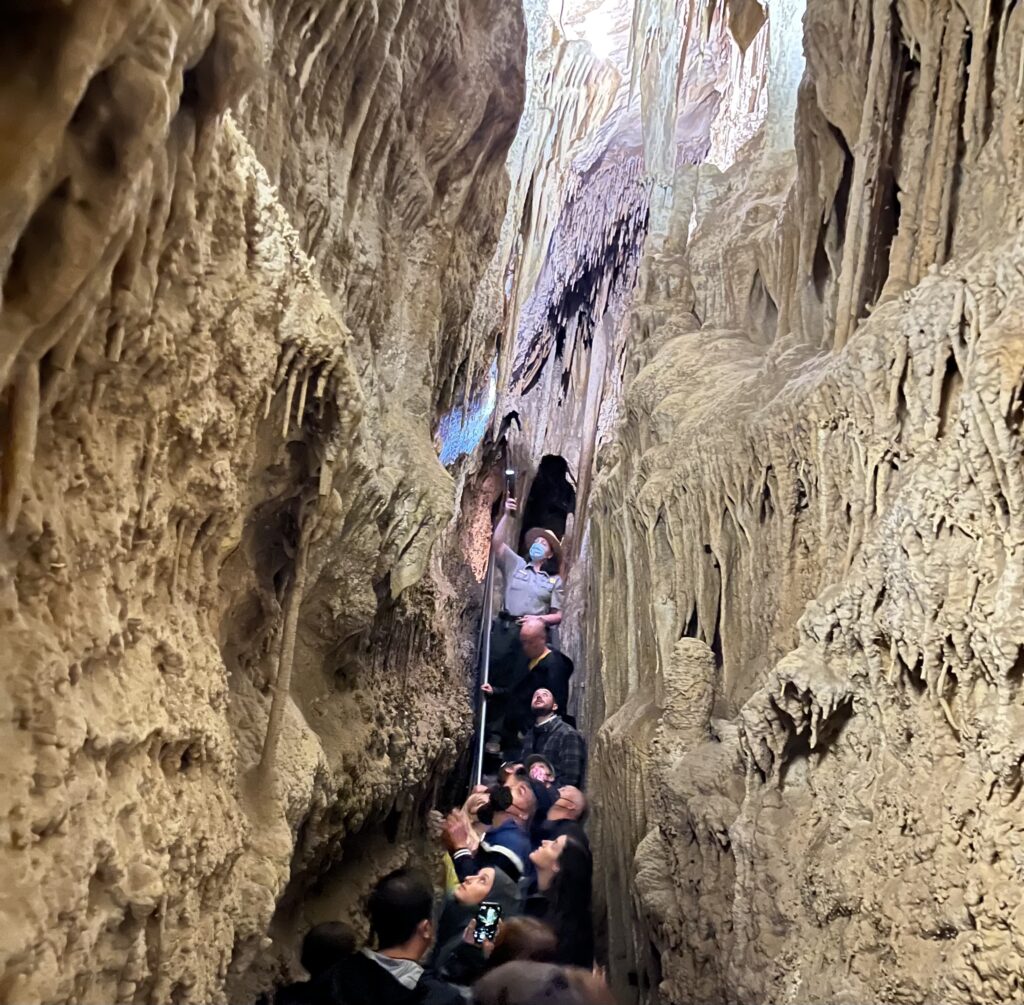 While at the Lehman Caves Visitor Center we followed Ranger Deidra underground for 30 minutes of spelunking. With four on our CV, we have a PhD in cave tours. The Lehman caves are highly decorated and modestly sized. They rank even with the Wind Cave of South Dakota in the Sheric cave ranking index. Ranger Deidra may have given the 30 minute schpiel one too many times or she may just be naturally loopy, but she was entertaining in her own geeky ranger way.
Before there was a Great Basin National Park, Lehman Caves National Monument was the attraction. It was the longtime Senate Majority Leader from Nevada, Harry Reid, who saw the genius of expanding that cave monument into a National Park.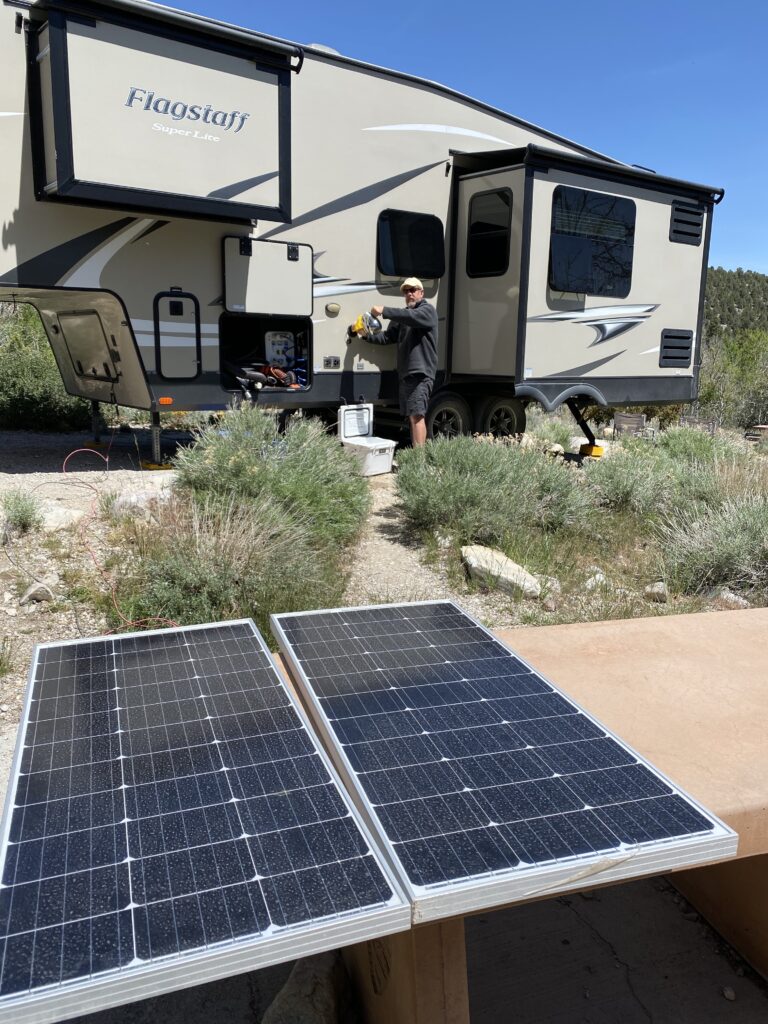 The water "emergency" is not great for us since we showed up with 10 gallons of water in the tank. With gas at $5.50 a gallon and pulling 10,000 pounds of Roxie to 8000 feet of elevation, an extra 500 pounds in water creates a lot of strain. Using our creative resourceful minds, we fill five 1-gallon jugs at the visitor center for drinking and other kitchen use and the YETI cooler makes a large if awkward container too. The funnel we've been carrying around for 4 years finally came in handy. The dishes are clean, the bathroom functions fine, and we take showers everyday. Where there is a will ….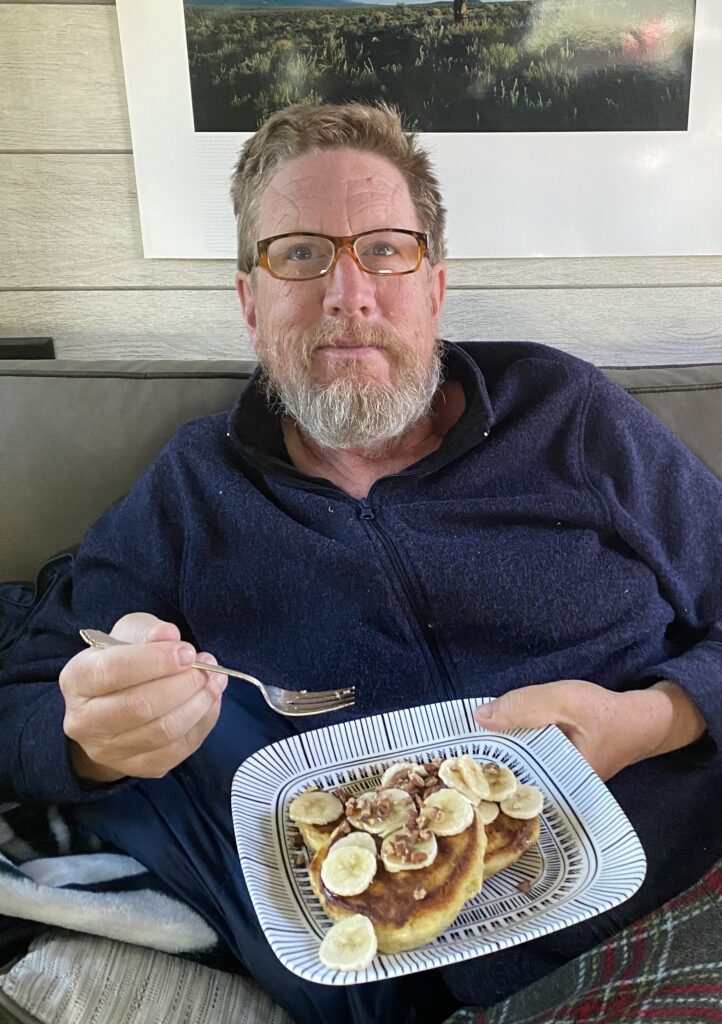 Rationing water has given us respect for drought and waste. There is not an unlimited supply and the politics of access is costly. They say dishwashers are more efficient than sink washing, but after 2 months of low water use hand washing, we have adapted our methods around cooking and serving equipment along with capturing water in bins vs letting it run down the drain. It's actually inspiring us to think more about how to adapt off-grid properties to our on-grid lifestyle. We finally know exactly how much water we use because we hand fill it into containers from a spigot. When there is incentive not to waste, you don't.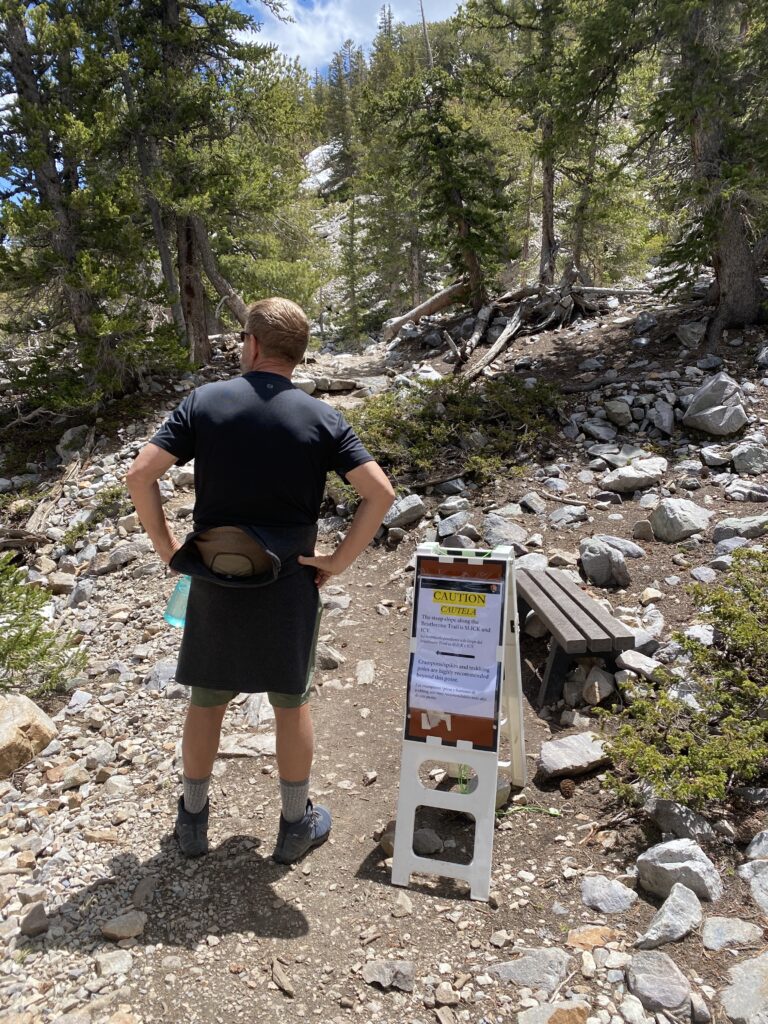 One thing the west has going for it is a lot of sun. The two solar panels are keeping the fridge running, lights on, the phones charged, the furnace blowing at night when the temperatures dip into the 30's, and the water pump spinning when we shower, but beyond that we can use nothing that plugs into a 110V outlet. No TV means reading books, playing games or gasp, having long conversations. No food processor means knife chopping, fork mashing, spatula stirring. Things are less convenient but they are mindful. Mindfulness is a pathway to happiness.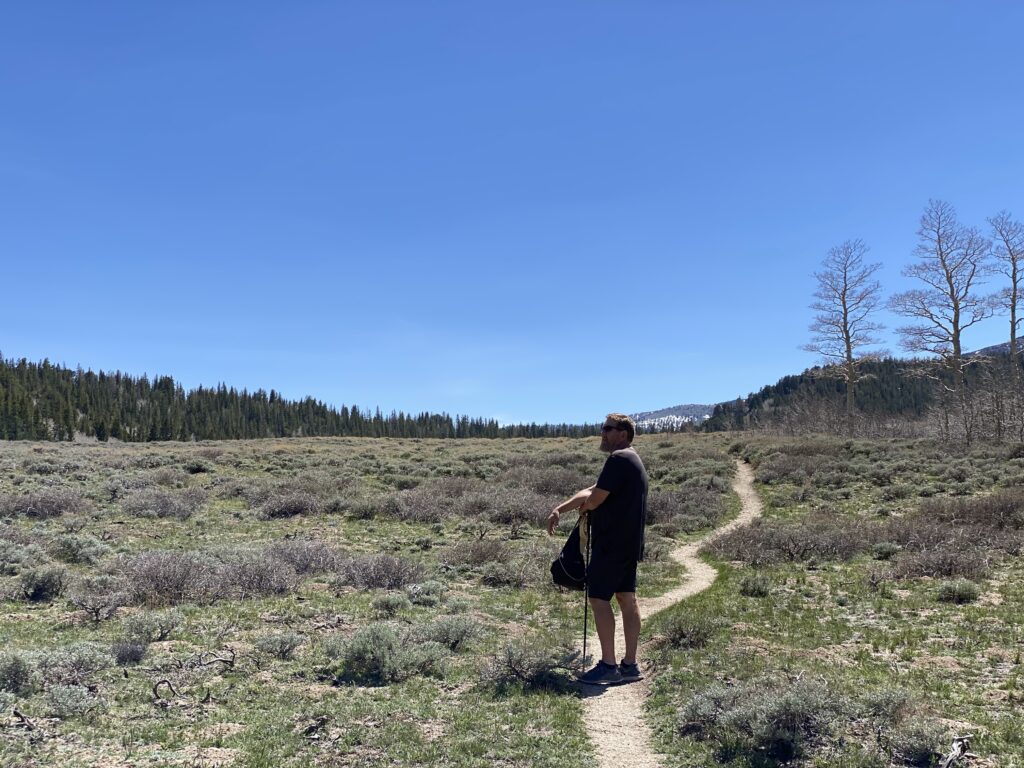 If you have ever watched an old episode of Little House on the Prairie or The Waltons and felt nostalgic for a time when simpler was more enjoyable, then you can relate to the feeling of living on a ridge at 8,000 feet. A hike from the campsite into the mountains crosses Alpine meadows backdropped by snow capped peaks. The only thing missing is Julie Andrews singing. In the Alpine region, there are few bugs and no mosquitos, just butterflies playing in the sun. Daytime temperatures are shorts and t-shirt warm. Nights are bundle up cold. It's not perfect. Actually, it is perfect.