Jordan River Runners
It's good to have friends in cool places, like those with 40 acres on a picturesque vista 'Up North' with all the recreational toys to go with it.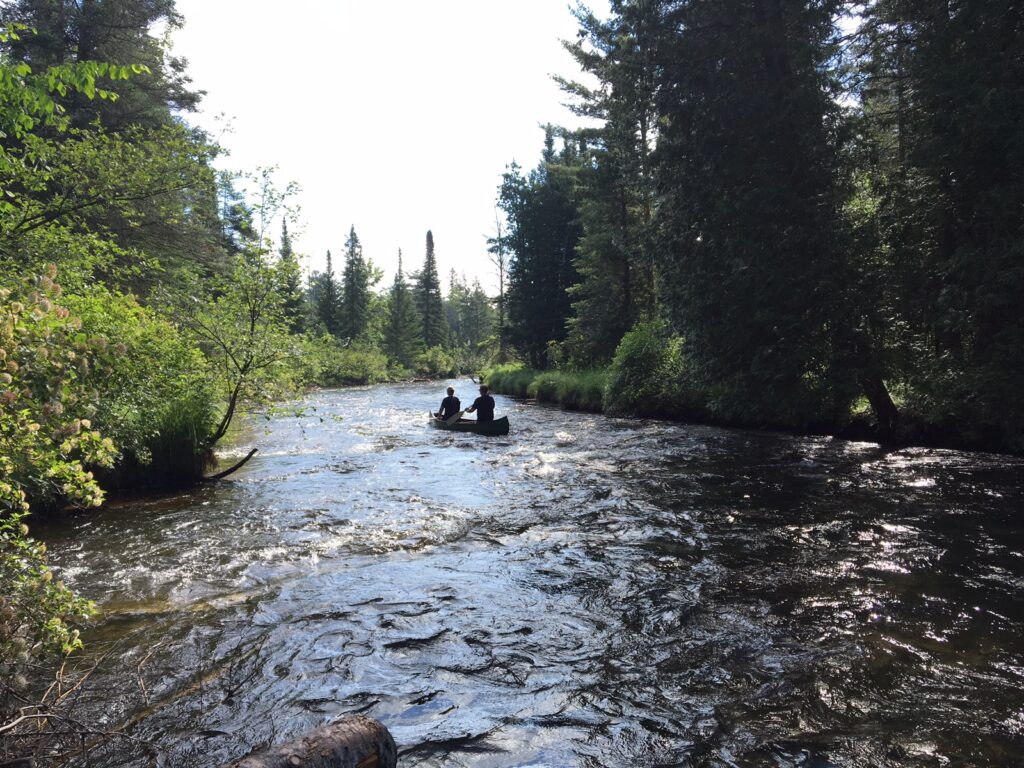 Two former DC beltway runners were finally able to make an open invite to unplug at his Michigan 40 acre compound finally happen. It is the perfect last stop on our cross-country journey before heading back to DC. Our temporary backyard is a semi-boondock on the crest of a hillside overlooking the Jordan Valley to the south and Lake Charlevoix to the west. 'Semi-boondocking' means that we are camping on BFM land. Unlike Bureau of Land Management (BLM) dispersed camping which has no amenities, Bureau of Friend Management dispersed camping comes with a 200 feet extension cord running 110V AC out to us from a guest quarters with shower and use of a car. BFM dispersed camping is a sweet deal when you can find it.
While the back 30 was bushwhacked with the John Deere tractor, we were within Como striking distance of the charming towns that surround Lake Charlevoix, a popular Michigan 'Up North' vacation play land. Second only to Lake Tahoe in the west, we saw first hand why Charlevoix topped USA Today's poll of most beautiful lakes in the United States.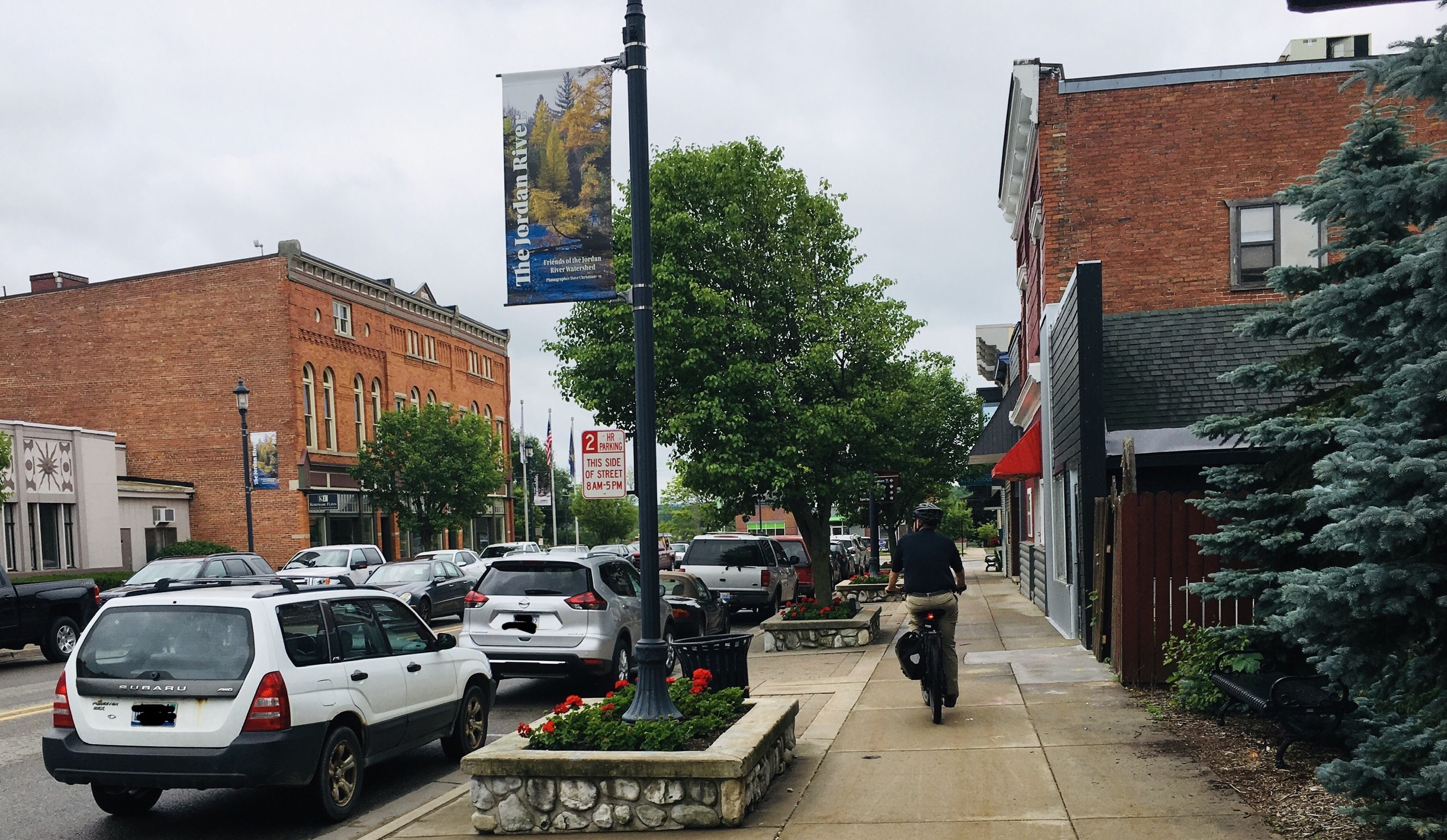 Closest to the homestead, we explored the small town of East Jordan where the river meets the lake. Breaking the Michigan thrifting code, we figured out that 'Junk' meant pricey treasures and that 'Treasures' meant low-cost junk. If we had a cabin to furnish, we would have been set. Alas, Betty was still fully packed so we bought nothing but did not come away empty handed as the library had a supply of complimentary back issues of 'Cooking Light' magazine, three of which followed us home after we had got our internet and current periodicals fix.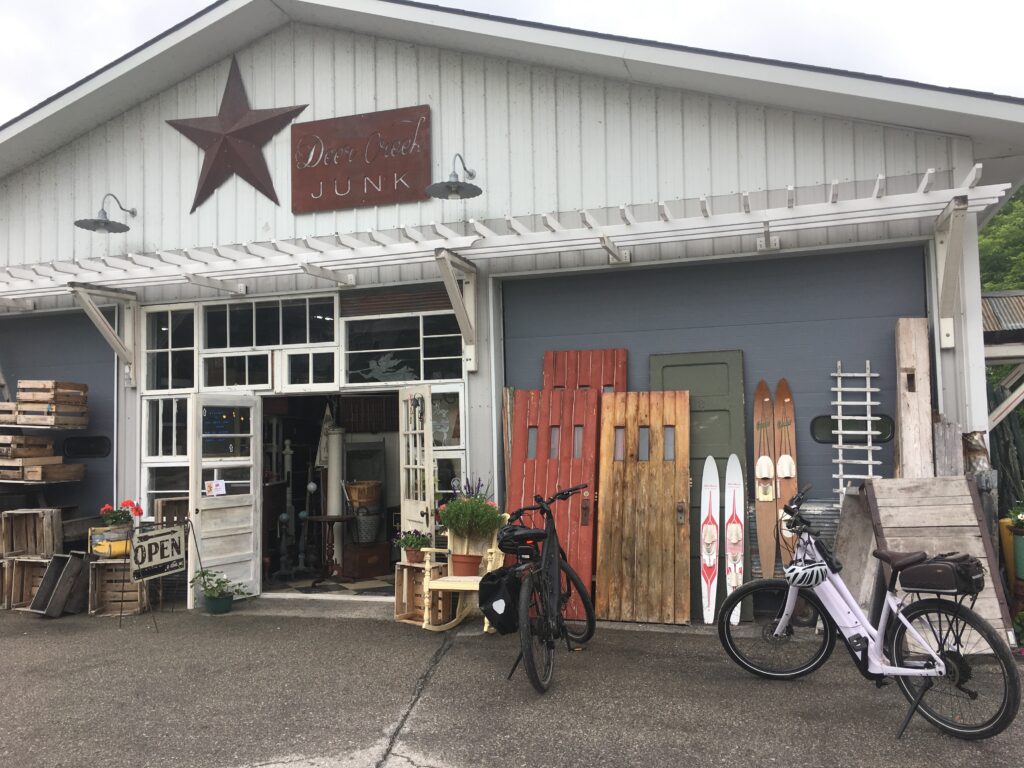 Circling the lower arm of the lake, we lunched on broasted chicken (deep fried in anyone else's terms) then exercised our bicycle prerogative and jumped queue on a line of cars for the Ironton ferry. While a popular vacation destination, the area remains active making iron, harvesting timber, and other activities that involve large fast-moving trucks passing us on the surprisingly busy road into Charlevoix. We happily forked over the dollar to escape to the quiet side of the lake on a ferry that had been making the trip across the Charlevoix lake south arm narrows since the 1800's.
Feeling like we were back in rural Georgia, except 30 degrees cooler without humidity, we rode side-by-side greedily taking up the whole lane and yet bothering no one on back roads past cherry groves, forests, and farms. This is Como'ing at its most relaxing, up and down the countryside, peaceful and quiet, car-free and carefree.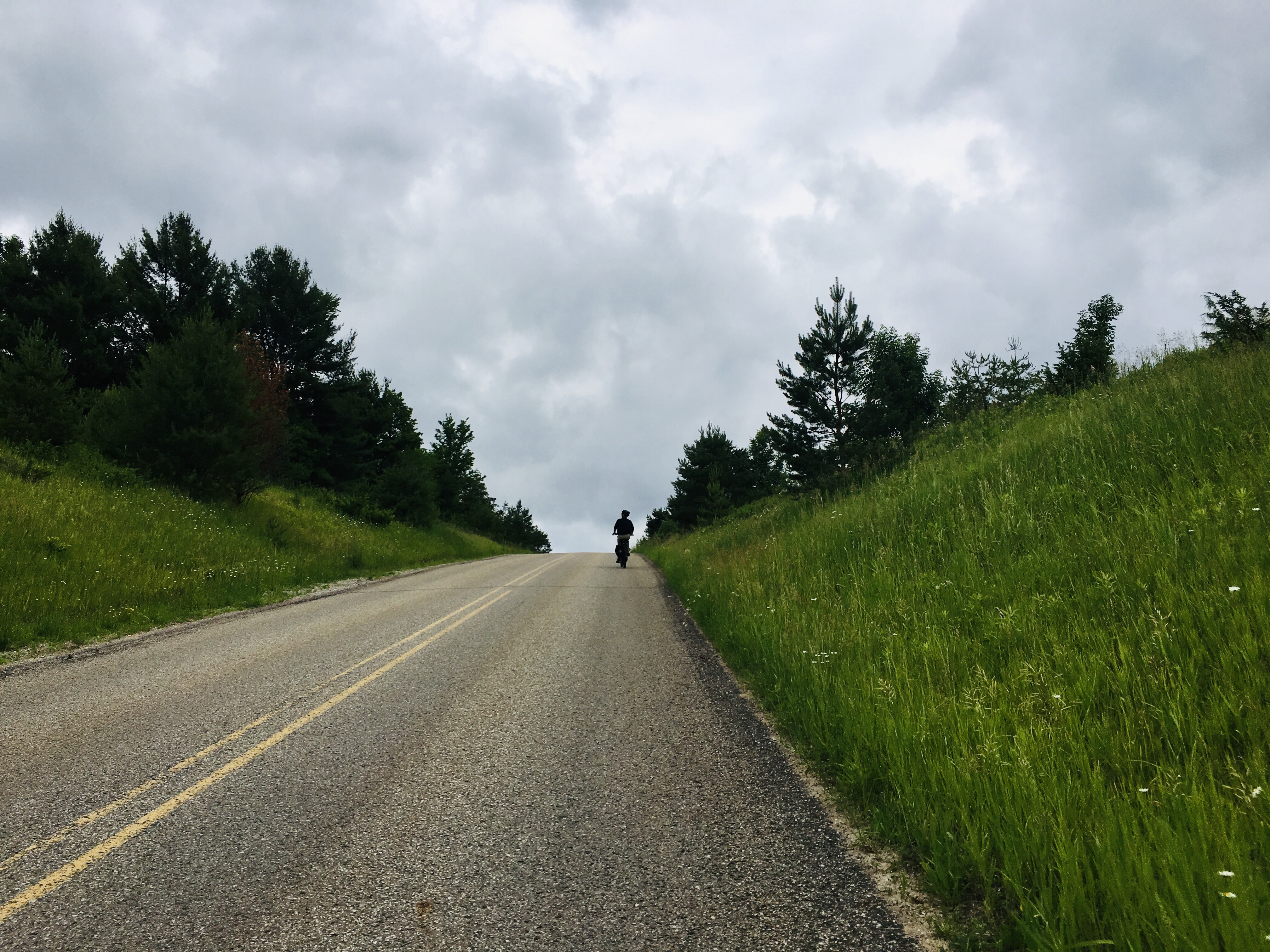 As water-loving people, we have often talked about how to add a water-sport element to our rolling condo experience. Whether a double-kayak or canoe, we have brainstormed on where to carry it on the coach, and more importantly, how to use it once camped without a car to move it.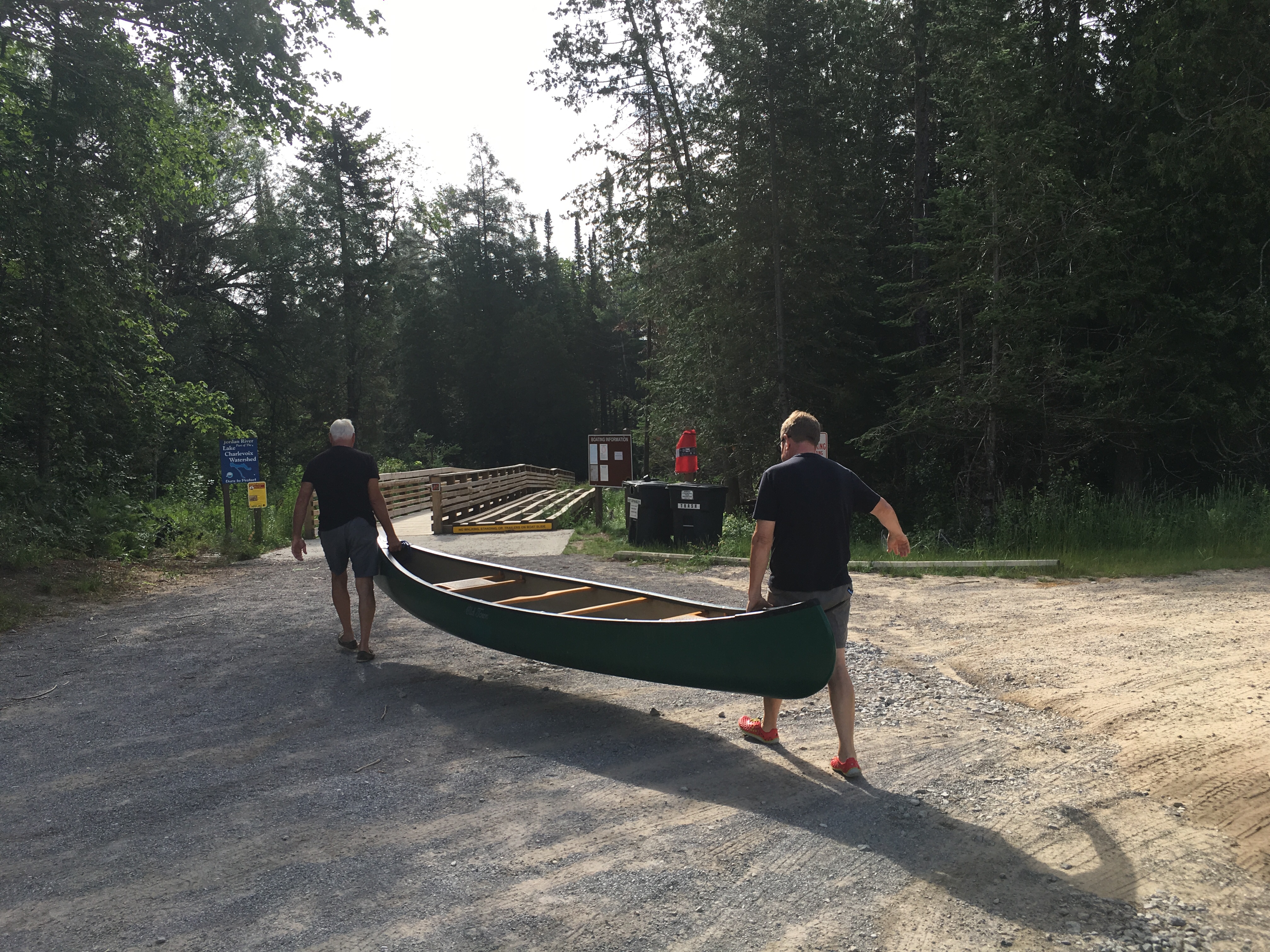 Truly experiencing the magic of a pristine river involves not only having a canoe but also getting yourself and that canoe 10 to 15 miles upstream for the launch which is why it's good to have a friend with a truck and whose backyard is just down the road from the first river to be designated a 'wild and scenic' in Michigan's Natural Rivers program.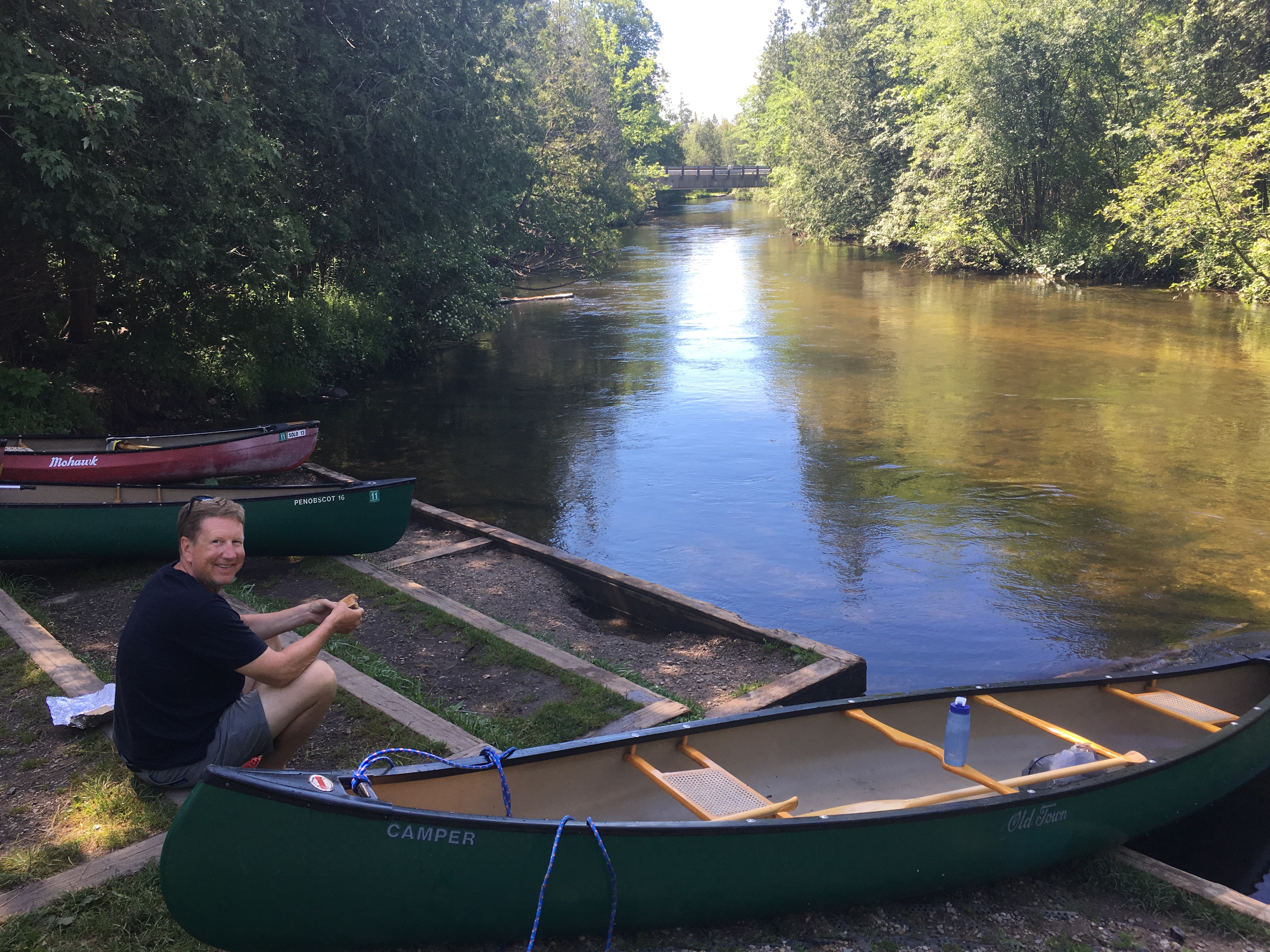 Once launched, we learned how to navigate tree falls, rapids, bridge crossings and catch our breath to eat lunch on quiet stretches. Four hours later, we found ourselves more than a dozen miles away at the south tip of Lake Charlevoix. Good thing the canoe came with launch and pick-up service. We are not sure sure if we purchase a double-kayak during on one of our overnight stays at Cabela's we might just be hauling a kayak around on the back of a motorhome with no way to use it.