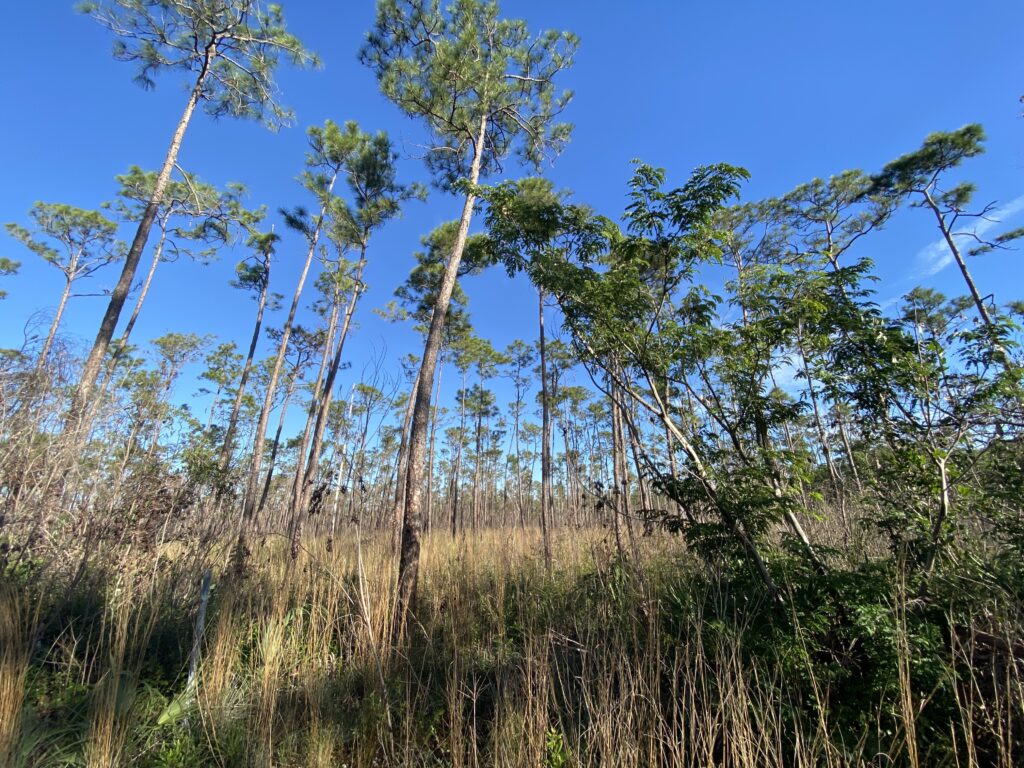 Our National Parks are our National Treasures. We truly believe that. The parks host informational, out-in-nature, hike-bike-kayak, explore programs. Programs are free to the public. Many are run by volunteer rangers who feel more strongly about our national parks than we do. In a cynical world, that is a good thing.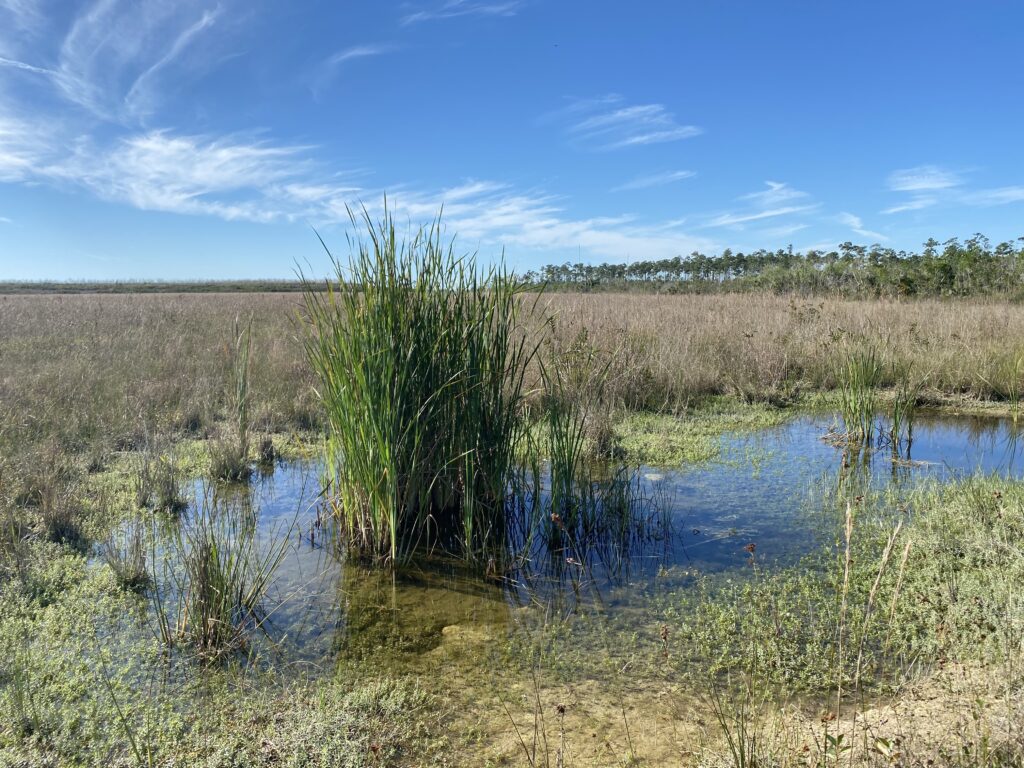 Bike-n-Hike
We enrolled in a ranger led bike program in the northern portion of Everglades. After scarfing down a breakfast in the truck cab in an attempt to escape the mosquito menace while a pack of vultures tore the camp apart behind our backs, a trip out of Flamingo to bike the Pinelands sounded divine.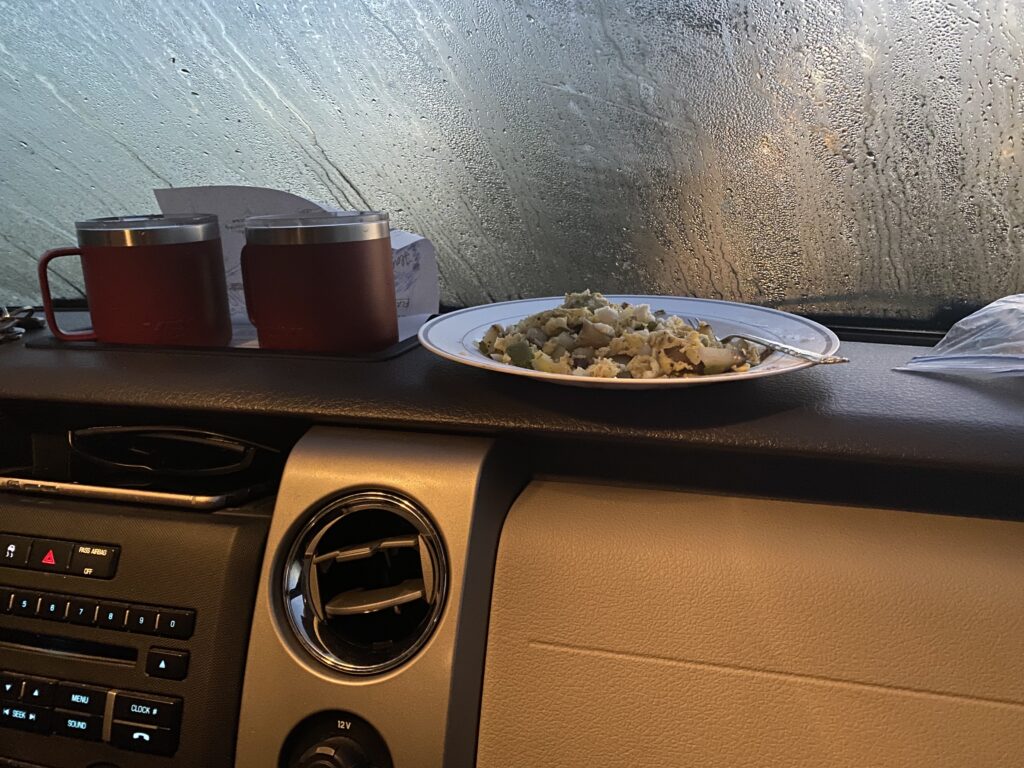 LPK Campground
The bike began at Long Pine Key (LPK) campground located in the pine hammock 33 miles from the Flamingo coast. We immediately noticed that the campground was gorgeous, bug-free, and half full. Our biking buddies who were camping in LPK said the showers were warm, the breeze gentle, the bugs non-existent, and the sites large. Kid you not, we and the next two people behind us in line at the check-in shack were all Flamingo campers looking to change reservations.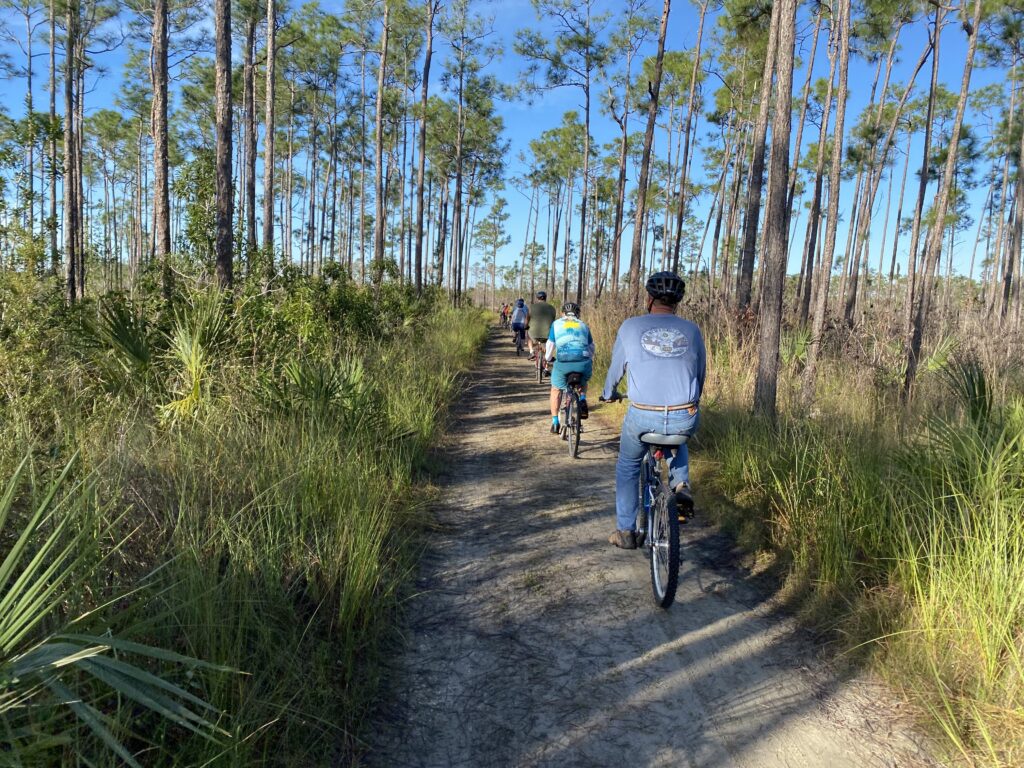 VIP Ranger Tours
We followed Ranger Jimmy on a 9 mile bike and hike tour of the Pinelands. As a part of the VIP (volunteer in parks) program he spends four months in Everglades in the winter, four months in Colorado's Rocky Mountain national park in the summer and four months moving around the country on his own. It is a good gig for sure. A smooth talking, up-with-people, glass half full optimist, Jimmy led a dozen of us on park provided mountain bikes pointing out "gator holes" (technically solution holes), fields of saw grass reminiscent of scenes from "Out of Africa," and groves of slash pine. We were ready to sign up for whatever Jimmy was selling.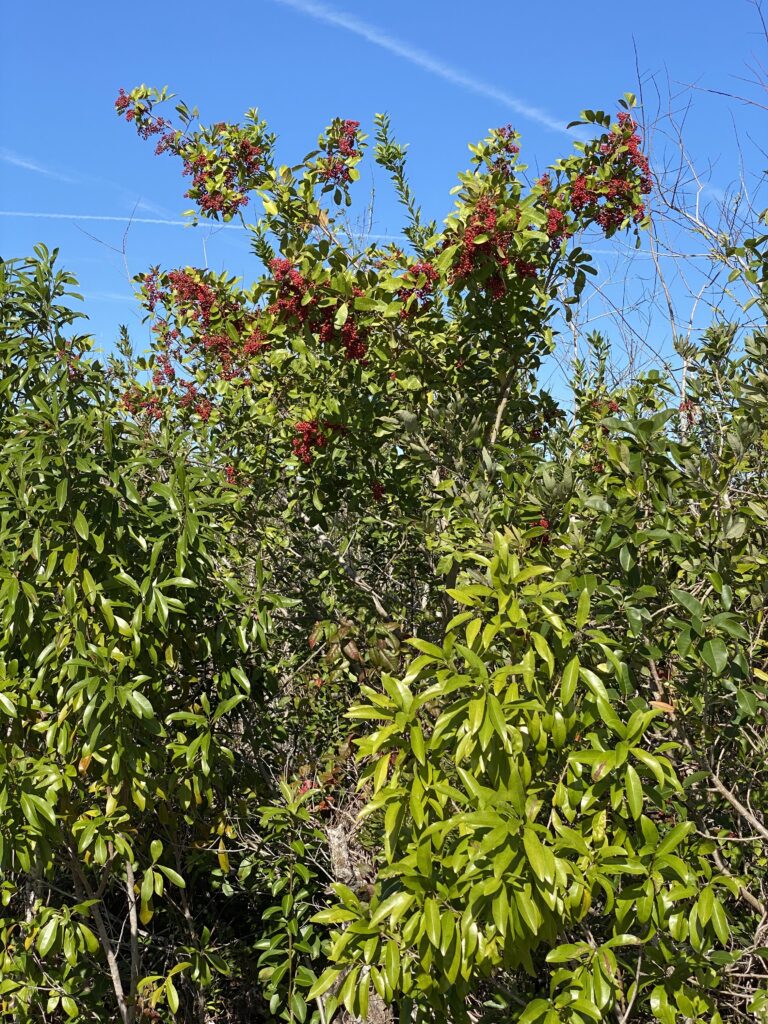 Brazilian Pepper
The decorative Brazilian Pepper plant that Eric imagined his father planting in his summer home in New Jersey had taken over much of the Everglades. The national park service had spent millions of dollars and decades of time restoring the slough to its original glory, sans Brazilian Pepper. Eric was sure his dad could have side-tracked that effort in a weekend if he had been a frequent visitor to the 'glades.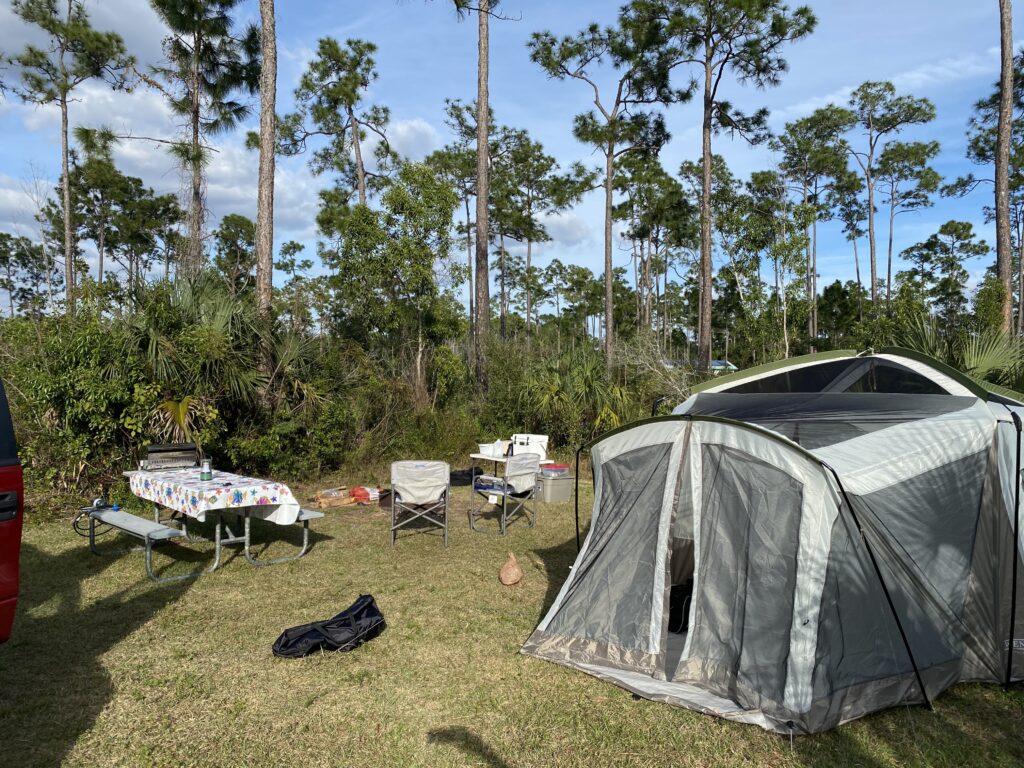 Dead Battery
Post ride, we scooped up Flamingo camp and re-camped in LPK. We had seriously been considering cutting the trip short until LPK saved the day. We camped, we cooked, we lounged, we even had three bars of LTE to use our electronics. The luxurious surroundings lulled us into a a sense of complacency. We let down our guard and partook of the environment until we tried to start the truck. Our electronic device binge had drained the 5 year old truck battery to a point where the truck would not start. Fortunately, at LPK everyone is a VIP and a ranger will come by and give you a jump.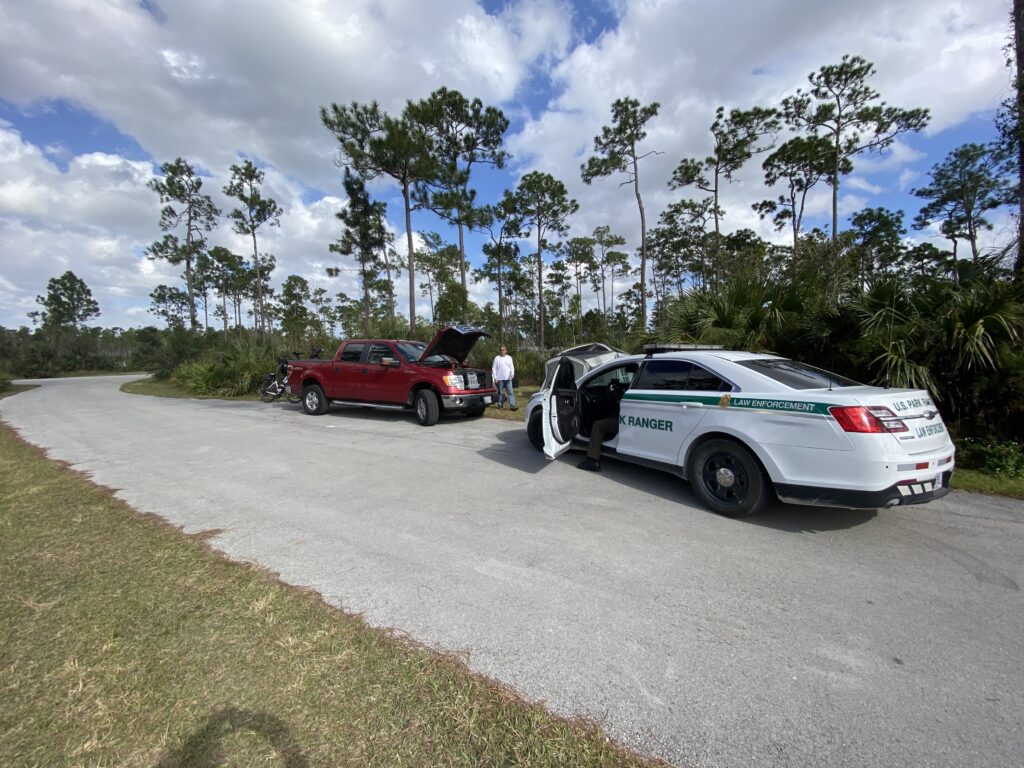 Florida City
Needing a battery, a laundromat, and being near the park entrance, we decided that a run into Florida City was in order. True fact: at a Walmart Super Center you can restock a Yeti cooler while swapping in a fresh battery for your truck in 30 minutes. Post Mr. Bubbles laundromat and a truck full of clean clothes, we treated ourselves to the best dinner in Florida City (according to Trip Advisor) before heading back to LPK.
Dinner Out
Yardi Spice is a local hole in the wall run by a couple from Haiti and Jamaica. John Paul, JP to his friends, is a talker which suited us just fine. The Yo Man Jerk Chicken and Leon's Legumes filled our bellies while JP filled our ears with tales of his travels. Feeling full in many ways, we rolled back to LPK to watch the stars through the roof of the tent and rest up for another ranger led tour in morn.