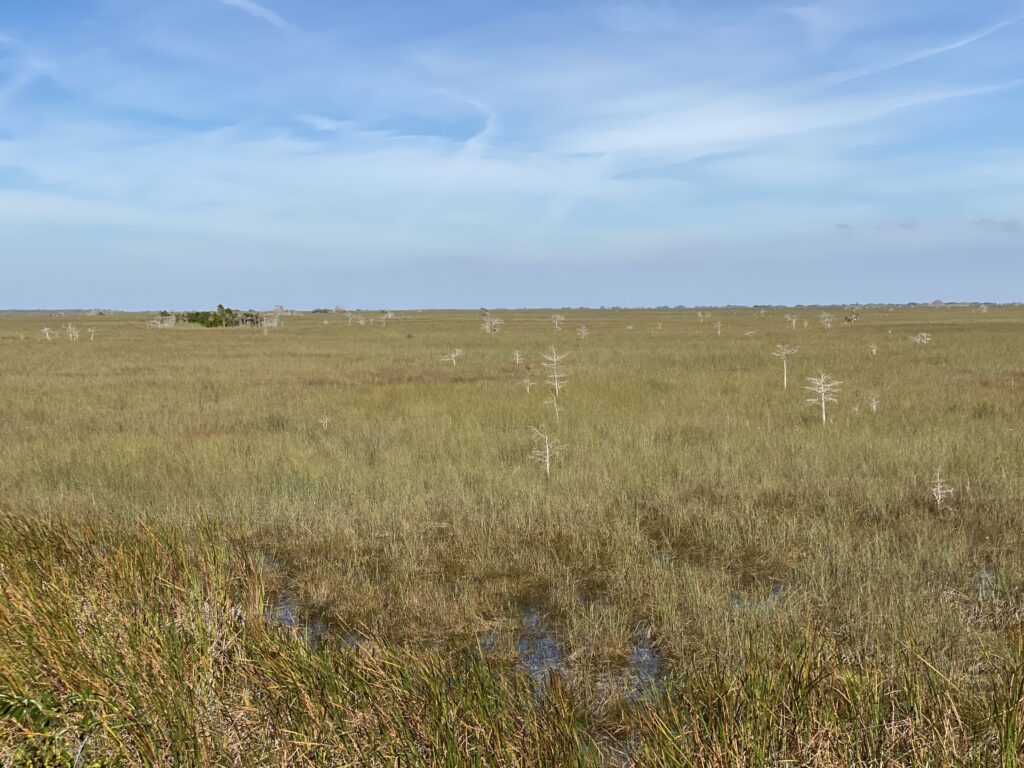 It's a 20 mile commute from LPK to Nine Mile Pond. We needed to be there by 7:45 or our spots would be given up to the waitlist. After an all night fight with intermittent rain and an uncooperative tarp, a 7am we-gotta-go scramble ensued.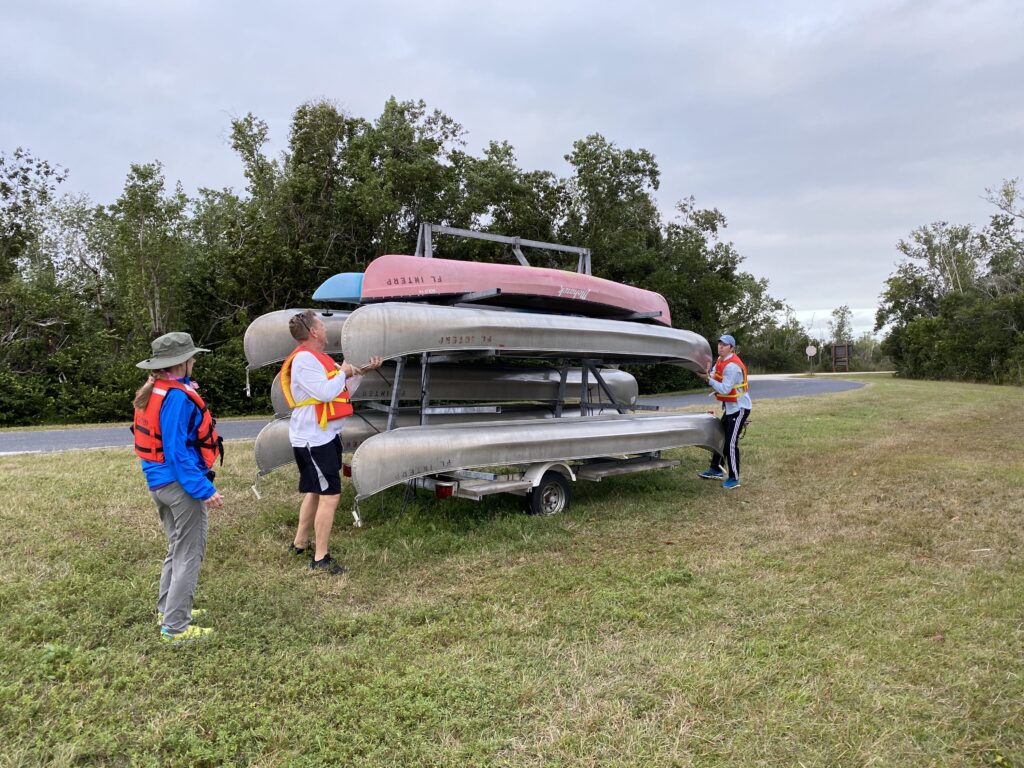 Canoe Excursion
Ranger led excursions require reservations. The window opens 7 days in advance and this Canoe the Wilderness trip was in high demand. We wanted to go Wednesday, but it was booked, and so was Thursday (even though we called repeatedly and left messages) so we extended our stay to go Friday. No way the waitlisters were claiming our spot.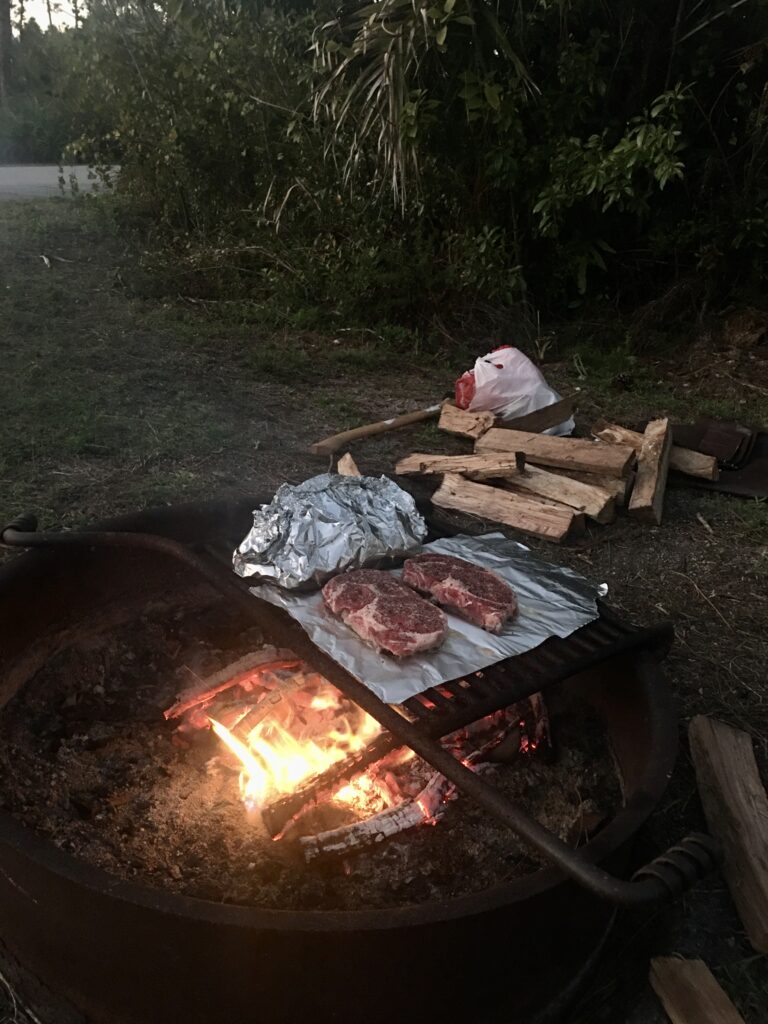 Campfire Cooking
In our 7 days of hardwood and propane cooking, we expertly know it takes 15 minutes to heat enough water to almost boiling for 2 Yeti cups of coffee out of a French Press. That's just enough time to brush, organize and get on the road. Plunging at the intersection of Long Pine Key and Flamingo Highway, we consumed the Walmart day old donuts from the battery run and caffeined up for a 5 mile paddle through the mangroves.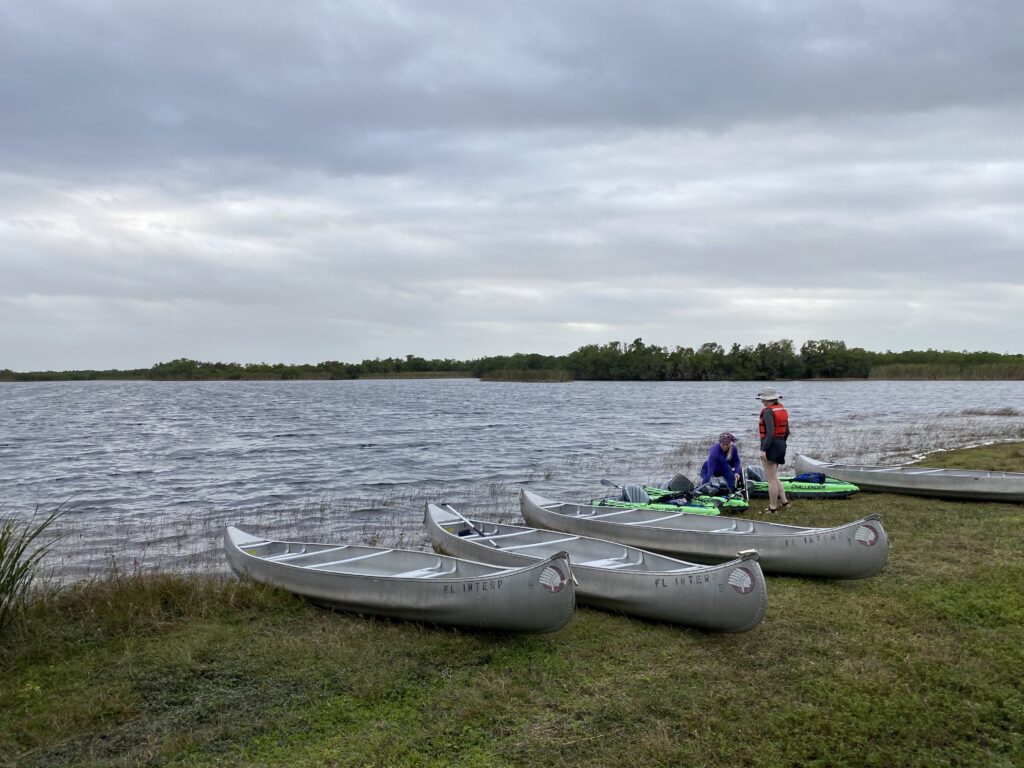 9 Mile Pond in Everglades
Arriving at 7:50, the wind was up and the water rolling. Ranger Tim surveyed his lot and decided we looked hardy enough to paddle in these less than ideal conditions. Life jackets, oars, waivers and a 5 minute "How to Paddle" lesson and we were ready to go. After a hard forward across the pond, we tunneled into the mangroves, through the sea grass and algae fields, stopping along the way for ecology and history lessons without seeing any sign of birds, crocs, gators or other native Everglades species. Even the mosquitos were in hiding from the high winds.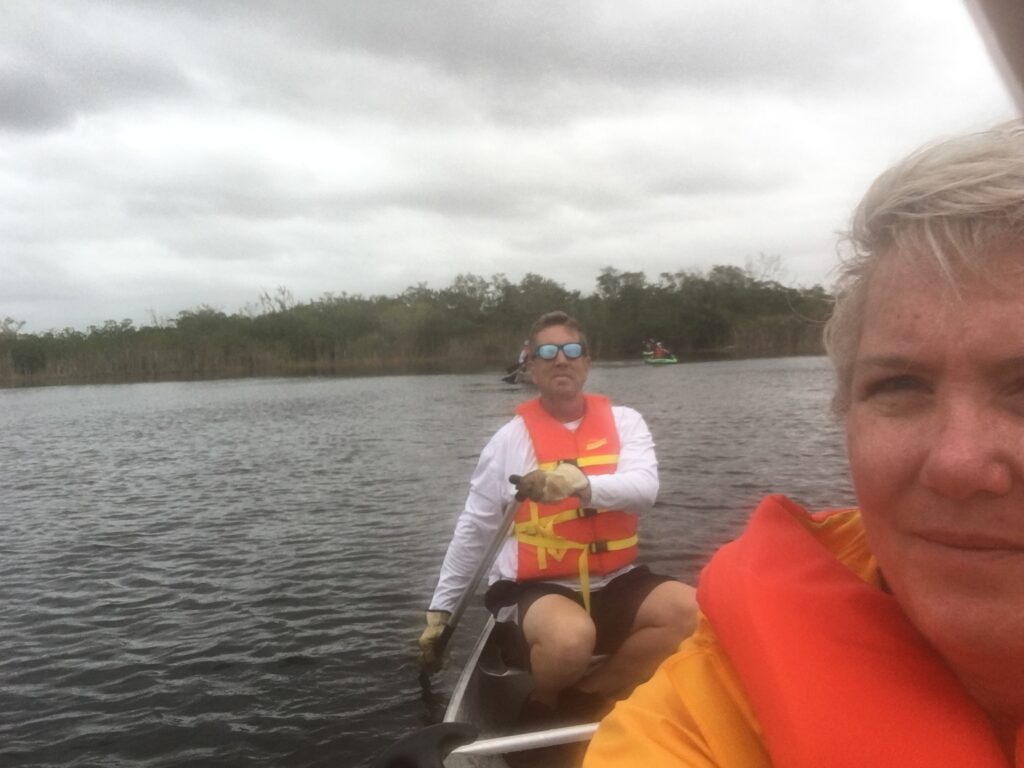 We've got our paddle down. Eric the Rudder and Sheri the Propulsor. Starting as sweep we maneuvered to lead, bypassing the wayward oarsmen who just couldn't seem to effectively synchronize. We've often thought about how to transport kayak or canoe on Betty but landed on rent as needed. It might be time to consider an inflatable solution.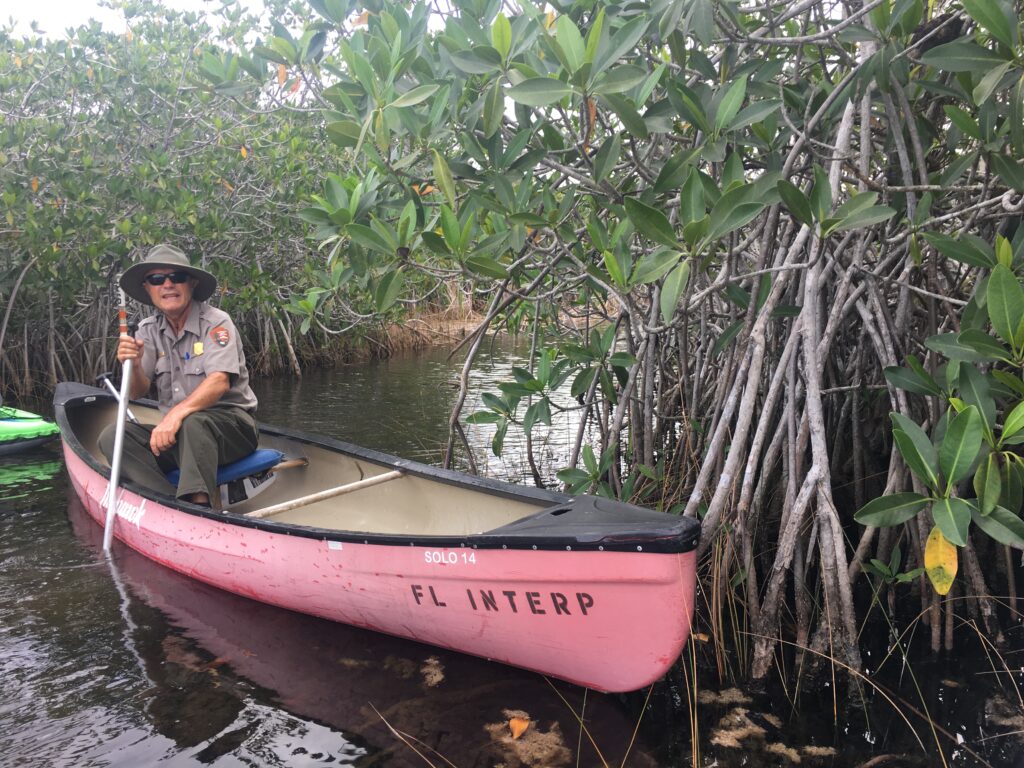 Mangrove Tunnels
By the time we returned to Nine Mile Pond, the wind was whipping and Ranger Tim said no more paddle today. Each experience in the Everglades, from wading in a Cypress solution hole to night biking through Shark Valley, day biking the donut hole and paddling the mangroves has given us new appreciation for this stereotyped mosquito infested swamp. Unlike the vast vistas of the west, it is a subtle beauty that whispers rat her than shouts, But don't let the soft voice fool you. It is more far more unforgiving and even less hospitable.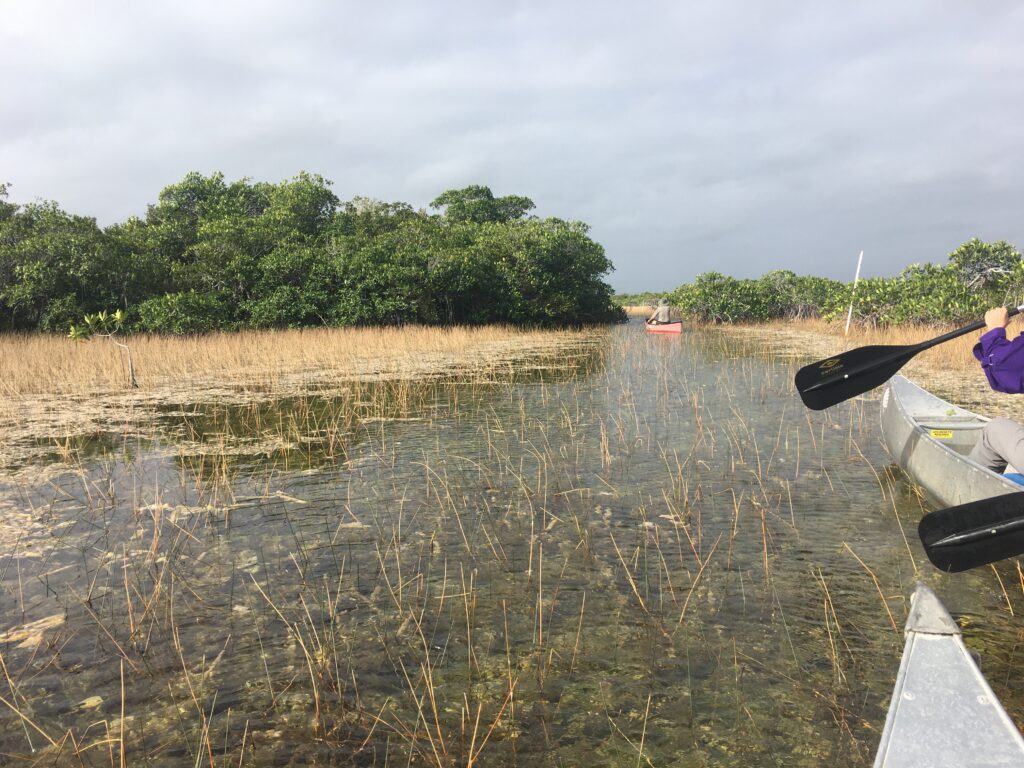 Feeling the shoulder and back burn from 4 hours of paddling, we returned to camp for penne pasta lunch and a regroup for the Nike Missile Tour. Yes, there is a historical military installation exhibit in the Everglades that any Cold War buff will want to experience.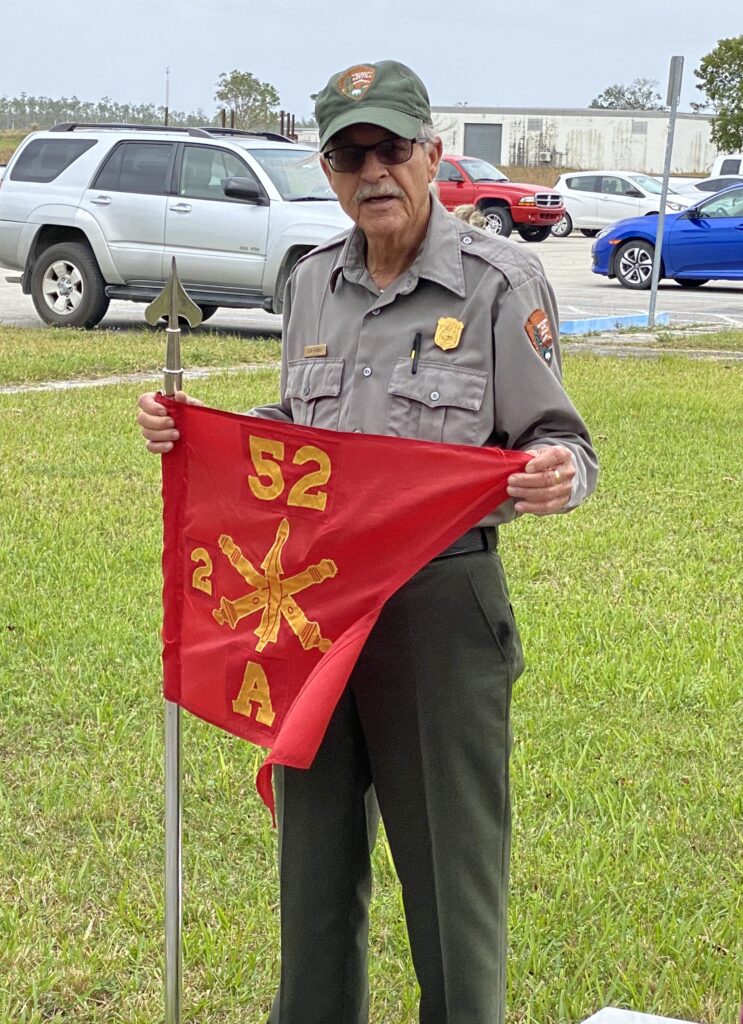 Nike Missile Battery Circa 1968
Coast Guard vet turned Everglades Ranger, Leon tells the US-Russia nuclear arms story in compelling detail, all that was missing was the costumes and background music. Enjoyable if over-the-top in theatrical content, the long abandoned missile launch facility stood in sharp contrast to the surrounding sea of grass. Leon finished with an actual salute to the troops of Cold War yesteryear. We hummed the National Anthem as we departed in the truck.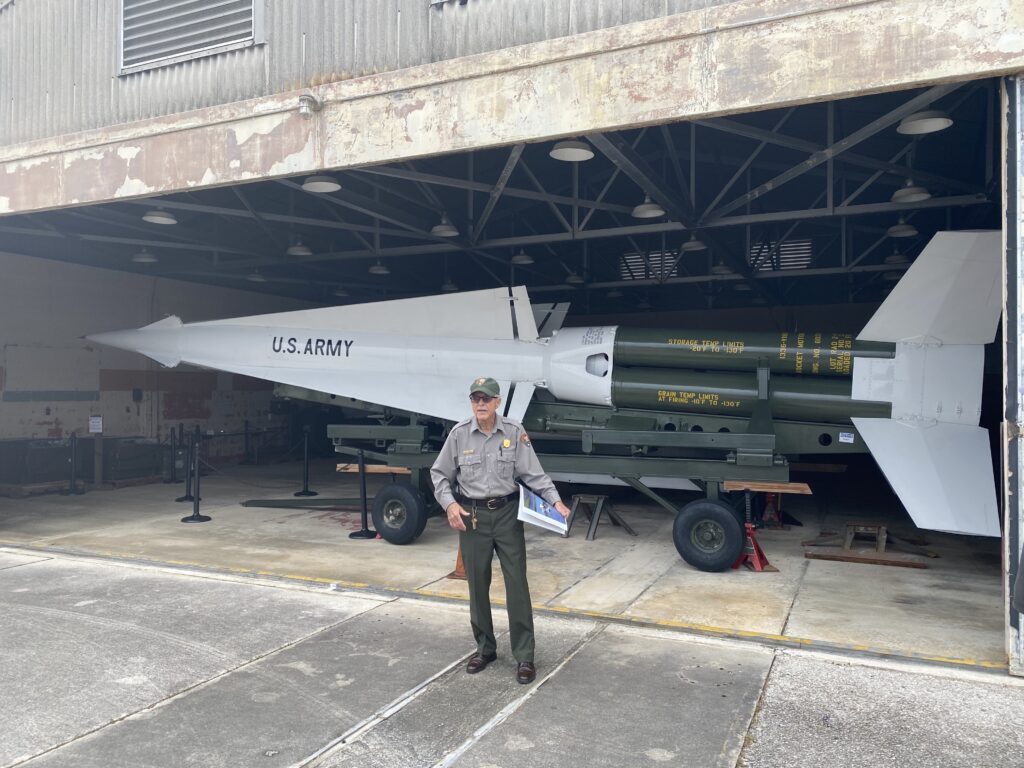 For-Everglades
It's our last night in Everglades National Park. It started as an experiment. If family or friends wanted to visit us on the road, what set up would we need to keep them comfortable? It's morphed into so much more. From Neverglades to Foreverglades, it has been a test of humor and civility in the face of an environment that cares little for your well being. As we nurse our bug bites, treat our poison wood rash, and dig into the not-so-cool cooler for our last dinner, we are proud to have maintained our sanity, and grown in our appreciation of the natural world.