When Eric got the $5/month "we want you back" letter from Sirius XM radio, Sheri said road trip! Escape hot hurricane humidity. Find better weather and check out different landscapes. After a month tenting through the California Desert in April, we sold Roxie (3 years and 20,000 miles in a fifth wheel) and went shopping at REI. The physical and mental challenge of tenting is the polar opposite of our very comfortable lives so why not lean in, or maybe just lay down?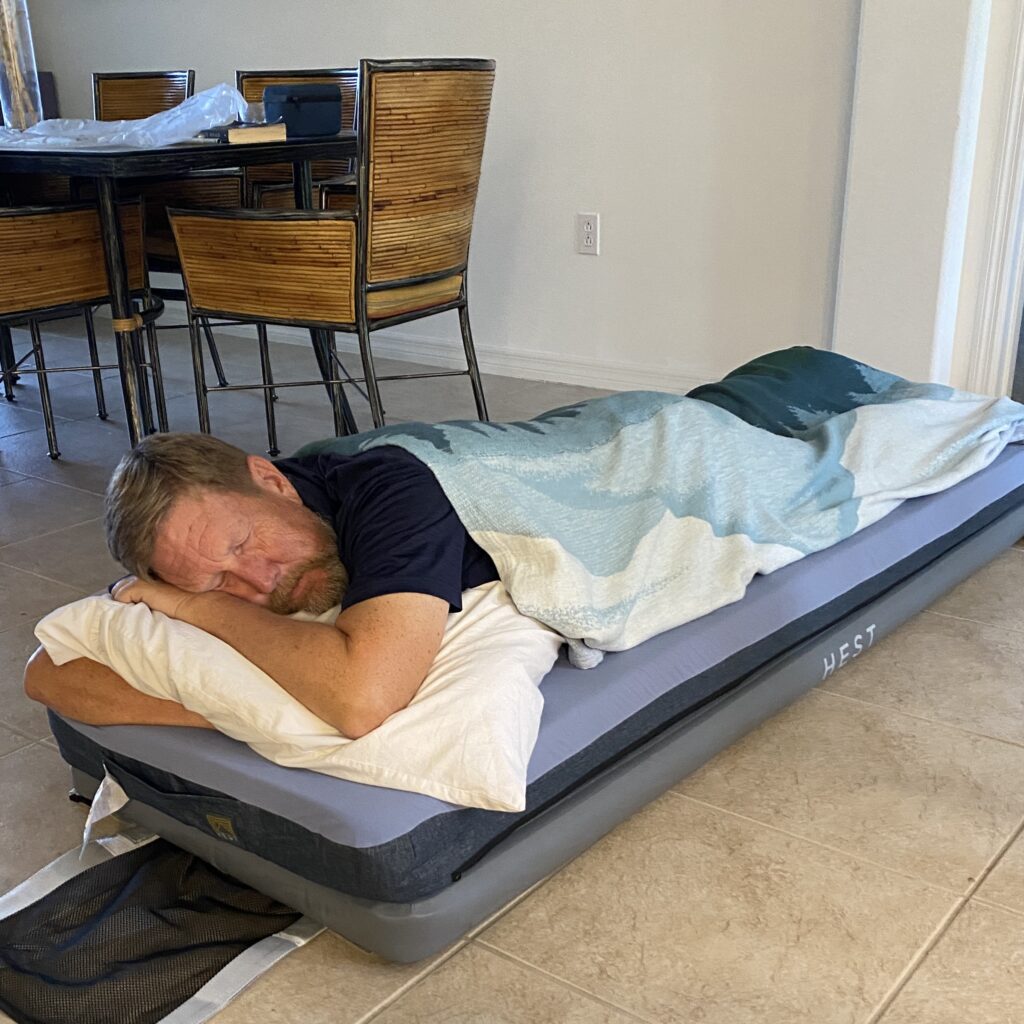 While RV sites are prime real estate, requiring well-in-advance reservations in a post-pandemic outdoor recreation boom, tent sites are still up for grabs. So we go with ideas instead of planned routes, seeing what Mother Nature and Google events search gives us to determine our Next Dest.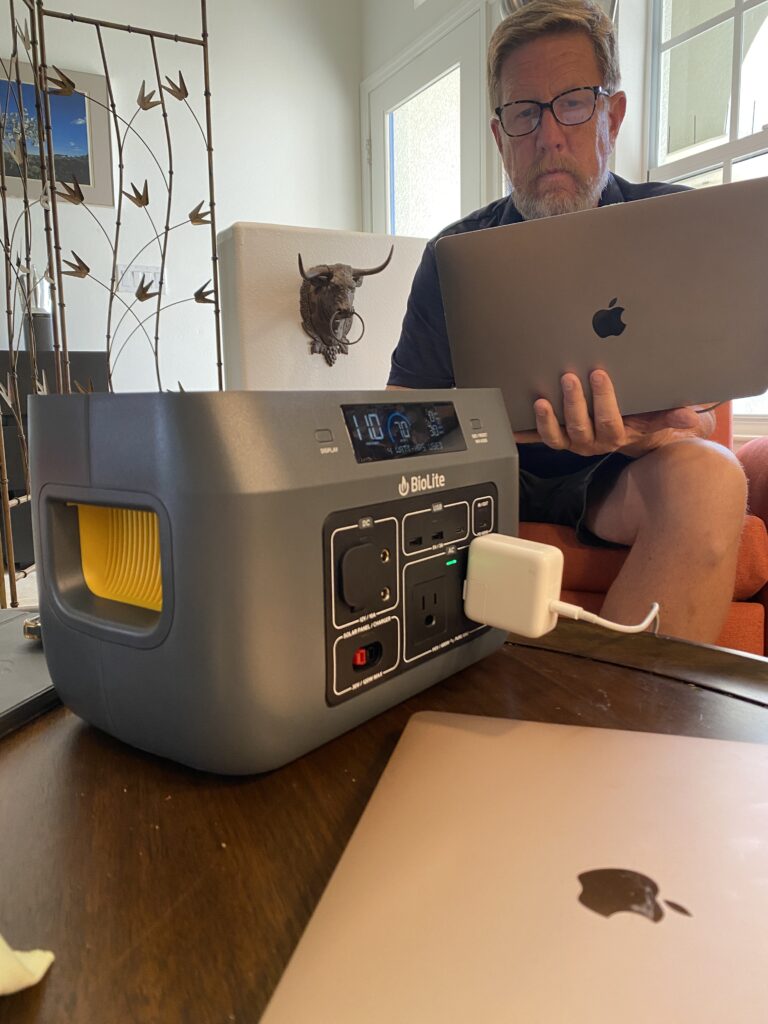 When the goal is comfortable sleeping temps, we look for elevation. Cloudland Canyon got us past Atlanta and Cocaine Bear territory, but 600 miles is a hard day drive. Next Dest Louisville was 400 and offered a Ferris Bueller's stop and look around day (cause life moves pretty fast and we wouldn't want to miss it.) But first, bourbon.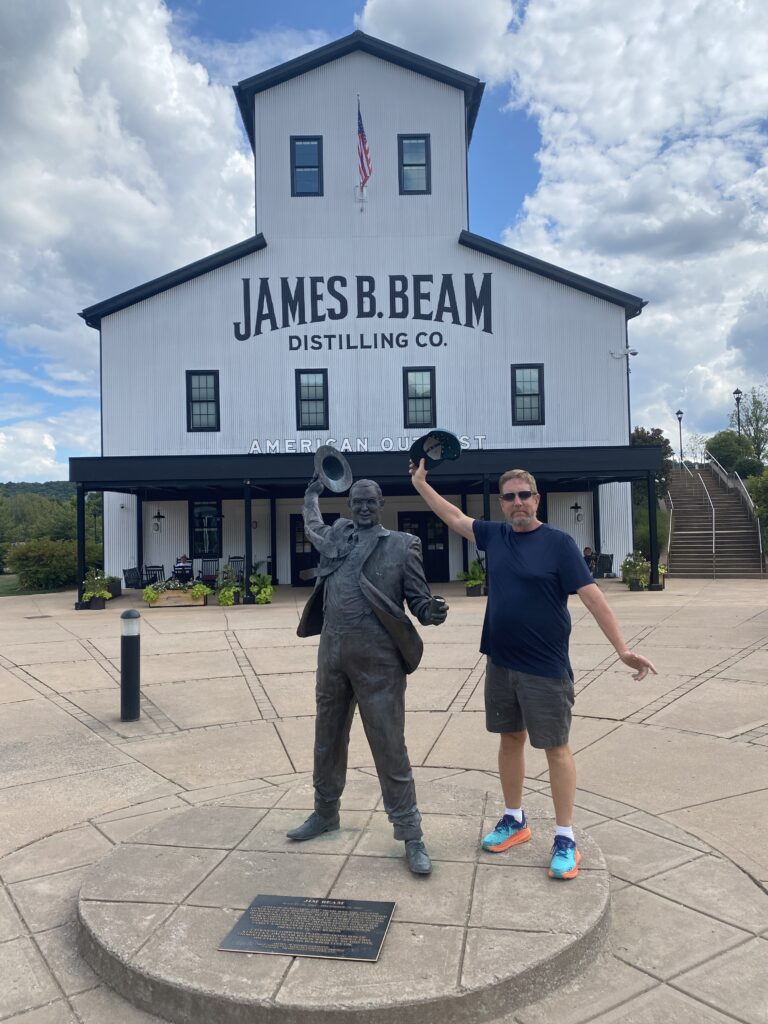 You've heard of bar hopping. In Kentucky you go distillery hopping. Sure, that sounds safe enough. With over 50 on The Kentucky Bourbon Trail map, the Bluegrass state's limestone filtered mineral water and abundance of oak trees for barrel aging produces 2.5mm barrels a year. Jim Beam is our bourbon of choice since its distillery was only 2 miles off the highway while the others were more than an hour out of our way. After 400 miles up I-65, we caught the last warehouse tour of the day for Happy Hour.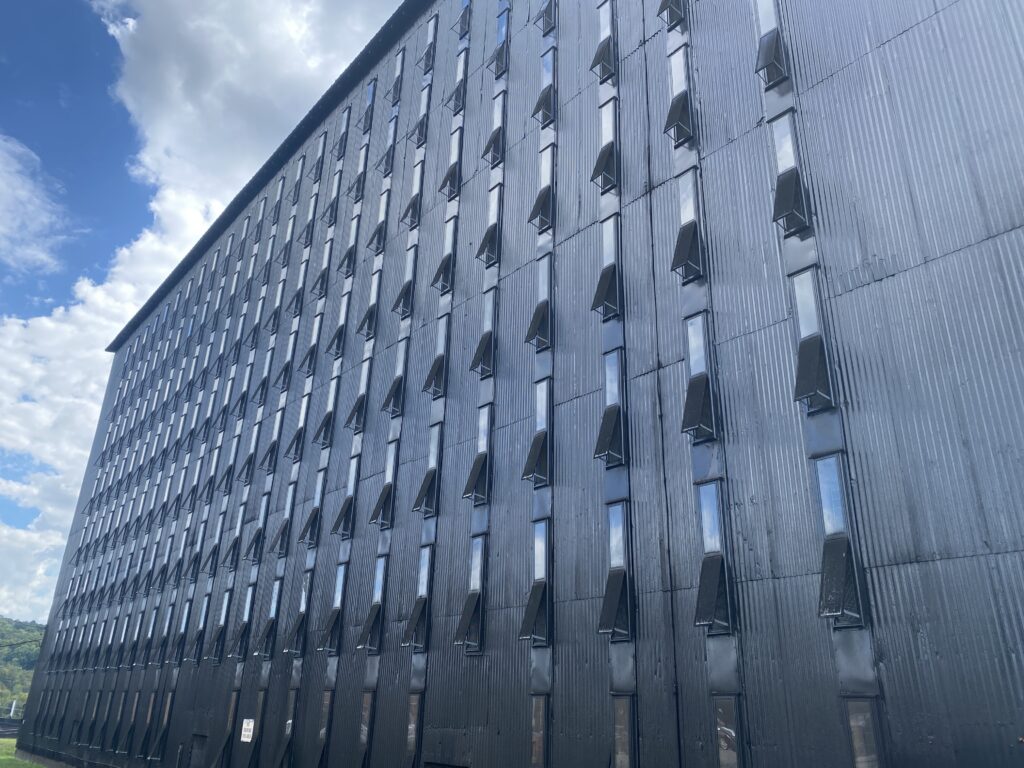 Five generations of master distillers have been making varying grades of bourbon since 1875, with Henry Wadsworth Beauregard Wentworth Elias Jackson Beam the Fifth (not exactly his real name) now at the helm. The campus has statues of these first family brewers interspersed with massive warehouses filled with thousands of aging barrels under brand names like Booker, Beam and Knob Creek along with Experience tours ranging from $20-$350 per person. In Kentucky there is no charge if you happen to trip across a still in the woods.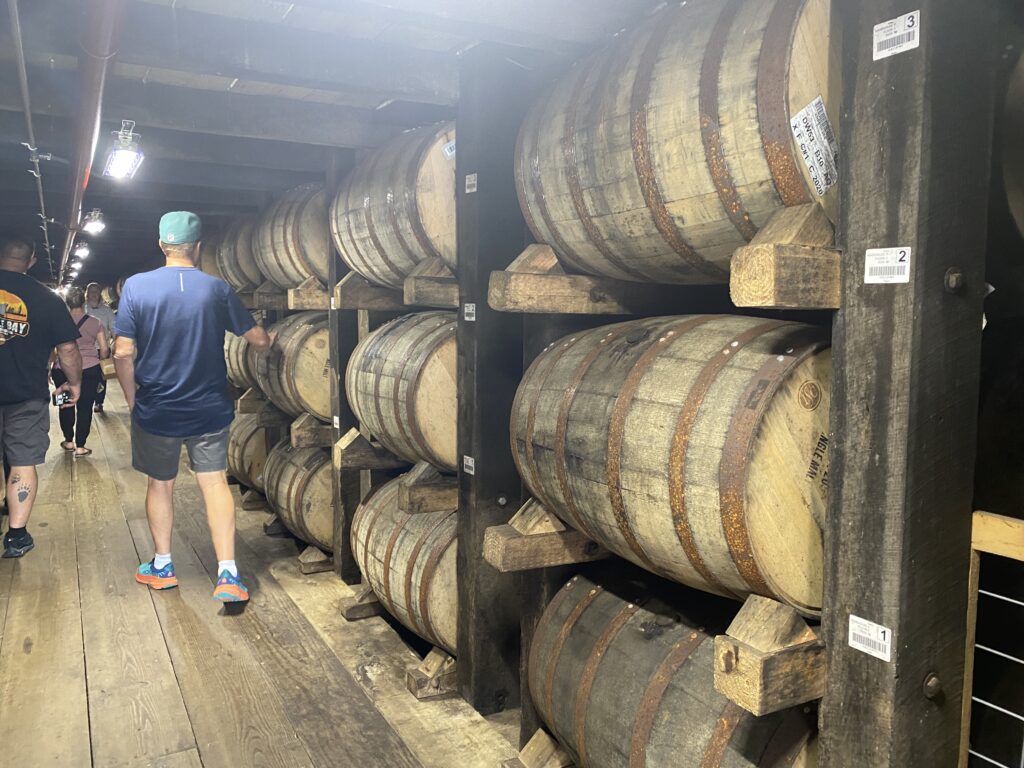 The best part of the Jim Beam warehouse tour is the sample of raw distillate you drink right off the still at the full 135 proof strength (basically moonshine). The rare aromatic clear liquid is described as buttery smooth. The worst part of the Jim Beam tour is the fire in your mouth, nose and throat when the distillate hits your mouth. We also sampled the 135 proof 6 year aged product as it came out of the barrel. It's the same buttery experience but burnt wood flavored.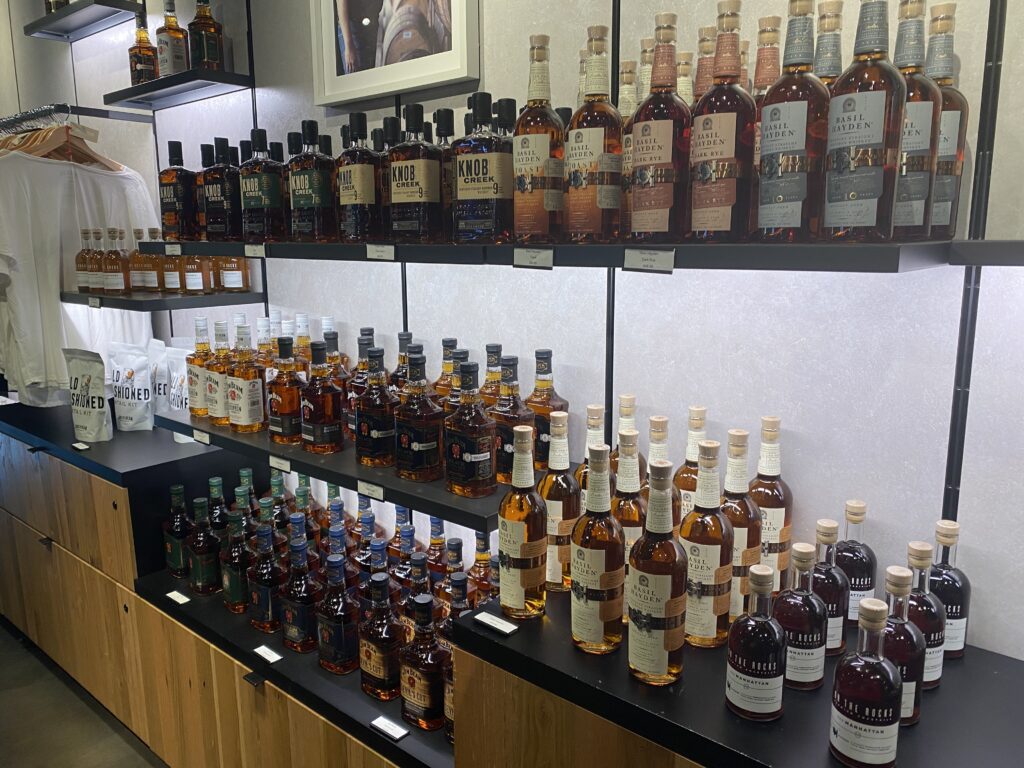 An hour down the road is Mike Pence country, the utterly wholesome Charlestown State Park and a very large population of aggressive black flies. If the flies can vote, Mike'll be the elephant party's nominee for sure. The campground is full of parents with children, grandparents with grandchildren, and young couples dreaming of having children. It's an All American marshmallow roasting around the fire Hallmark channel camping experience. Temps are perfect and it's just over the Ohio River within striking distance of a Day Out in Louisville, so we blend in.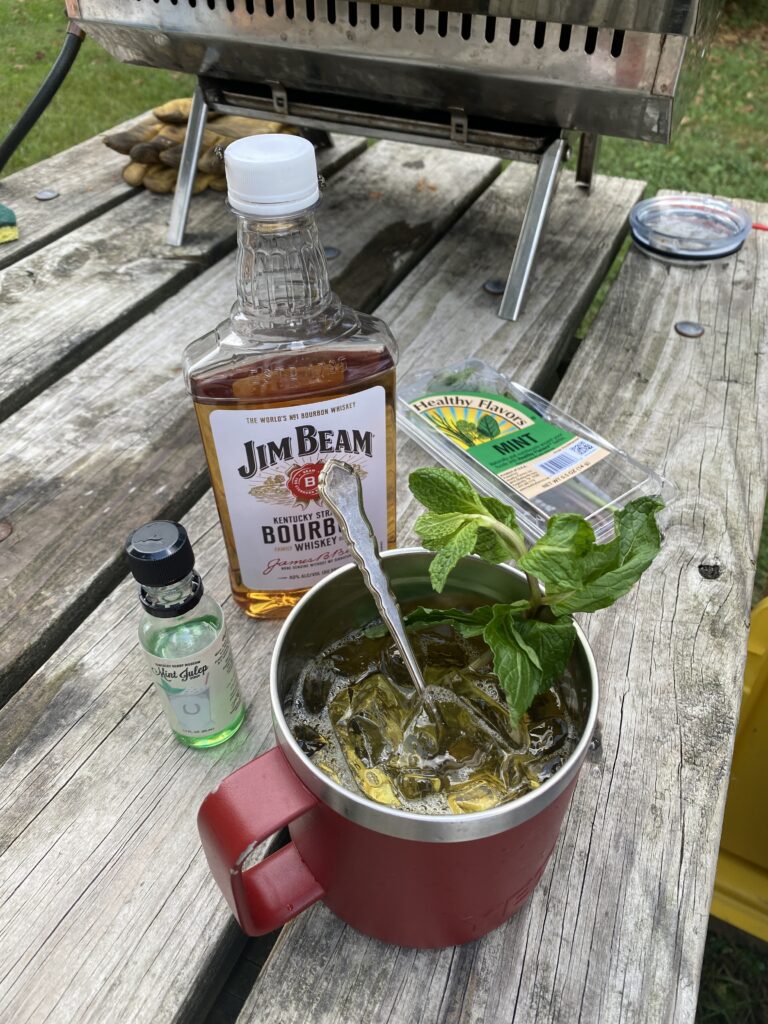 Jacked up in the AM on Jeff's Donuts and McDonald's Dark, we headed to Churchill Downs. With a lifetime of multiple outings at the Preakness in Baltimore, from the infield to the grandstands and tent village, we needed to see the home of the first leg of the Triple Crown. Churchill Downs is horse racing royalty. The historic track with its iconic National Landmark twin steeples stands ready to celebrate its 150th anniversary next year where a crowd bigger than that of the Super Bowl and World Series combined will attend. The interactive museum exhibits are a lot of fun. Between dressing up like a jockey, riding in a video simulation and going down to the track, we killed two hours learning about the legacy of the people, horses and business of racing. Good times come and go but Churchill Downs, the Kentucky Derby and Mint Juleps made with Jim Beam are timeless.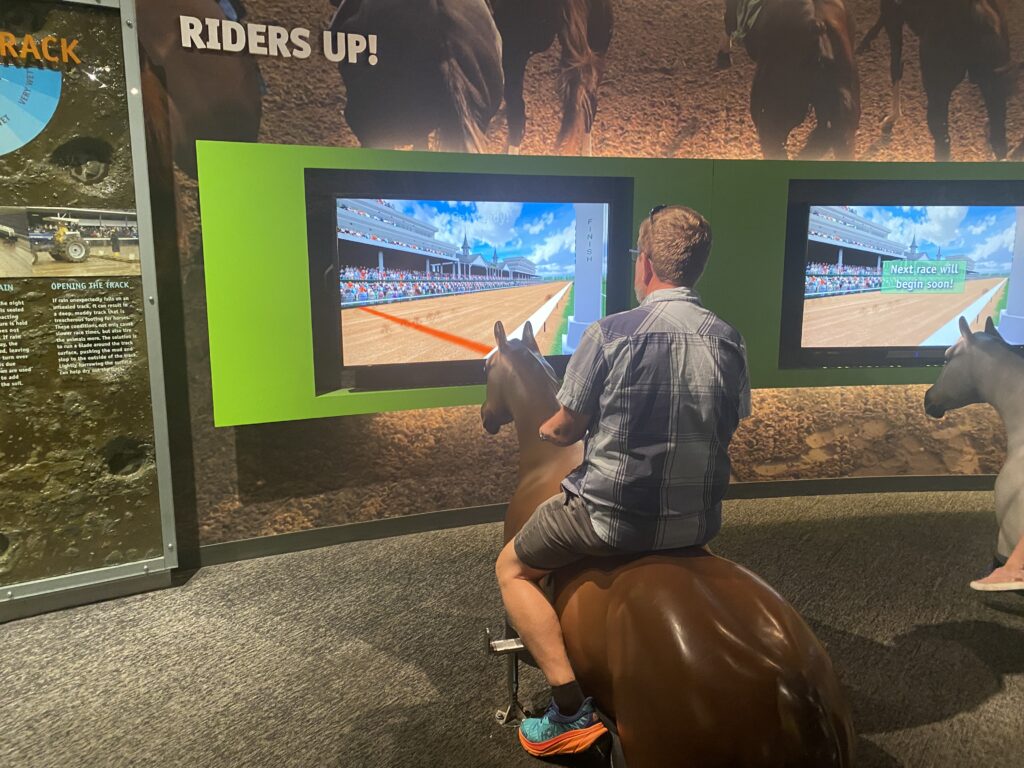 One in five Major League Baseball players swing a Louisville Slugger baseball bat. The Louisville Slugger plant in downtown proper is a major tourist stop for baseball lovers. Sheri proved how great the Cal Ripken designed version of the Louisville slugger was by connecting with 9 out of 10 pitches in the cage. The Orioles are out in front of the AL East but if they should need a late season addition who can hit a slow pitch softball into the ground, she's ready to wear the jersey.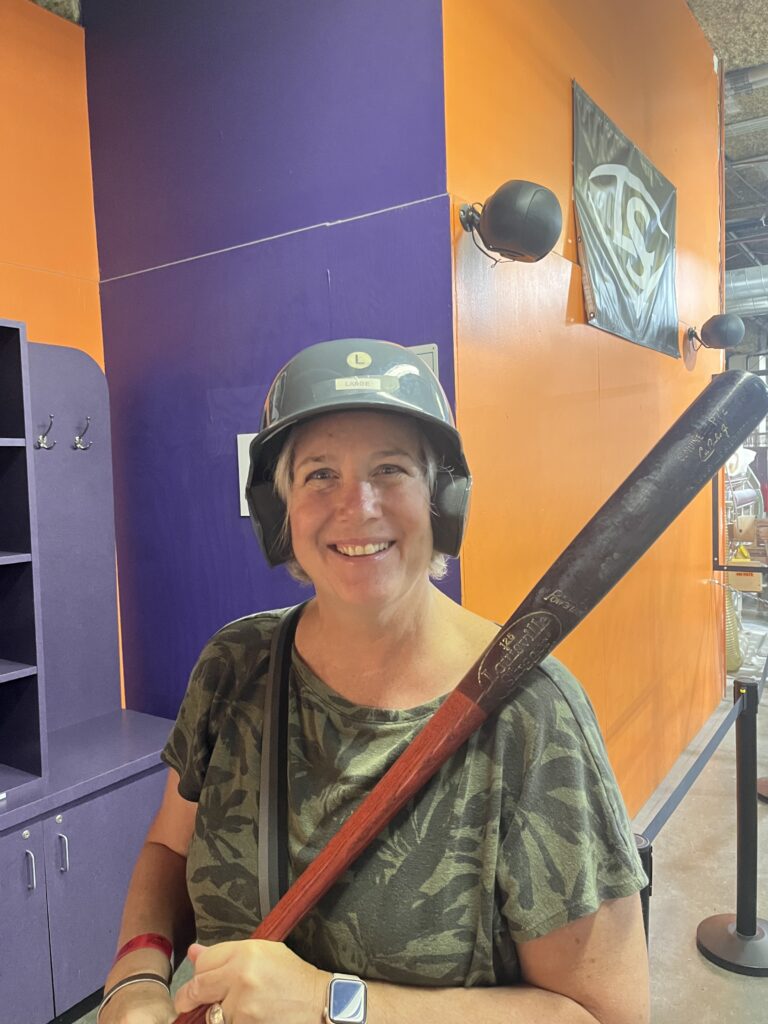 In a search for traditional Kentucky foods, there's the Burgoo (a stew made of leftovers), BBQ and country ham, along with Louisville specialties like the HOT BROWN, a legendary concoction of roasted turkey breast on toast, smothered in cheese, tomato, bacon and mornay sauce then baked to gooey. The original was created in 1926 for the late night party crowd by the chef of the historic Brown Hotel.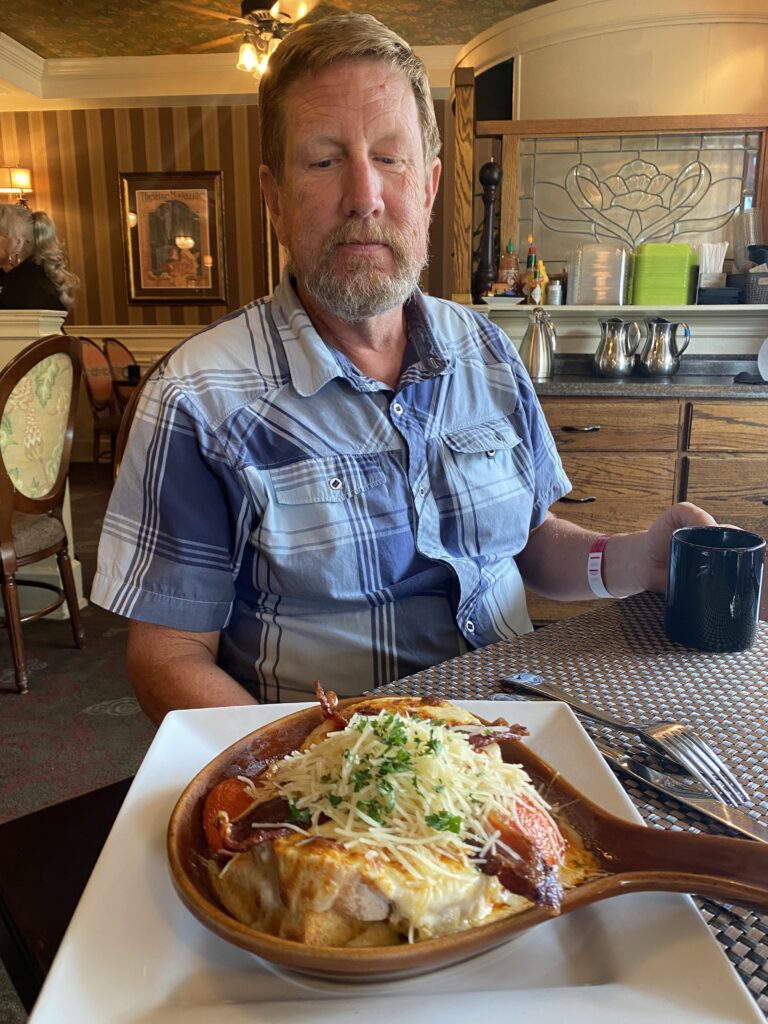 Down on the Ohio river under four crisscrossing bridges, artisans show their wares at the juried Big Four Art Festival. A decent crowd came out to show support, nosh from the food trucks and mostly ignore the band which was inexplicably playing 17th century folk songs.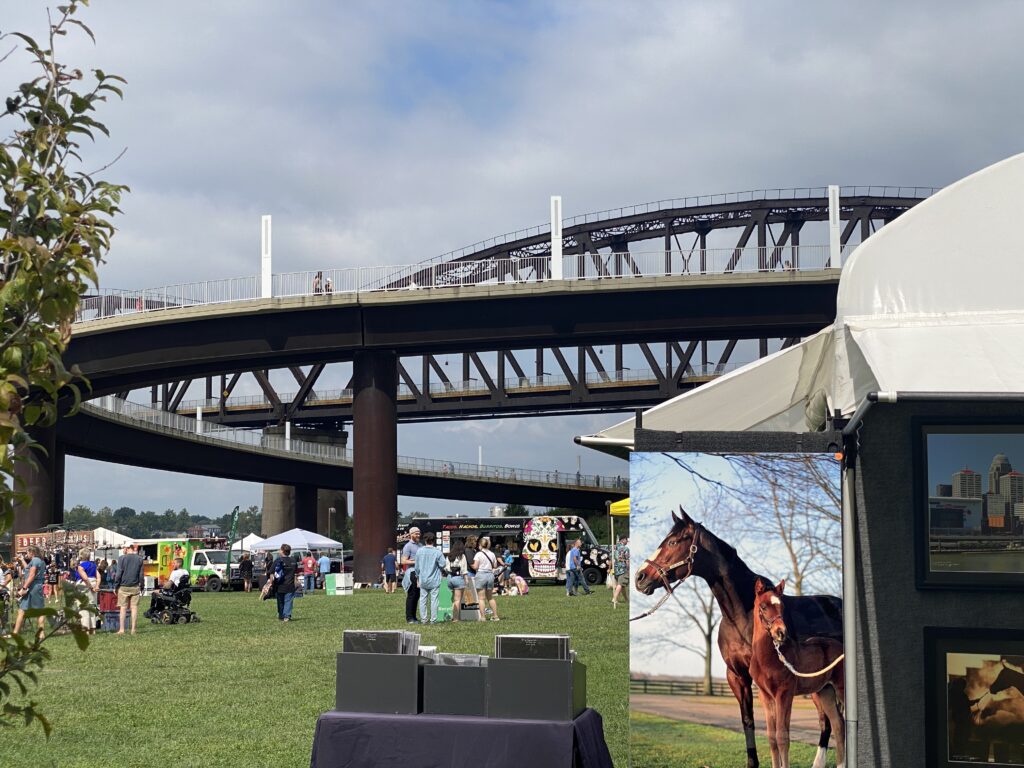 Having just digested the famous Hot Brown, we passed on the food trucks but mixed it up with the artists. Our favorite was a mercurial impressionistic artist who is our winter neighbor in St. Pete but mostly sells photorealistic paintings of bourbon bottles when showing in Louisville, KY.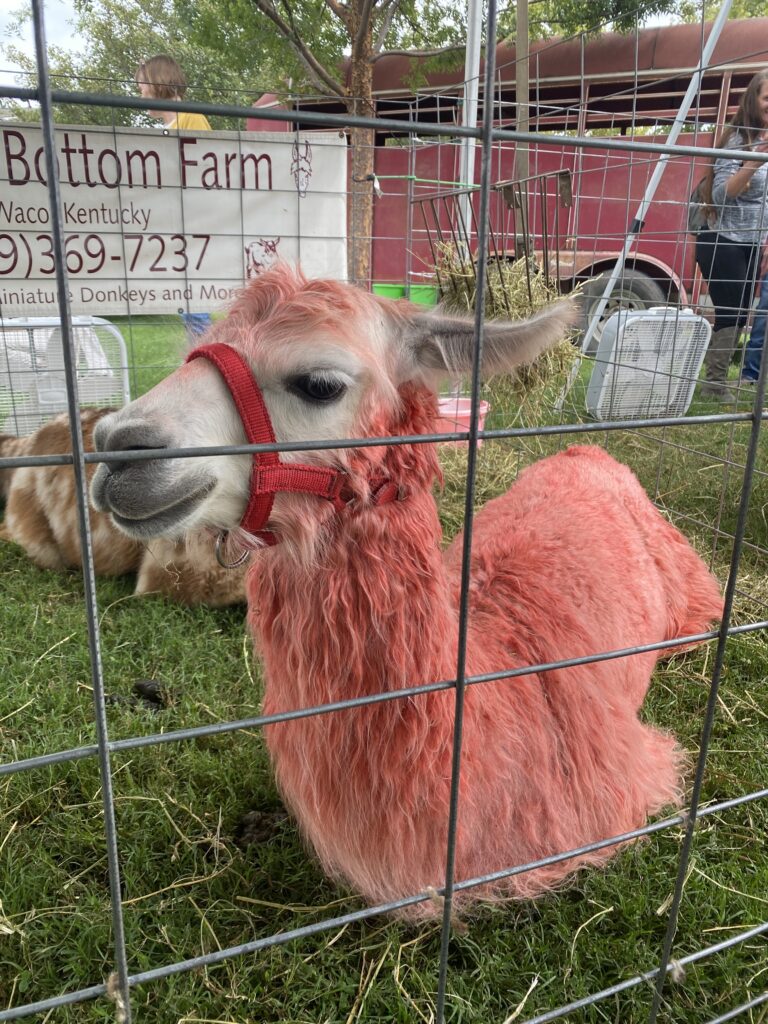 Louisville, like almost every other aging American city of about a half million people is a jumbled mess of homelessness, decay, great neighborhoods, southern hospitality, gritty advocates and fanatic sports fans. Every person whom with we had an exchange was wonderful, especially the waitress who had brought out our Hot Brown and came running down the street to return the credit card we had dropped. We'd say "hang in there Louisville, there is a lot of good going on here", but Louisville's motto is ironically already "Industry by Persevering." Nuf said.