Another day, another National Park sticker. That is a terrible attitude to have when exploring one of America's Crown Jewels. It takes an Act of Congress to designate a NP, and everyone knows they rarely agree on anything. On our visit to Petrified Forest National Park, however, that was our attitude. Scurry and Plod were no where to be found. They were left behind in the wilderness of El Malpais and replaced with two mannequins in the front bucket seats of an F-250 Super Duty where they were indistinguishable from the hundreds of other mannequins in similar if slightly different colored ones.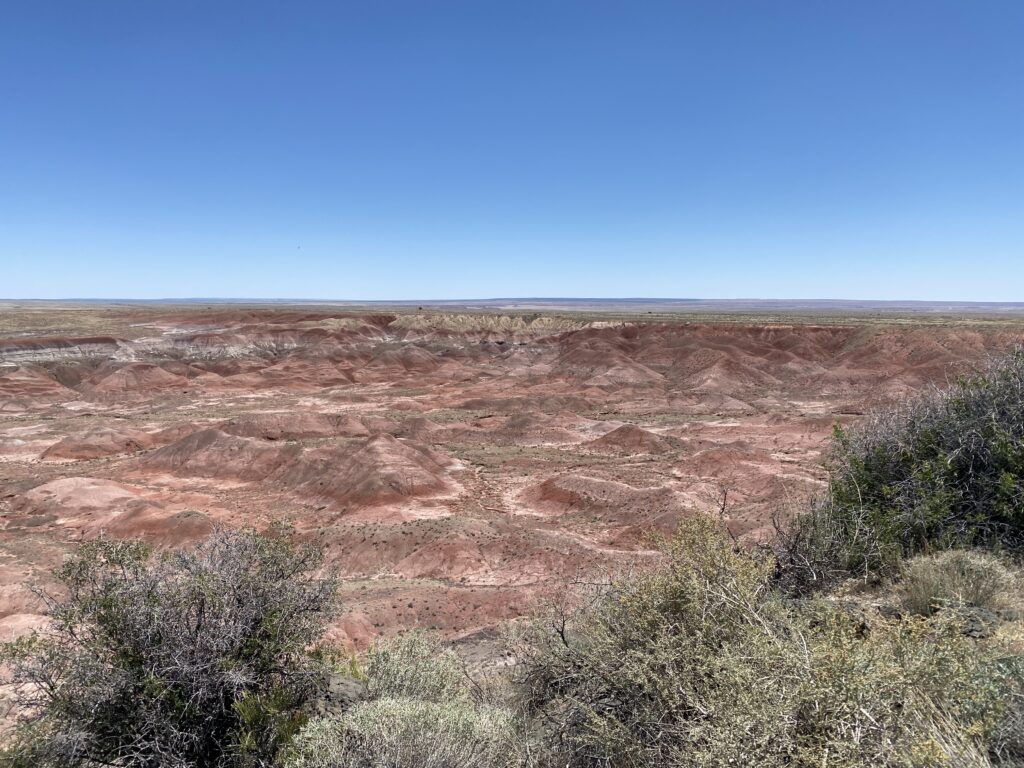 A day later, we are left to ponder what happened. The park is a stunning backdrop of unusual rock formations in blended hues of red, purple, blue and sand. A 45-mph wide paved road connects two dozen view points with ample and well engineered parking lots and handicap accessible walkways. Trucks move along the byway from view point to view point from one end of the park to the other, 26 miles in total. It is a feast for the eyes with stunning vistas in all directions. It has little engagement of the other senses.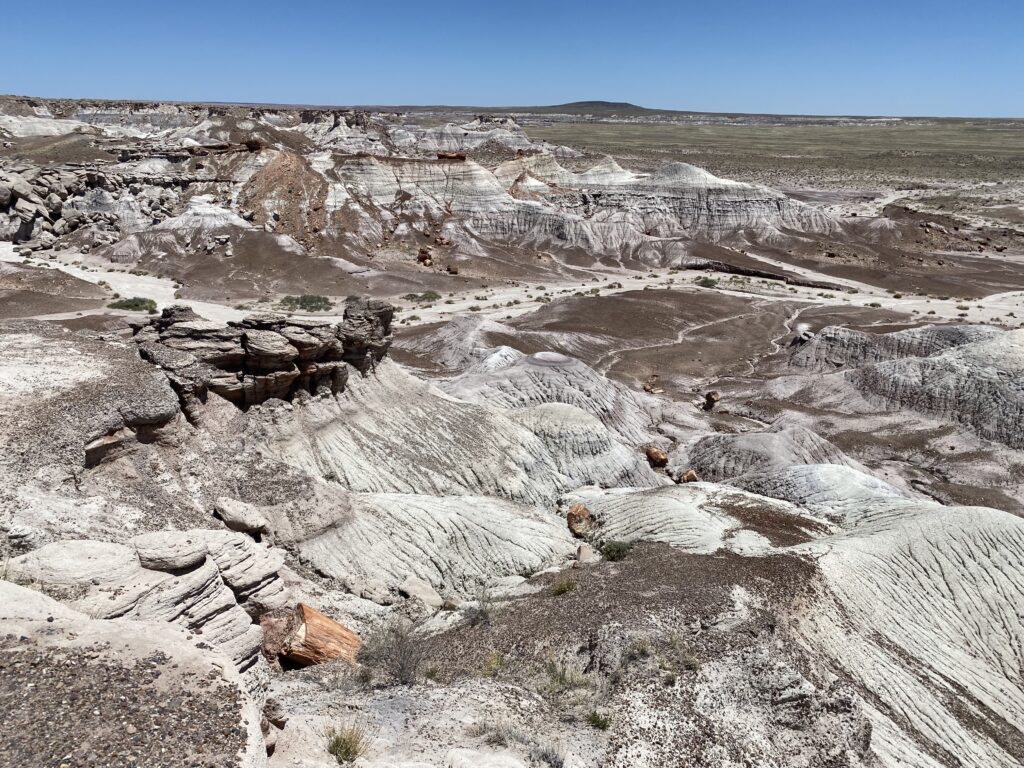 Petrified wood is strewn throughout the park, more heavily on the south end than the north, and its departure from the park in the pockets of visitors is an enduring problem. That leads to a perfectly reasonable if unsatisfying refrain from the park rangers to "look with your eyes and not with your hands."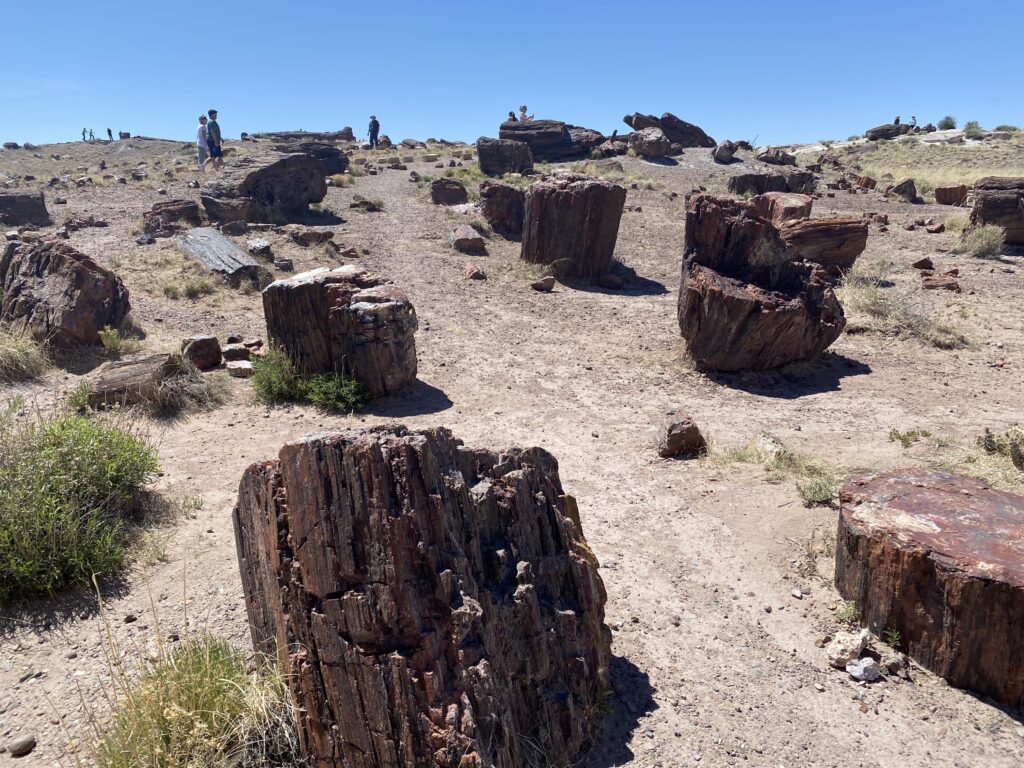 Three one mile fully paved hikes are available but for some reason even those we did not do. Looking back, it is hard to put our finger on "why?" Perhaps we were tired. Perhaps the fact that you could see the path of the hike in its entirety from the view point made the hike anti-climatic. Perhaps the hikes should've been required to obtain the sticker. That would have done it.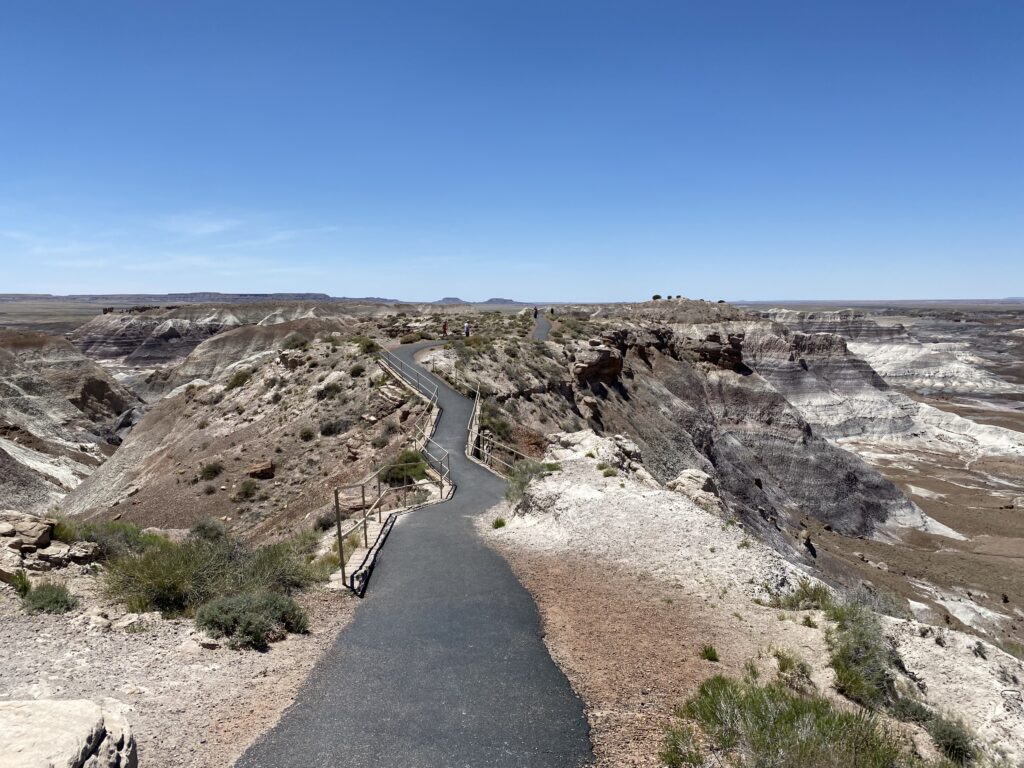 Petrified Forest National Park is bisected by I-40, the great freeway that connects California to North Carolina. The park is well suited for anyone crossing the country to take a 2 to 3 hour break and take in the vistas of the park. There is no camping, no back country, no long hikes to keep east-bound travelers from making the La Quinta at Albuquerque by dinner. It is actually less a criticism of the park than an observation of the inter-state highway system. The incredible efficiency of the Eisenhower-era road project had a positive affect on businesses within 1 mile, and then the benefit dropped off quickly.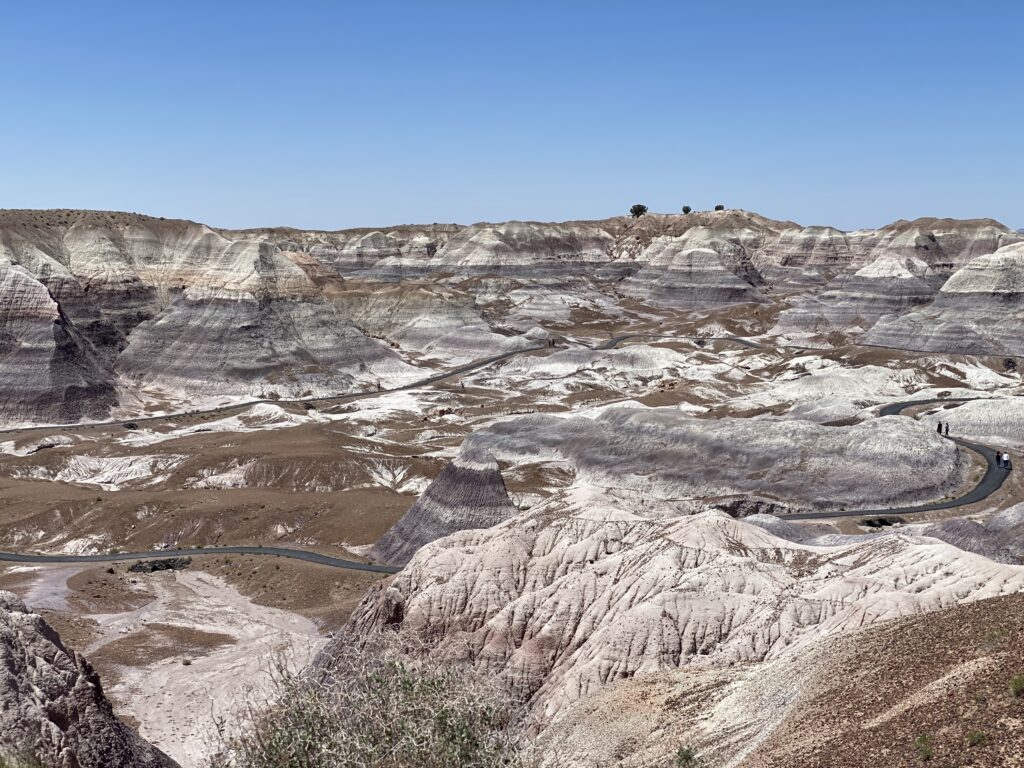 In an ironic homage to the old east-west Route-66, a rusty Studebaker monument sits among the painted desert landscape and stone wood. The rusty automobile drew so many crowds we had no where to pull Roxie to the side. We are left to wonder how the country might have looked had that remained the only way to drive across it. Would the population have been more equally distributed throughout the country rather than so heavily weighted to the two coasts? Would we all be driving Studebaker's?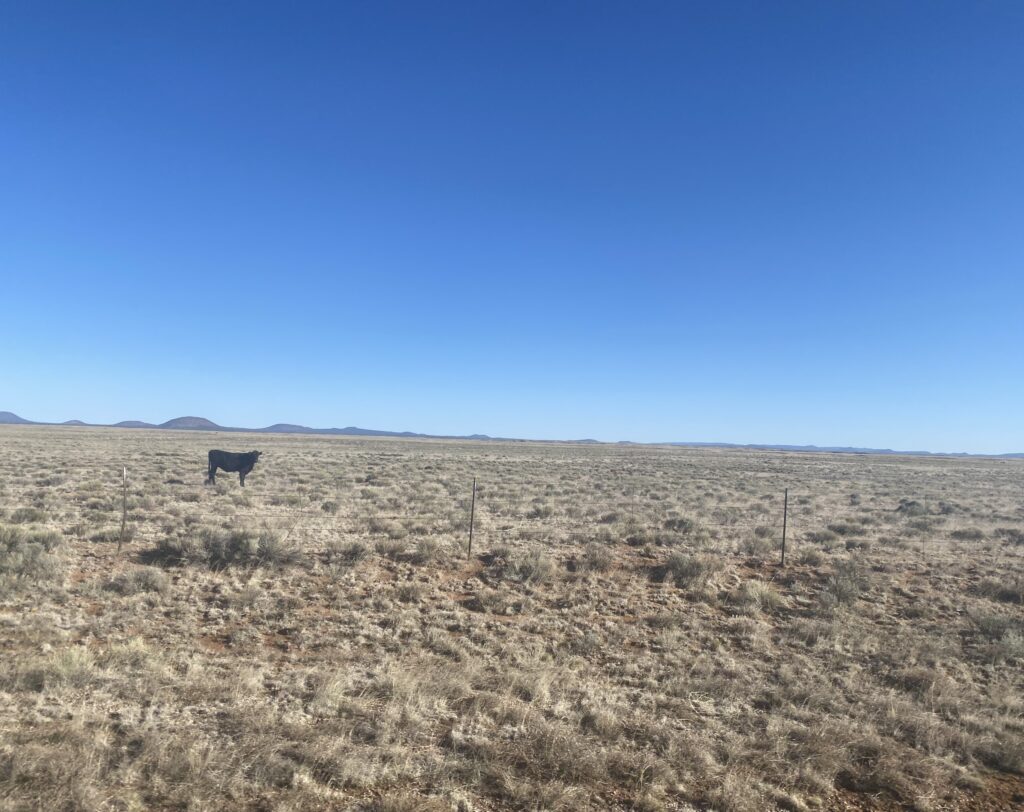 Our route out of El Malpais circumnavigated the monument and lava field on secondary roads. Great expanses of land surrounded us and nothing else. We encountered five cars and one ATV on the hundred mile excursion. One of the only signs of civilization was the Zuni Pueblo Reservation with a welcome sign that said No Photographs Allowed. Like the Amish, they appear to be living an alternative American lifestyle, but theirs not by choice. A product of a conquest and lost generations past, the present remains repressed and isolated from progress. We hoped to get gas, use a restroom and maybe get a frybread Indian taco but this was not a place intended for tourists.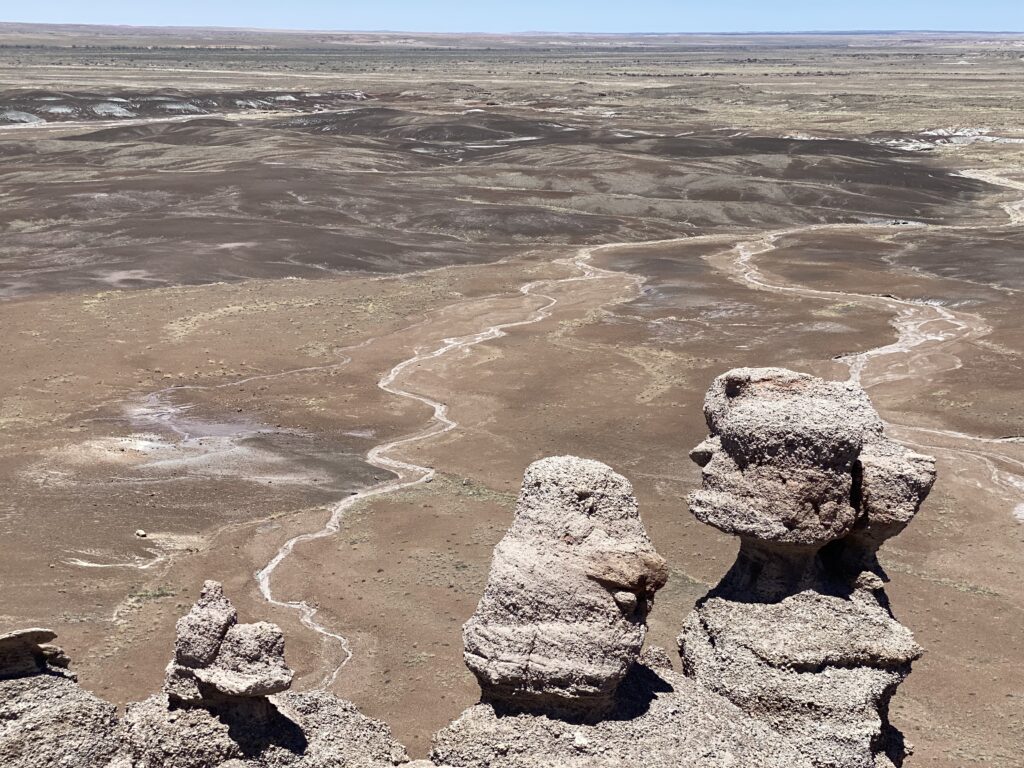 If the National Park felt more like a stunning art exhibit in a museum than an outdoor experience it was not for the lack of beautiful weather. The high desert sheds heat at night like magic. Warm days and cold nights are a blessing when living in an RV. There are no forest fires in sight. Humidity is at 11%. We have found summer weather we recalled from trips past. As we sit comfortably on Homolovi Ruins State Park, AZ with its commanding views of the ancient Navajo lands, we are hopeful that it will spur us to re-engage with the natural environment.