Another great night's sleep on natural latex and we were up early with the Blue Angels' Saturday morning practice session. There's nothing like coffee and a private stunt jets show to start the day.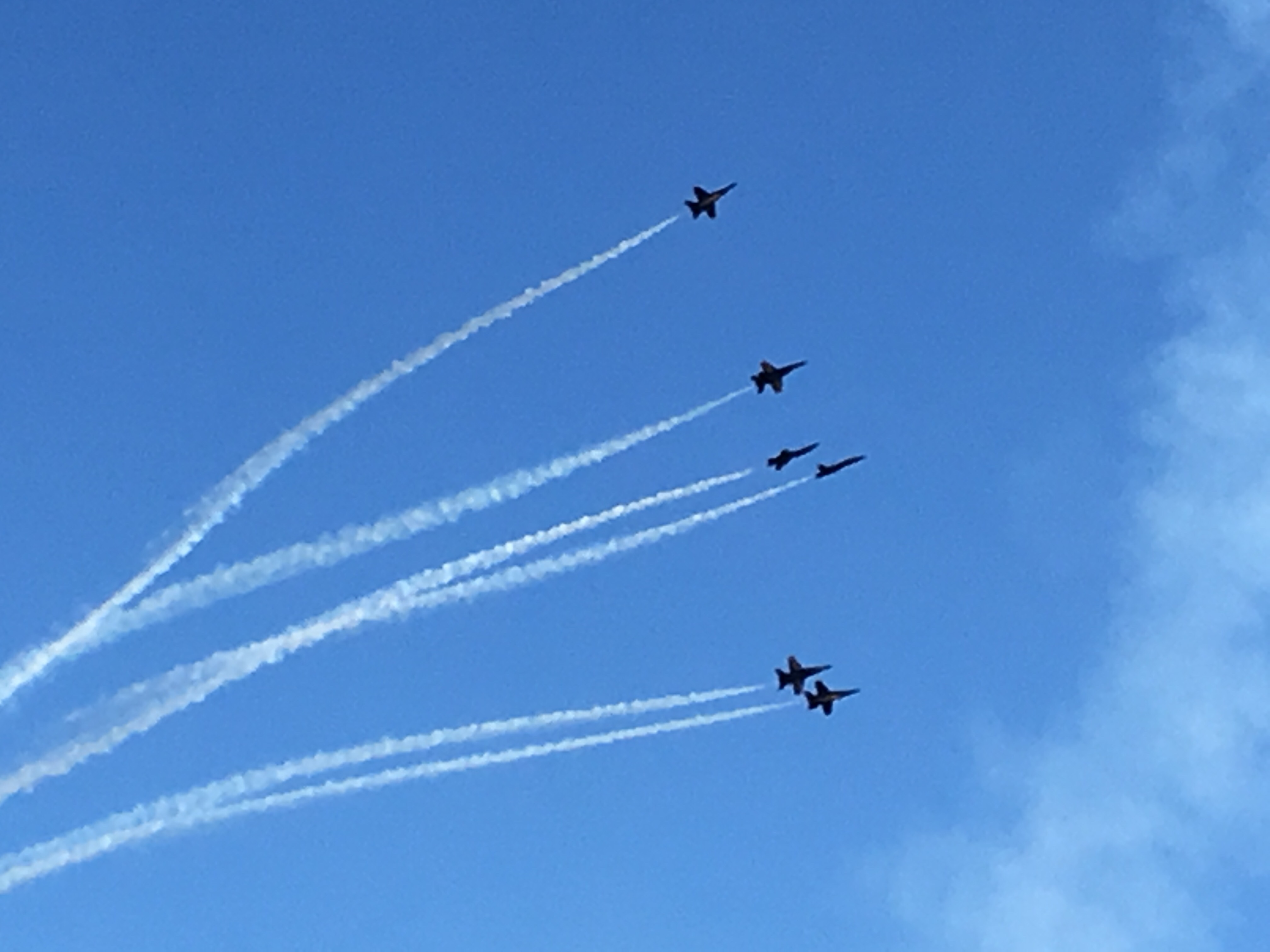 Eric's routine is Sheri's surreal. It seems like a live action movie to her, and another day at the office for him.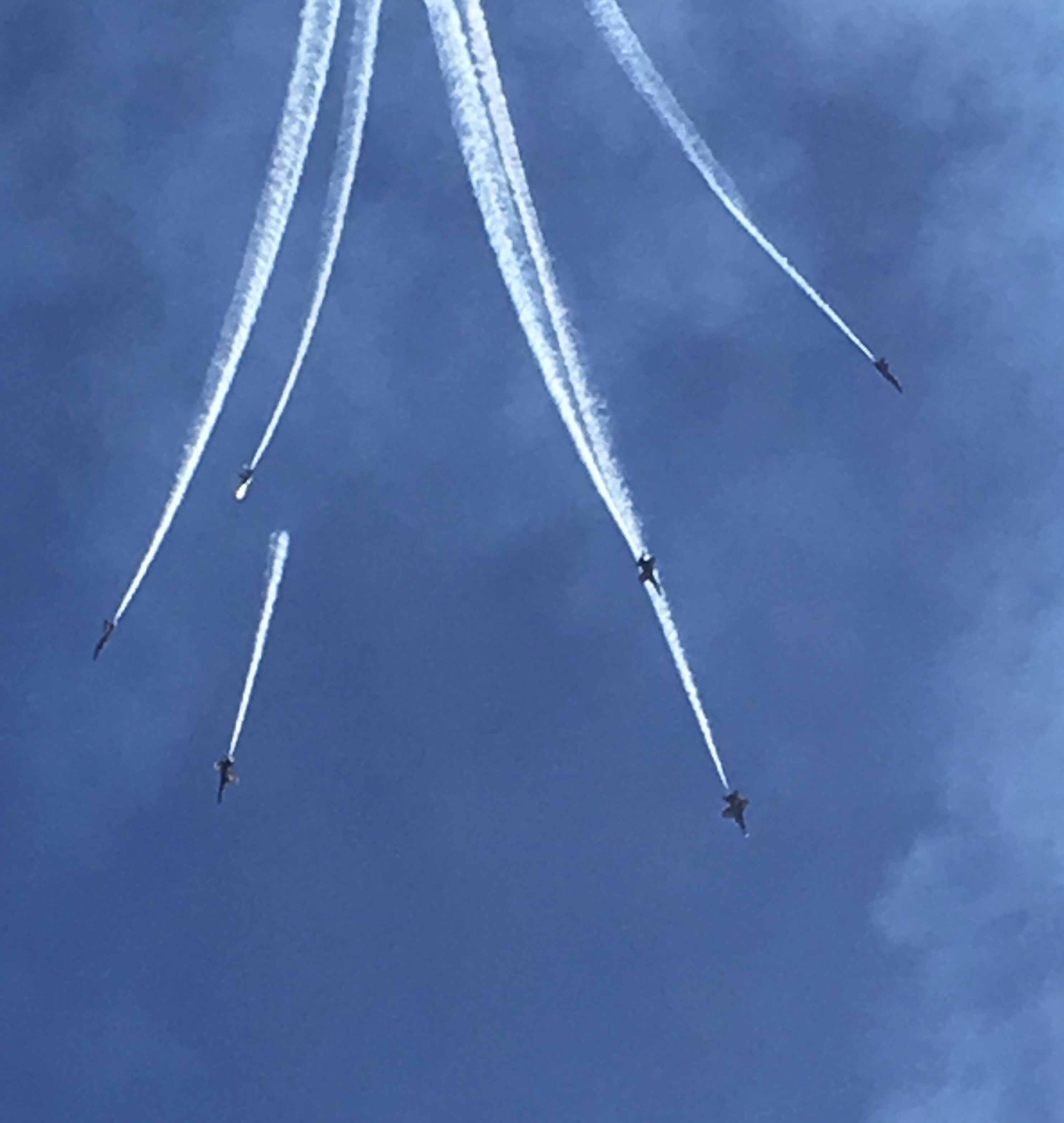 Usually a Blue Angels show is a hot ticket, high traffic event. This was just another weekday at NAF El Centro, where the dog walkers barely looked up when jets screamed overhead. Unlike a packed air show, we could bike anywhere on base we felt offered a view to watch the show. We found an area very close to the runway and looked up with awe as the planes flew so close overhead that we could see the pilot's helmet. After practicing for 2 months, the Blue's will tour the country recruiting for Naval Aviation. After watching the show up close and personal in El Centro, it would be hard to enjoy anywhere else.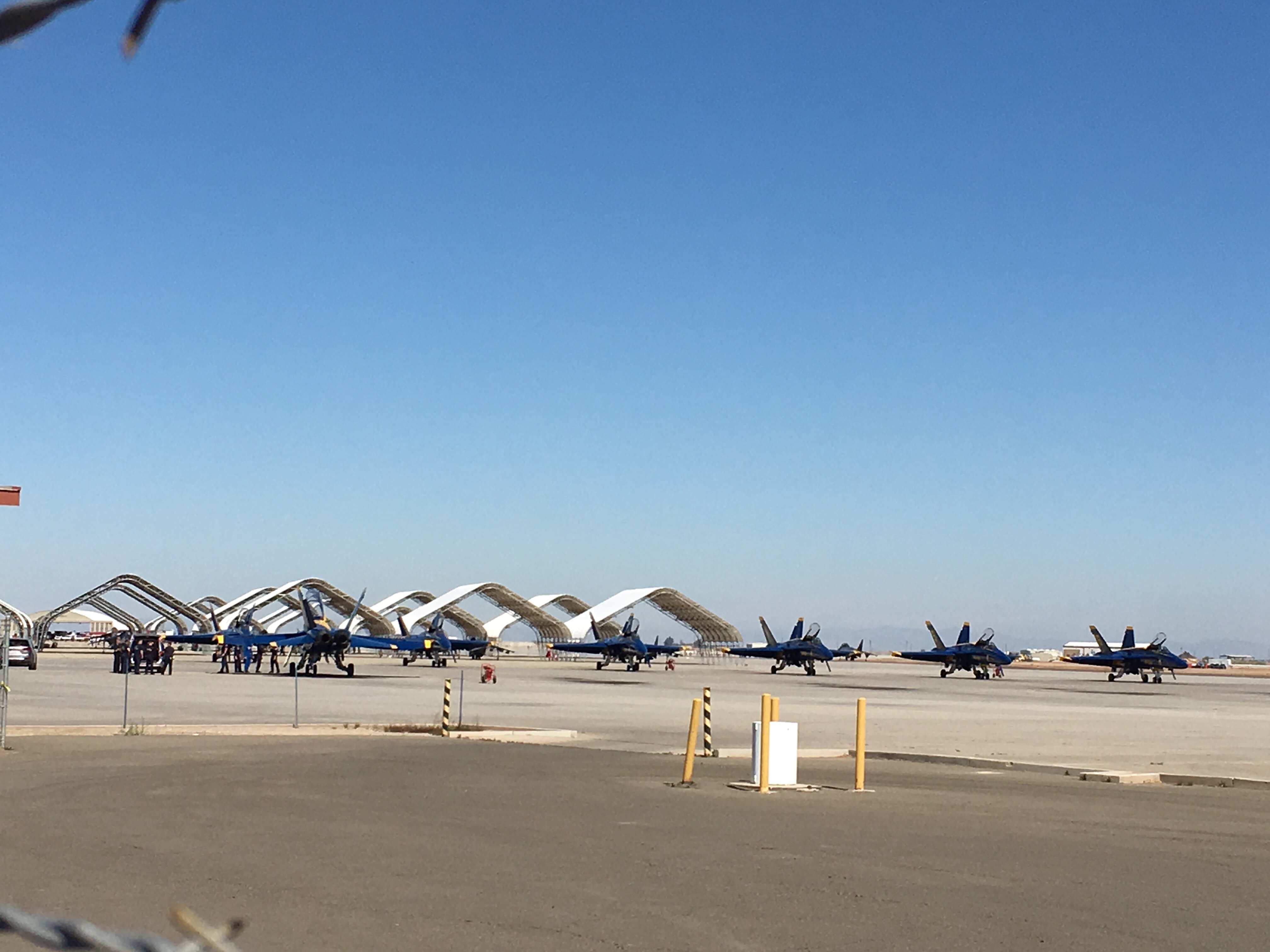 After about an hour of half Cuban 8's, Immelman's, and formation barrel rolls, we pulled the dusty tennis rackets out of the bin to get our swat on. A two minute bike ride away are two stunning red clay courts. Finding red clay courts outside of Roland Garros in France or behind locked gates of private clubs is rare. The town of Red Bank, NJ prided itself on its 5 red clay courts on the banks of the Navesink river where we played for a couple of summers. Tragically, Super Storm Sandy knocked them out in 2012, never to be rebuilt again. Here were two pristine red clay courts in the middle of nowhere. We pulled out our rackets sporting the Roland-Garros string straightners from France courtesy of Cammie's Parisian adventure, and gave it our best Rafa impression.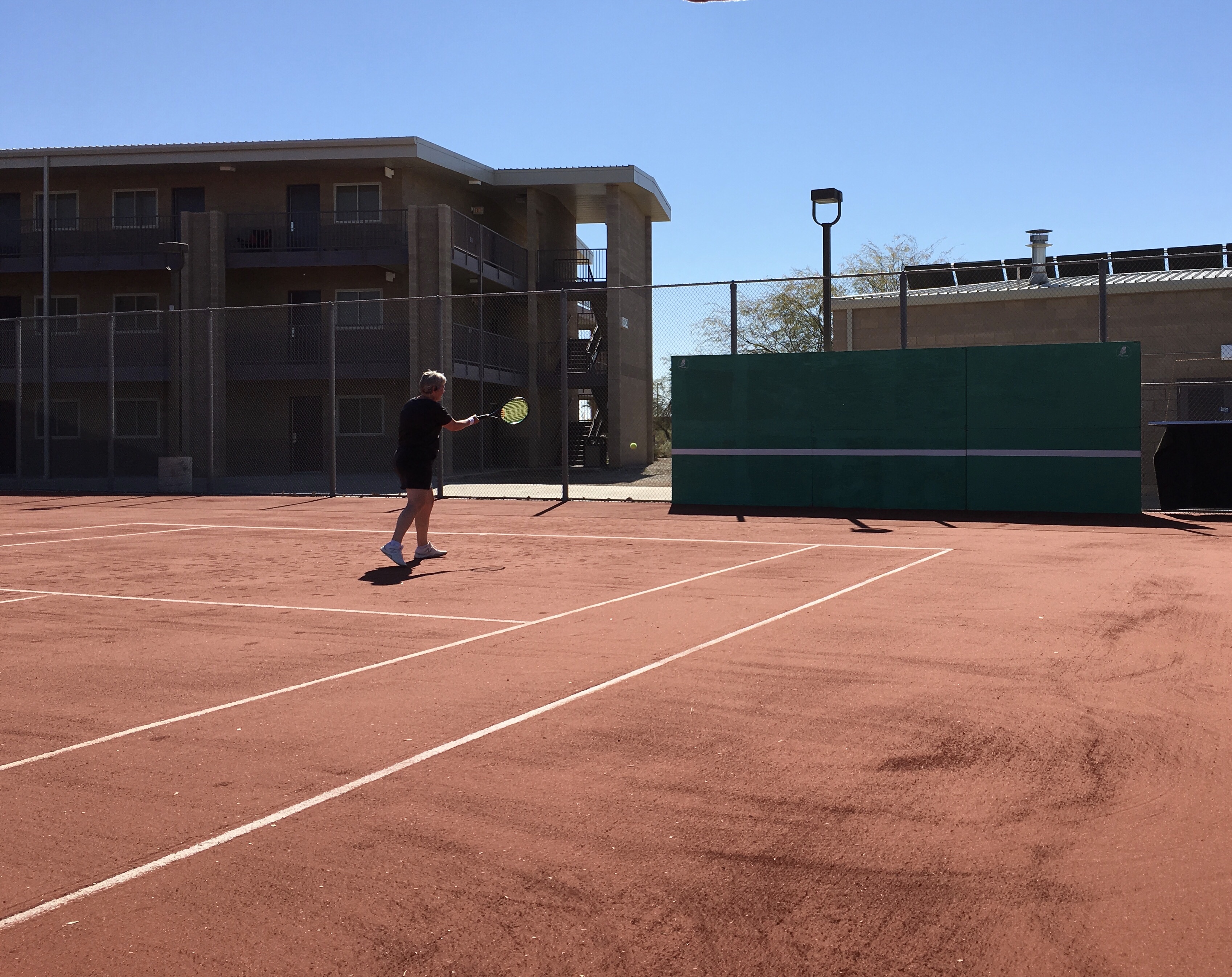 The French Open is played on red clay, which actually isn't clay, it's limestone with a fine coating of crushed brick which allows you to slide over the surface. If you've seen Nadal play, you've see the art of the slide and recover. For us, it's more forgiving on the knees and back, but not so much on the bounce. It's 50/50 on the high/low but the speed is a bit slower so we can move to the ball. After about an hour, Eric ran an errand at the Exchange while Sheri beat the wall until she closed the exercise rings on her watch. The wall is one of her most favorite activities: Bluetooth headset, dance songs on the Spotify playlist and an opponent who always gives back.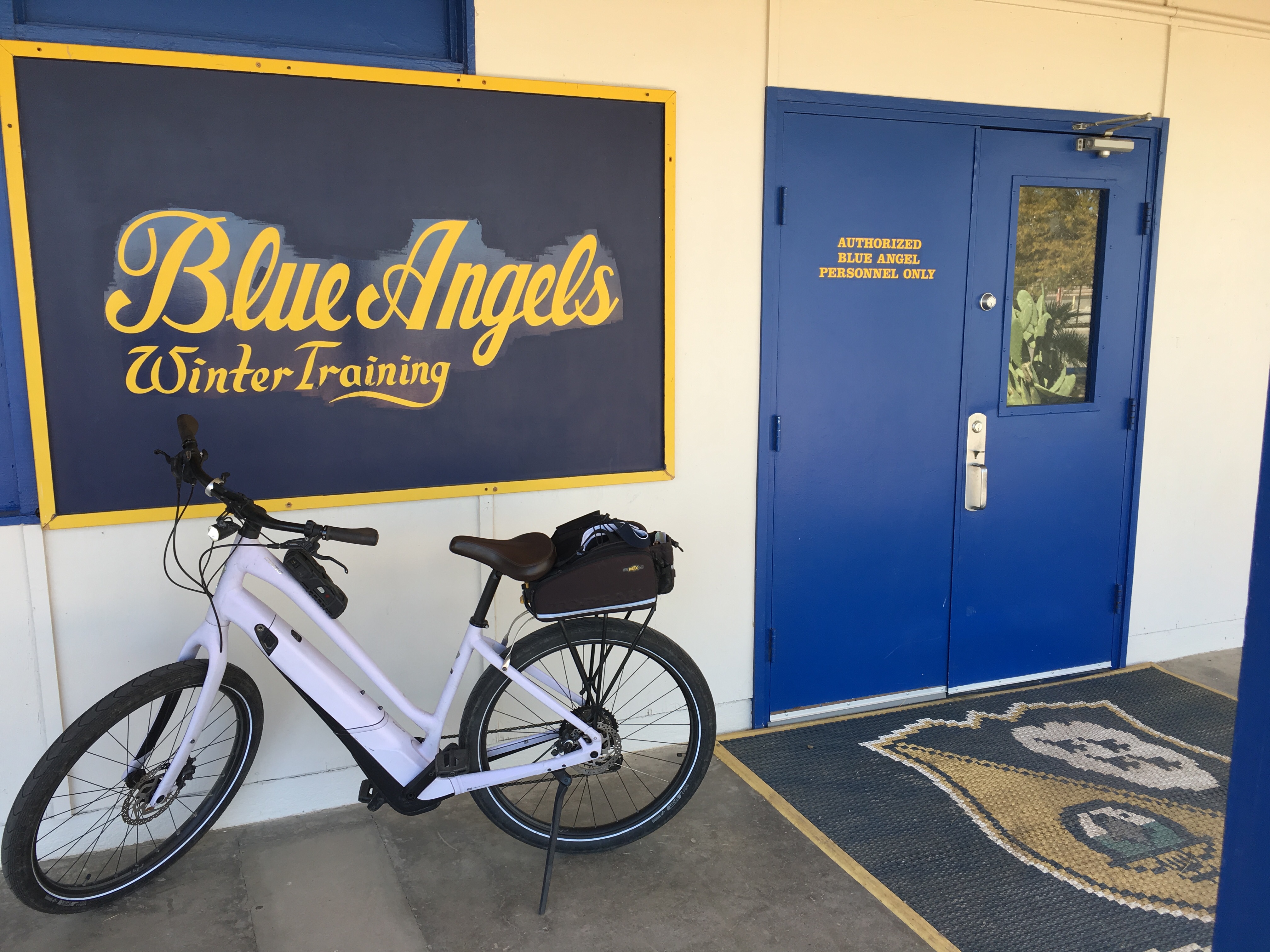 Sufficiently sore, we took a ride around the base looking for cool stuff, like the Blue Angels only club and the insignias of squadrons Eric belonged to like The Thunderbolts. The aircraft are newer, but nothing else has really changed at El Centro since Eric last visited in 1992. It is a great place to get away from traffic and weather and crowds, and concentrate on doing things you love like sports and flying.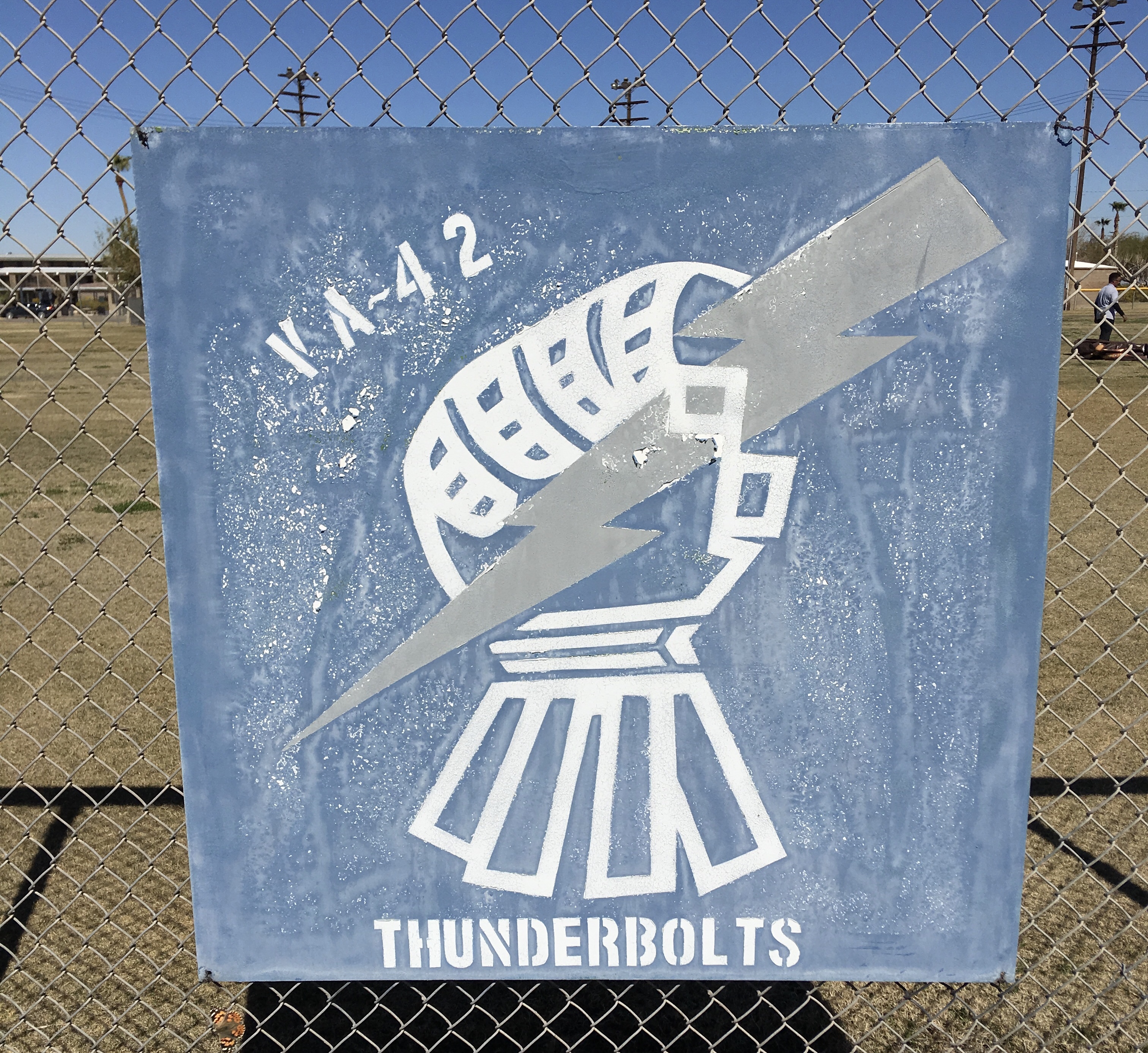 For Saturday date night, it's dinner and a free movie – On the Basis of Sex. The Galley opens its doors to retirees on weekends, so we stopped in for pepper steak and seafood stew at $5.45 a plate. While the entrees reminded Eric of the timeless mediocrity of mess hall food, they still couldn't hurt the salad bar and soft serve sundae bar. We enjoyed our meal in the company of fine Naval Aviation teams who were rolling in after a hard day of keeping a fleet of Marine Corps Harrier jets in the air.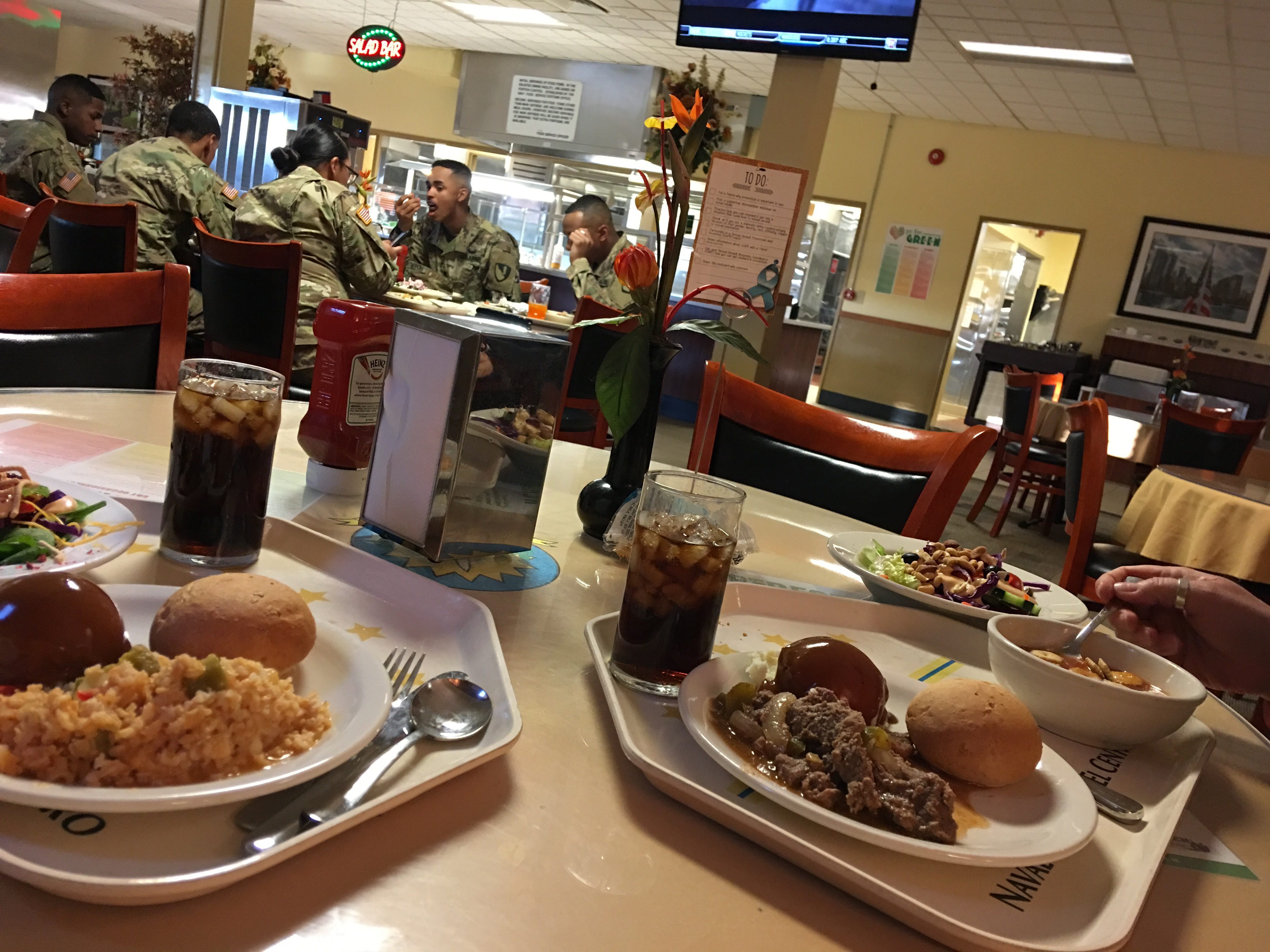 It was an in-and-out experience at El Centro, one that is on our must-return list. A month or two here would do us good. Pool, tennis, bike and hike combined with good food (not the mess hall) is like retiree rehab after a beltway lifestyle. With Betty rehab scheduled on Monday in Tucson, we can't stay now. But, we are glad we stopped in rather than pushing for Yuma so we could rediscover this hidden gem.