Montana is different from its North Dakota neighbor. The highway changes from four lanes to two. Pump jacks disappear and big sky opens up overhead. Moving west on US Route 2, we are truly on the Hi-Line where vast expanses of wheat colored fields are peppered with tiny towns of aging silos, Indian Reservations, bar/casino/convenience stores and $4.20 gas.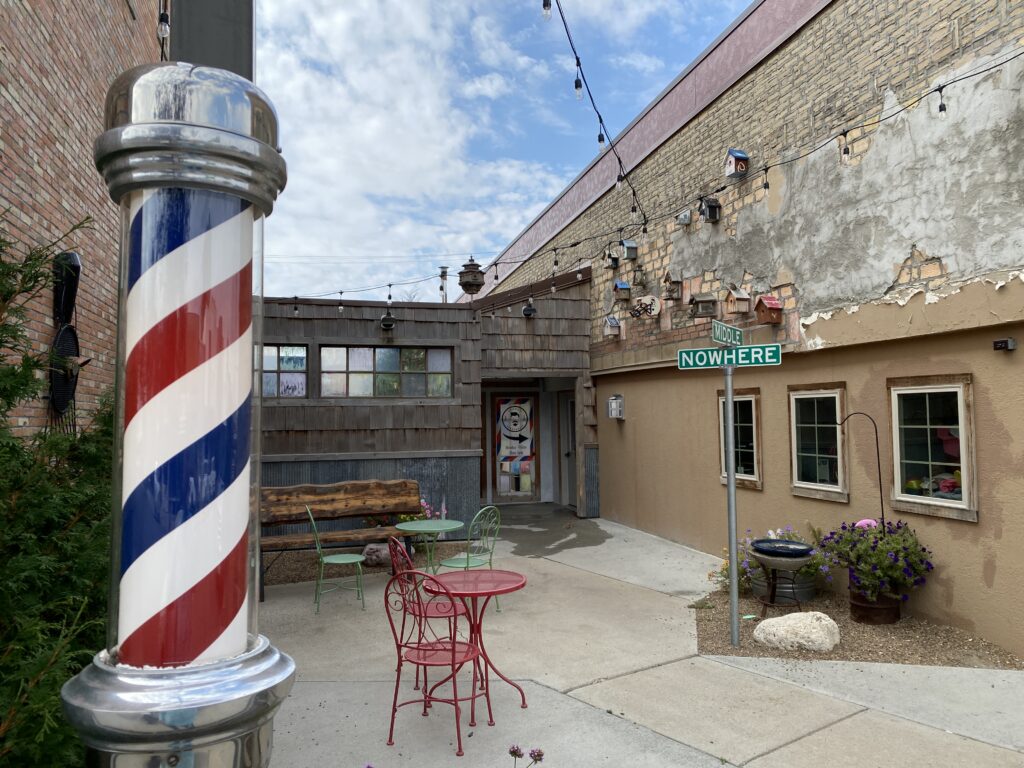 The Culbertson welcome center is across the street from a granary, in an old barn advertising pioneer memorabilia and tourism literature. Open May – September, it had already closed for the season until an elderly woman in Scooby Doo scrubs appeared out of nowhere to let us in to use the restroom and approve our use of the picnic table and electric pole to charge our battery. The price was 30 minutes of listening to the stories of a caretaker living on a lonely highway. We made egg salad sandwiches in 20 mph winds and watched giant trucks haul loads of dirt back and forth across the street.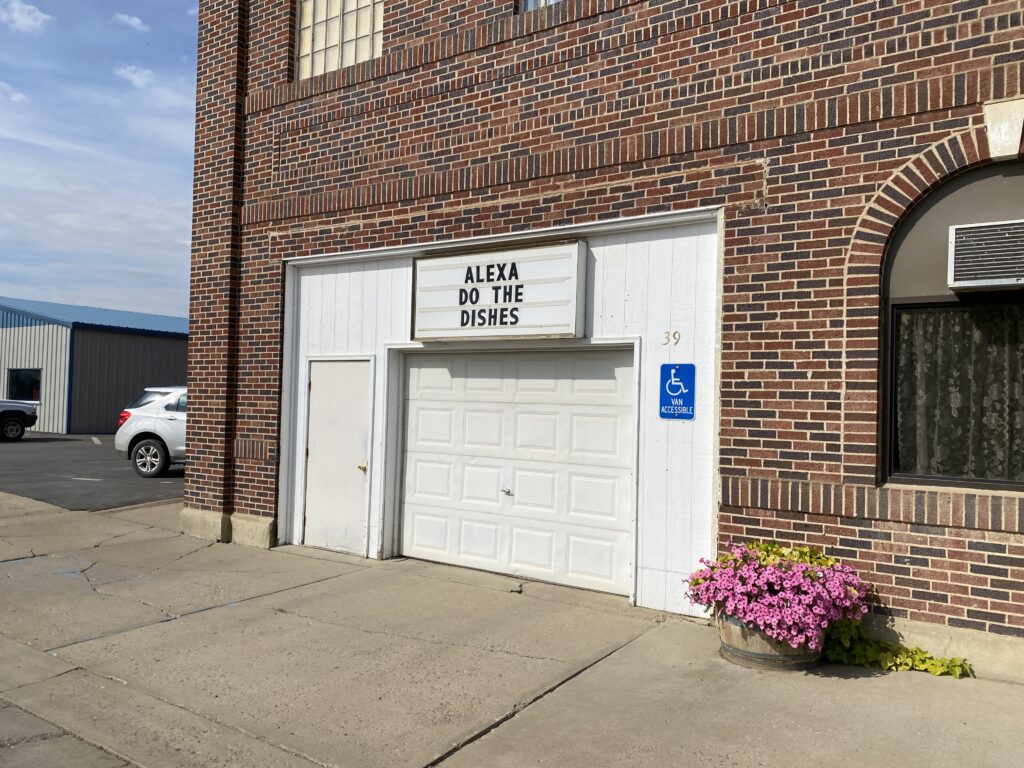 Flies are still outnumbering people on this journey, but we are coming to terms in living life with them. Many reside at the McDonald's in Wolf Point, just past the Fort Peck Indian Reservation. They make room for us in a booth where we replenish with ice in the Yeti cups and order a dollar fries, tossing big tourist dollar(s) around while we shamelessly overuse the free Wi-Fi. We are generally not big McDonald's diners, but on the road it is different. If there's no library, it's Mickey D's.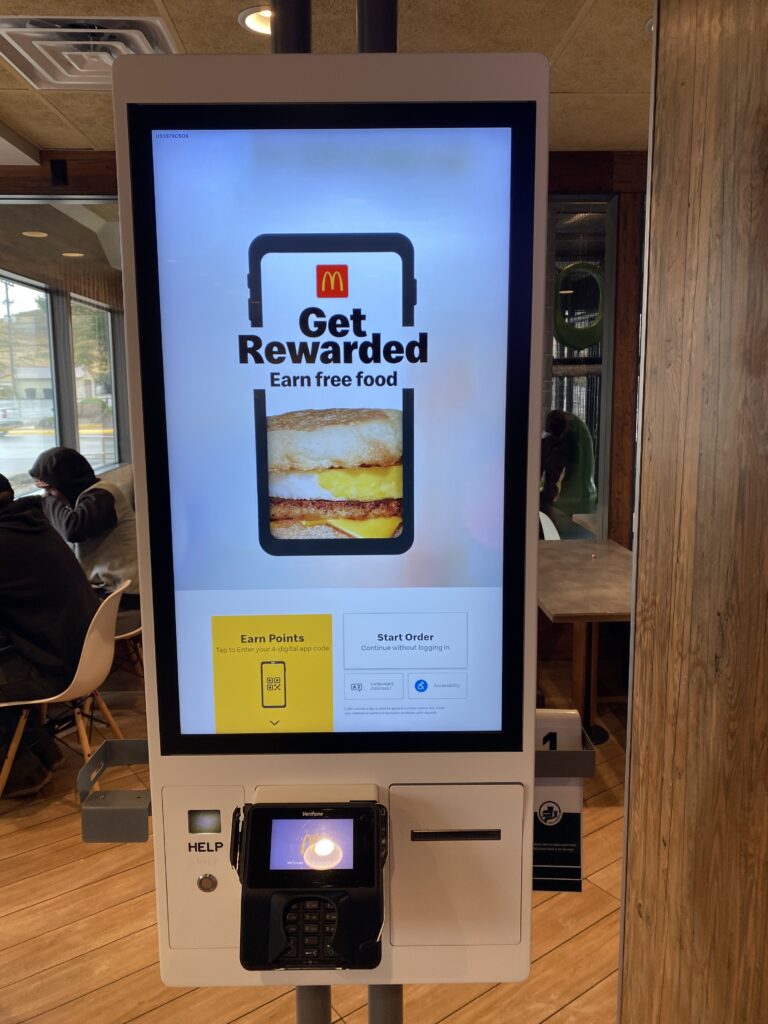 The Wolf Point McDonald's is one of the wonderful old-school franchises. The drink machine is in the lobby. Napkins are with the condiments. It is a ridiculous time to go on a McDonald's rant, but what consulting firm designed the new version of what was just fine? The new model screams, "Do Not Come In!" It's the drive thru or better yet, order on your phone and pick up in the designated mobile orders only parking spot. When you are allowed to go inside, the lobbies are stark wastelands of empty seats with no amenities except a large kiosk that looks like your phone where you place your order. A twelve year old brings your food out to you. One ketchup packet, one napkin, one fry in a bag. That is not how you wanted your coffee? Tough. At least you got your pictures uploaded and blog posted.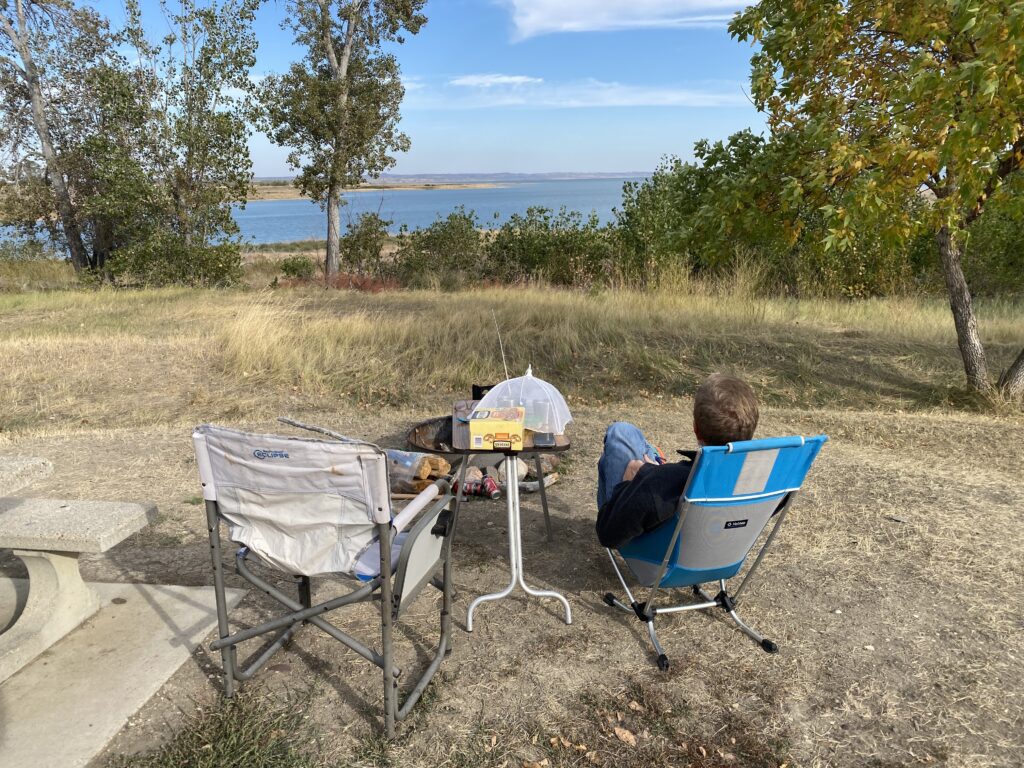 Brown informational signs point to historical markers and old forts that used to hold down the frontier. Fort Peck eventually became a full fledged town not because of the monopoly it had trading fur with the Sioux but because of the massive dam the Army Corps of Engineers built during the depression. The dam holds back the Missouri River forming Fort Peck Lake, an enormous recreation area and better business for Fort Peck than animal pelts. Fur as fashion trends up and down but government spending on big projects is timeless.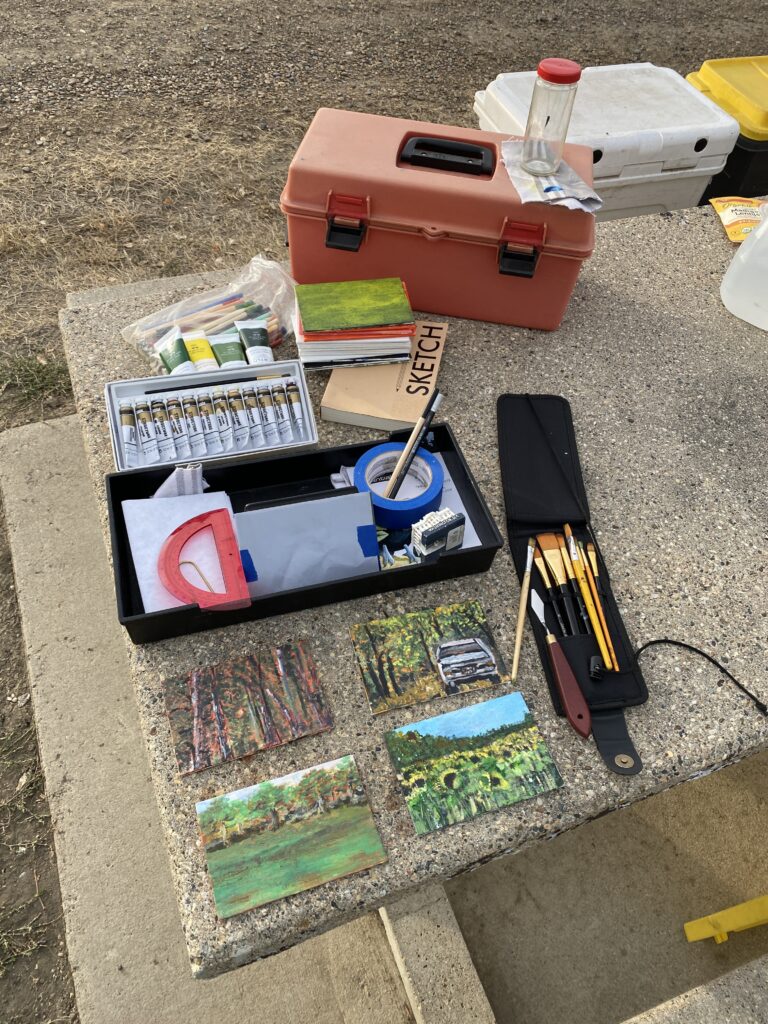 Fort Peck has a full service Corp of Engineers campground that we forego in search of something private with a view. Avoiding sites with groups of climate controlled boxes running generators, we found a solitary site perched on the west side of the lake. Nearby, the door to a rustic group kitchen has been left unlocked. We take nothing, of course, except for a full battery charged off of their working outlet. The only sounds to disturb the sound of the waves hitting the shoreline are the Canadian geese calling their kind to form up and move south. It is boondocking at its best, at least for a night.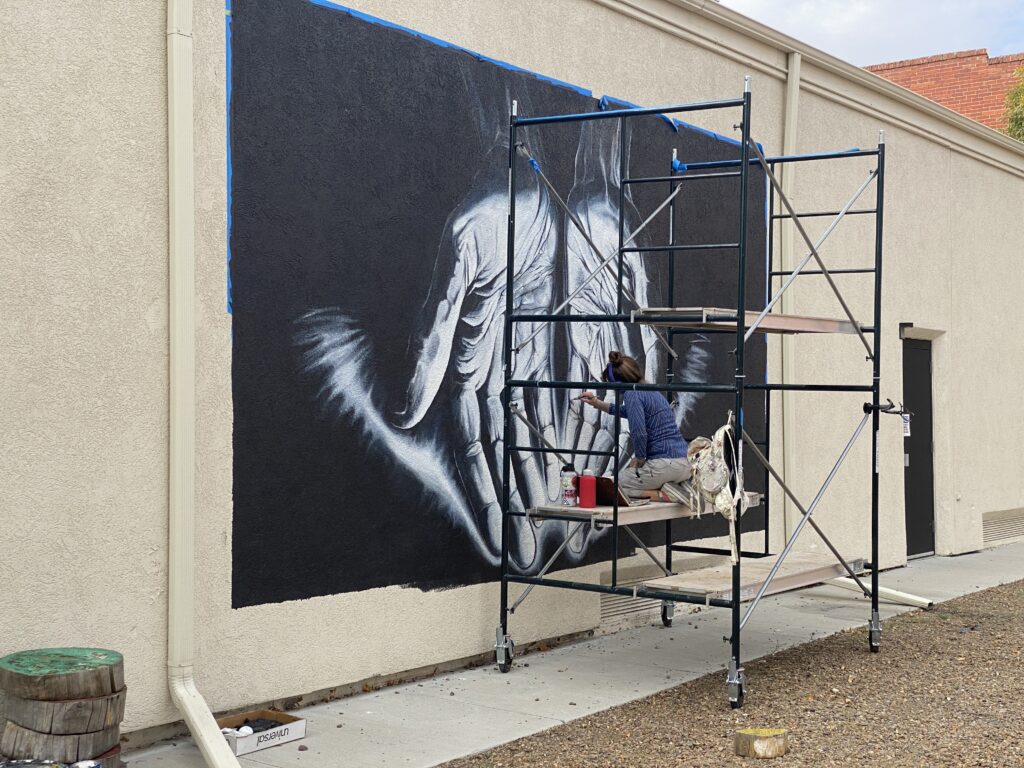 It is hard work making and breaking camp everyday but the Hi-line calls. Further west, the Washington Post called Glasgow "America's most remote town." It has the makings of a northern version of the art hot spot, Marfa, TX, before a writer for The New York Times blew it up. An artist works on a mural. A cute non-chain coffee shop bakes special lemon cookies. There's an Amtrak station and regional bargain air service out of Billings, MT twice a day. We couldn't stay for Alive at 5, the thrid Wednesday of the month community meet up with DJ and tacos, but the store owners were all talking about it.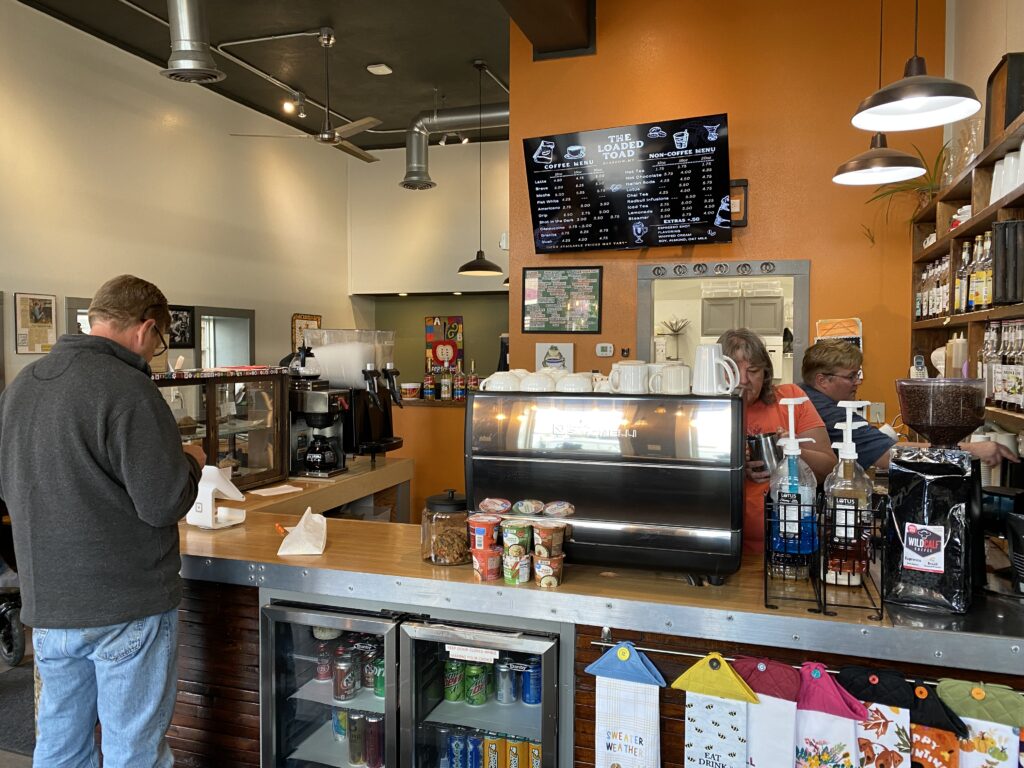 There are plenty of fixer-upper properties available in town. We have seen a lot of small towns and have a nose for the next big thing. When you read about the new art Mecca to unplug on the Hi-line in Montana, remember we called it first.
It is hard to say what makes one town more remote than any other out on the Hi-line. Using our magic app All-Stays, we locate a county park that offers free camping outside of Chinook, MT. It sure feels remote in Chinook but don't tell that to Glasgow. Pulling into Zurich Park, the camp loop is packed with a dozen rigs who flock out of their boxes to see how a Florida license plate found this remote hideaway. The rigs belong to a group of Hi-liners who get together once a month for cards, hunting, and pot luck. They are leaving later in the evening due to the nasty weather rolling in at night. They invited us for some mystery stews and not so mysterious cheesecake. In Montana, meat is meat, possibly deer, antelope, bison, or cattle. Don't ask. We exchange stories with the old-timers around a family table and grab a camping spot when they flee from the inclement weather.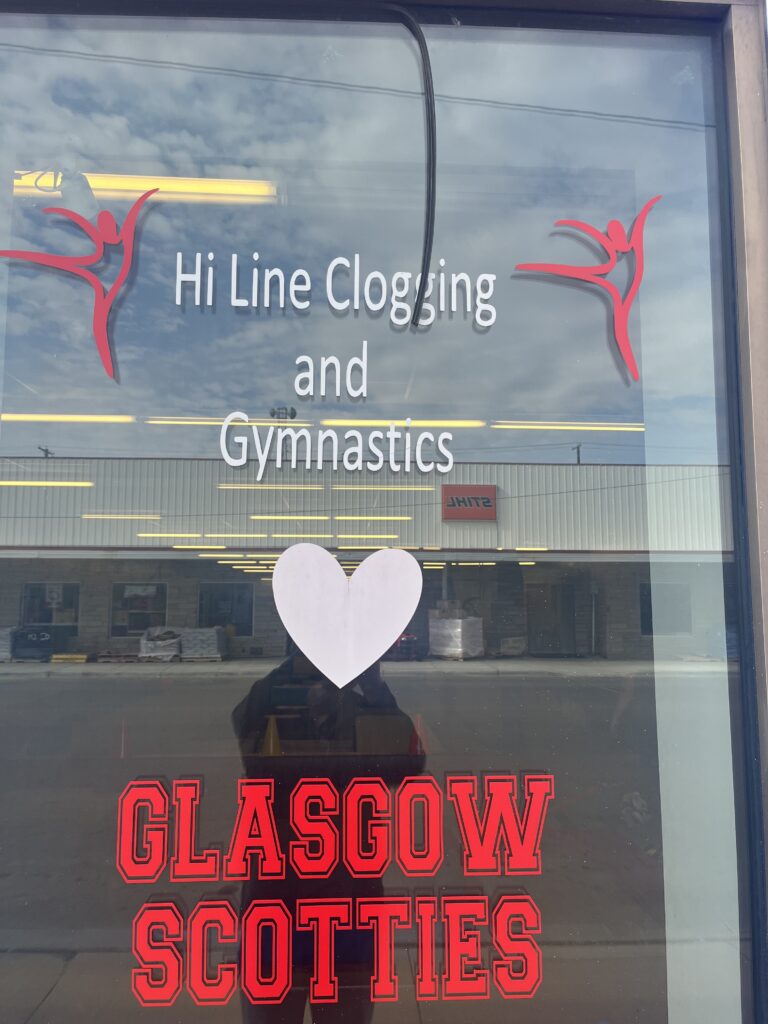 Zurich Park is remote, five miles back from Route 2. It is, however, better lighted than Camden Yards at game time. For box dwellers, just close the blinds. For tenters, it is torture. Coming out of the tent at midnight, the overhead Klieg lights give the impression of being trapped on a Stalag. "You will talk!" Digging through the truck to find tarps and string a make-shift screen in the stormy night winds was not what we had planned, but the 40 degree temperatures motivate us to move faster with the tarps, or jump back in the bags and stare wide-awake at the lights piercing through the thin nylon.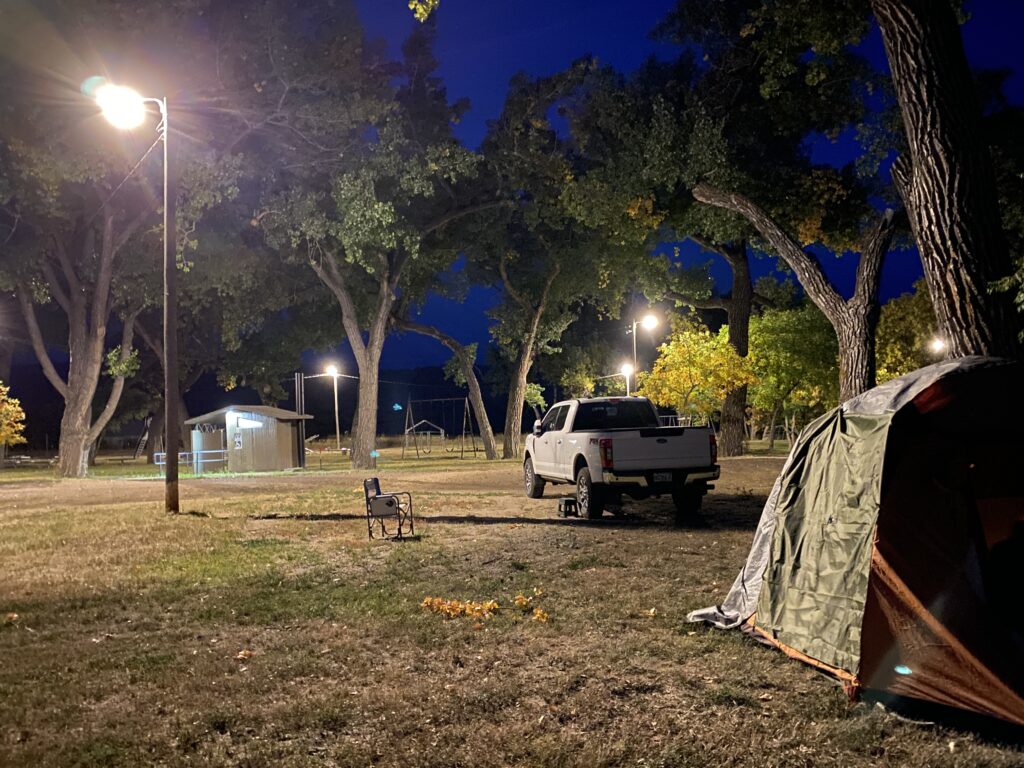 Tarp'd up, the wind whips at the sides but it all holds as we slip off to sleep buried in our bags in relative darkness. Tent life is just a thin piece of fabric separating you from the harshness of your surroundings whether they be temperature, moisture, light, or sound.