It was a 107 site sell-out at Battle Run Campground last night. Likely one of the last weekends for crews to party together before kids are back to school on Monday. Eric had the spy glasses out, coveting Chaparrals to Sea Rays. Raft ups, kids tubing, teenagers SUP'ing, 8 year olds kayaking alongside Moms and Dads. Even Grandma was out on a pontoon, telling Sheri later in the rest room that a good day is boating and a bowel movement. Yikes!
The days at Summersville Lake are filled with on-and-off the water activities like pick-up volleyball and basketball games, corn hole and our favorite, throwing discs in the big field. Everyone was doing something and getting ready for Saturday night tailgate.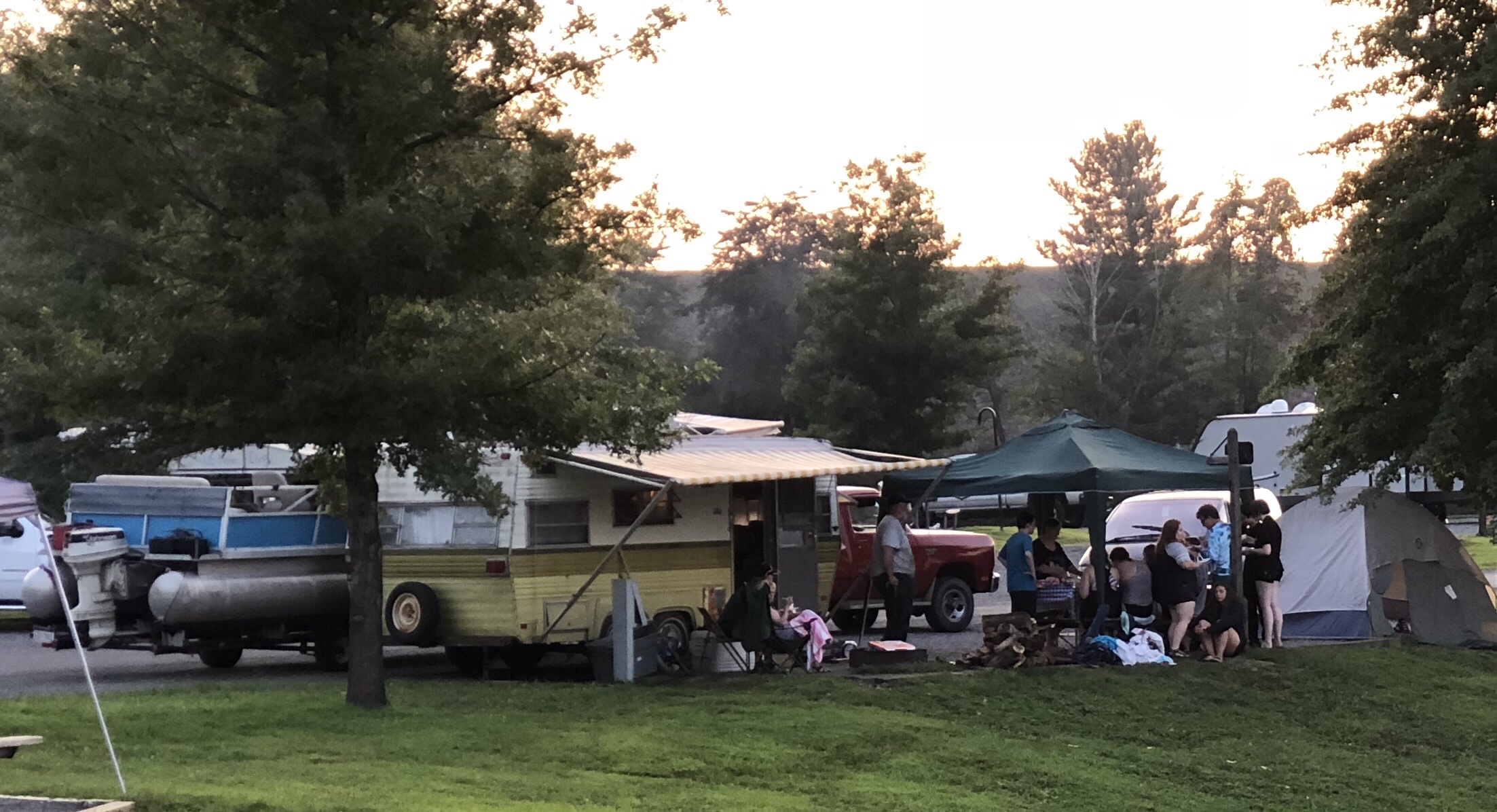 Once the sun set, the Webers fired up, Pandora played 80s hair bands and Bud Light cans kept popping like cap guns. Our site was in front of 3 families with more than a dozen kids between and they tailgated like it was a WV-VT championship football game.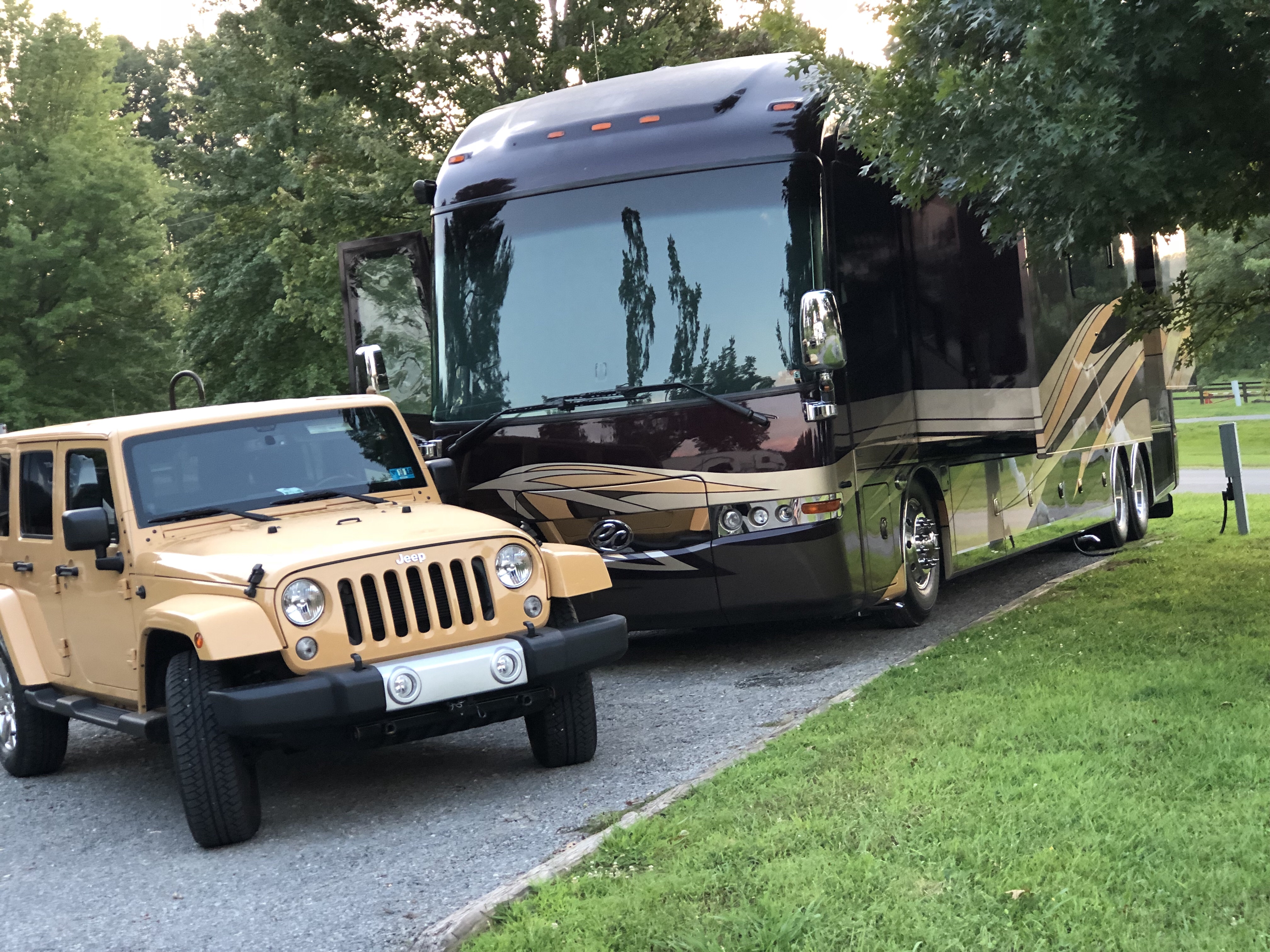 The parents partied into the wee hours of Sunday morn and the kids were roosters pulling them grumpily out of their tents and trailers for take down and take off. By 10am this morning Battle Run was a ghost town of retirees on budgets and one of the 1% with a half million dollar coach and a Jeep with a matching custom paint job.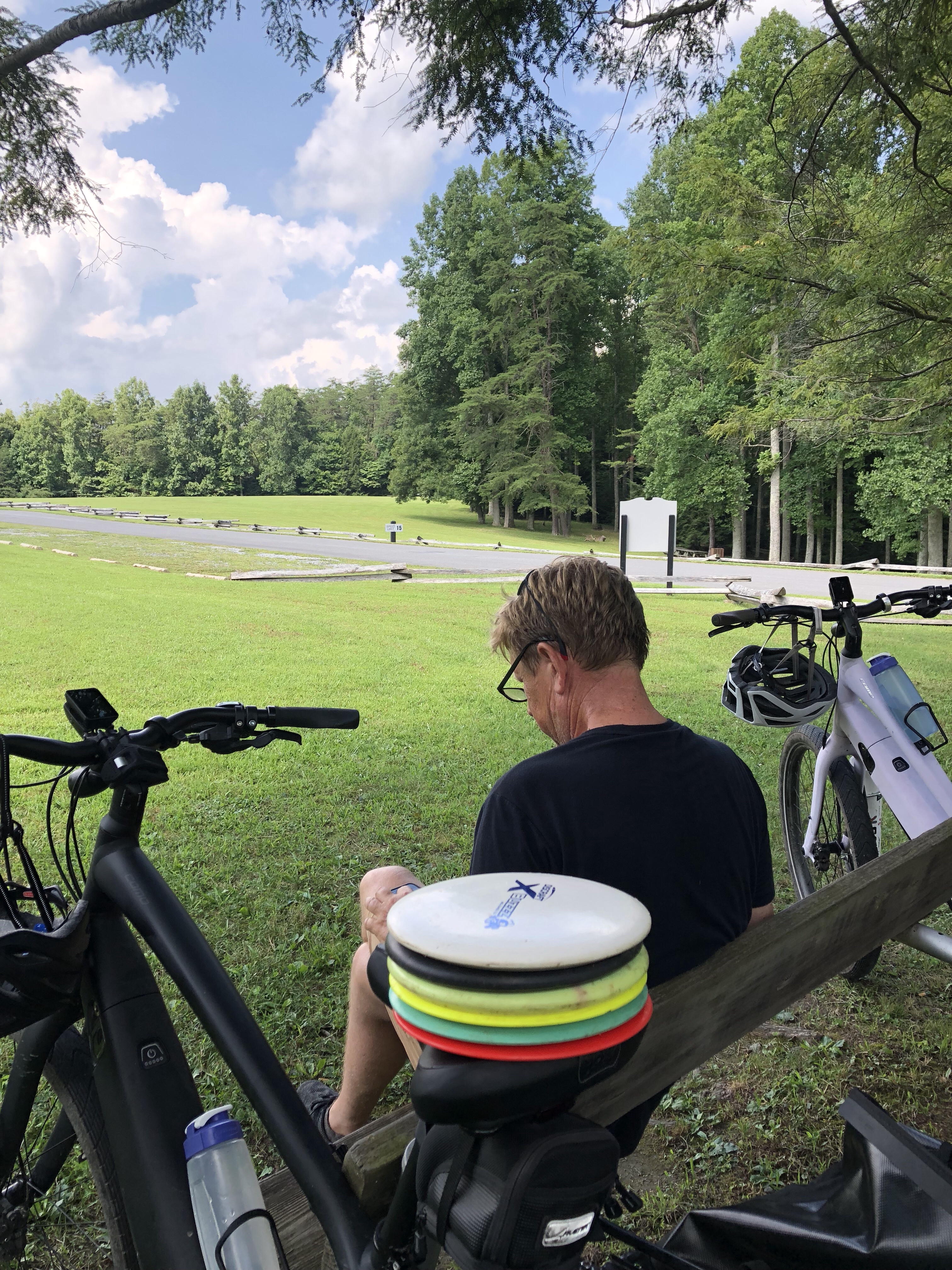 Committed to the chill, we took a short ride to Carnifax Ferry State Park, home of the Battle of the Gauley in 1861, when the Confederates retreated from a superior Union force which ultimately resulted in West Virginia becoming its own state. The park has a historic house with Civil War artifacts along with a playground, picnic facilities and a softball field suitable for throwing discs.
The park overlooks Pillow Top and Copperfield rapids on the Upper Gauley. When the dam releases you won't see the rocks in this picture. All you'll see is raging river that even our neighbor, a former outfitter owner and experienced Gauley guide won't raft anymore, calling it aggressively edgy. According to him, the lower G is where it's at.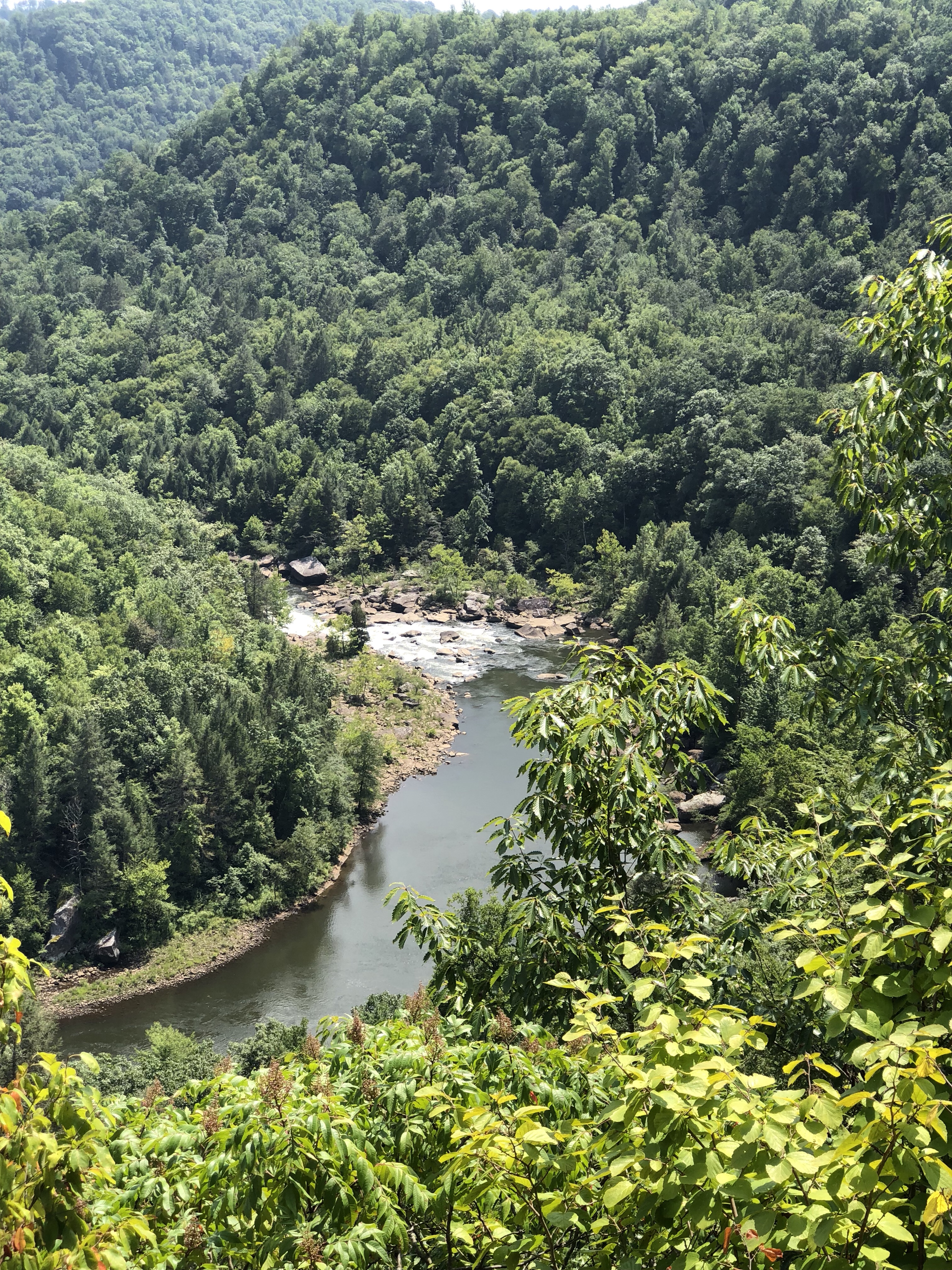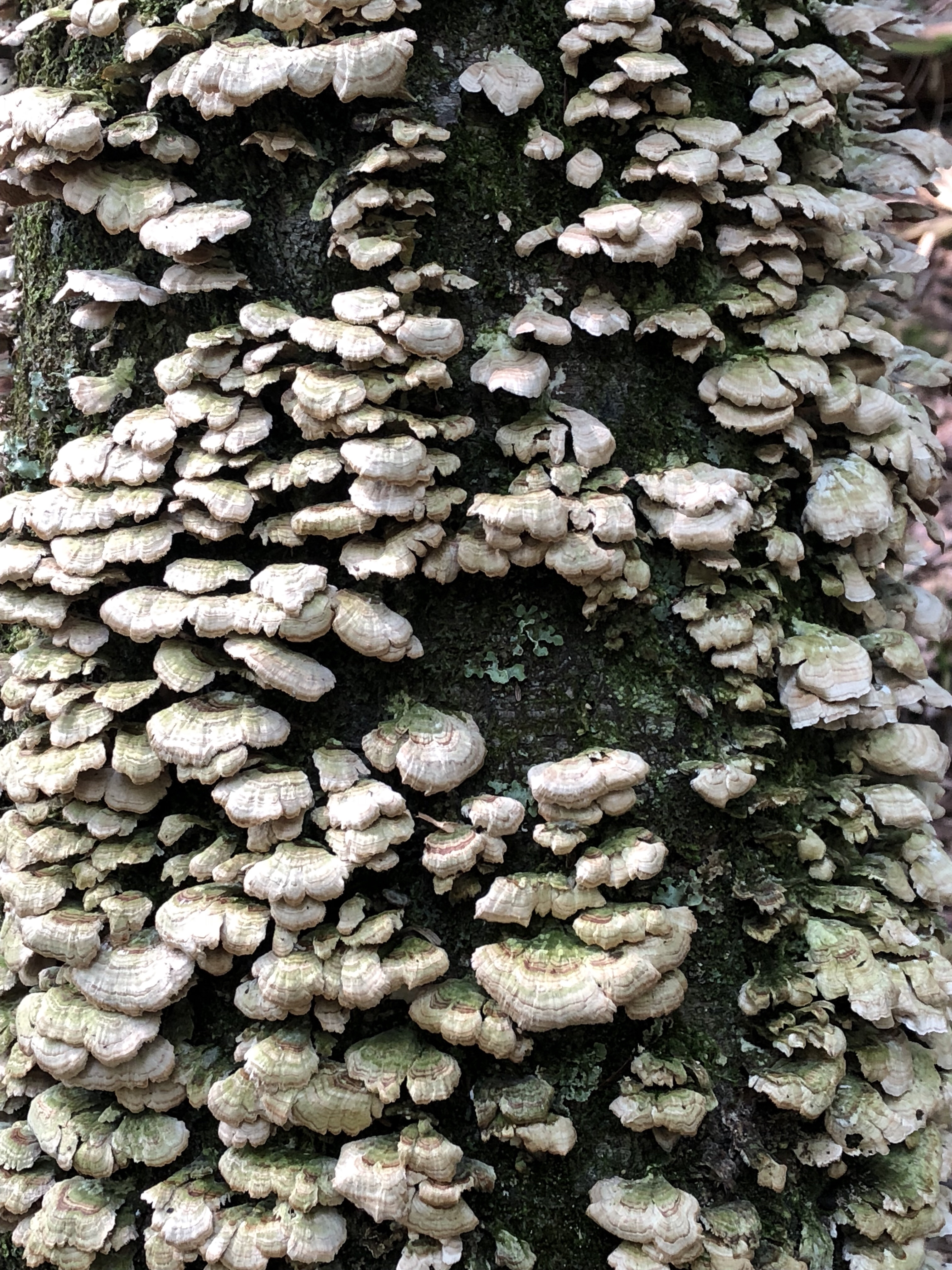 Our resident mycologist photographed a few new species. She joined the Mycological Association of Washington DC this morning and is looking forward to taking her shots to the September identification meeting. Unfortunately she doesn't have live samples, but is hoping they will be impressed with her Smoky Mountain finds like these.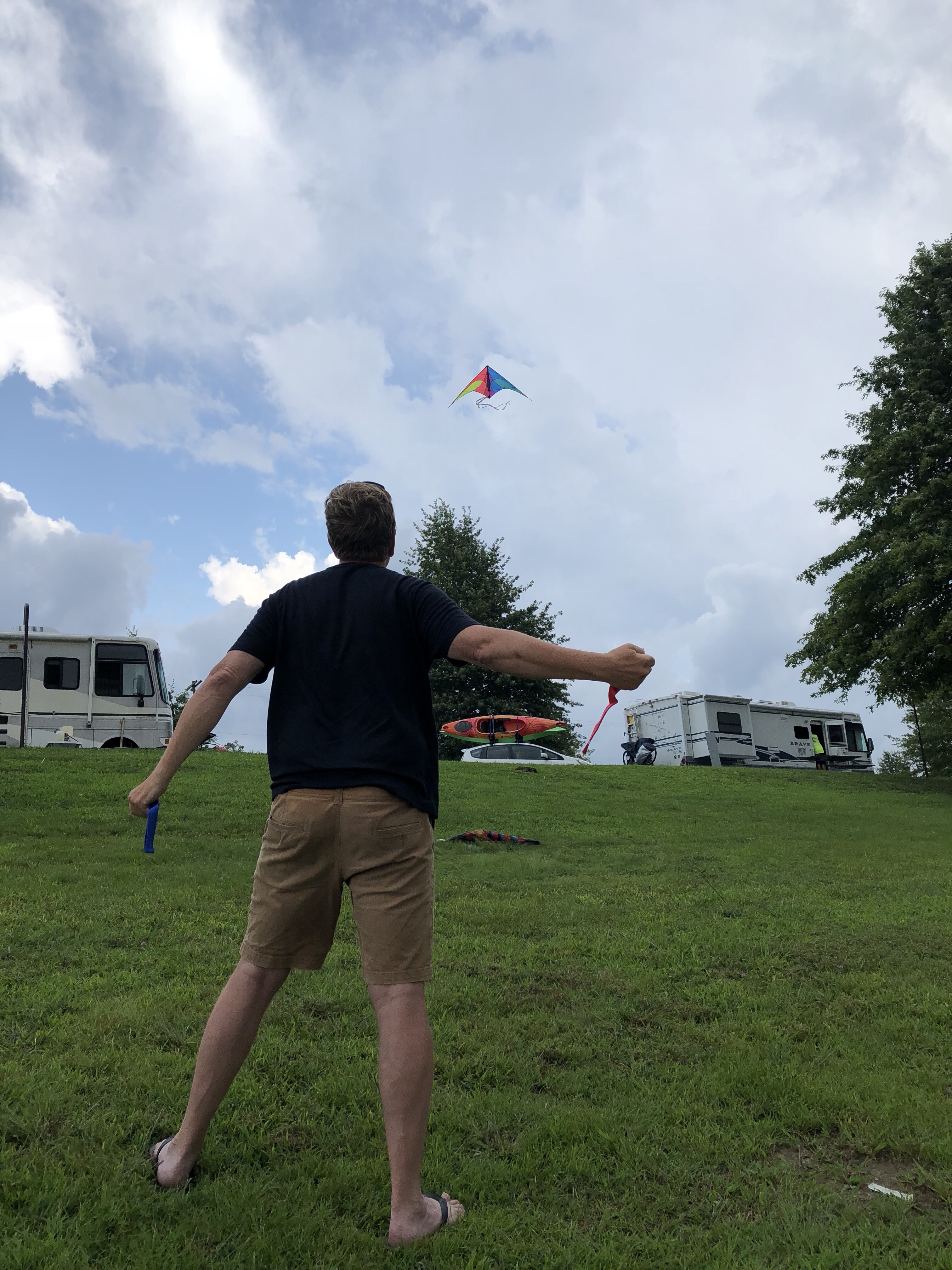 We got home just as the wind kicked up, secured the awning and strung up the Prism Diamond and Jazz kites we picked up from a community yard sale in the spring. Eric like the acrobatic action of the two line Jazz.
After dinner we headed about 2 miles up the road to the one and only retail/food establishment in the area, best known for its soft serve and fried anything. The parking lot was flush with pick ups and the teenagers were working overtime to push high demand fried food out the greasy windows. We ordered a cone and a storm and got a cup and a sundae. At Fat Eddie's you don't get you pay for but what they decide to give you.
Tomorrow is our last day at Summersville Lake. We're huddling close to the fire as the last of our wood burns and the temperature outside drops. West Virginia has become our mountain mama but it's time to take us home, country road.