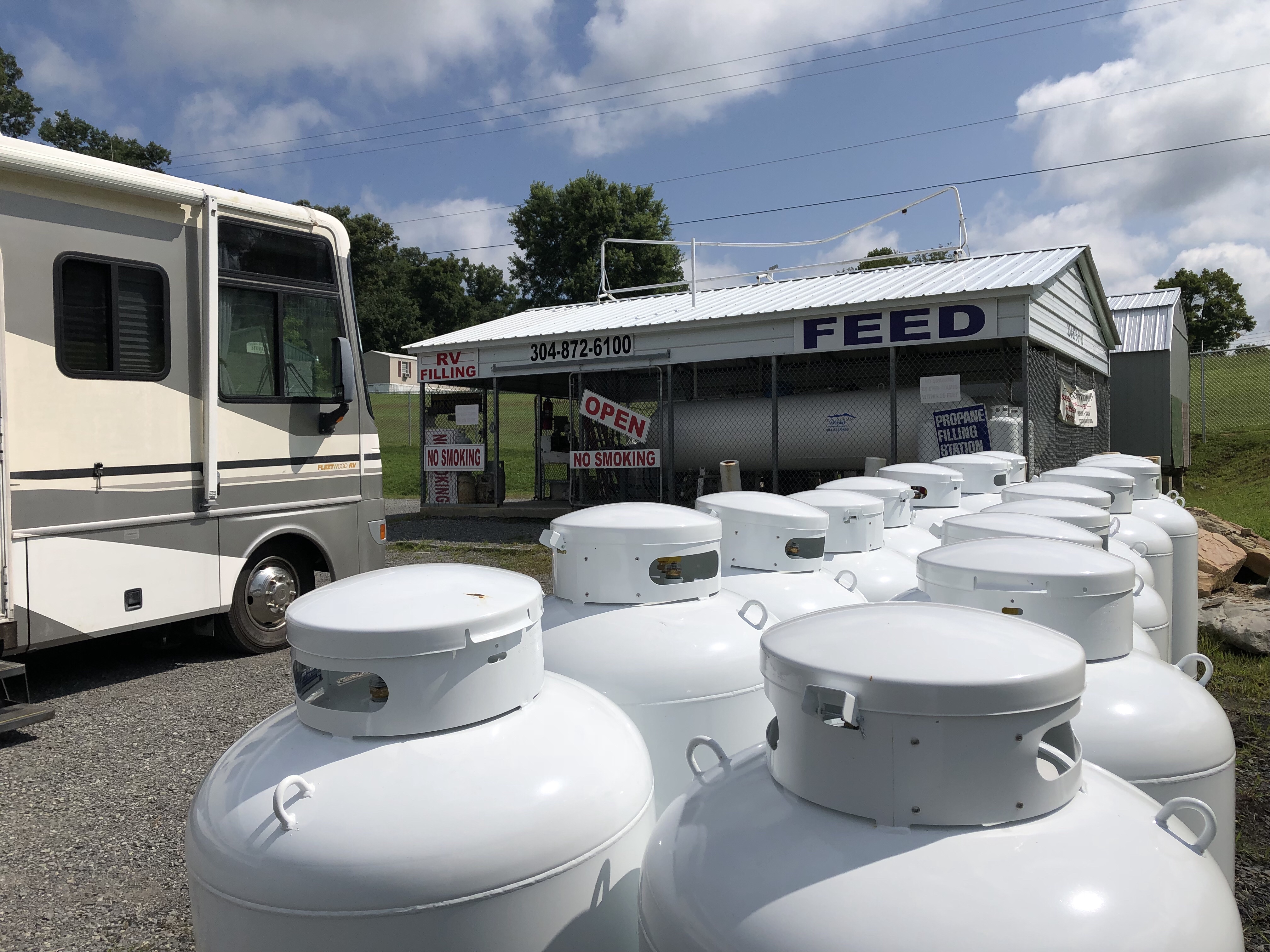 Bob and Ginger arrived Saturday night in their 2004 Winnebago Brave, dollying a Honda Fit with two kayaks on top and two bikes hitched to their back ladder. Bob was retired 30 year Marine whose second career was a Gauley and New River raft guide and whose third chapter is (mostly) full time RVing. He and Eric were fast friends, exchanging military duty logs and establishing a new RV adventure connection. Bob was telling Eric about how he put the Brave in for service and they disconnected the propane. He didn't realize this and everything that should run on propane switched over to battery cells and drained them dead. Today we took a field trip to Summersville for thrift shopping and a visit to Appalachia Propane and Supply.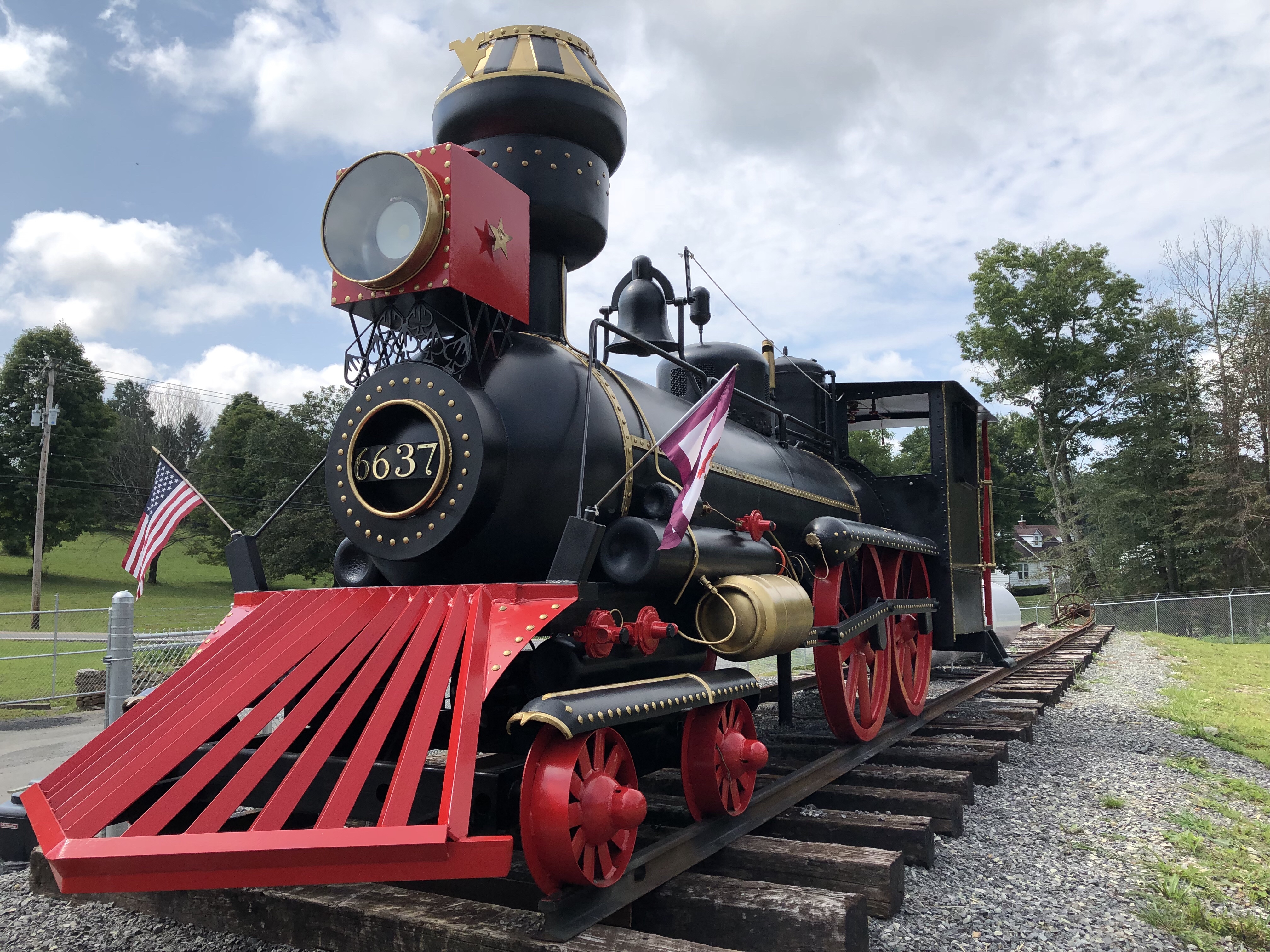 During fill-up we boarded a propane tank train, a community art installation that gets more visitors than those coming for bird feed or RV fills. Everything on the train is made from a propane tank. The owner's wife told us it started out as a fun side project and has turned into a legit roadside attraction.
The big kid in the family boarded to check the gears, construction and welding techniques.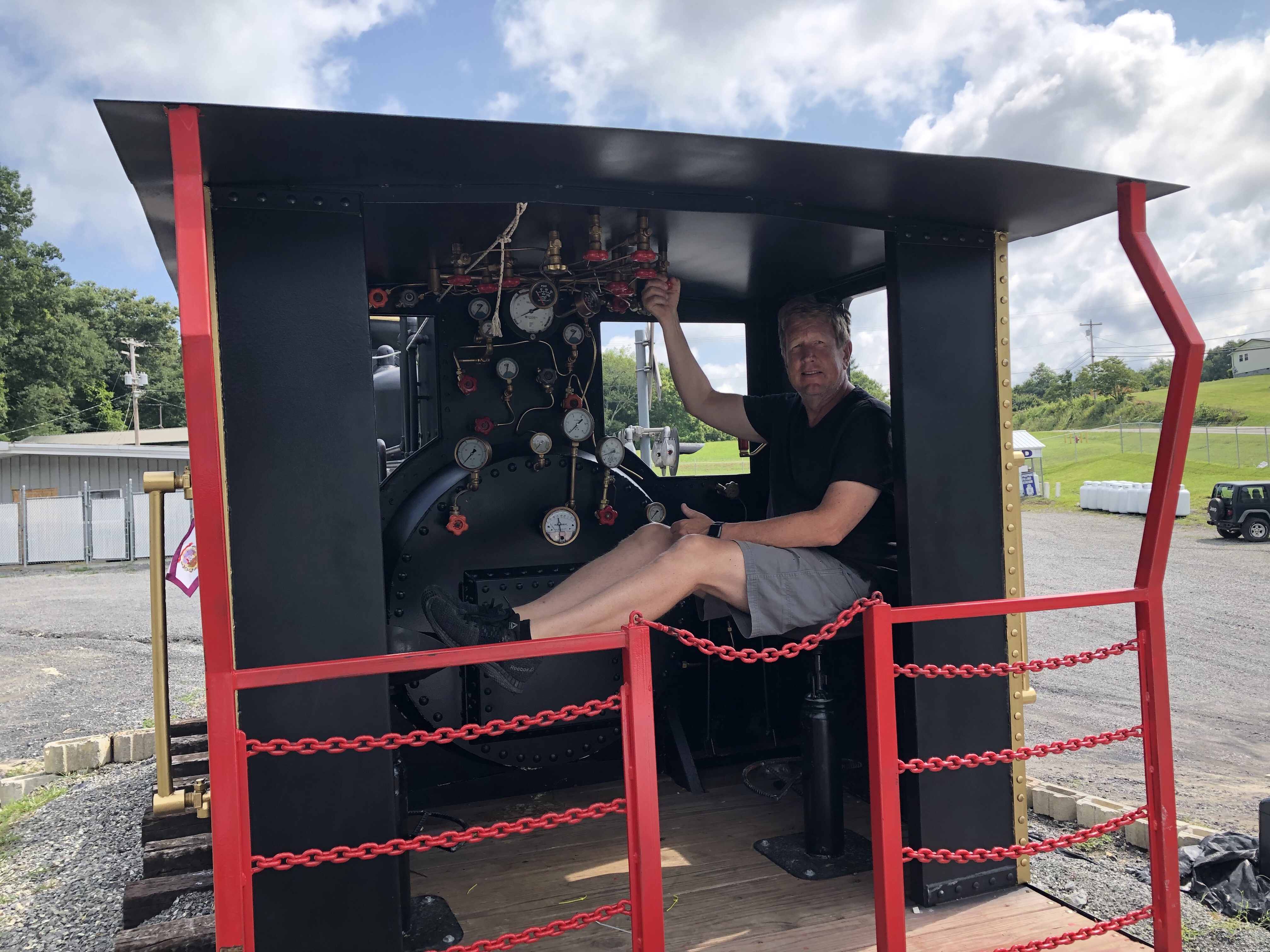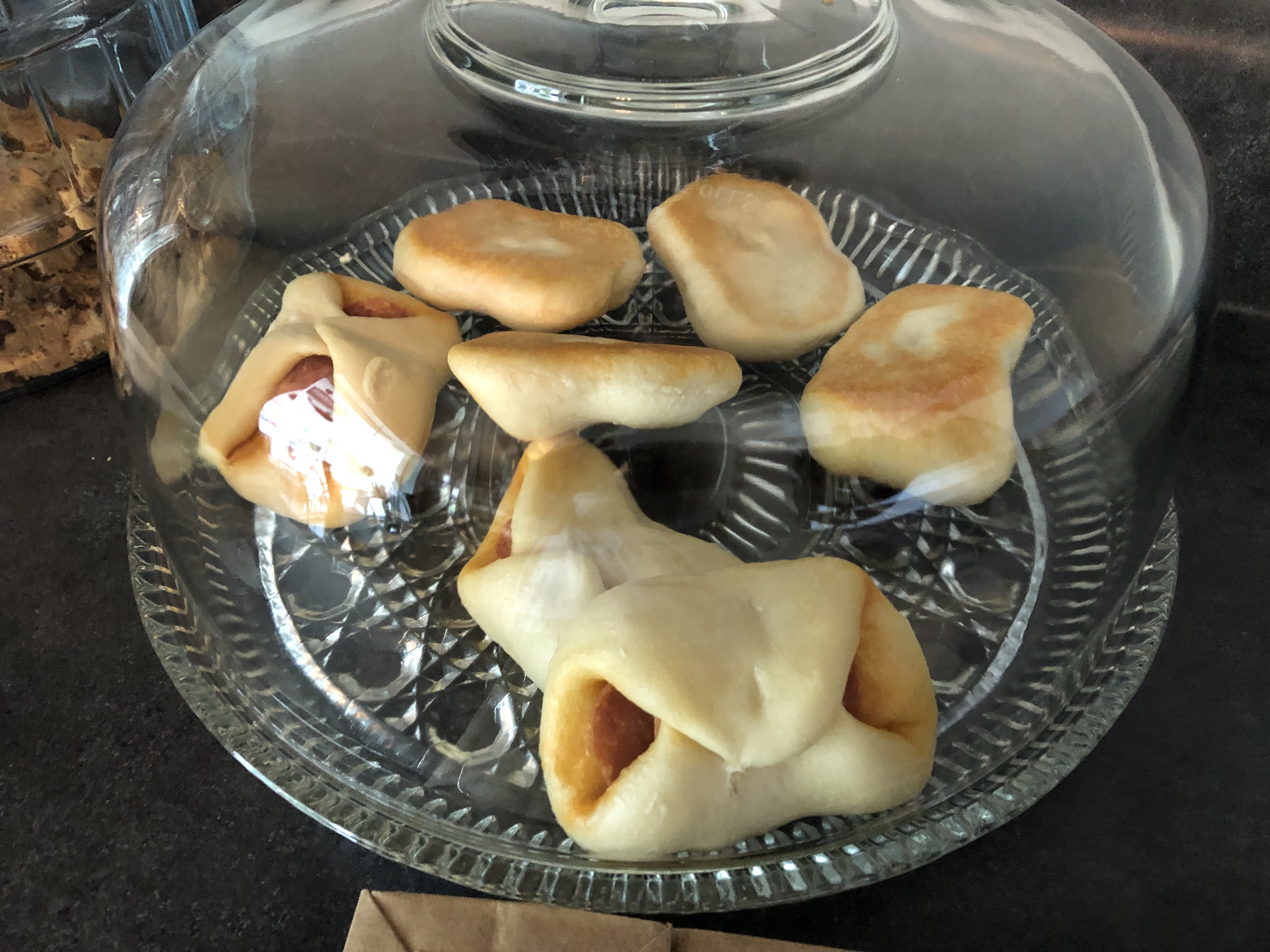 Besides propane, we hit a few thrift stores and Appalachian Coffee House for a handmade pepperoni roll. The barista shared that they are a WV staple. We had one in a Harper's Ferry coffee house last year and never saw them again. It's a soft and doughy yeast ball surrounding the world's most unhealthy and spicy meat product. How can something so bad taste so good?
As our last day on the road, we reflected on how living in an RV was an adjustment to the comforts of living in a home. Things like cooking, washing dishes and bath time require thought and accommodation that we take for granted at home.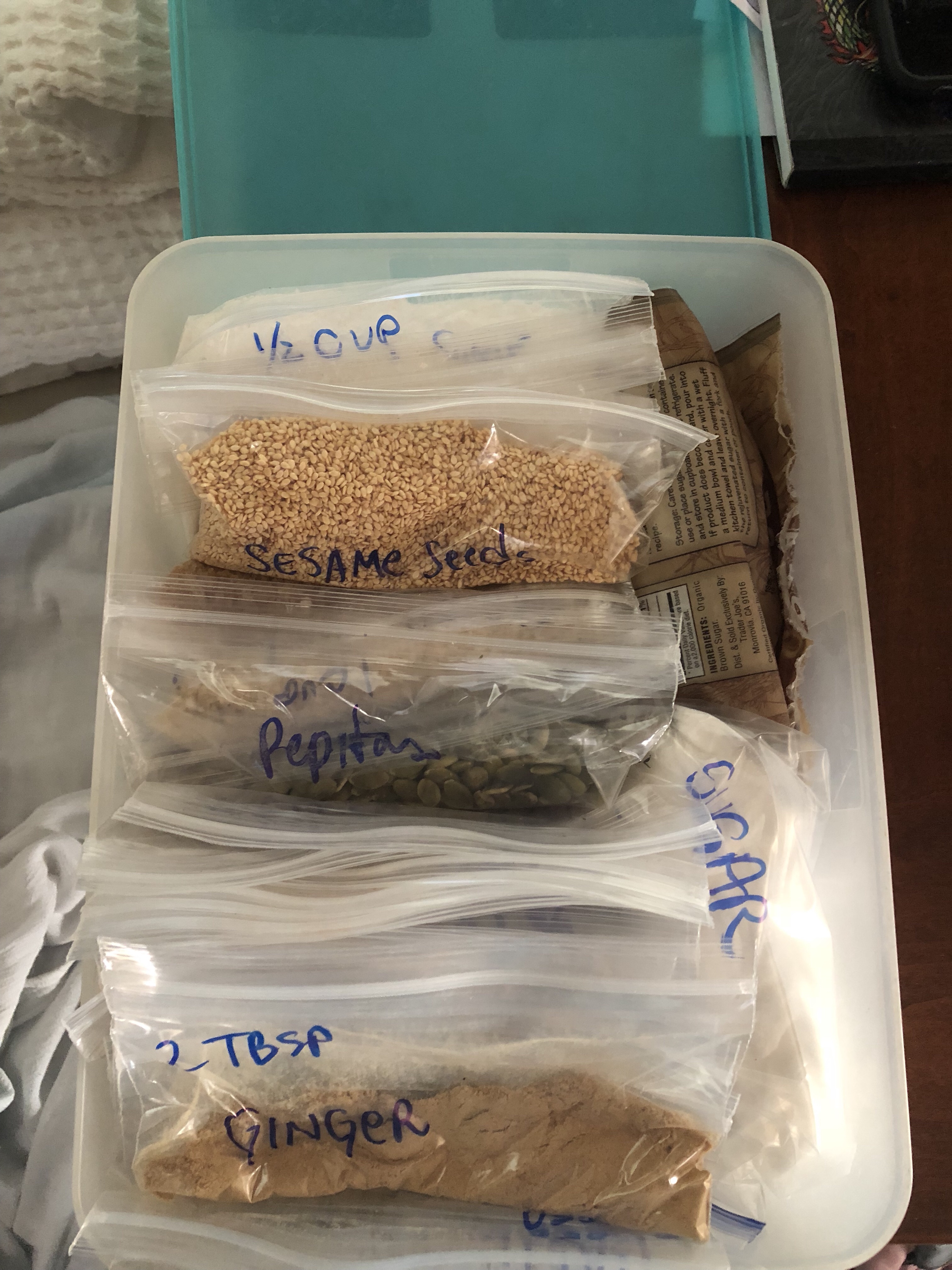 The RV has 250 sq ft of living space; about 100 of that is kitchen. We have 7 drawers that hold all the basic meal prep apparatus – pots, pans, strainer, utensils, silverware, ziploc/foil, towels, etc. There's a cabinet for accoutrements to eat, drink and mix. For appliances, there are 2 burners, a microwave/convection oven, fridge, coffee maker, toaster, mini food processor and Vitamix for smoothies. Outside we keep a Magma propane boat grill for cooking meats. There's a hidden, slide out pantry that fits 28 things the size of a can and 7 things the size of a bottle. The foot tall cabinet over the dining room table fits 6 feet of boxed and bagged goods. We basically never eat out, so we curate the pantry to complement the dairy and produce for 10 days worth of meals. There's not much room for a spice cabinet, so we have a spice box with snack bags of every spice we have at home. Over 50 days, we've done Mexican, Thai, Indian, Asian, Middle Eastern, Italian and down home American.
One of state parks' greatest gifts is its basic access to nature, providing mental, physical and experiential rewards. With that basic access comes compromise and responsibility – two of them are water conservation and waste management. Whether traveling in a fully equipped RV or staking the most basic tent dwelling, water and waste are issues to deal with.
There are three holding tanks in the RV – fresh water (100 gallons), grey water (58g) and black water (42g). Fresh water is the water that comes in for the kitchen and bathroom sinks and shower. Grey water is the water that goes down the drain in those vessels. Black water is where waste goes when you use the toilet. When we stay in parks without sewer, we have to dump, meaning whatever goes down the drain sits in a holding tank until we release it at the park's dump station.
On our reboot road trip, Sebastian Inlet, Anastasia, and Mistletoe had electric and water only, Bear Creek and New River Gorge were full hook-up, meaning water, electric and sewer, and here in Summersville, Battle Run is electric only. For 26 of 50 days, water conservation and waste management determined how many times we visited the dump station, which is about a 60 minute project involving disconnecting power and water, taking up the jacks, pulling in the slides and awning and other chores. There are meters in the RV control center that gauge how full each tank is at the push of a button. When the tanks get 3/4 full, it's time to release. This is not an issue with full hook-up parks.
Kitchen prep and clean-up requires water management. If you turn the faucet on and let the water run, the grey water will fill up quickly and you will be dumping in no time. To manage that, we use the double basin, plastic tub method.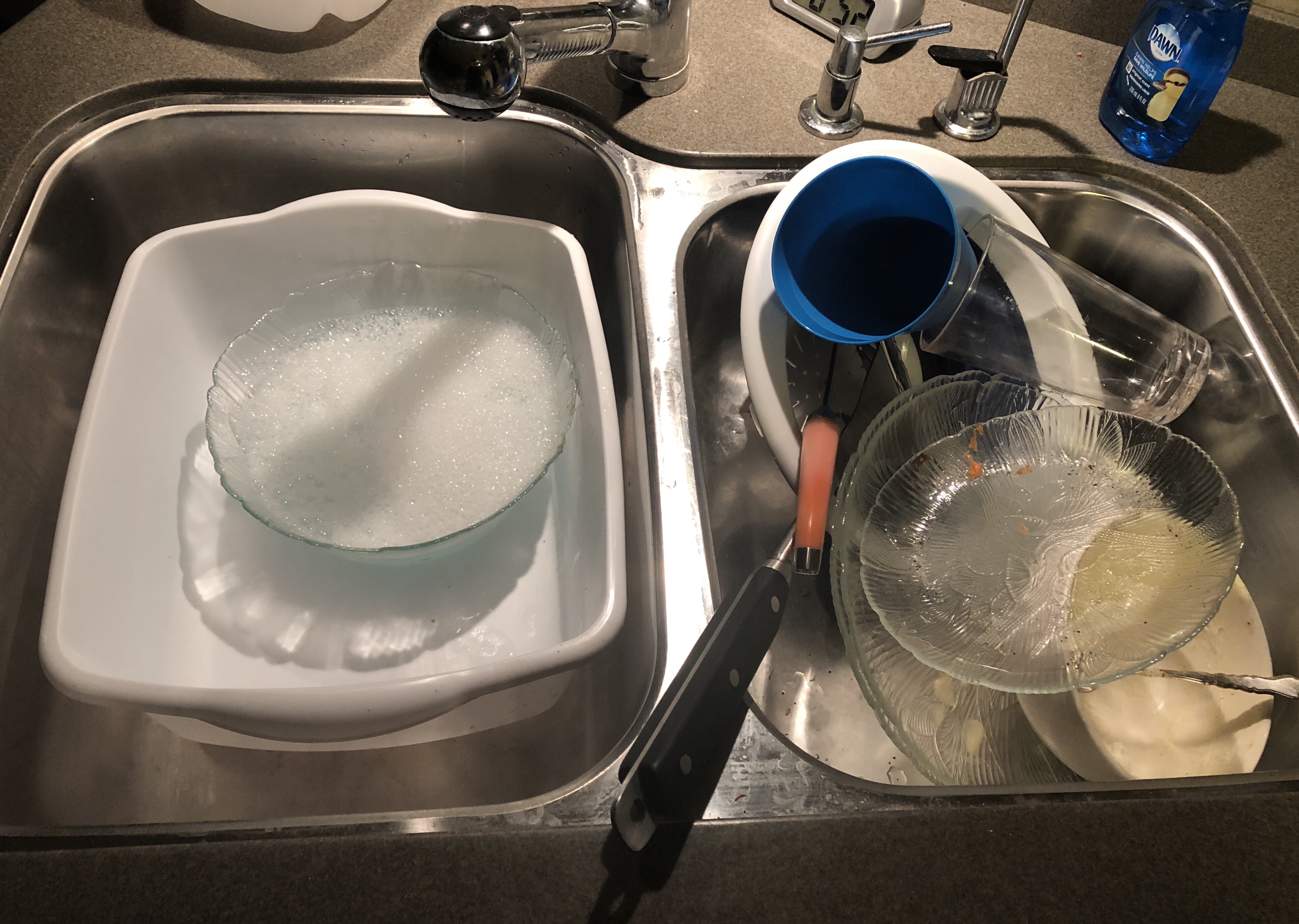 On the left side of the basin is a 3 gallon plastic tub. On the right side will be a drying rack. You take the largest dirty dish, like a mixing bowl or pot and partially fill it with water and soap. Then you wash all the dishes you can in that water, and leave them soapy in and around the basin until everything is clean.When it's time to rinse, you turn the faucet to a slow stream and quickly rinse everything, moving to the drying rack and turn off the faucet as soon as possible.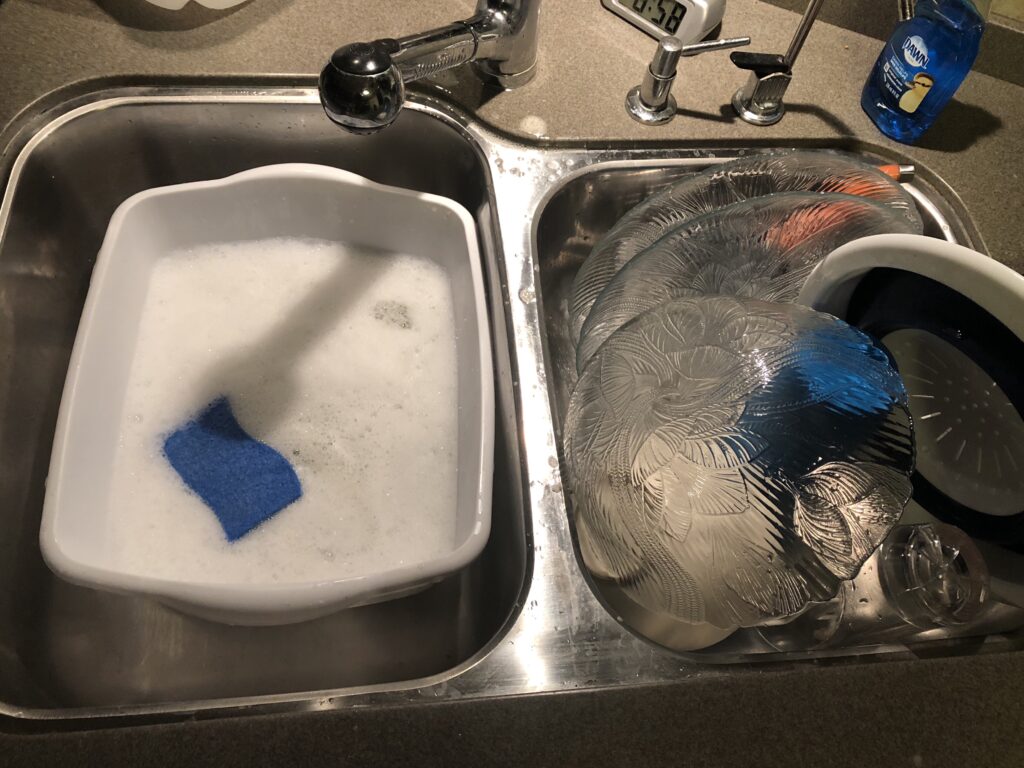 If you have other pots or in our case, a Vitamix Blender, you pour water from the tub into the blender, wash it, then rinse and move to the dry. In the end, there is water to dispose and it either goes down the sink, down the toilet or into a grey water waste disposal area at the park, which is best utilized by filling empty gallon water jugs and dumping them on the way to the bathhouse.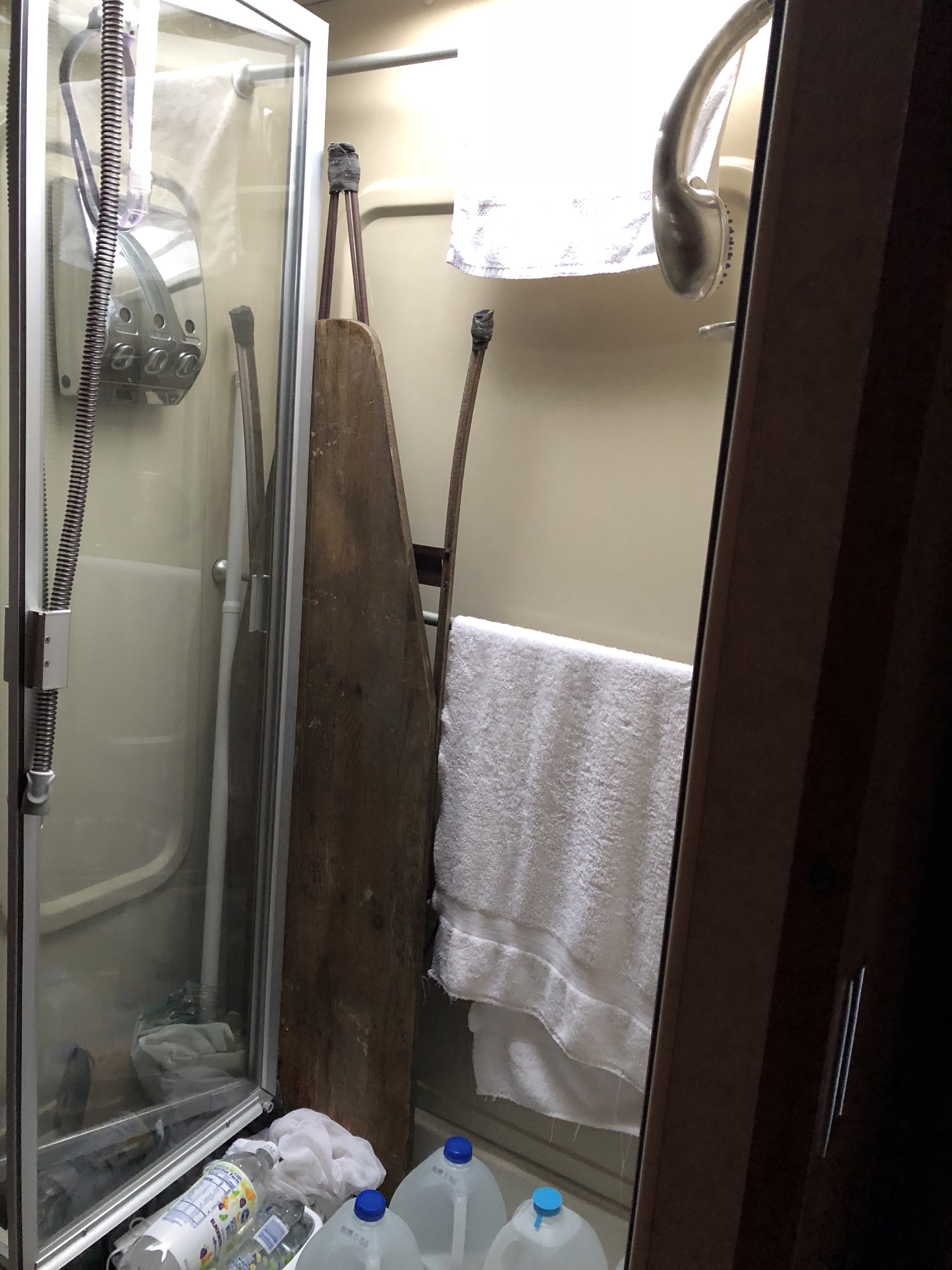 The Bathhouse. We take showers in the public bathhouses and use the coach toilet sparingly. The restrooms at the state parks we visited were very clean as there are people called "hosts" or "volunteers" who trade janitorial services and other park jobs for a free place to live. The private parks we've stayed in have been less desirable, maybe because most people are using their coach facilities. But since we've converted the shower to a storage closet, we're all in on the public offering.
And if you're wondering about the old wooden ironing board with metal legs … we got that at a thrift shop and are going to repurpose it as a desk/workspace. Reclaimed wood projects are so in LOL.