Ain't no stopping us now
We've got the Groove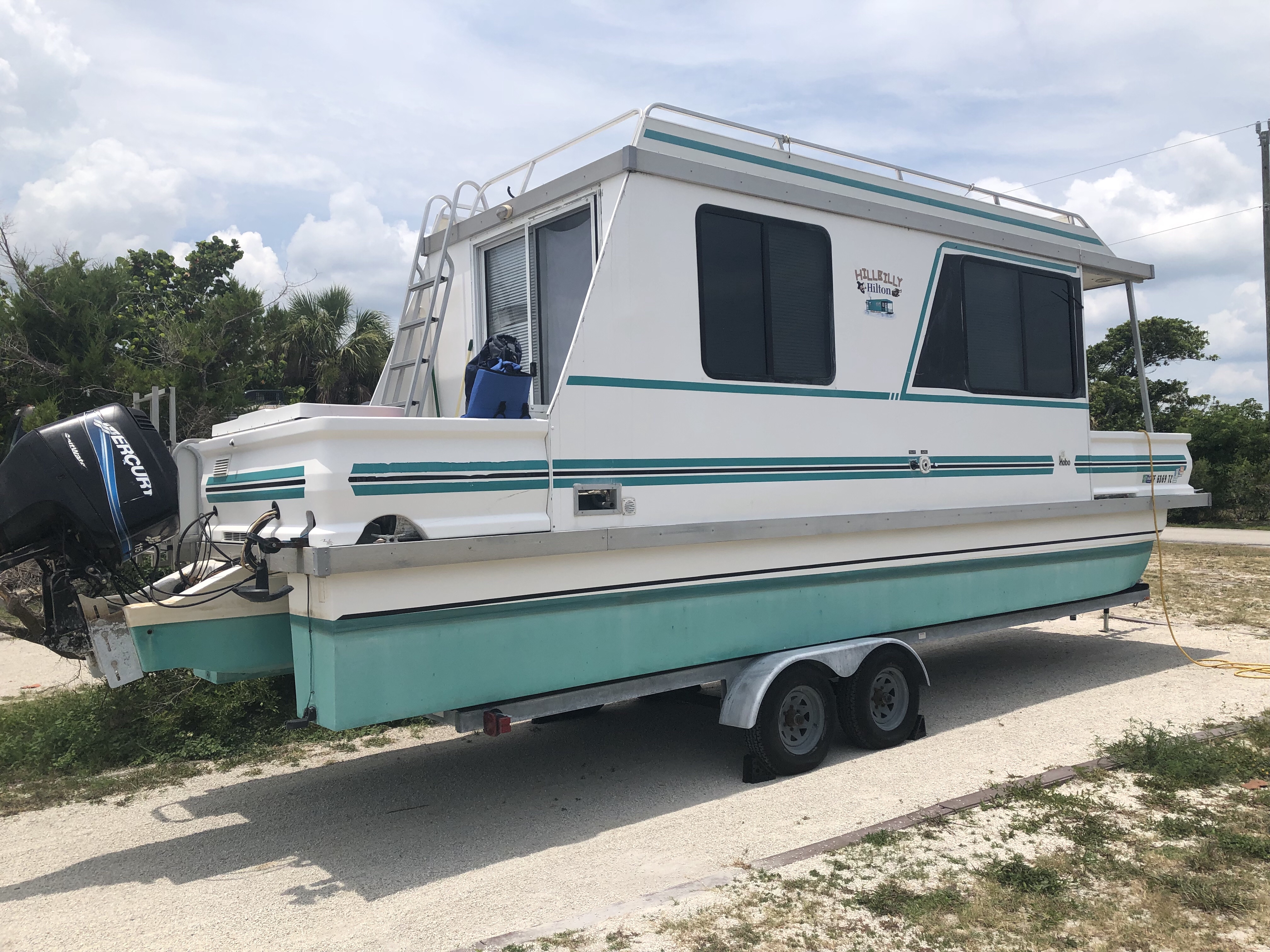 We broke camp last night and said goodbye to Sebastian Inlet State Park this morning. Sadly, we didn't get to say farewell to our South Carolina private park neighbors on Saturday. They pulled in with their 42 foot, 50 amp Beaver on Thursday to try out a State Park spot with 30 amp service and no amenities other than a heavily used bathhouse. Not being able to cool their rig through their 50 to 30 converter, they ran the generator 24/7 and the park ranger wasn't having it. Neither was Mrs. Beaver.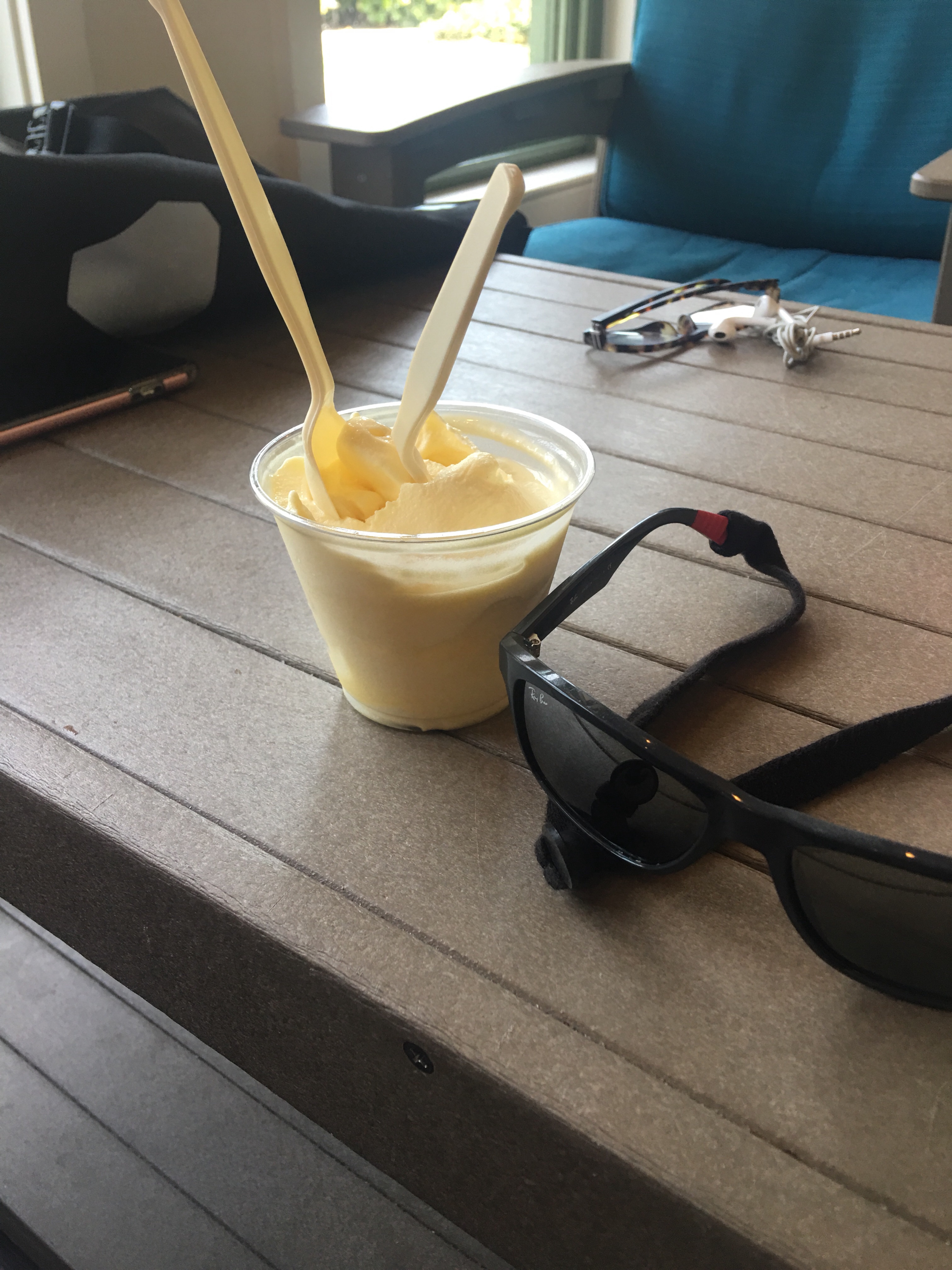 We went out for a bike ride and when we came back they were gone. We are new to this RV lifestyle, and we might be wrong, but we think State Parks are for vintage A's, full family fifth wheels, towable campers, Rent-An-RV Cs, Sprinter Bs and the tenter crowd. Our other neighbor was an Econoline van and across the street is the Hillbilly Hilton. It's a chill, communal vibe here. The weekend nights were buzzing with family camping parties, anglers on every rock, casting for schnook and cleaning their jack. The smell of s'mores was in the air. We toured around on our bikes to take in the easy life, watch the boats move down the channel and feel the laughter and happiness being in nature seems to bring.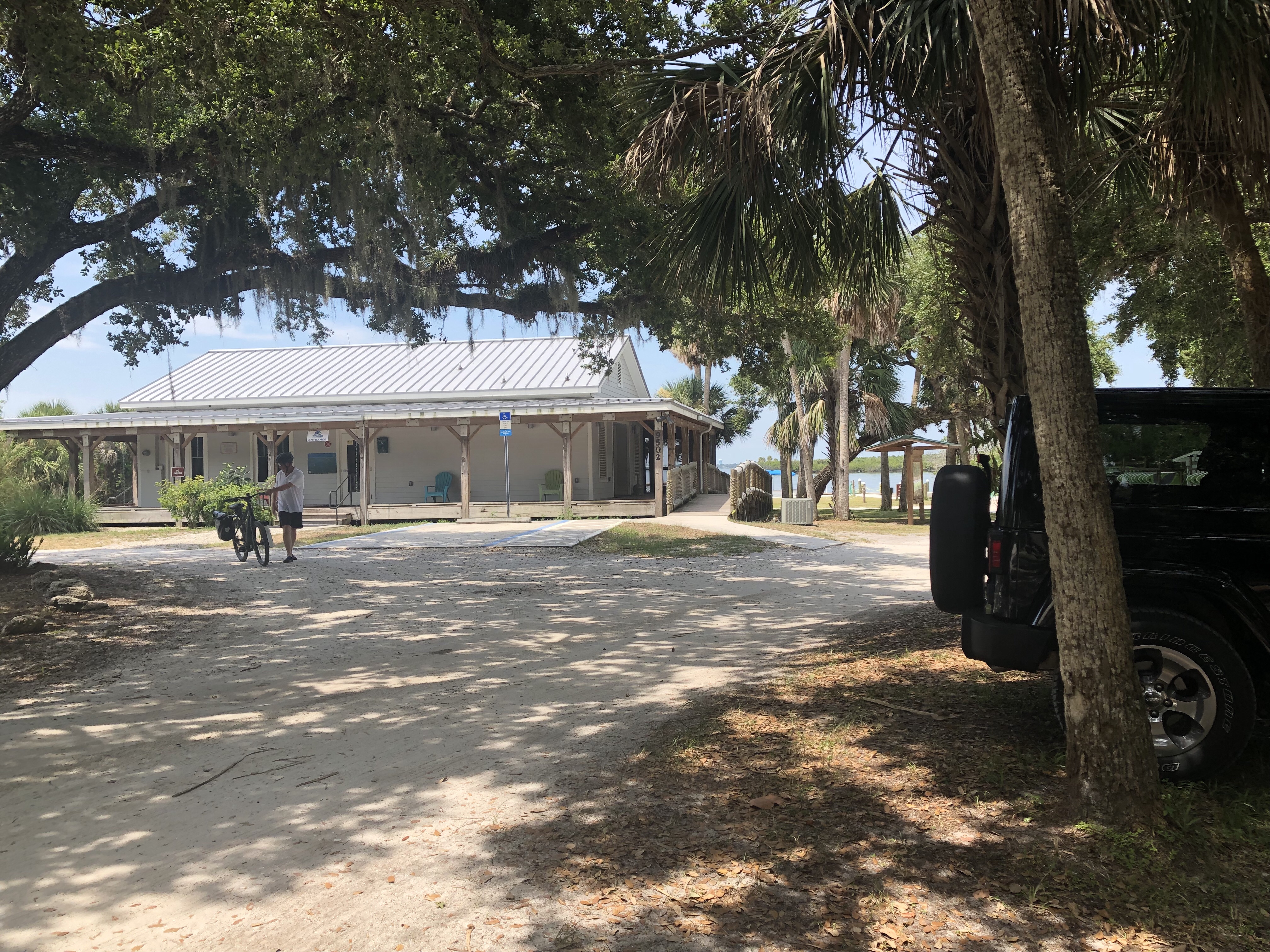 We put 110 miles on the bike this week, with 60 of those to test the bike's battery, our stamina and find strong, free WiFi. While neither of us are Disney people, we biked 20 miles round trip to the Disney Vacation Resort at Vero Beach. Even though we were not paying guests, everyone from the friendly security guard to the lobby attendants and time share tour guides seemed happy we were there, enjoying their comfy veranda chairs, cold A/C and speedy, free WiFi. To thank them for their generosity, we split a Dole Pineapple Whip. The DVR acolytes were aghast when we asked what it was – "It's to DIE FOR!" they proclaimed. Don't tell them we told you, but its basically a soft serve pineapple popsicle.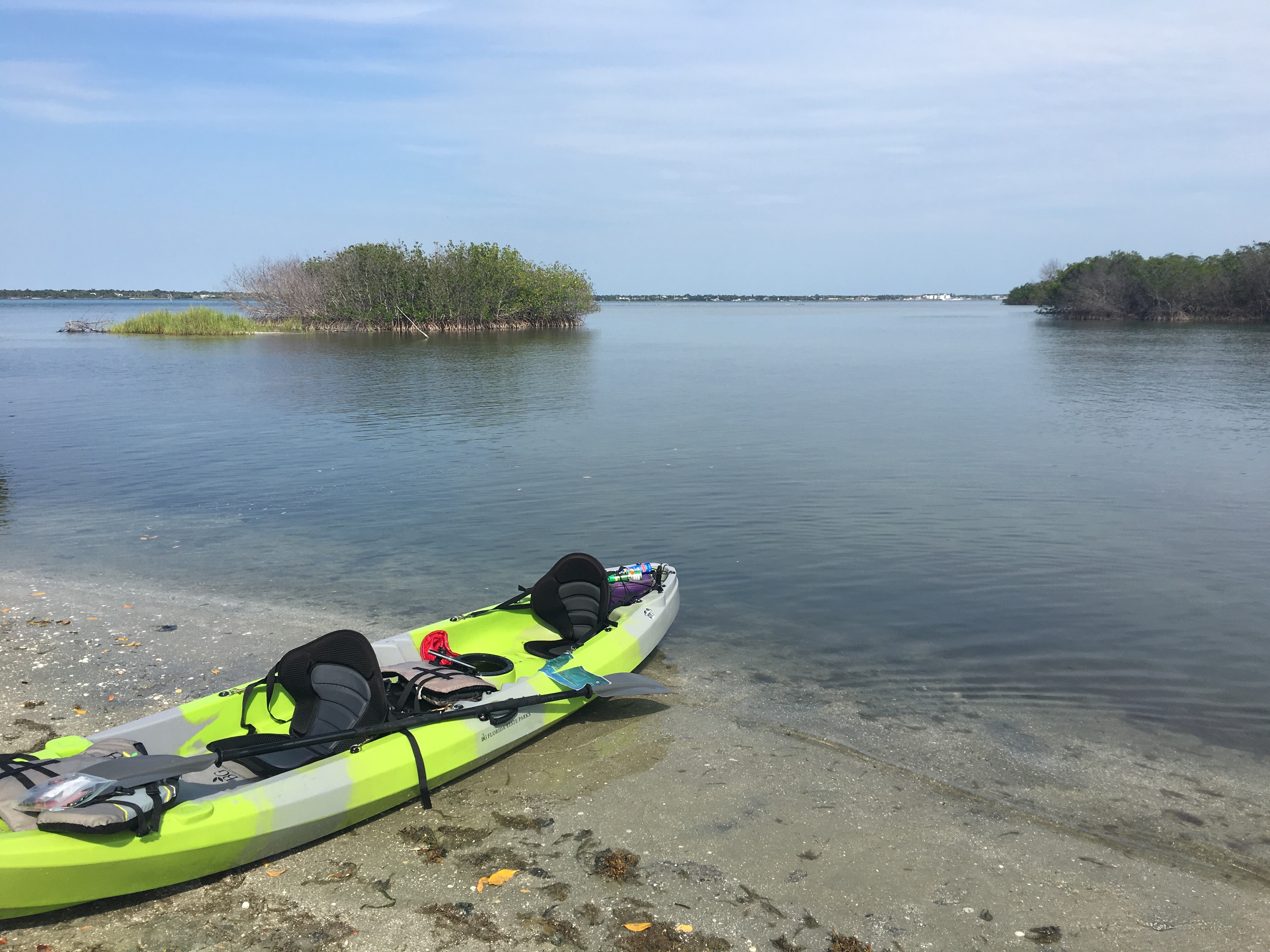 We finished out Saturday with tenderloin on the grill then joined our angler brethren on the rocks as the tides slacked, and fish were slowing down to feed. While we didn't hook the big one, we did catch the fishing fever and bug bites to rival those on Naked and Afraid.With Sunday being our last day at the Inlet, we wanted to see the the area on the water and returned to rent a tandem kayak from Cody at BG Bayside Marina. Cody gave us a paper map and marked a few areas with big red 'X's' and a sandy beach area with a star. That was enough bay familiarization to paddle off toward dozens of similar looking mangrove islands. An interesting feature of sit-on-top kayaks is that a lot of water flows into them. Not so much that they sink, but definitely enough to soak a paper map and make it unreadable. With a vague recollection of our Cody brief, we explored the area and found a great beach on an island. Across from the island, the water was flowing quickly and folks were camping on the banks. We thought that maybe we were looking at Long Point Park, or perhaps some campground yet to be discovered. Later, on the bike ride back to camp, we realized that our island beach picnic spot was directly across the inlet from our campground, pretty much in the red X area Cody had sketched. It is surprising how different an area looks from the water than from the land. We had kayaked a lot further than we had thought, basically 300 yards from the Pace Arrow and not realized it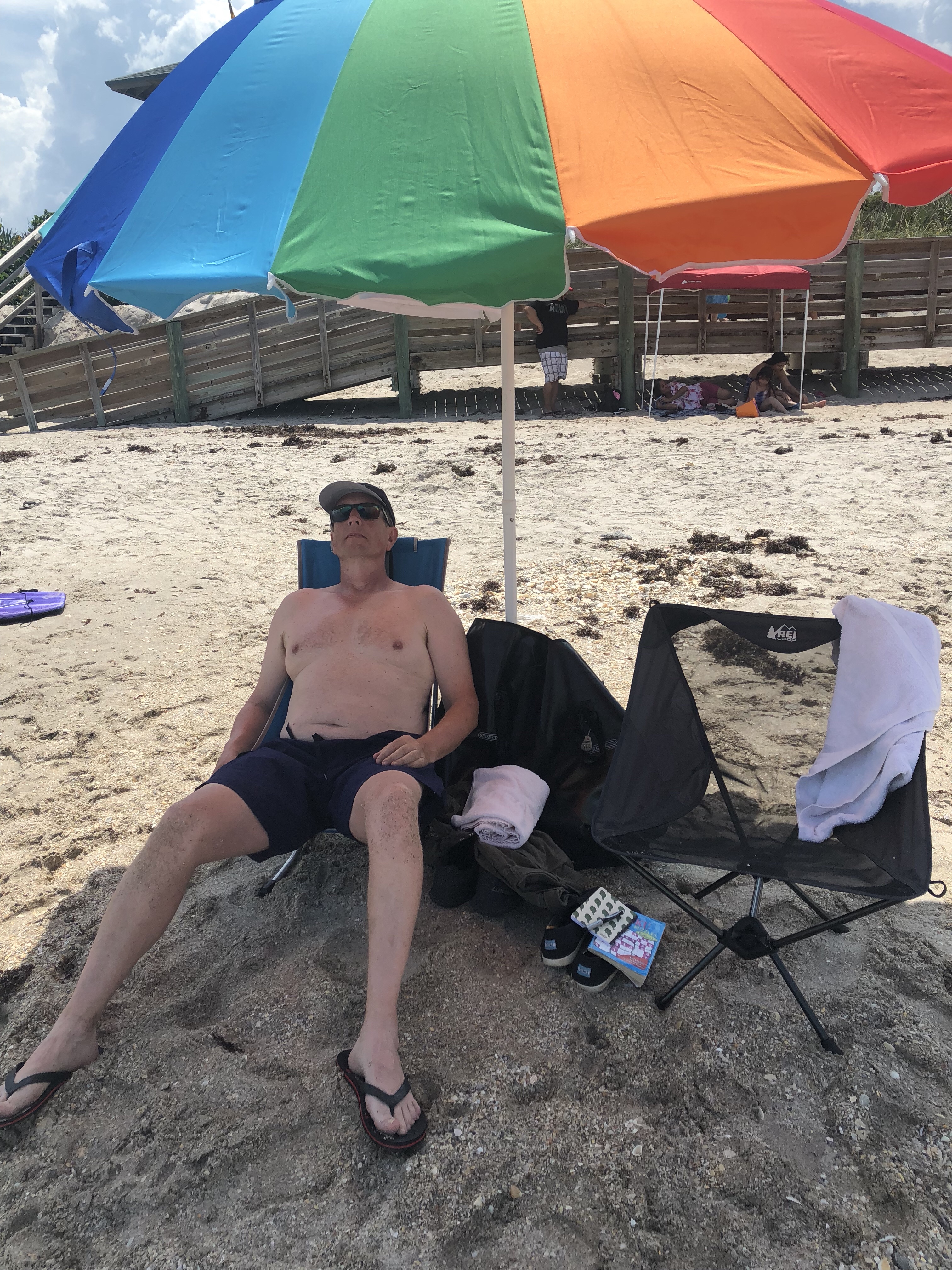 . It's a whole different world out there on the water and we were grateful to experience it. Since 3 hours of kayaking is not possibly enough activity, we biked 12 miles round trip to Golden Sands Beach Park on A1A toward Vero Beach. This was the first time we tested out our collapsible chairs in the panniers, giant umbrella and spike in the PVC pipe on the front panniers, towels, clothes, books, and everything else in the back. Easy, breezy and as effective as an SUV!And now we're off to Anastasia