About a month into retirement and the days are starting to run together where it's hard to tell Tuesday from Friday. Used to be work from pre-dawn to dark and do chores on the weekend with an occasional activity or vacation sandwiched in. It's starting to feel like we don't have to treat everyday like a to-do list and not doing anything is just as good as doing something.
Yesterday we took the bikes out for a leisurely reconnoiter North of Sebastian Inlet were we found BG's Bayside Marina, part of BG's Surfside Grill and Adventures, the official concessionaire for the State Park. They can rent you a kayak, host your wedding or teach you how to do yoga on a paddle board. We bought the secret weapon Bo told us about yesterday when he caught his Schnook and will return on Sunday to rent a tandem kayak and paddle the Indian River Lagoon mangroves.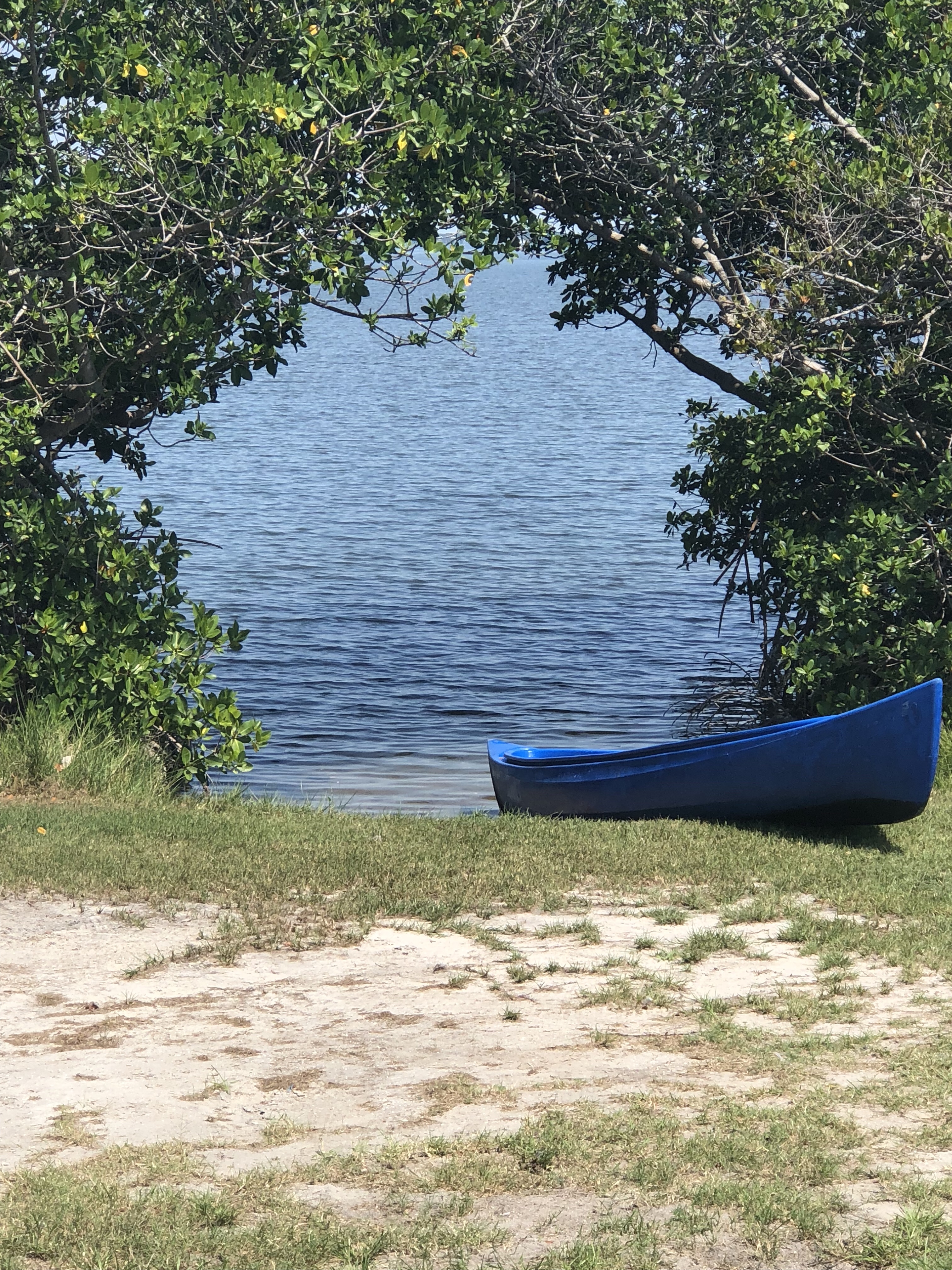 Just down the road we found Brevard County's Long Point Park and Campground, an 84 acre conservation area catering to the boating crowd. Over 100 shoreline lots where every site has electric and a put-in. The deep water folks can launch for $5 and leave their trailer on the grassy knoll. There's no shade away from the shoreline, so if you go, bring your AC!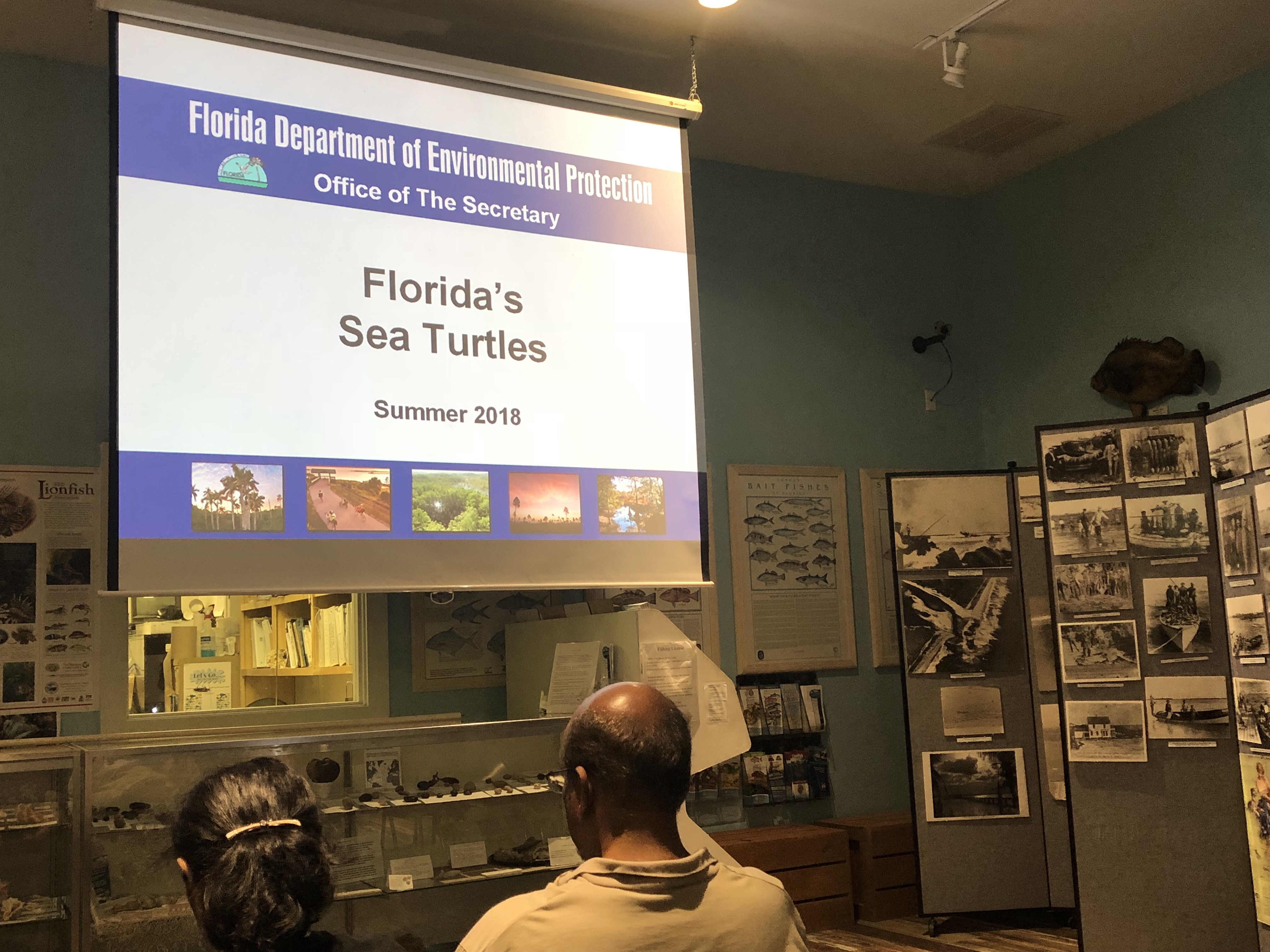 After some 5 o'clock fishing, we headed over to the Ranger Station for a do-over on the Turtle Walk. Like many things, it sounded great online… a secret, not to be missed nature opportunity. YES! We wanted to see a momma turtle emerge from the ocean, lay her eggs and return to the sea. It turned out to be a wild goose chase, or in this case, a tame turtle crawl.It starts with a 45 minute informational PowerPoint about Turtles, while volunteers in official Turtle Scout t-shirts, head to the beach with walk-talkies to search a 1 mile stretch for a Loggerhead doing her business and alert us of a find so we can join them at the precise location. While they walked, we went to 4th grade marine biology class and got the rundown on the reproductive cycle of turtles and what the hundreds of volunteers do to find, protect, measure, log, stake, report, track and adore this endangered species. We also learned how our careless, slovenly, polluting human ways are killing them. Admittedly sad, but also a downer for the impending walk. It was a harsh slap of reality of how hard it is to be a Sea Turtle in 2018.
With the Scout's striking out on an early look, Ranger Keith led a car caravan to beach access point 4 where the group would walk in another direction to hopefully score a siting. We took off on our ebikes, reuniting with our 20 fellow turtle hunters when they arrived 20 minutes later, proving Night Riders rule.
It's against the law to be on the beach at night during egg laying season. We had to stay together as a group and "we walk as fast as our slowest member." No lights allowed, no cameras either so as much as you wish you could see a picture of this, we were at Ranger mercy. Navigating thick sand, dunes, rolling tide and staked turtle eggs is surprisingly challenging. Two miles and an an hour and a half later (we walk as fast as our slowest member and stand around waiting for scouting reports) we were all turtled out.
By this point, the Turtle Scouts had consolidated on our group of 20. A turtle could be coming out of the ocean anywhere along the dark 3 mile stretch of coast at that very moment and we only would have noticed if she had happened to pick our rather crowded congregating point. We pointed out that perhaps the Scouts could remain spread out and then use their radios if they saw anything. Another good idea was to stay together and retrace our steps as a large group. The Ranger went with Plan B after conferring with the Scouts who were enjoying everyone's company so we said thank you very much and exercised our exit option. Many others followed leaving 12 turtle groupies, 6 turtle scouts and a Ranger in a pear tree to trudge off into the darkness.
While we appreciated the spirit of the activity and commitment of its people and wish we had the full egg-laying experience, we did get to put our management skills to good use. After analyzing their 37 year process on conducting a turtle walk we concluded they would benefit from a Sheric LLC consulting report on logistics, efficiency and the client experience. Call us FWR!