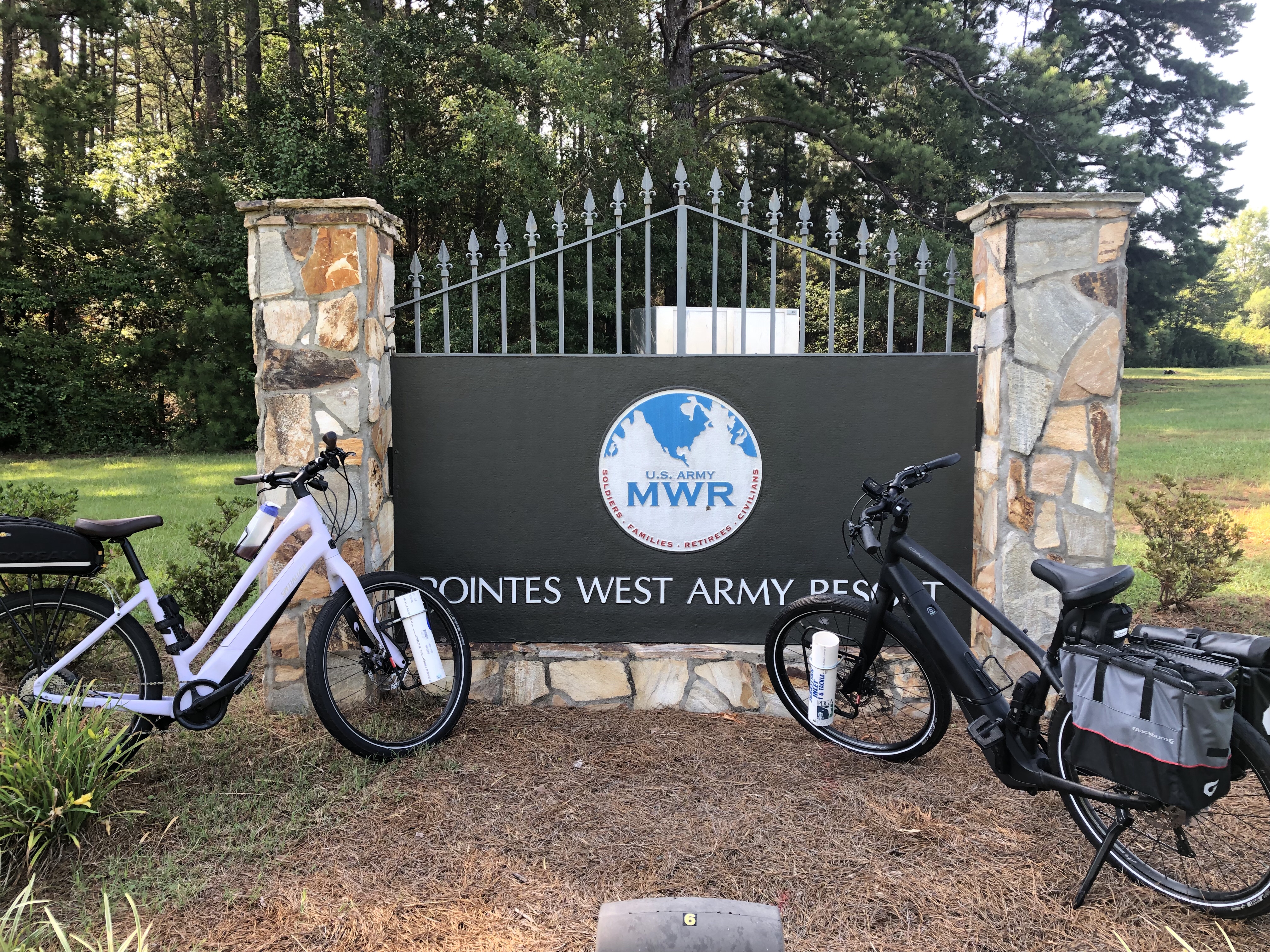 In researching what to do 20 miles in and around Mistletoe State Park, we found the PDGA, which we visited Tuesday and Points West Army Resort which we visited today. We were very curious about Points West, as it is attached to Ft. Gordon, just 30 miles away in Augusta. The Ft. Gordon MWR (Morale, Welfare and Recreation) website listed a ton of activities that included disc golf, pools, bowling, cafes and our favorite – free WiFi so we had to go.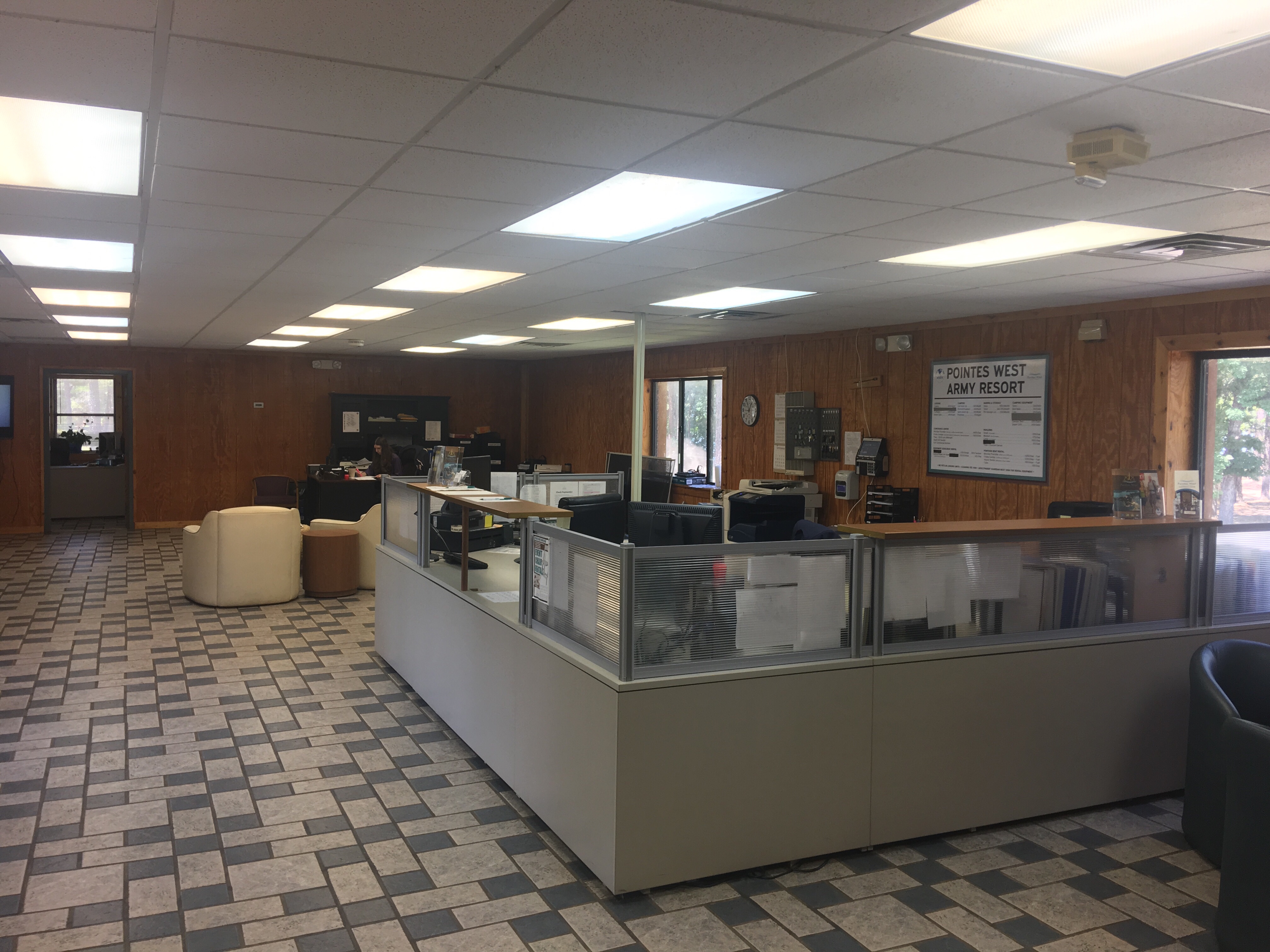 We packed up the pannier with bathing suits, goggles, frisbees, sunscreen, as well as laptops, ipads, and iphones – the works – and set out on the familiar 15 mile trek up Cobham, past the double-wides to Tom Bartles with the new construction McMansions and onto Ray Owens for the stretch past the Pair of Jacks market into the Points West facility.We showed our DoD cards to gate guard and followed the 2 mile road to the registration center and camp store across from the long pier with boats for rent and the campground with RVs parked by the lake. This was going to be fabulous!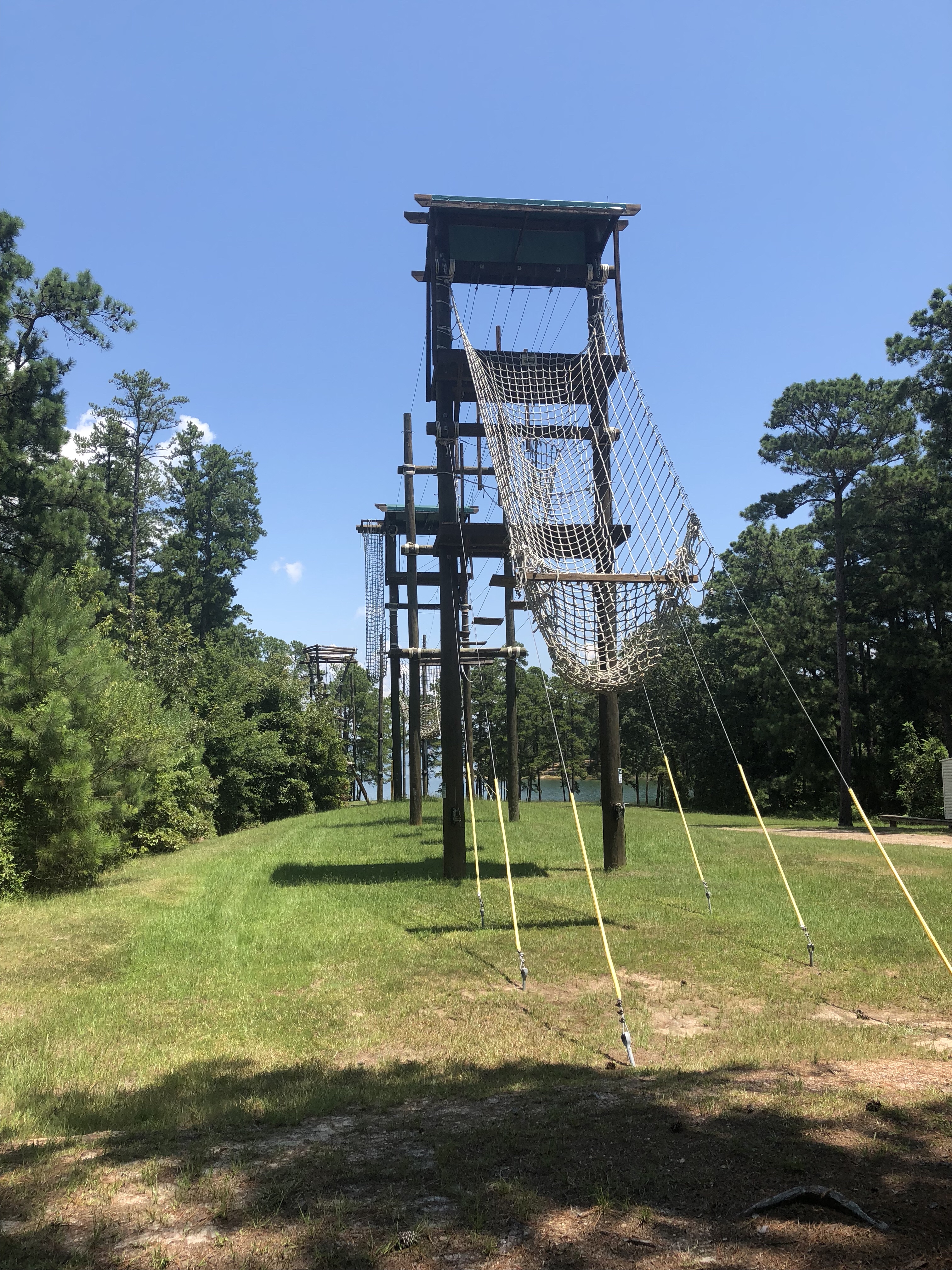 Eric looked at the fee schedule posted on the wall – $14 per night with full hook up. With all the amenities and this price, we were packing up Mistletoe and repositioning to Points West later today. Louise said no problem on getting us in and gave us a map of the campground with potential sites for our move. What we didn't see was the location of the disc golf course,.. or the pool,… or the cafe. Louise said, "what you talkin' bout Willis? There's nothing like that here." Turns out, all our amenities were 30 miles away at the other Ft. Gordon. The website was for both facilities and did not discriminate between the two.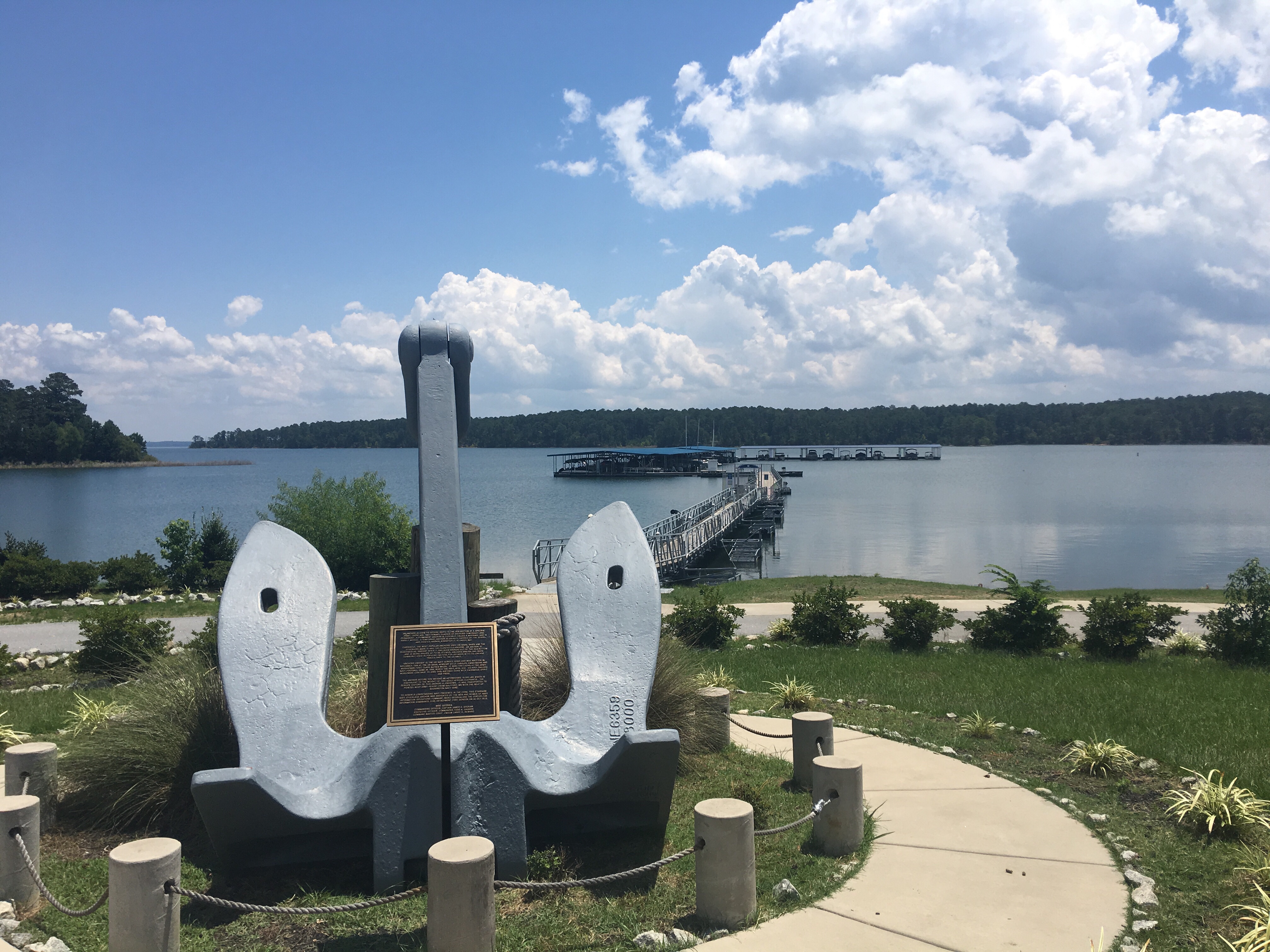 We took the maps anyway and went out for a reconnoiter only to find nothing compared to our expansive lakefront view at the Mistletoe.We did check out the two amenities they did have on site – the $250/day pontoon boat rental and the terrifying ropes course. Since we had gear for lap swim and disc golf, a budget short of unlimited, and a middle aged since of risk, we passed on those.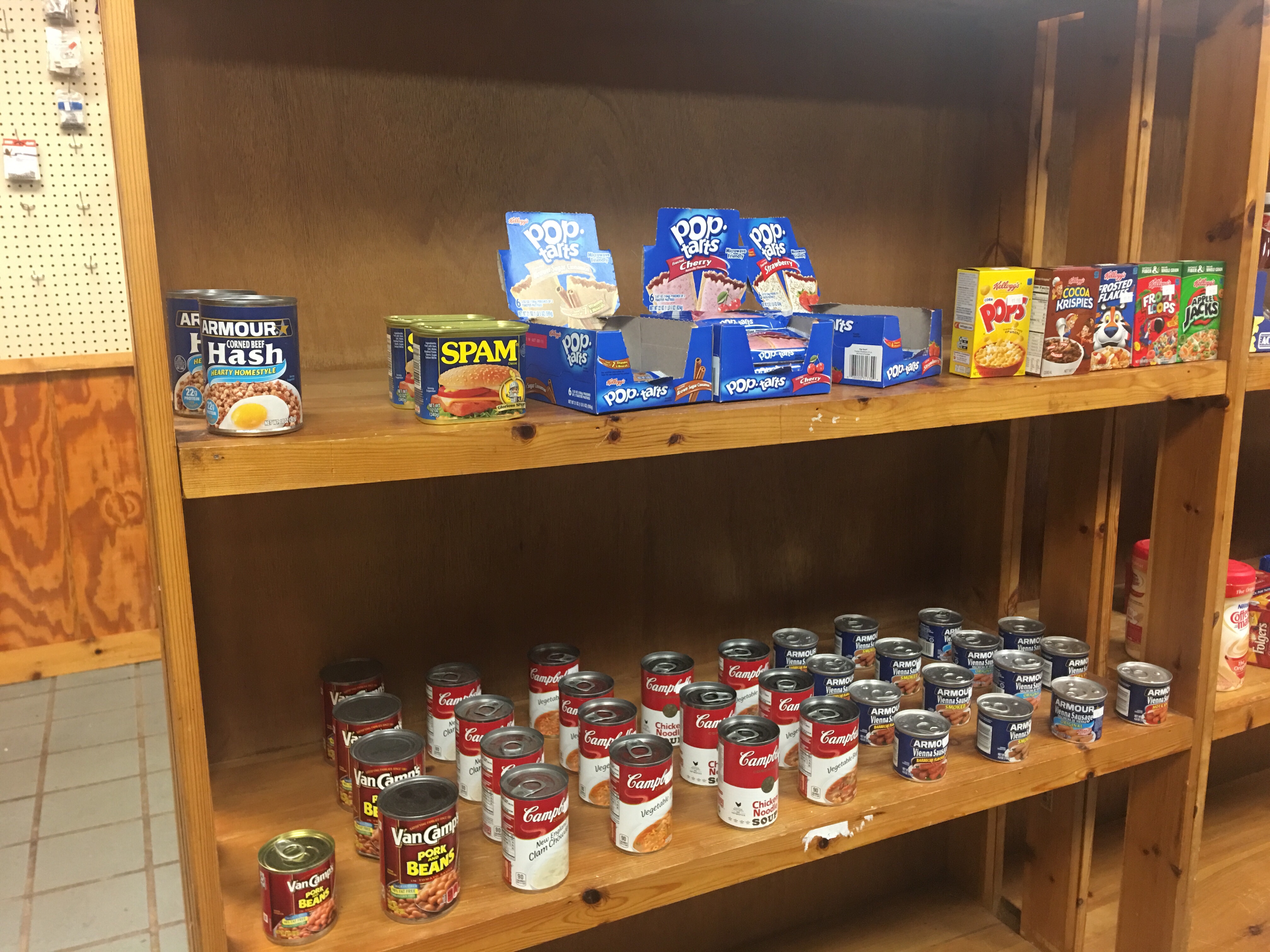 Happy and informed, we retired to the office to use the free WiFi, watch Deal or No Deal on the big screen TV and get a snack at the camp store. Since we weren't up for any of these fine food choices, we selected a sleeve of honey roasted peanuts and bag of peanut butter pretzels with a Diet Coke while we spent the next 2 hours blogging and researching in a tech-blissful, hi-bandwidth environment.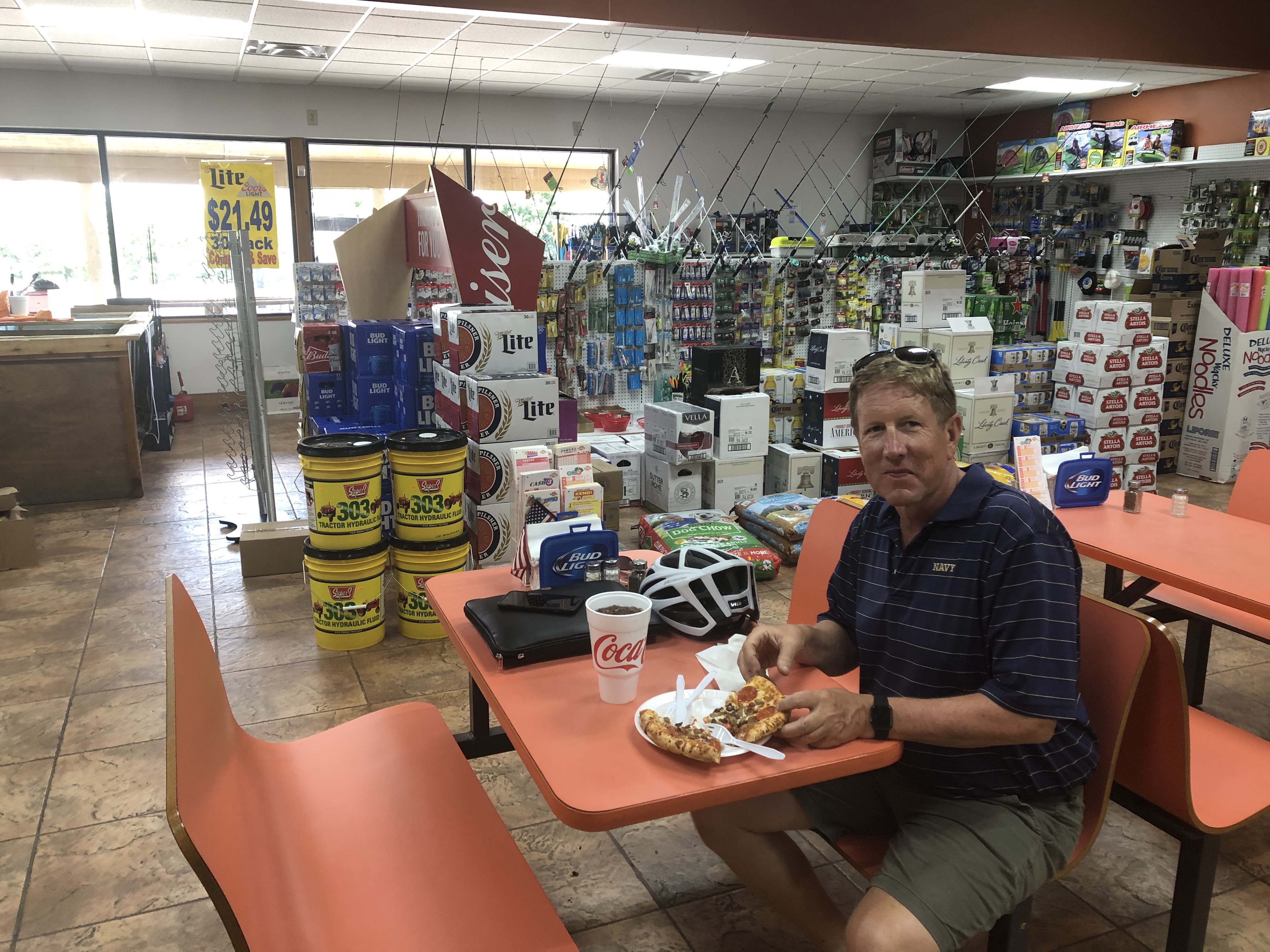 On the way back to camp we spied a roadside banner for Hunt's Brothers Pizza, tucked inside a Mini Mart. If you wanted a slice of meat lovers, it was coming out of the oven in 3 minutes. If you wanted anything else from the brother's Hunt, too bad for you. Fortunately, we did.Every store we visit here seems to have an eclectic mix of goods. This one had gas, gourmet pizza, bait and tackle, any beverage you could think especially if you are thinking of large cases of light beer, and drums of tractor hydraulic fluid, while you play keno.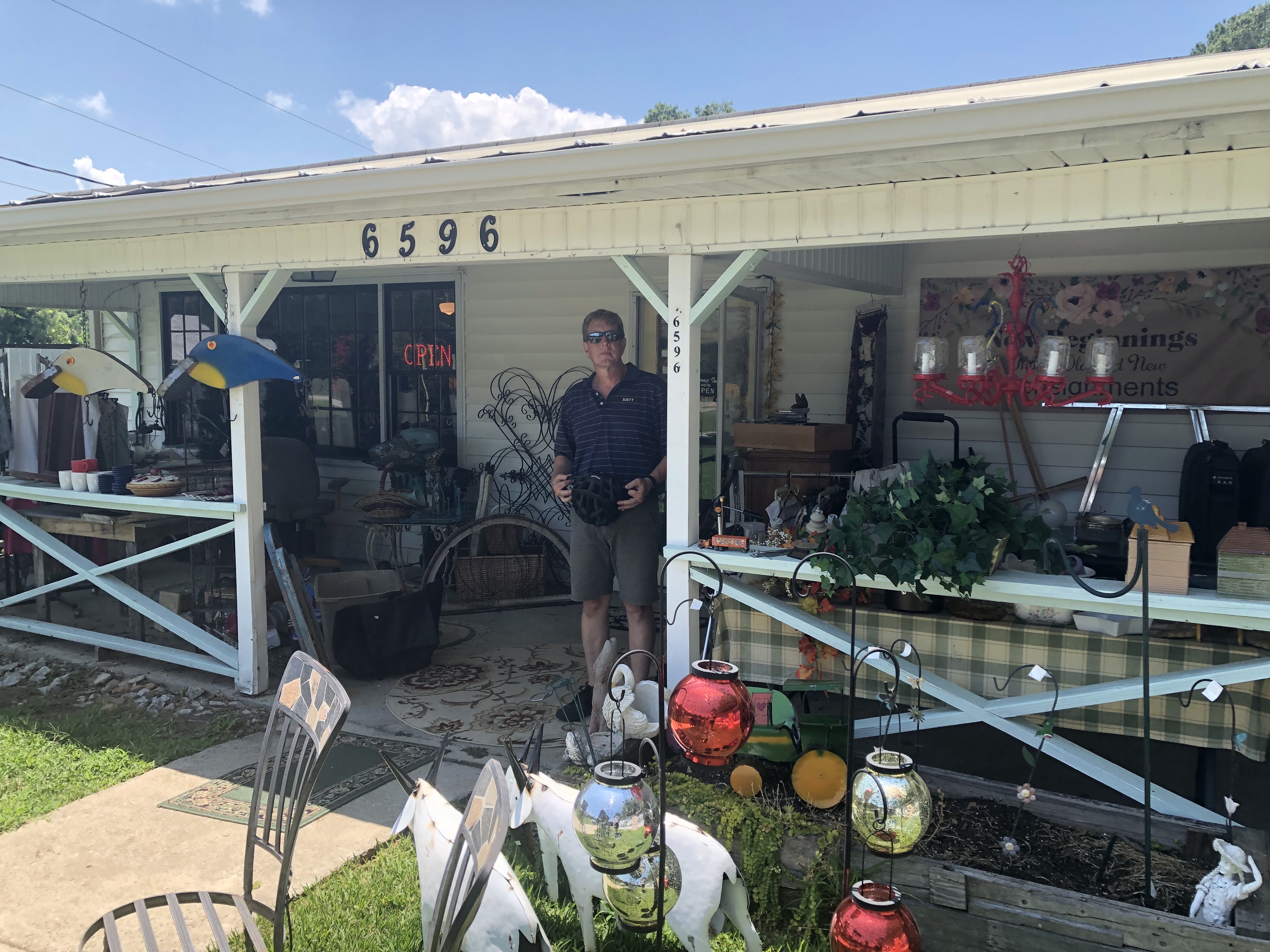 We got a double whammy just a 1/4 mile from there with a pop-up thrift shop. At first we thought it was junk in someone's front yard when it was actually a whole store of high priced junk.On the final stretch we chatted and imagined that hell could be biking Georgia black asphalt in the summer and were happy to cool off with a dip in the lake when we got home sweet home.