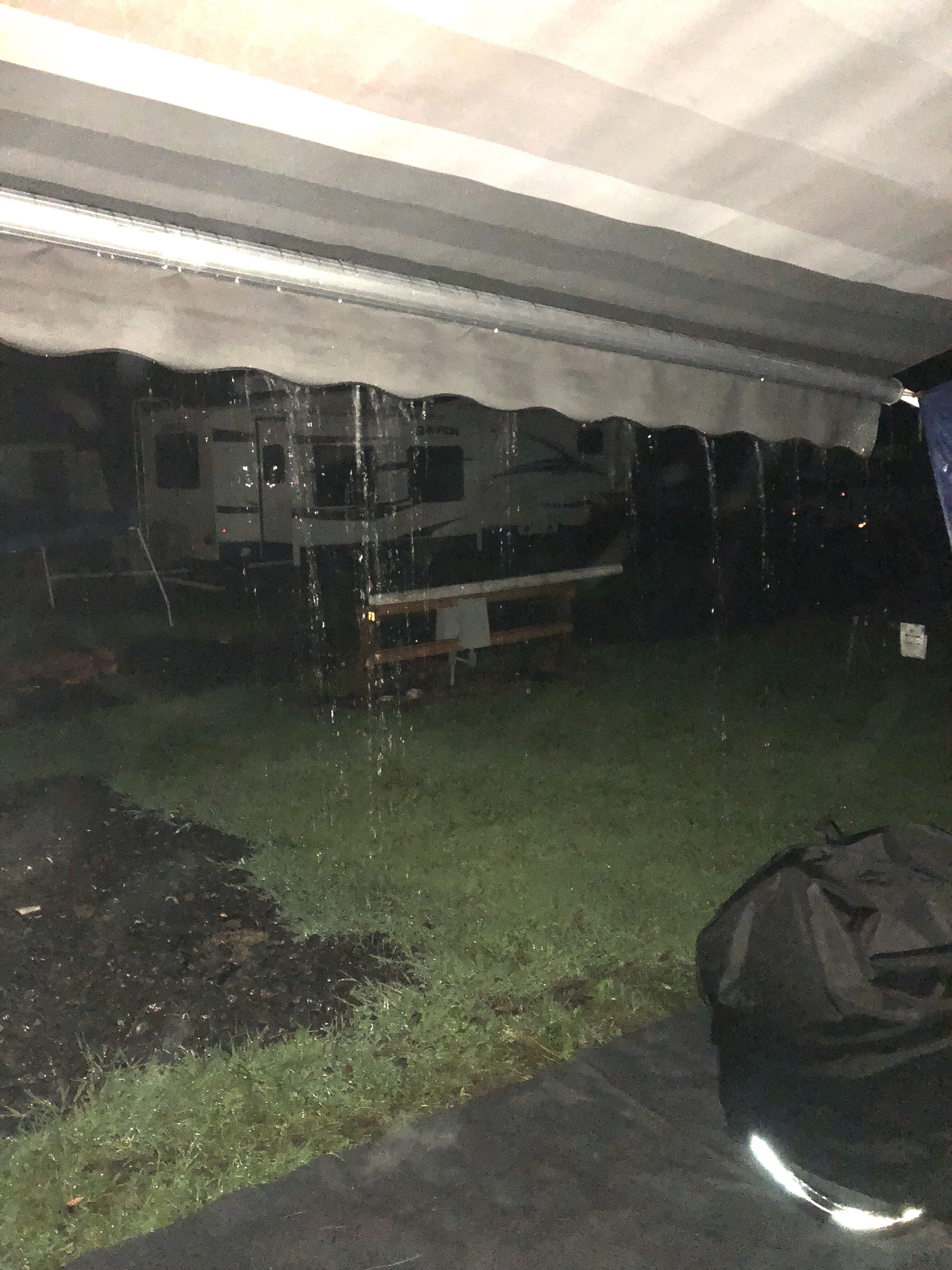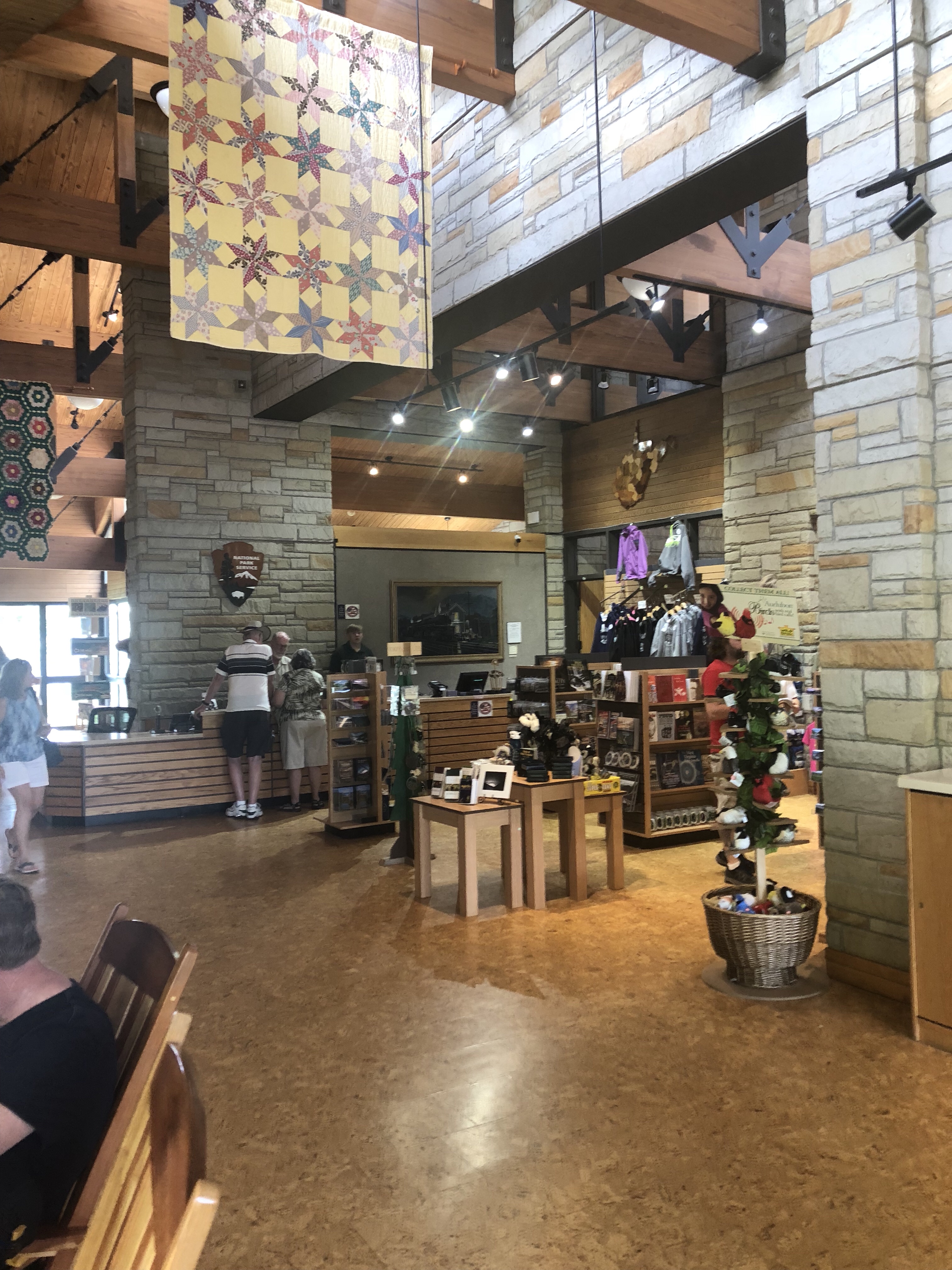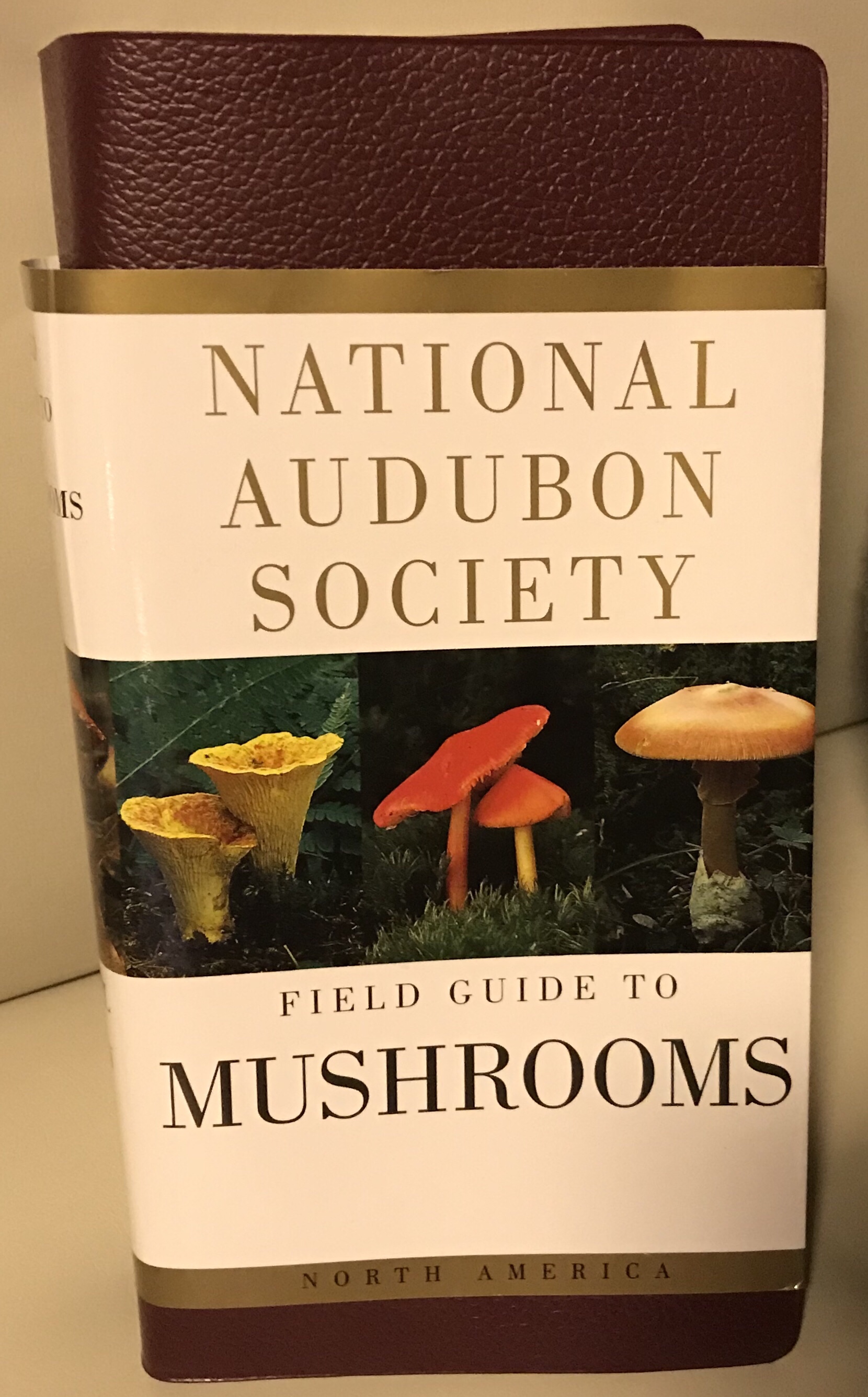 We woke up to a steady downpour and raced home to Betty late in the afternoon in front of another punishing downpour. In between thunderstorms, we roamed north of the bridge looking for local fun and adventure. We began with the obvious; a return to the National Park's visitor center. With the Nuttallburg family reunion finally over, the theater was free to return to their feature presentation, an 11 minute commercial for the importance of National Parks – especially parks in West Virginia. While containing some unique footage of the gorge in the time of coal mining, it gave no insight on the geological history of the region nor the iconic bridge. When we asked the park ranger if they had a movie about how the bridge was built, she told us the bridge was not part of the National Park, so they don't really talk about it. It seemed like a sore point and we felt bad for asking. There was a nice selection of reading material in their book sales section, perhaps smuggled in, which explained how the region was formed over millions of years by Mother Nature, and how the bridge was built over three years by the Corp of Engineers, which Eric consumed while waiting for the rain to pass. Sheri also consumed (aka bought)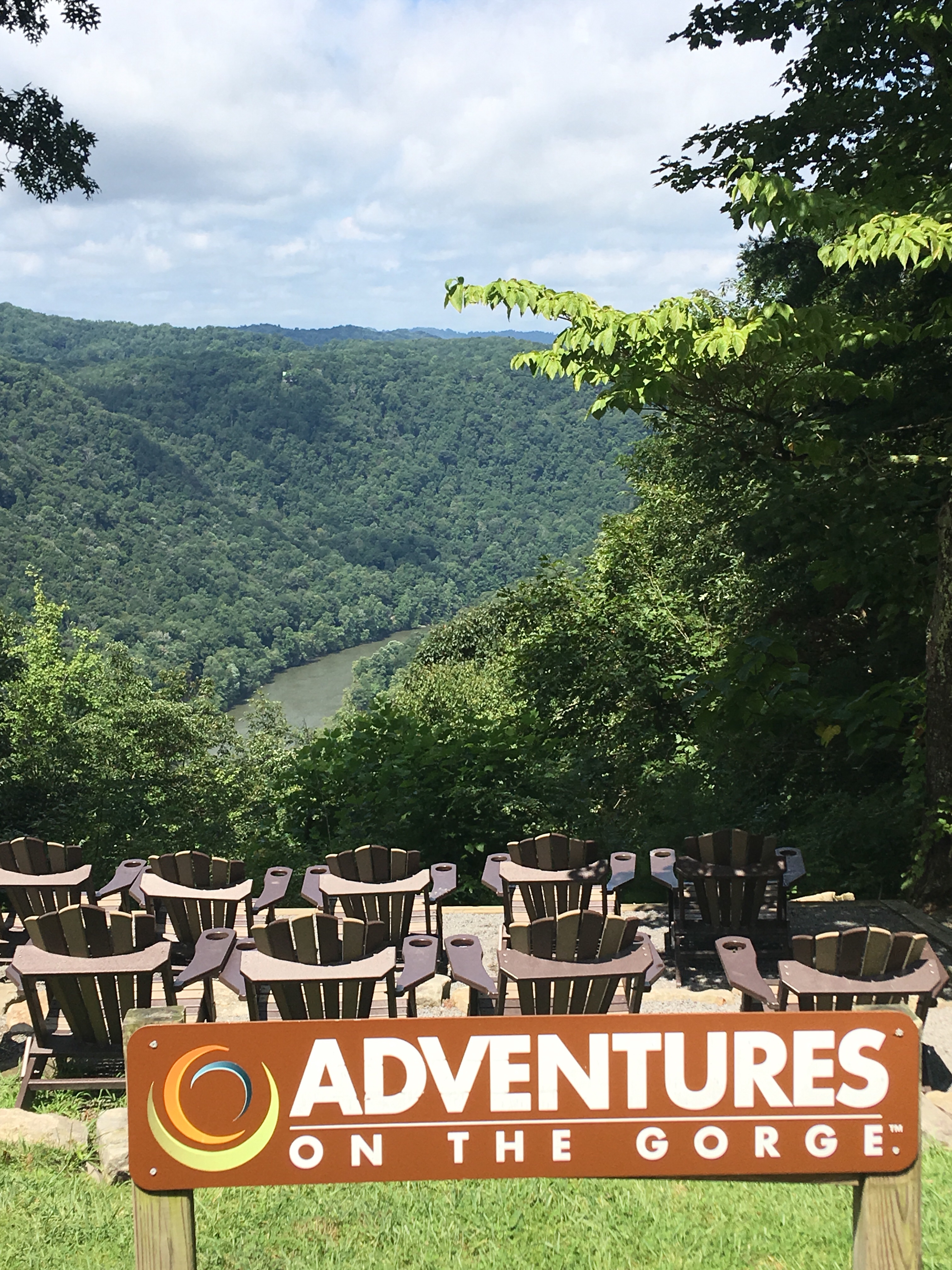 The skies cleared and we dashed across the main highway to Adventures on the Gorge, a large-scale commercial enterprise serving up soup-to-nuts gorge adventure packages in a slick destination-style setting. The resort looked like a great place for a corporate retreat or family reunion. Guest acommodations ranged from a platform to pitch a tent to luxury micro-mountain cabins. We tried to stay there, but RV sites with hook ups were not offered. It seemed like such a simple thing to add to attract folks like us, but we would find out later why it was never going to happen.At AOTG, the logo is everywhere, even sunset. You can lodge, eat, white water raft, zip line, swim, stash junior at the kids club or playground, do a ropes course or treetop climb, fish, shop or visit the crown jewel of all destination resort activities: a Disc Golf Course. The Raven's Ridge course is nine holes set in the woods on the edge of the ridge. We enjoyed it so much we played it twice and worked up an appetite. Fortunately, a surprisingly good exotic lunch destination was around the corner with no AOTG logo in sight.
Earlier in the week, we had befriended the bike shop guys in Fayetteville. Their lunch recommendation was for authentic Thai made by a Thai single-mom who had relocated from Thailand to the gorge for unknown reasons. They said her hours were iffy, but if you catch her open, it's amazing. We passed the Country Thai restaurant on our way in to the resort. After golf we entered at Country Thai not knowing if the bike boys were pulling our bike chain, or sharing a true local secret.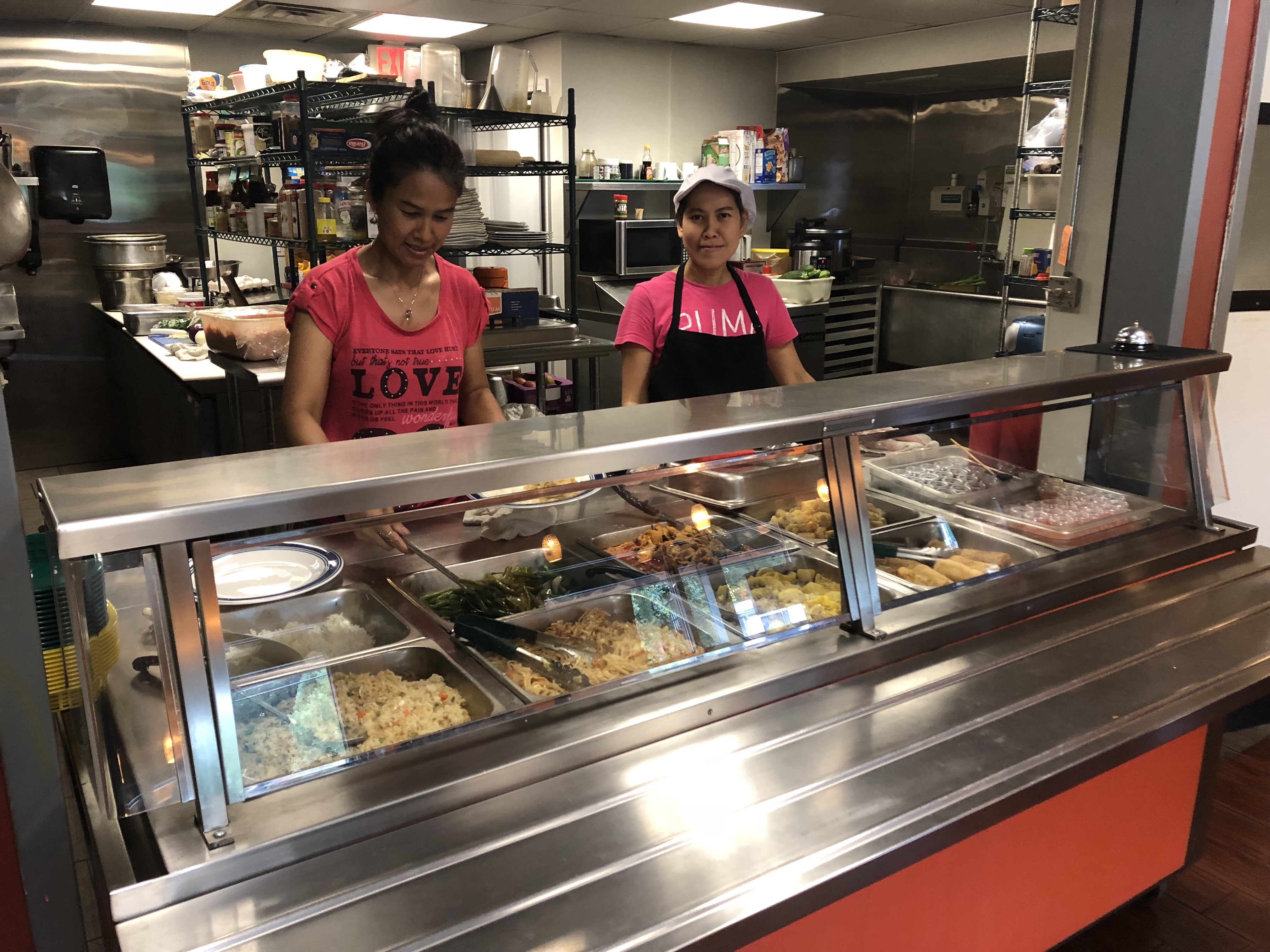 Lunch is served buffet style with 2 choices: pick 3 dishes or get a taste of them all. The owner grows the vegetables for the dishes in her garden and makes her own curry sauces.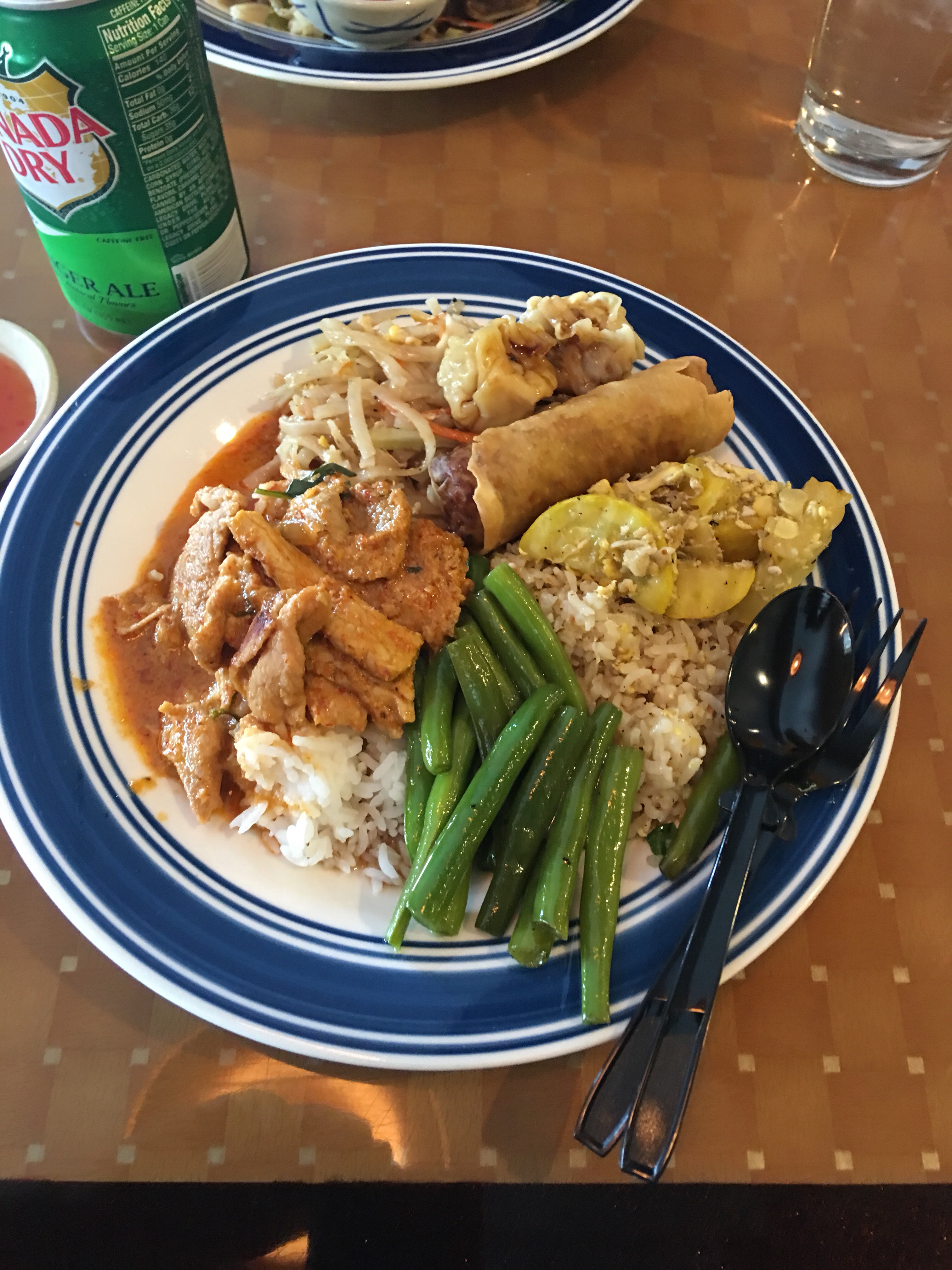 We both ordered the sampler platter of spiced yellows squash, green beans, pad thai, dumplings, spring roll and the signature pork coconut curry dish. The lunch was farm to table Thai heaven served up in a little restaurant that showed such pride of ownership the pickiest of housekeepers could not have found a flaw. We suggested she relocate to Chevy Chase, but Fayetteville, WV needs her diversity.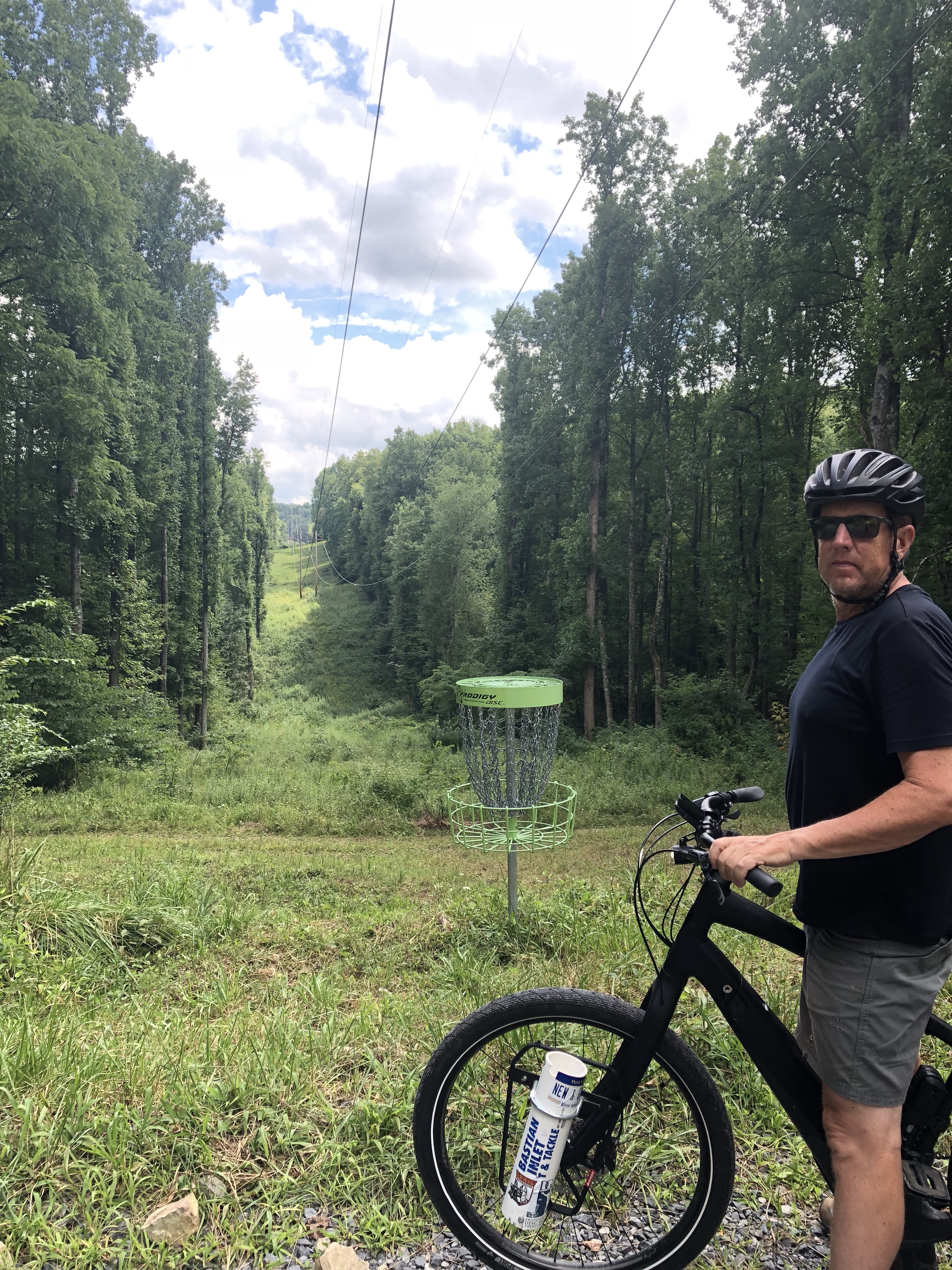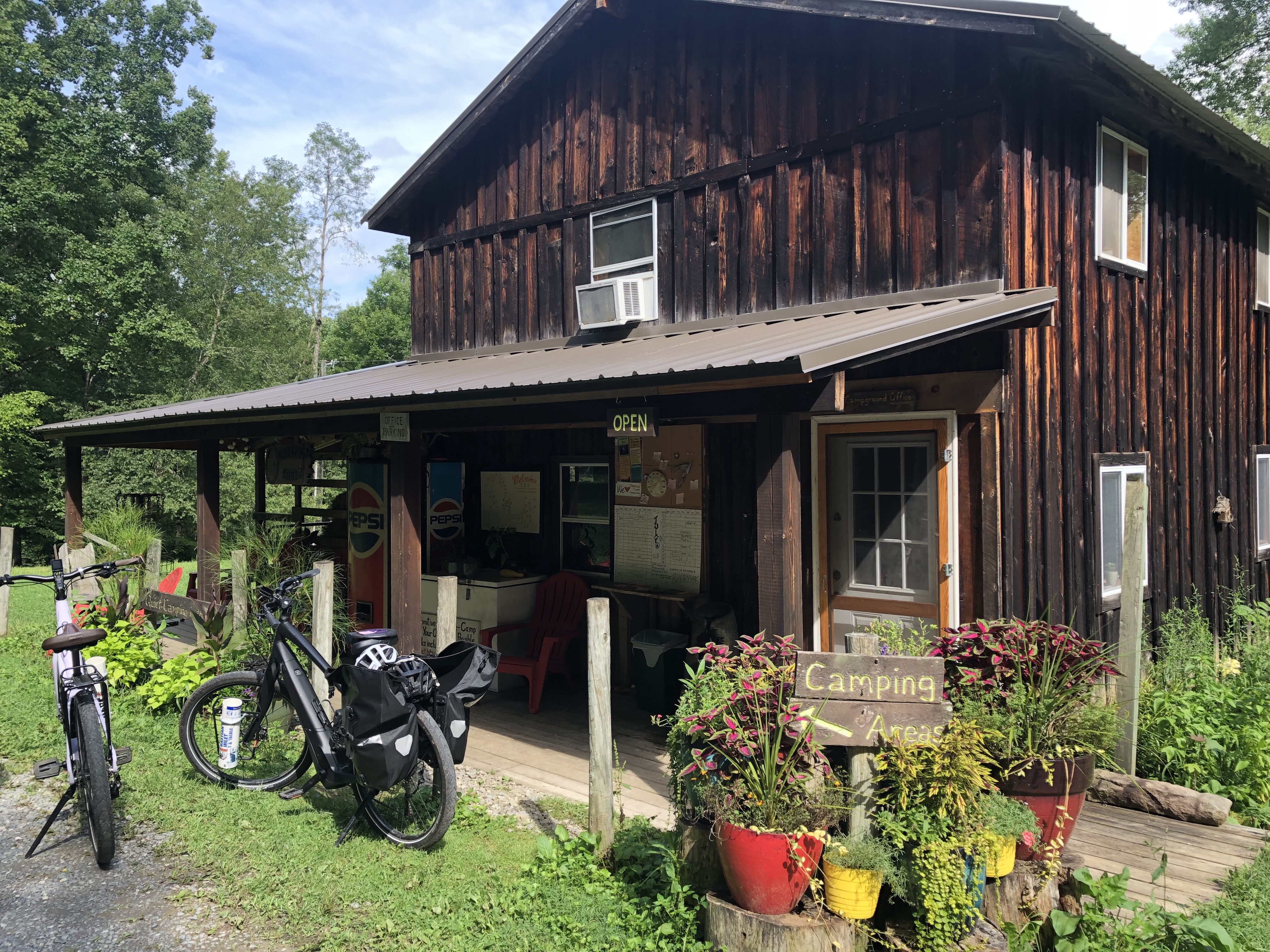 Our PDGA app listed one other disc golf course in the local area. Watching the sky, we thought we had time to explore without getting caught. Tucked into the Chestnut Creek campground is a 9 hole course – supposedly. We biked down the private gravel road and found a clue that we might be in the right place.But at the end of that road was a deserted farmhouse, the front room of which was serving as a camp office. With no one around, we took a bike tour of the grounds, which was comprised of 50 primitive tenting sites on two loops with a few lone disc golf baskets in view and no apparent course. As we were leaving, we heard a call out. The owner, a young man in his early thirties had emerged from a back barn to help.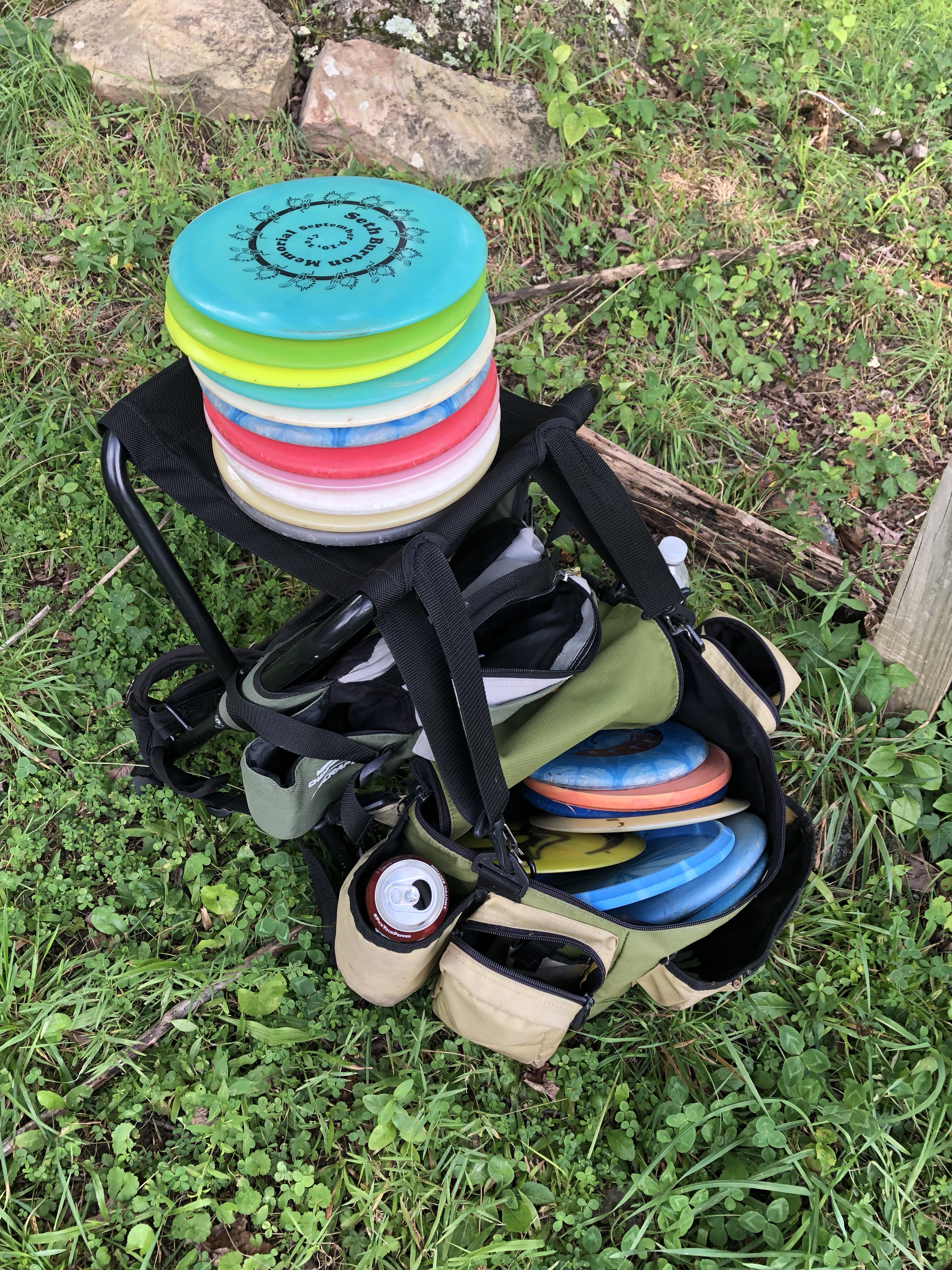 Seth was a reluctant campground proprietor whose wife inherited the camping business and general store from her father. His true love was to play professional disc golf. While there might have been campground work to be done, Seth gave us a long lesson in disc throwing in the large field adjoining the farmhouse. Fully equipped with about fifty discs in a portable disc case, Seth worked through the mechanics of the throwing motion. We all practiced throws with real-time expert coaching from Seth until we were disturbed by a customer wanting to camp. We encouraged Seth to attend to business while we practiced, and he eventually acquiesced.
We shared our frustration in finding an RV site which Seth explained was because sites with full hookups attract a transient population of pipeline workers which the local zoning board found undesireable, so Sally's 20 sites where we are parked were the only ones around. He was surprised that she had any available for us. True to his explanation, our camp neighbor was a pipeline worker who had just been laid off and pulled out in the dark to pick up work in another part of the state.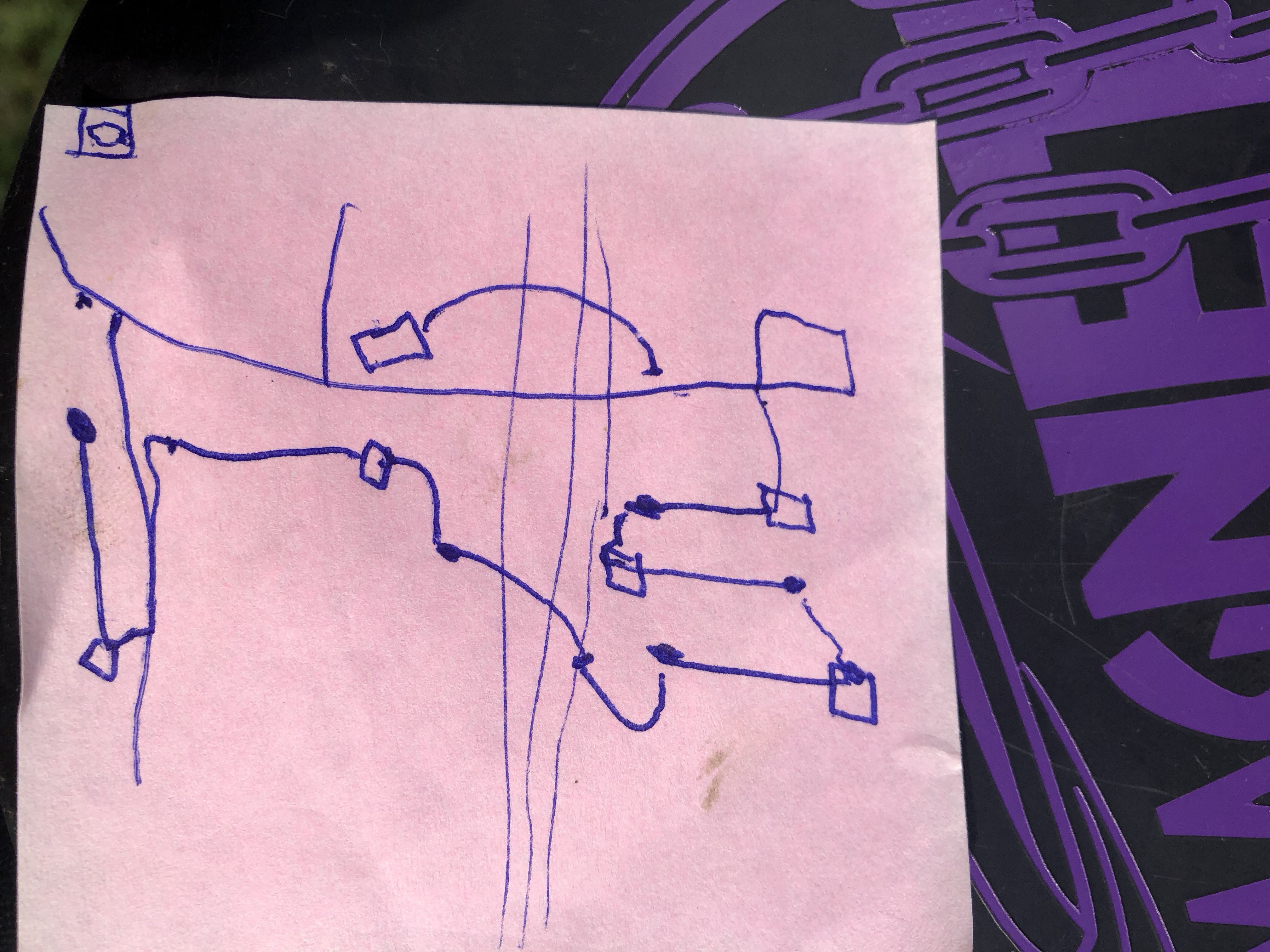 Returning from the bothersome customer, and working off of a post it note, Seth outlined the 9 hole disc golf course he had laid down on the property. We grabbed our discs and tracked off into the woods to the first hole and were immediately lost. Since none of the holes or tee boxes were marked, following the course was more of a tracking exercise than round of golf. Sheri channeled key phrases from Seth's course description such as "look towards the spring house," and Eric kept an eye out for broken branches, trampled grass, and other signs that Seth had left from earlier rounds. We found 5 of 9 holes before a bee sting ended the round prematurely. It was definitely one of our more unusual rounds of disc golf. With weather rolling in, we returned to camp and stashed the Comos moments before the sky let loose.
Everyday has become any day and like one of Sheri's old bosses used to say, "you have to play in traffic to get hit." We are out and about, reconnoitering, finding the weird, the iconic, the meh and a new us in the process.