After slaying Asheville we looked at the return to Florida legs of our Reboot Roadtrip and decided springs and lakes were tame, what about white water? 260 miles north is New River Gorge, West Virginia. After rafting the Class IV wild and scenic Toulumne River near Yosemite 8 years ago on an OARS trip, we had the WV Gauley on our list but never got around to it. Six hours from DC – I guess we were just "too busy."
The Gauley is the monster rapids of the East Coast, ideal in Fall and Spring but a rocky mess right now. The Upper New River has a good blend of class III-V rapids, smooth sections, swimming, cliff jumping – NOW.
Changing reservations is not always easy. There has to be an RV park in the area you want to go, and it has to have an opening that fits your coach size. Quick search showed only 1 RV park in the area – the New River Gorge Campground, and it is primarily for long term stays. The rest of the area is hotels, cabins and tent campsites. We got lucky and owner Sally booked us in for 4 nights.
Today we canvassed downtown Fayetteville (hub of the New River area), the Canyon Rim Visitors Center along with a Walmart run and evening hike of the Endless Wall, once rated the #1 National Park hike in America by USA Today 10Best.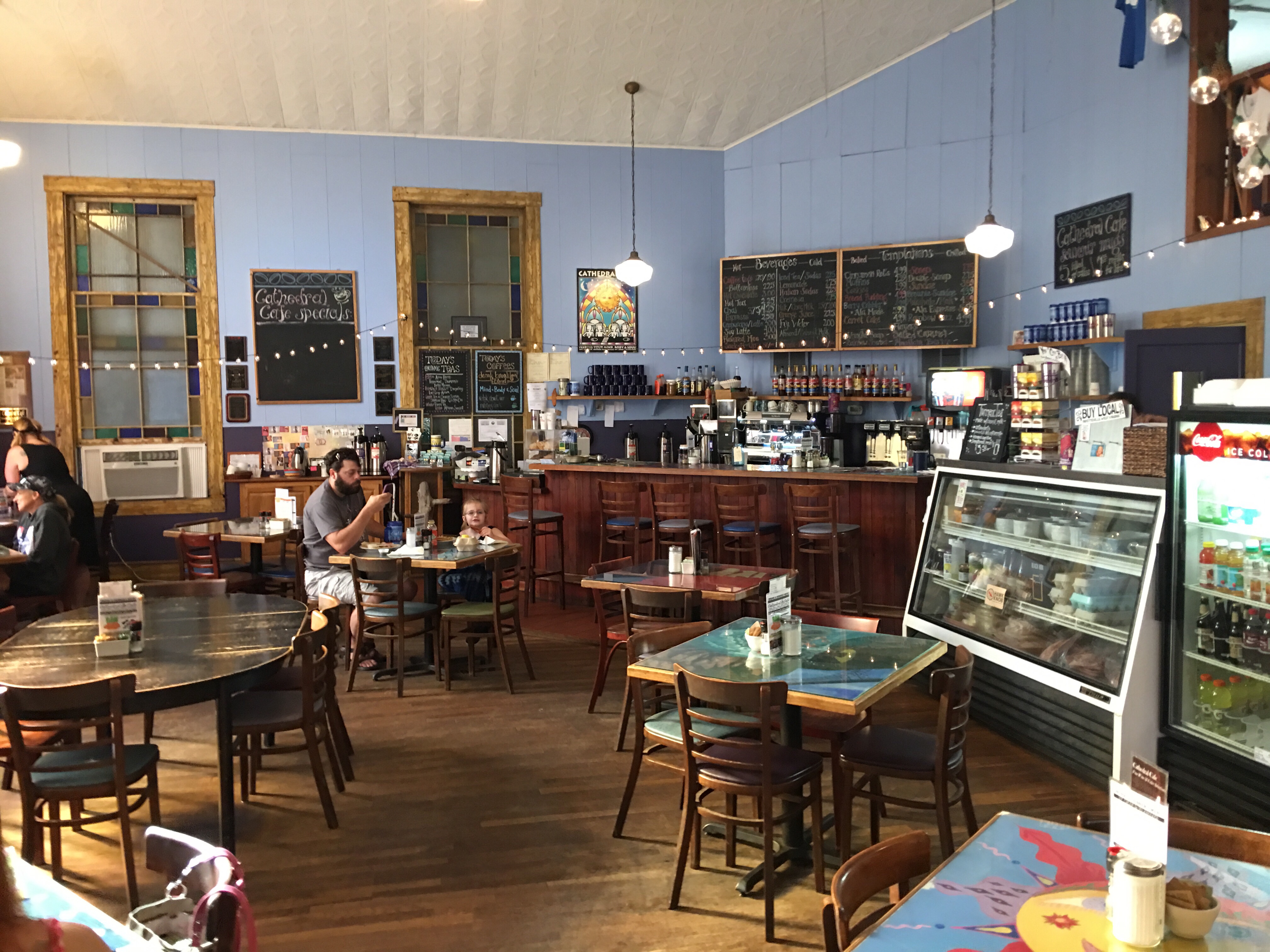 Downtown Fayetteville calls itself The Coolest Small Town in America. It's only a few blocks long and wide, with 44 shopping and dining establishments (map). We started at the end of South Court Street at the Cathedral Cafe, a former church turned eclectic eatery for mind, body and soul serving fresh, local, organic, handmade dishes. We all have these kinds of places in our own towns, but this one felt more like coming home than visiting for the first time.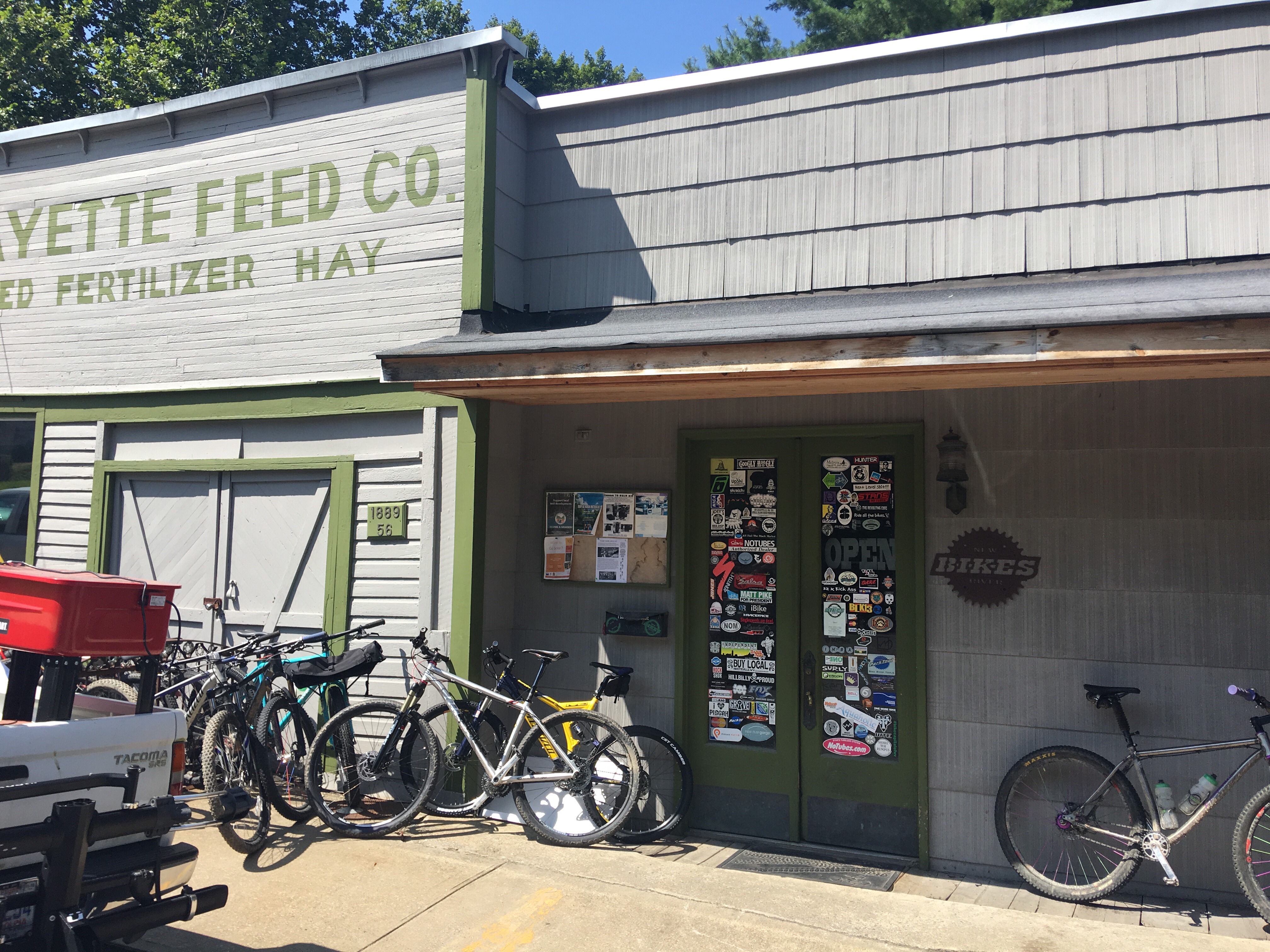 Nourished and caffeinated, we went in every shop that was open, talking with the employees and owners about their favorite things to do in the area and about what's happening in the community as a whole. We spent a good bit of time in New River Bikes, finding out that the local rangers don't really like motorized bikes, or dogs on the trail either, so no one is selling ebikes yet. Dogs are still popular. It was a good debate – as young GenX bearded men, they a roadies and MTBs all the way but understand the elder love of biking and need for assist. Sheri bought some Keen Newport H2 water shoes at the Outfitter store and Eric picked up a grommet kit and rope at Ben Franklin and 3 DVDs at the thrift/antique store.
We left downtown as customers started filing in. Business is good in Fayetteville. All the storefronts are occupied and there was decent foot traffic during our 10am – noon walk. Like Asheville, tourism drives the area. Like Asheville, the locals are worried about becoming them. Housing prices have risen – 5 years ago you could buy a house in town for $50k. Now they're going for $100k. For $200k you can get 1,500 square feet on 5 acres. Inventory is scarce, but there's a lot of land for sale for any developer interested in building the zero-impact model homes sweeping Asheville or building artist studios who want to breakaway from the overcrowded, competitive scene in their sister to the south. Heck, they could use another RV park for sure!
About a mile north of town is the Canyon Rim Visitor's Center. The best part about this center is the Observation Deck, where you descend 200 feet for an unobstructed up close view of the 3,030 foot single span, steel arch, iconic New River Gorge Bridge, towering 800 feet above the water. We wanted to watch the movie about how the gorge formed and construction of the bridge, but there was a family reunion for the descendants of Nuttallburg, an old mining town that's now a ghost town so the theater was closed. Both the movie and a bike to Nuttallburg are on our to-do list.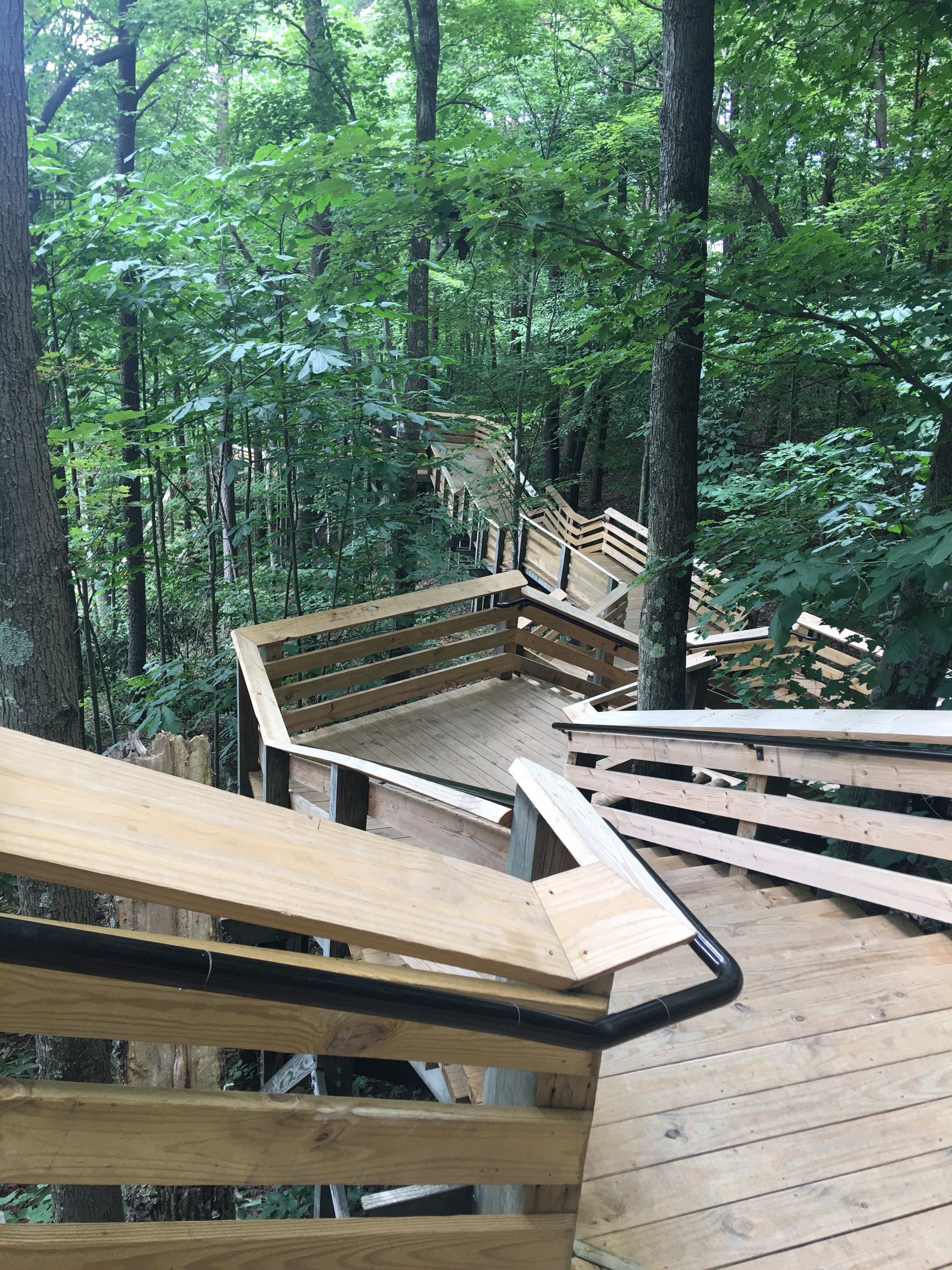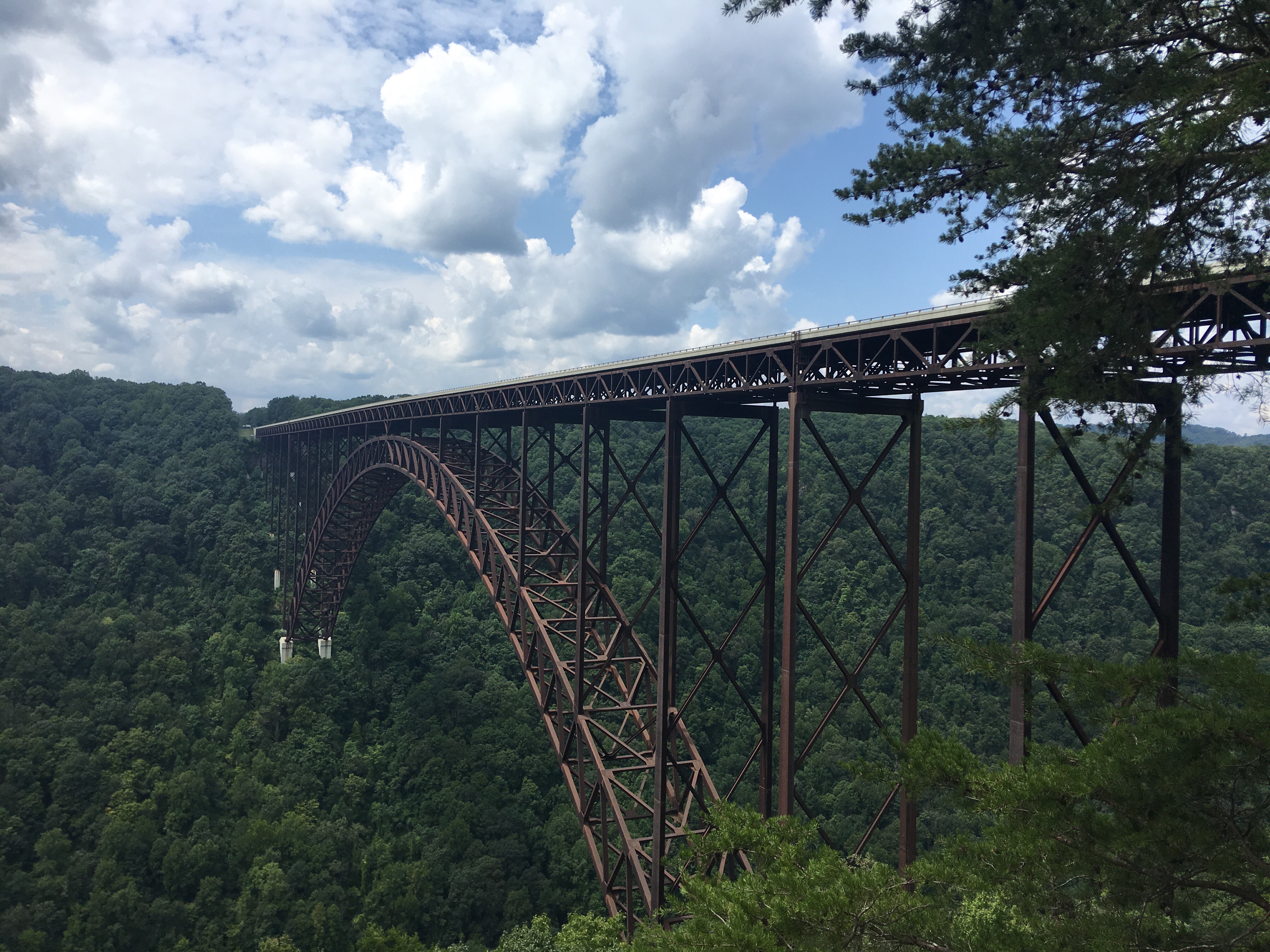 We like to reconnoiter big on our first day in a new place so we can get the lay of the land to map out what we want to do and when we'll do it. Today didn't end at the Canyon Rim, as we visited New River & Gauley Outfitters in preparation for our big white water trip on Tuesday, then a bike to Walmart to get a waterproof camera, ending with the Endless Wall hike. Frankly, we are exhausted so tune in tomorrow for the rest of the story.