On our way out of the Biltmore yesterday, we stopped at Antler Village information center and asked for the trail map.
"Are you renting bikes here or bringing yours on your car?" The attendant politely asked.
"We're riding them here," we said.
"I don't know if you are allowed to ride them on. We're not really bike friendly here," she explained. "Let me call and see if that is allowed.
"But you rent bikes here – you must be bike friendly?" we asked with an eyebrow cocked.
"We don't like them on the roads. The trails are okay and I just confirmed you can ride your bike on, but come right to the Village. Don't go to the mansion," sternly relaying the message from the other end of the telephone. "Where are you biking from anyway?"
"You know where the WNC Farmer's Market is?"
"You can't bike from there to here. It's not possible," she said, shaking her head back and forth while thinking to herself – stupid tourists.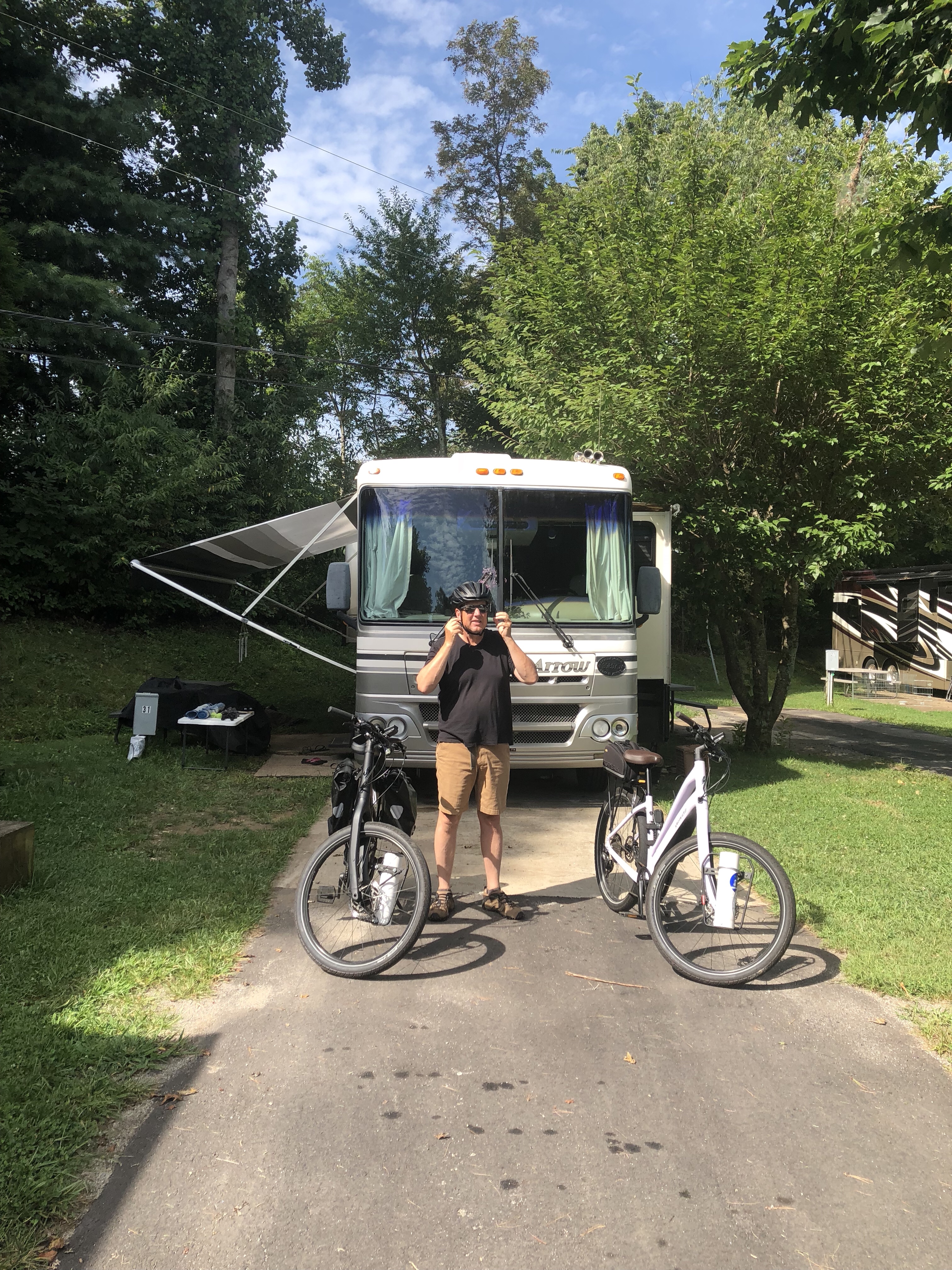 What we have learned, in our seven days in Asheville, NC, is that we can leave Site 29 at the Bear Creek Campground on South Bear Creek Road with an iPhone for GPS and bike within a 10 mile radius of Downtown Asheville day or night, rain or shine, shoulder or no shoulder, steep incline or scary as sh*t descent, through mud, gravel, puddles, thick grass, rocks and glorious pavement. We can fly with cars, change lanes, traverse bridges and backroads with cement dump trucks, souped up Dodge dualies and no-muffler hot rods blowing by. We don't do interstates, but bring on the State Roads. "You can't bike to the Biltmore." HAH!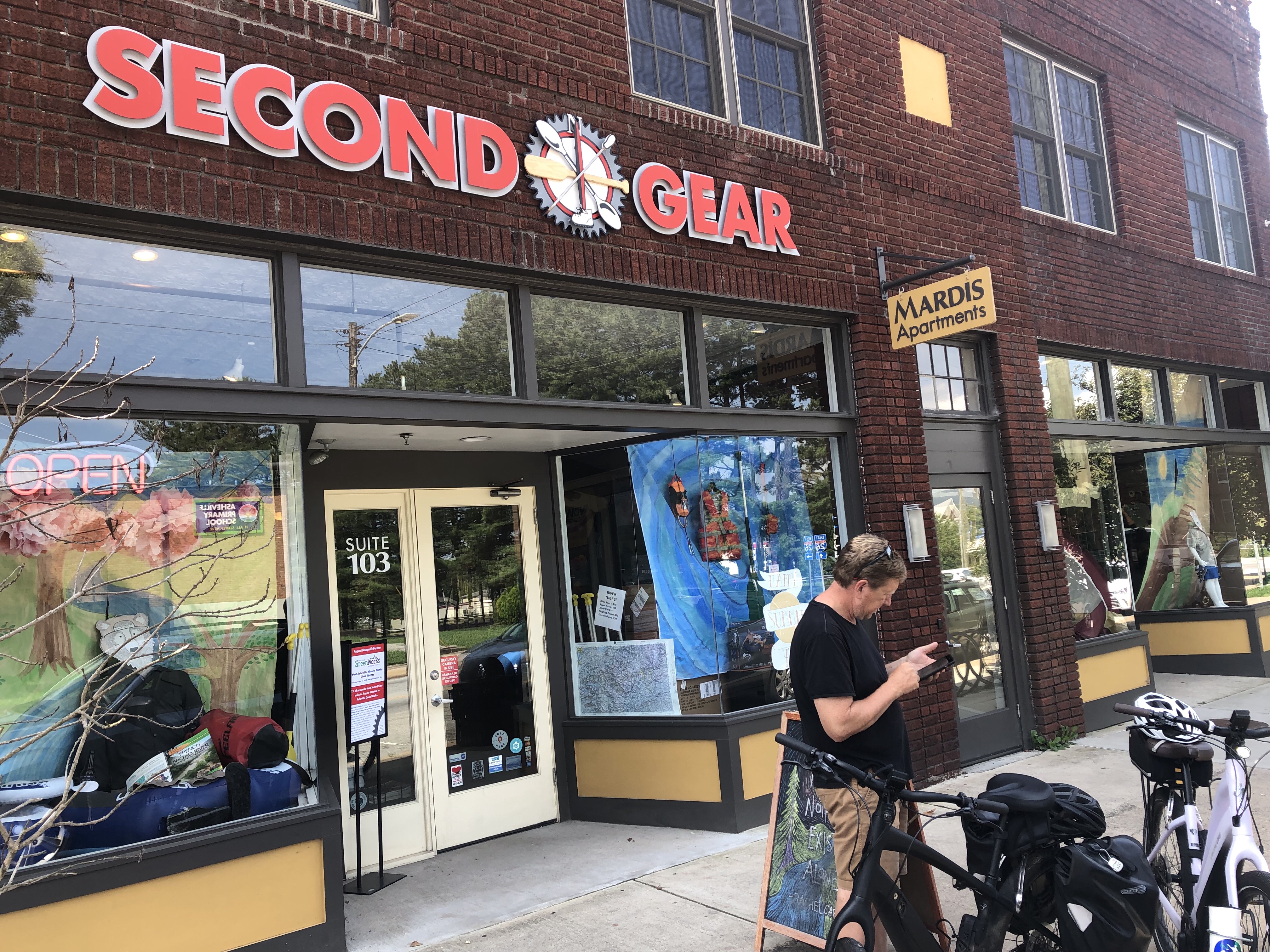 Anywhere we go typically involves riding on Haywood and every time we pass this shop, Second Gear, it was closed. This morning we stopped to see what this Outdoor Consignment Store had to offer.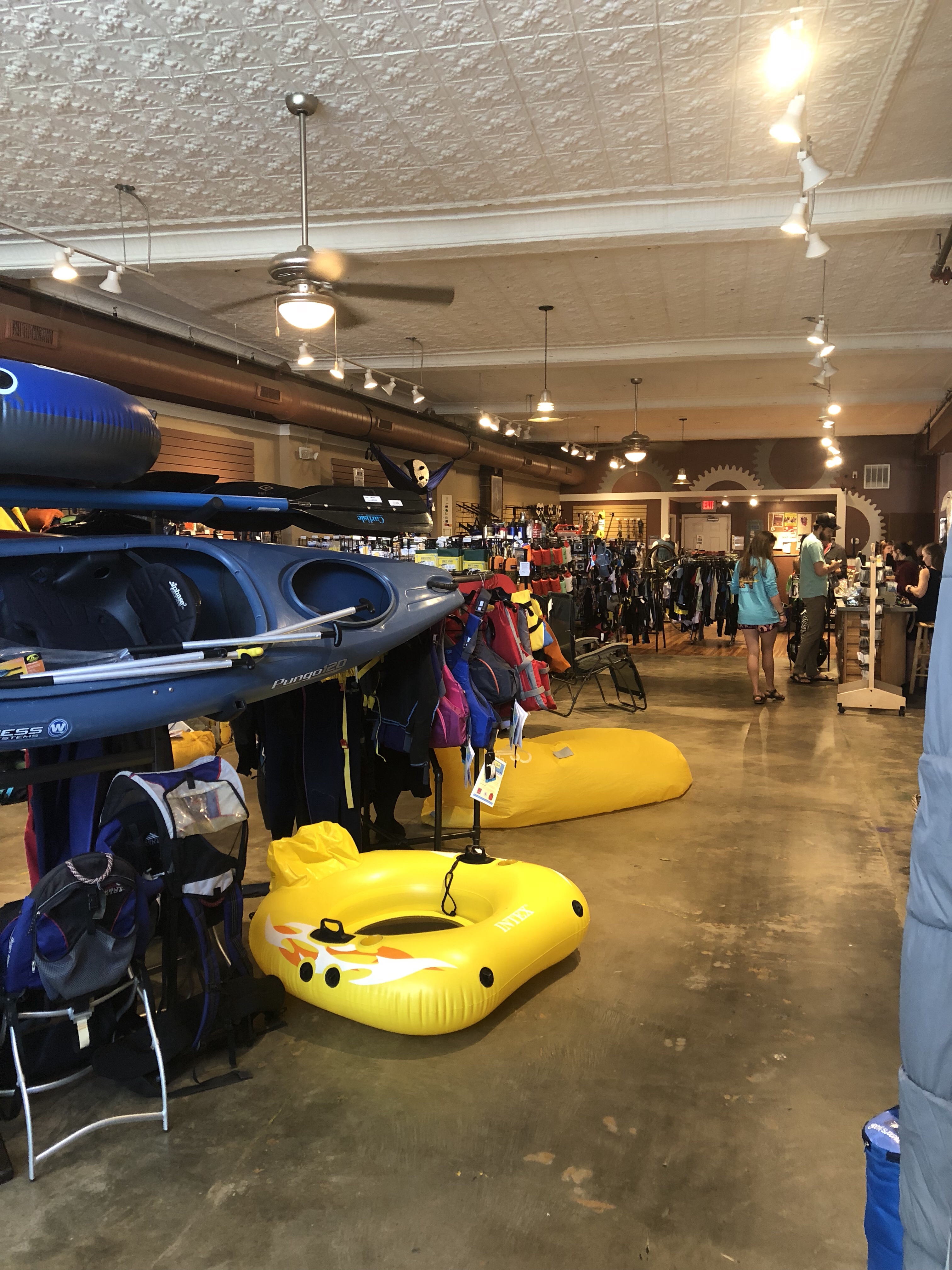 Inside is 5,000 square feet of outdoor stuff other people bought and are now trying to sell. It was like going to REI, but everything is gently used and fairly priced. Sheri bought a Mountain Hard Ware Multipitch 16 backpack that was a brand new dealer demo for $60. We wish there was one in our neck of the woods!
The Biltmore is south of downtown in an area we had never biked before so it was a great way to spend our last full day in Asheville, as we had successfully shopped, ate and movied our way through Downtown, got culture in the North, toured the East and lived in the West. We found Bonsai and outlets in the Deep South and today would be the final frontier.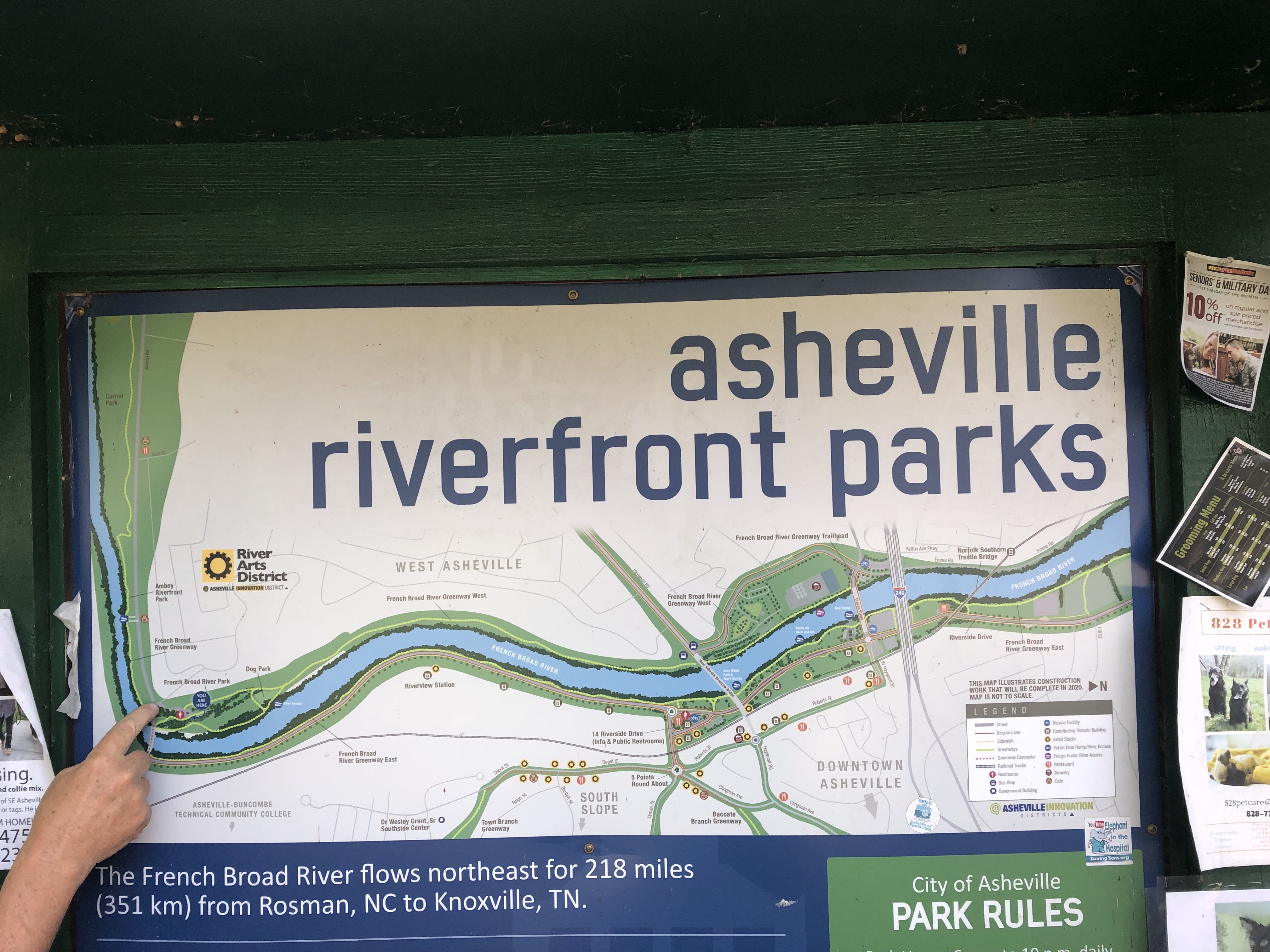 En route to the south we stopped at a map to see the greenways that we had not yet peddled and took note for the return trip. As the sign says, The French Broad River flows northeast for 218 miles and we would explore from the tip of Eric's finger to the edge of the map. But first we would go south.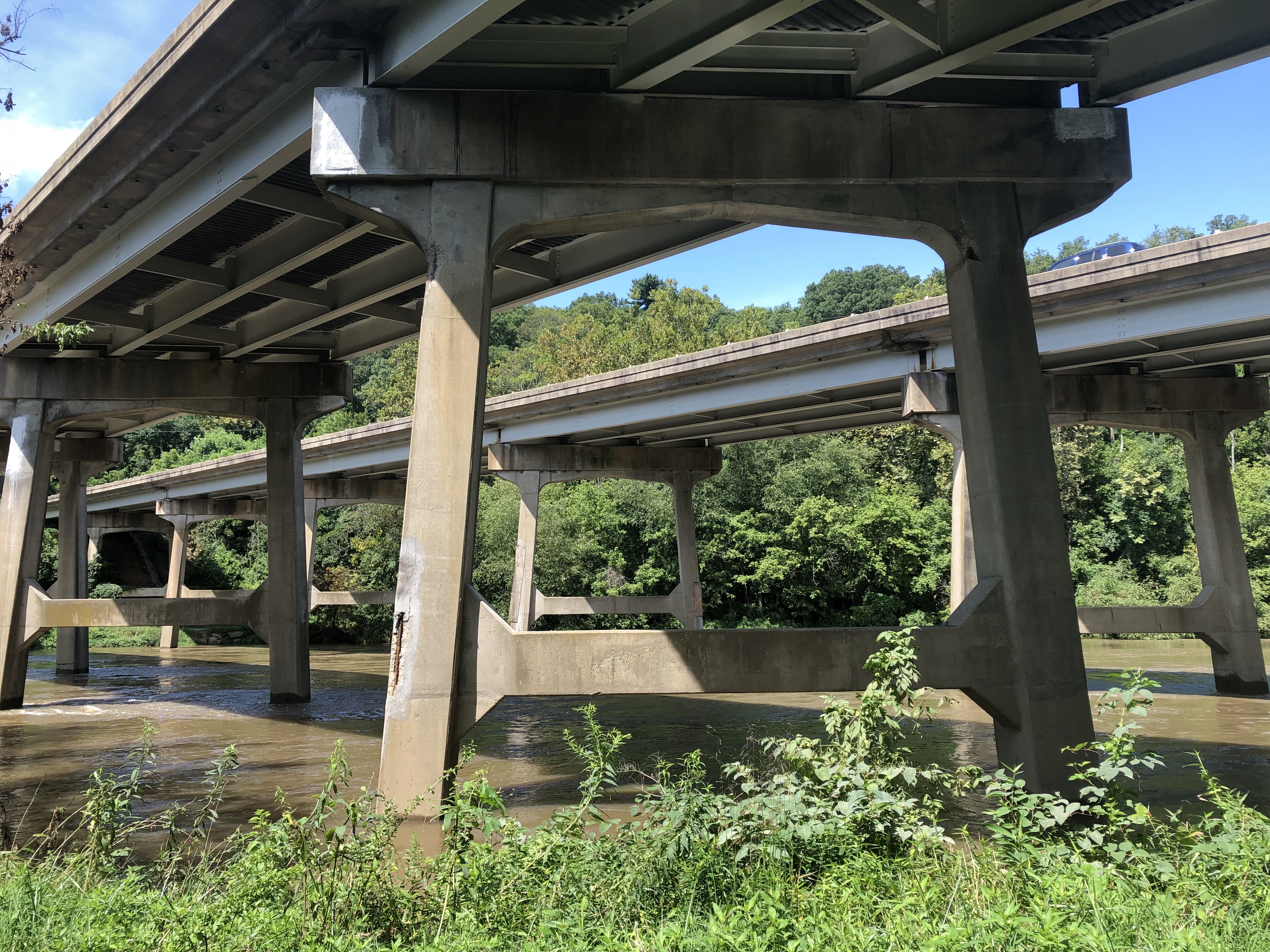 We entered the park without much fuss and were enjoying a paved ride to Antler Village when we saw a sign for Bike Xing and detoured on to a crushed rock trail in the woods following the banks of the rapidly flowing French Broad on one side and the rapidly flowing traffic on I-40 on the other side. The sounds of rushing traffic silenced the sounds of rushing water.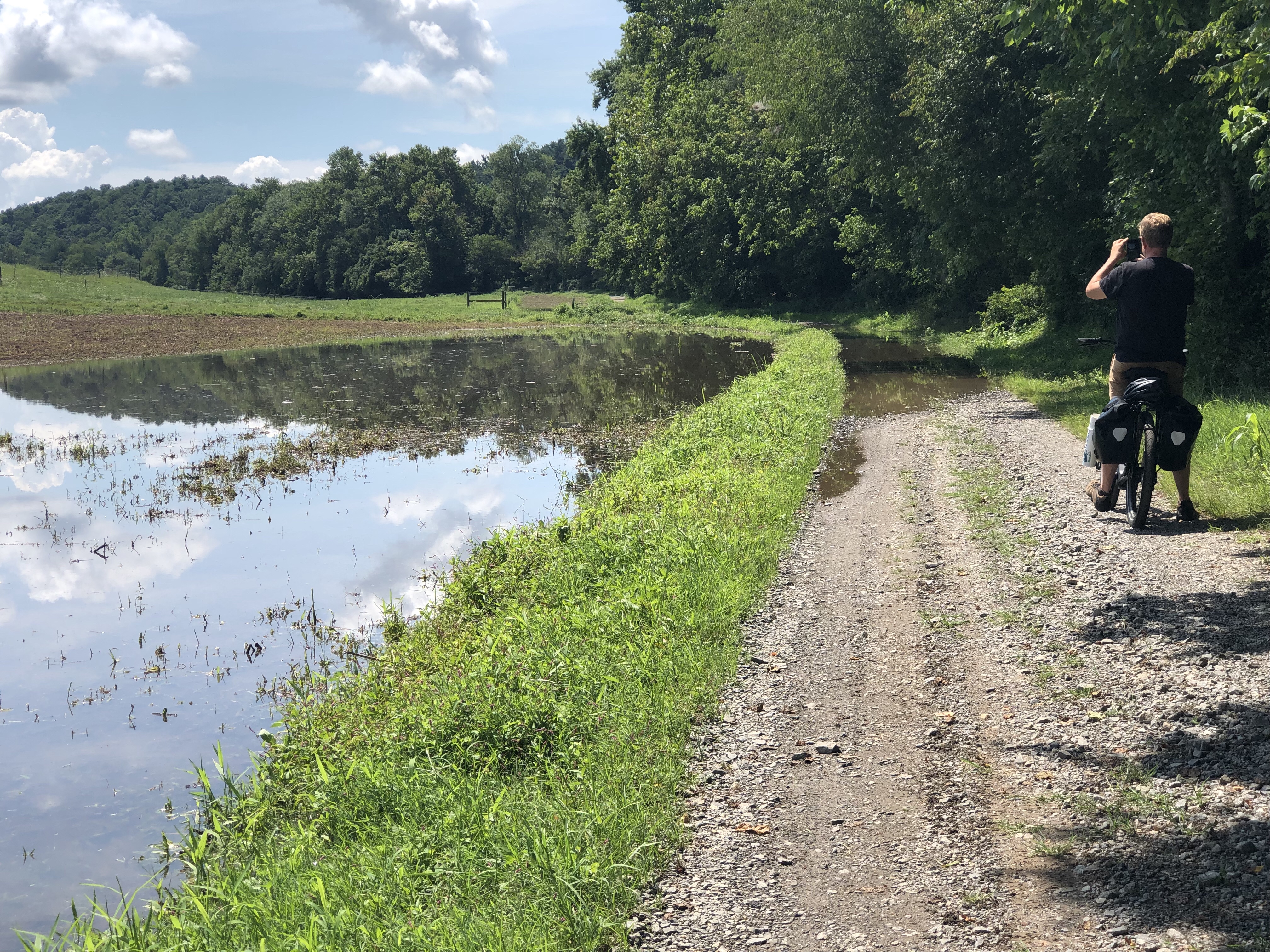 Crossing under the highway we left the Broad behind and entered farmland territory. Rows of neatly planted crops in rolling fields with mountains in the backdrop. We left the sounds of civilization behind us and rolled on through mud and clay until we came upon an impasse – casualty of a week of storms.
Unable to pass, we turned around and made our own detour through the field to connect back to the trail leading to the Farm Barns. Nobody knows where the Comos will go …
We made it to the Village where there were no Conga lines but still abuzz with activity. We watched a movie in the Farm Barn about the construction and operation of the estate. It was an awkward dissertation about the oh-so generous haves and lucky have-nots who were fortunate to have a half day off each week and sometimes a ride to town.
After a picnic lunch of tomato cucumber sandwiches, it was time to visit "America's Most Toured Winery."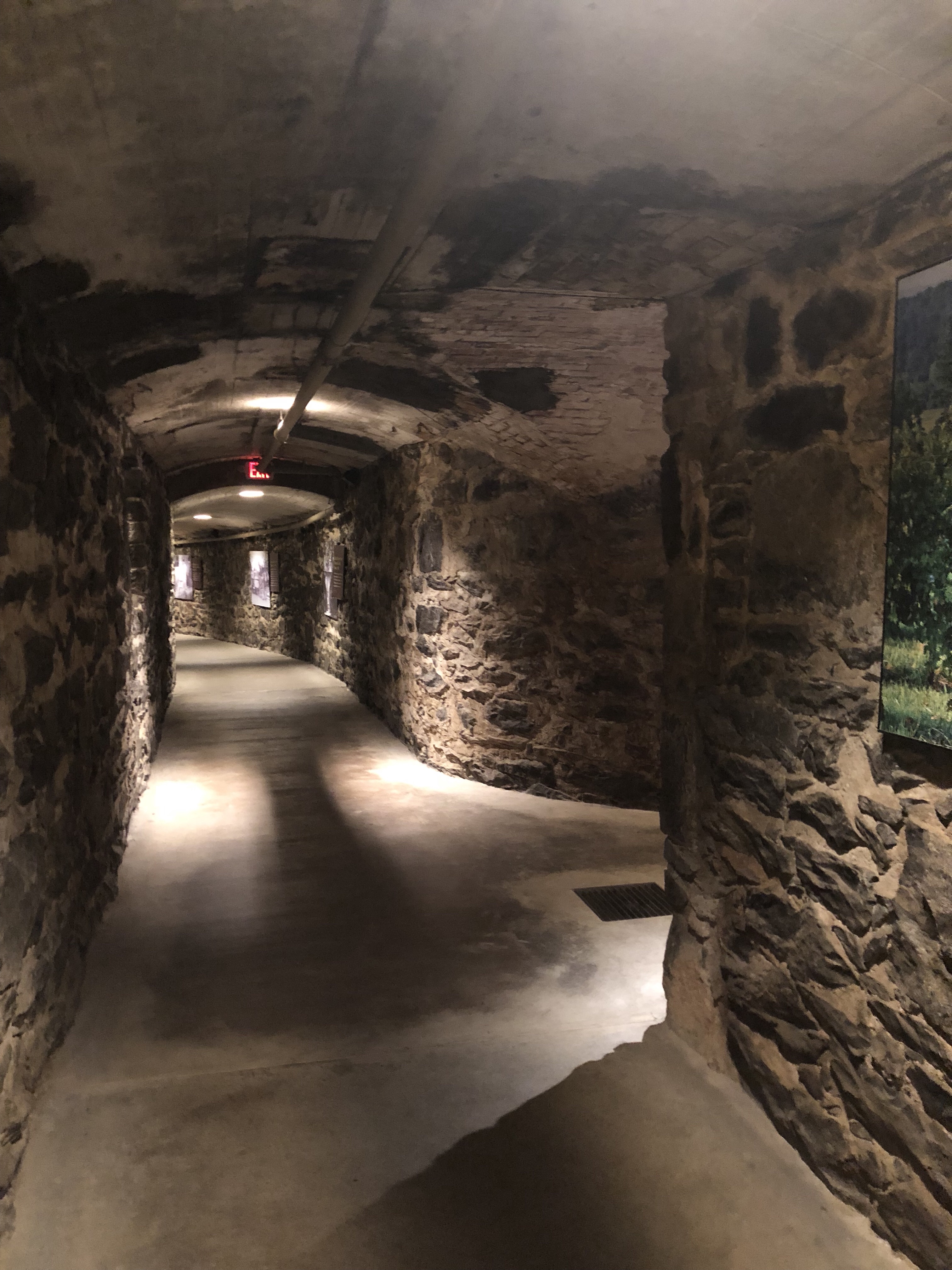 To get to the winery you pass through a long damp stone tunnel with exhibits about the Biltmore wine making process before emerging into a retail wine, food and accoutrement extravaganza. Having watched the movie "Sideways" just a few nights before, we got in the Conga line and were ushered in to try up to 7 samples in the floral origami tasting room. As a fan of origami, Sheri now wants to move from cranes to lotus flowers.
We were given a menu of about 30 wines, and of those we could taste up to 7, but never a Merlot. True to form, we chose the 7 most expensive and put our Sideways skills to work, pressing our noses deep into each glass, swirling to open the body, sipping then gulping to reveal our connoisseur status. We stopped at 5 as we were feeling drunk and silly and still had action ahead of us.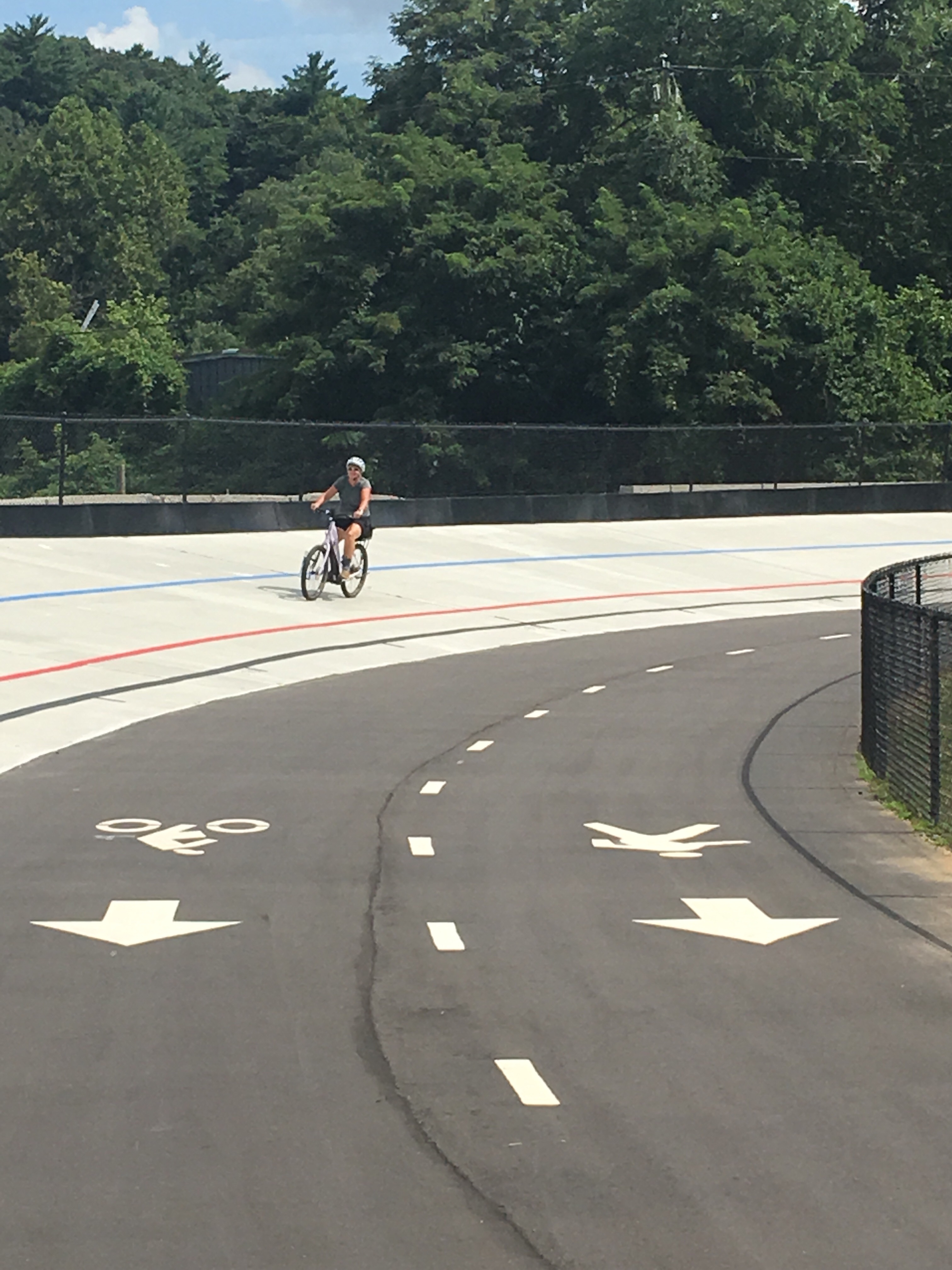 With that we said adieu to Biltmore and biked our way back to the Riverfront and over to Carrier Park.
Carrier Park is the bomb! Sure they have basketball courts and a playground, but they also have sand volleyball, roller hockey rink, lawn bowling and a velodrome, locally known as MellowDrome. How many cities have a velodrome in a city park? We hopped on and did a few laps at high speed surprising the road bikes as we kept pace.
On day 1 we were meh about Asheville. On day 6 we both agreed we could live here. The city is largely how it was described. It has too much growth. Housing prices are rising too fast. The roads are too crowded. Too many tourist, like ourselves, are disturbing the laid back country feel. But, all of that is because it is a great place to be. Restaurants are numerous, varied, and packed. The local area is rich in first-class outdoor activities gifted by the mountains and rivers. The city itself is thriving with breweries, ice creameries, art, theater and music. If the infrastructure is stressed, it is not because Asheville is not trying. If you picked Asheville to live like so many do, you would not be sorry. We concur that it should be on a Top list!