What a difference a year makes. This time last October we left a consulting gig in Pennsylvania to take Betty west to Phoenix but landed in Tucson cause sometimes things don't go according to plan.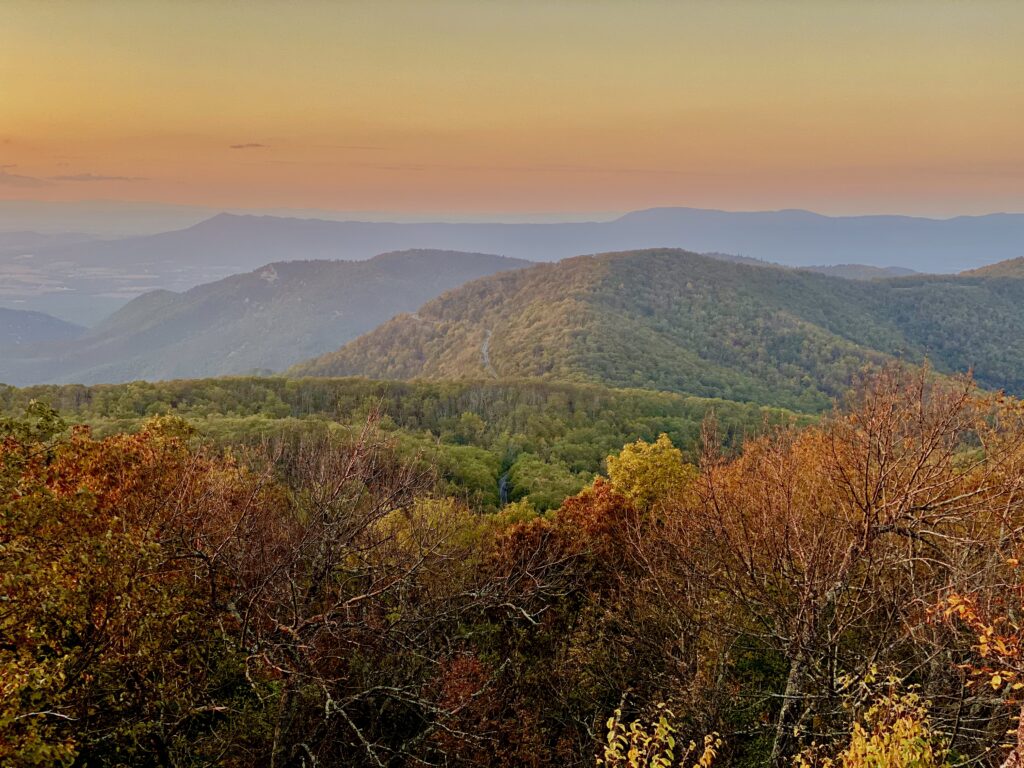 On that GET TO THE WEST adventure we booked three nights in Great Smokey Mountain National Park, unaware that the campground had no electric or water, limited generator hours and no showers, which to us meant "No Way!" Scrambling, we ate the cancellation fee and re-routed, feeling great that we had dodged a sub-40 degree bullet. Who would actually camp without electric in sub-40 degree weather? A year later, here we are, nestled in the Blue Ridge Mountains at Shenandoah National Park (SNP) without electricity, water or showers – and loving it.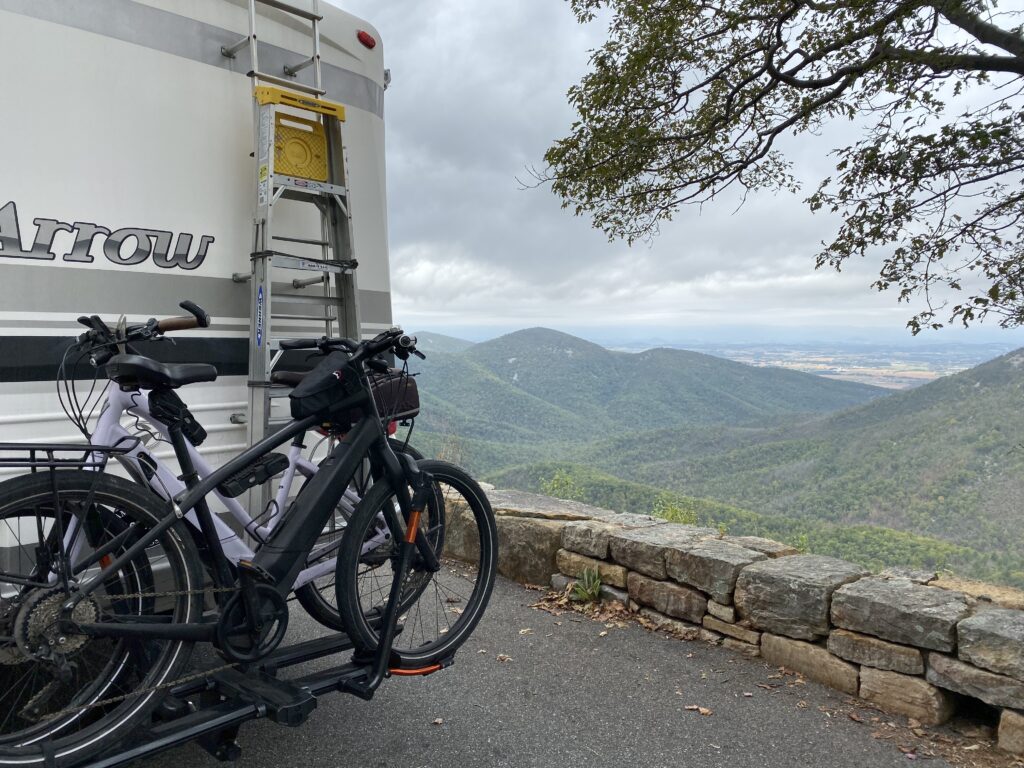 Itching to get out of DC, every Fall roadtrip list includes the iconic Skyline Drive, Shenandoah's scenic roadway that winds along the crest of Virginia's Blue Ridge for 105 miles. The park is laid out in north to south mile markers with 75 scenic overlooks and 500 miles of trails, including a stretch on the Appalachian (AT). With temps ranging from the 60s by day and 30s by night, we packed layers, blankets and firewood, transferred the contents of the fridge and rolled out on the Sunday before Indigenous People Day, the holiday formerly known as Columbus Day, with no reservations for peak leaf gaping activity.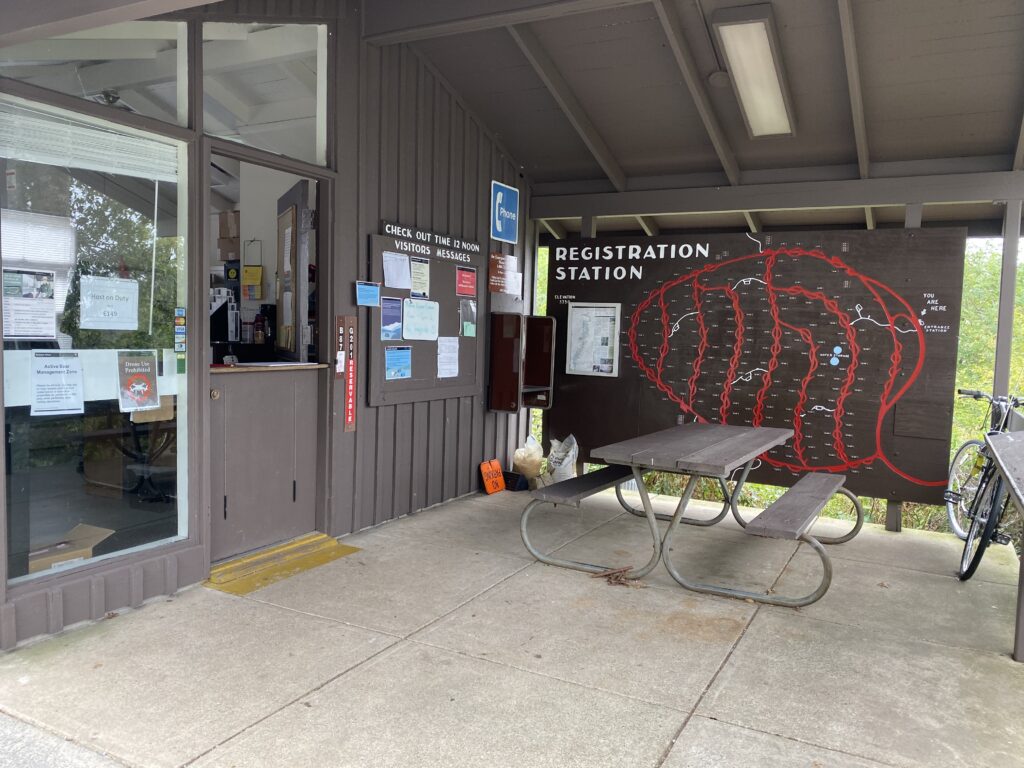 Leaving DC, Loft Mountain is the furthest of five SNP campgrounds, at the southern end's mile marker 79.5, west of Charlottesville. Most of the 200 camp sites are first come, first served (FCFS), good for us no res travelers but bad if the park is already full. Entering around noon with our America The Beautiful Pass, we were relieved to see that the campground had vacancy. Checking in, we executed the FCFS routine of circling the park, loop by loop, eyeballing the open sites to score the best one then taking off on the Comos to get the lay of the land.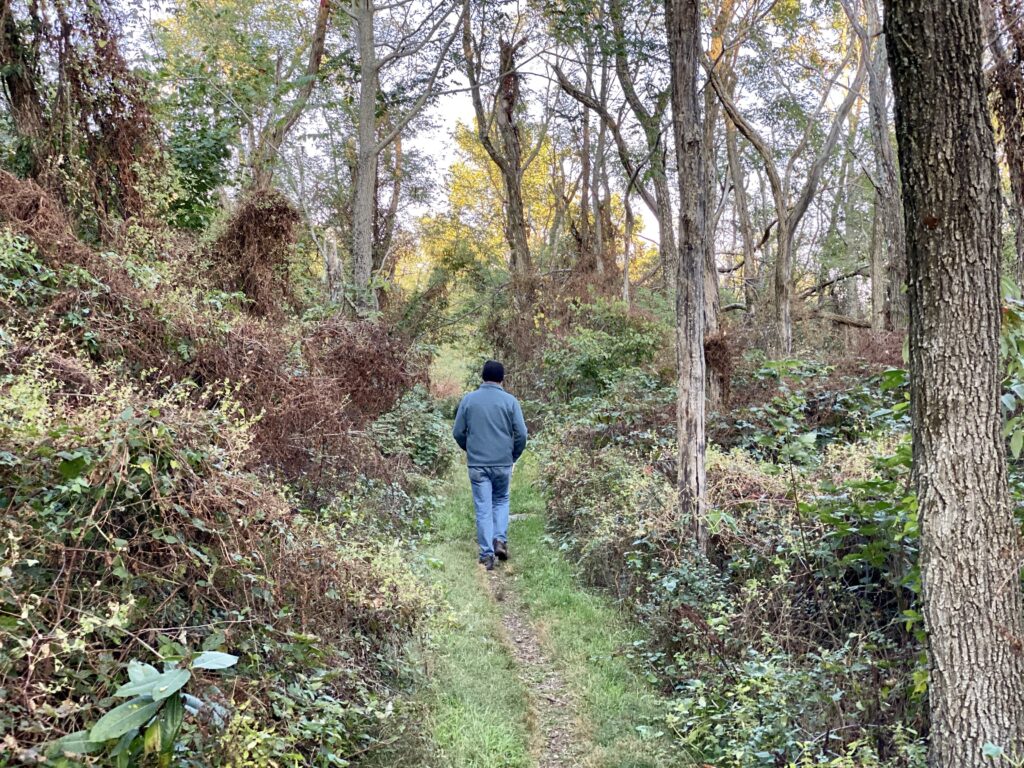 With temps dropping and no electric to keep Betty warm, one way to combat the cold is to hike. Bundled for sunset, we dropped down to the AT, hooked into the Frazier Discovery Trail and vertically ascended to a rocky lookout to watch the flaming orange ball sink into the mountains.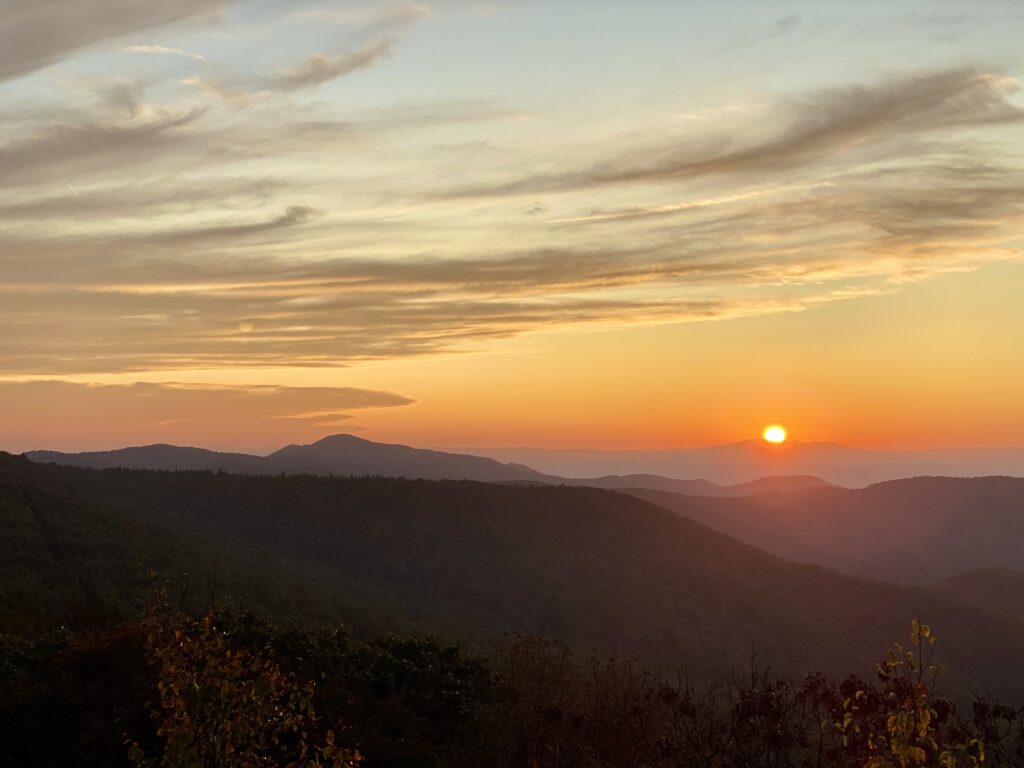 It's rare to see the sun set in city/suburban living and you probably wouldn't walk two miles uphill to see it, especially after a long day at the office. Part of the Pursuit of YES is to find those times when you can disconnect and go do different, realizing you don't have to plan every moment and just let it unfold. The park was nearly full, but nearly full is partly empty, and partly empty is is just enough room for us to slip in and enjoy the stress-relieving benefits of full moons, campfires and outdoor recreation.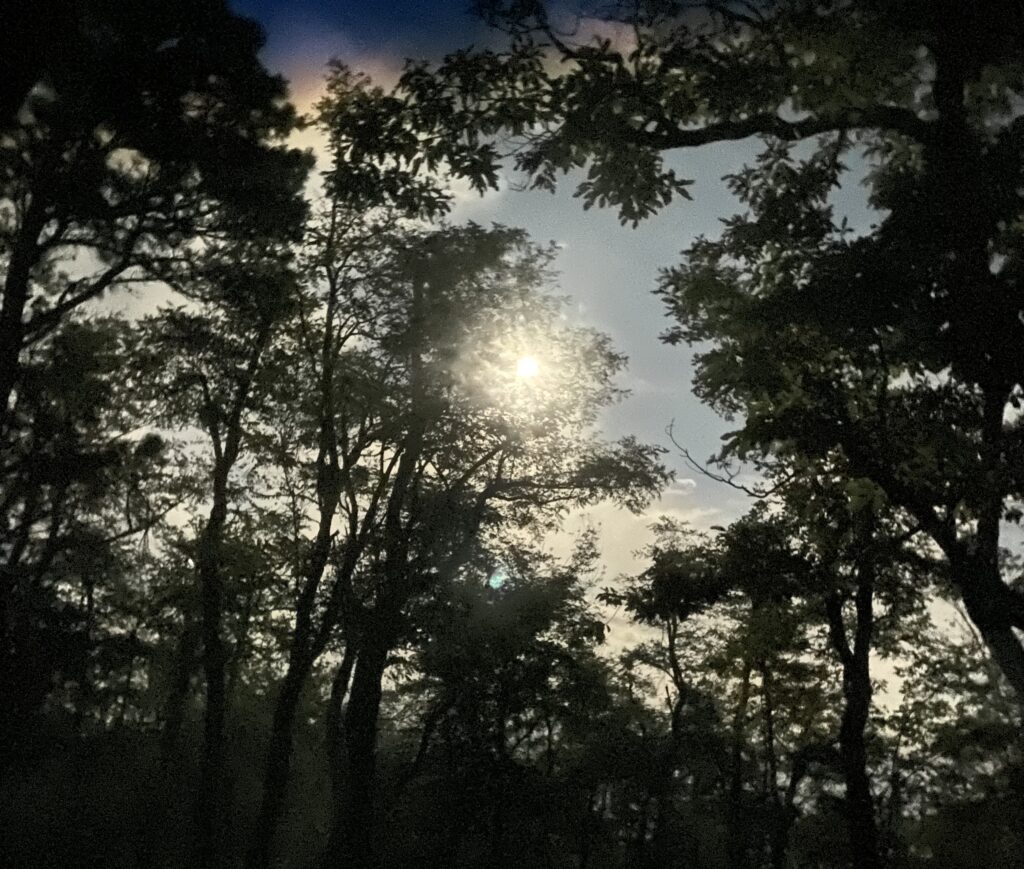 Lately we're big into wood fire grilling. So much so, we made a video of how Eric serves up steaks and chicken on the campground fire pit. This is our first how-to video ever, so don't be too hard on us!
In a post-lunch haze, we layered up for the Doyles River Falls 6 mile round trip hike into the gorge to see some waterfalls. Then we shed all those layers and sweated the 1600 vertical feet back up. All the trails look basically the same … dirt paths with roots, rocks and leaves surrounded by very tall trees. The ranger suggested we skip this hike cause the waterfalls were not much more than a trickle, but you never know what you might see so you go anyway.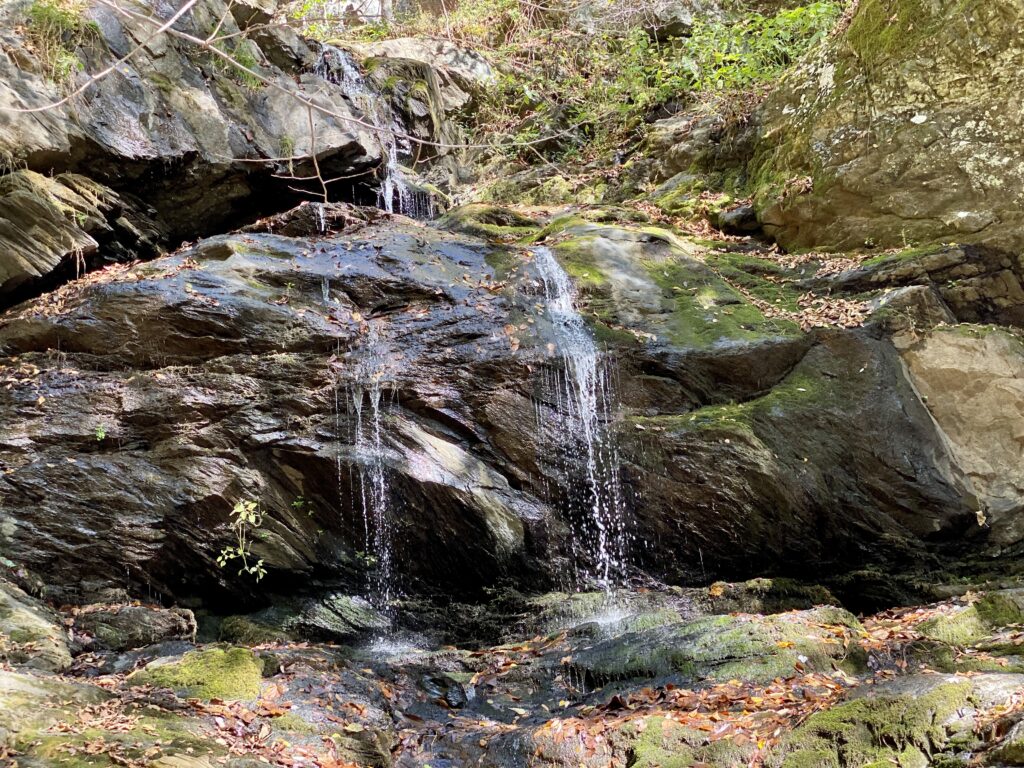 Cold-whipped and whiny, we talked ourselves out of the Frazier sunset that evening. Three months of city living had left us unprepared for the strain of the day's hard climb. From our camp in the woods, it looked like the sky was on fire. We had let a little discomfort deprive us of an in-the-moment experience. It happens. We commiserated with s'mores.