There are dozens of hikes along Skyline Drive, but without a car they were out of our reach. Surprisingly, bicycles are allowed on these shoulder-less, hilly, curvy roads and while our Comos can help us tackle the upride, our instincts told us to avoid wandering driver eyes. With the rain in the rear view mirror, we stuck to the Big Meadows Trail Map and planned an all day hike starting on the AT to Fishers Gap Overlook, connecting to the Rose River Loop, extending to Dark Hollow Falls and returning to the campground on the Story of the Forest.
The Rose River Loop was a nearly deserted hike peppered with waterfalls and cascades. The rain and cold snap washed green leaves to gold and red, blanketing the trails' rocks and roots to make for an unsteady boot scoot in the thousand feet of elevation change. We boulder scrambled down to the crystal pools and billy goatee our way out back up to the trail, surprised by our still nimble 1960s model bodies. It's these times where we high five on retirement and pursuing yes.
The Rose River Trail spills into Dark Hollow Trailhead at the base of the base of the 70' Falls. In other words, you have to hike a vertical 400 feet to get to the base, then another 600 to get to Skyline Drive. Since it's a shorty with a payoff, it was super crowded with the most park patrons we'd seen in the woods all week.
After a heavy breathing heart pumping ascent, we sat on the rock wall surrounding the trailhead parking lot and ate the second half of our lunch. 5 miles in and one to go on the Story of the Forest Trail.
All in, it was 3.5 hours and 6 miles of hiking with more than 3,000 feet of elevation change and we could feel it in our weary bodies. But wait, there's more. Eric still had enough energy to make burgers on the wood-fired grill. Wish you could hear the sounds of the sizzle.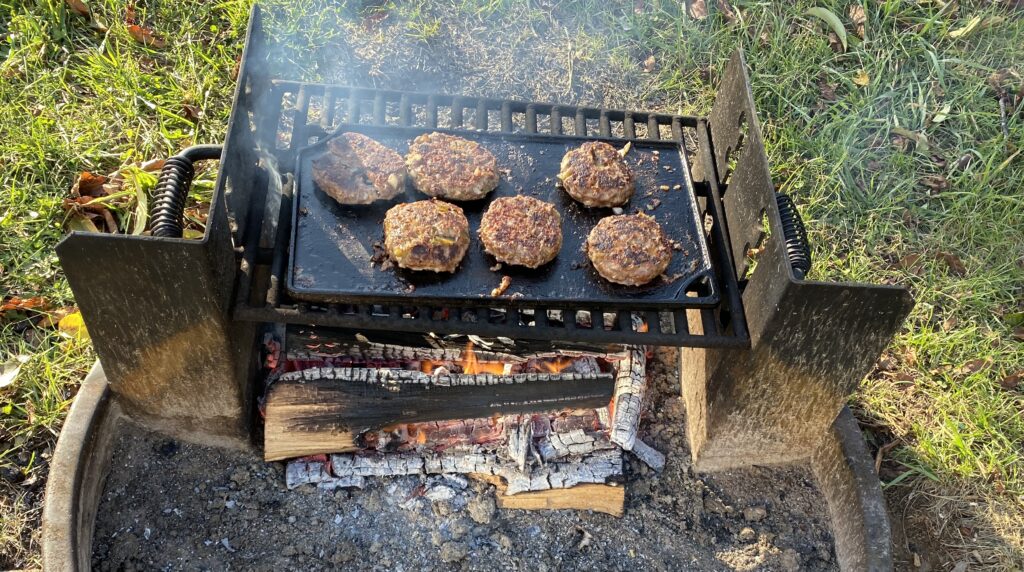 As if we hadn't had enough activity for the day, we hiked back to our private suite in hopes for an encore presentation of sunset near Blackrock. Not this time, but hot chocolate with marshmallows back at the coach is a near-perfect substitute.