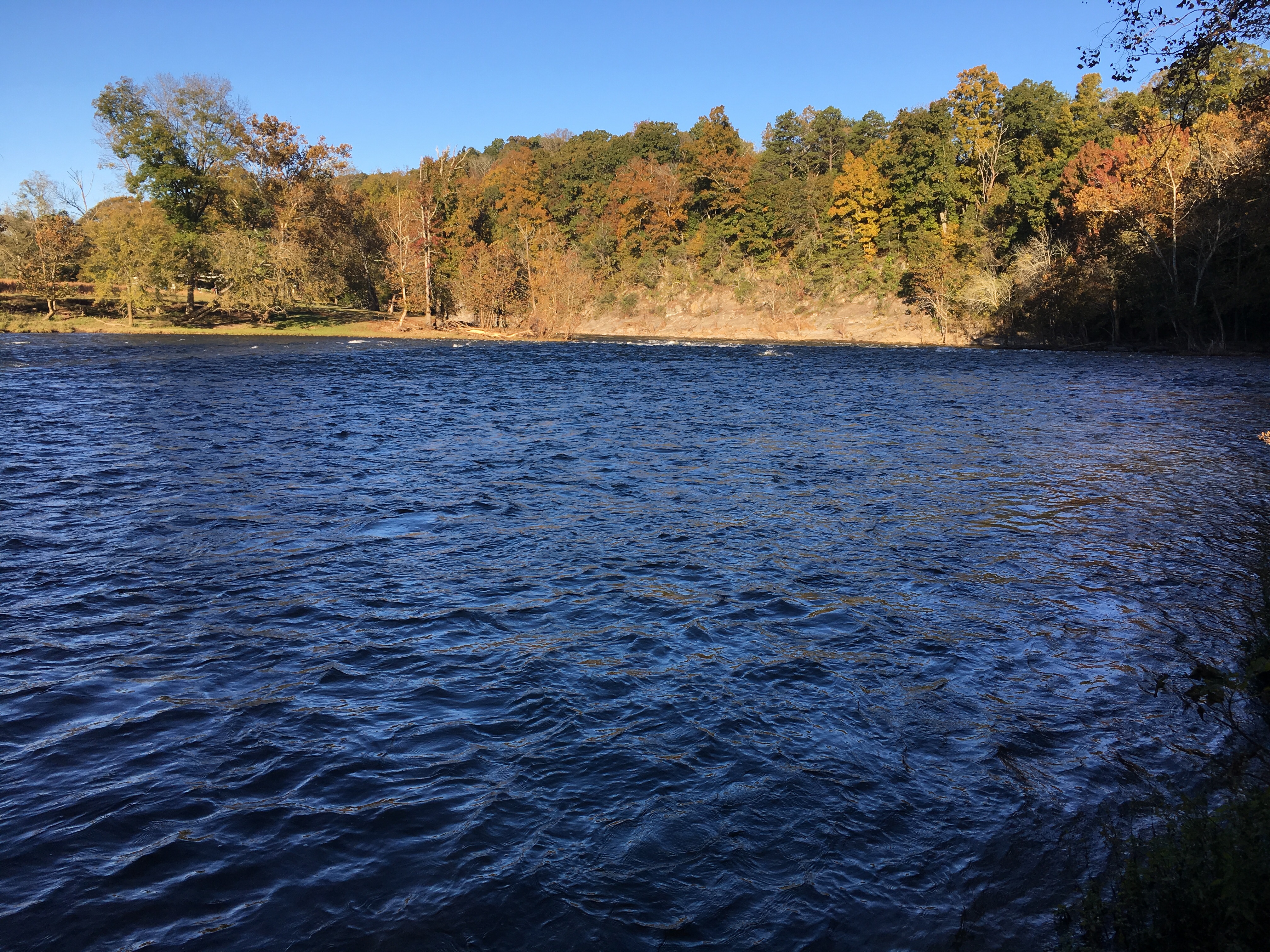 Coffee by the river on a crisp morning before the 240 mile drive to Cedars of Lebanon State Park, a 1,139 acre red cedar tree park. We proudly brew Starbucks Morning Joe.
Lately our breakfast of choice has been green smoothie with almond butter on Dave's Good Seed bread or one of our homemade teff breads. This one is made with plain kefir, almond milk, banana, flax meal, juicing greens and frozen pineapple. It packs a protein punch that keeps us full for the first 150 miles.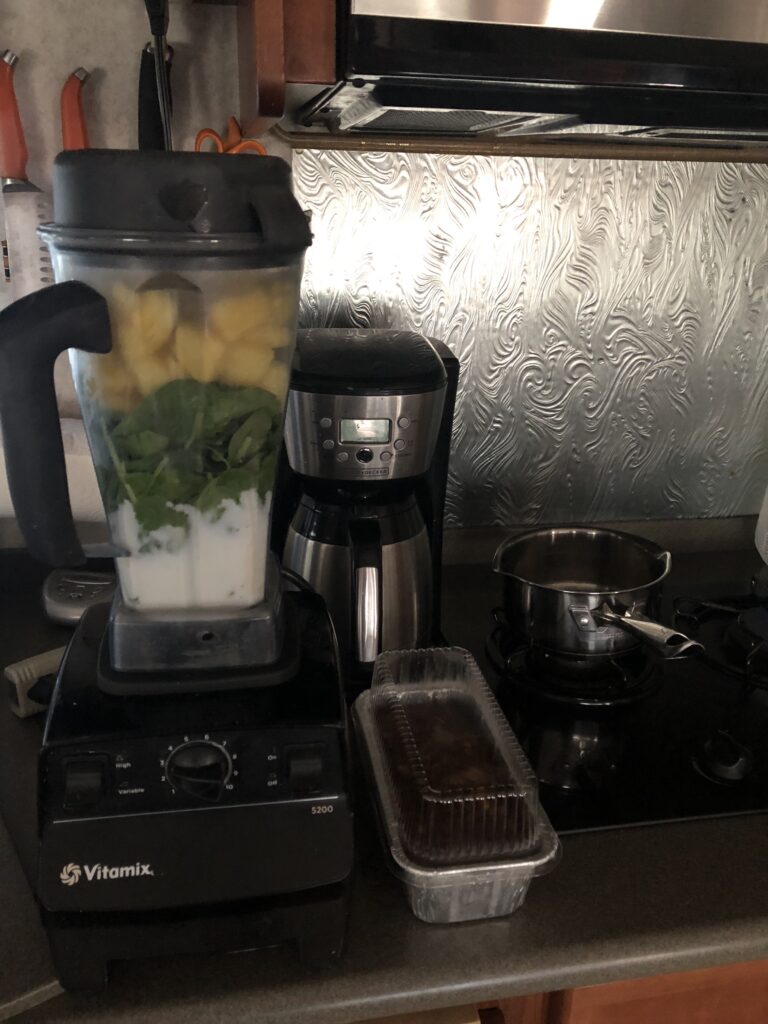 Today was a highway day – no backroads boogie, basically 81 and 40 all the way. About 30 miles out of Knoxville, Sheri had the bright idea to stop in downtown for 90 minute bike tour of the most touristy area – World Fair Park and Gay Street. Eric was a champ, found the right exit and plowed 34 foot Betty into a world of pedestrians, one way, no parking, you have no right to bring that rig onto our streets, WTF are you doing here? While Eric went into fighter pilot mode, Sheri pointed out all the cool attractions – if he would hurry up and park they could get on the bikes and go.
The morning was 60 degrees and sunny, and the center of the city on the banks of the Tennessee River looked like a terrific biking destination. Unfortunately, the World Fair Park had small parking lots packed with commuter cars. Eric recalled open street parking on the entrance to the park. Bravely crossing three crowded lanes of city traffic, he guided Betty through two clover leafs on and off the elevated highway running through Knoxville. With one turn to go, cell phone with Google maps in one hand and the other white knuckled on the wheel and success in sight, he jinked right instead of jogging left, and missed the narrow exit. Perhaps it was the universe telling us to head west. Perhaps it was a valuable lesson on the limits of maneuvering big trucks on small streets. In any case, we'll have to return to Knoxville on another trip – it is reported to be one of the top retirement destinations with no income tax, no pension tax, mild seasons, low utility costs and an average home price of $171,000. We did note that state and local sales tax combine to 9.25%. Spenders pay!
Crossing the Appalachians we dropped into the Tennessee Valley, entered Central time zone and got gas for $2.31/gallon. With the Appalachian mountains behind us we felt like we had left the east coast behind. We were finally in the fly-over territory. The leaves are changing and the traffic was light so besides the Knoxville fiasco, it was an easy ride.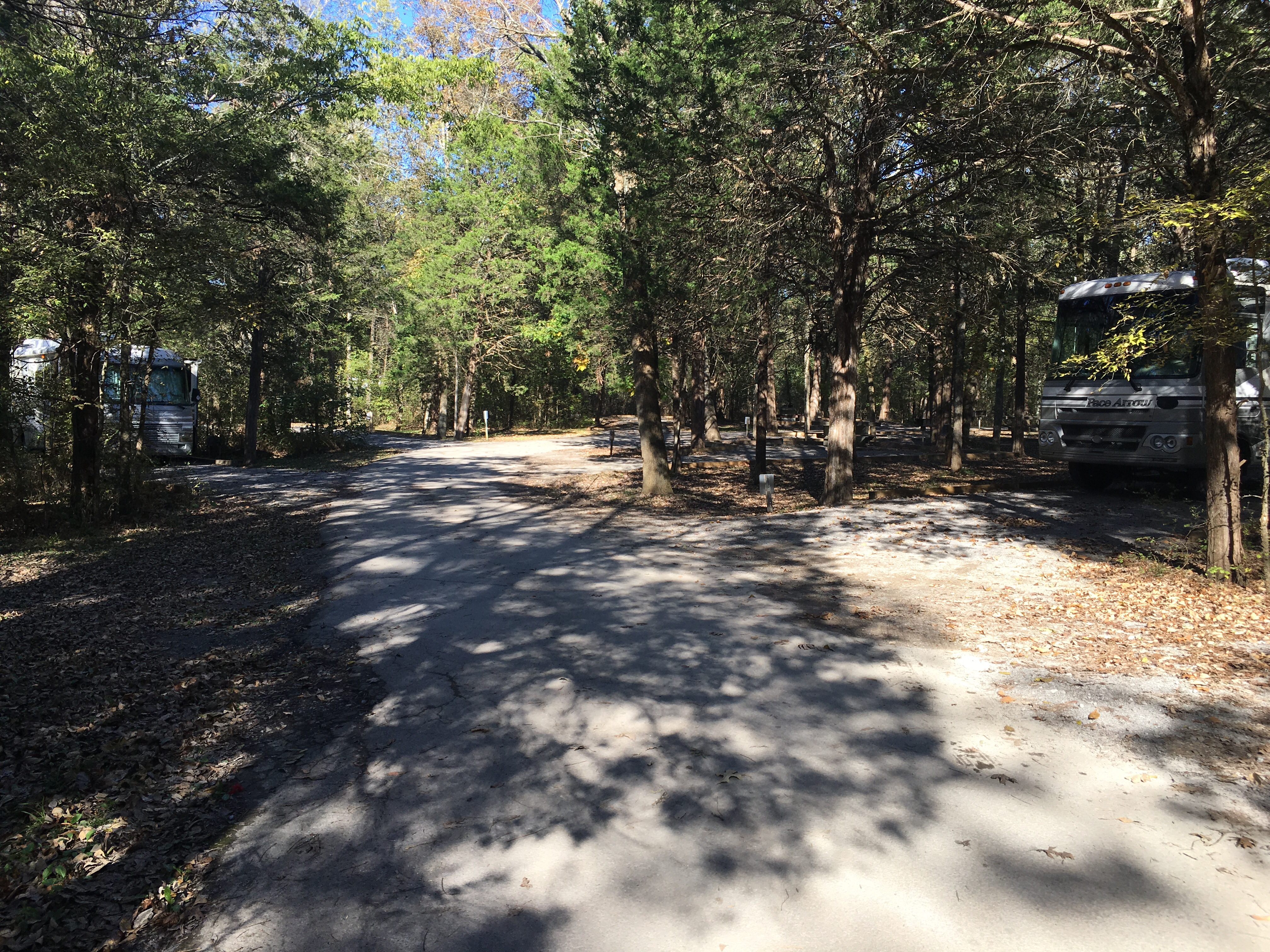 Cedars has 117 RV sites with about 30% occupancy. We're staying on a loop with only one other camper – a 2003 Pace Arrow. While both are vintage, our 2002 has the more fashionable 1995 BMW 530i headlights! The vibe is rural relaxed. We biked the back roads as the sun dropped toward the horizon and the falling temperature drove us back to the campground.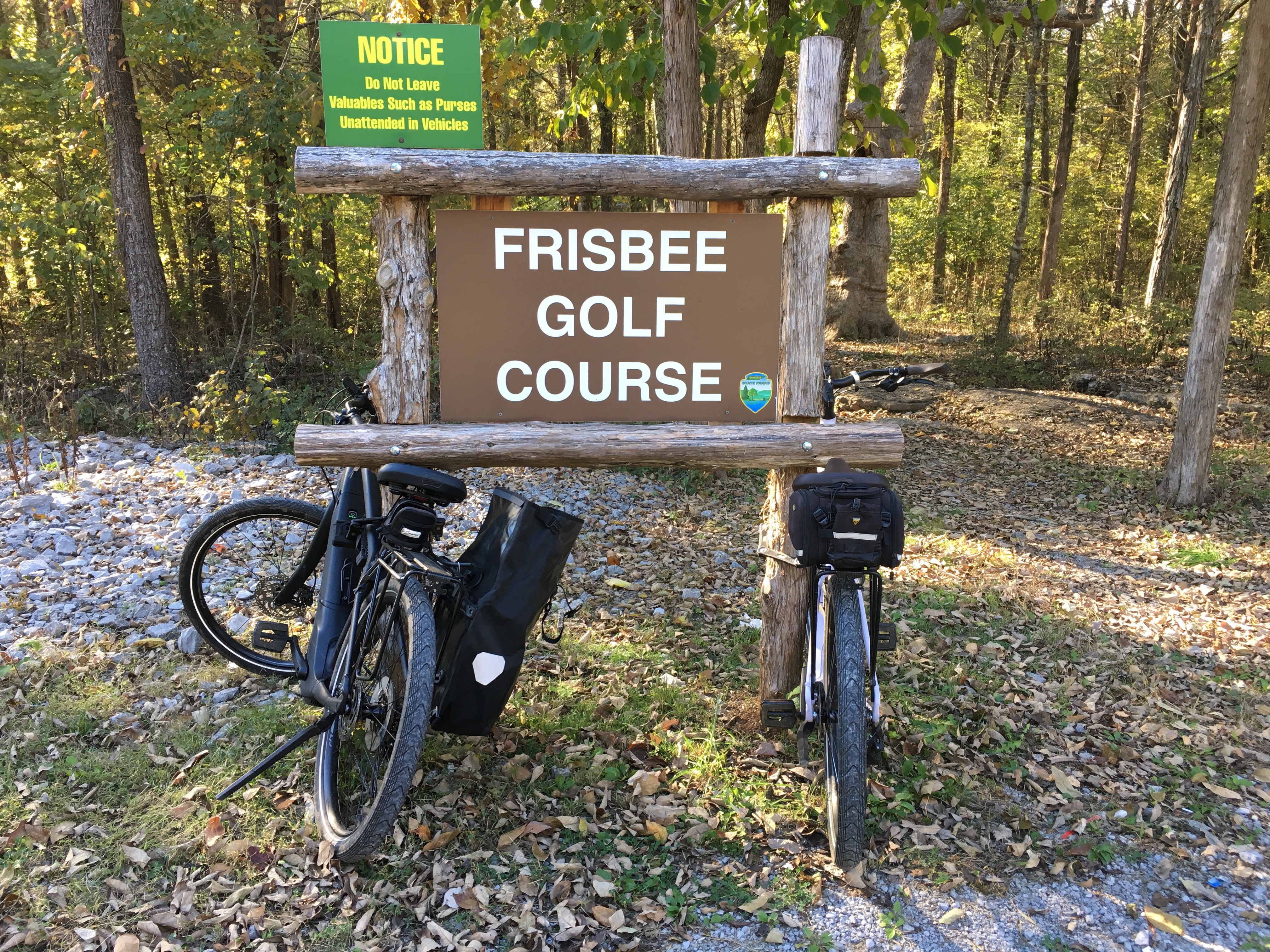 What we were most looking forward to at this park was the Steady Ed Headrick designed 18 hole short disc golf course, landscaped through cedar woods with limestone karst topography. How dare they call it frisbee!
The throws were short but technical and thankfully we had a map to navigate our way through the mile long course. We brought our ShopRite bag of discs and when we weren't crinkling leaves under our feet, we were watching Bambi and her brood graze while little turtles crossed a tee box and listening to the rustling breeze through the forested cedar trees. It was a peaceful way to spend the afternoon in Lebanon, TN.