On Highway 90, about 5 miles west of the quirky arts community, is a the Little Reata Ranch, featuring a plywood cutout mural installation "Giant Marfa," from artist John Cesney of Salinas, CA.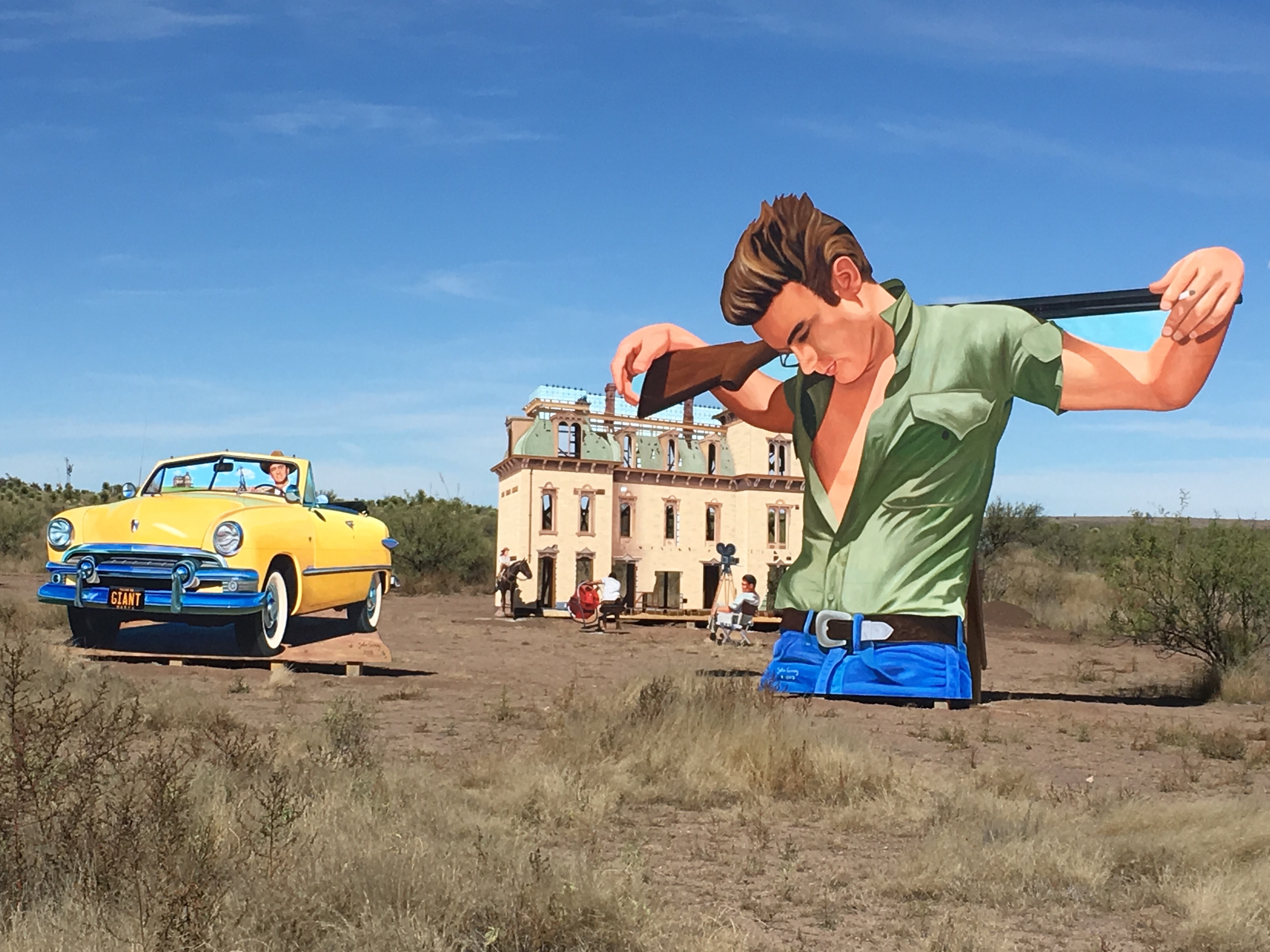 The tiny windmill on the left side of the picture below is the one James Dean climbed in the movie preserved with an historical marker. The rest of the picture is most of West Texas.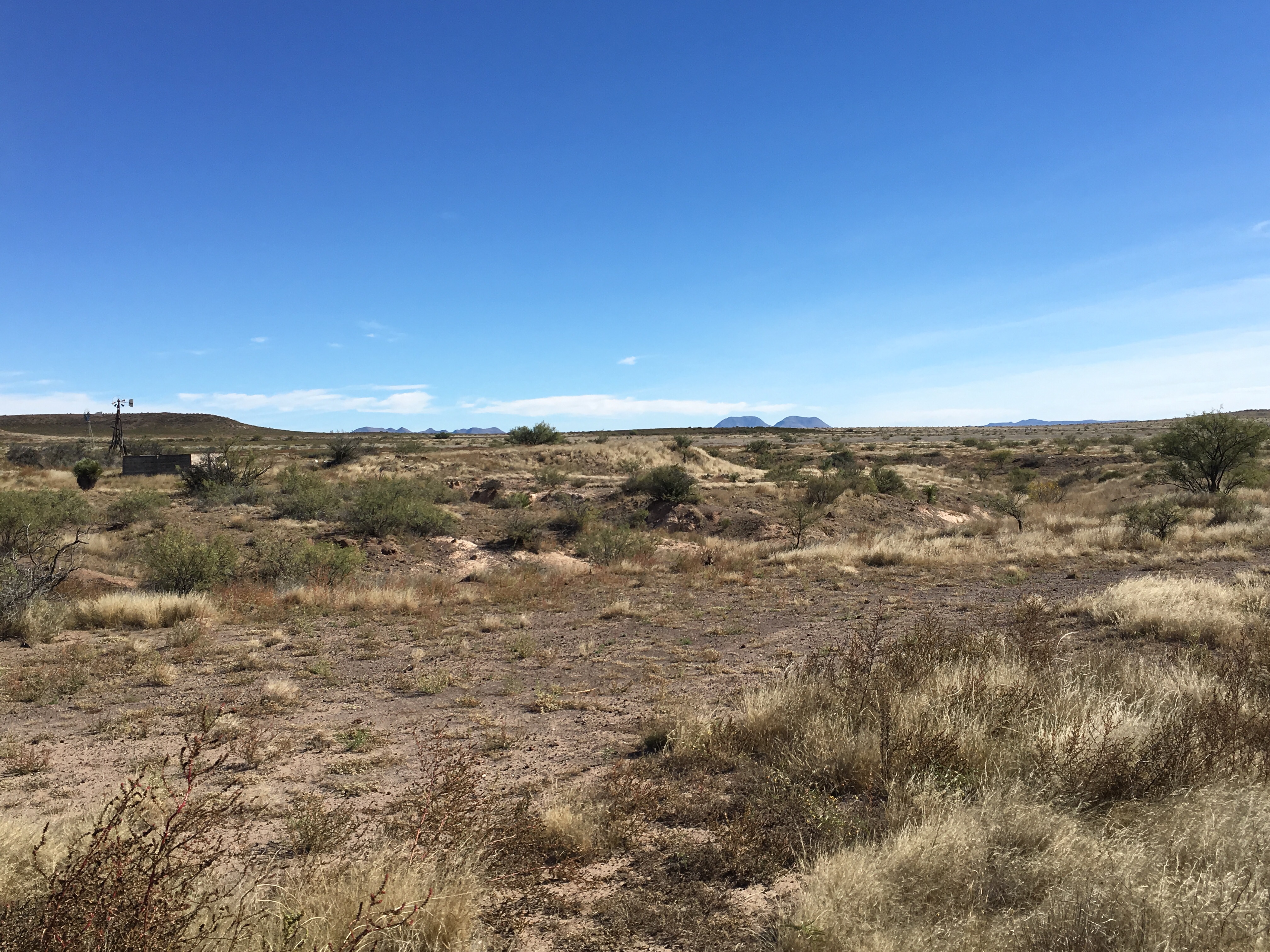 100 miles later we finished our discussion on the meaning of authenticity, the hopeful melancholy of the barren landscape and what we could fix to eat with the remaining food in the fridge and pantry. This led us to Porter's Grocery, the only food store in Van Horn, a town at the crossroads of the Texas Mountain Trail.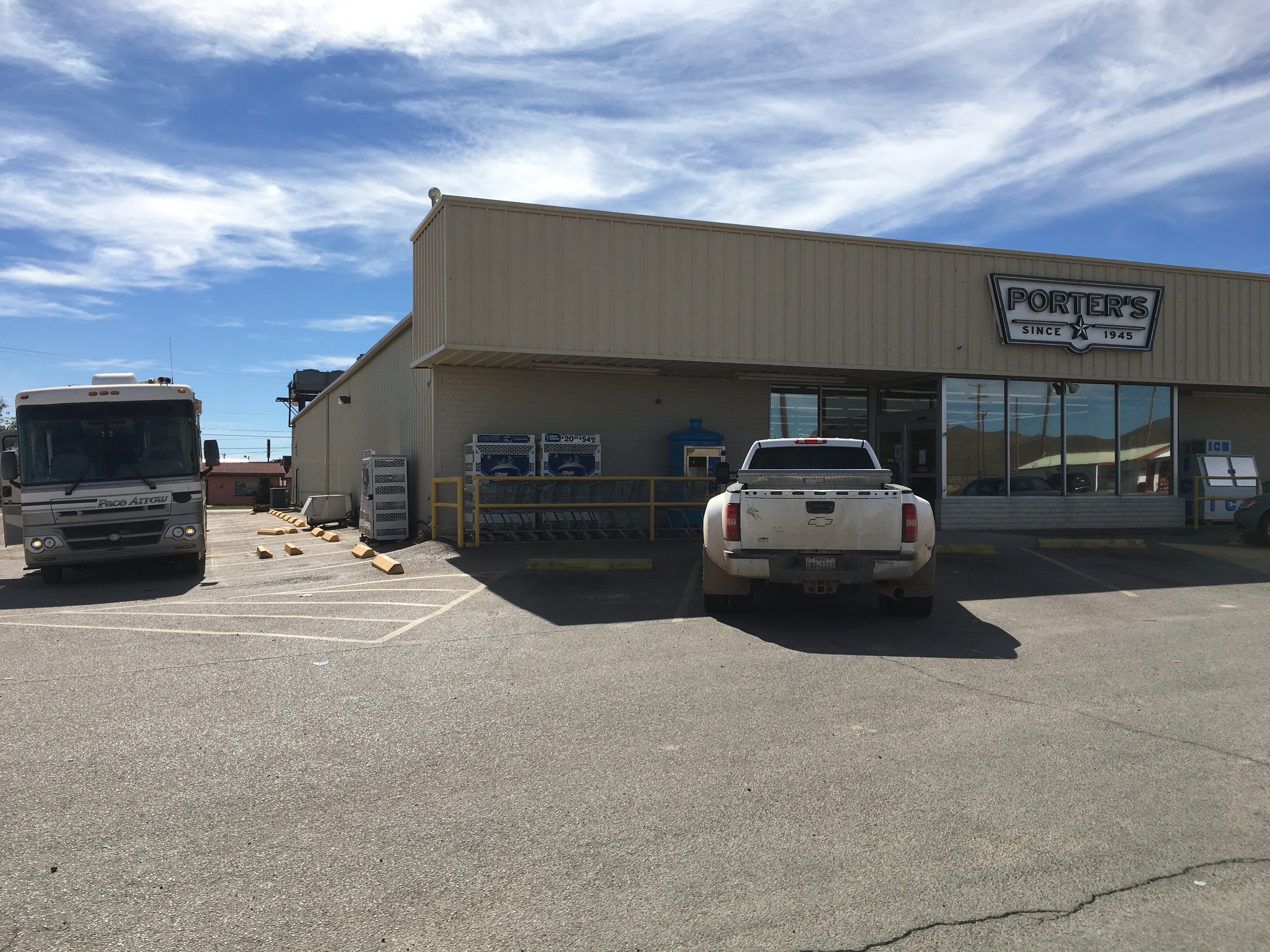 Our list consisted of 2 proteins, cheese, 1/2 dozen eggs, seltzer, shaving cream. We found that you can't buy seltzer west of the Mississippi. They do club soda, and you find that in the mixers section. For chicken, Porters only sells skin-on drumsticks and thighs or the whole bird. No breast and they don't do fish or seafood. Ground beef only comes in 80/20 and none of it is grass-fed. Cheese comes in yellow or white or a combo of yellow and white. We adapted with beef stew meat for slow cooker chili, a package of hot Italian sausage for spaghetti and the combo cheese. The cashier was curious that we brought our own bags and the manager kept thanking us for coming. We were thankful to pay 69 cents for a green pepper.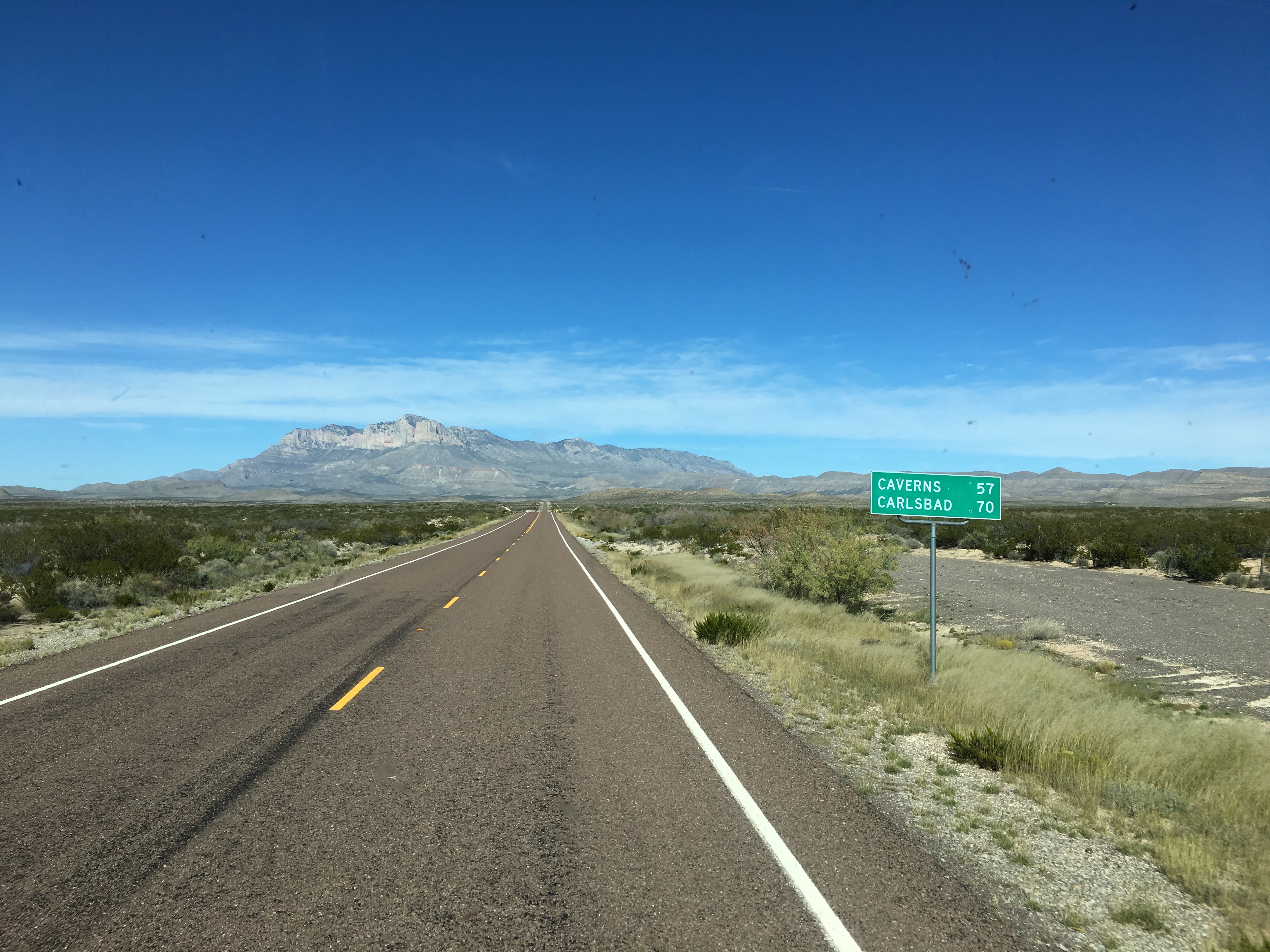 Pulling out of Van Horn, we took 64 East toward our next destination – Carlsbad Caverns. When we passed the 2000 mile mark for the trip, Eric took this stretch to give me a Betty report card. It was so fascinating, no one should be deprived of his assessment:
Prior to this trip, our 2002 Fleetwood Pace Arrow had never been west of the Mississippi river. One of our concerns was how Betty would do in the mountains, especially the mountains out west. A Ford Triton V10 6.8 liter gasoline engine powers Betty. The motor produces 310 HP at 4,250 RPM and 425 ft-lbs of torque at 3,250 RPM. In subsequent years, Ford would add a 3-valve variant, which boosted the numbers to 362 HP/457 ft-lbs. Those are respectable numbers for a truck, but keep in mind that Betty has a gross weight of 22,000 lbs. In comparison, our F150 pick-up is powered with an 8-cylinder version of the same engine producing about 80% of the V10's power but only moving a 7,500 lbs. vehicle.
On flat land, the V10 moves Betty well. She may not win a drag race, but getting onto the freeway is not an issue. Freeway cruising is best at around 60 mph where the transmission turns approximately 2,500 RPM in overdrive. Any incline, however, will cause the transmission to shift out of overdrive, and downshift to 3,500 RPM. It is an abrupt and noisy downshift, and is audibly annoying. Newer gassers are probably smoother since the venerable V10 is matched to computer controlled 6-speed transmissions.
We were curious, and a little apprehensive to see how Betty would perform in the mountains. One of the reasons we did not purchase the cute Kia Soul as a TOAD was because we were not sure if the added 2,500 lbs. would be too much for the coach to tow up steep grades. Previously, we had climbed an extended 6% grade in West Virginia. Today we climbed out of the high dessert to cross the pass in the Guadalupe Mountains in route to Carlsbad Caverns. Overall, we have been pleasantly pleased with Betty's capabilities. We were worried about nothing, but still do not miss having a car so I guess it worked out all right anyway.
Climb performance in the coach is surprisingly good. We easily keep up with the trucks and could probably pass them on the climb, but move into the far right truck lane anyway. Typically, we catch up to a slower truck in front of us and back off the accelerator a bit to match speed. We have been as slow as 25 mph on the climb, but typically hold 35 mph on the 6% grades. The V10 downshifts and holding three to three and a half thousand RPM results in maximum torque to the wheels. On one stretch, we found ourselves behind a Newmar diesel-pusher towing a Jeep Wrangler. I don't know if the driver knew we were two lengths back, but we pretty much matched the climb performance through the stretch leading up to the mountain pass. After the pass, the fancy Newmar accelerated to 70 mph, which doesn't feel comfortable to me, and disappeared over the horizon. The Newmar was powered by a powerful 6.8 liter, Cummins diesel laying down 800 ft-lbs of torque. But, the whole rig and tow easily tops 33,000 lbs. gross weight.
Throughout the 2,000+ mile trip, Betty has been averaging about 7 mpg. When you combine that with a 75-gallon, you get a maximum range of about 500 miles. Of course, it is going to run around $200 to fill her up at the end of that which is a fairly big shock after driving a Nissan Altima. Doing the math, a trip from one coast to the other runs nearly a grand in gas which is not cheap, but so worth it. Maybe an expensive diesel-pusher is in our future dream motorhome. Then again, maybe that is just a maintenance and budget headache that we just don't need because Betty is pretty great just the way she is.