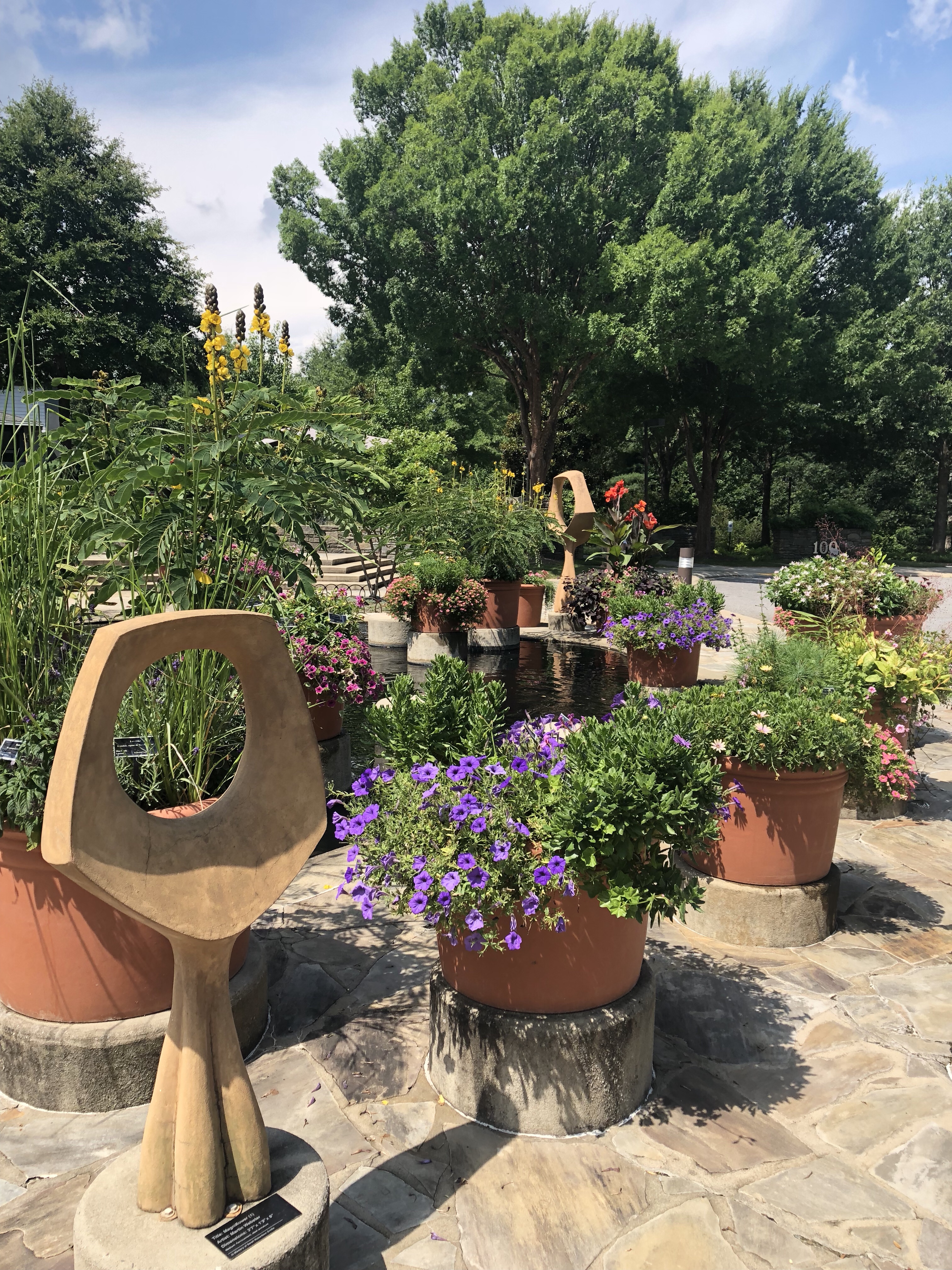 Asheville, The Official 2018 Visitor Guide magazine says to "MIX IT UP" and go from the Streets to the Peaks like a Local. Every offering is marketed as a not-to-be-missed opportunity and we are totally buying what they're selling. There is no shortage of cool things to experience. Yesterday we headed away from the city limits to visit the North Carolina Arboretum.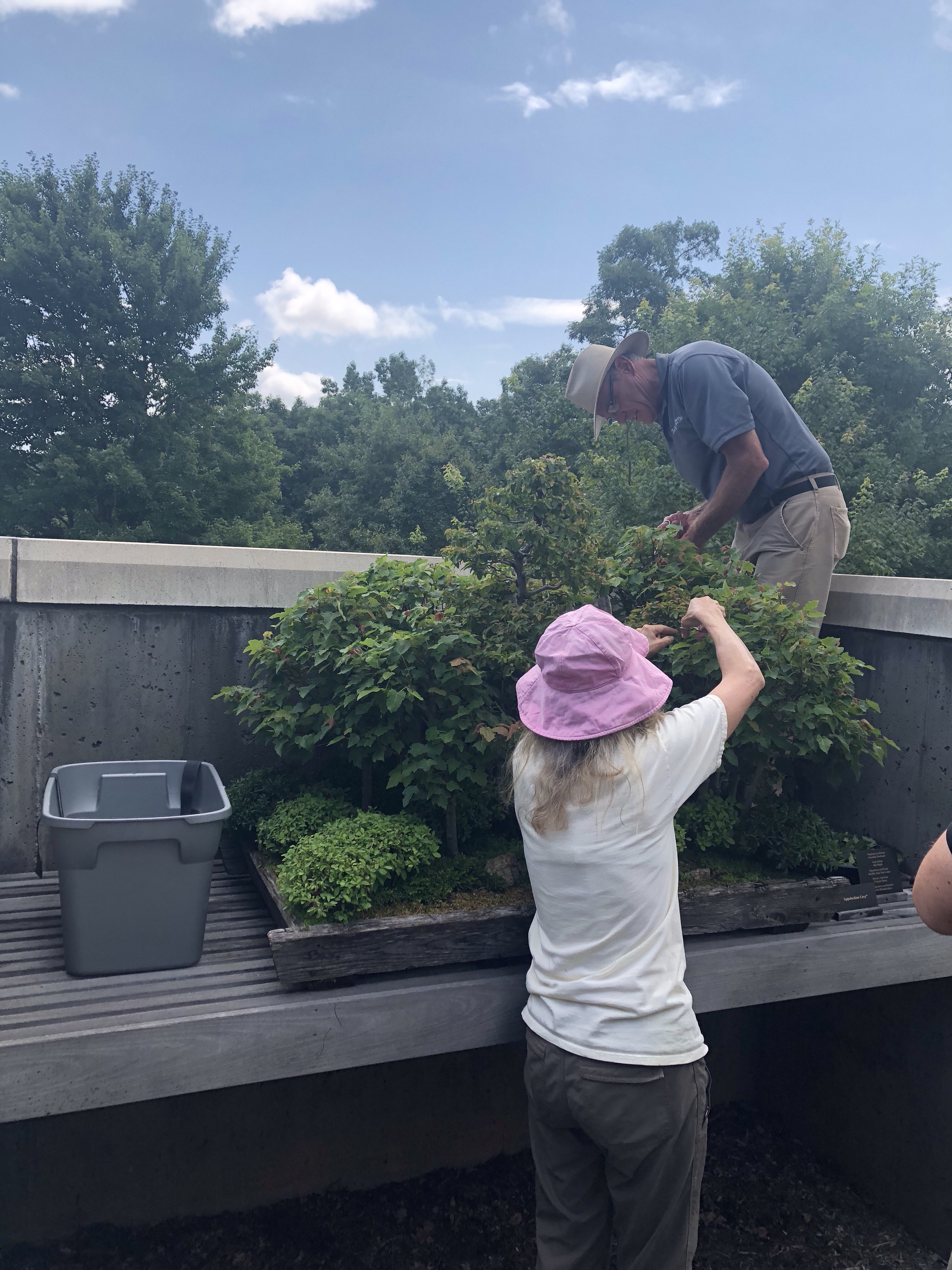 The North Carolina Arboretum is adjacent to the Blue Ridge Parkway in the Southern Appalachian Mountains. It's like the Magic Kingdom of gardenland – the happiest place on earth, meticulously maintained and more peaceful than a coma. We spent a lot of time in the bonsai garden, watching the experts trim and manicure the most perfect miniature trees you've ever seen, before conquering all the exhibits and a bike trek through the native azalea forest.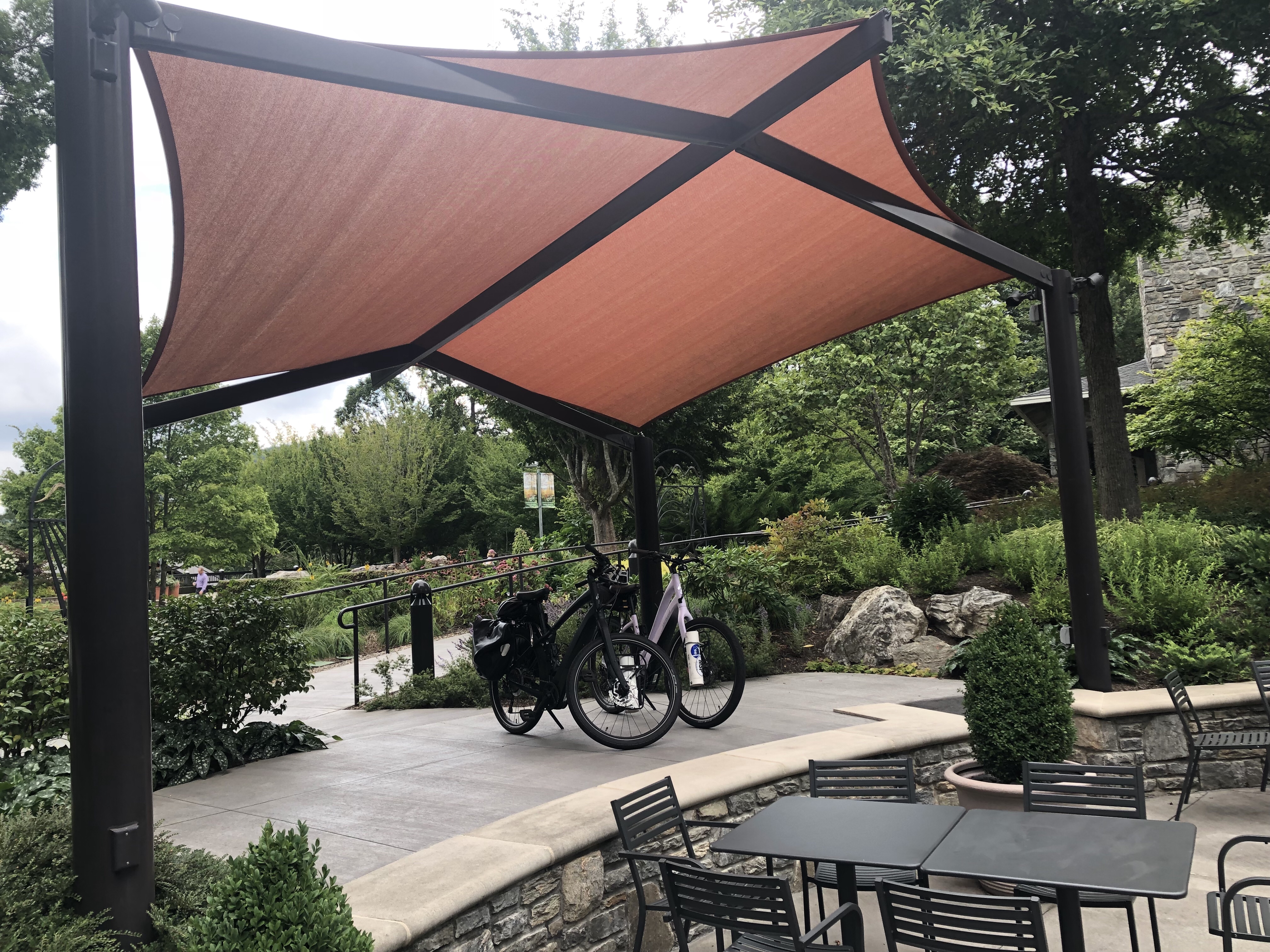 With rain clouds looming, we found cover for the bikes near the bistro. Sitting at a nearby table eating our cantaloupe snack we were tickled by passers by who stopped to admire the bicycle exhibit and hear a story about nephew ed who was thinking about buying one. Listen up, Specialized … everyday and everywhere we go, people stop and talk to us about our bikes. They take pictures. You have an untapped market we know how to tap!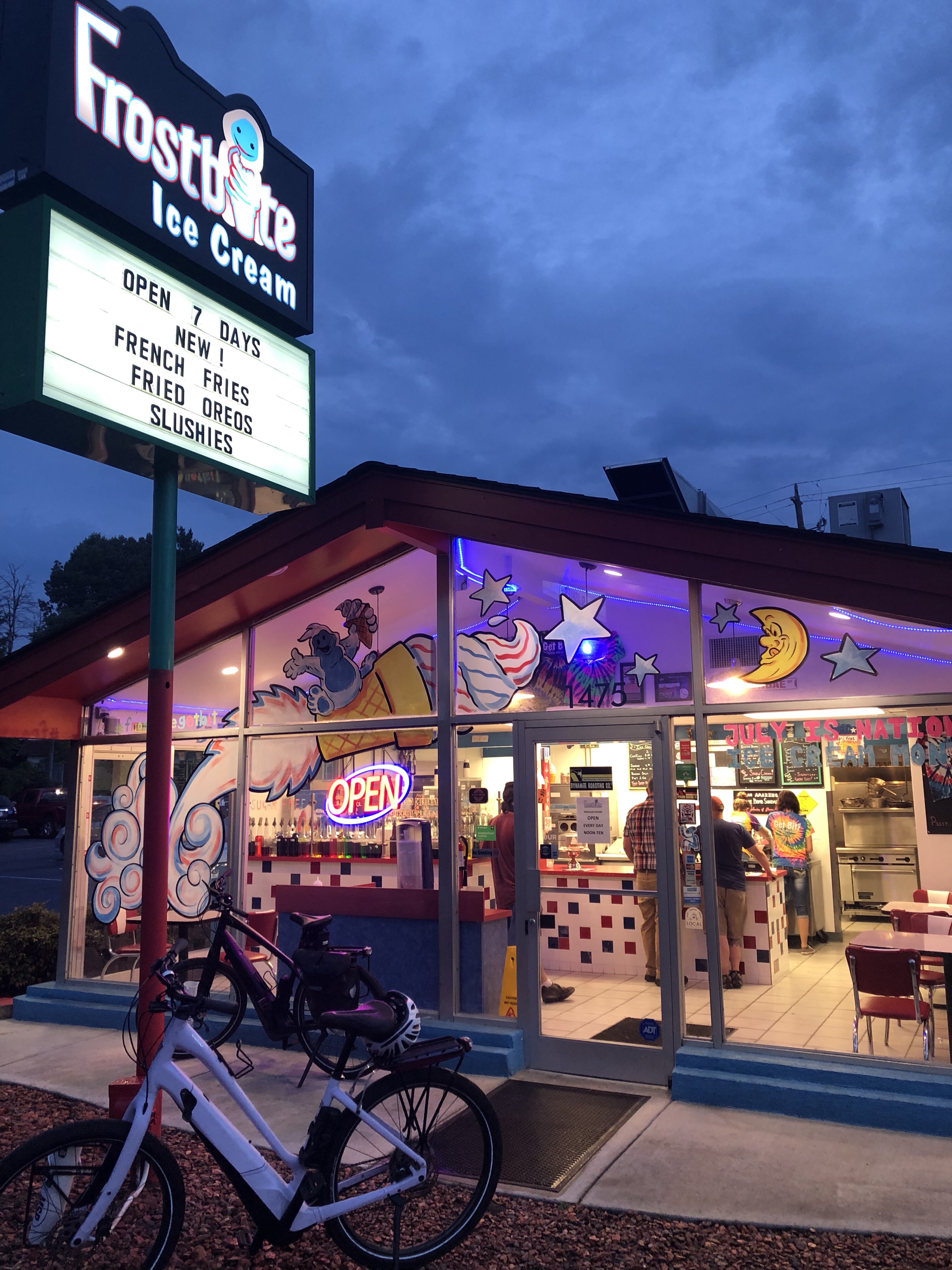 After playing rain-dodge all day, the heavens finally opened and pounded the coach with voracious thuds. The rain makes us appreciate how cozy and spacious Betty Write is. After tenderloin on the grill with blue cheese smashed potatoes and kale-mushroom ragout, we welcomed a rain-timeout and biked into Asheville for the #1 rated soft serve joint – Frostbite. Salted caramel and ripple fudge in a cup with black cherry in a cone for our first soft serve of Reboot Roadtrip. 5 stars all the way!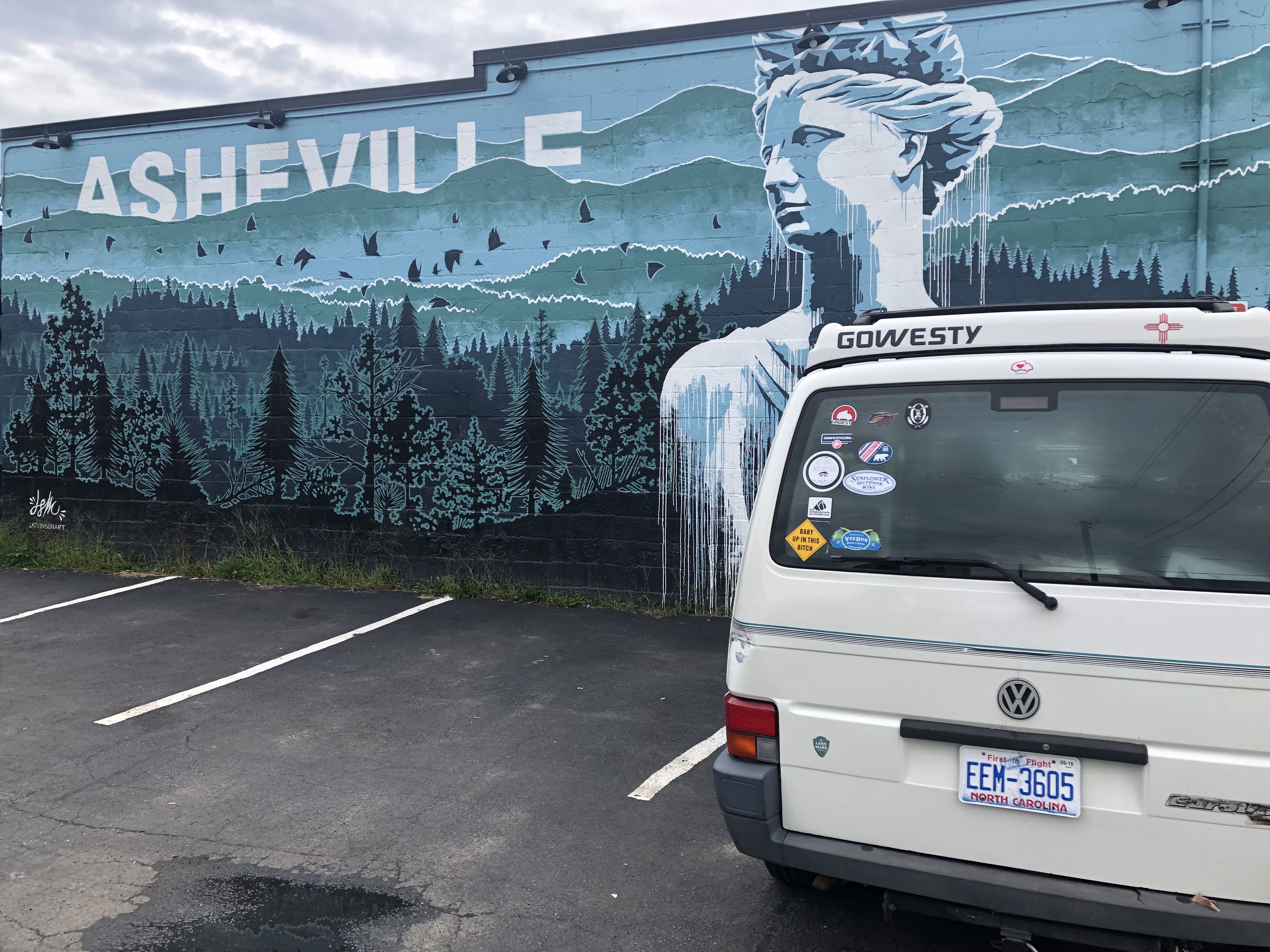 Today we braved the crazy roads and threatening skies and headed into the downtown. Calling for heavy rain at times, we loaded the Como's with a cover for the bikes, umbrellas for the bikers, and waterproof panniers for the technology. As we rolled into the trendy West Asheville, mural covered buildings and bike lanes appeared while beard-sporting locals nodded approvingly of our eco-friendly rides.
We crossed the Broad French Creek on the wide, high span that connects west to east Asheville. We quickly found ourselves passing the famous New Belgium brewery, a trendy creamery where you can sample a flight of ice cream instead of beer, and art markets touting locally sourced goods. We had arrived at the promised land.
As the rain began to fall, we stabled our rides under cover and ducked into the Cafe 64 for breakfast. Unfortunately, a dozen or so folks had ducked in the Cafe 64 moments prior overwhelming the small staff. A frantic Michael informed us it was a disaster in the kitchen and that we would have a long wait. We almost bailed, but our patience paid off as Michael warmed to us. As a life long local, and from the perspective of a server, he had seen the town change before his eyes. In his words, "I used to try to survive the winters and do OK in the summers. Now, winters are like summer and summers are nuts." The streets packed with tourists, on a Wednesday, in a down pour, told us Michael ain't lie'n.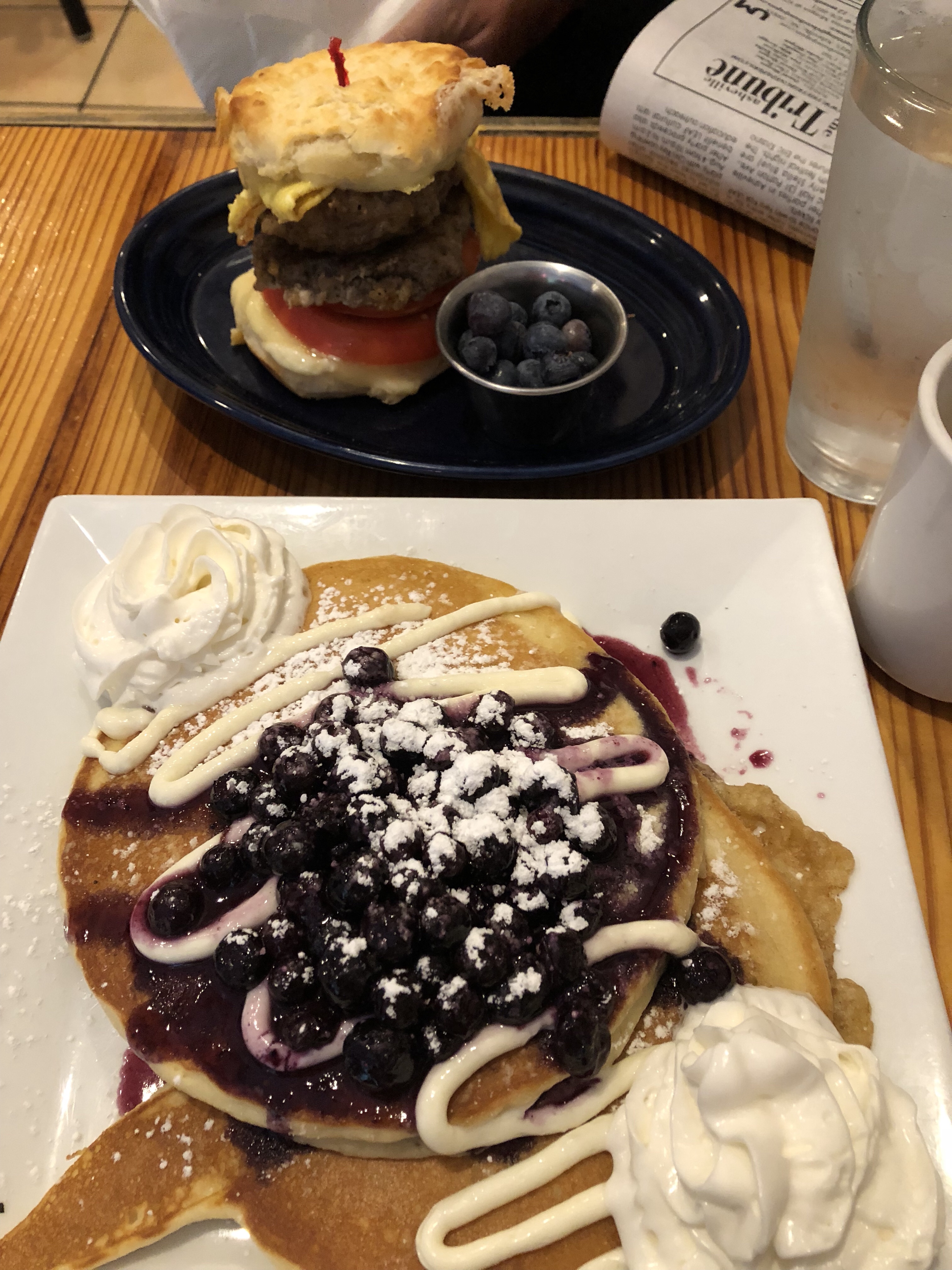 Truth be told, downtown Asheville downtown has it going on. We window shopped countless specialty stores as we walked off the BEST BREAKFAST EVER. Seriously, best ever.
Shopping, eating and drinking locally brewed beer is the Holy Trinity in downtown Asheville. Stuffed from breakfast and with our beer days behind us, we maxed out on shopping going in just about every store with a local vibe. They've done an amazing job repurposing old buildings. The Woolworth's is an art mart. The Grove Arcade, rumored to be America's first mall, is high end retail. Art Deco buildings house everything from pet spas and yoga studios to hookah lounges and hot sauce houses.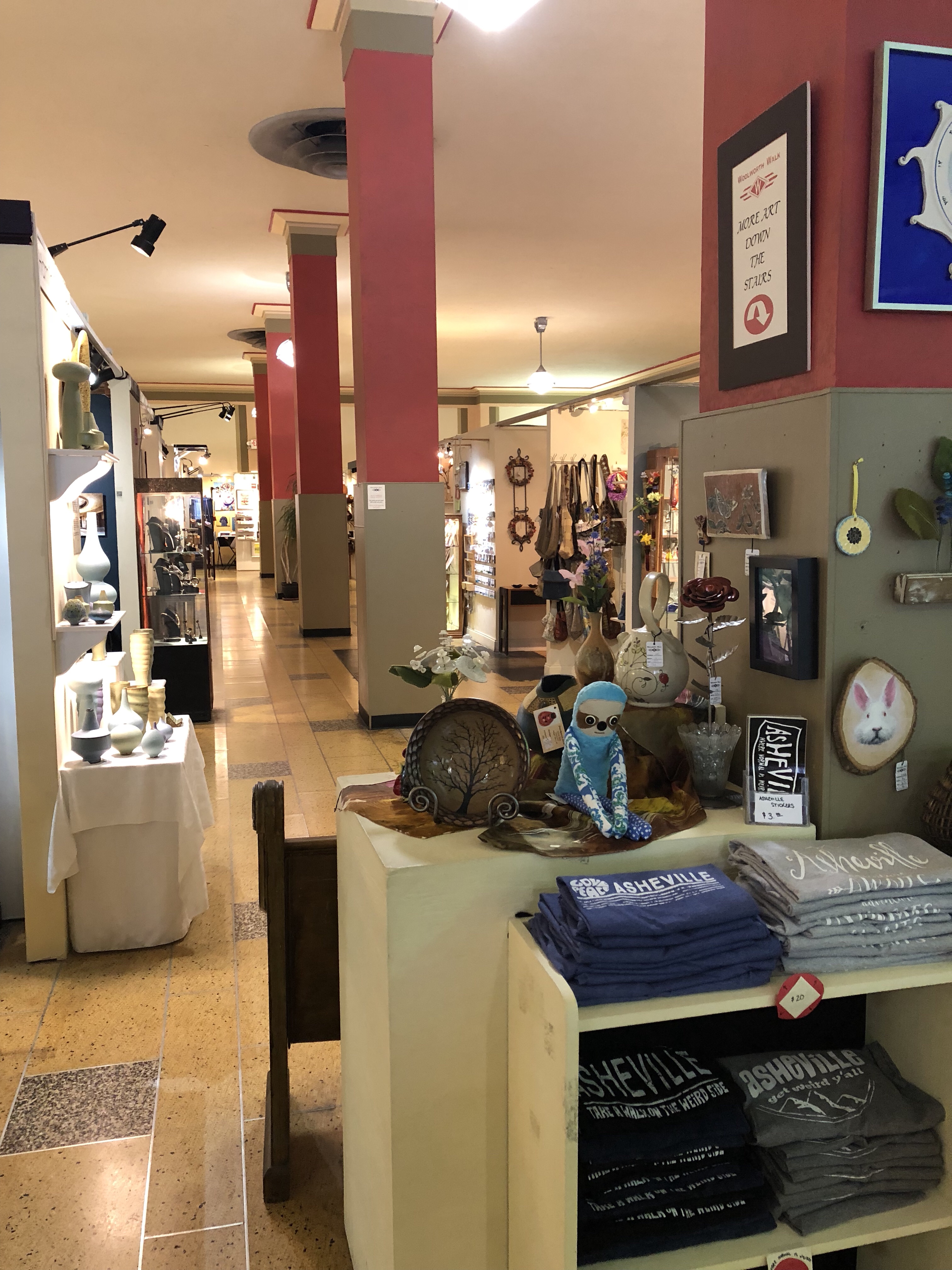 On a break from shopwander, we ducked into an art theater to catch an afternoon showing of the indie film, "Leave No Trace." The uber-cool theater had sofas for seating, and it was relatively full in the middle of the afternoon.
When the film let out, we continued to soak up the ambience of the town frequenting antique stores and micro-factories like Diamond Gear where folks make it look so cool to sew designer back packs and light-weight hiking tents on a shop floor while customers shop and chat with them. Mid-size cities looking to create a buzzing commercial district, come to Asheville and take notes. They've got it going on.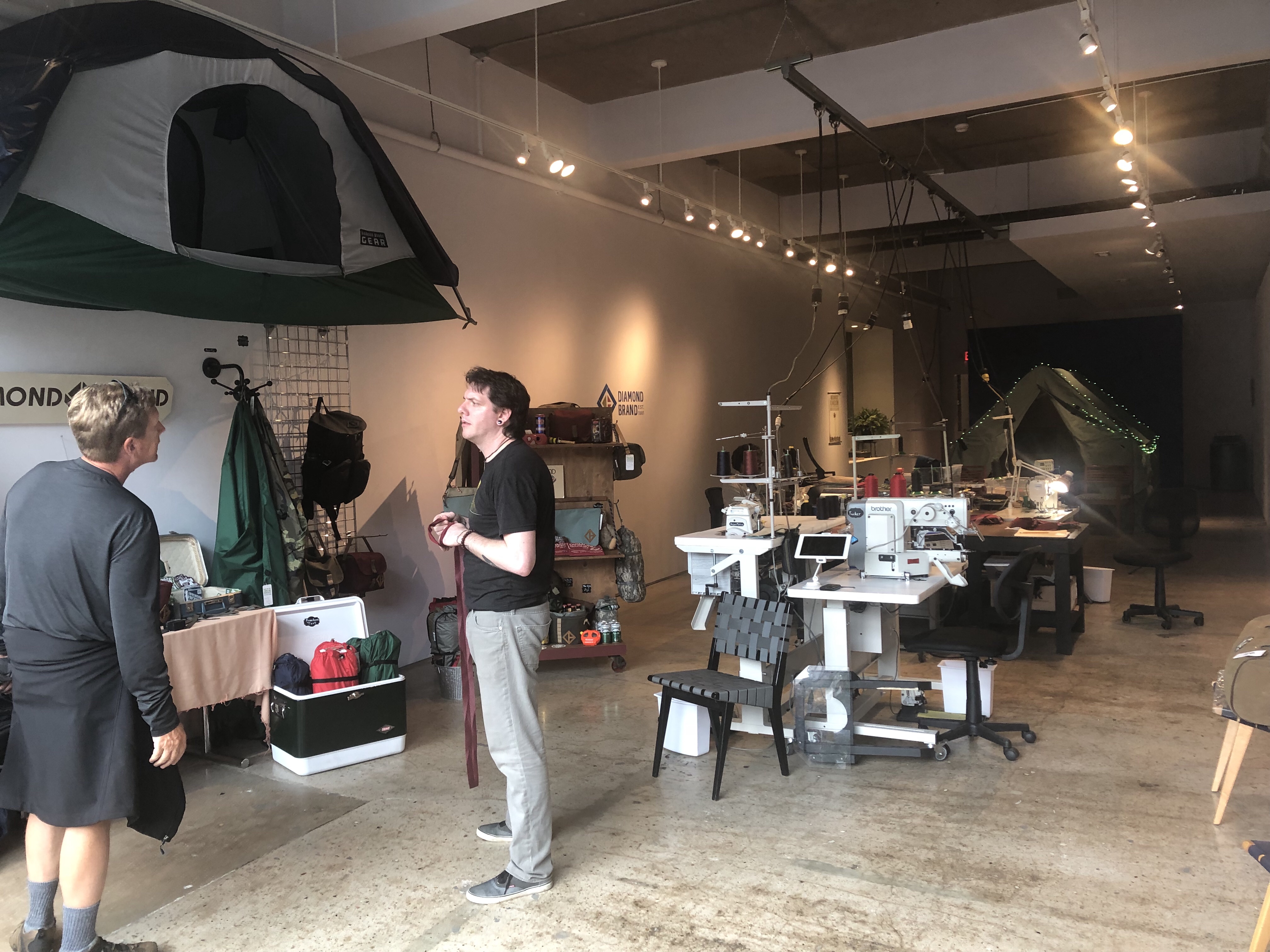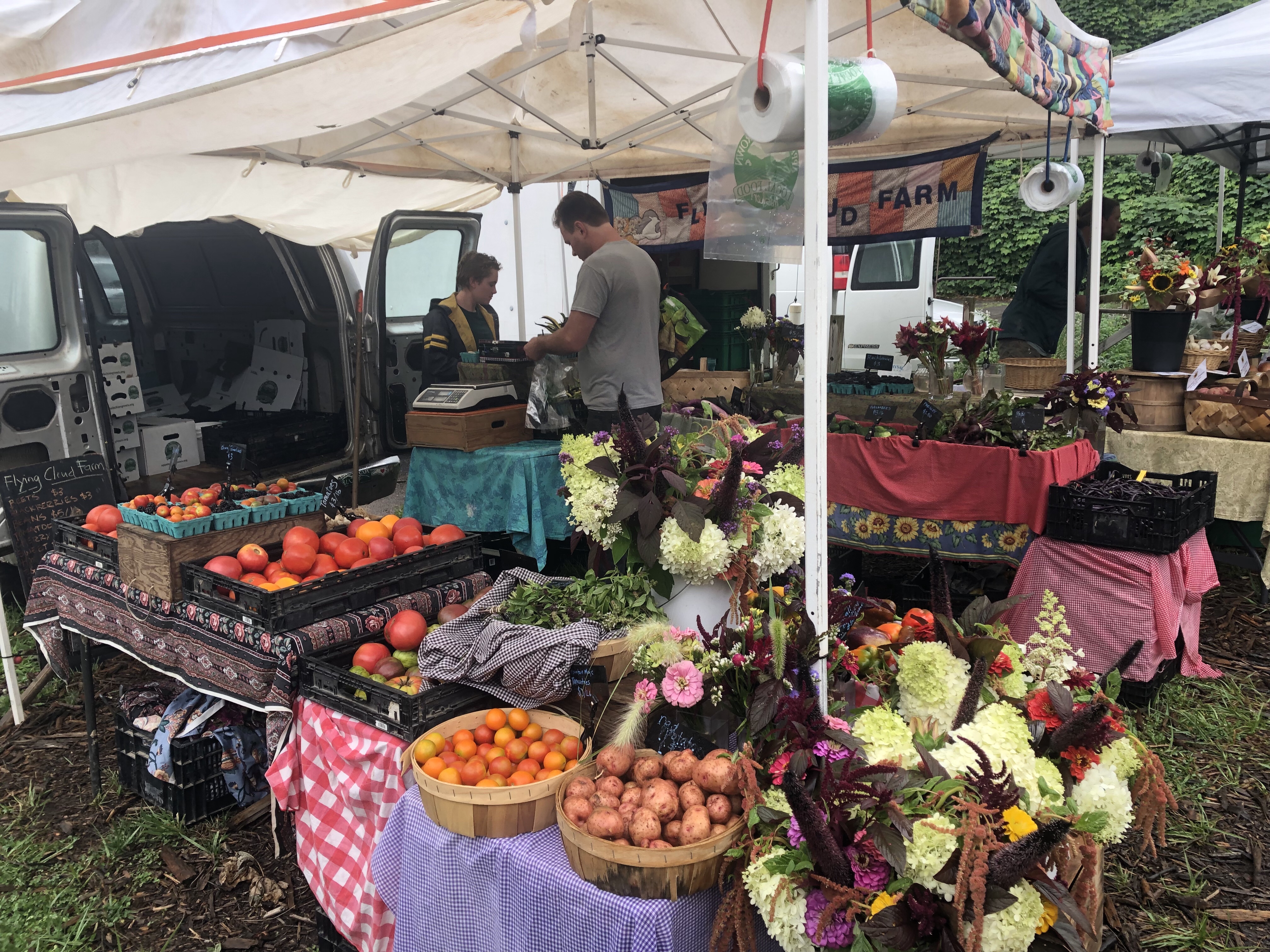 We probably should have taken advantage of the break in the rain right after the film, but we didn't. The heavens let loose as we Turbo'd up for our return. And despite being soaked, we were surprised with the Wednesday afternoon River Arts District Farmers market and pulled in to procure Flying Cloud Farms purple green beans and globe eggplant along with Highland Gourmet's Waldensian Number 6 traditional balsamic vinegar. This whole fresh and local movement is moving us.
We made our way back through trendy West Asheville where we were greeted like returning hero's, not only using zero-emission transportation, but also in a torrential downpour, and at 25 mph. Yea, that's how we roll.