Fire evacuation banners run on the bottom of every over-the-air TV station in New Mexico. Statewide burn bans have yellow caution tape covering every fire ring and charcoal grill at the campgrounds. Calf Canyon is epicenter of the burn, 300 miles northeast of us near Las Vegas, New Mexico. The closest we plan to get is Albuquerque before we turn west toward Arizona, but it doesn't stop us from constantly rethinking our keep going plan.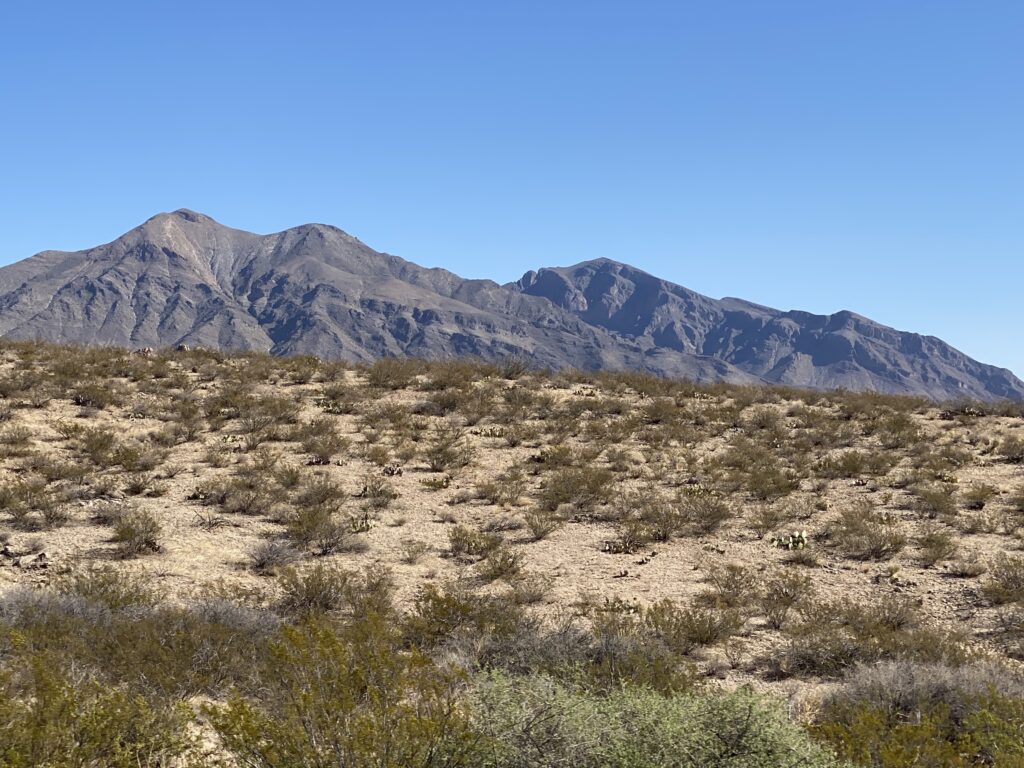 The American southwest is changing. We don't remember it being this dry and windy. There's been no fire for us so far, but there's also very little to burn in a desert. At higher altitudes there are trees and once they catch fire there is really no putting it out. The authorities can evacuate people and establish some boundaries on a map, but the fire is going to burn until it runs out of wood. The high, dry temperatures are complimented by strong winds of 40, 50, or 60 mph. That's insane.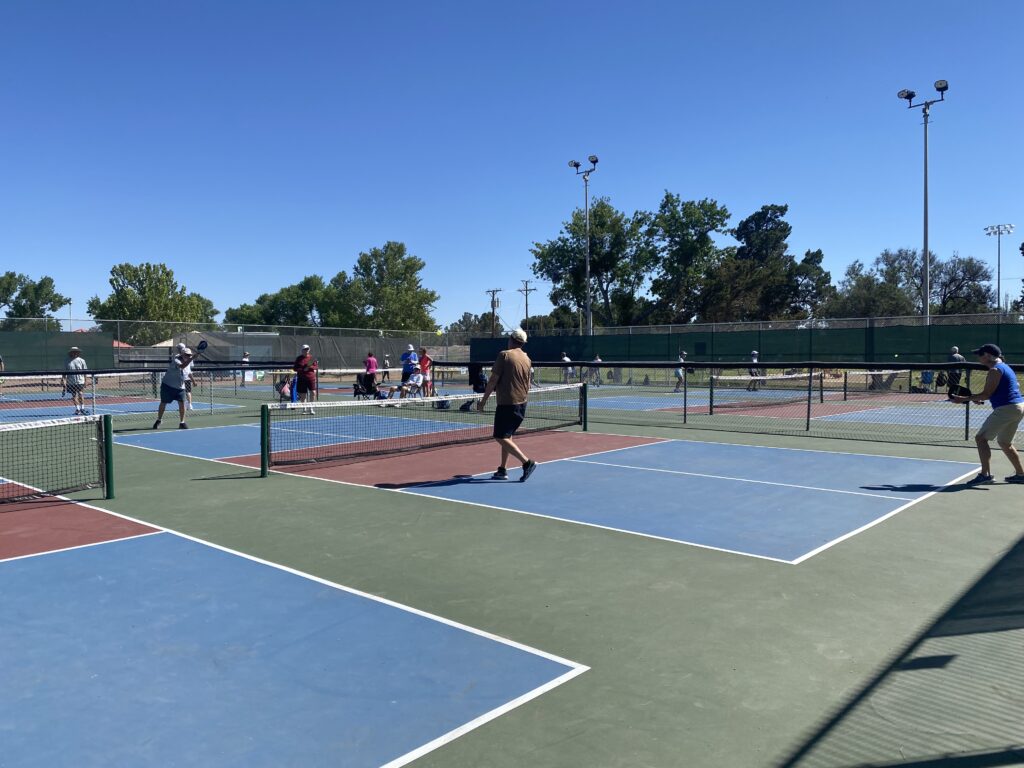 Leaving the Holloman sanctuary, we picked up the I-25 in Las Cruces. In search of a quick Pickleball fix, we looped past the county park at the I-25 intersection, and low and behold, there were the old folks dinking a pickelball. Eric could not help himself, so he called a travel time-out and grabbed his paddle. Eight courts were somewhat full and there was a paddle system of sorts in place whereby players line up for "next game" but it wasn't being used. A kind local gave Eric the lowdown that the groups were very clique-ish and would not play with you if they thought you were not high enough level.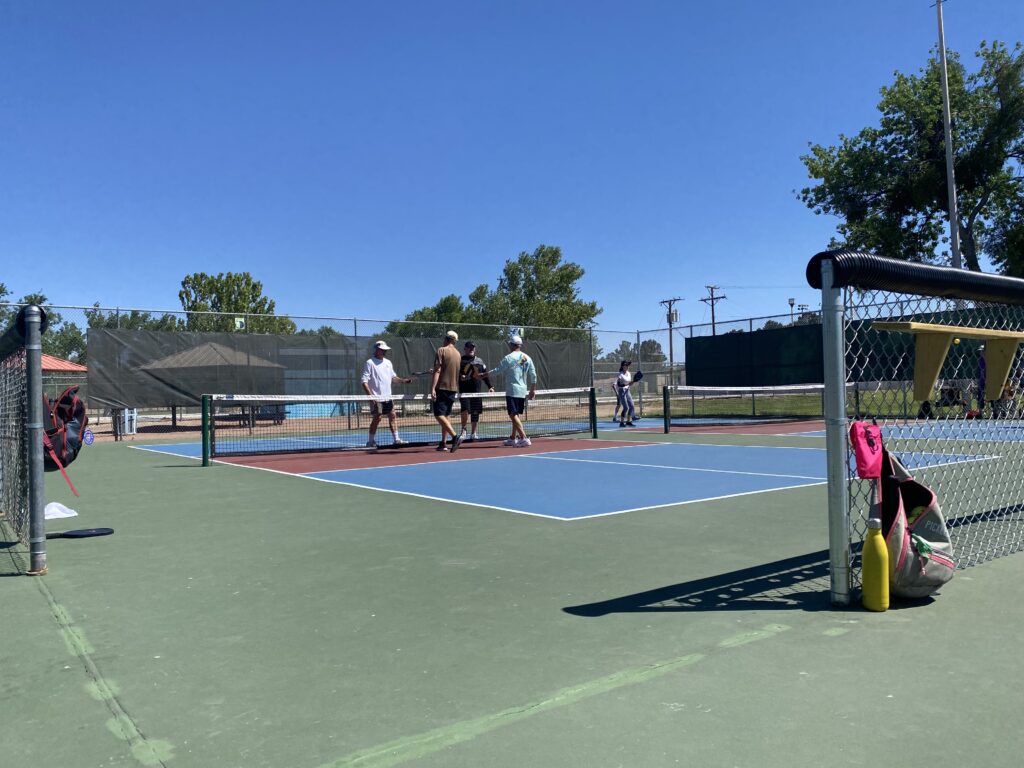 Sounds familiar. You can travel 2,000 miles and the same annoying social power plays are happening in Las Cruces as in Lakewood Ranch. The target was Rinni and she is 83. Yup, 83. Not a typo. And, no one wanted to play with her. Today was her lucky day because Eric did not know anyone and would have played with anyone or anything that could hold a paddle. He rounded up a couple of trash-talking bangers (hard hitting pickelball players) as opponents and played his first game of Pickleball in over a month. The bangers were practicing for an upcoming tournament and were very serious. Can you guess how it turned out? Let's just say that Rinni got to ride her e-bike the five miles home (yup, she does that too), and brag to her husband with the bad knee that this was the day she took down the loud mouths (with a little help from yours truly).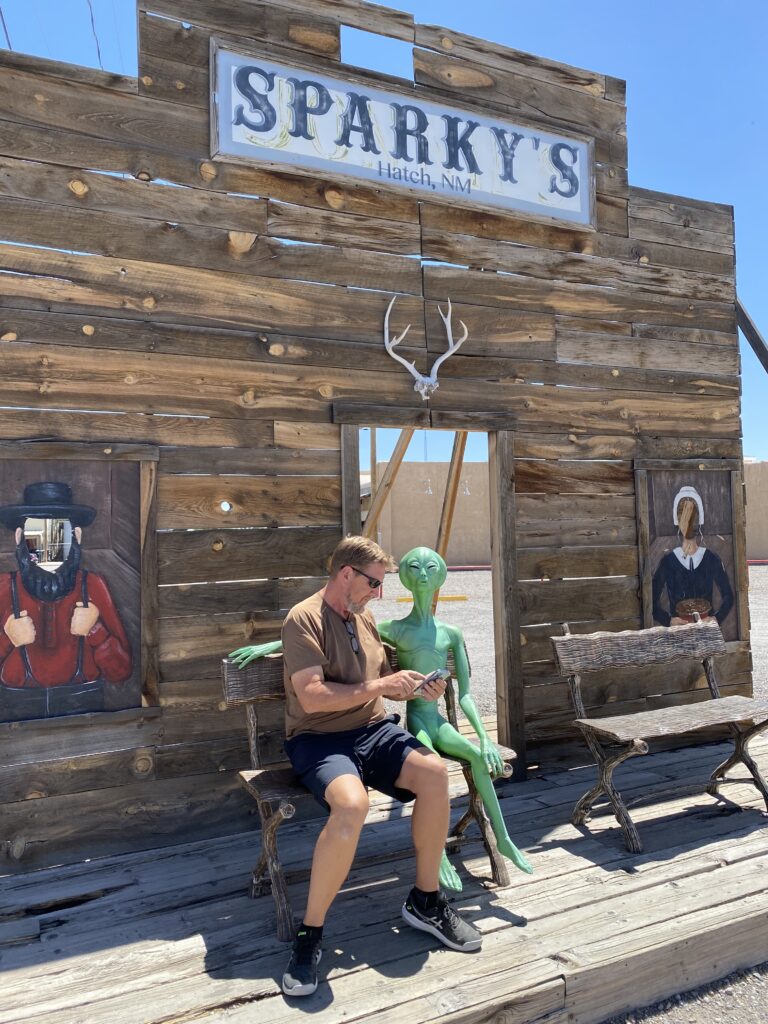 It was good play, but coming out of Florida, the pickleball capital of the world, the locals really did not have a chance. Las Cruces had the look and feel of a sunbelt southwest city where a lot of people would choose to retire. We could have explored, but we used up all of our extra time on the courts. Go figure.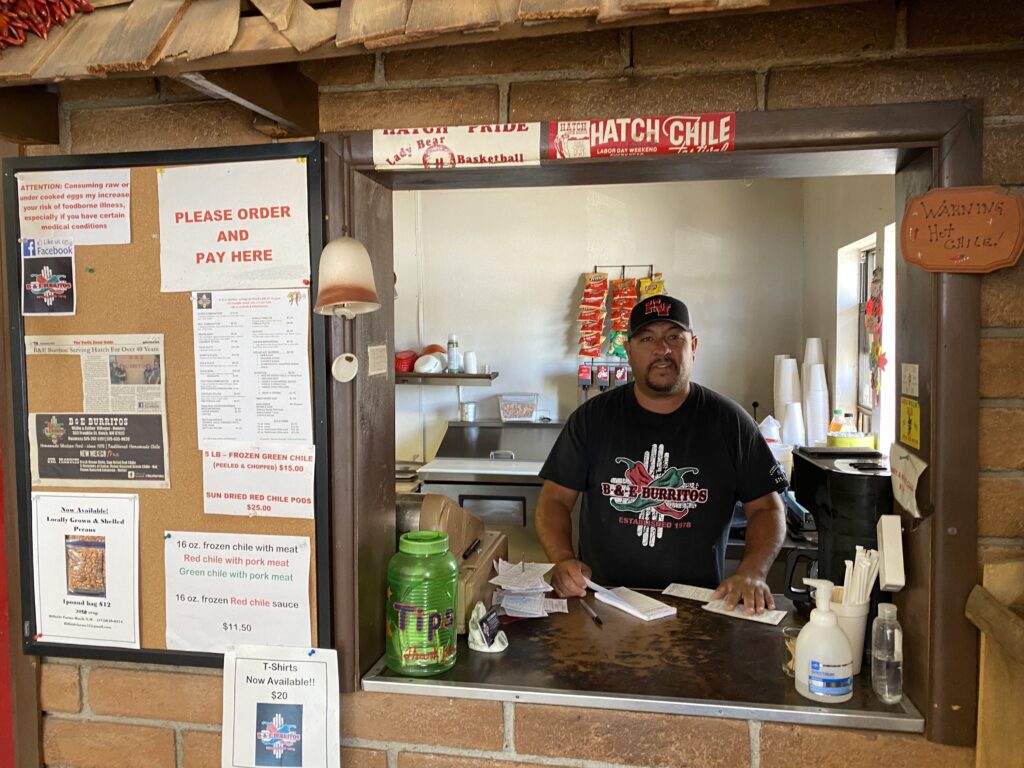 Above Las Cruces is the town of Hatch, famous for its red and green chilis and an easy on-off shopping stop. Downtown is about 1/2 mile long with 6 chili supply stores, 3 eateries and dozens of giant roadside statues, put there to get you out of your car cause they're so bizarre, and into a local establishment to spend your tourist dollars.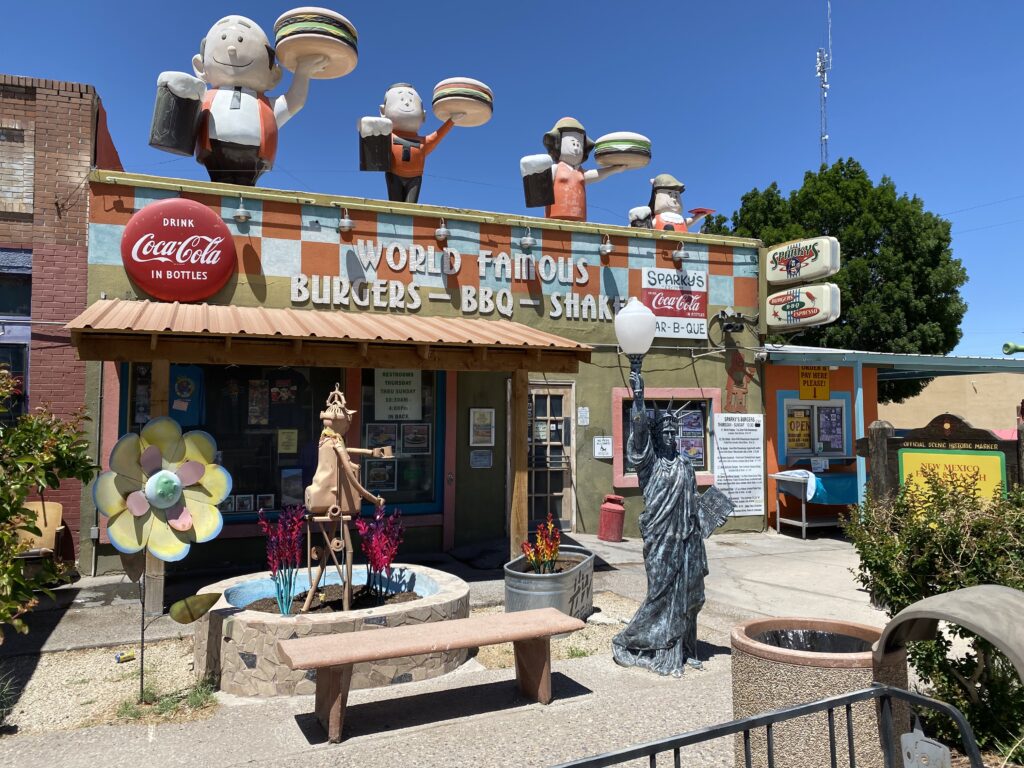 We stocked up roasted and flash frozen mild green chili, red salsa, local dried pinto beans and homemade spice mix after splitting the no kidding best Mexican lunch in the local B&E Burrito joint. In heaven with our combo plate of enchiladas, taco and tamale, we camped out in the little dining section and watch the town of Hatch keep the kitchen busy with massive to-go orders.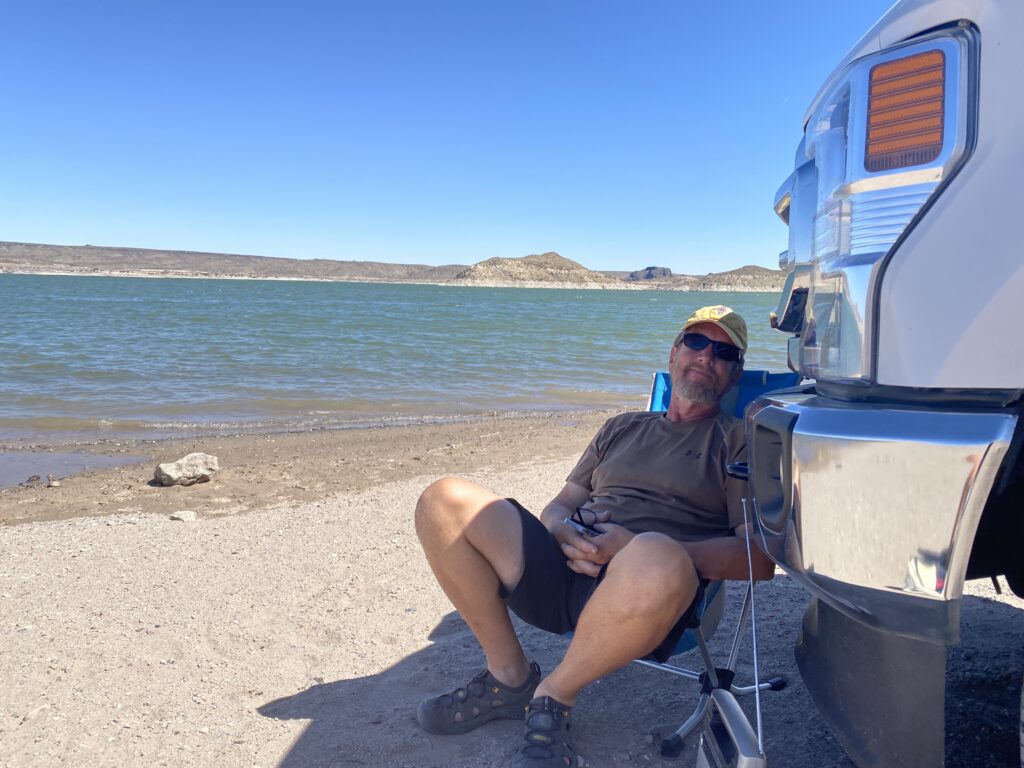 Further up the road, we parked Roxie in Elephant Butte Lake and State Park. We sat by the green water at the shore of the lake and once again had the outer layer of our skin sand blasted off. Corpus, Big Bend, Carlsbad, Alamogordo … what's with all that wind blowing dirt at us? Hunkering down in the lee of the truck, we drank our beer with our hand cupped over the can and wondered if we were watching the southwest changing for good. The lake level was down, like they are everywhere. The dirt and sand whipped by in huge dust clouds. We felt a bit like the Mastadons on the shore of the Otero Sea just before it became White Sands National Park 12,000 years ago. Is something of that magnitude taking place again? Who can know day to day, but it would not surprise us if the answer a few hundred years from now turns out to be Yes.