There is a small town in New Mexico nestled alongside the Rio Grande river where hot mineral geothermal springs naturally flow up from the ground. North of the town, a damn holds back the river and forms a large lake for refreshing water recreation in the middle of the desert environment. Sounds a bit like paradise, right? Well, here is a crazy idea. Make yourself the punchline of a joke and change your name to a wacky radio game show as part of an ill-conceived promotional contest. And you thought crocs were a bad idea?
Tired of being confused with Hot Springs Arkansas, city leaders proposed a special election to change the name to Truth or Consequences, a radio show hosted by Ralph Edward and the 10th anniversary of the popular game show in 1949. Honestly, who is worried about competing with Arkansas? And since when has there been only room for one of anything, let alone hot springs, in this vast country. Anyway, the doofuses in the town voted 4:1 for the change in name because nothing screams health, vitality and water receation like a wacky game show.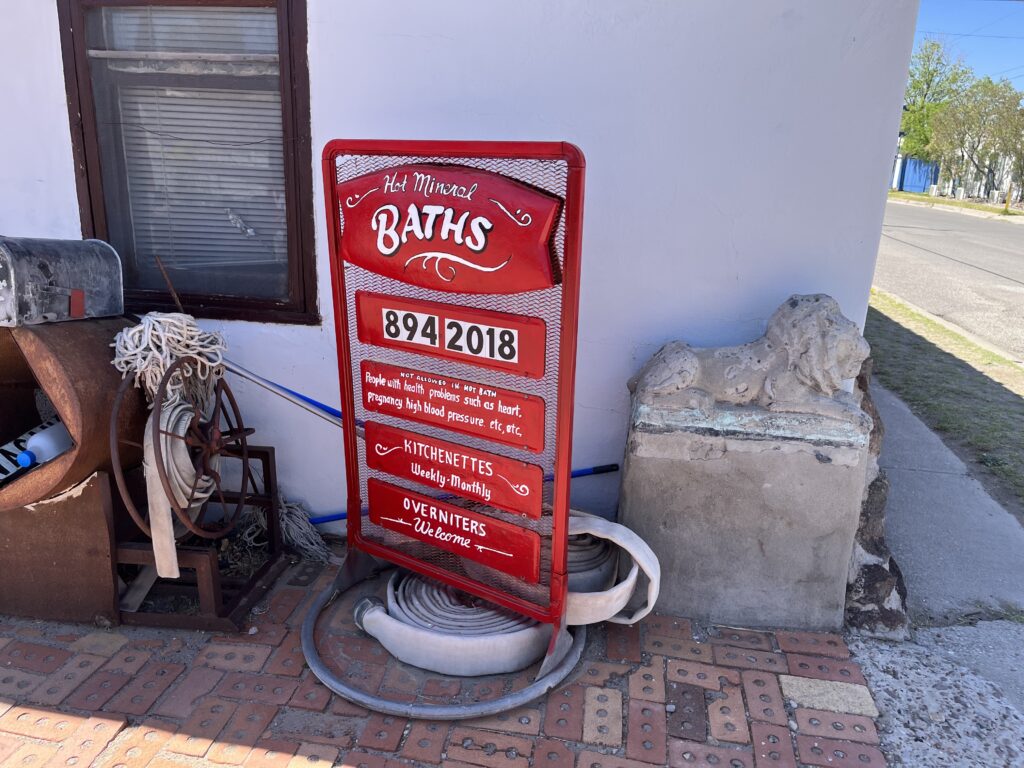 The workers who were pouring beer at the Alamogordo Arts festival raved about the Truth or Consequences hot springs and that we should definitely go there. We're not sure we should be taking travel advice from 20 somethings pouring beer at a small town arts festival. We had visited the famed Arkansas National Park, the upscale Ojo Caliente spa and resort in northern NM and recently soaked with a hairy Harley guy in Big Bend. We know hot springs and like to compare. Eric looked for RV lodging nearby and saw the Elephant Butte State Park just outside of town had tons of availability. More meaningful than advice from a 20-something, a nearly empty state park next to the famed springs should have been a clue.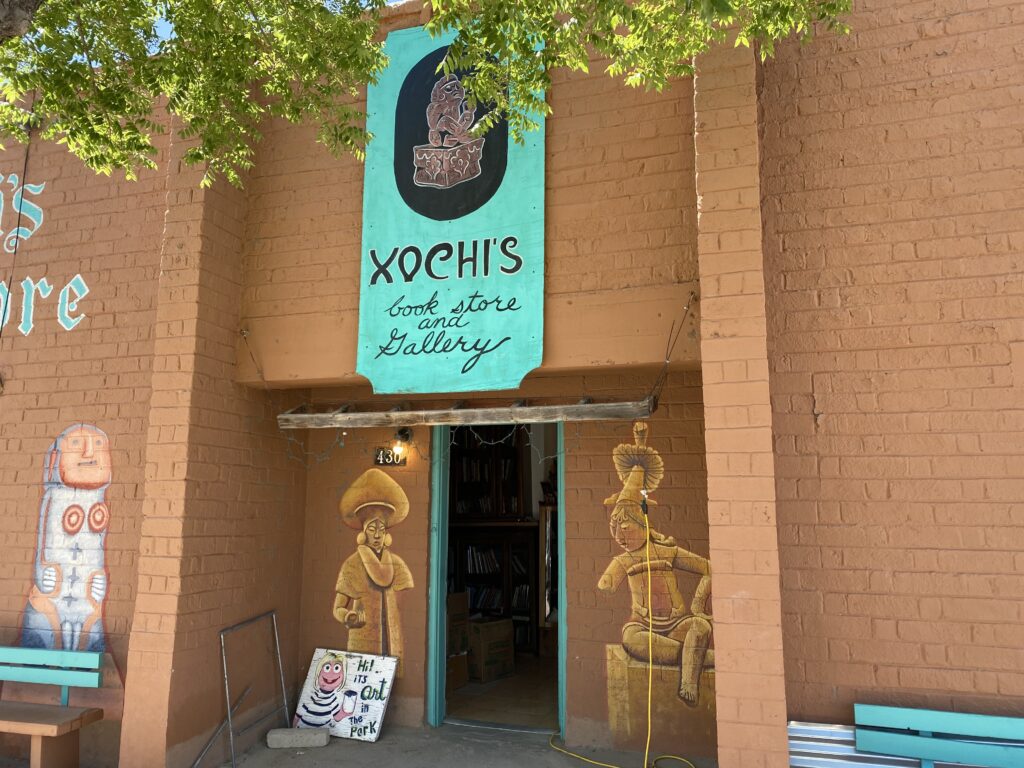 The top of town is Walmart, Sonic, McDonalds and a bunch of service businesses located a short distance from I-25. For most travelers, this is all of the town they are likely to see. We pushed pushed past the exit ramp retail, and into the heart of town in search of WIFI. Sheri chatted up a local at the closed library's free book table while Eric used their free signal to get a blog off. The local recommended the A&B drive-in diner, the bookstore that started with an X and the hospital foundation thrift store where he bought a Hart Schaffer Marx black blazer for $3. Was this sound local advice or the same kind of local thinking that voted for the name change? He also added that if we wanted luxury, go to breakfast at Ted Turner's restaurant next to the police station. Apparently the billionaire owns hundreds of thousands of acres in and around T or C, including a bison farm that provides the meat for the steaks at the pricey restaurant. It turns out that Sierra Grande, A Ted Turner Resort, is closed except for a meager breakfast buffet that could only rival the La Quinta free breakfast. We were beginning to have our doubts on the local advice.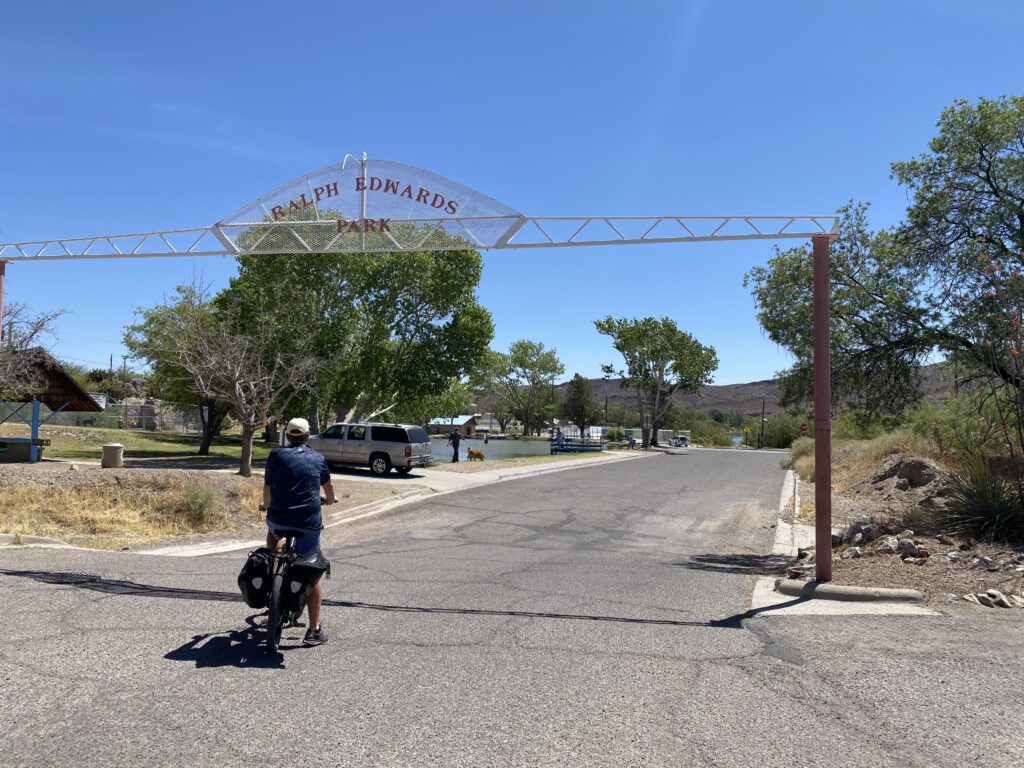 Paying the highest gas price yet – $4.49 a gallon – GASP – we are committed to the Comos for all sightseeing activities. It's 6 no shoulder miles from camp to downtown T or C with steady streams of big loud diesel pickups revving by, either irritated by our existence or in love with the sound of their exhaust. We packed one pannier with our laptops, ready to explore then write and post a blog at the open library and left one pannier empty for the treasures we might find at the thrift stores and art galleries. We also brought our bathing suits, figuring we'd select one of the 10 bathhouses on the Hot Springs trail to infuse ourselves with health and vitality. After the sand blasting at the lake, we needed some of that health and vitality.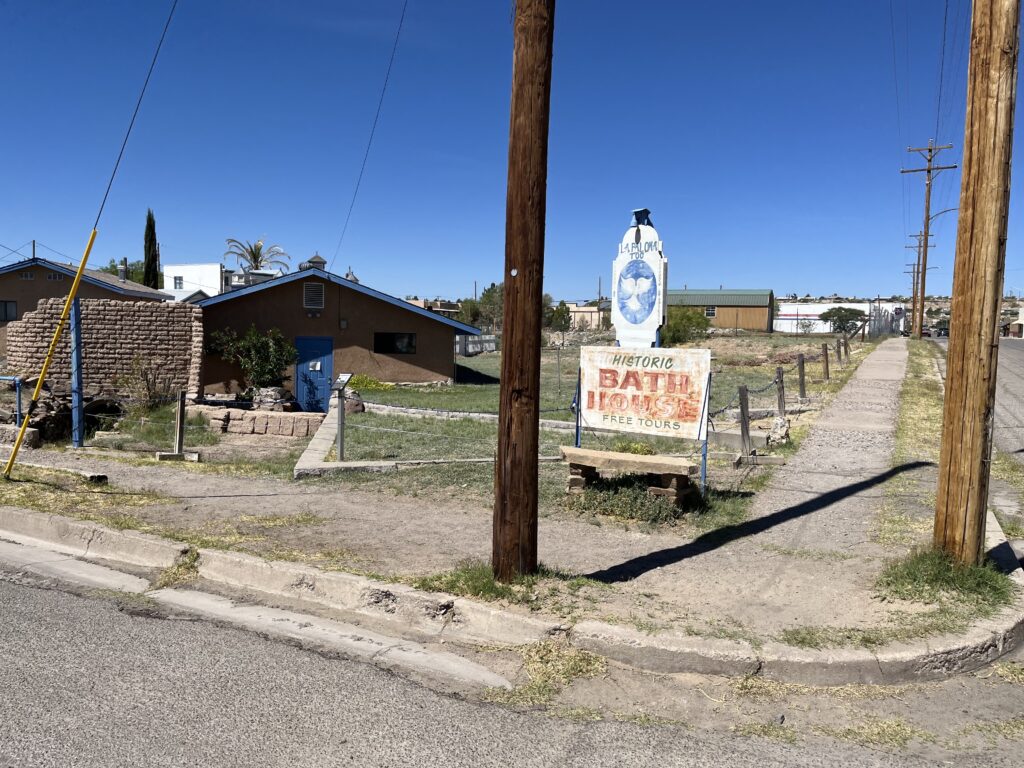 We spent 4 hours riding up and down Main Street, in and out of neighborhoods and past all the public bathhouses. We checked out the parks, the visitor center, the museum, even the no grass municipal golf course. The locals not so cleverly spilt Main Street into two one-way stop-light-free boulevards each moving in opposite directions. The result is an accurate duplication of the Daytona 500 where long streams of cars and trucks need not slow as they cross town. How convenient for them and terrifying for the shoppers on the side of the street. Few shops were open and those that were need not have been.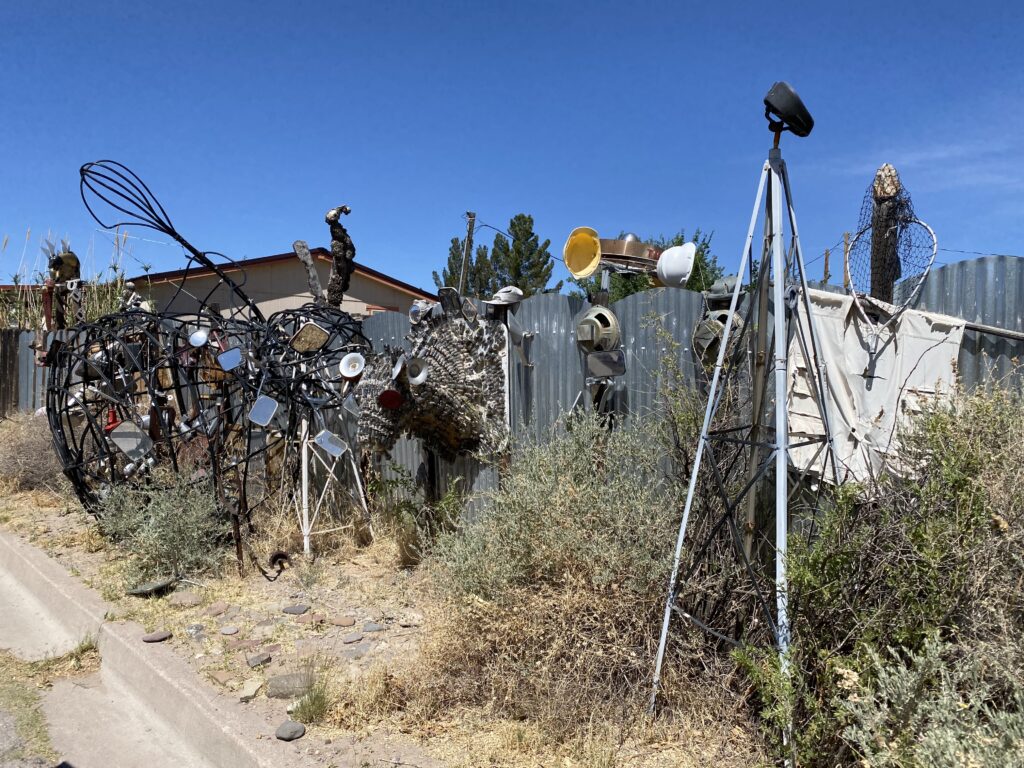 True to local guidance, the B&A Diner was a great place for lunch because it was the only place for lunch. Even the local coffee shop was drive through only. And, don't get us started on the hot spring bath houses. Dilapidated, over-priced, and creepy is no way to harness mother nature's bounty. We took a pass – and that is from a couple of people who hot spring with hairy Harley dudes.
Ted Turner saw a lot of promise here and he's a gazillionaire so we are probably wrong, but in our humble opinion we will take a pass on T or C, NM. Can one dumb vote so many years ago explain the lack of charm and appeal today? Probably not.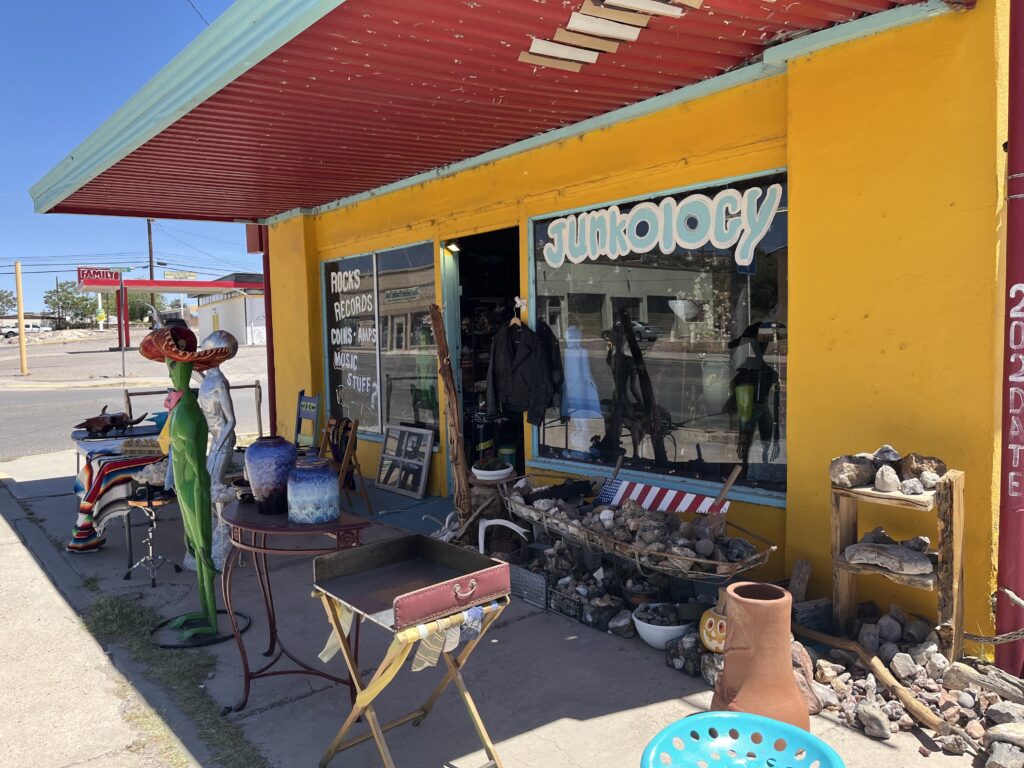 Maybe the town was on the brink of going viral when COVID hit. Maybe the arts community almost settled here and then Marfa, TX stole the thunder. Maybe we just had a bad day and tomorrow T or C will shine while we cluelessly motor north. In any case, we get to vote with our feet and where we park Roxie. Truth be told, we will not be parking her here, damn the consequences.