His E-Bike Review of Specialized Turbo Como 3.0
A Class A motorhome is many things. It is a small, fully self-sufficient, climate controlled, condominium on wheels; a big-rig cab with a picture window view of the world; and storage shed to hold of your outdoor toys. What it is not, however, is a car. Once set up in a campground, it is no ones first choice to hop in and run to the local store. That is why if you observe most folks rolling down the interstate in a Class A, you will see a vehicle being towed behind.
Towing a car is not as simple as it might first seem. The motorhome and the car both need to be fitted with a hitch-tow assembly. The tow vehicle needs a braking system to remotely brake the car. The combined motorhome and car are an ungainly length that cannot be reversed under any circumstances. Nevertheless, for most it is well worth the hassle to have a car at the campsite. But, are there other options?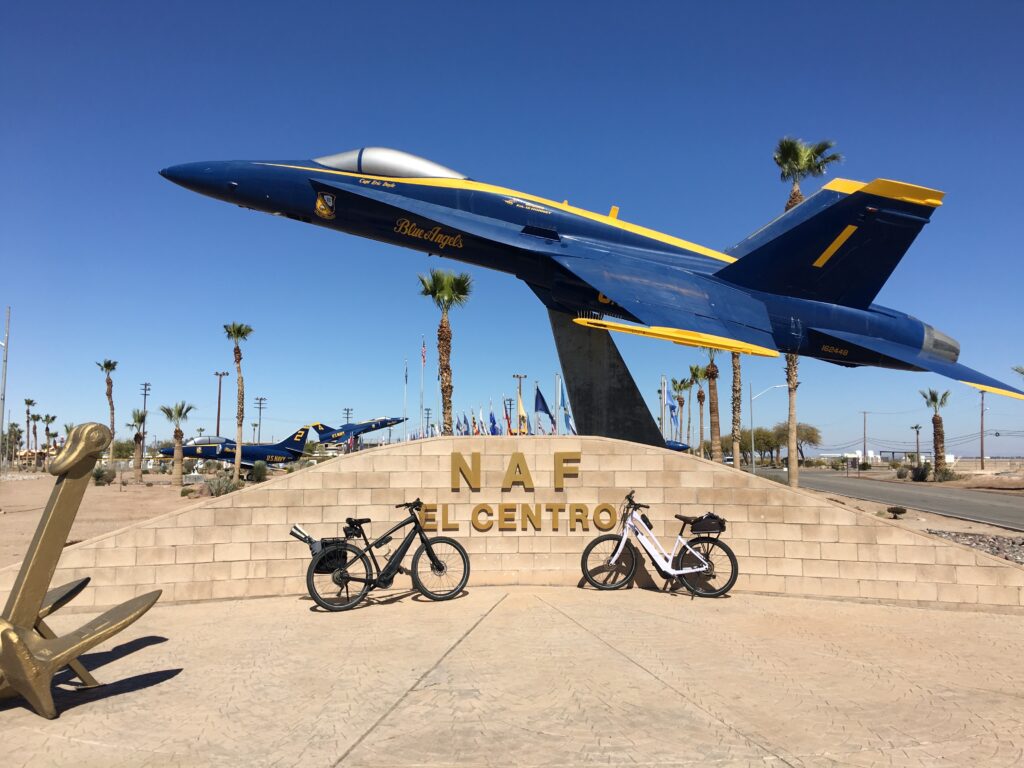 Last year we took off for two weeks with the motorhome and two bikes on a bike rack mounted to the back of the coach. With careful planning to stop for replenishments between weeklong stays at the campgrounds, we were able to avoid the grocery runs from the campsite. Using the bikes, we figured we had about a five to ten mile radius of mobility from the campground. For the most part, that worked out fine, but sometimes it was terribly ungainly. A five-mile trip to the beach with two beach chairs, a beach umbrella, towels, a picnic lunch, drinks, a change of clothes and a kite was just barely possible with some clever packing, but not fun. I remembered days when I would routinely ride my Felt road bike 30, 40, 50 or more miles in a day, but all I carried was a flat kit and a water bottle. And, even a cinder trail was problematic with those skinny road tires, let alone the dirt and sand trails we found ourselves routinely taking in the campgrounds. This bikes for RV'ing was a whole new thing.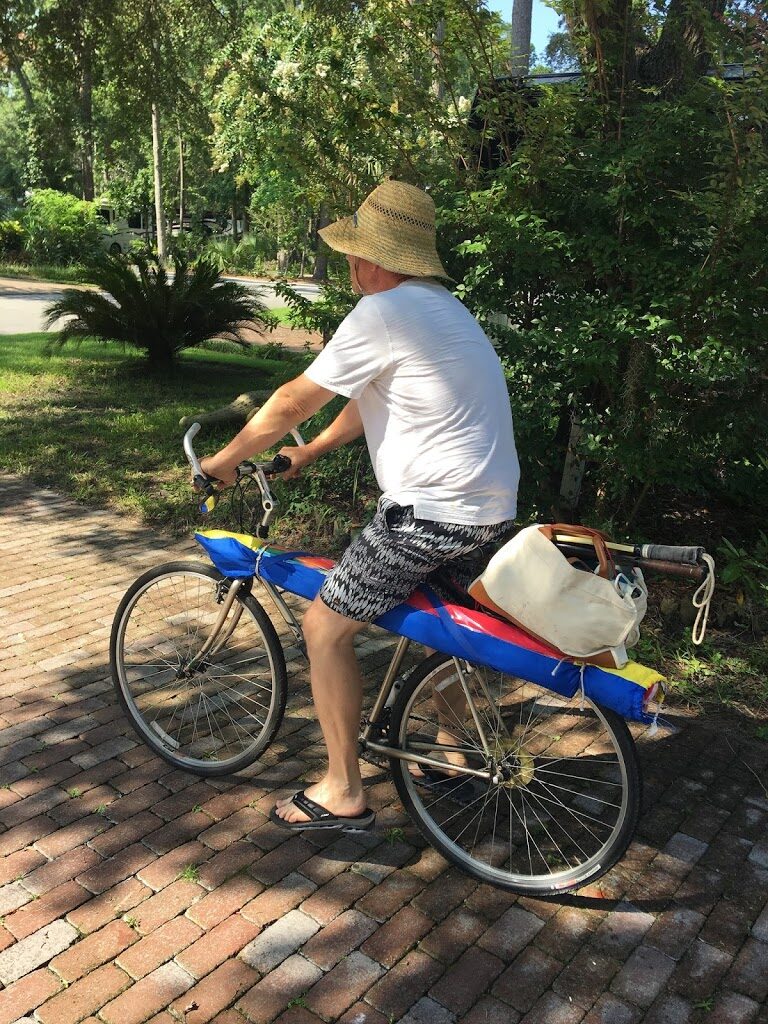 Recalling an earlier trip in 2012 to the Pacific Northwest, we thought about how much fun we had on the two days that we rented electric bikes. We explored Vancouver and Victoria with the electric bikes, routinely stopping to tour, eat, shop and explore the city while covering about 40 miles each day. Using that as our inspiration, we took a discerning look at how far electric bikes had come since then.
Our requirements for the bikes were comfort, reliability, range, and flexibility. Having ridden a road bike for years, I knew we did not want a road bike riding position. We wanted a comfortable, beach cruiser, handlebars-above-the-seat, riding position as we imagined ourselves pedaling down a boardwalk more often than competing in a road race. In British Columbia, my electric bike ran into a technical problem five miles from its destination. While possible to pedal with great effort, it was super un-fun. We wanted to avoid those types of episodes as much as possible. In terms of range, about 50 miles total range seemed about right. At an average speed of 15 mph, that came out to 3 ½ hours of time in the saddle. And finally, since they would be our only transportation, they had to be configurable for soft trails to black top surfaces; used for light trips to trips with a full beach set-up; carry gear for a fishing trip to a craft market adventure.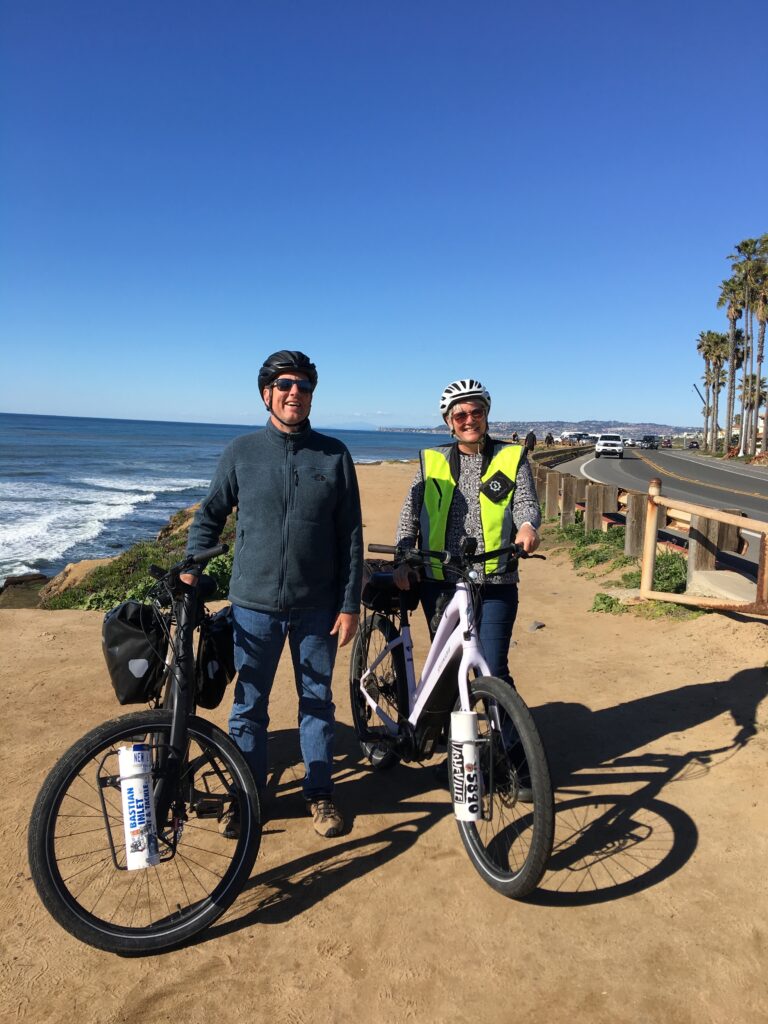 The electric bike world had changed since our BC trip. Many Millennial urban commuters were choosing an electric bike as a car replacement. E-scooters were popping up all over DC. Cities and counties were struggling with regulations. Should they be allowed on bike trails, sidewalks, bike lanes? Were they a motorized vehicle similar to a moped, or were they still a bicycle? Europe was out in front since electric bikes were far more popular there than in the states. Somehow, 32 kph, which is 20 mph, had settled in the legislation as the speed of demarcation. Bicycles travelling faster than that were classified one way, while those slower were still mostly considered bicycles. Recently a new class of fast pedal assist bikes had arrived on the scene. These would assist the rider up to 45 km/hr or 28 mph. The world wasn't quite sure what to make of that category. Europe moved to regulate them separately and more strictly than the 20 mph variety, while the US largely grouped them together with their lower speed brethren so long as you needed to pedal to move.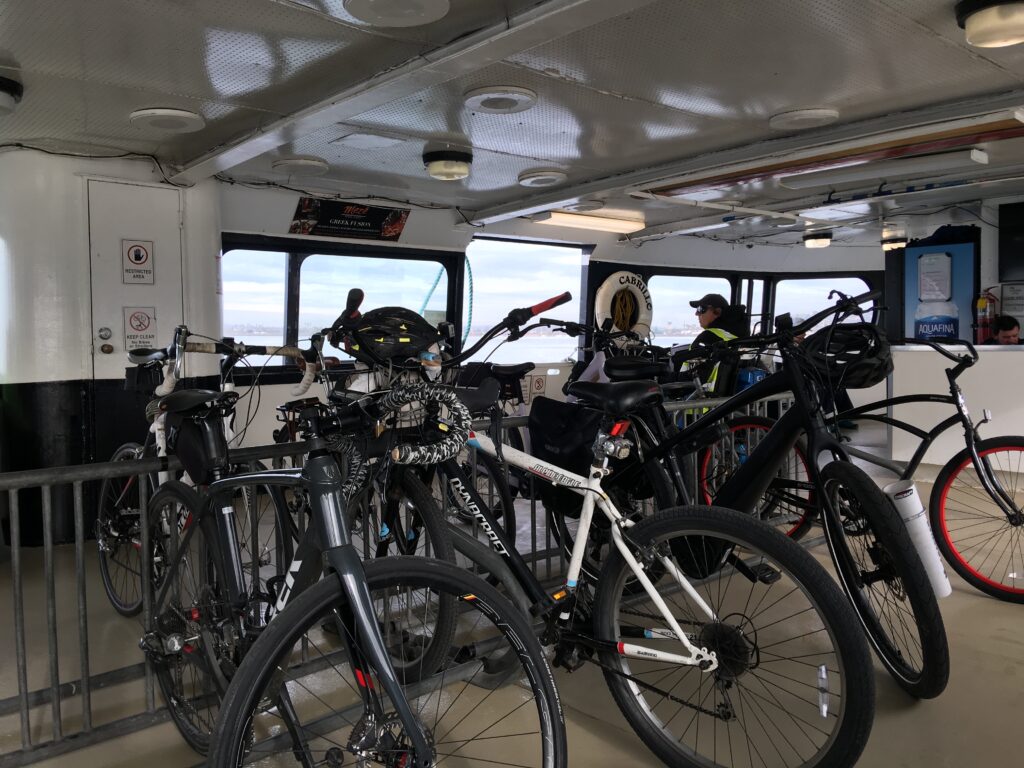 We asked around at bike shops, park ranger stations, and internet forums. The trend in the US was to consider them bicycles if you needed to pedal to move, and the responsibility was on the rider to abide by posted speed limits if any. We have all been on a multi-purpose trail when a group of road bikes rush by at 25 mph. The problem was their speed not whether they had a battery. In practice in DC, we rode them on sidewalks, streets, trails and bike lanes. Two abreast on the city streets travelling at 25 mph, between traffic lights, we behaved like a car. On a sidewalk next to a shoulder less busy highway, we pedaled at Huffy Roadmaster speed.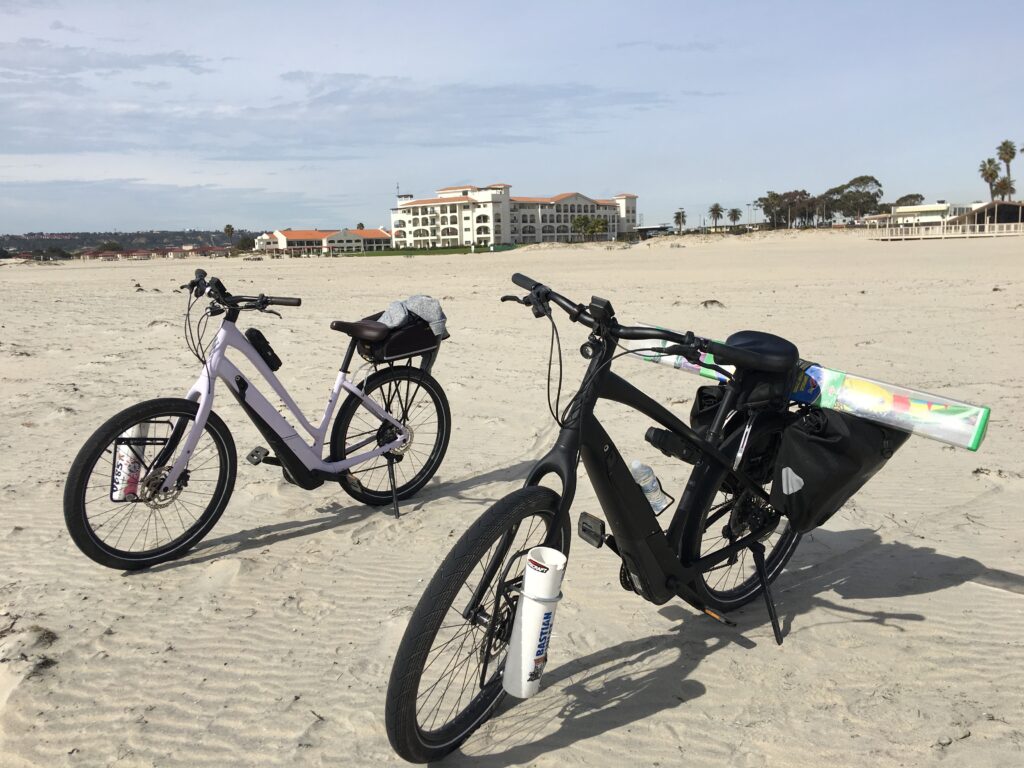 Additionally, our circa-2014 electric bikes had a thumb activated throttle. Push it forward, and the bicycle took off regardless of whether or not the rider was pedaling. A new type of drive mechanism had emerged that only supplied power when the rider pedaled. These pedal assist electric bikes were considered more bike-like than their throttle-able forerunners. The pedal assist motor mechanism had been moved into the crank area of the bike, as opposed to the drum area of the rear wheel. The new location provided the same gearing advantage for the electric motor that the rider experienced, allowing motor sizes to come down along with their demand for current. Many people stare at the bike wondering where the motor is located. The Li-Ion battery is integrated into the down tube of the frame completing the stealthy package while keeping the center of gravity low and centered, just where you want it.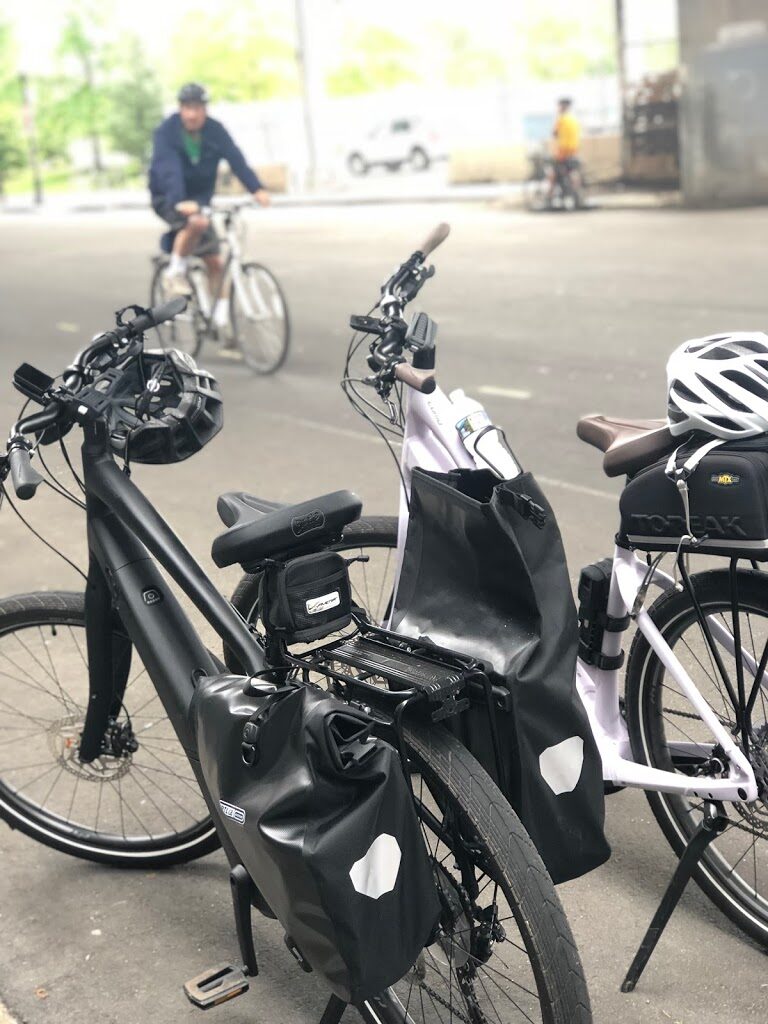 There are hundreds of electric bike manufacturers online. We began to narrow down our selection by requiring that we be able to buy and service our purchase locally. We also wanted to be able to service or find parts for our electric bikes anywhere in the country. This effectively limited our choices to a dozen or so larger manufacturers. Choosing a ride is also a "look and feel" exercise. Of course, price is a consideration and although while we spent thousands, it was thousands less than we could have had we had preferred something more expensive. It was the same sticker shock I experienced when I saw my first $5,000 all carbon road bike in the bike shop. It's all a matter of perspective and priority.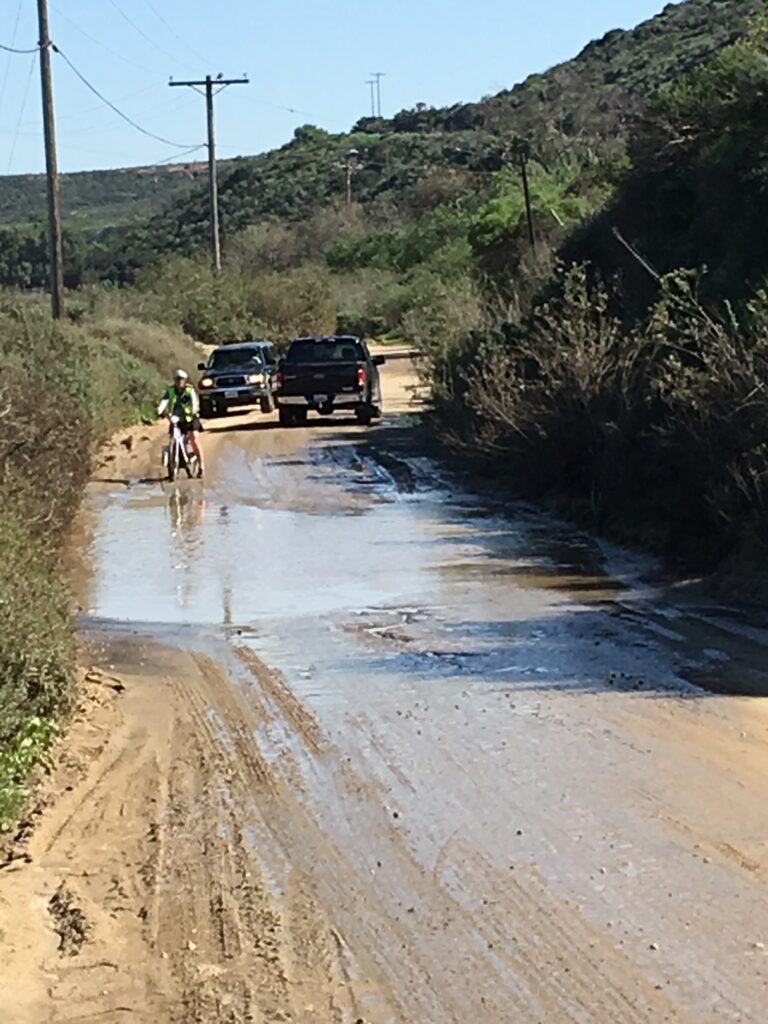 We found the perfect solution for us at Electric City Bikes in Tenleytown, DC in our local bike shop. We choose the Specialized Turbo Como 3.0, a fast 28 mph pedal-assist bike made for the middle-aged person who likes the look and feel of cruising. It reminded me of my folk's station wagon from 1971, a Plymouth Satellite. Sure it screamed middle age family man on the outside. But under the hood it packed 383 cubic inches of big block V8, same as the Road Runner. As Chad the bike salesperson stated, "every time I push the pedal down, I smile."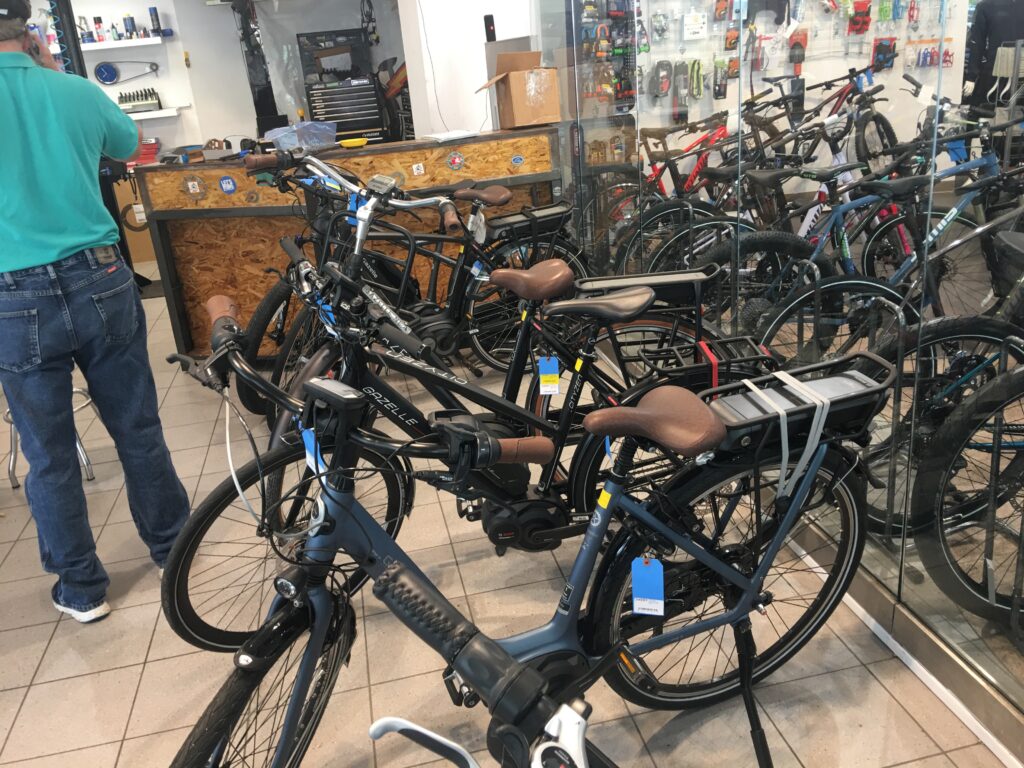 Specialized is a well-known bicycle company that has been manufacturing performance bikes since 1974. Bike shops around the country support Specialized or Trek, so we were comfortable that we our purchase would remain supportable for many years. What really sold us on the Como was the combination of speed and comfort. Now comfort is in the behind and posture of the rider. When I was on a road bike nearly every day, a thin, lightweight saddle was considered comfortable. The feeling of clipping in to a light and extremely responsive bike rolling on thin, highly pressurized tires was exhilarating. Now try that in flip-flops, a swimsuit, and a folding beach chair on your back – not so exhilarating!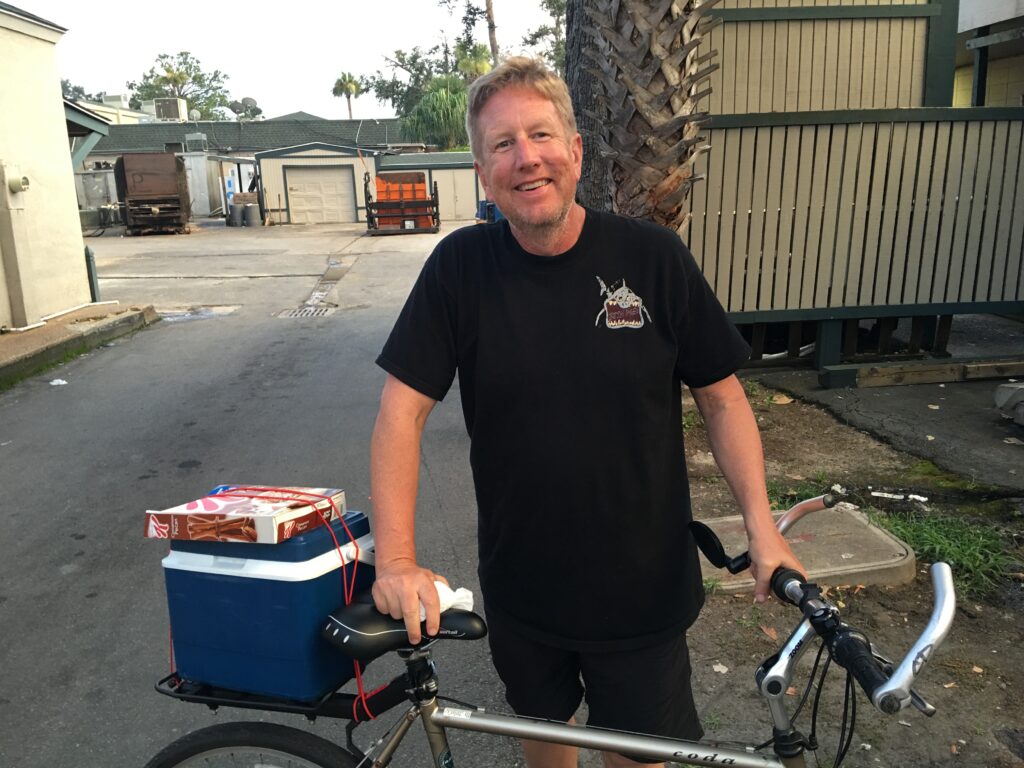 The Como has a saddle more closely related to the beach cruiser than to the road burner. The handlebars follow suit sitting higher than the seat, giving the rider an erect riding posture. It is super confortable and looks normal when cruising down a boardwalk. When combined with the electric motor, however, it cruises at road bike speeds, which is anything but normal judging by the surprised stares. The rider selects one of four settings from no assist to maximum assist, and as he pushes on the pedals, the electric motor integrated into the crank provides additional torque. How much additional torque? Right around 75 nm from the 250W Brose motor, which approximately doubles to triples the performance of the rider. Unlike the 2012 e-bikes that felt scooter-like in their throttle response, the feel on the Como with the mid-drive pedal assist is similar to the feel of riding a road bike. The 47lb bike feels lightweight and responsive. The bike leaps forward, but not on its own, only when the rider pushes on the pedals. And the old memories of speed to exertion level match up closely too; except you are not clipped in and folded over. You are upright and flying down the road at road bike speeds.
As an example, I used to ride on level pavement at around 18 mph with moderate exertion carrying me and a water bottle. Now I do the same propelling a 50 lb. bike, an additional 30 lbs. of gear, and sitting upright using what Specialized terms ECO assist (1st assist level). If I crank the assist up to TURBO (max), I find myself travelling at 25 mph with about the same effort two gears higher. The Como will provide assist up to 28 mph, but in practice getting to that speed for more than a few minutes with the Shimano Deore 10-speed requires a cadence that exceeds my human performance. When coasting, the motor causes no drag on the drivetrain.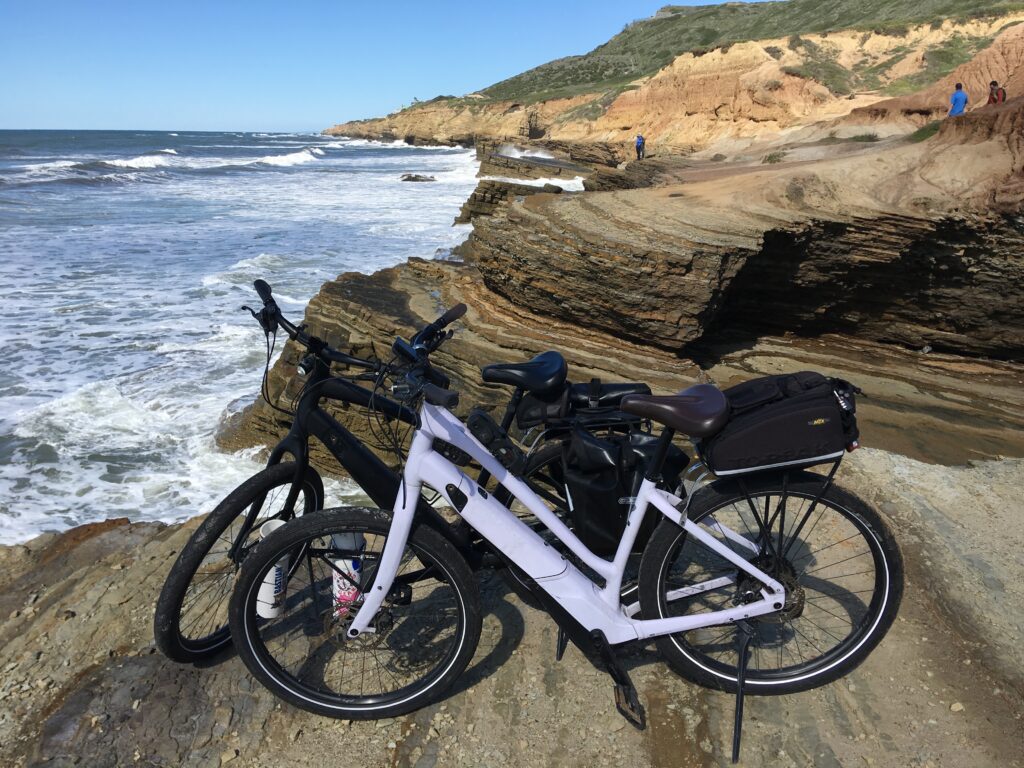 The real magic, however, comes on the hills. Any rider knows that any extra weight is supremely felt on the inclines. The electric assist on the inclines is like magic. You still have to work and make use of the 10-speed, but the effort is so much less. It totally feels like cheating, and cheating has never felt so good! Where road bikes sometimes pass us on the blacktop straightaways, we always reel them in and pass them on the up-hills because our speed remains relatively constant as the assist level is clicked up for the climb. As you pass, the obvious effort of the road bike rider is a clear reminder that you are on a different beast. If your goal is a work out, it is counter productive. If your goal is smooth transportation without those heart racing spikes in effort along with the commensurate heavy breathing and sweat, it is magic.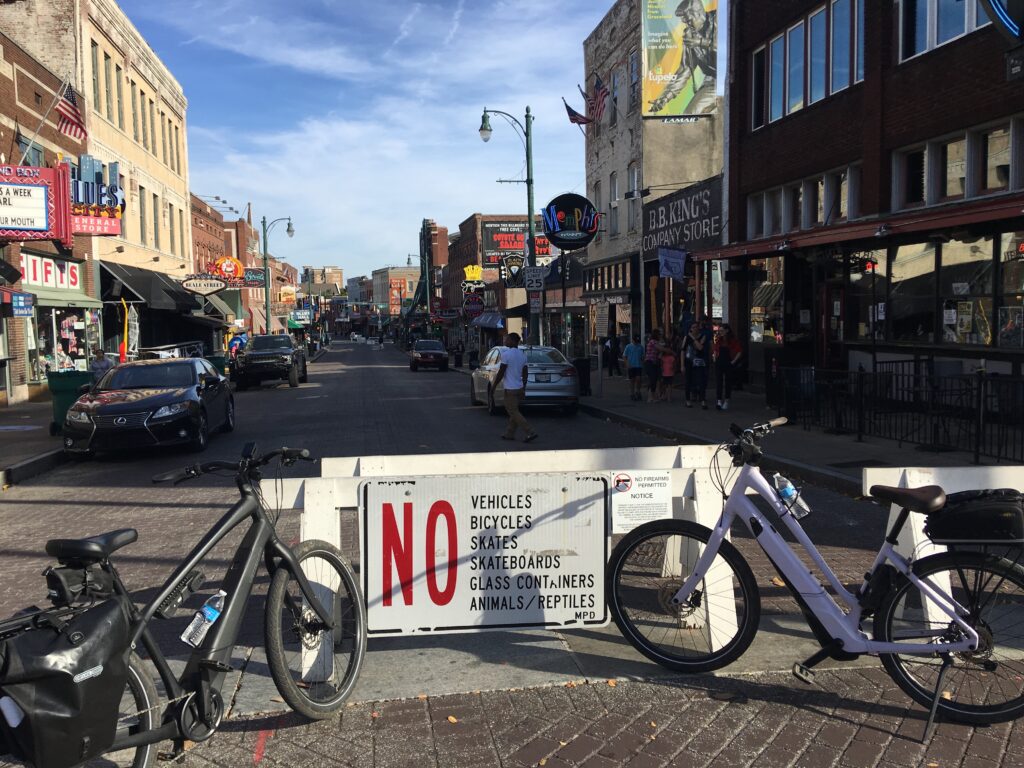 The Como rolls on 2.5 inch wide, relatively smooth tires. The fat-ish tires are needed to compensate for the lack of a front suspension on a 50 lb. bike. It is an excellent compromise tire which feels a bit too wide on the pavement and not quite aggressive enough on the sandy trail but perfectly capable of doing both. We have had them on sand, dirt, gravel, and blacktop where they keep the ride smooth and stable. Since these bikes are our only form of transportation, we have to be able to make the transition from camp trail to state road. The ability to ride off-road on light trails also opens up a wide range of trails to explore that road bikes and urban commuters will not visit.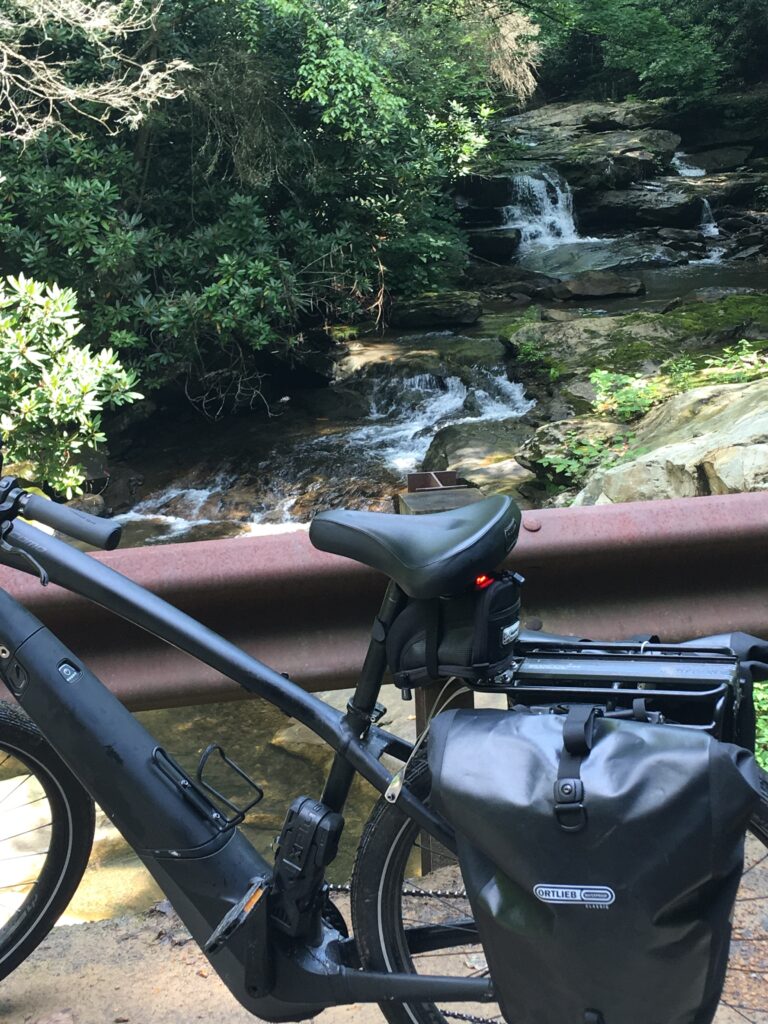 Since the Como's are our only transportation and not just a workout, storage and carrying capacity is critical. Do you really want to spend a day at the beach without food, shade or chairs? The Como's came barebones except for an integrated head and tail light. That allowed us to customize them for our needs. We choose a Topeak rear rack that can accommodate a center trunk bag on a track and hang dual panniers. Sheri's Como is outfitted with a Topeak Quick Trak MTX trunk bag, which cleverly folds two moderate panniers in storage ready to be deployed if needed. My Como carries two Ortlieb classic waterproof panniers, which provide enormous amounts of protected storage. On the front, both Como's sport a single low pannier rack on the front fork with a 3 inch PVC pipe banded on. The pipe is perfect for fishing poles and beach umbrellas, which are always tricky to carry. All panniers are outfitted with small luggage locks that provide some measure of security when the bikes are left alone. The bikes themselves carry ABUS Bordo 6000 foldable locks that you would need power tools to break. Any lock is breakable, but this one will take a lot of effort.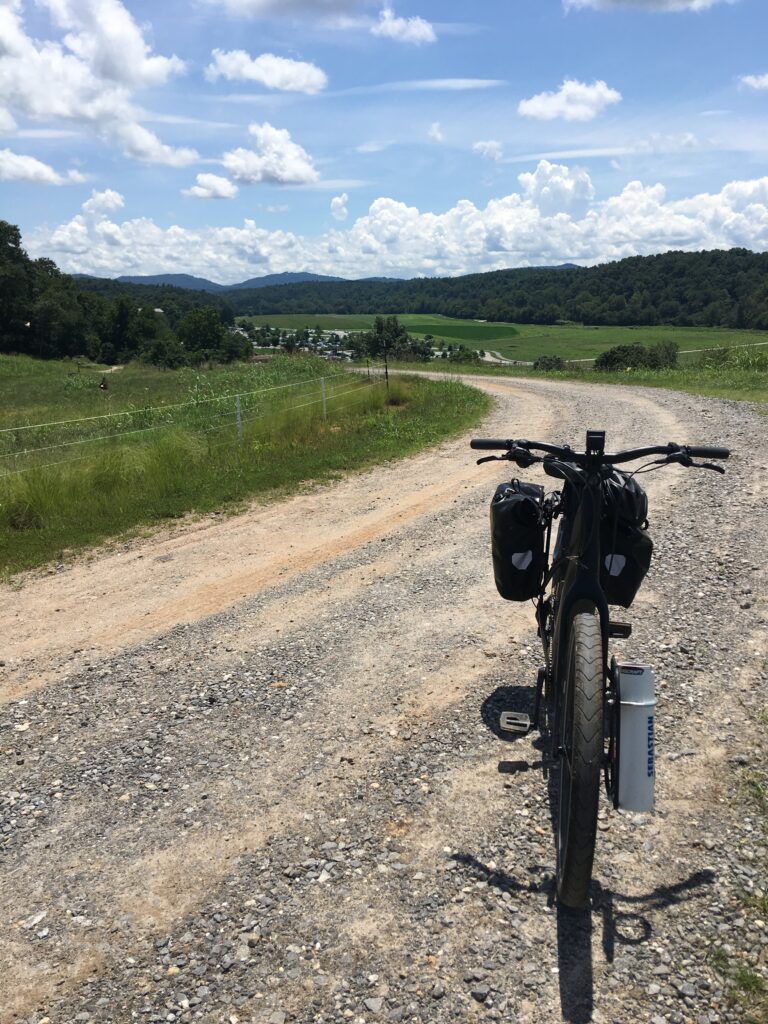 A fully loaded ride to the beach includes two folding lounge chairs (REI) in one of the Ortliebs, towels and a change of clothes in the other Ortlieb, a beach umbrella in one pipe and the umbrella holder in the other, and all of our personal items from sunscreen to iPhones in the trunk. If we decide to take laptops and iPads, we fold out one of the MTX panniers and load them up. If we have a picnic lunch, we strap the cooler on top of the Topeak rack on my Como. Normally, the thought of riding such a heavily loaded pair of bikes would be depressing, especially in the heat of a Florida summer. But, with the electric assist on level 1, we are rolling down the road at 18 mph with no appreciation of the added weight.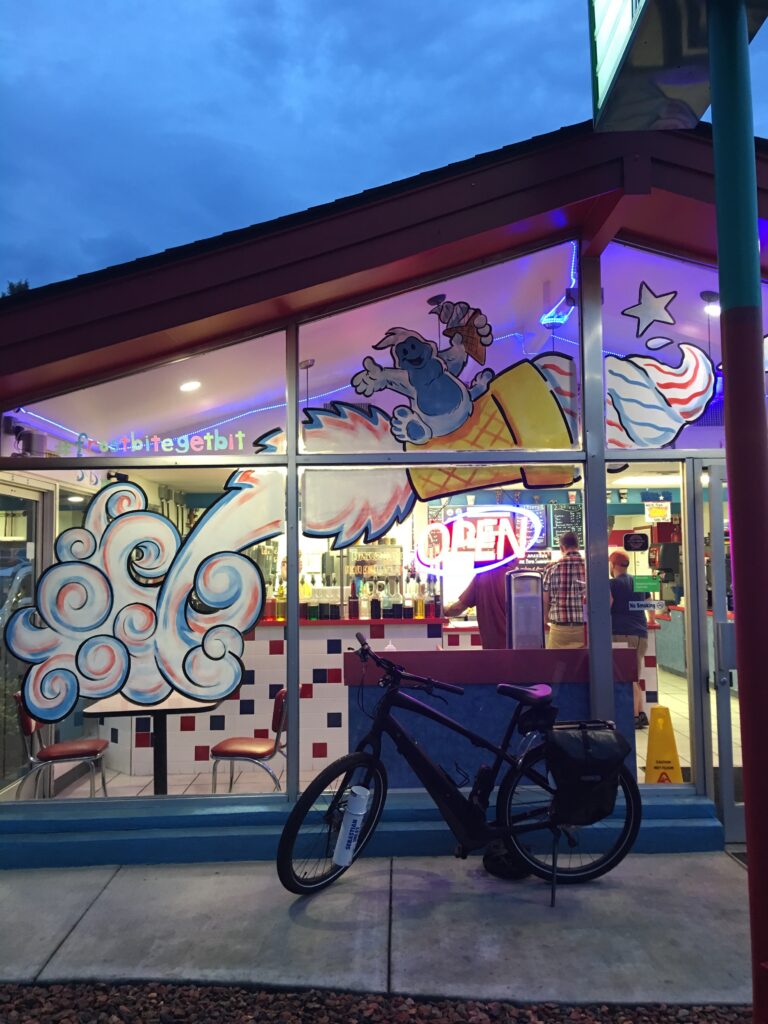 The mileage on the Como's recently passed 500. At this point, we have a good feel of what they can do. The 504 Watt-Hr battery lasts for about 50 to 60 miles of riding on moderately flat elevations averaging 16 mph. Surprisingly, rather than see how fast we can go, we prefer to see how little battery we can use. They ride just fine as a conventional bike, especially when lightly loaded on tires at their highest pressure which Sheri proved the other day when she used just 20% of her battery on a 40 mile commute for WIFI (the current record). Our radius of exploration is determined mostly by our rear-end which can take 3 to 4 hours in the saddle in a day. That translates into about a 25mile radius from the campsite.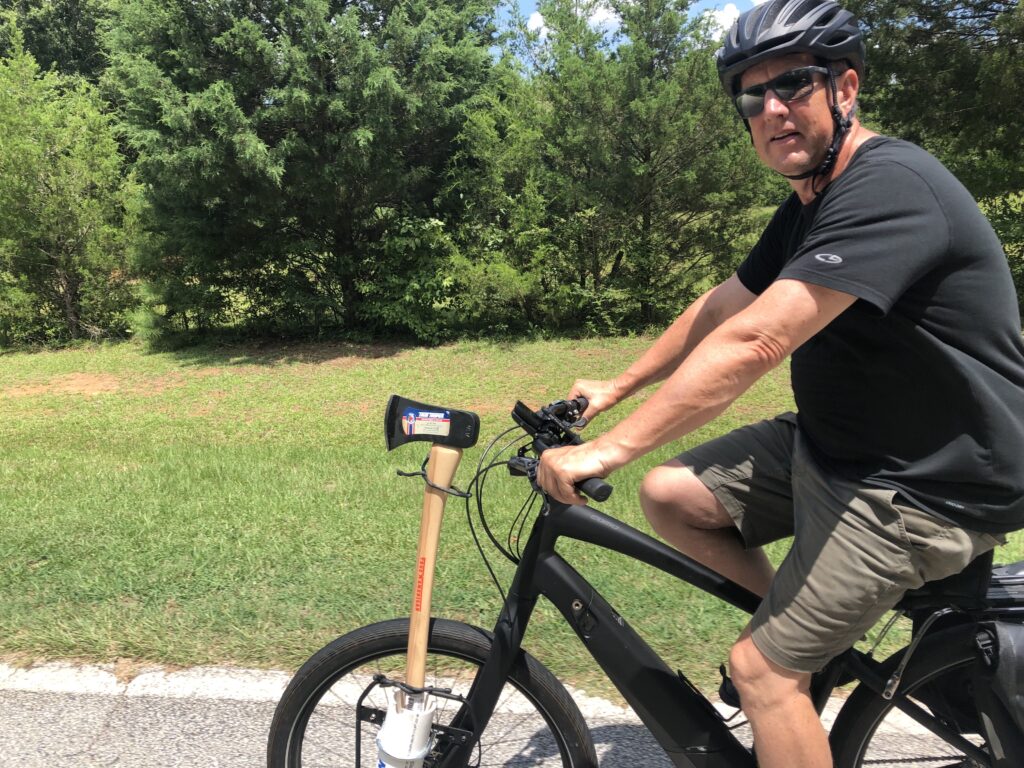 We often ask ourselves, do you want to get a car? We look at maps and are beckoned by town names like Augusta, GA, which lie outside of our bikeable radius. Are we missing things, we ask? But, if we had a car, would we bike 6 miles to the Phinizy Hardware Store for an axe, or go at all since Walmart is just 15 minutes (by car) down the road? For now anyway, it is a lifestyle choice. Like a Manhattanite who is proud of the fact that they never got a driver's license, we are committed to our electric bikes. They force us to maximize the world directly around us, and help keep us active in the process. We are as nimble as a 35 feet motorhome can be going down the highway, and not adding any stress on the Ford Vortec V10 on the uphill inclines if it had to pull a TOAD. We feel the heat of the day, the breeze on the highway, the subtle incline changes in the landscape, and watch for rain clouds forming in the afternoon. The oneness with the environment brings back fond memories of sailing. We love our e-bike lifestyle.