Yuma Proving Grounds is remote by DC standards, but here in Arizona, 30 miles is down the street, With the main town out of Como reach, we popped our two loads of washed laundry in the dryer and took off on a 6 mile ride to the old tanks and missiles garden.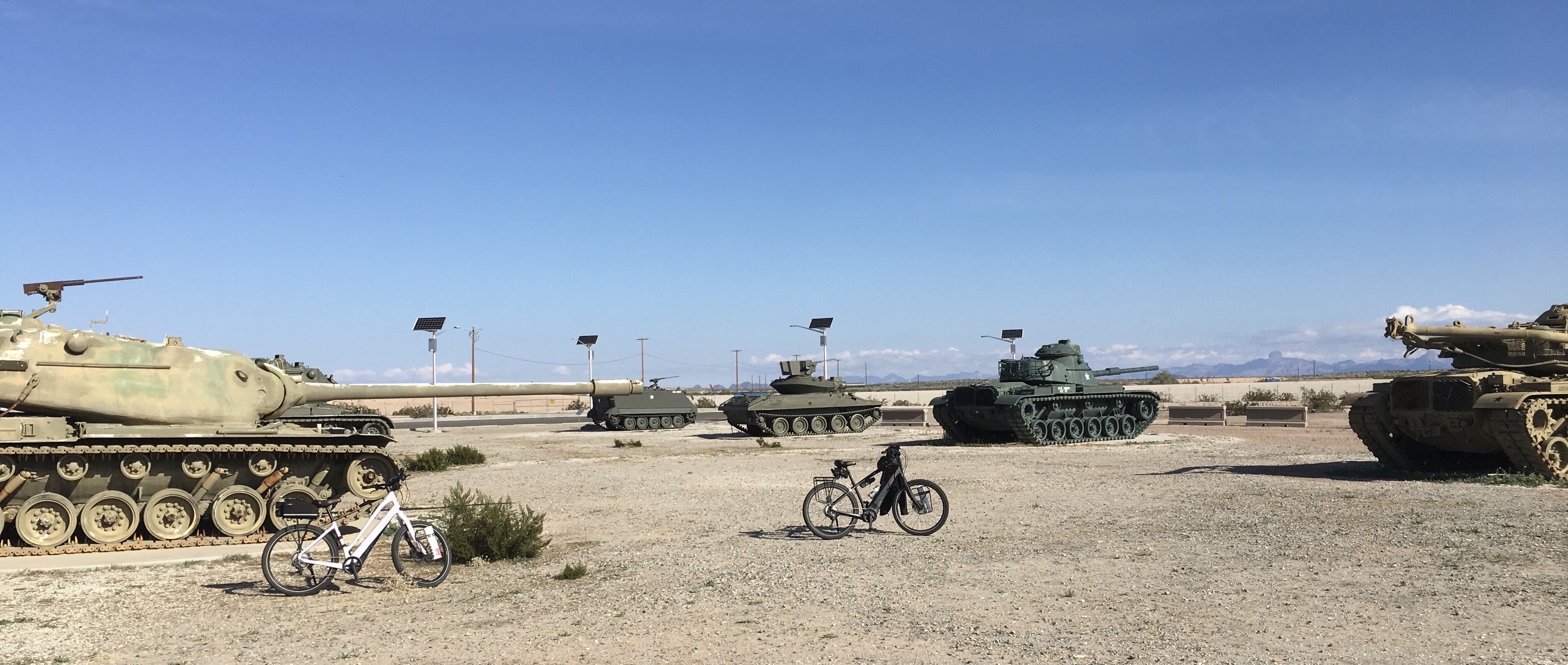 With no particular place to go, we wandered around each tank, reading every plaque and marker, learning about historical artillery, including the Honest John and Little John tactical nuclear rockets. Ah the Cold War, those were the days…. The great expanse of Yuma Proving Grounds is still used to live-fire tanks, rockets, and such in battlefield-like conditions as compared to in a lab or at home, I suppose. But, according to the sign out front, only Monday through Thursday, so we found it deserted.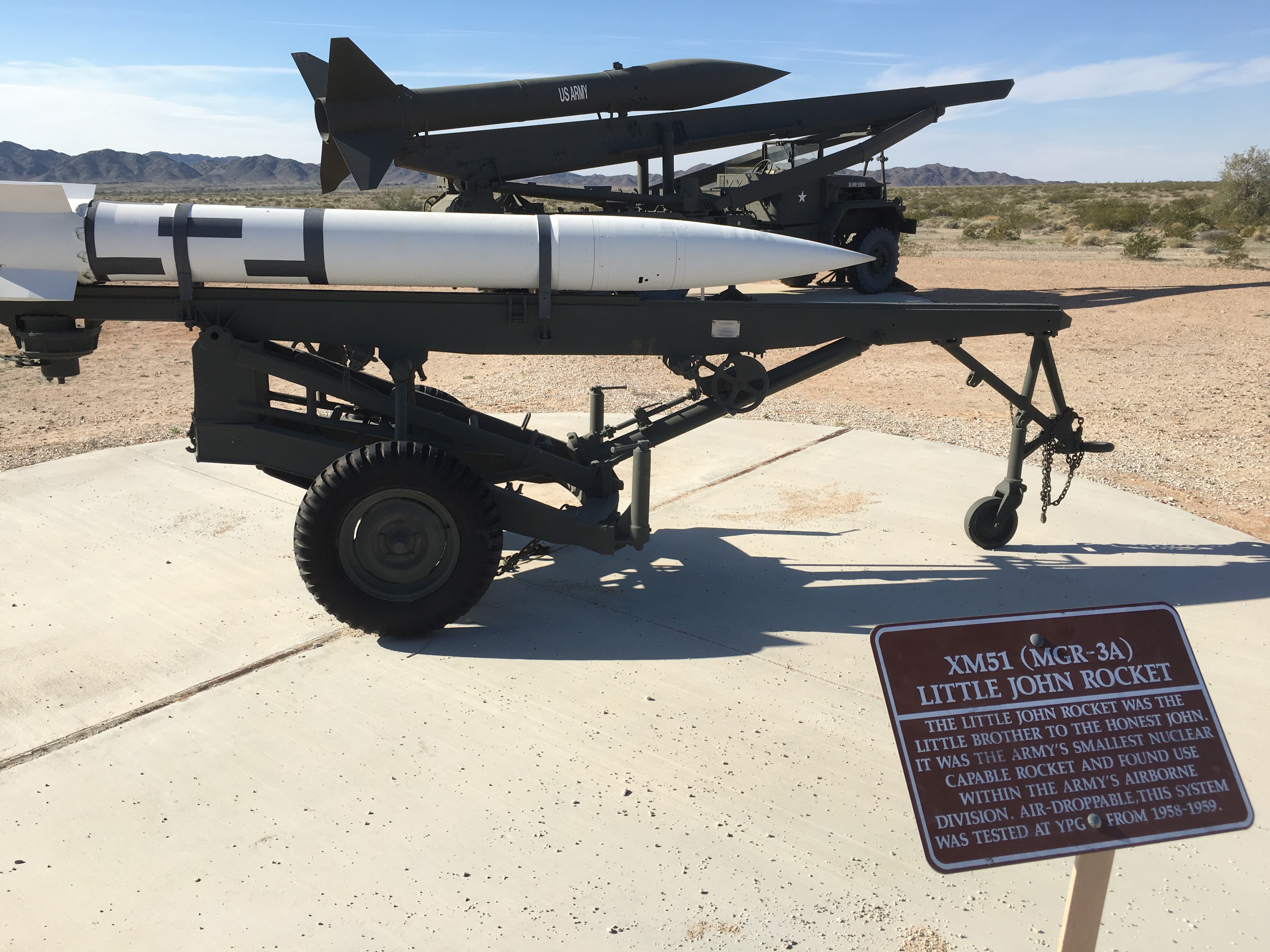 With an hour behind us, it was time to take the return trip down Imperial Dam Road to make dinner and prep for Eagles Sunday. About 3 miles in, Eric's front tire went flat and the electric ride became the electric slide off that bike and start walking. While we had a patch kit, spare tube and pump in the Topeak, the pump valve was of the wrong type. No air, no use for a spare. We counted 9 trucks, jeeps, cars and RVs that passed us on our trek and promised that if we saw old bikers walking on the side of the road, we will stop and assist. About a quarter mile from the base, Henry and his man friend rode in on their green horse to pump us up.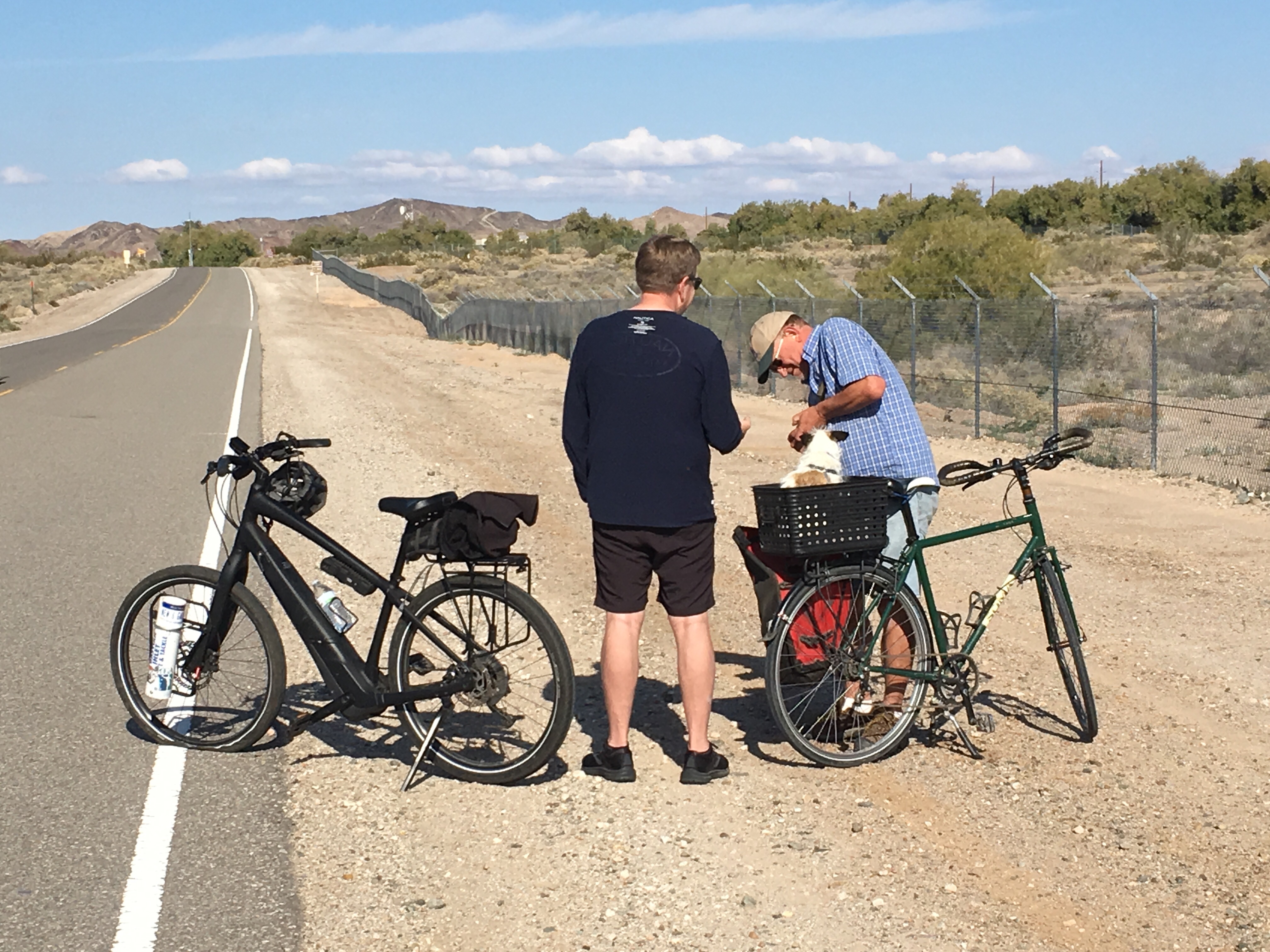 He was from Northern Cali and has been boondocking at Imperial LTVA (long term visitor access) since early December. We had heard about Quartzite, a Bureau of Land Management area 65 miles west, where you can dry camp for free, but with no resources. He said Imperial was about 3 miles past the base, so we thanked him for the air and went home to cook, change a flat and go find LTVA before kickoff.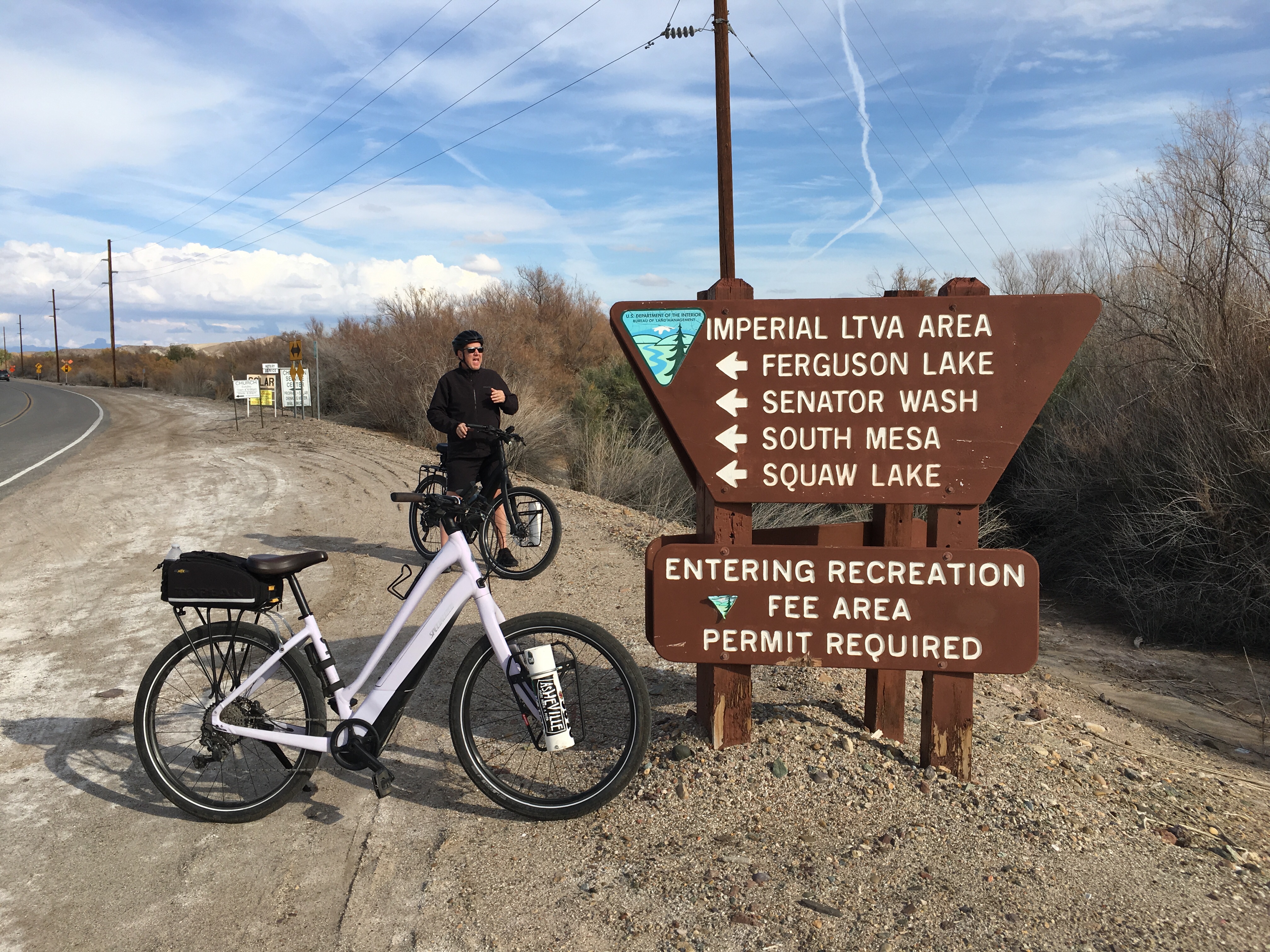 Imperial LTVA was created in 1983 to fulfill the camping needs of winter visitors and to protect the local desert ecosystem from overuse. The campground covers about 3,500 acres on a flat, dry, sparsely vegetated landscape. If you want to live in LTVA at one of the lakes just over the AZ border in CA, it'll cost you $180 for a 7 month pass (Sept 15 – April 15). If you only want to stay 14 days, it's $40. We checked out the first cluster of economy campers and decided we are going to try the dry life at the end of our trip, on the way back to Tucson, with YPG as our tap out.
Back in the day, Eric used to race around YPG in an A-6 Intruder dropping bombs on fake targets for training. Later, he came back to fly UAVs from remote fields deep in the YPG interior. There was this one time when some ordnance/bombs missed the target and, after exploding, might have bounced shrapnel off the sides of some RVs which were camped right up along the fence line. He always wondered who the nuts were that liked to camp as close as they could to a live-fire range. Guess he'll find out when he returns.
On our way back to base, Sheri joined Eric and our beloved Eagles, falling flat today. Next stop – a Specialized repair store!