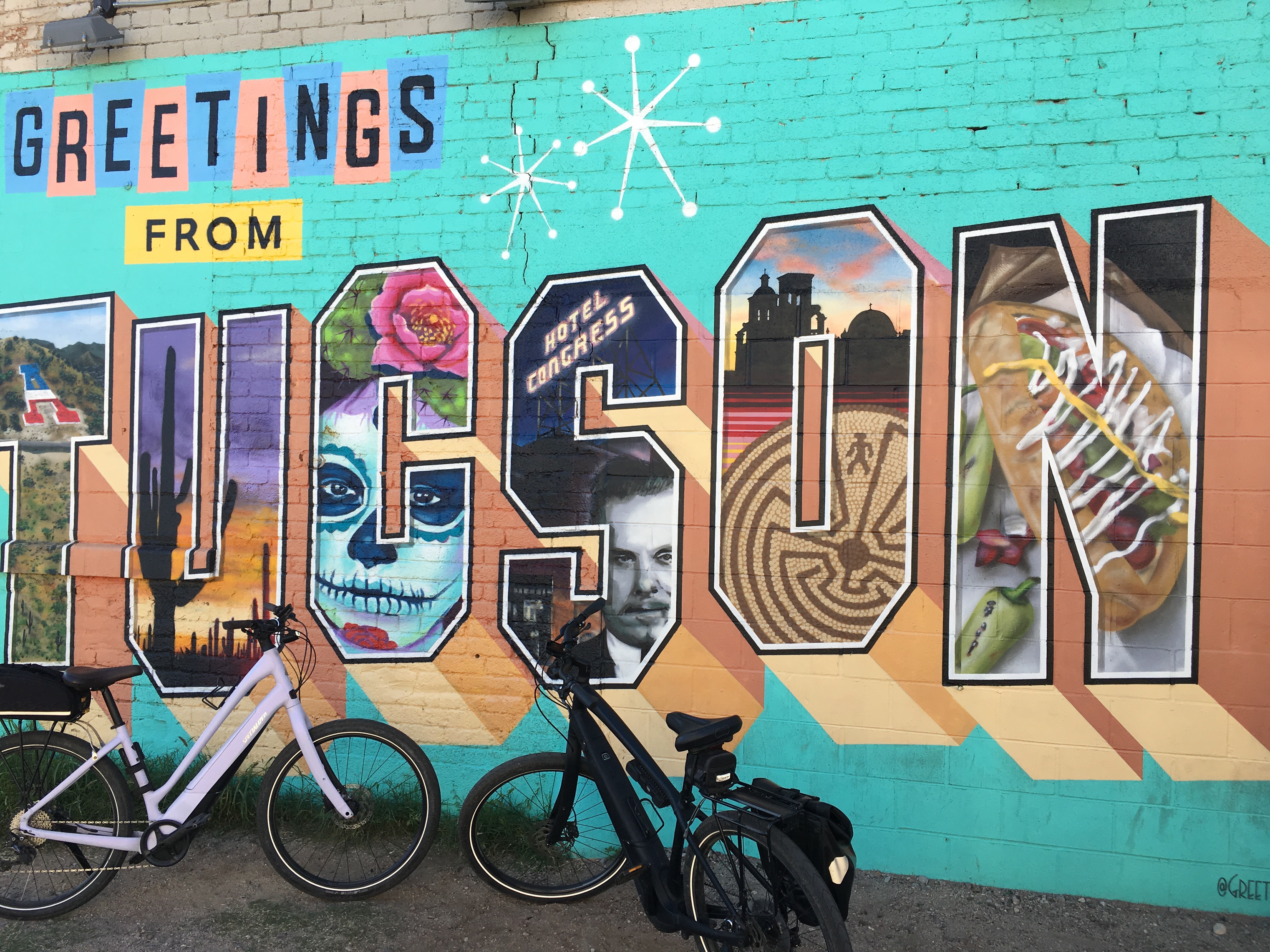 It was only appropriate that our last full day in repositioning Betty involve a very long bike ride, thrifting and art in our adopted west coast home of Tucson.
We spent the morning prepping for an early Sunday departure to park Betty at Tucson RV Storage while we're home for the holidays. While Sheri packed clothes, dumped condiments and readied the interior, Eric drained water tanks, pumped antifreeze and secured bins on the exterior. Sufficiently stowed, we took off on the familiar Aviation route of The Loop, over the Palo Verde Bridge and down the avenue to the Tanque Verde Swap Meet.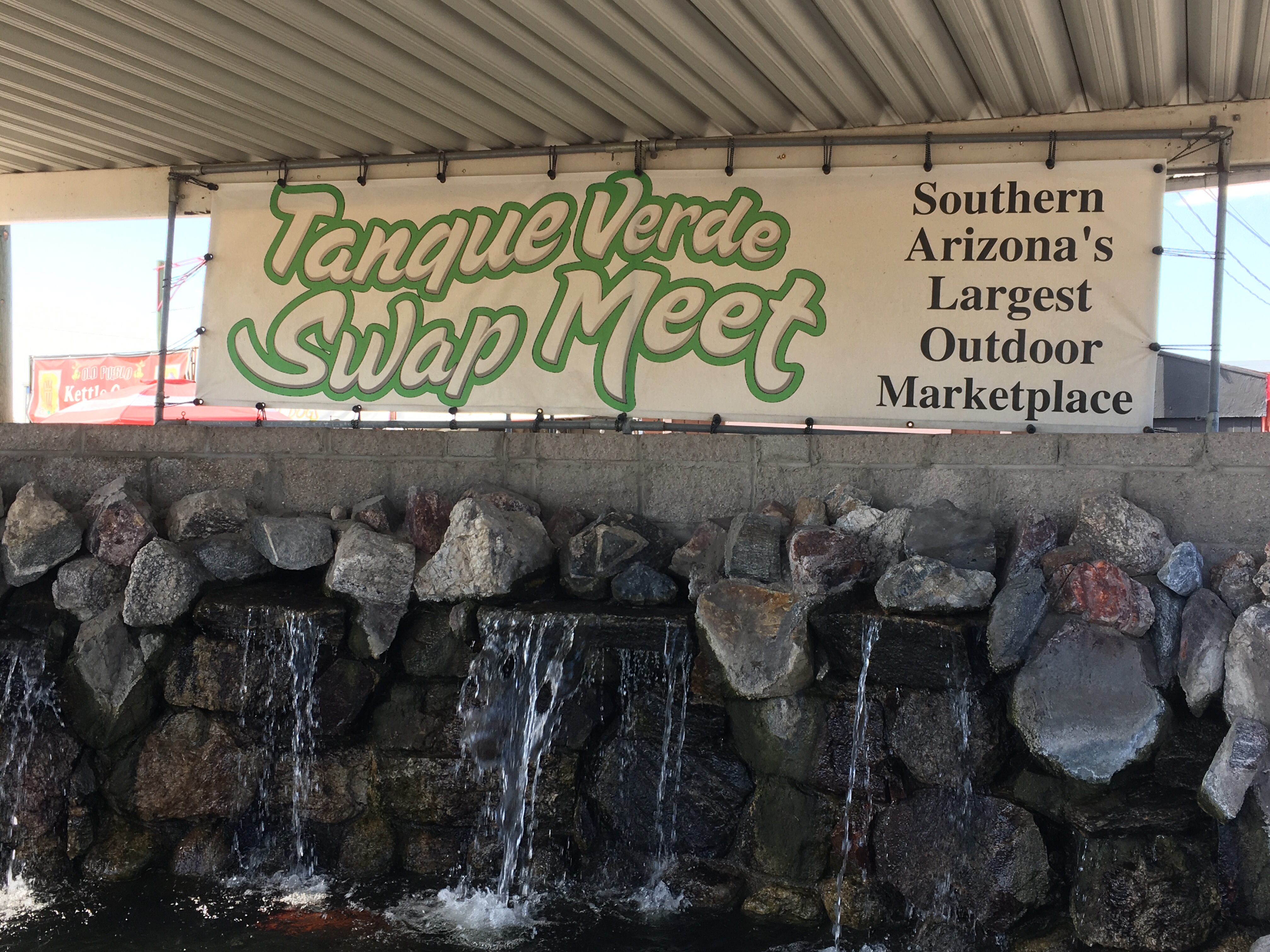 We passed it on the way to Camping World the day before, and discovered it is only open Friday/Saturday with 7-3pm and 5-9pm shifts. We hit it around noon on Saturday anticipating full swing activity and something like the Elephant's Trunk on Flea Market Flip, which we've never been to, but visit with Lara Spenser on her Sunday morning marathon. Instead we got Elephant's Dung, as Tanque Verde is a dustbowl of crap.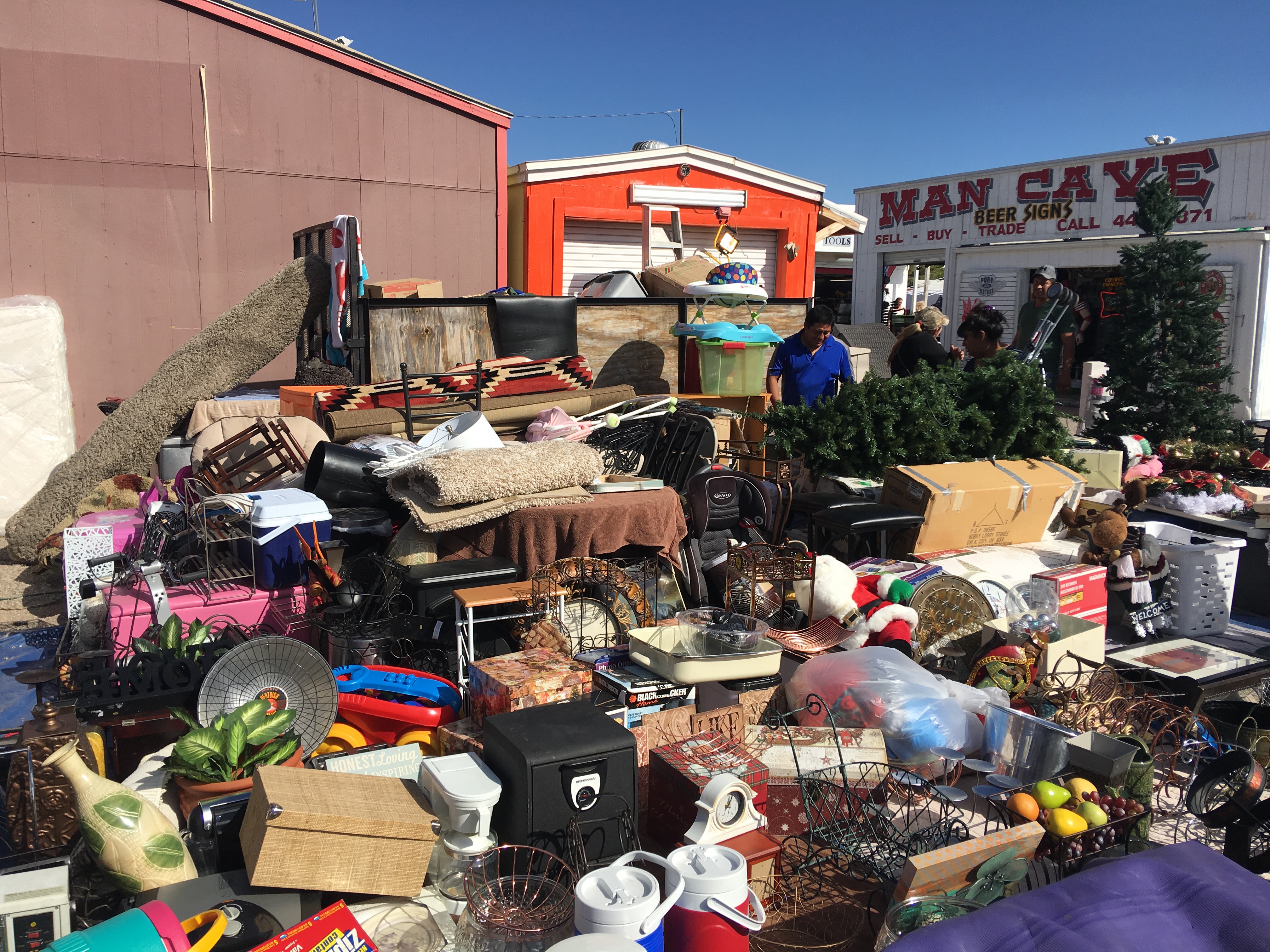 Crap might be too strong word. As they saying goes, "One man's junk is another man's treasure." At this swap meet not only can you buy another man's junk, you can eat a junky meal, smoke a junky hookah or your kids can ride a junky ride, if you're into that.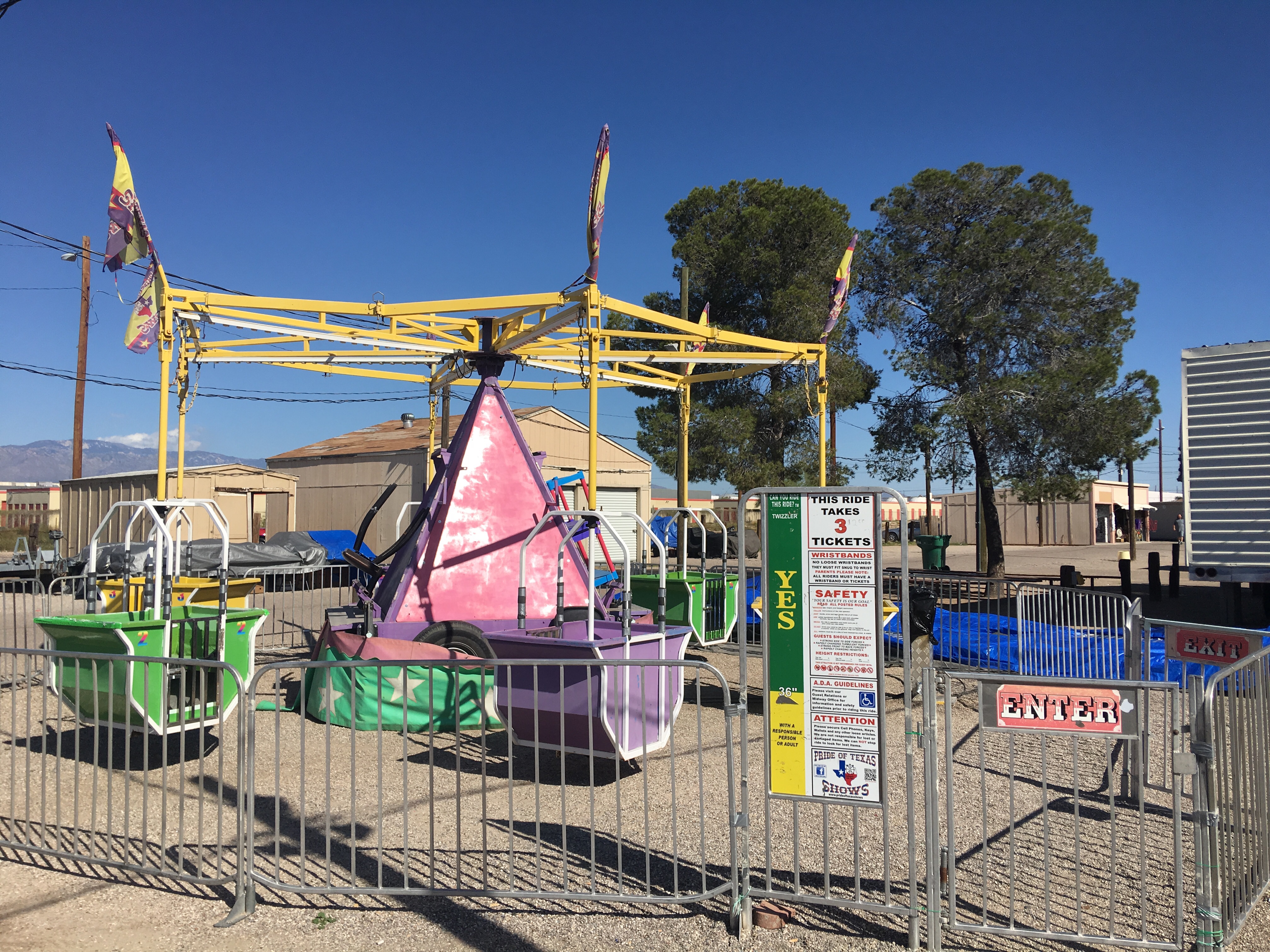 There were more sellers than buyers during our visit, and no one was on the whirly rides, but Sheri did buy what we think is an old art-deco trophy topper for $2. She'll look good on some future upcycle project.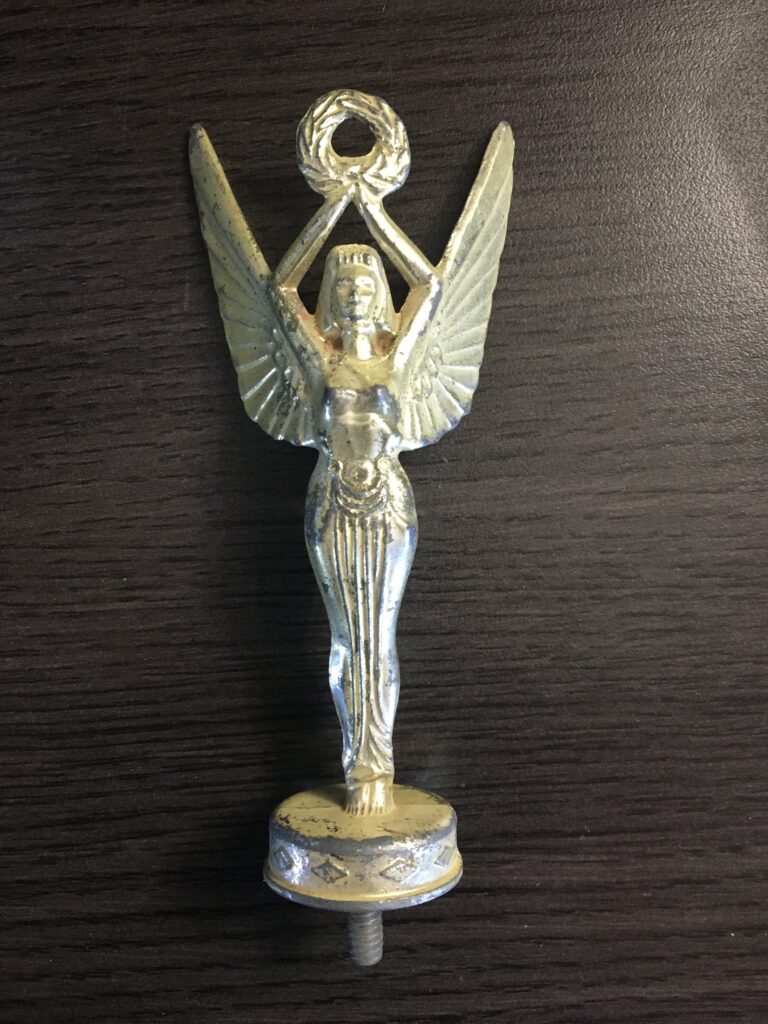 We left the swap meet in search of disc golf at Sam Lena Recreation Area. We found it but we couldn't play it since the course is a circle around a baseball field and party pavilions. Afraid we might clock a 5 year old with an errant drive, we picked up the adjacent greenway and biked into town, getting raked in the face by an errant cactus and then notified by this roadside sign.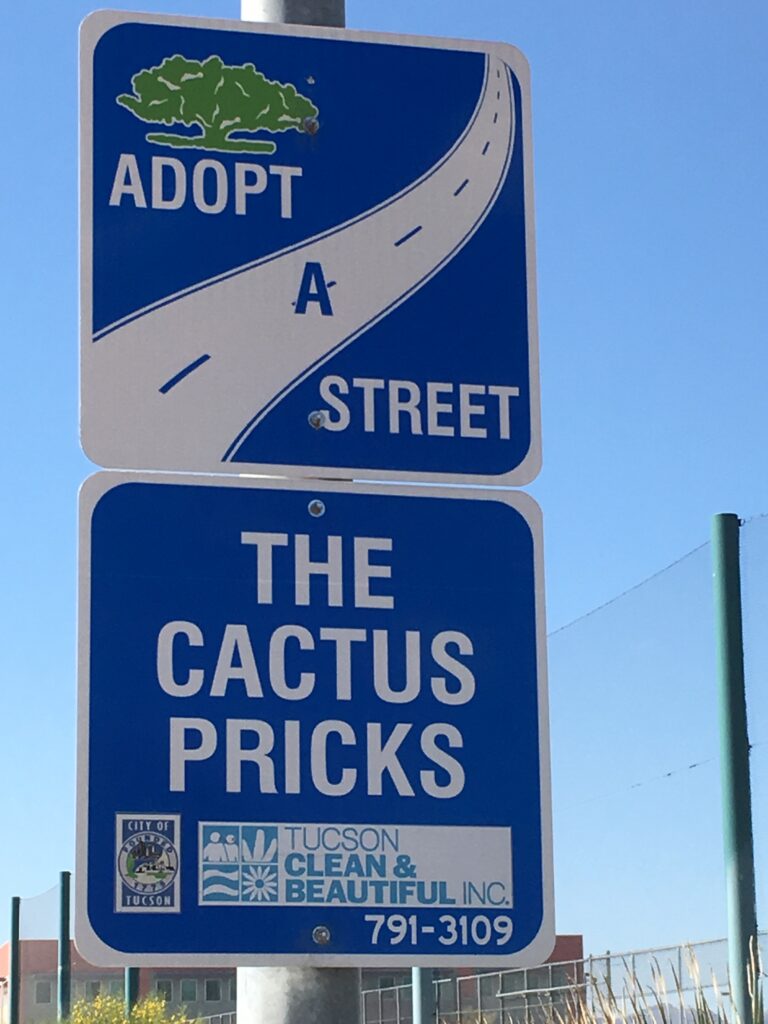 Cruising downtown Tucson, we walked the main drag, biked the mural district and shopped eclectic Fourth Avenue before heading back to the base for a leftover dinner of slow cooker chicken doused in Raspberry Jam and chipotle in adobo sauce. Sheri wasn't able to incorporate the remaining green dragon sauce, schiracha, soy sauce and capers into this dish.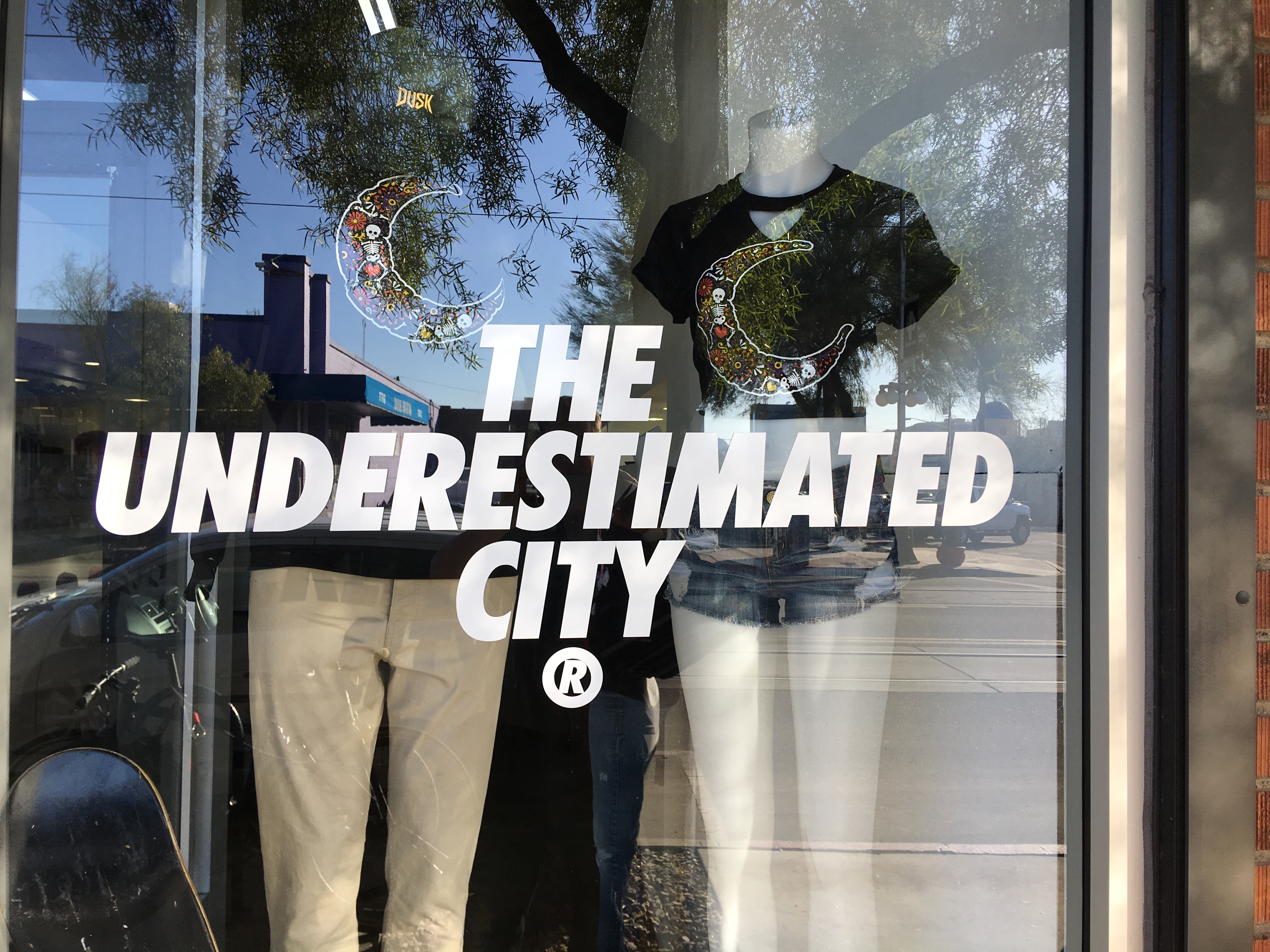 While we took a swing and miss at that flea market and disc golf, we really did enjoy the 'vibe of Tucson. The miles of perfect bike trails, the robust music and art districts, and the retiree-friendly Air Force base leave us already looking forward to our return.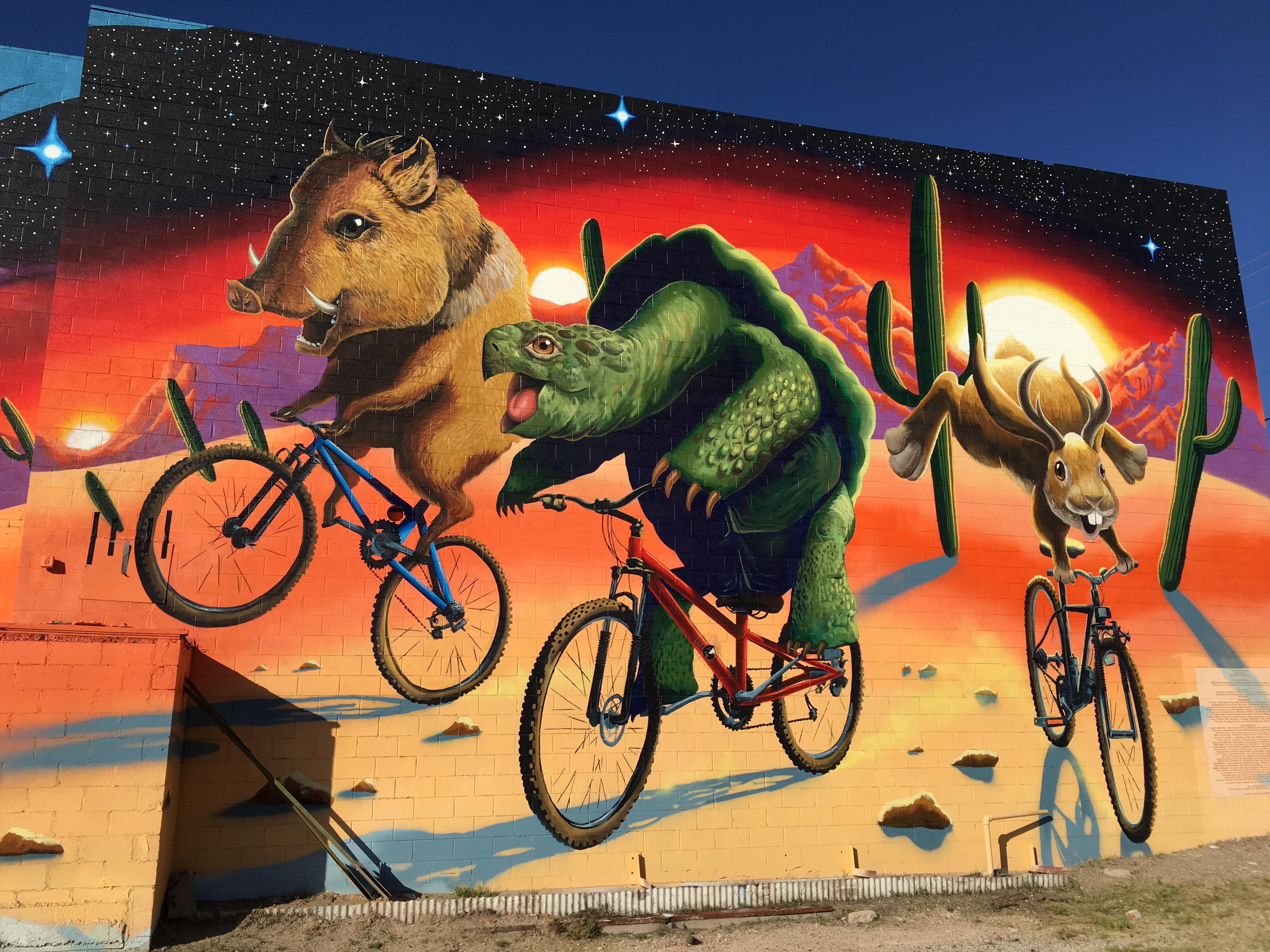 Sunday morning, Veteran's Day, we gave a teary salute to Davis Monthan and rode North to Enterprise Rent-a-Car, picking up a Kia Sorrento and then onto RV Storage where we locked everything inside Betty and left her inside a 17 acre compound surrounded by concrete walls topped with razor wire. She's in good care with neighboring Amazon Prime vans. If it's good storage for Jeff, it's good for us.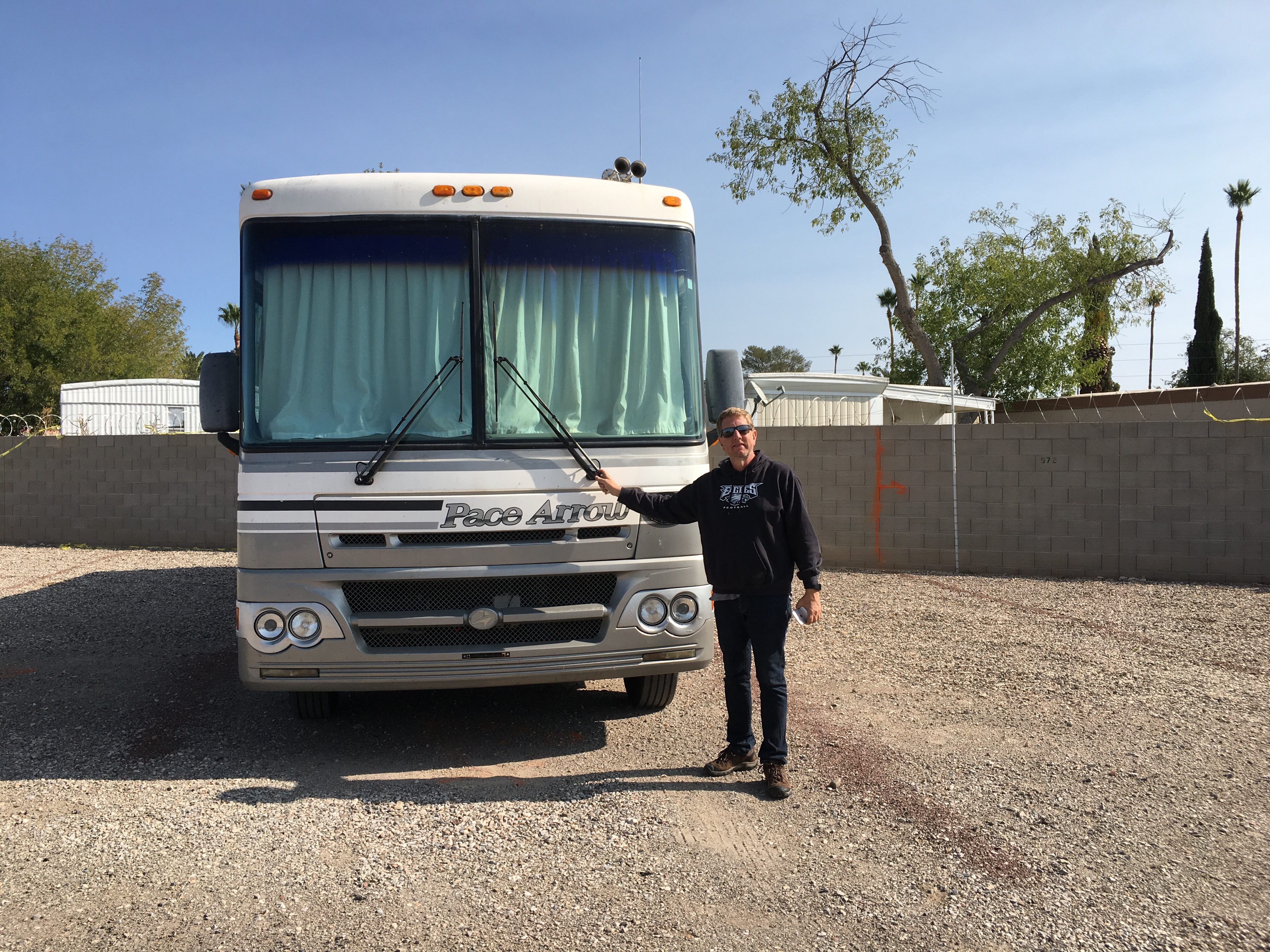 En route to Phoenix, we stopped at a free RV show to tour new and used options for our future life on the road. What surprised us was that we were constantly comparing them to Betty and in the end realized she's part of the family and has nothing to worry about. She will see San Diego this winter and Zion next summer. We're even treating her to a new track bar and sway bar when she visits Carl's RV for a check-up in January.
The Kia provided solid transportation to visit Sheri's long time friend and colleague in North Phoenix, where we dined in the funky town of Caves Creek at El Encanto – Mexican fare surrounding a duck pond. If that weren't interesting enough, we checked into the Econo Lodge near the airport, which is another compound surrounded by concrete walls and razor wire and lit up like Las Vegas. Here you can't rent a room if you live within 30 miles but you can rent a new friend a block away.
We awoke this morning refreshed and hungry. Googling "family owned restaurant near me," we drove 3 miles to Roosevelt district for breakfast at Vovomeena, a hip day joint serving locally crafted coffee, breakfast and brunch.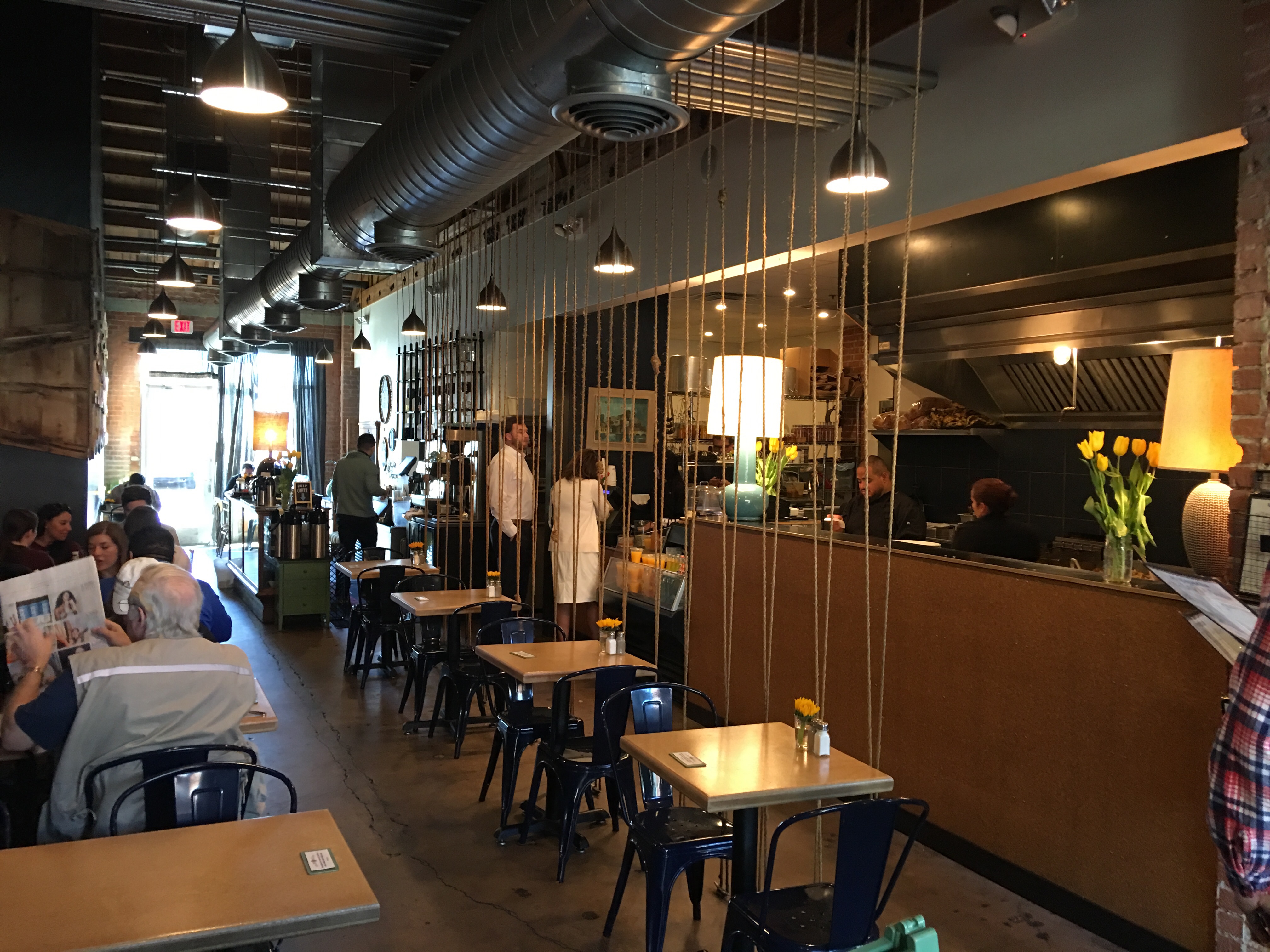 The crowd rolled in as we noshed on creative egg dishes and the menu's suggestion to "add a Portuguese donut – duh!"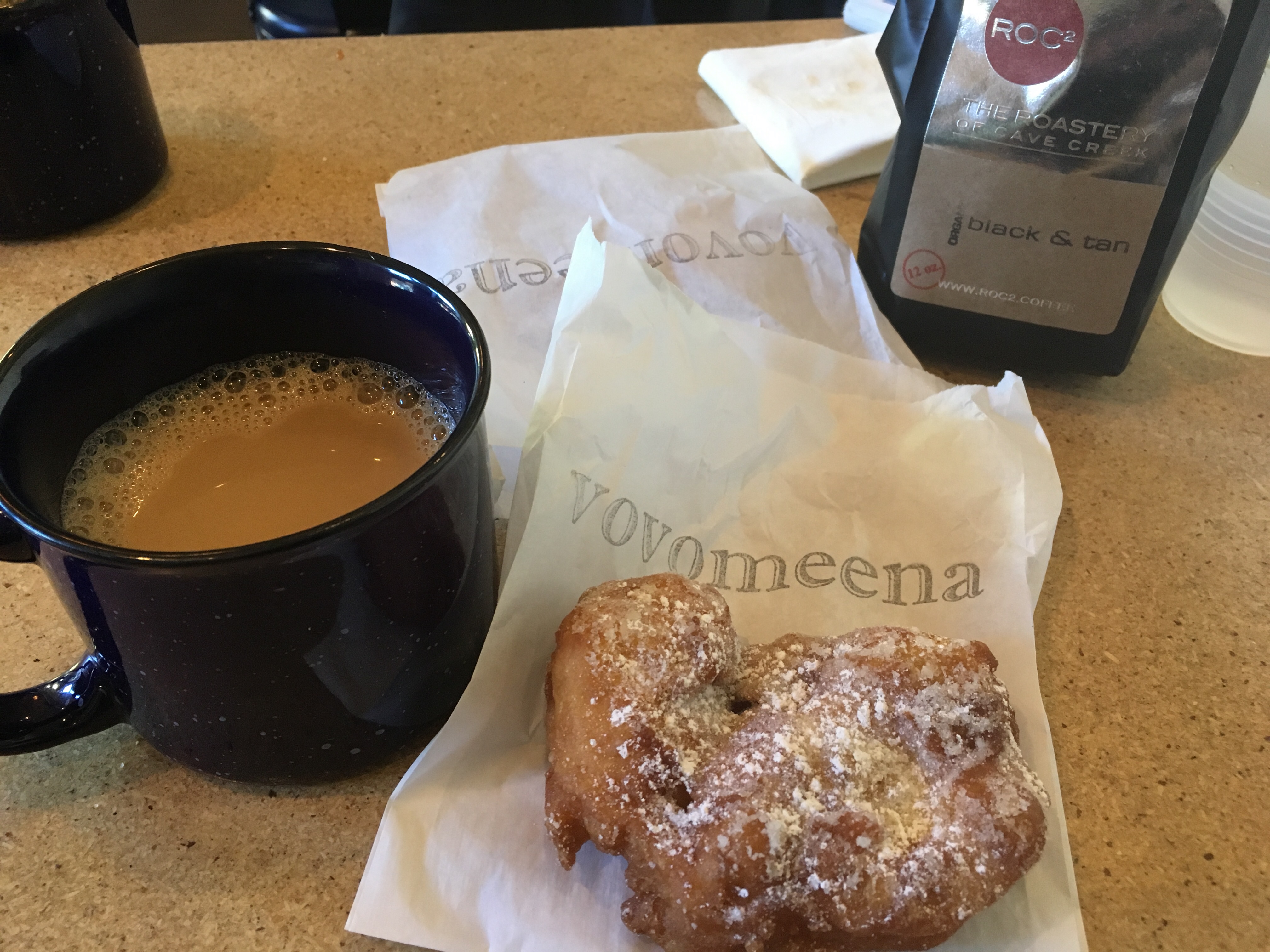 Which brings us to where we are now. Huddled in the Econo Lodge, booking next summer's campsites, blogging about today, picking a dinner spot and doing an HBO movie marathon from Elizabeth The Golden Age to Pitch Perfect 3 tonight at 7:45pm Mountain Time. You'd think we'd be touring Phoenix since we finally have a car, but we did that a few years ago on the Southwest Sojourn (see 2014 posts) and we're really just ready for one day off before we fly. Thanks for joining us on the journey!