Having exhausted most of the bikeable destinations in and around Coronado, a drop the cell phone and crack the screen error created a 41 mile errand.
We spent most of President's Day grooming Betty and using North Island fitness center wifi to reflect on the speedy recovery of the markets and our response to it, before an hour of long paddle ball at Breakers Beach and dinner with three graduating Seals.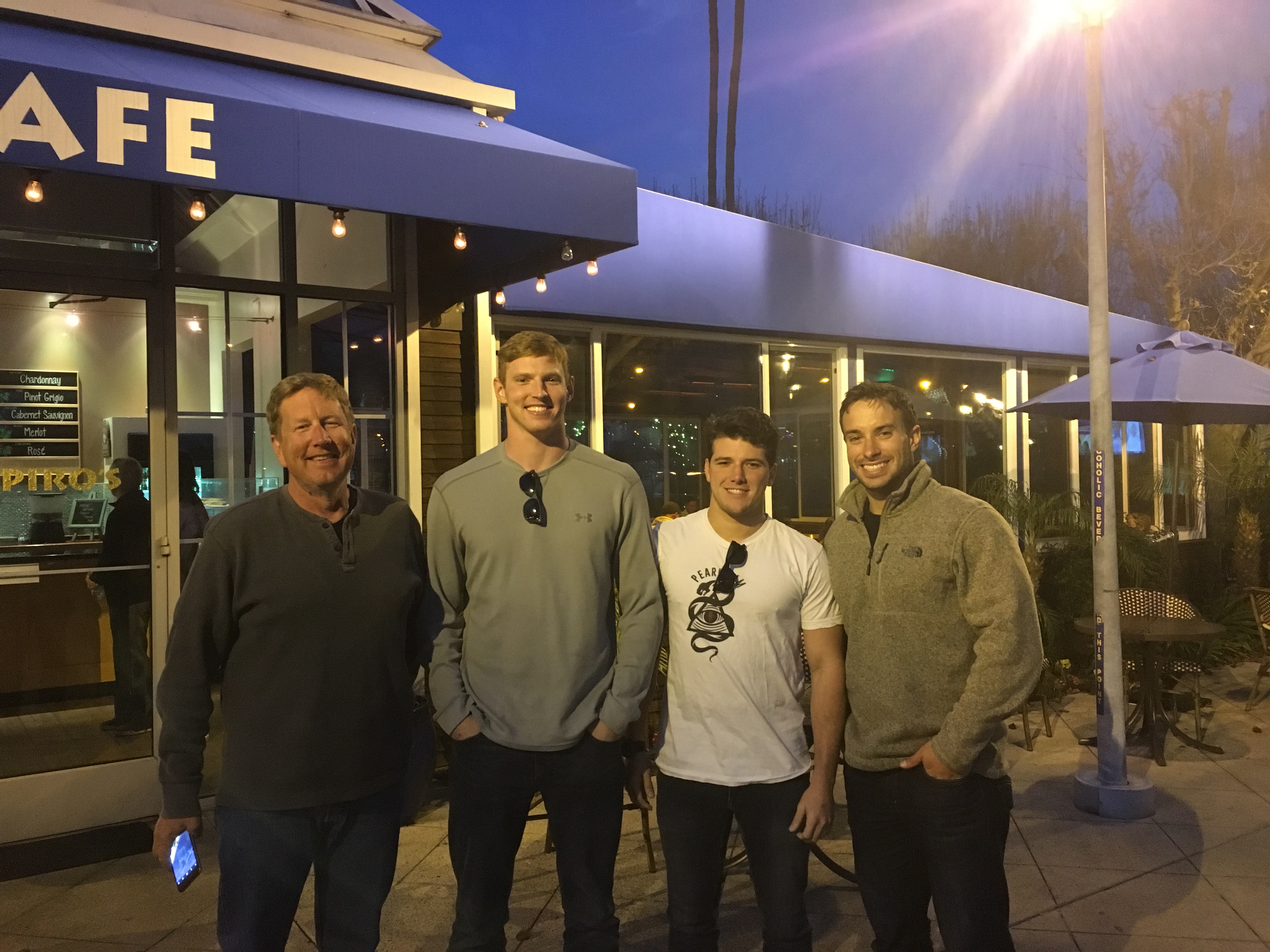 Thanks to the Instagram post of Katie and Eric at the Del Hotel, a hometown friend reached out to Eric's Patty to let her know he was graduating this week and would like to get together. So Eric coordinated a dinner with three guys from Maryland, Florida and Indiana who spent the last 18 or so months perfecting their toughness in support of our country.
It was a noticeable day for us in that there wasn't any rain and there also wasn't much new to do. We had essentially transitioned from tourist to townie status. We were residents of Coronado using a day off to clean the house, take care of some business, get some activity and socialize with new friends. It was a comfortable day with welcomed familiarity of our surroundings. It took three weeks to get there, and on Friday we will sadly transition back to traveler as Betty has a date with Purcell in Tucson for a new set of shoes. As we left dinner we raced home ahead of the rain, riding past the Naked Warrior statue where our Seal friends would launch the next morning on a 58 degree swim to Ferry Landing with a run back to the base. Real life Aquamen~!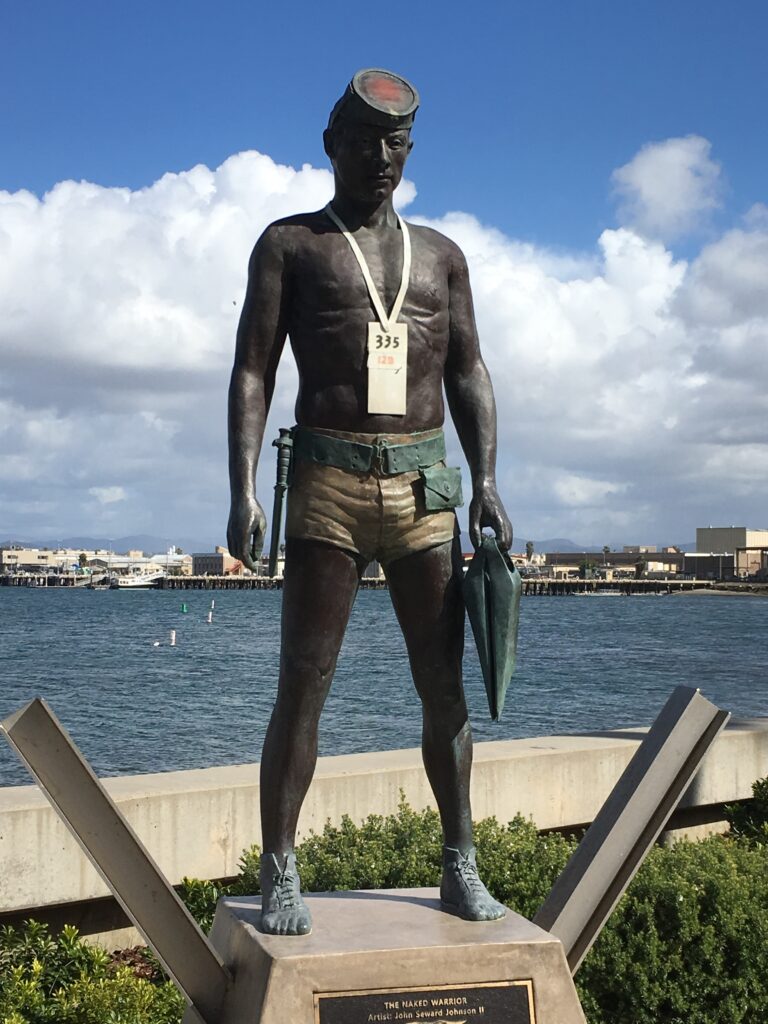 Over the weekend Eric was locking up the bikes in town when his 6S+ hit the pavement leaving a splinter shattered screen. Research on features and cost of 10XR, 10XS and 10XS+, along with the prospects of new phones coming, Eric decided on a $75 screen fix over an $850 purchase and we took the 8:35 ferry into downtown for a big bike to Mission Bay to the highly rated fixer team of SD iPhone Repair Express. Hungry and early, we stopped at Hob Nob Hill for breakfast, voted best of San Diego since 1944.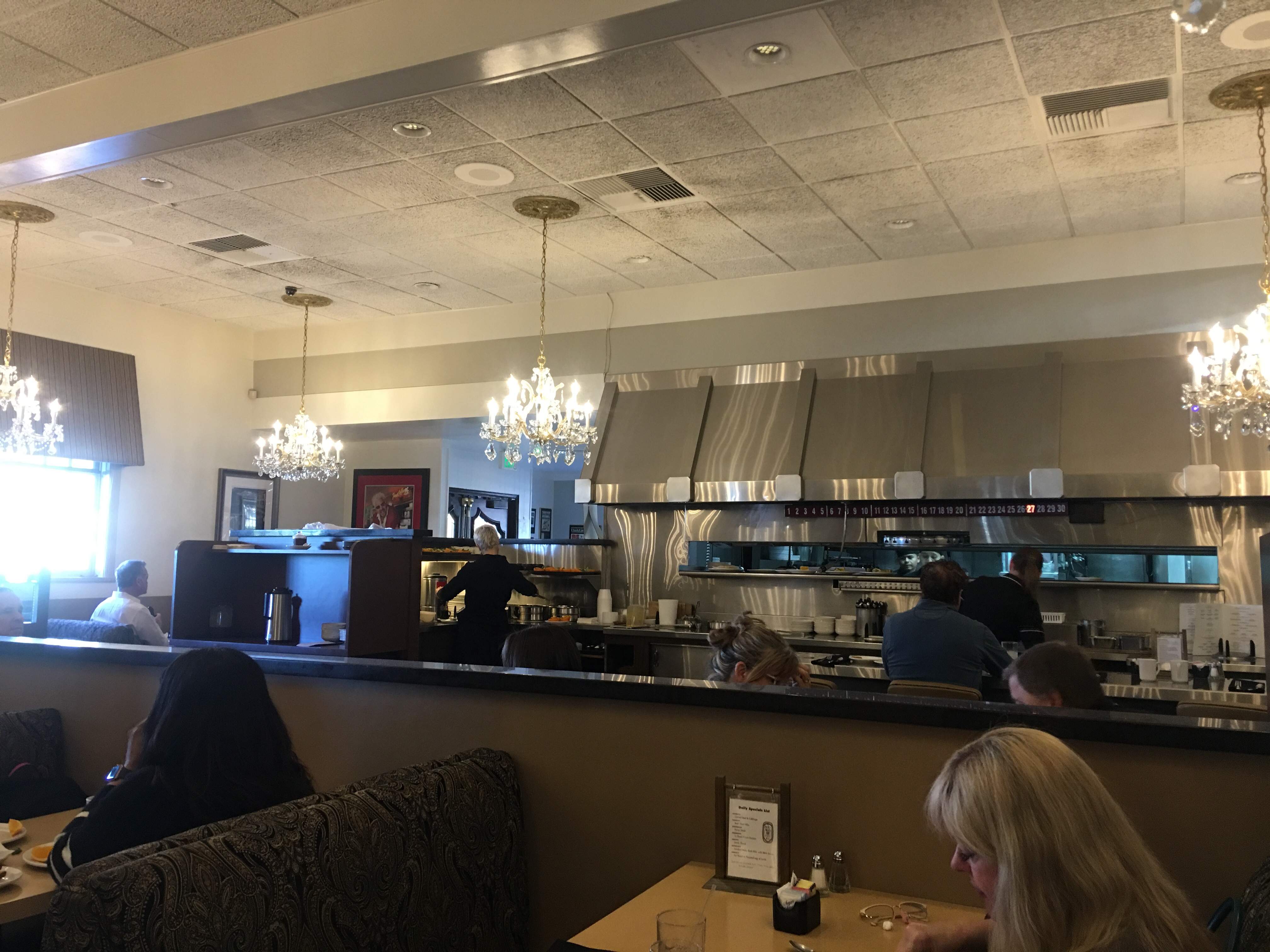 It definitely had the 40s vibe, with waitresses in Alice uniforms, crystal chandeliers and a classic menu of pancake stacks, benedicts and omelets. We opted to share the Hob Nob omelet of prime rib and veggies with a short stack of pancakes. With the omelet came a choices of toast, biscuit or coffee cake. Of course we chose coffee cake. OMG – like nothing you've ever tasted before. Expecting a dense cinnamon swirl square, we were delighted by a moist, light, fluffy corn cake with orange icing and whipped butter. Best Evah!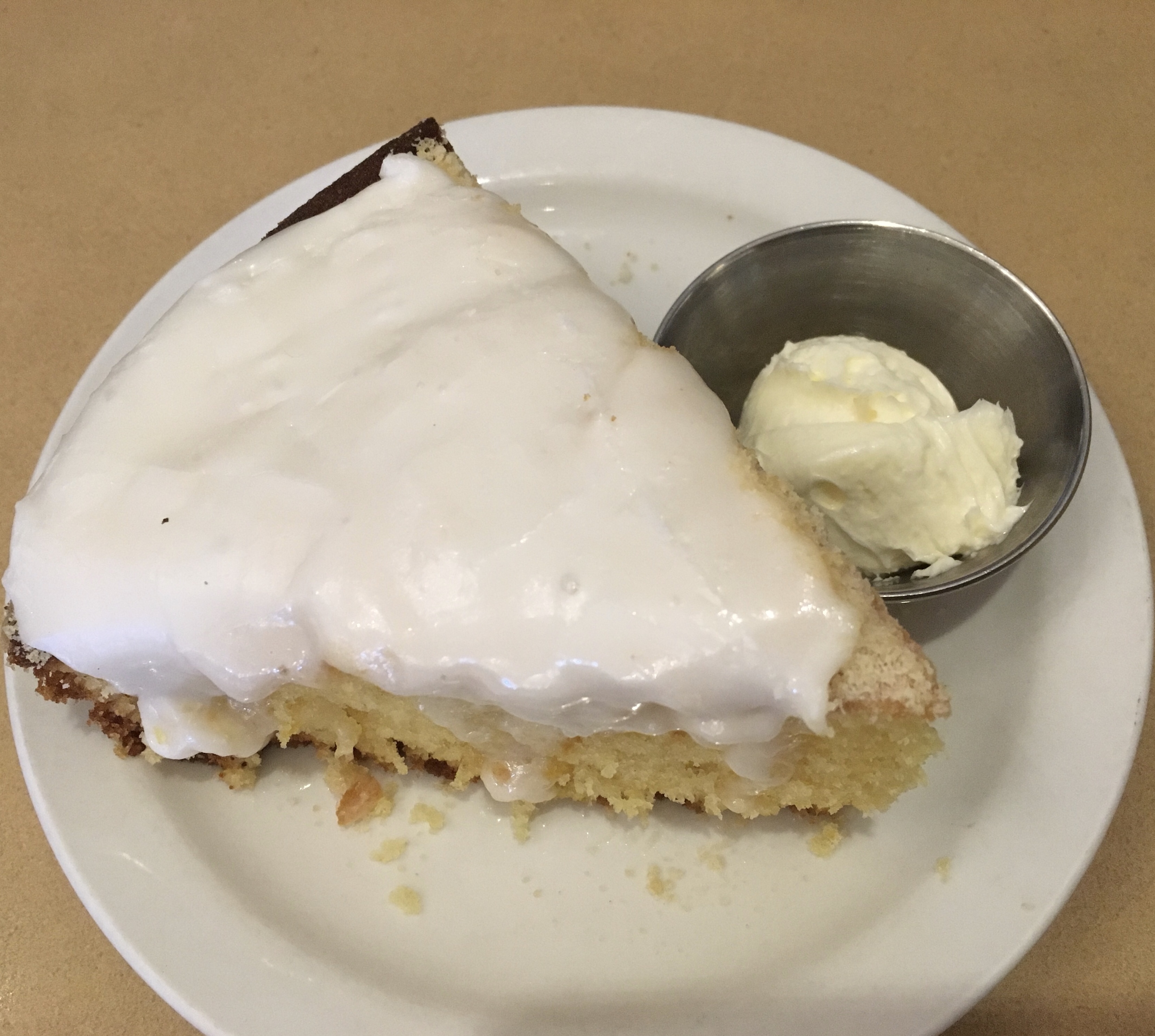 Rolling out of the Hob Nob, literally, we headed north to find the fixers in a roundabout way that would avoid the I-5. San Diego will forever be remembered as the place we inadvertently entered the I-8 freeway requiring that we scale a fence with our bikes to escape. We were in no hurry to do an I-8 move on the I-5 so we paid closer attention to the signs and found the secret bypass under the overpass to the left of the blurry Mona Lisa, actually the Mine-a-Lisa, designed by Little Italy elementary school kids in Minecraft video game style.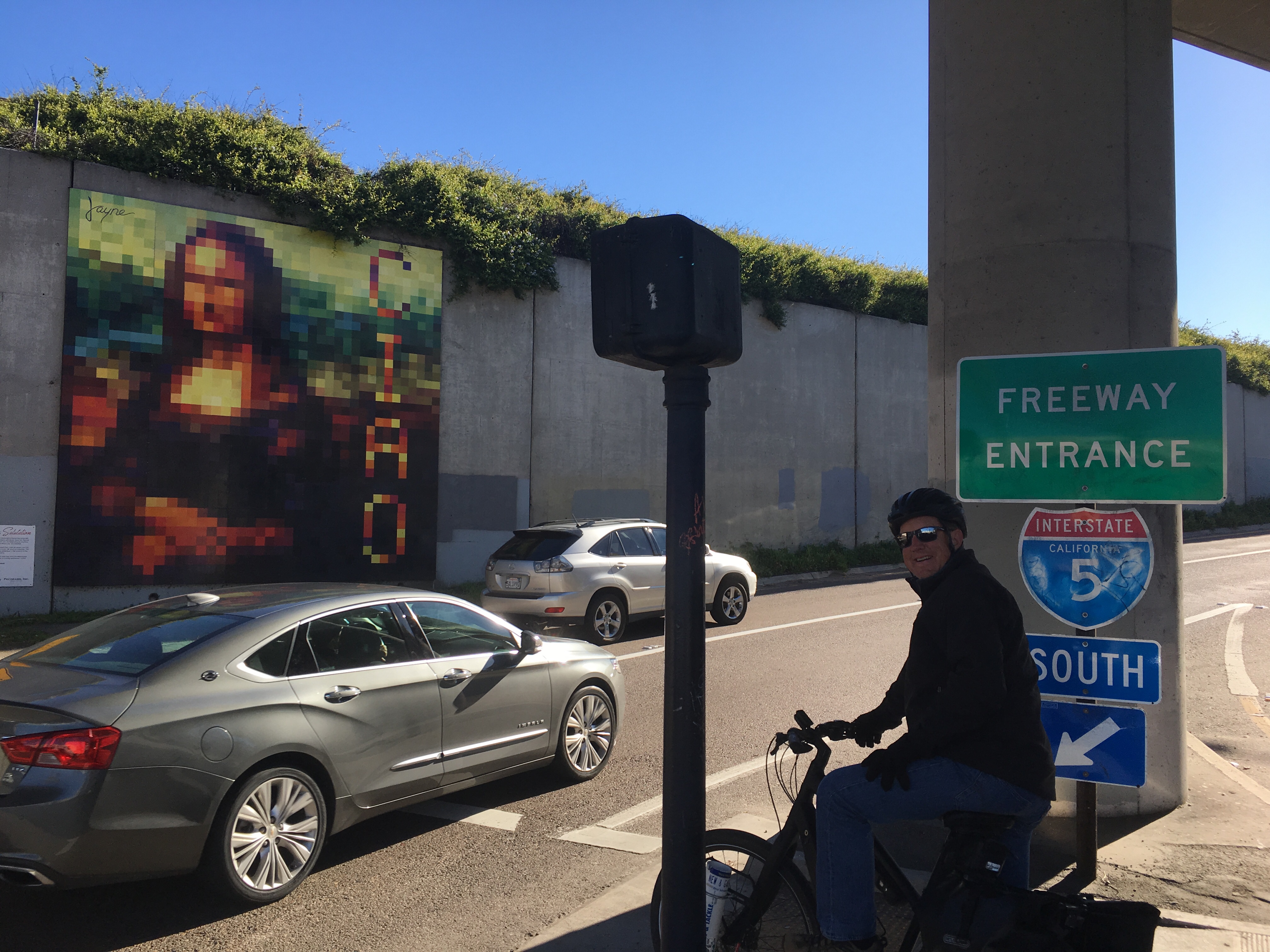 En route, we ran into a pop up attraction we couldn't pass up … The Mormon Battalion Historic Museum. The Church of Jesus Christ of Latter Day Saints, nicknamed Mormons as the Elder explained to us, built a 1850's replica building to house their learning-museum concerning 500 Mormons who were enlisted by the U.S. government to fight in the Mexican-American war. While open to the public, the majority of visitors are Mormons tracking down a past relative who had been in the battalion. We tagged along behind one such family of 12.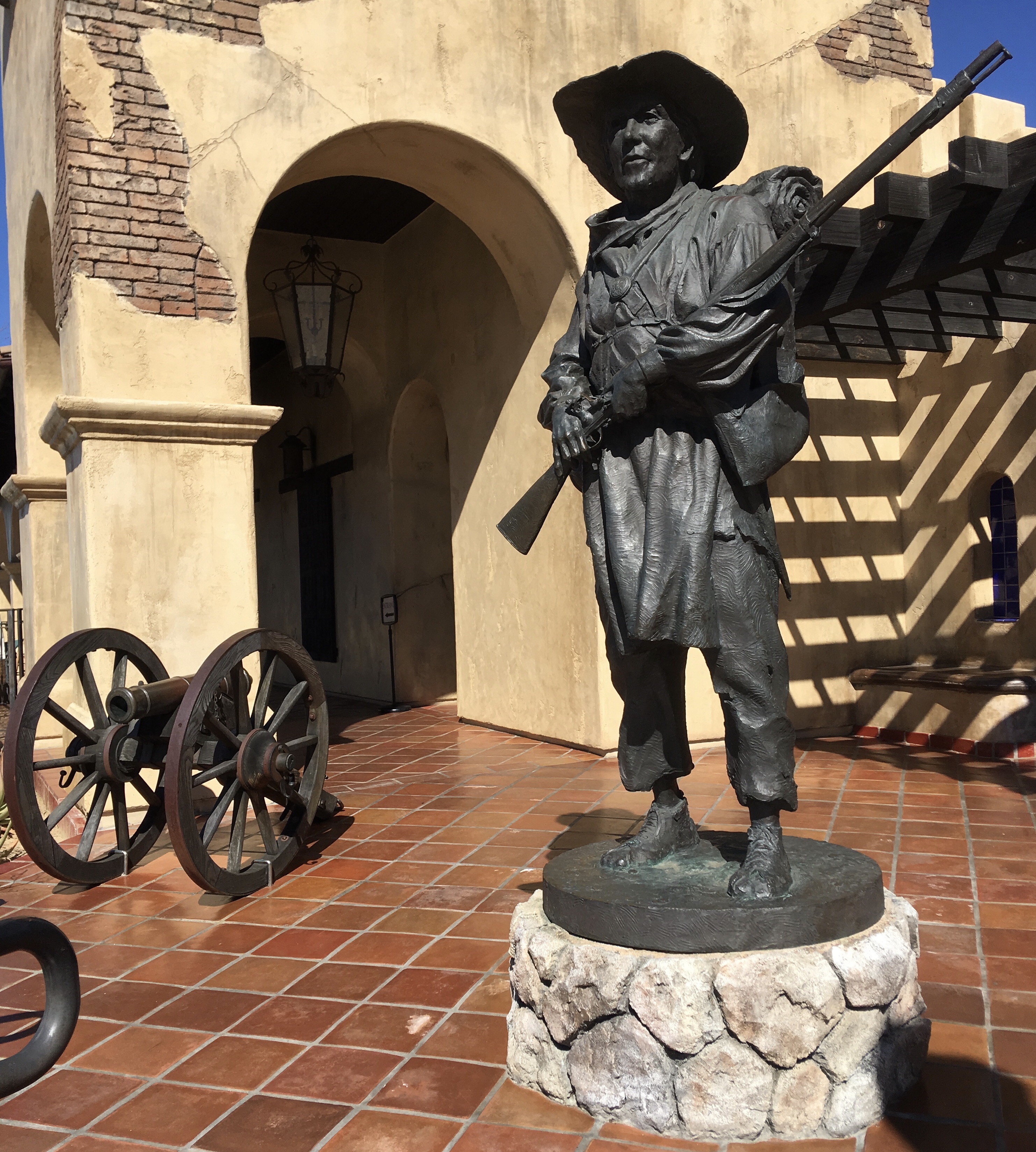 If they were surprised by our joining them, they didn't show it as we sat among them. We moved from room to room as the journey was re-enacted with talking pictures, movies, and spectator dress-up in an immersive replica museum. As the family headed outside to pan for gold in the mock creek, we slipped out the back door. Living in the shadow of the Mormon Temple in DC, we are very aware that they do not do anything half way!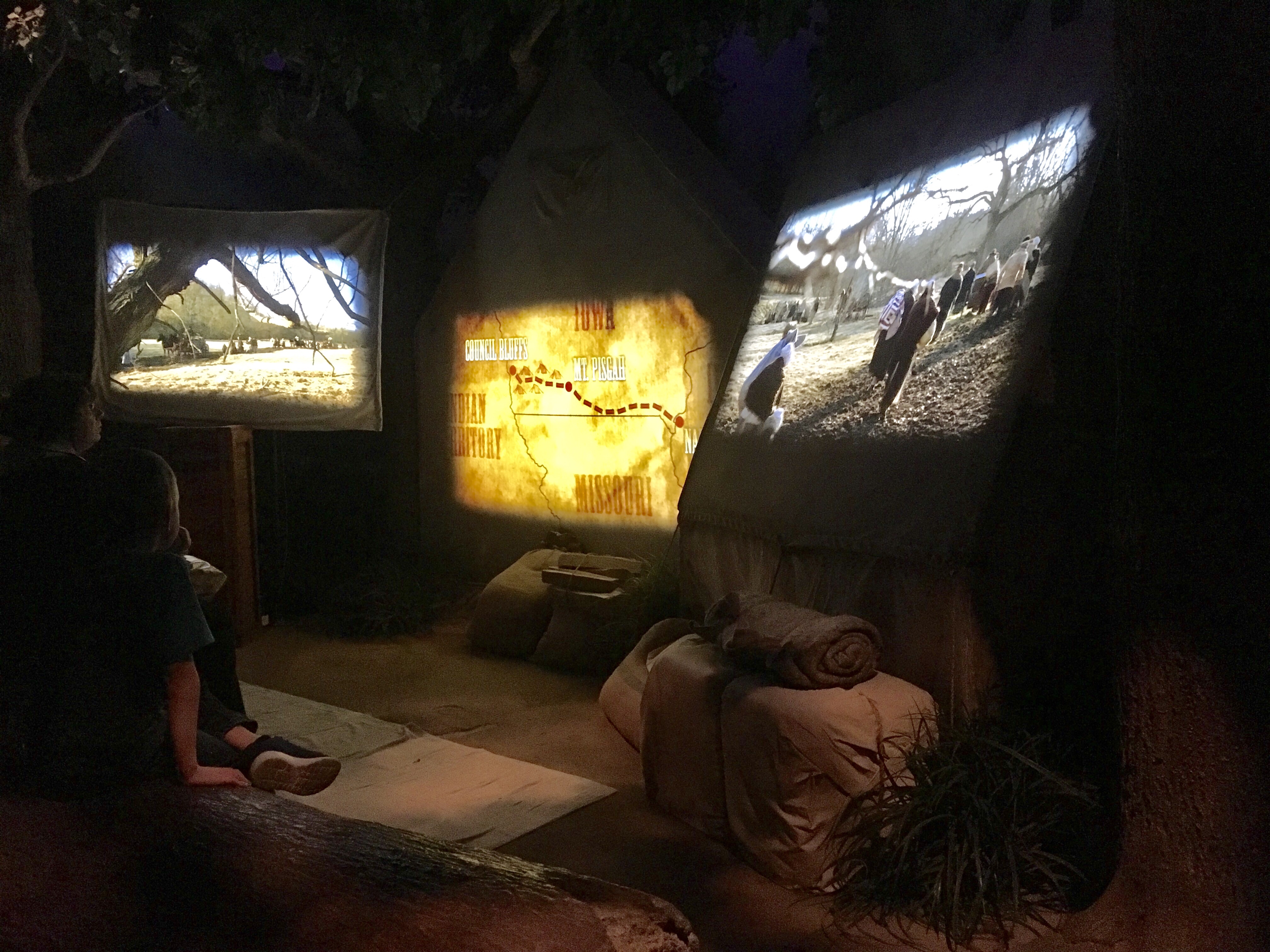 How do you pay the bills if you are a couple of inked skater dudes with pit bulls in sunny SOCAL? You fix iphones, of course. Tucked into an apartment complex, Johnny operates his business with the pit bulls under his feet. You walk in, no appointment, hand him your phone over the growling dogs, and 10 minutes later he hands it back good as new. Sheri was so flabbergasted that she handed over her phone and had them drop in a new battery. The total bill was equivalent to 2 drinks at the Del.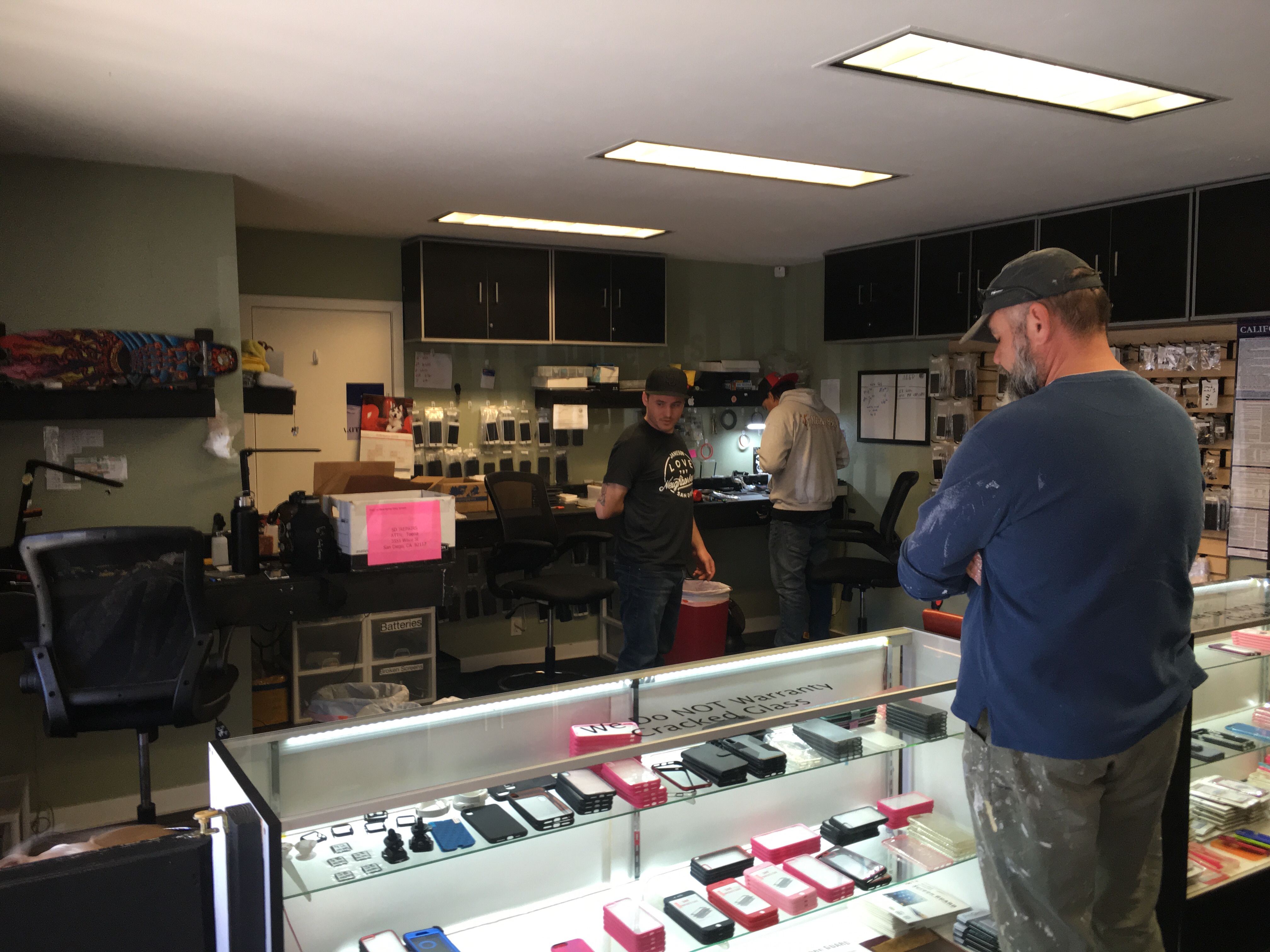 With our errand complete, we checked out an Open House and chatted up the realtor whose wife was from Silver Spring and daughter taught up the road from our house – small world. We passed on the house mostly because of the 8 lane highway out front, but took home some cutting edge California design tips. Making a big loop, we headed to Pacific Beach for a view and took the coast south to Sunset Cliffs in Pt. Loma. We thought we would do more cliff climbing, but our legs were feeling the miles so we settled for watching the surfers.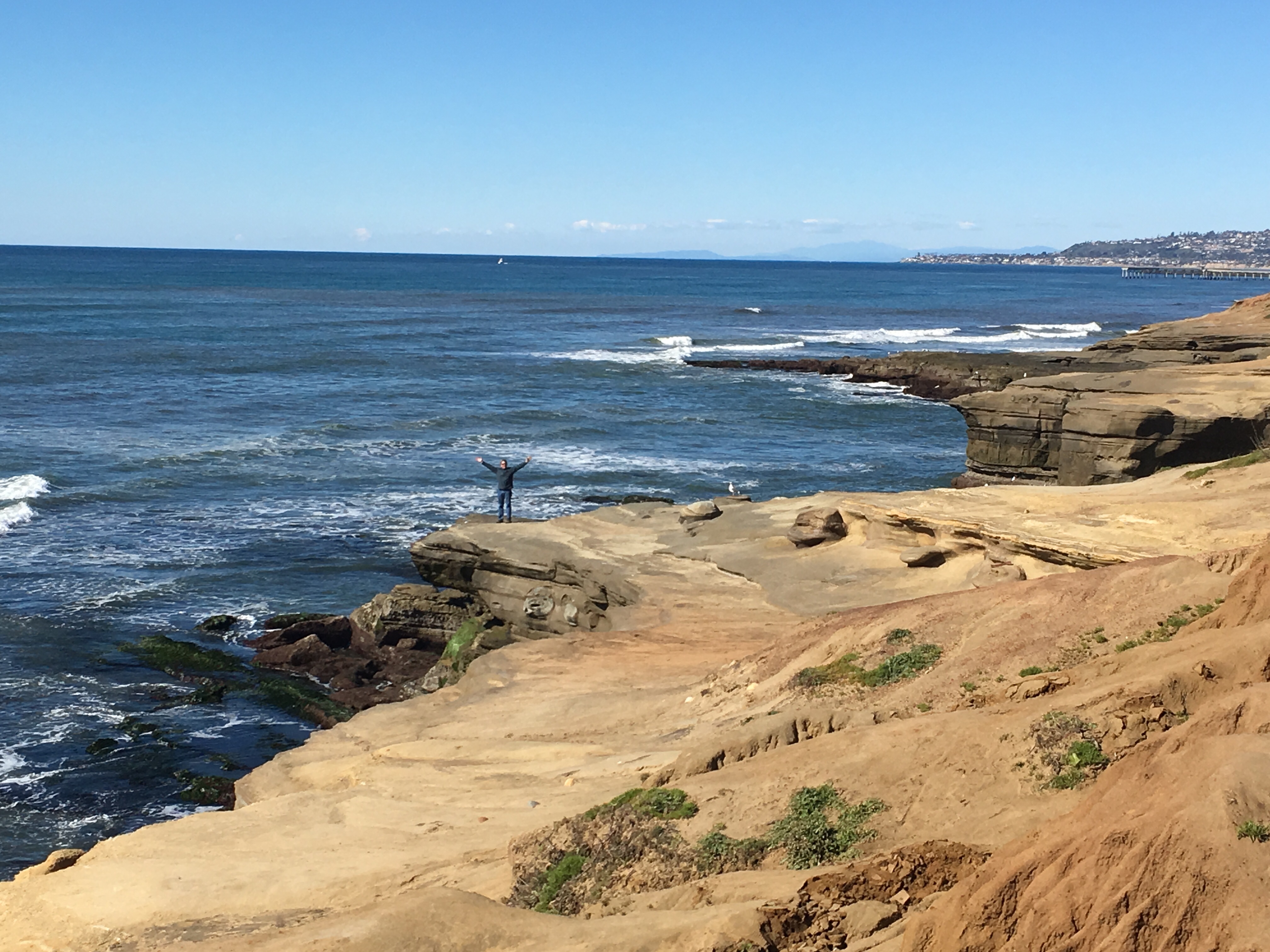 When we were done rating the waves, we completed the loop over the high ridge that runs down the center of Pt. Loma and dropped down to the harbor. The ferry schedule meant we had time to take a pass through Shelter Island where the big yachts are refurbished in enormous boat yards.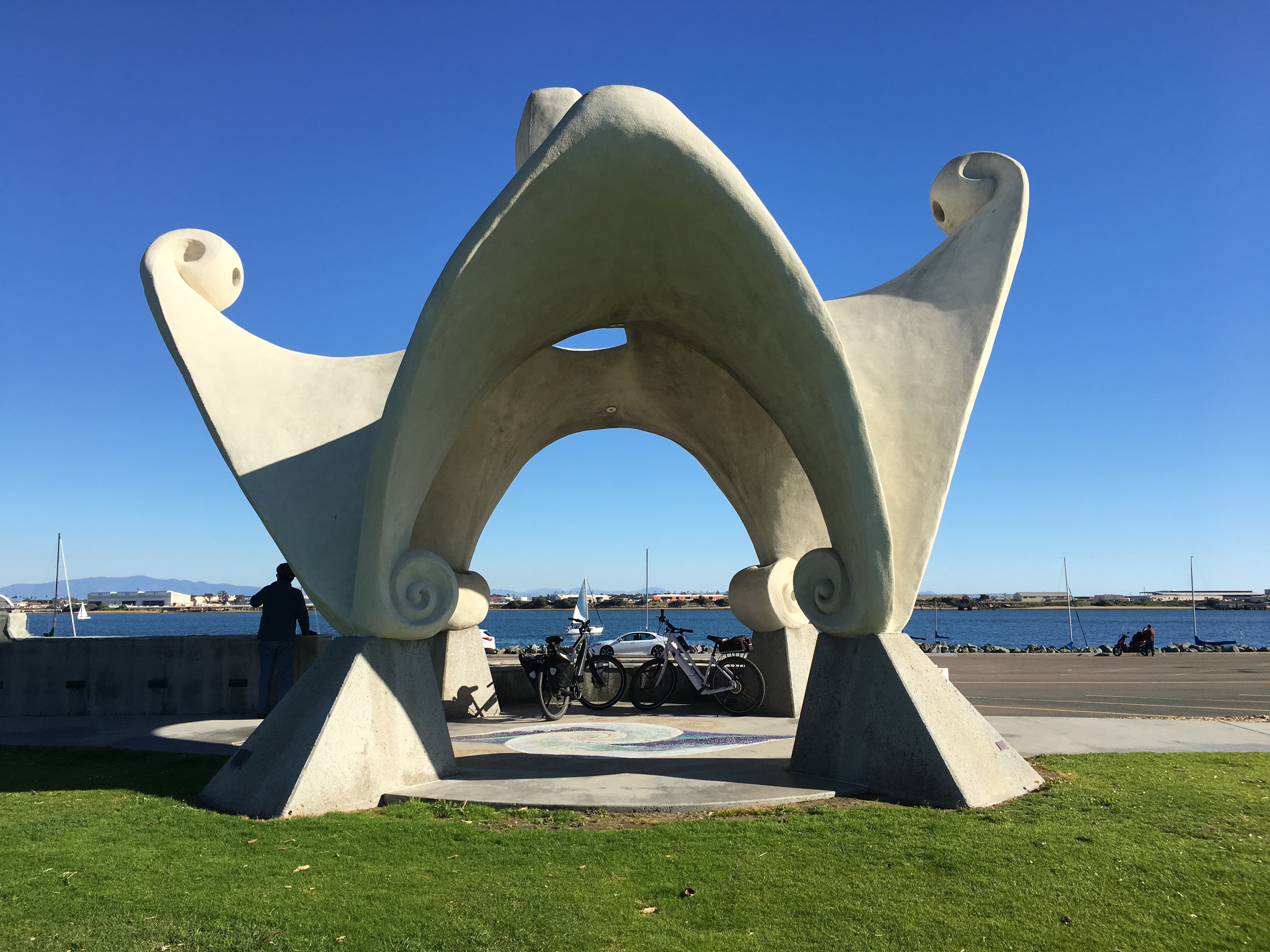 xThe day was bright and sunny but never warm. The chilly wind from the ride had taken its toll on our stamina as we boarded the ferry back to Coronado. As we completed the 41 mile errand, Eric's phone rang with a robocall from the Naval Academy saying that the base would open late the next day due to an ice storm. Why doesn't everyone live in San Diego?