Halloween rain goblins tricked us last night with torrential downpours that shook the Betty all night long. When our Tiffan Phaeton neighbor baled at 5:30am, we started buttoning up to get out of raintown, and in the process discovered the ghouls killed the fridge.
We've lived without the fridge before. Two years ago we did 10 days of cooler management, cycling ice bags trying to keep the staples cold. Fully repaired with a new compressor, Eric had some theories about the issue, but we had to get out of the rain to figure it out. So rolling with the roadblocks, we bypassed Hot Springs, AK and made a 475 mile drive to our next scheduled stop at Treetops in Arlington, TX. The long trip gave us time to talk about our experiences in Memphis.
The National Civil Rights Museum at the Lorraine Motel is closed on Tuesdays. Since afternoon rain was predicted for Wednesday, our plan was to get there when it opened at 9am, find Memphis BBQ for lunch then get back to Betty by 1pm to watch the rain and river activity before a good night's sleep for the 180 mile drive to Hot Springs to try out thermal baths.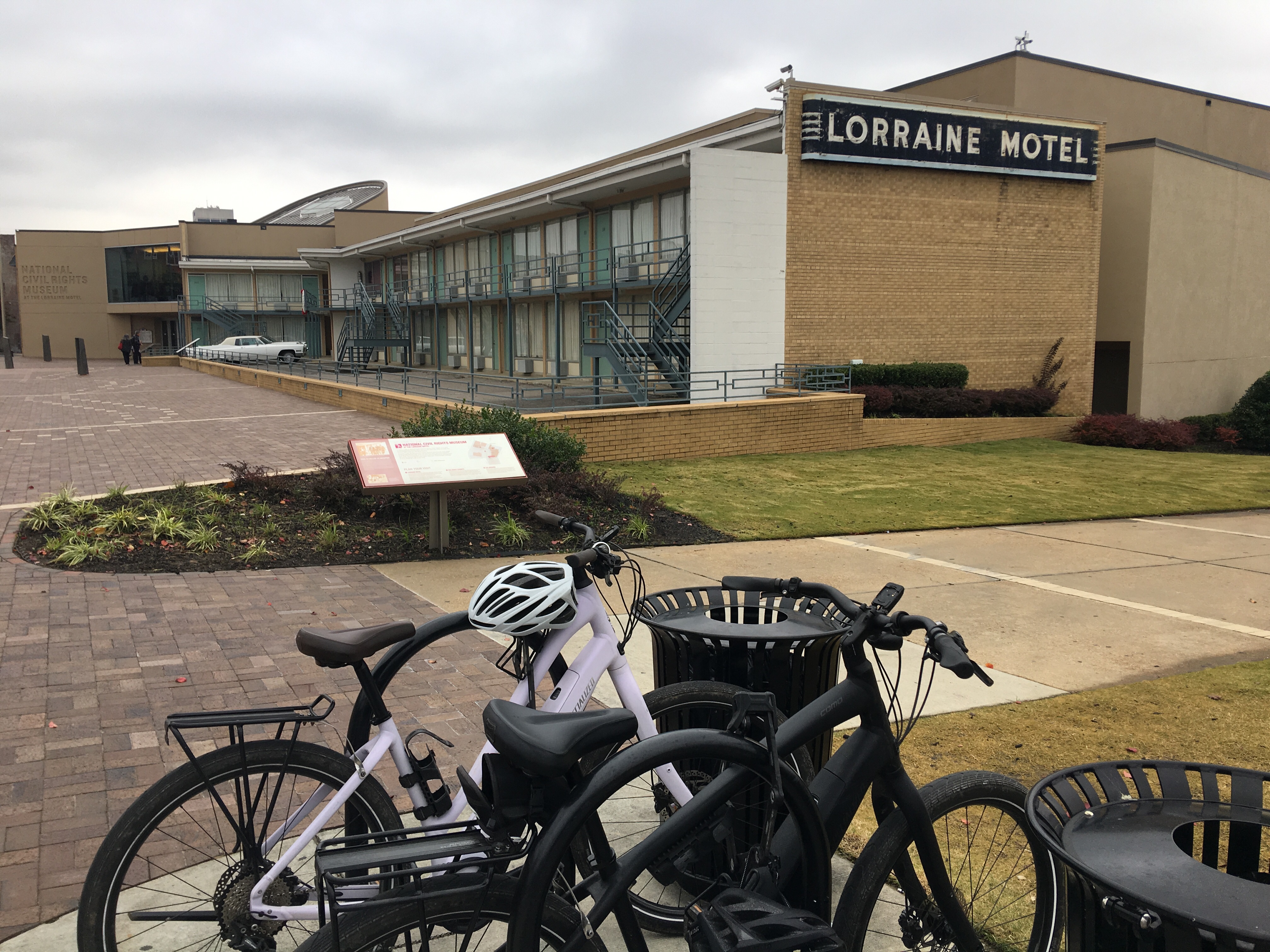 Taking the familiar Big River Trail back into Memphis, we arrived at the NCRM just before 9 where we waited with 6 other patrons for admission. There were several video kiosks sponsored by AutoZone that shared the significance of the Lorraine, the site of the assassination of Dr. Martin Luther King, Jr, 50 years ago this year.
It's hard for us to express the impact of taking this historical journey of black civil and human rights in America. It is an unvarnished narrative of white America's treatment of black people that is different from what we learned from textbooks and teachers in our public and Catholic school educations.
We put our phones and cameras away, respectfully being in the moment to digest the displays of domestic terrorism and persistence of the victims to recover, fight and advance.
"The museum offers 260 artifacts, more than 40 new films, oral histories, interactive media and external listening posts that guide visitors through five centuries of history — from the beginning of the resistance during slavery, through the Civil War and Reconstruction, the rise of Jim Crow, and the seminal events of the late 20th century that inspired people around the world to stand up for equality."
Weaving through each exhibit, we were pulled further and further into a world largely unfamiliar to us where extreme violence and cruelty were commonplace. It's not that we didn't know the the factual history, we just never saw it so plainly described. It was a far fry from pages in a chapter in an American History textbook. The National Civil Rights Museum was an immersive experience that fused content with context to see today in a new way. It was arresting. If you get to Memphis, you must go there to experience it for yourself.
As we drive across the country, VOTE billboards pop up in every major city – from Nashville to Memphis to Little Rock and Dallas today. We hope that everyone does.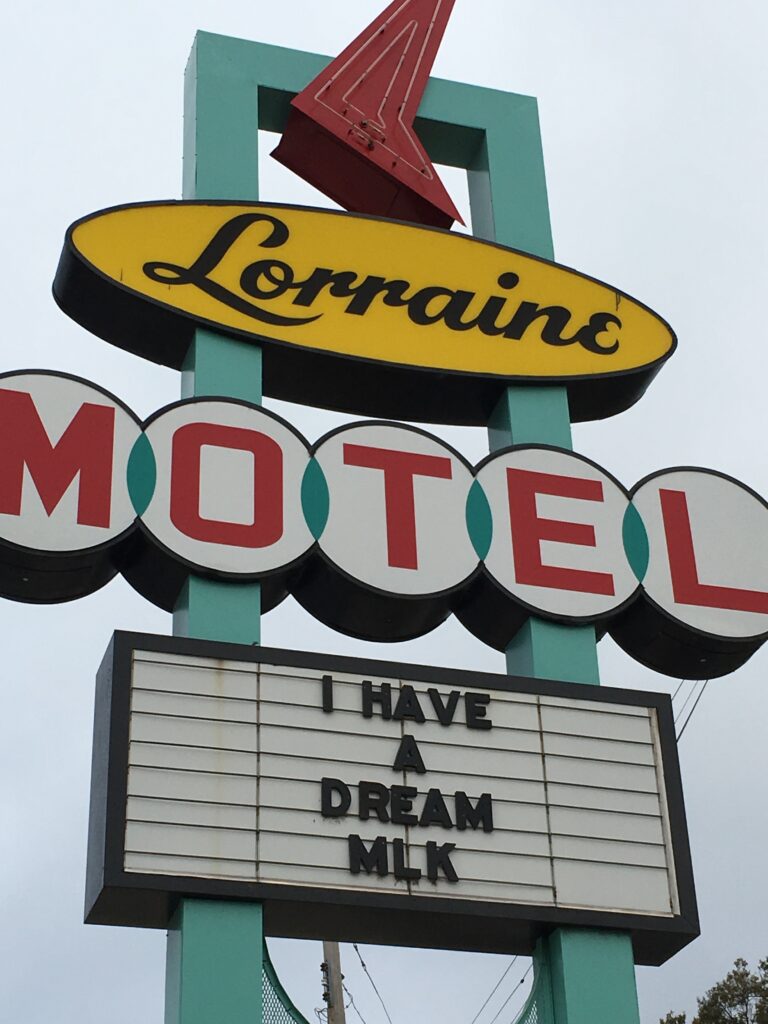 After spending the morning in the museum, we opened TripAdvisor to find the best BBQ in Memphis. Central BBQ was highly rated and just behind the museum. Residing in the "touristy" part of town, however, it seemed to lack that authentic feel. It was probably great BBQ, but we will never know since we choose to bike to Payne's BBQ 5 miles to the east. Payne's was described as an auto parts and repair store converted into a BBQ joint which sounded authentically strange and therefore appealing to us.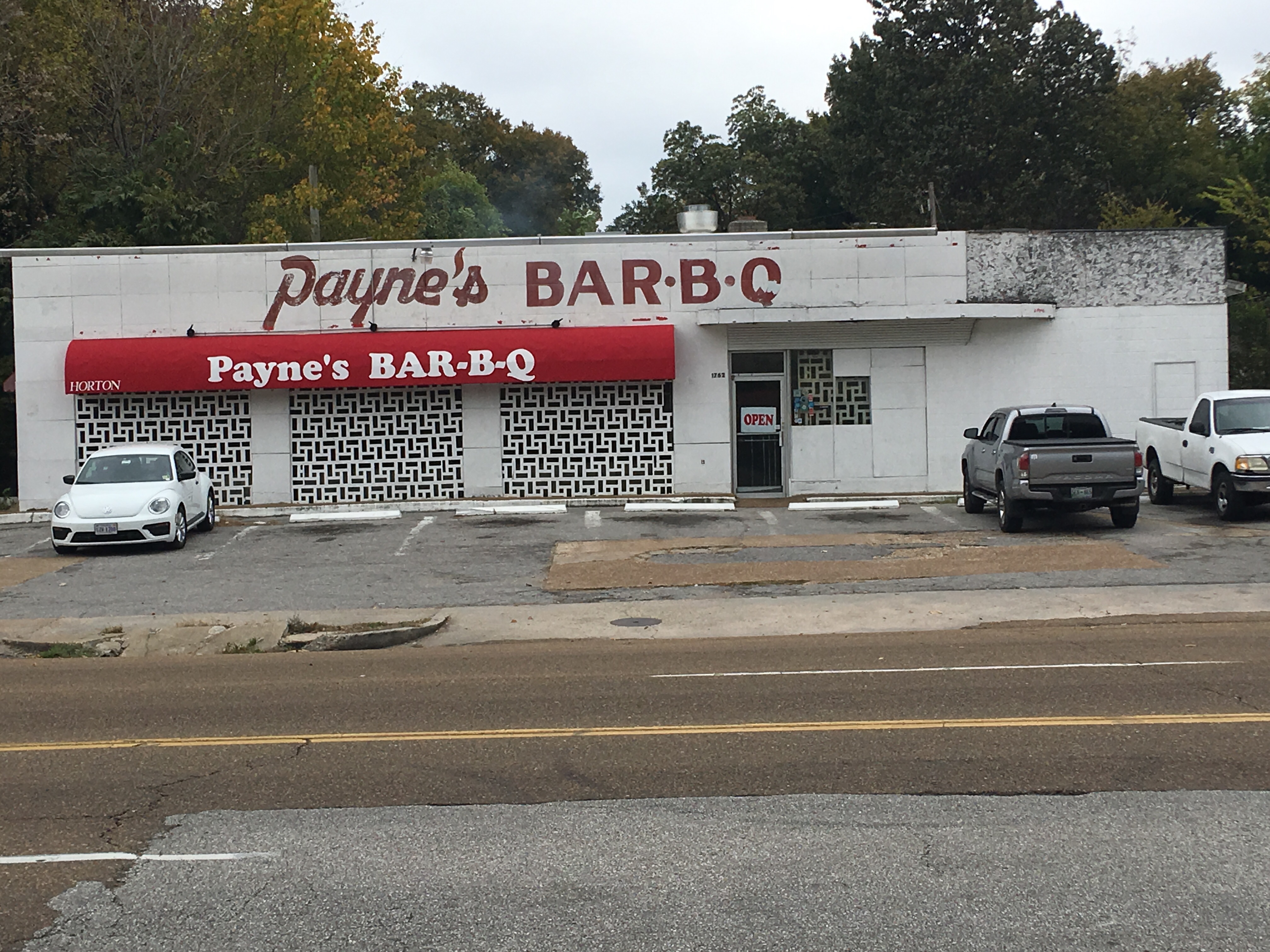 With the Como's on a medium electric assist setting suitable for keeping up with city traffic on city streets, we pedaled off to Paynes. Memphis quickly changed from tourist destinations to industrial buildings to impoverished dwellings. Check cashing stores with barred windows and empty storefronts lined the major road. Trash and potholes filled the streets. Finally, Payne's appeared looking much like the run-down auto repair shop that it once was but smelling like smoked BBQ.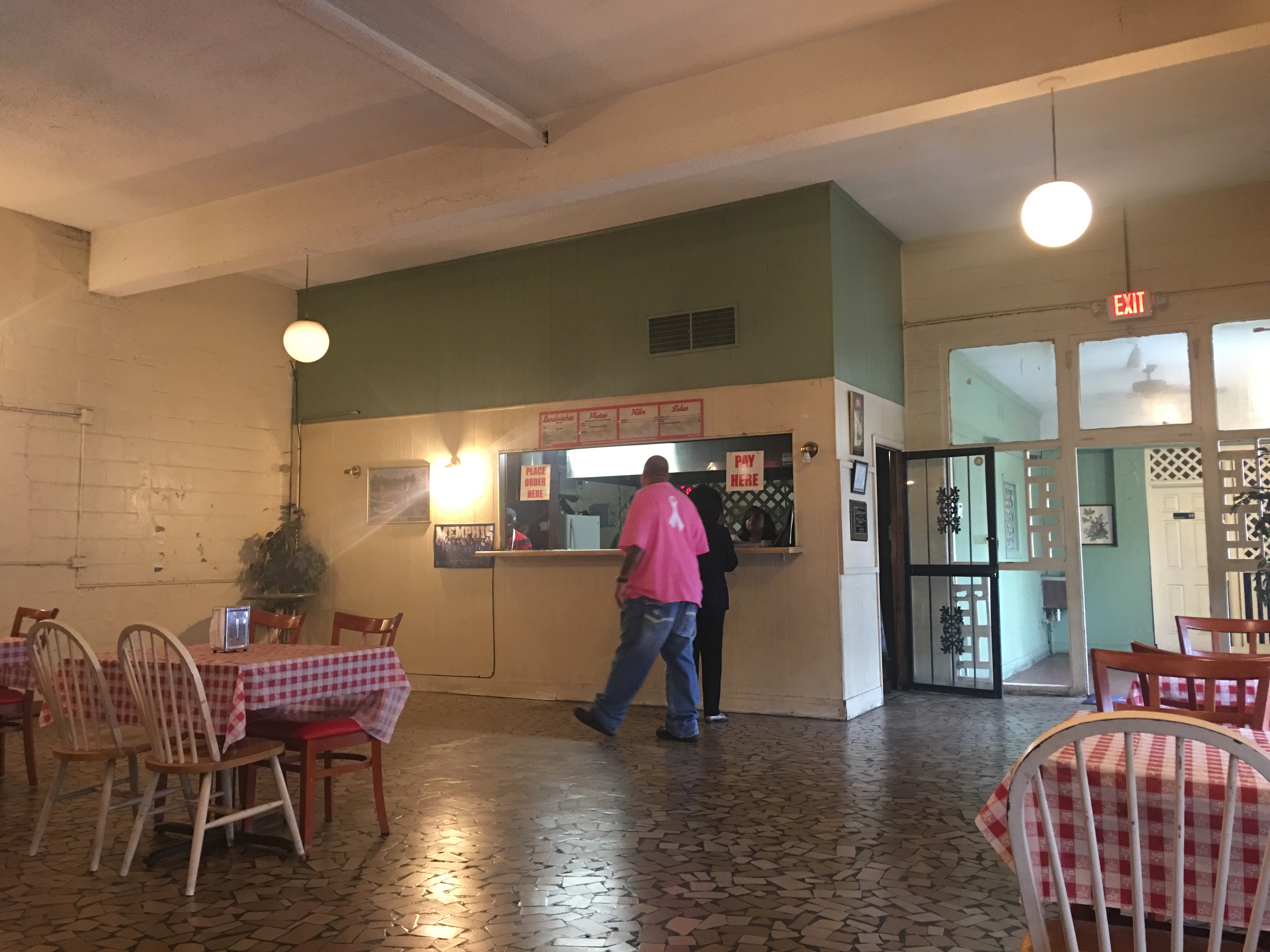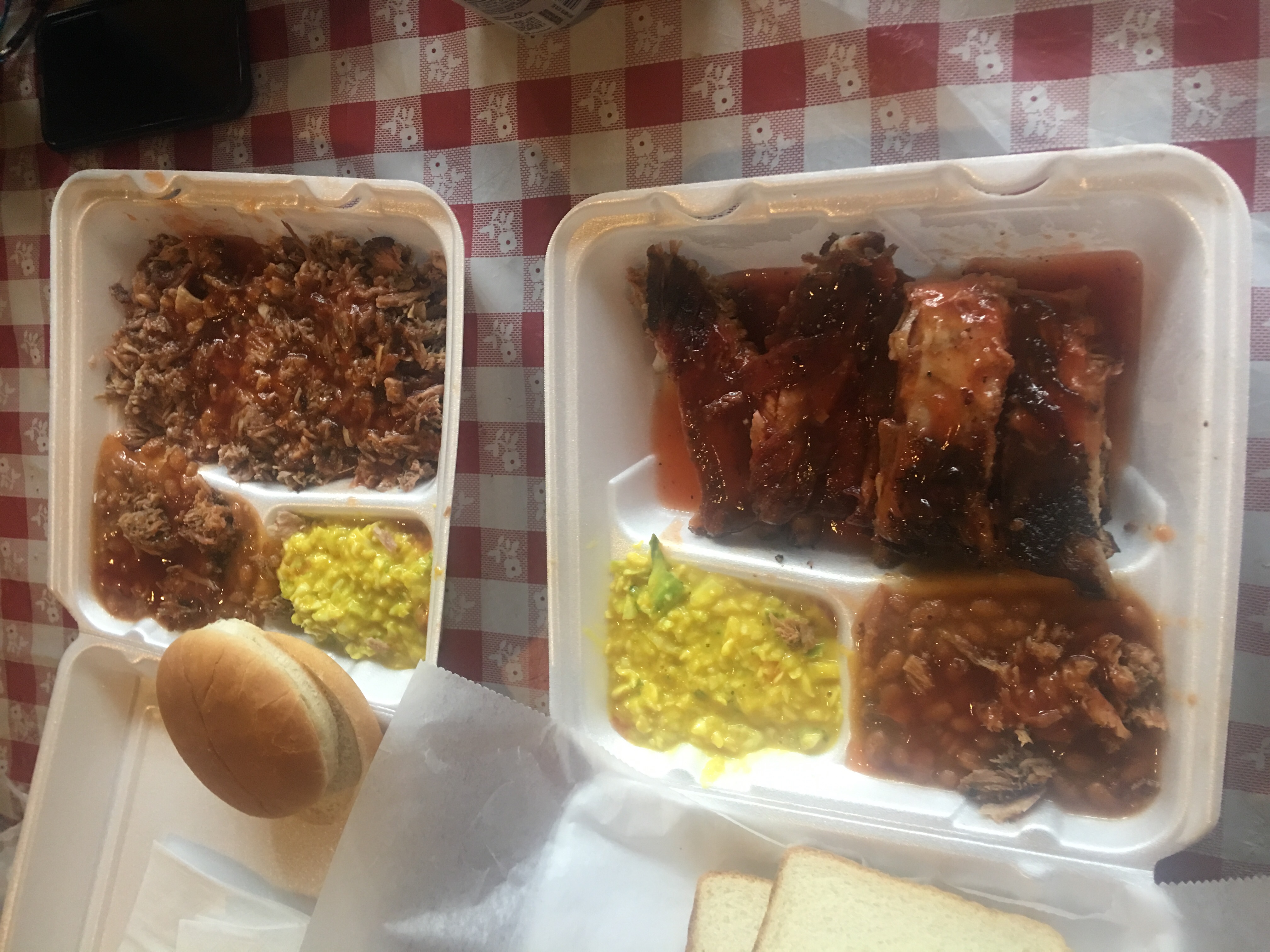 Whatever building codes Memphis might have for restaurants clearly did not apply to this joint. A light haze of smoke filled the kitchen and spilled into the seating area. Behind the old counter where you used to be able to buy batteries and brake pads, four folks operated a smoker and some stoves. We ordered the chopped pork platter and the rib platter. The orders were served up with Wonder bread, two plastic forks, and two coke's in the can. Meanwhile, a steady stream of mechanics, cement plant workers, and office secretaries came in and picked up large bags of to-go orders at the counter. Memphis-style meant a vinegar-based almost glowing yellow coleslaw, and baked beans with pieces of fried pork in it. The meats were tender and delicious. Best I've had? Nope. But, the vibe was worth it.
Sufficiently stuffed and no rain in sight, we voted no on Graceland, set the Comos in turbo mode and booked our way through the tough parts of Memphis, stopping in 3 different "cash and carry" marts trying to buy a carton of 1/2 and 1/2. While it was obvious we were out of place, it didn't stop us from trying to fit in. Being in the minority is uncomfortable and so is pushing boundaries.
We're thankful for the 42 hours we spent in Memphis on the mighty Mississippi.