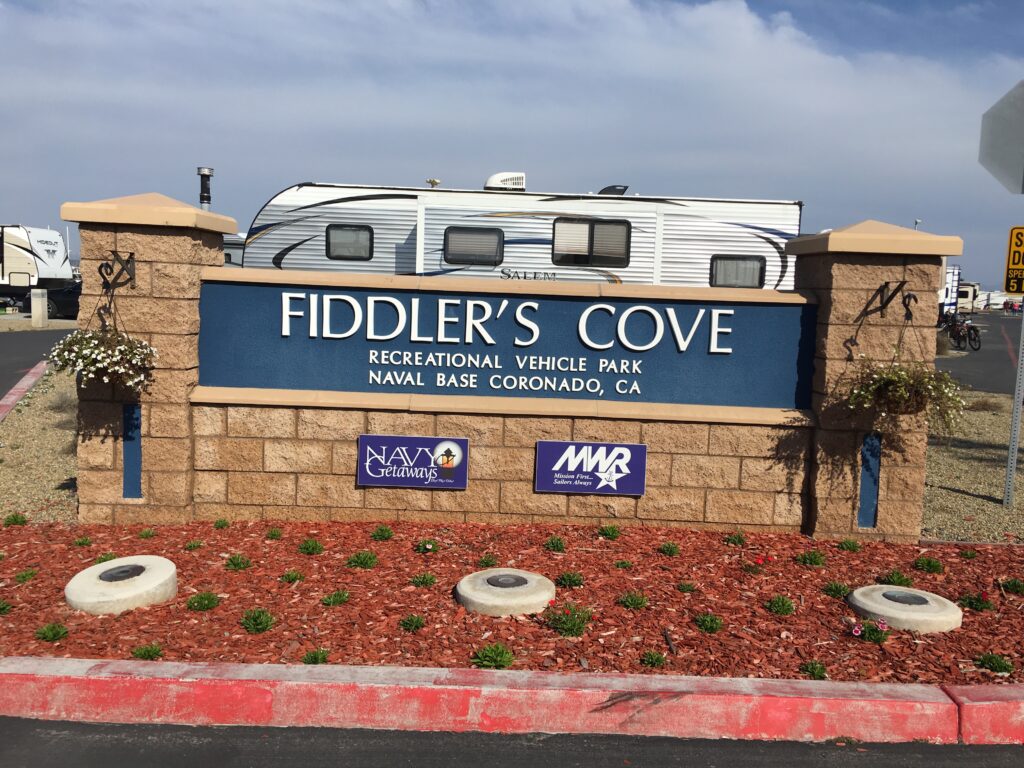 One of the most popular RV parks in the DoD system, Fiddler's Cove is in the middle of Coronado Island, about 3 miles south of the iconic Hotel del Coronado, a National Historic Landmark and one of the few surviving examples of the wooden Victorian beach resort.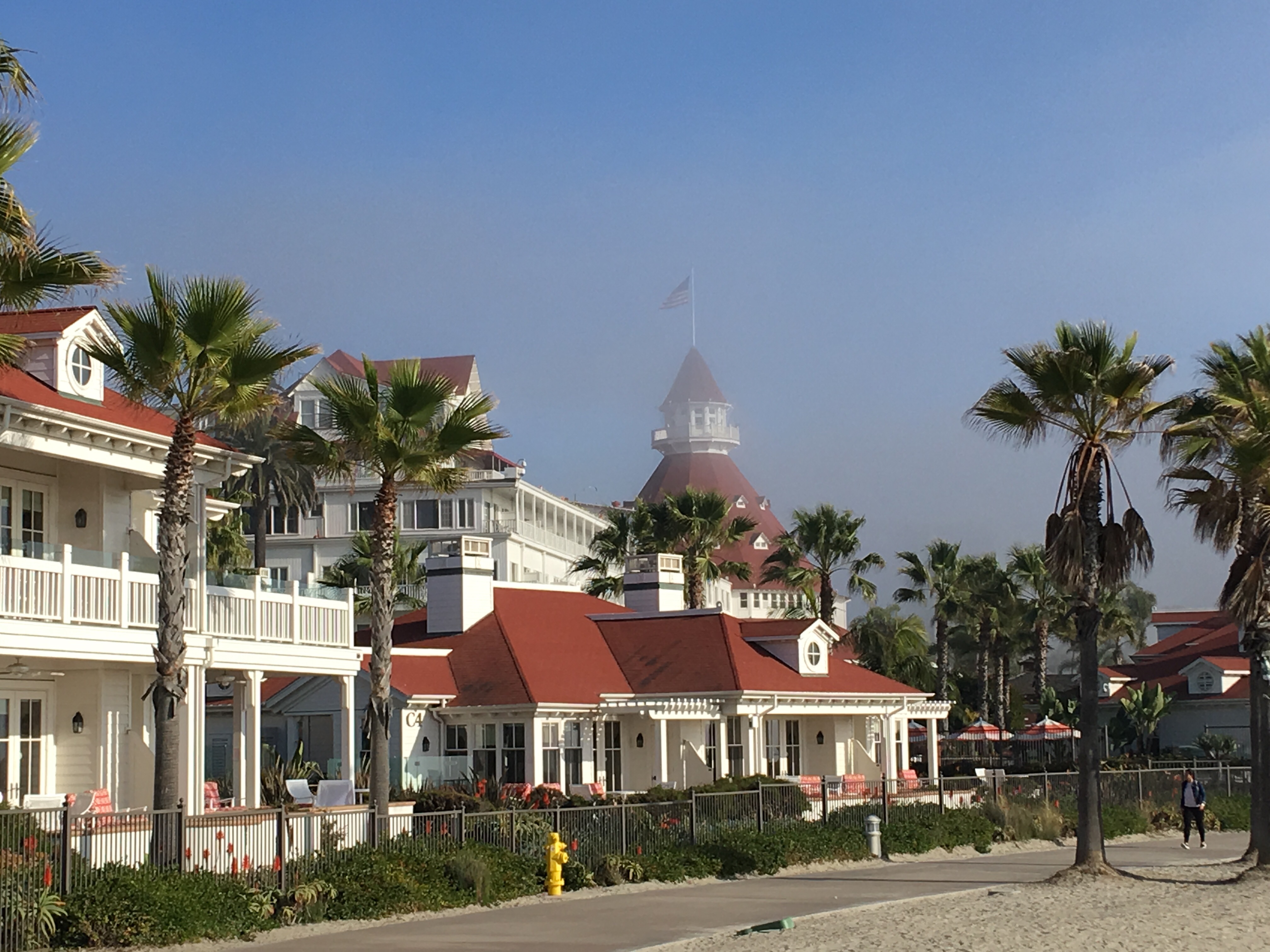 We've stayed at iconic beach retreats like The Del – The Breakers in Palm Beach, FL, The Villa in the Villas, NJ and as much as we enjoy those experiences, nothing compares to having your own waterfront condo with all the comforts of home. A bonus for boaters and boat watchers like Eric, Fiddler's Cove is adjacent to a deep water sailboaters' dream marina. No Vacancy.
The RV camp sites are on the bay side of the island with picturesque views of the marina and San Diego Bay. Sites are large with double wide concrete pad, full hook-up, and picnic table. A camp store, clean and bright bath house, patio-grilldeck and recreation center round out the complete package.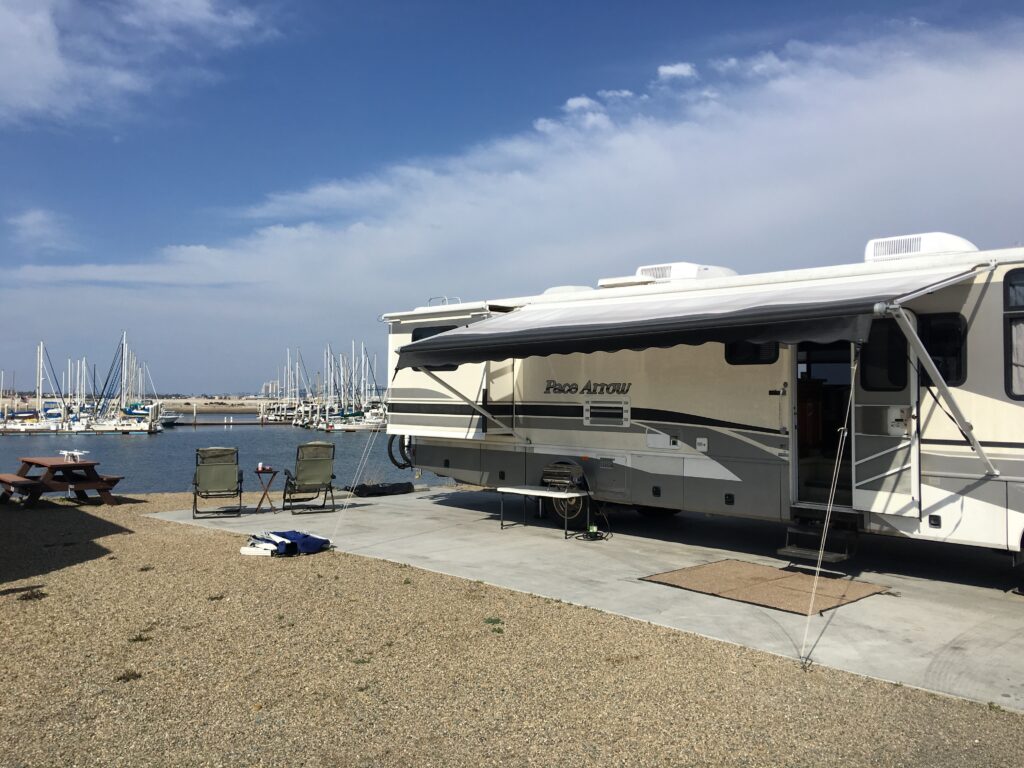 You can see The San Diego Naval Base on the opposite shore with its big ships in port. The Coronado-San Diego Bridge links the island to downtown and cuts across the bay with skyscrapers towering behind. One mile north of the Cove is Naval Amphibious Base houses the SEAL training facility. The SEALs have a large section of beach fenced off for training across the street, ocean side. When the sun goes down, the area becomes active with SEAL stuff that involves weird lights and sounds of gunfire. Walking the beach this morning, knee deep in 55 degree cold water, we saw handles sticking up out of the water. Did we find a SEAL toy? No matter, a sea water bath rendered it useless except as art.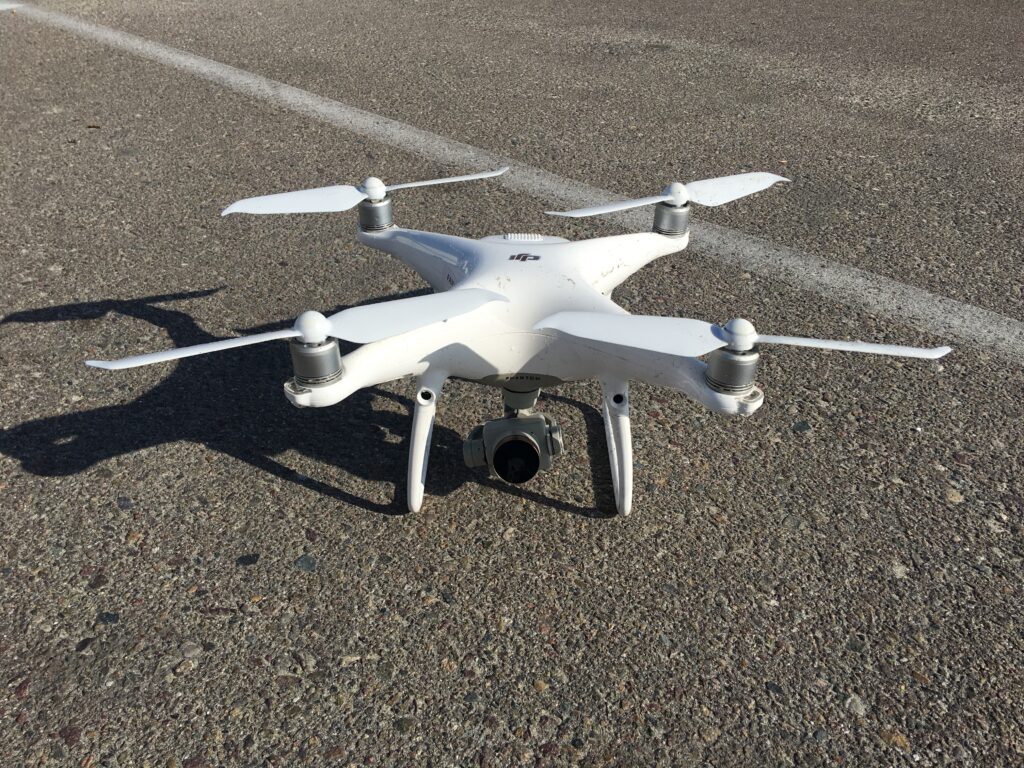 In other words, this place is pretty perfect. There is natural beauty and lots of action. Navy H-60 SeaHawk helicopters patrol up and down the bay flying out of NAS North Island, 6 miles north on the tip. Shipping traffic moves down the bay to and from San Diego's port. Small craft move in and out of the marina. Hawks, pelicans, and sea birds glide by. There is a lot to watch from the patio chairs on the water's edge over a sparkling water and chip and dip.
As we were checking in, the phones were lit up with folks trying to book this vacation spot. We were unable to secure a reservation using the online system, eventhough we were half a year out. That's how we wound up at shower-less Silver Strand. An on-sight fly by and friendly reception put together a ten day stay for us with one internal move. We are starting out with a waterfront site on the bay. What's a better word than AWESOME?
Maybe we just got lucky, but if there is one thing we've come to understand from traveling in Betty, you've got to stay flexible. Plan all you can, but understand that not everything can be planned. We wouldn't recommend you take off to the airport for a Carnival Cruise without a reservation. Or drive to the shore on Fourth of July weekend with the hope that the seaside resort has vacancies. Traveling in Betty is different. Everything you need to comfortably live is with you. Worst case, you can "dry camp" at a Bass Pro Shop or Bureau of Land Management. But with so many federal, state, county, military and private campgrounds, that is unlikely to happen – unless you want it to.
We still plan heavily and try to get reservations in to the popular destinations as soon as they open. A good example is the two weeks in Zion National Park that we picked up on the day they became available – and then planned on how to get there. Eric is getting much more comfortable winging it. Sheri is getting much better at finding parks "along the way." If there are holes in the schedule, we don't lose sleep over it and most importantly, we don't let it stop us from pulling the trigger and taking off on the trip. Good vibrations.