We first heard about the famous Sebastian Inlet Fishing pier from Sheri's Boomer parents who became avid fisher people in their retirement.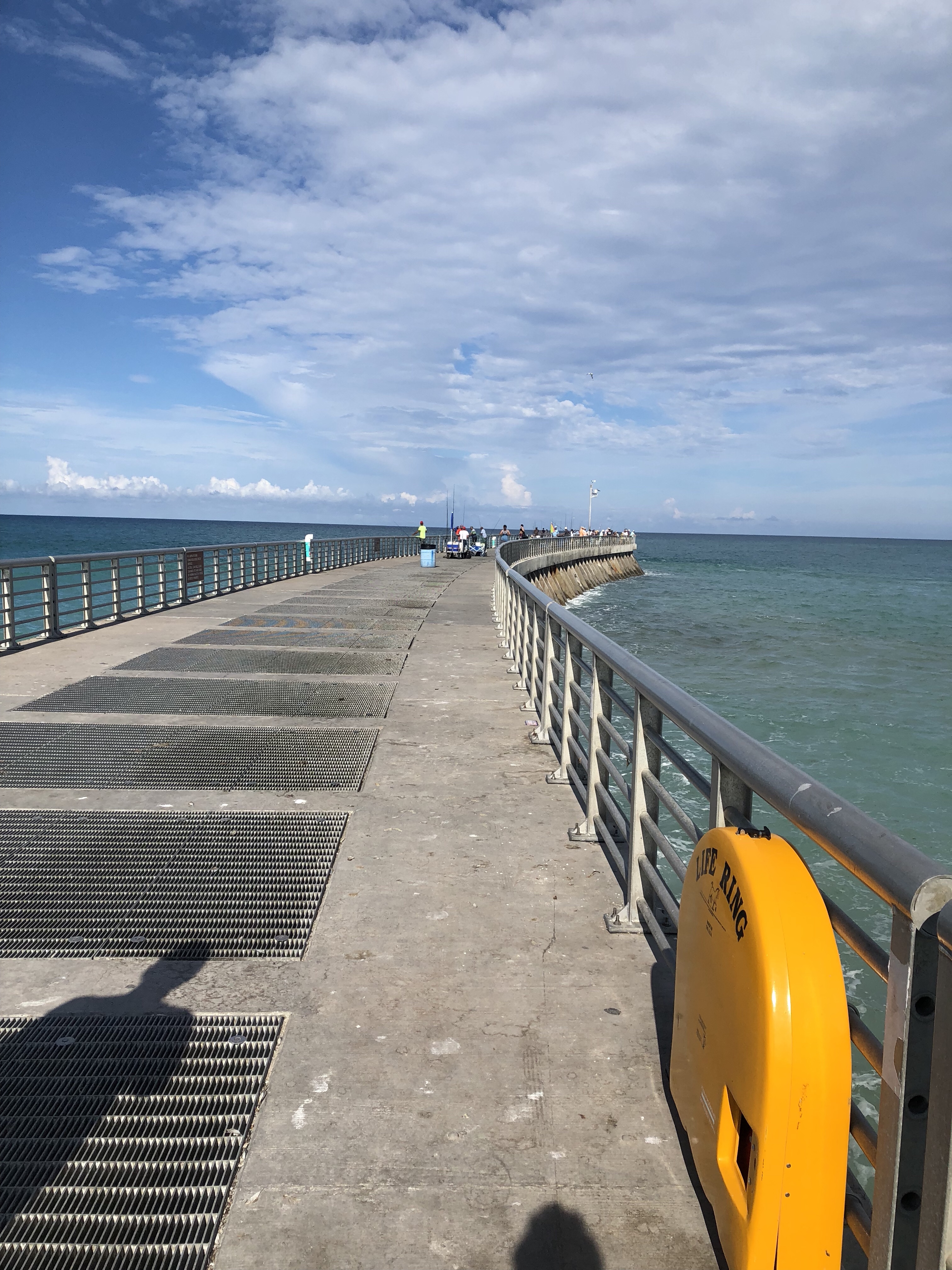 The 745 foot jetty is open 24/7 and is a super highway for fish-life commuting to and from the Indian River Bay Area, making it a Mecca for diehard and novice anglers alike. Fishing was on our must-do list. Most folks on the pier push wagon carts loaded up with poles, tackle, bait, coolers, chairs, umbrellas, big screen TVs. We had our ebikes.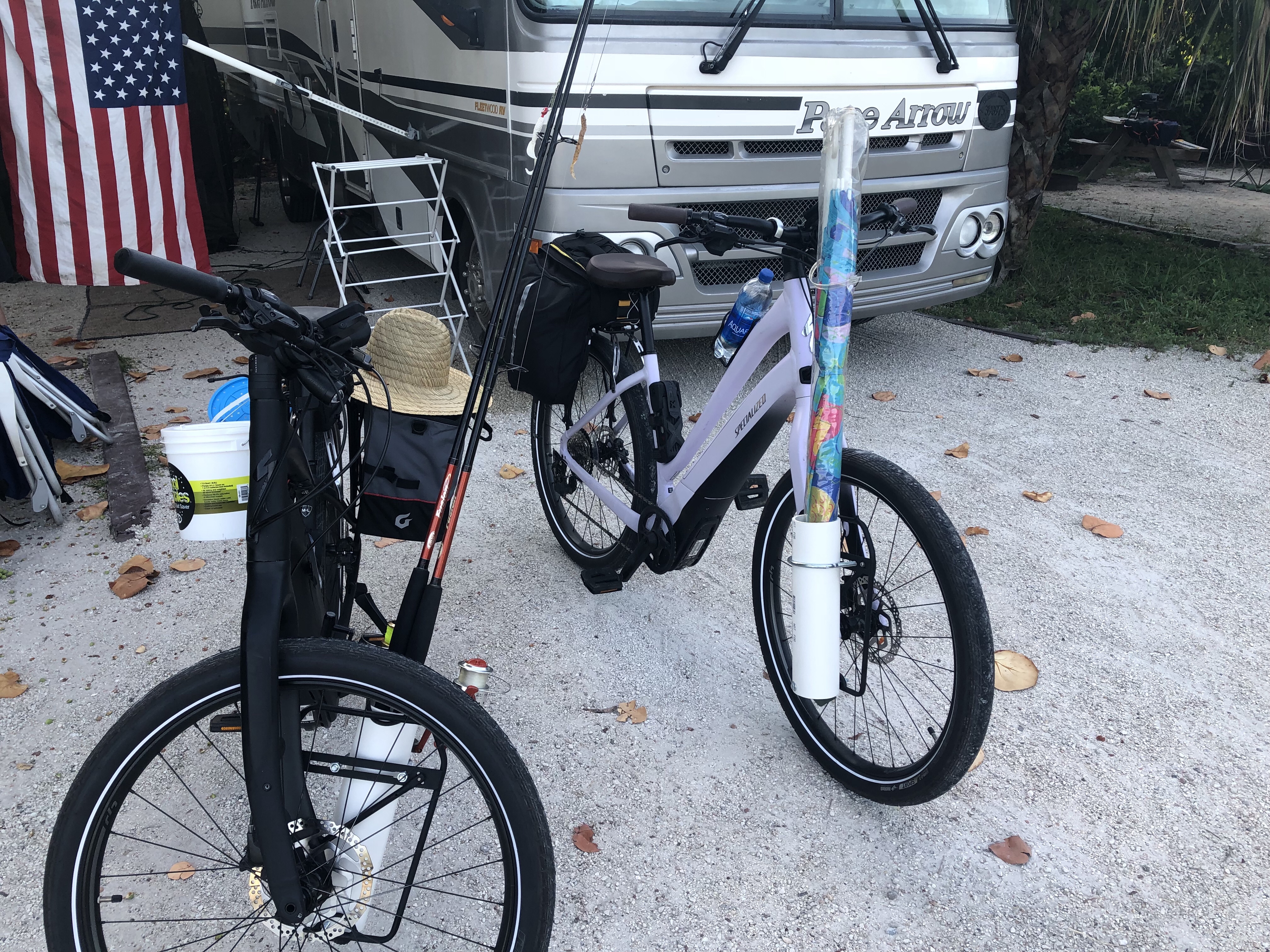 The engineer has rigged them as cargo carriers. Properly loaded with our pole and umbrella mounts on the front fork pannier, bait buckets, tackle, sunscreen, bug spray and snacks in the rear panniers, and beach chairs on our backs, we were able to bring all of the above from the campsite, over the big bridge spanning the inlet, and onto the pier.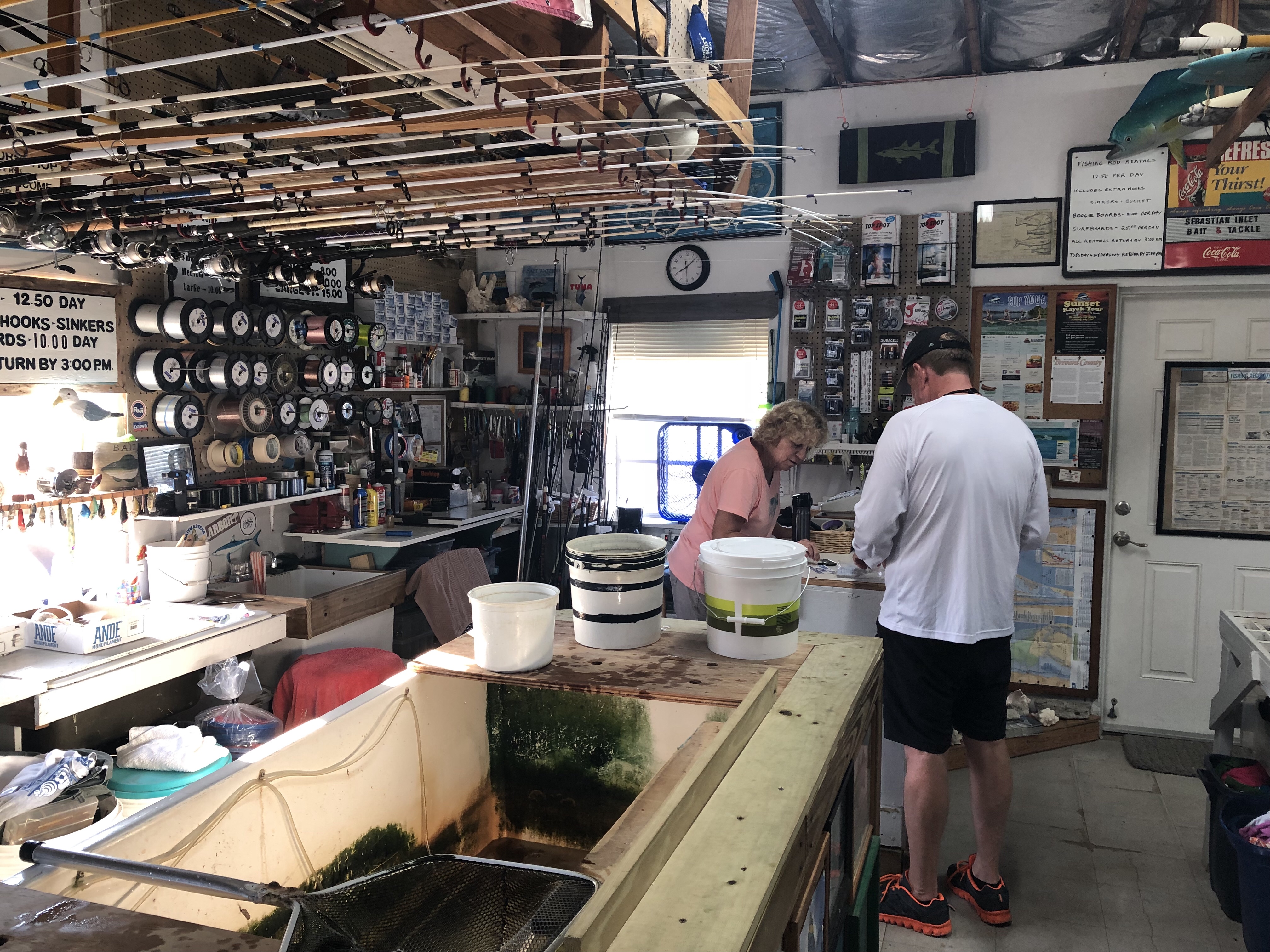 The Sebastian Inlet Bait Shop opens at 7:30am where we procured 2 dozen live shrimp and some lures then set up fishcamp around the center of the pier, leaving the end for the honchos.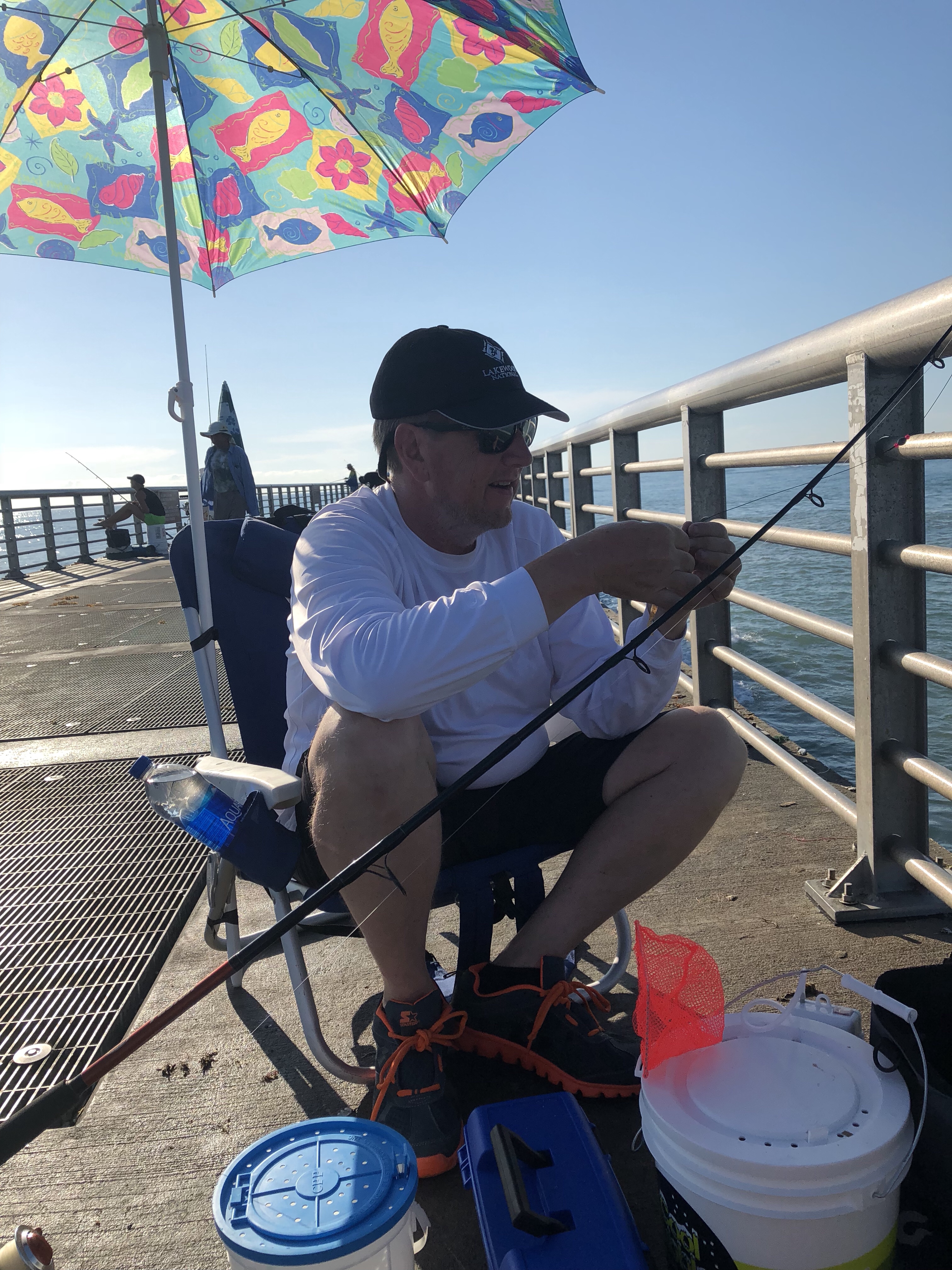 The pier has a wild vibe. Large fish are hooked consistently and moved 15 feet from the water below, over the railing, and flopped onto the pier using a slingshot technique with the rod. The really big ones are elevated up in a private basket like this: The center of the pier is open-grate to the sea below, which comes spaying up from time to time with the arrival of a big wave.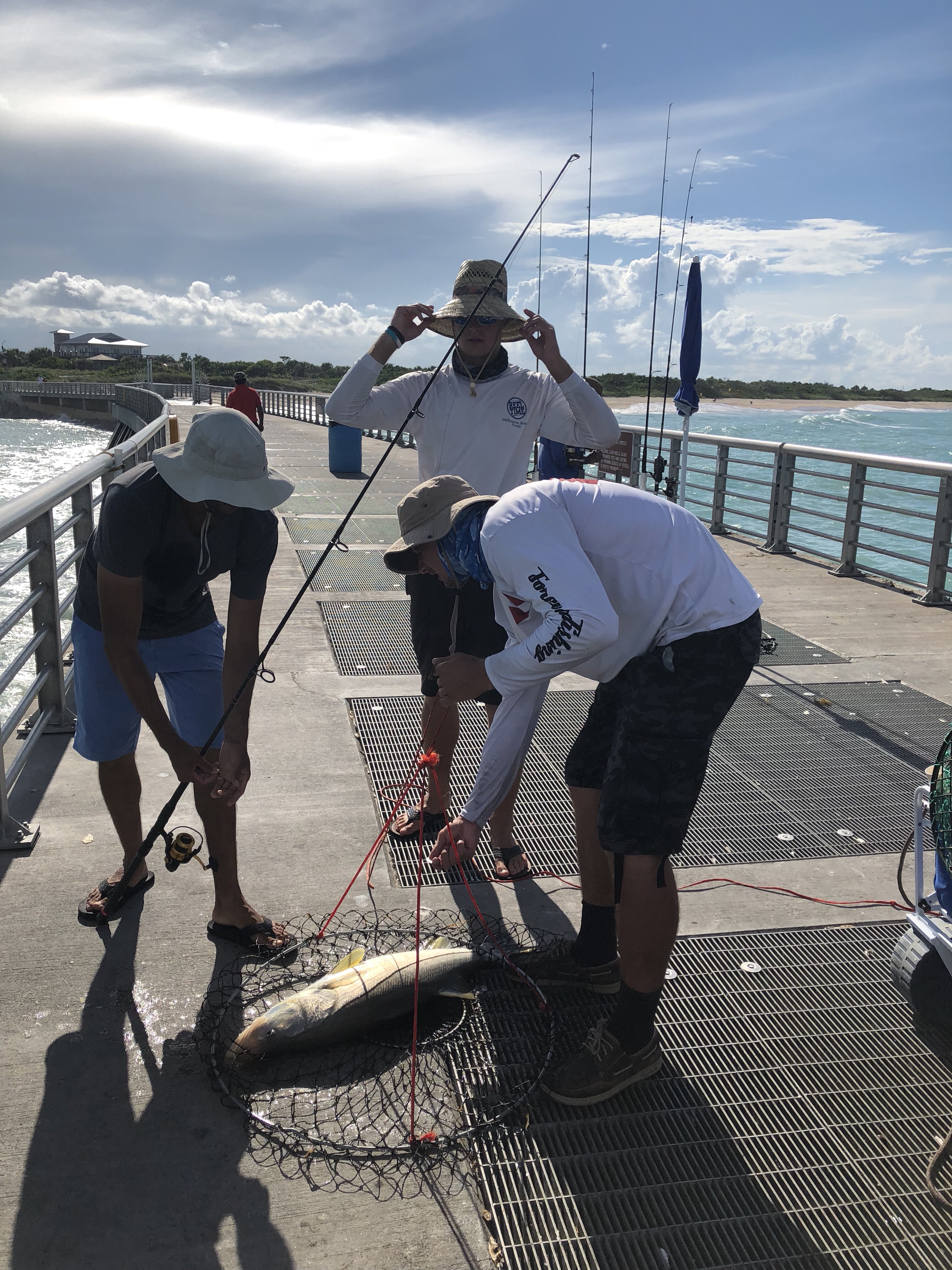 Some caught large Jack fish and Shnook. We had a 4 catfish day and while catch-clean-cook is on our to-do list, these kitties would not be the ones.A long morning on a fishing pier will quickly show you where you missed any sunscreen applications. Eric missed the tops of his hands. The experienced anglers are bundled up from head to toe including large neckerchiefs wrapped around their head and face leaving just two eyes behind a pair of sunglasses exposed. We were half way there with long sleeved shirts, head cover, and umbrella cover, but next time we will go full fish-bandit.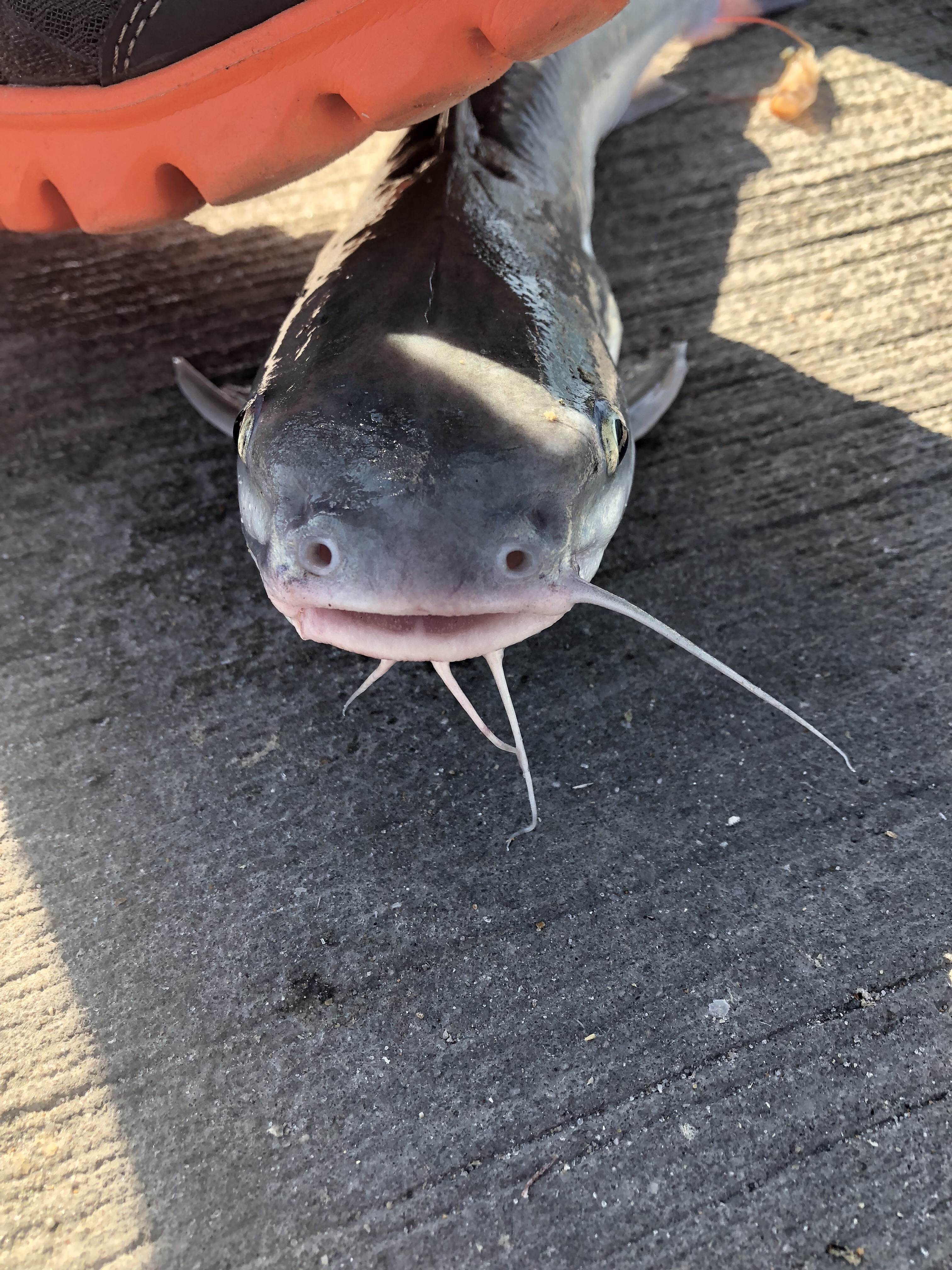 After 6 hours of bait and cast, we packed up and biked to the lagoon to cool off and talk about what we learned from our first expedition.Fishing ain't easy, and that's a fact. It takes a lot of work and perseverance to get to that moment when you have a fish on the line. That salty dude at the end of the pier who is pulling in a 10 lb. Jack might seem like he got lucky. He didn't. We made some progress, but in no way did we become fishermen. We caught some trash fish; we learned a thing or two from being careful observers; and we didn't hurt ourselves (or anyone else) too badly. That is probably enough for the first day. Like anything worthwhile, we will keep trying.