When Carl's delivered same day Betty service and the FamCamp at Davis Monthan was full, Eric went full on google, in search of hookup that would still let us visit the Desert Museum and Saguaro National Park as planned.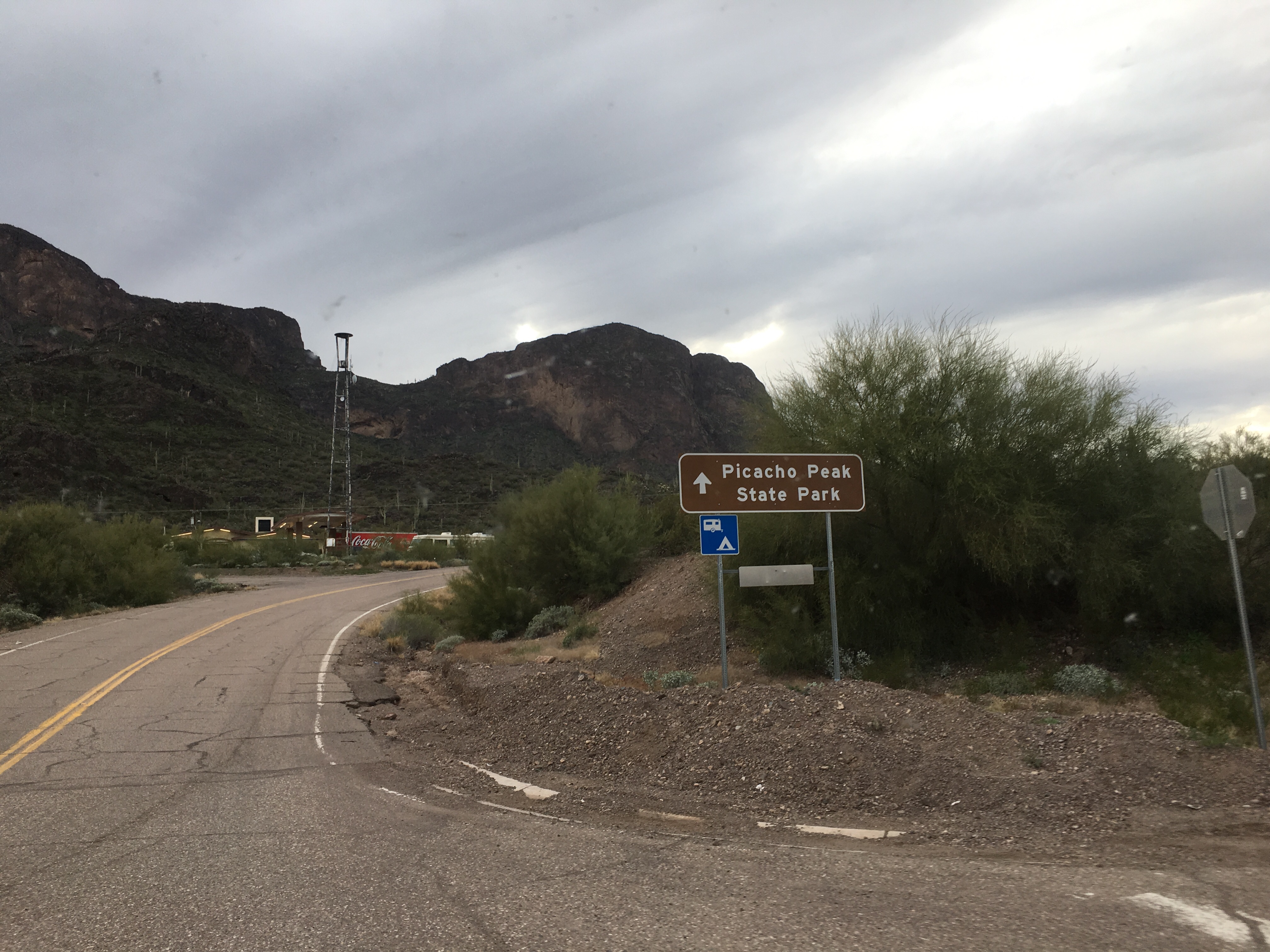 Picacho Peak State Park is 36 miles northwest of Saguaro and home to 80 electric-only pads. Severe drought has created a water crisis in Pinal County and the water coming into the park is nitrate-rich from agricultural run off, meaning you can't drink it. So we filled Betty's water tank with 50 gallons for dishwashing, bought 8 gallons for drinking and were pleasantly surprised to find a mid-century modern bathhouse with showers and dishwashing stations.
The park sits above I-10 and below the landmark of Picacho Peak. Settling into B-25 around 3:30 in the afternoon, we had only 2 hours before sunset to make dinner and rest our weary legs. Our neighbors were on their second case of Bud Light with a raucous corn hole competition and high volume 70s rock on the stereo. Feeling right at home, we decided to stay another night. With B-25 reserved, we locked in A-1, knowing we had to move. But first there would be grilled salmon with kale salad and s'mores around the fire pit!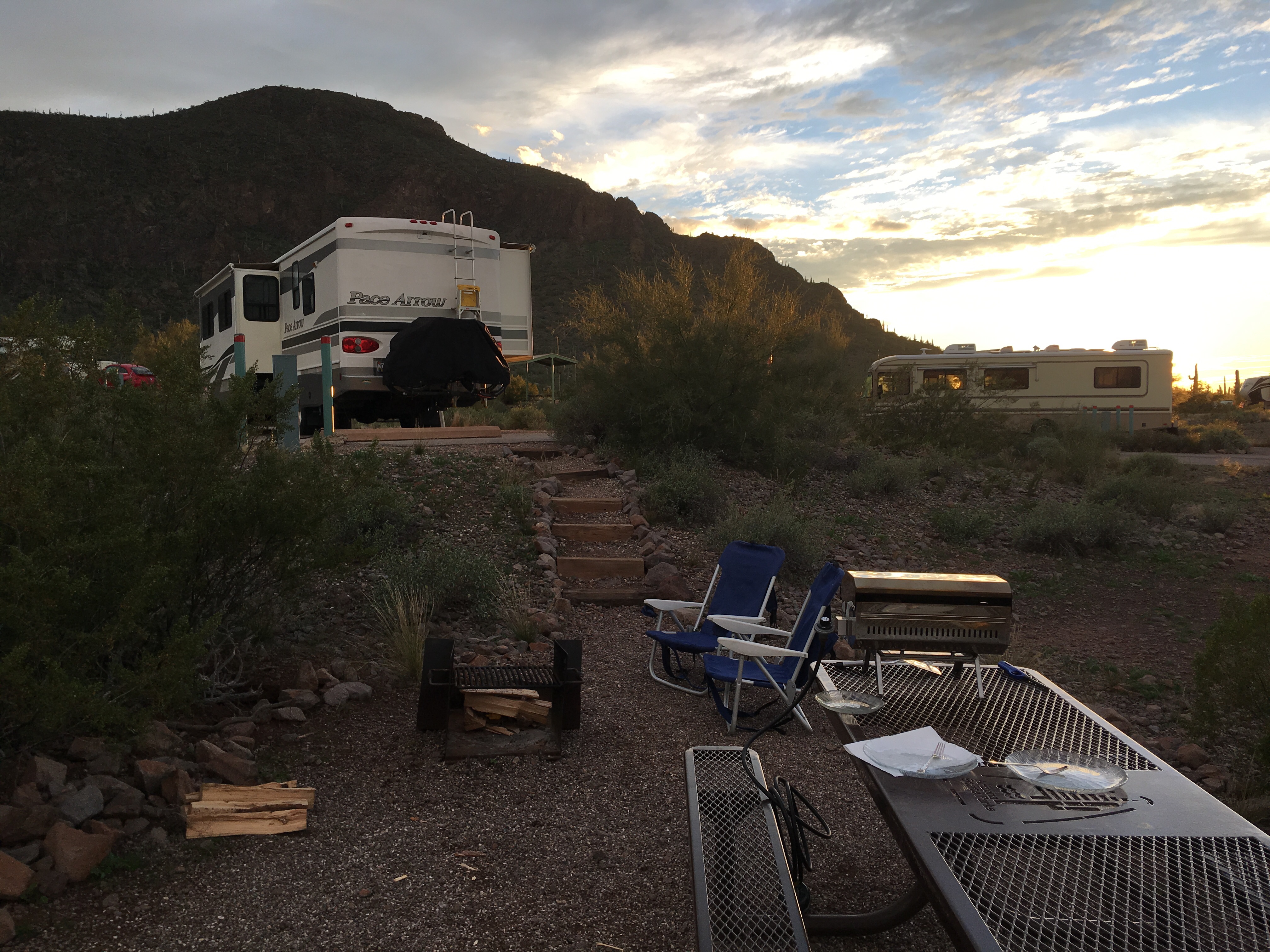 The weatherman called 65 and sunny today, a welcome warm up from the 40s and 50s since we arrived. We planned to hike the Peak so we ate a hearty breakfast, packed a halfway lunch and watched A-1 for signs of departure, hopefully before checkout at noon. No such luck. They sat in A-1, we sat in B-25 and the ranger showed up in a golf cart asking us to leave. We explained we were booked in A-1 and confirmed at the welcome center. Turns out A-1 was booked into B-25 and we had each been watching and waiting for the other to leave. After 30 minutes of discussion around the online registration system, extension logistics and whether or not we would swap or stay put, we landed on stay put, jumped on the Comos and raced to the trailhead to summit Picacho Peak.
Standing at the trailhead for Hunter Trail, we were in the shadow of the 3330 ft Picacho Peak. Ascending 1500 feet of vertical over two miles, the hike is described in the ranger office brochure as difficult. A sign at the trailhead bulletin board says to allow four or more hours for a trip to the top and back. The ranger warned us to be off the mountain by sunset or face a misdemeanor fine. This all sounded so serious and ran counter to our light mood and backpack with tuna salad, a pear and four waters. We stepped out at 12:30 looking forward to eating our lunch at the peak.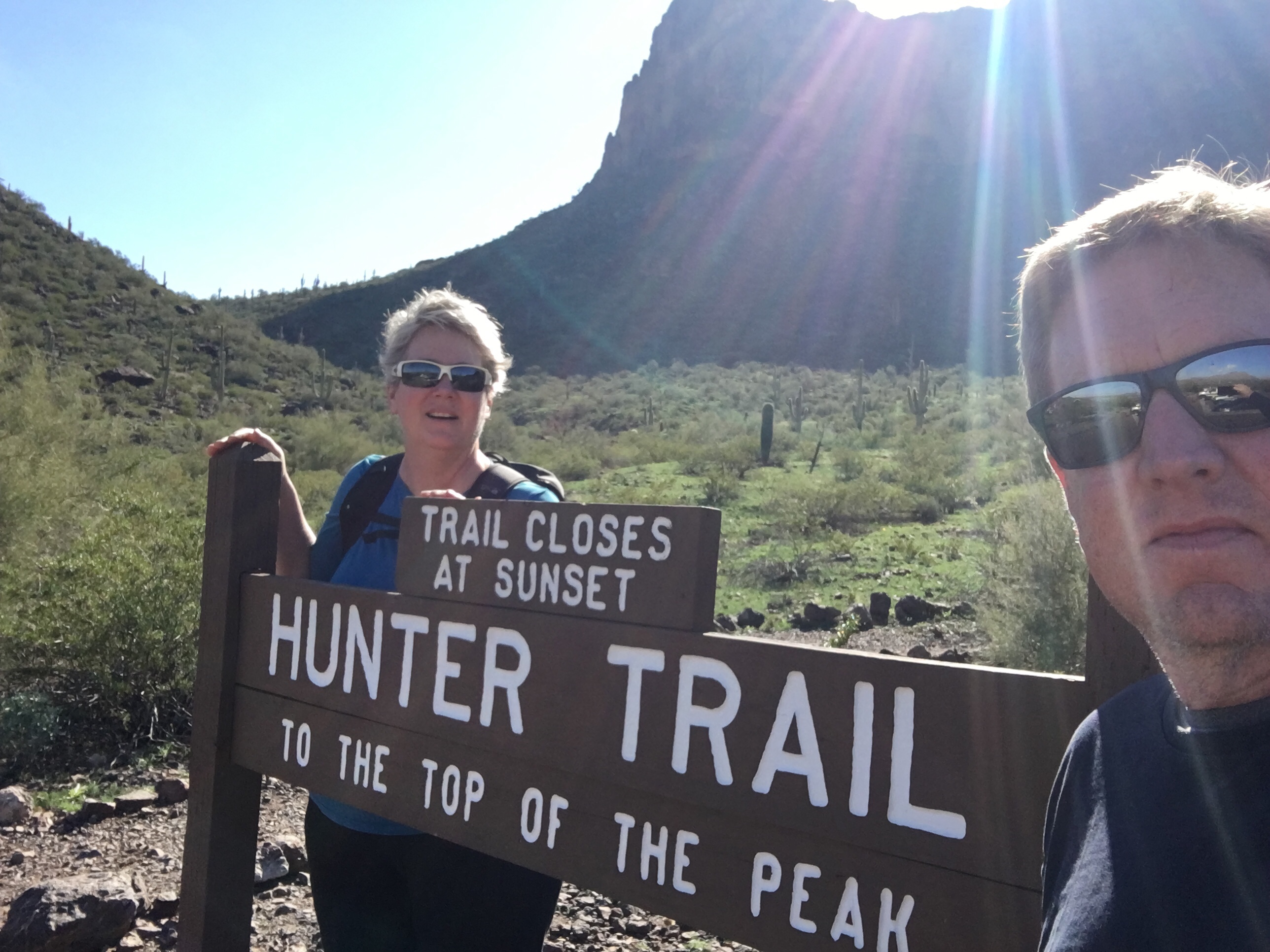 Thirty minutes into the hike it began to dawn on us that this was not like the Billy Goat trail back home in Great Falls park. Steel cables were erected to help us scale large sections of shear rock and portions of vertical ascent.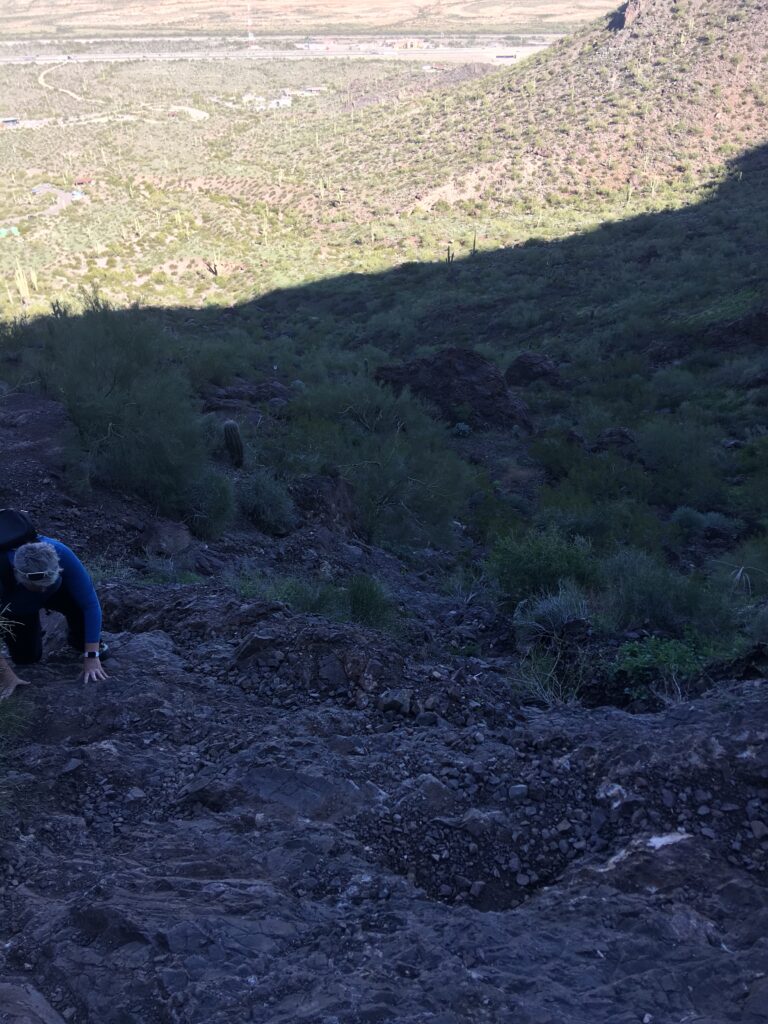 We had heard that the "saddle" was a good place to rest and decided that we would picnic there before heading to the summit. We vertically climbed about another 30 minutes when we saw a wide flat expanse in the trail. Surely this was lunch and the "saddle."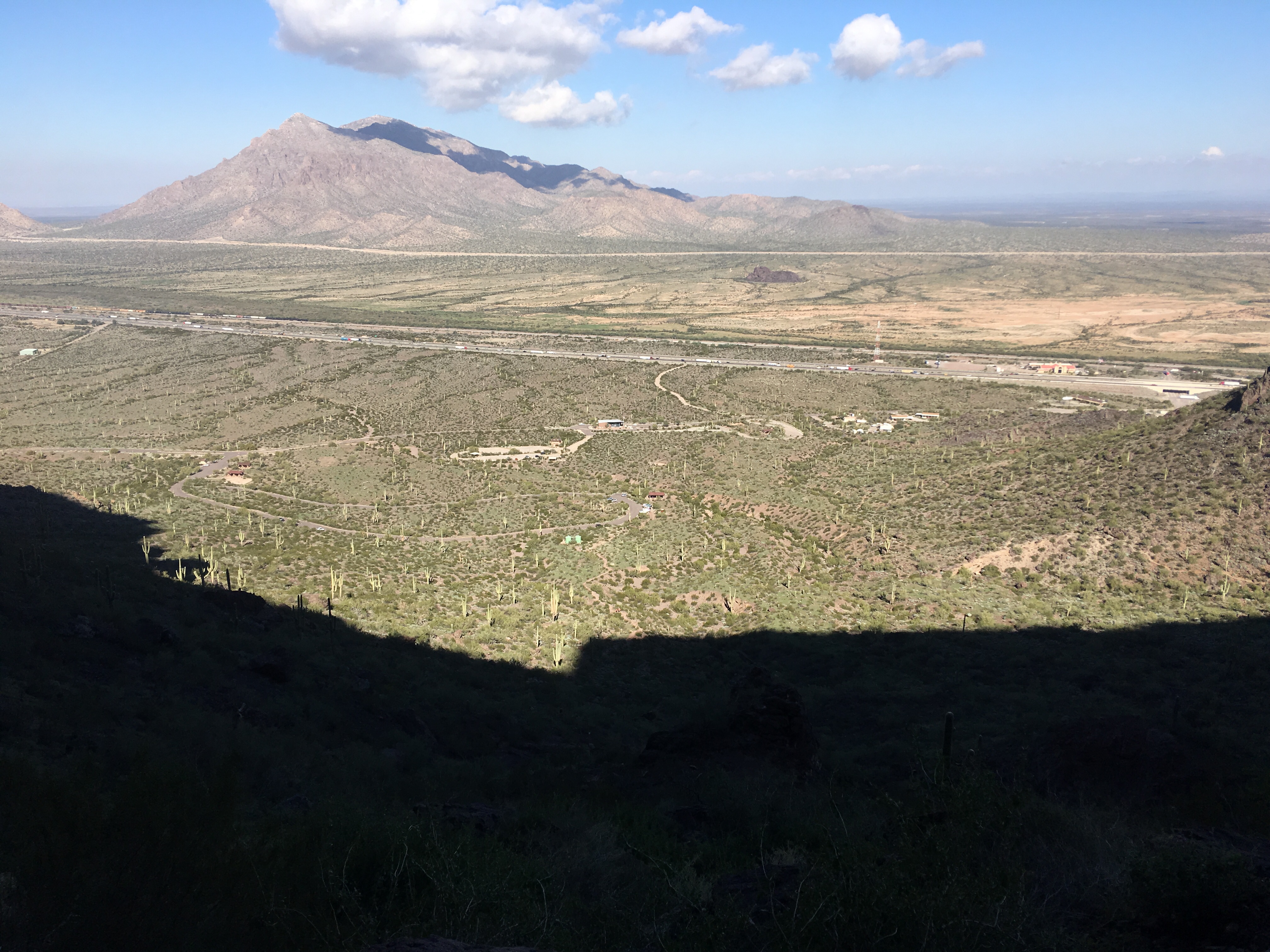 As we approached, a couple on their descent wearing Ironman T-shirts greeted us and informed us that the 'saddle' up ahead was only an hour away and still in the sun then left with what sounded like a sarcastic "good luck."
We pressed on to the real "saddle," leaving the fake saddle behind and sure enough an hour later we reached a bench and rest stop on a saddle between the two peaks. We shared the bench with a couple on their descent who related that the hike up until now had been nothing, and that now the "daunting" part began. We had gone from difficult to daunting, but pressed on having inhaled our lunch.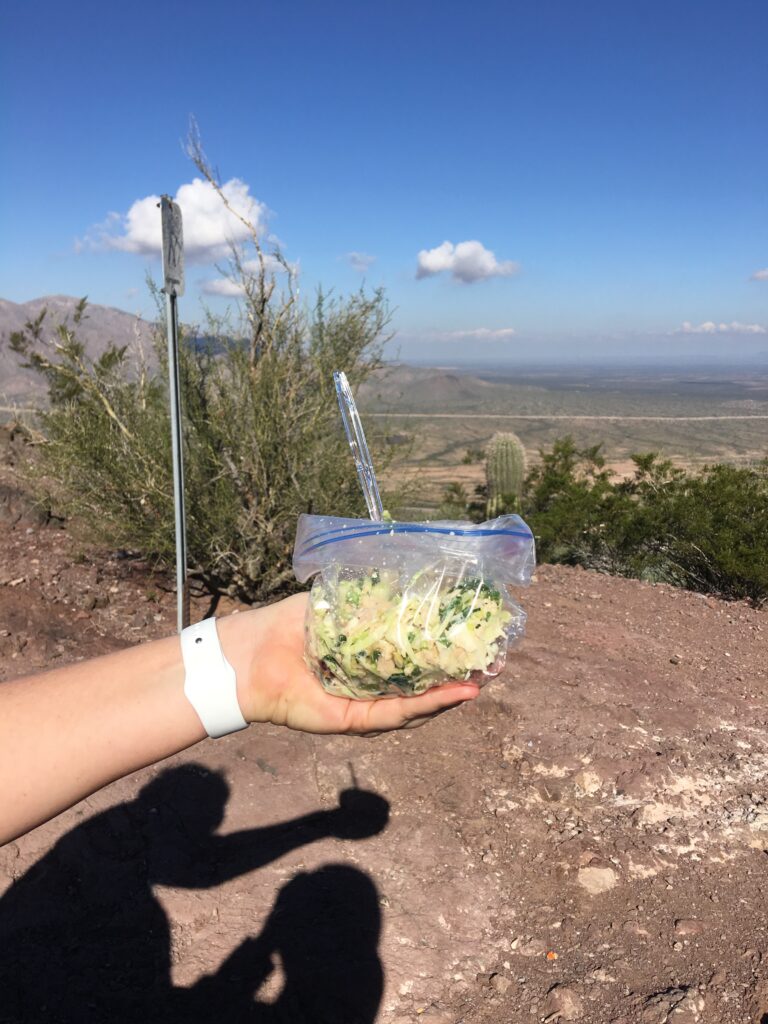 The trail wrapped around to the other side of the mountain and exposed a series of steel cables that dropped a few hundred feet before turning upward. There was not so much of a trail as a cable anchored in rock face. The ranger had told us that he recommended we wear climbing gloves. We had two pair of gardening gloves in the pack, but they made the cable even slippery than it already was. Back in the bag they went. We supposed that climbing gloves and gardening gloves might not be interchangeable. As we hung to the side of the mountain and used the cables to pull ourselves up,we began to realize that the hike had gone from difficult to daunting to dangerous.
About 150 feet from the summit, we encountered a near vertical crevice of 30 feet that with a steel cable we were supposed to scale. Pushing thoughts of the movie 127 Hours to the back of our mind, we wedged ourselves into the crevice and pulled ourselves up on the cable. Hands raw and heart racing, we exited the crevice where an extremely fit and agile billy goat of a man was waiting for us to clear so he could make his rapid descent. He had that look of surprise seeing us extricate ourselves from the crevice and relayed that it was still another 30 minutes of hard climb to the peak. Reminding us to be off the mountain by dusk, he took off with a "be safe now" word of departure, which sounded more like an order than a good bye.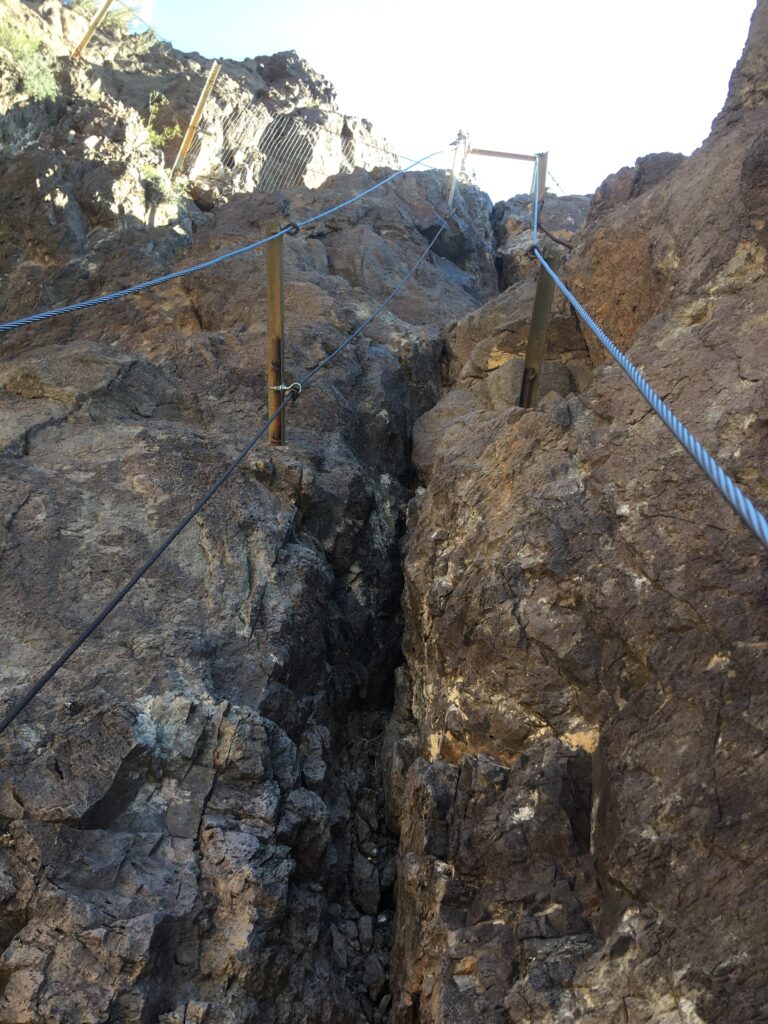 We had been working so hard on the climb that we had lost track of the time. Some simple math showed that if we continued upward we would not make it back to the trailhead before dark. And yet, the peak was just 30 minutes more work and we had just surprisingly finished the hardest part in the crevice. If we pressed on, the hike risked going from dangerous to deadly as we would be traversing those cabled descents at night. Diificult, daunting and even dangerous we could tolerate. Deadly we could not. We turned around and began the descent.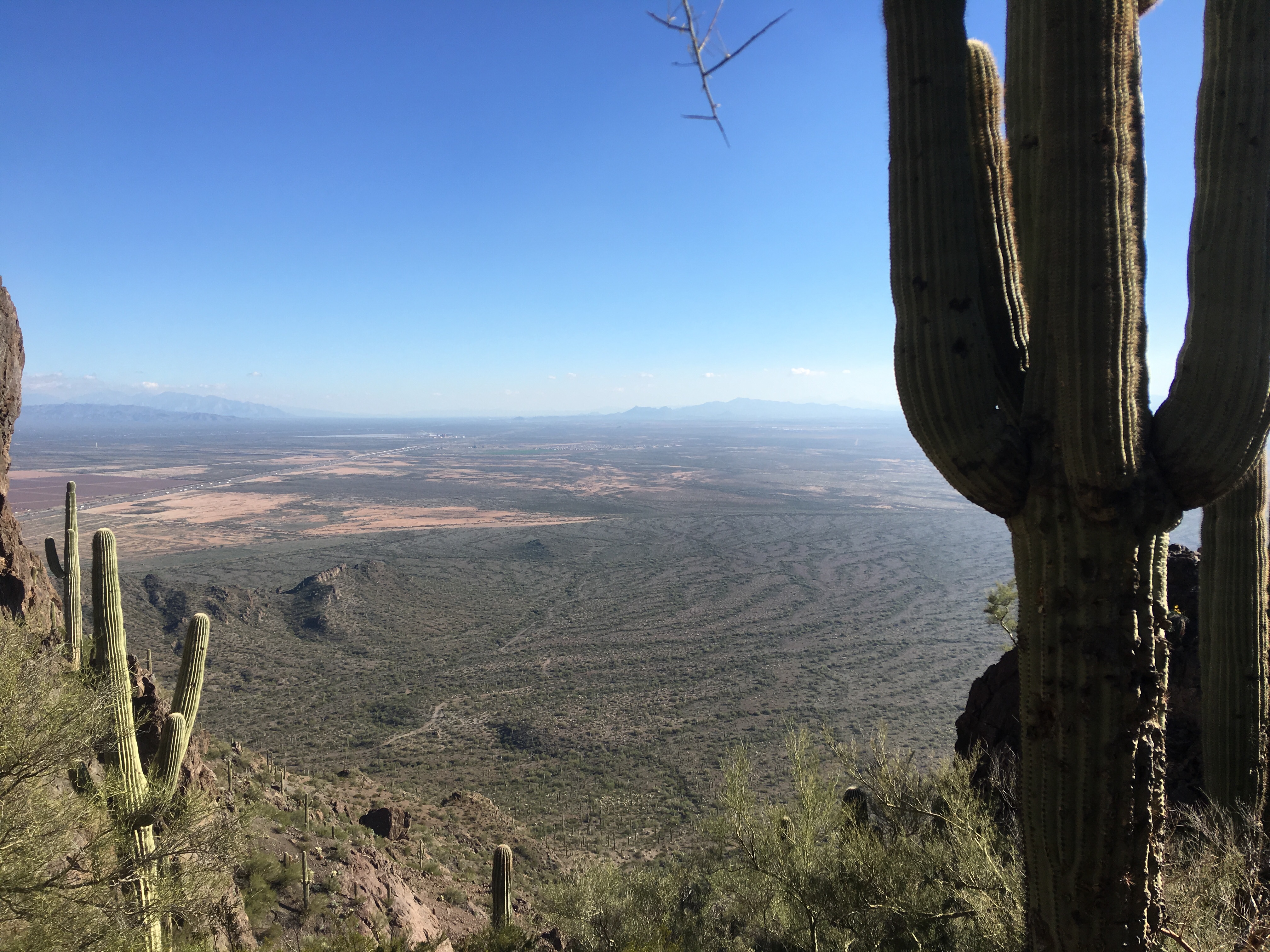 What no one tells you is that the descent is way more painful than the ascent. Our legs cramped, our feet screamed, and our hands stung as we made our way back to the trailhead arriving 30 minutes before dark. The journey which should have taken us four hours, took 5 and a half, which we are blaming it on the lunch. We did not see the world from the peak, but we got within 150 feet and more importantly lived to tell about it.