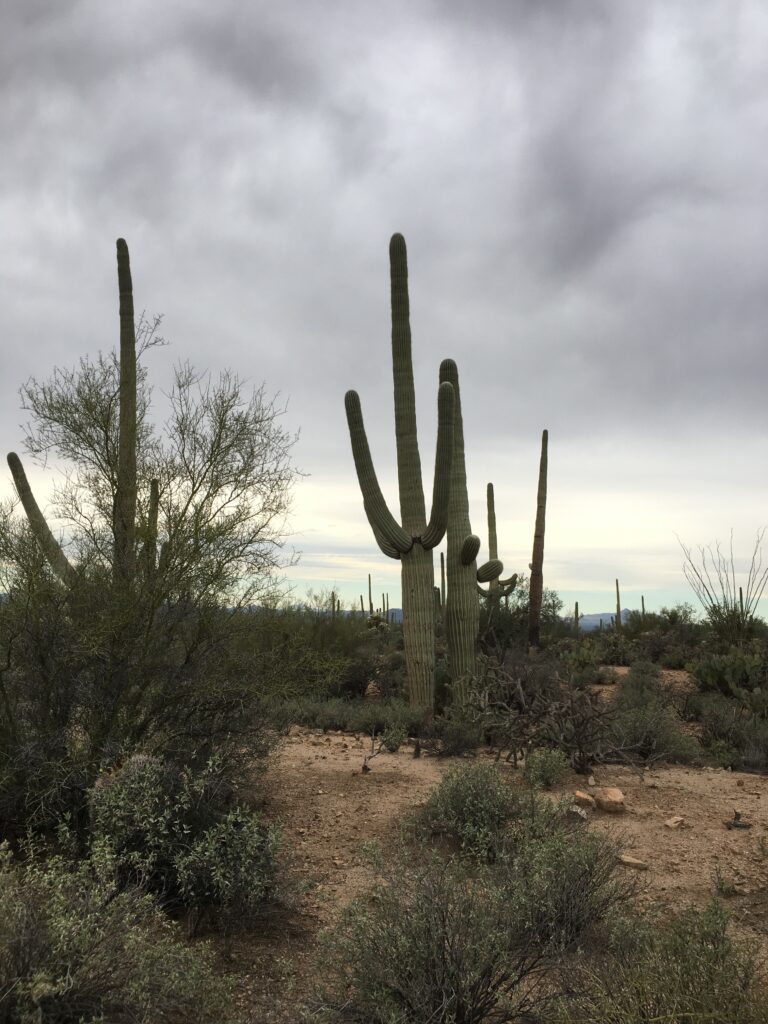 No Sutro or Ludwig or Crema today. Just pure, unfiltered Sonoran Desert.
Temperatures are crisp here and while we're not experiencing the east coast freeze, we are dipping into nipping, layered and bundled for outdoor exploration. It didn't get above 50 yesterday as we made our way 30 miles west of Davis Monthan AFB to the Arizona-Sonora Desert Museum in the West Tucson Mountain Range. The 98 acre compound is a fusion experience: zoo, botanical garden, art gallery, natural history museum and aquarium.
The Old Tucson theme park is just a mile before the museum, but with only a day at our disposal, we opted out of the Wild West re-enactment experience that gets 4.5 stars on Trip Advisor in favor of a 5.5 mile educational extravaganza.
It all started at Raptor Free Flight where various birds of prey are released over the heads of gawking spectators with a narrator spouting attributes, behaviors and habitats of hunters like this Grey Hawk. They've trained these birds to fly really close to onlookers heads for the ultimate 'I was almost attacked by a bird" experience.
We canvassed every exhibit from The Earth Sciences Center and how the Sonoran Desert was formed
To the Riparian Corridor with a Big Horn Sheep eating grass
To the Quilt exhibit at the Ironwood Art Gallery. This is El Niño, Weather's Puppeteer by Nancy Lemke from Bonita California. She calls El Niño a capricious puppeteer with arbitrary power over rain and sunlight.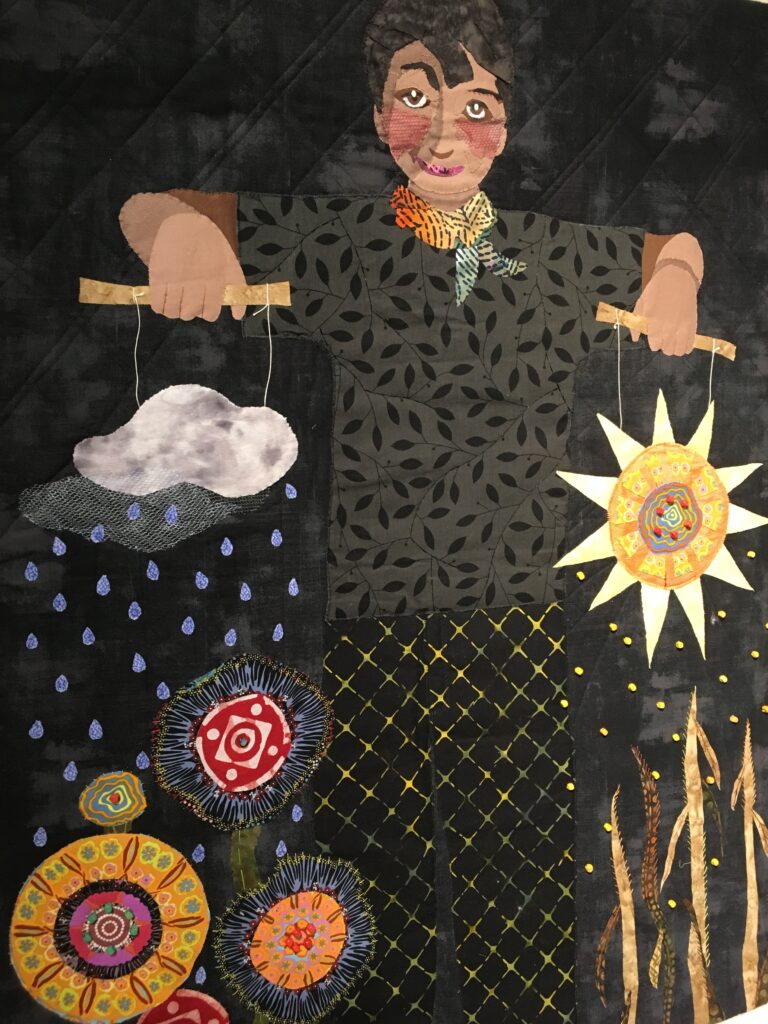 We hit the Walk-In Aviary where the birds were clinging to the wire ceiling trying to escape and the Hummingbird Aviary where they were flitting about, high on sugar water. Cat Canyon, Mountain Woodlands and Packrat Playhouse were just a few of the exhibits to see desert dwellers in their staged habitats. For those who love the zoo, go to this museum. For those who have sadness for caged creatures, drive another mile past the museum and visit Saguaro National Park.
When we pulled into the Visitor Center, Saguaro National Park felt like the aftermath of a zombie apocalypse – deserted – pun intended – with us, 2 other humans, a pit bull and giant cactus people as the only life on this day.
The only other humans at the park were from California. They were hanging about their Dodge pickup pulling a 20 foot trailer and the Mazda CX-5. He was loaded with tools and she was loaded with an active pit bull who desperately wanted off its leash. He started a chat with Eric about where we go to get power for our motor home. While Eric talked state parks and generators, Sheri headed for the ax, certain the couple were Natural Born Killers. Why else would they be sitting alone in a closed national park but to wait for us to show up, kill us and steal all our stuff? Pit bull was pulling girlfriend toward us and they asked if we would be willing to "meet" their dog so she would calm down. Eric obliged and almost lost a hand in the process. Bikes now off the RV, Sheri snapped a pic of the cars so if we went missing, maybe someone would find our pictures in the cloud and hunt down our documented attackers.
Booking down Saguaro Park Drive, we entered the Hugh Norris trailhead for a 10 miler through the Carnegiea gigantea, aka land of giant cactus people.
The ride was a supernatural confluence of spooky silence and the sensation of being watched, like you could disappear in an other world vortex. Rocky peaks, sepia stained dirt, organ pipes and a thick overcast of threatening clouds overhead hid the sun. The Como's were at home on the unimproved dirt road. The riders less so it being the first time back in the saddle. It was a chilling feeling, probably because it was 45 degrees, but mostly because we could feel the solitude in our bones.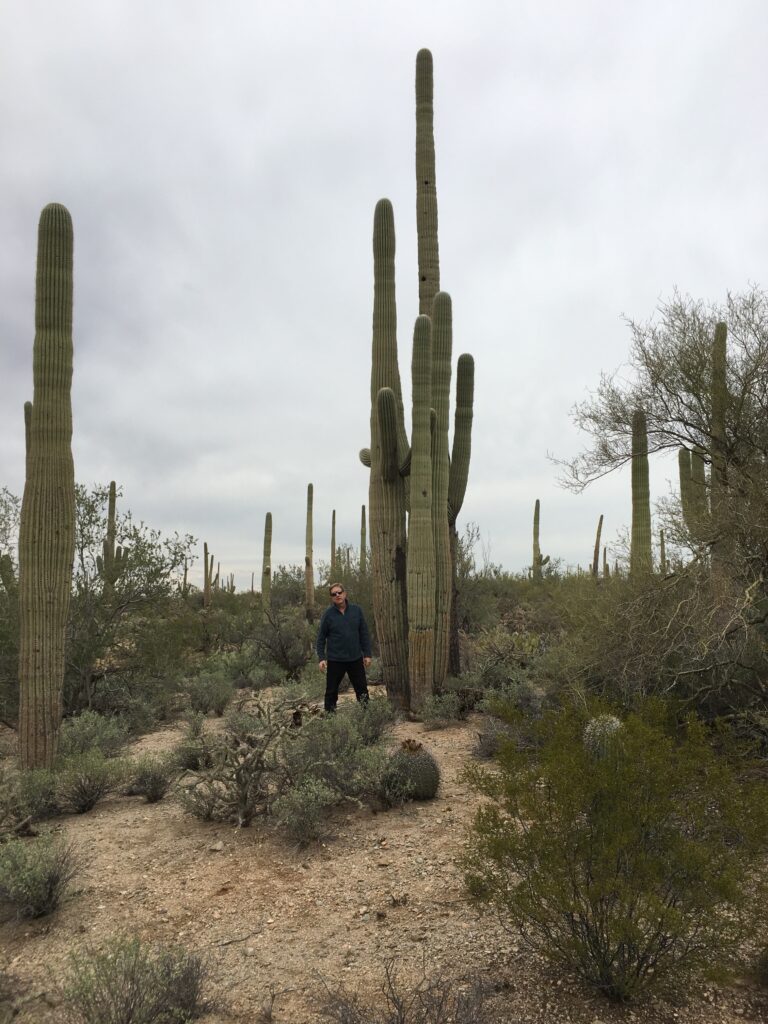 As the temperatures continued to drop, we returned to the warmth of the coach which now sat alone in the lot. Punching up our evening's camp location, we dropped out of the Tucson Mountains and back onto I-10 West.