The fabulous part about Naval Weapons Station Seal Beach is that it is 15 miles from Disneyland, 20 miles from downtown LA and 30 miles from Universal Studios. If you have a car, attractions await. Like the great Dionne Warwick sang, "LA is a great big freeway. Put a hundred down and buy a car." Notice she didn't sing "buy an ebike." Even with pedal assist, it's hard to get around. The road crews painted bike lanes on some roads, but that's about as far as it goes. The dedicated bike-pike runs along the beach and is heavily shared by bike, skates, scooters, skaters. You need to stay there.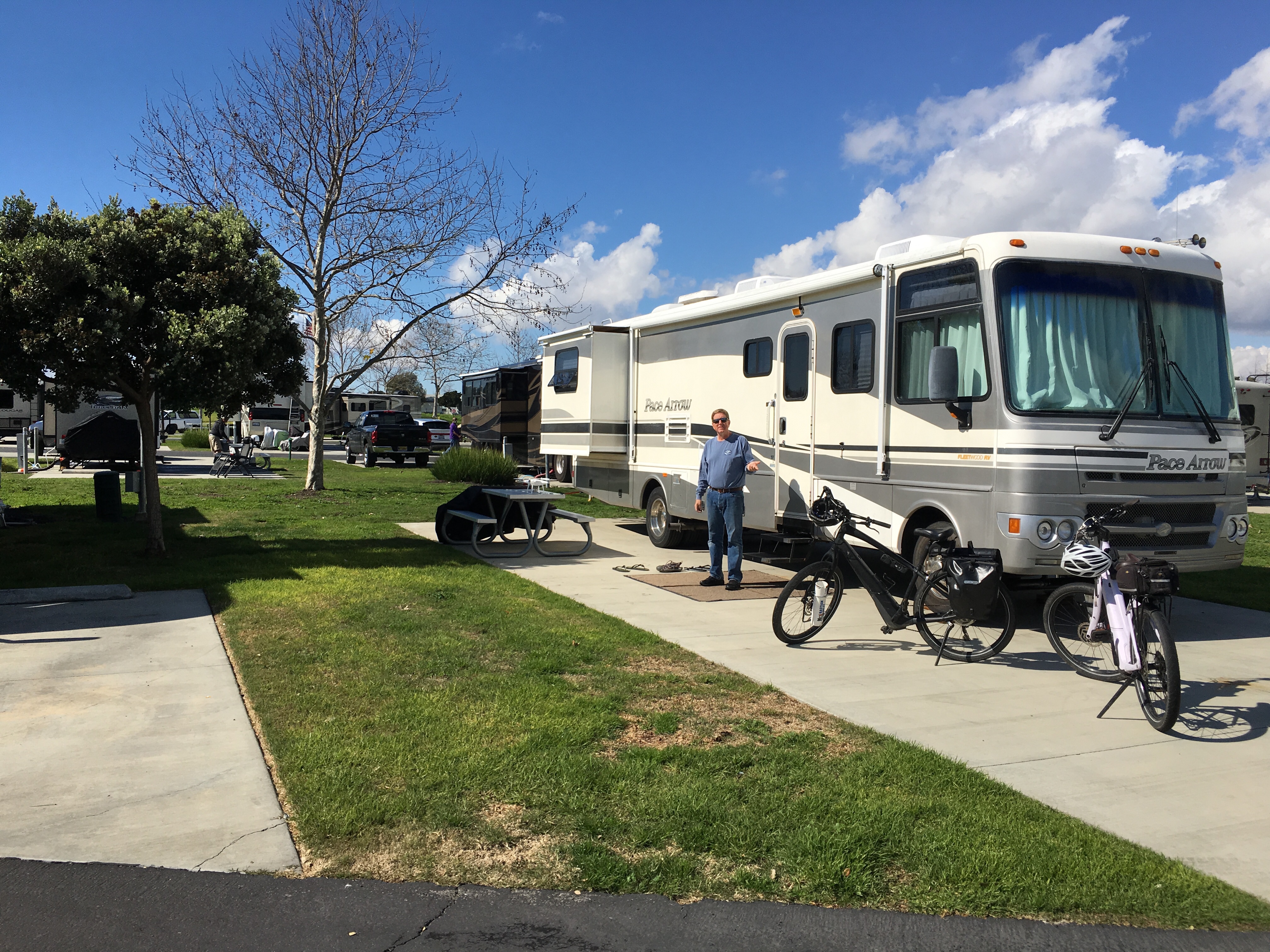 The RV Park is amazing. 85 full hookup, concrete padded sites (all in use) with a big bathhouse, free laundry, spotty cable and decent WiFi. The base itself contains lots of warheads and munition but no commissary or exchange. There's a sign for a fitness center but we couldn't find it. This is a great home base for those touring LA but for those exploring the local area, Seal Beach is a C class beachtown and it's neighbor Long Beach, 5 miles to the north, is a sprawling seaport. Tankers sit at anchor on the horizon awaiting a port to load and unload their cargo.
The big attraction in Seal Beach is the 1,835 foot wooden pier. We did what you can do on the pier, walk to the end and take in the views of the tankers and larger cities to the north and south. It seemed like the thing to do and place to be for everyone taking a stroll.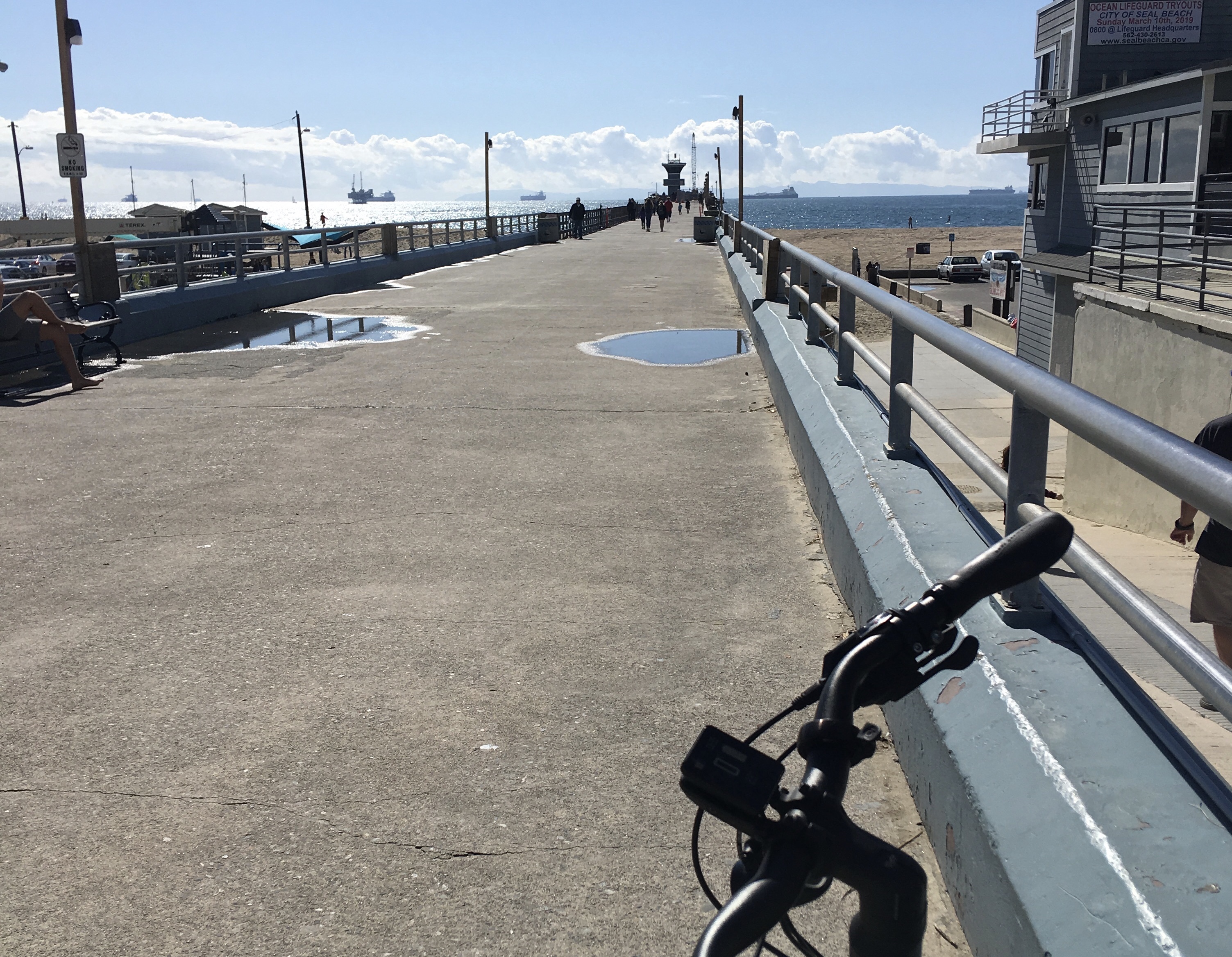 Seal Beach is a for locals. The sandy beach is Cape May wide and extends into Long Beach. Bundled up, we pedaled past the kite surfers and volley ball players. The 58 degree air was only 2 degrees warmer than the 56 degree water and it was all made cooler by the stiff wind coming off the ocean. But California is all about the sun and fun, and warmth is obviously just a state of mind. The locals down dogged in skimpy yoga gear, jogged shirtless, and stretched out on a towel on the sand like it was summer. Shirtless, shoeless ukulele boy could barely finger a chord with his stiff fingers in the chilly wind, but damn if he was going to show he felt it.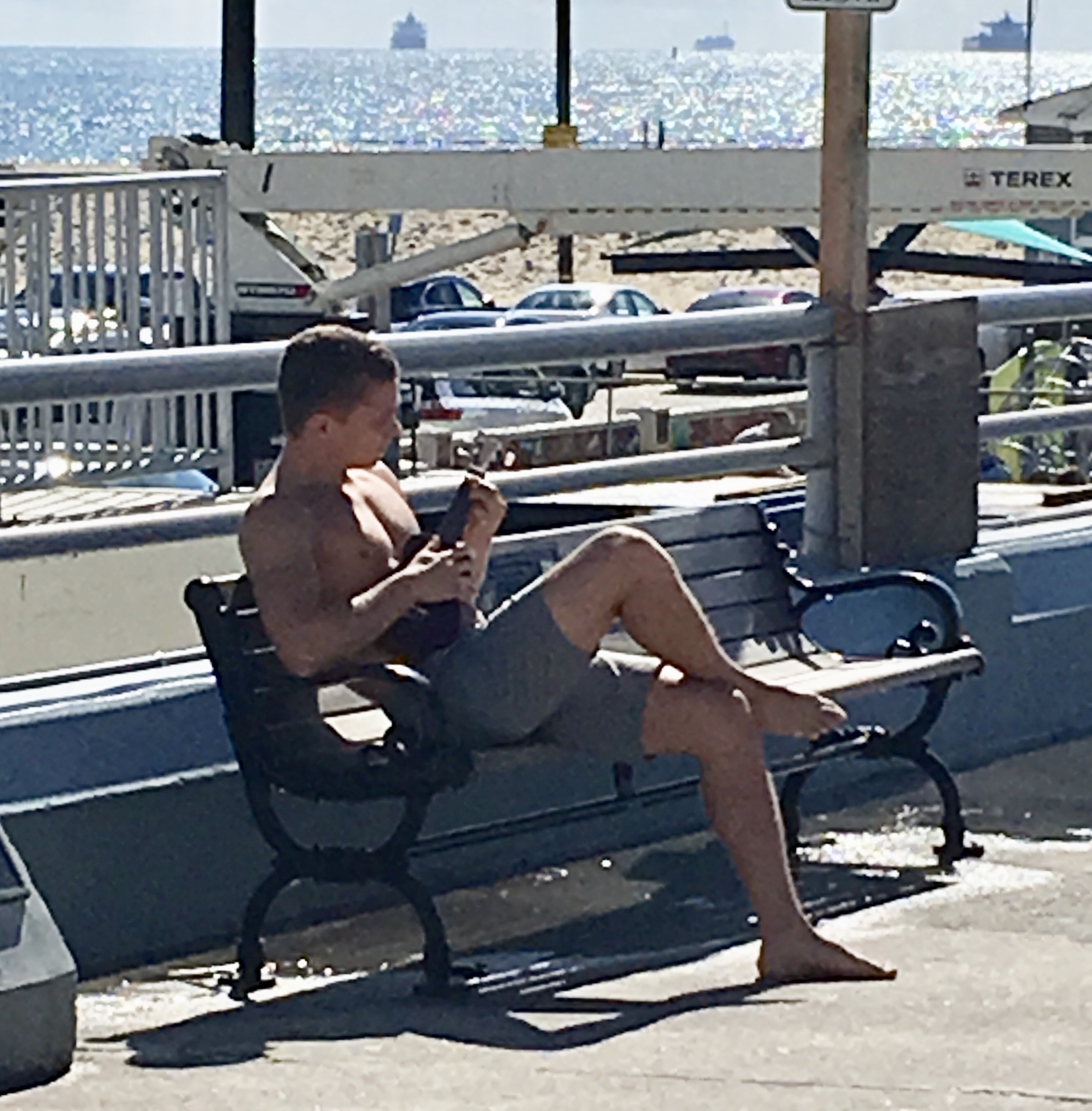 Leaving Seal Beach we found the San Gabriel River Bike Trail – 38 miles beginning at Seal Beach, ending in Azusa and regarded as one of the best trails in LA. We tracked it for a few miles, along the river and past a power plant til we hopped off in search of Long Beach. The 76 mile round tripper would be on another day, in different clothes, probably on a different bike and in a different body. No way that battery is lasting 76 miles.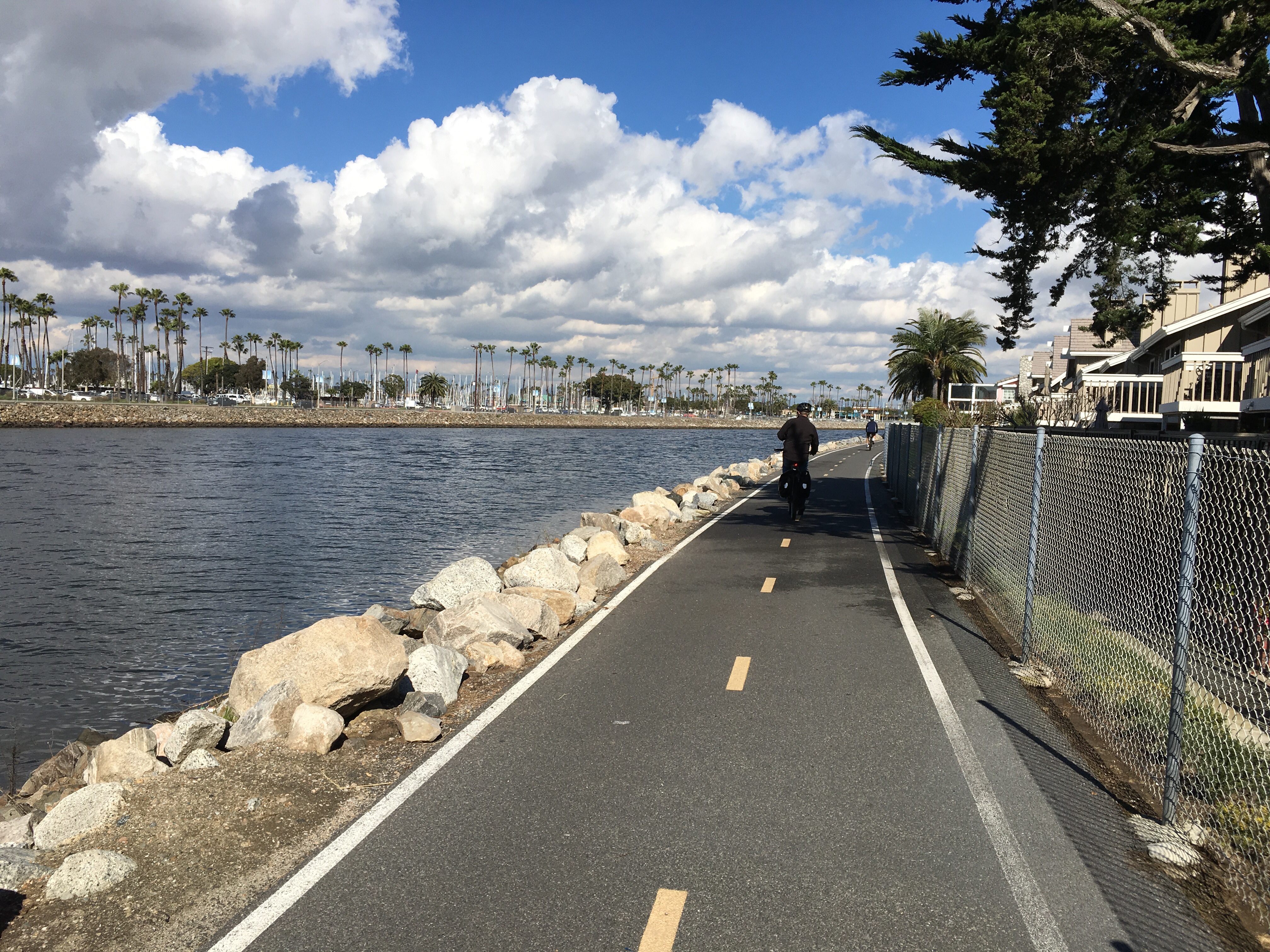 We weren't prepared for the transition from protective San Gabriel to the mean streets of Long Beach. Giant intersections, narrow lanes with few dedicated to bikes, high speed traffic, BUSES – so many buses. Being a bike messenger in NYC had to be easier than navigating these streets. But we were stuck. This was the way back to the beach.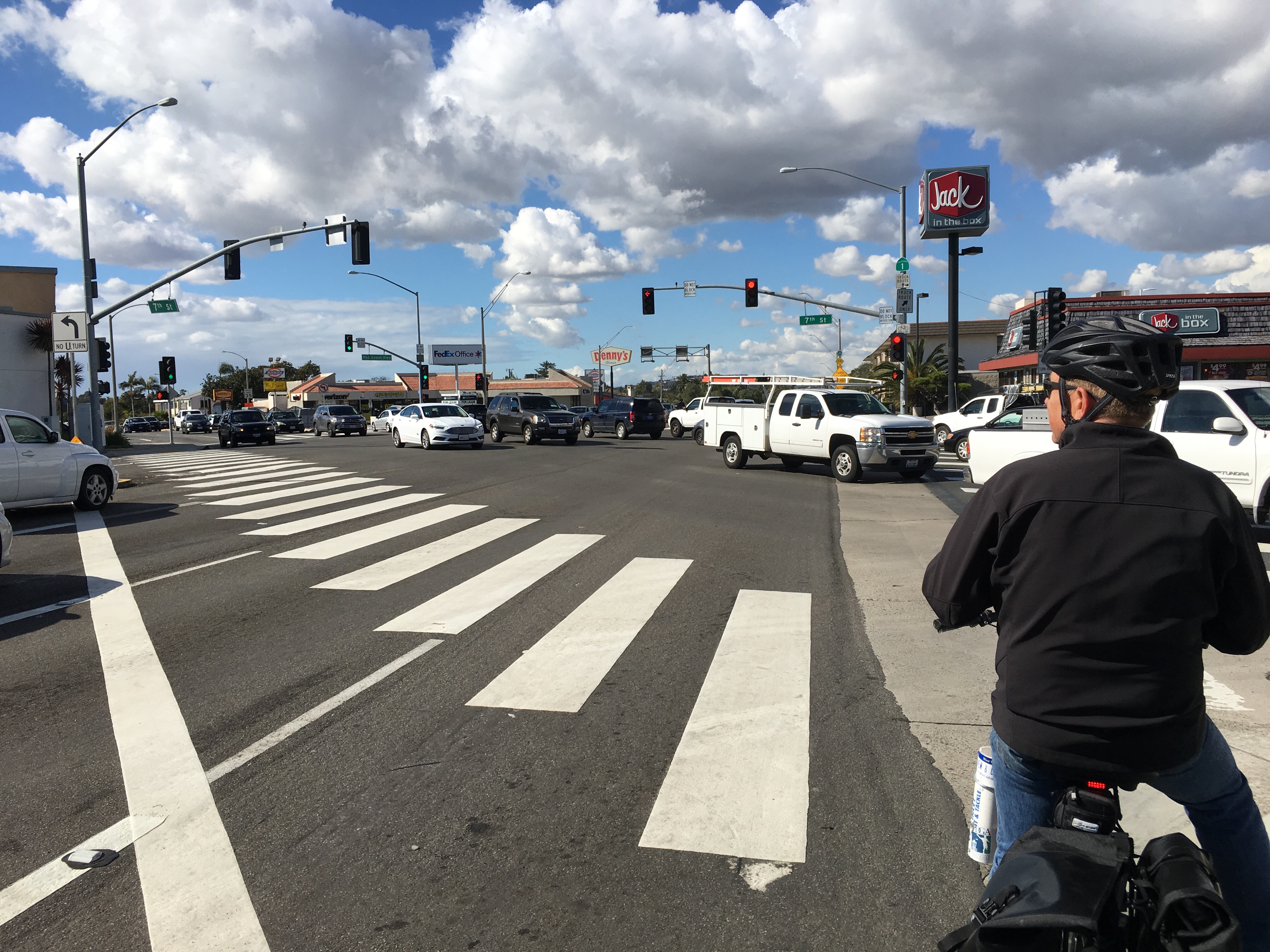 Once we got out of the mega traffic zone, we were in the sketchy residential zone. Not as bad as East Memphis, but kind of the same vibe. Pedaling fast and avoiding eye contact, we finally made it to the Port with a protected bike trail back in our sights. We saw the Queen Mary, a cruise ship and a bunch of tankers in the distance, but at this point we were road weary and just wanted to hit the Trader Joe's for coffee creamer and get back to Betty.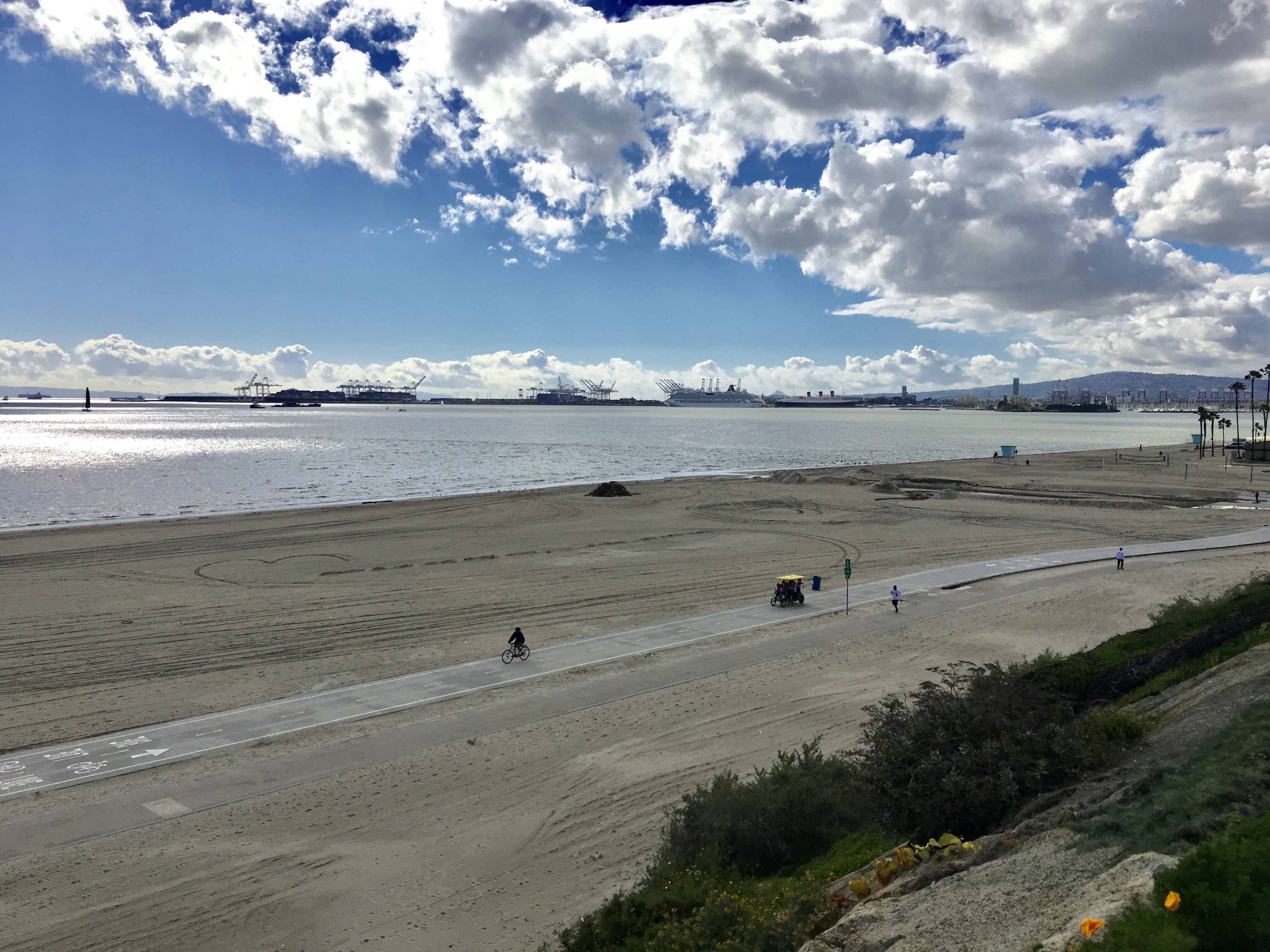 The storms earlier in the week made the beaches look like landfills. The second largest metro area in the United States dumps tons of trash into the Pacific via the rivers and tributeries, which promptly wash back up on the beaches. Clean up crews were out in force in bull dozers and dump trucks while beachcombers picnicked nearby, seemingly oblivious to the pollution. To our unpracticed eye, the scene looked like Haiti after a hurricane. To the locals, they just played around it confident that it would eventually be cleaned up.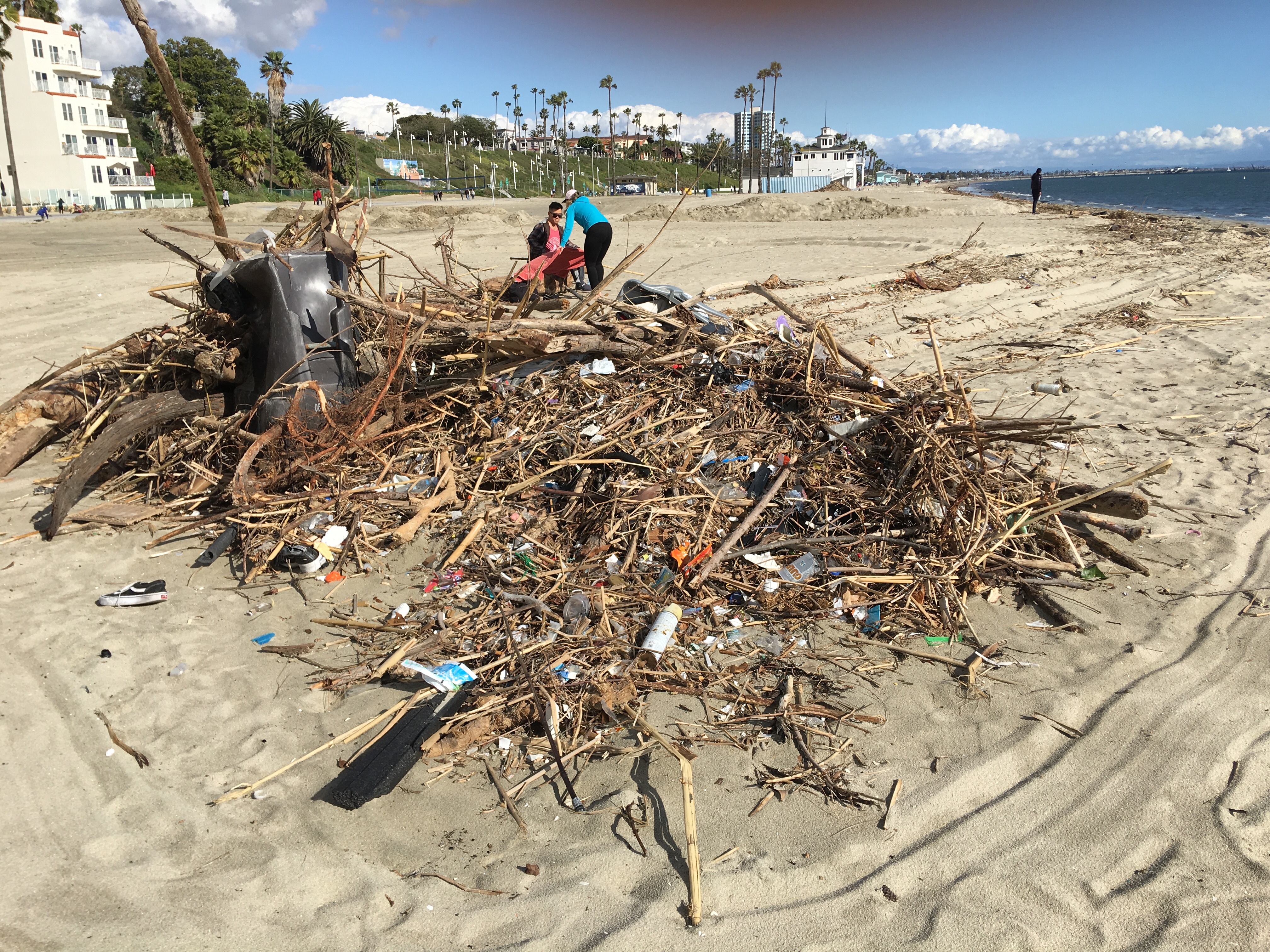 Forging on, we stopped to watch the kiteboarders and bulldozers before the trail ended and we were back on the road to home, over some bridges and past some marinas.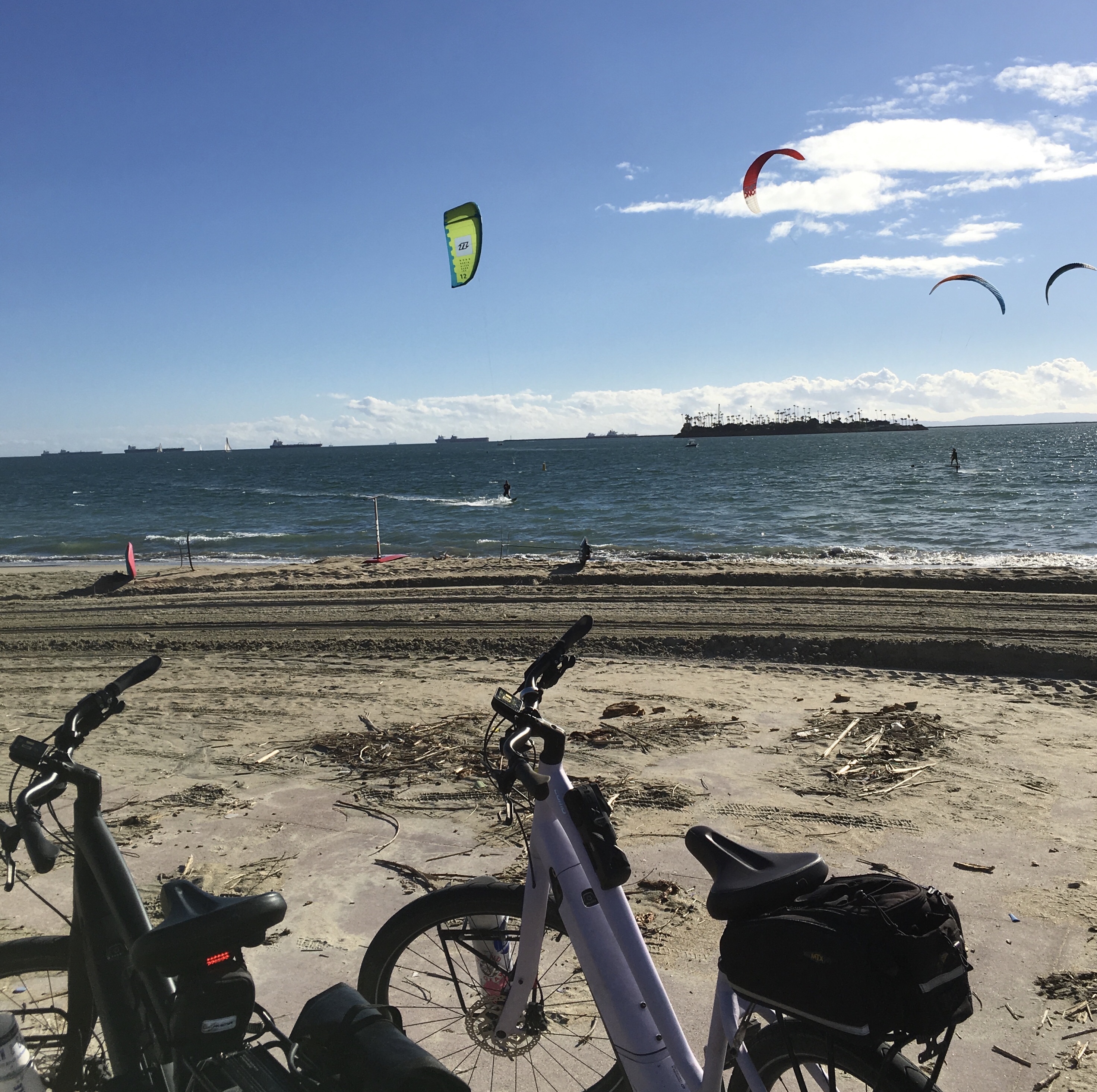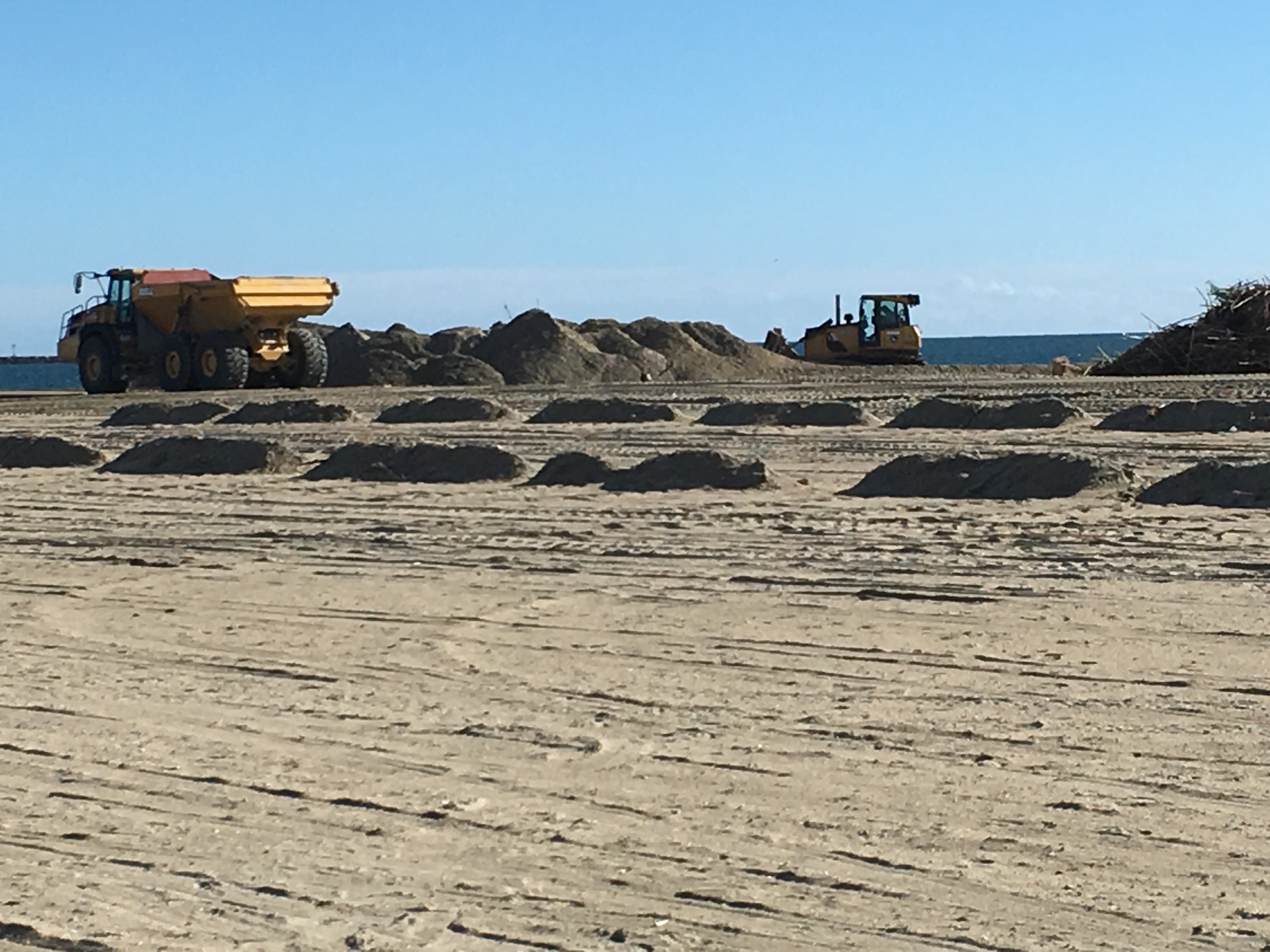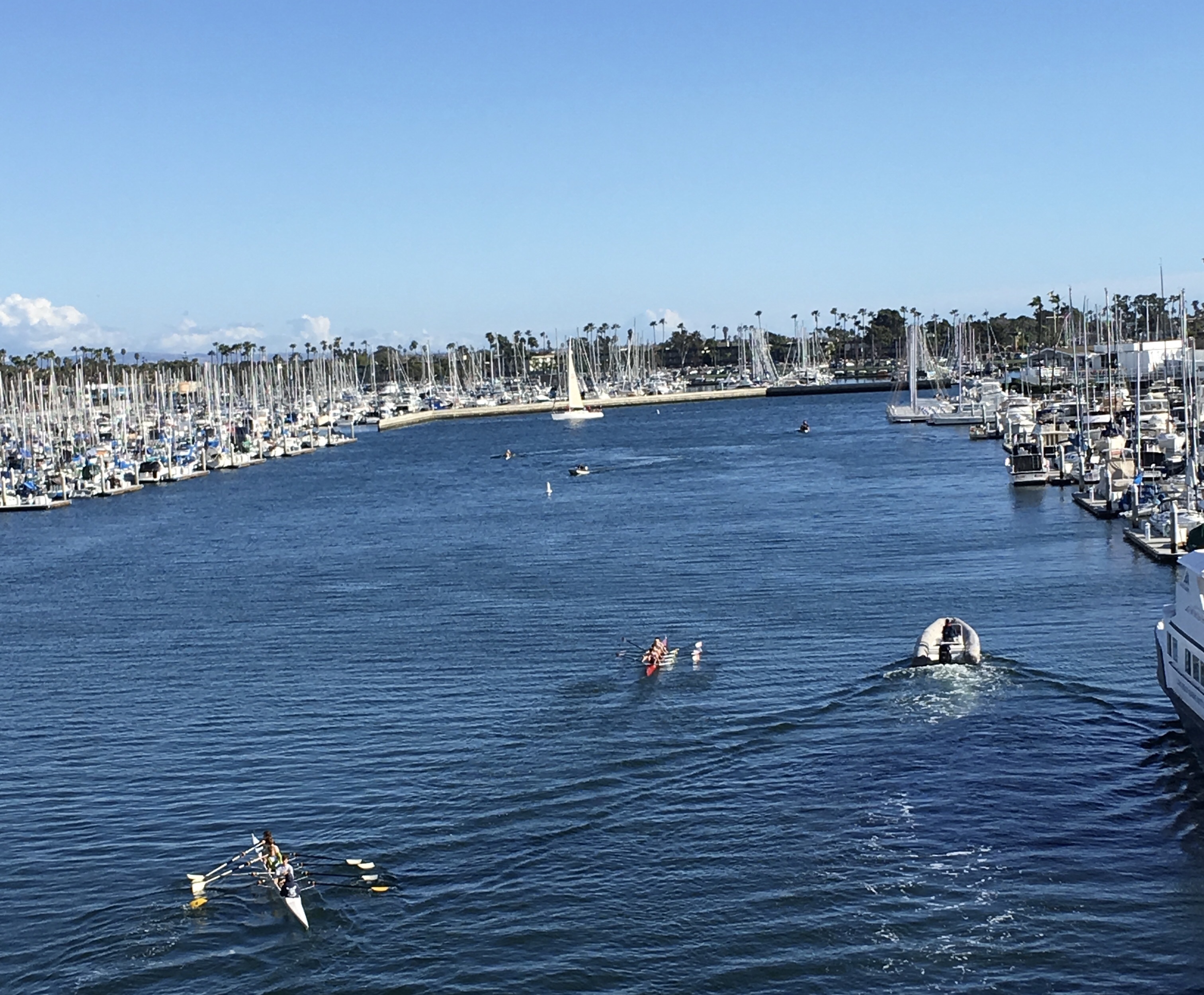 When we arrived back at Betty, we both said how much we missed Fiddler's Cove in slower San Diego. Maybe LA would eventually grow on us. But, like Warwick, we are starting to hum a modified version of Burt Bacharach's tune "Do you know the way to San …"