It never rains in California, but girl don't they warn ya? When it pours, man, it pours.
Winter rain has been falling on the southwest for the past week. Even YPG received a 1/4 inch which got the locals talking about the deluge. From pulling bikes on and off the rack to setting up camp in Mission Gorge, we have been getting wet. When the sun finally came out around 11am yesterday, we took off on the Comos to find the Grantville trolley station about a mile away, pick up the 9 things on our grocery list and explore the Admiral Baker, Mission Gorge neighborhood. A reconnaissance mission. A quick spin before the rain returned.
Something happened though. The same thing that always happens when we leave the comfort of our DC home. Other people possess our bodies, sanity wanes and the next thing you know we're 20 miles away biking in a rainstorm.
On our way out of camp, our neighbor, Mr. Airstream with the panel van, stopped us to ask where we were going then recommend a trail to downtown. We love a good trail system – the Capital Crescent in DC, the Big River in West Memphis, the Loop in Tucson … and by his account it was adjacent to the trolley station but squirrely to find.
The Trader Joe's was in Apple Maps, but then we saw the signs for a bike trail. Weaving in and around the California Freeways, the trail left us paralleling the I-15 north in the direction perpendicular to our desire. It wasn't a hard decision to turn around which was reinforced by the homeless man's dog barking on the trail next to a vacant stadium, under a highway, at the pop-up county dump.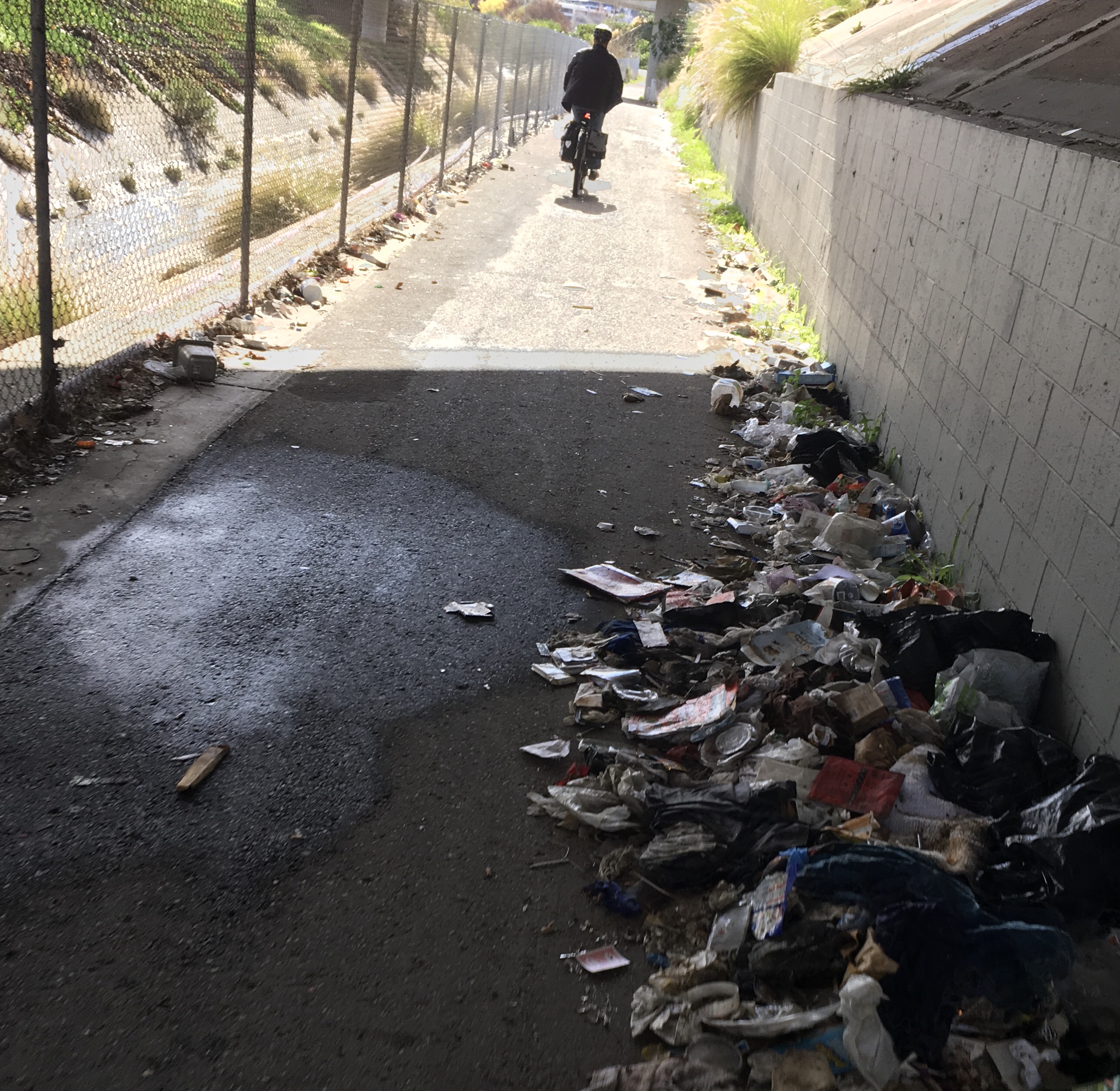 Like the penultimate landing at Picacho Peak, we had no business being there so we turboed out and doubled back for the safety of civilization.
The trail dumped us out onto the San Diego streets. In California fashion, the street had a bike land clearly marked. In DC fashion, cars stayed out of the bike lane, until they found a reason to blow through it to park, change lanes, turn, get around a slower car or text. We switched to urban-combat mode, and kept our heads on a swivel on the look out for heads-down drivers.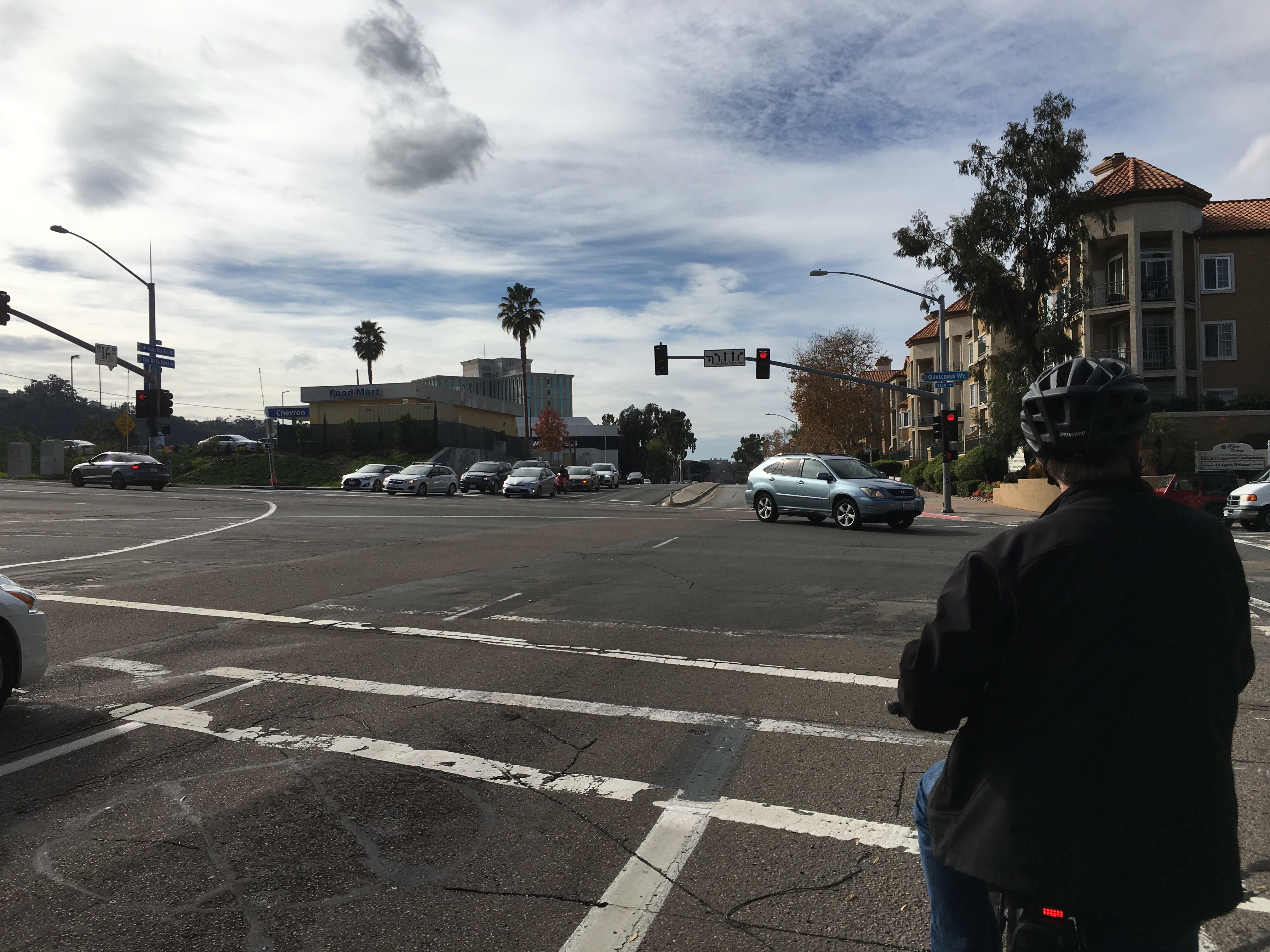 Passing through Fashion Valley and the hotel district, we entered beach territory and the new target became Mission Pacific, never mind the clouding sky. We were half way to the Pacific Ocean and unlike Picacho Peak, not turning back.
The San Diego river had spilled its banks forcing us to abandon the bike-path road. Now with the bike lane gone, every street attempted to funnel us onto the I-8. We avoided the on-ramps and snaked in a generally westward direction until we hit Old Town San Diego. Now closer to major tourist attractions like Sea World and out of greater San Diego suburbia, bike trails appeared. We picked up the scent for Mission Beach when we saw campers like this one parked on the sides of roads. By the way, he's in there.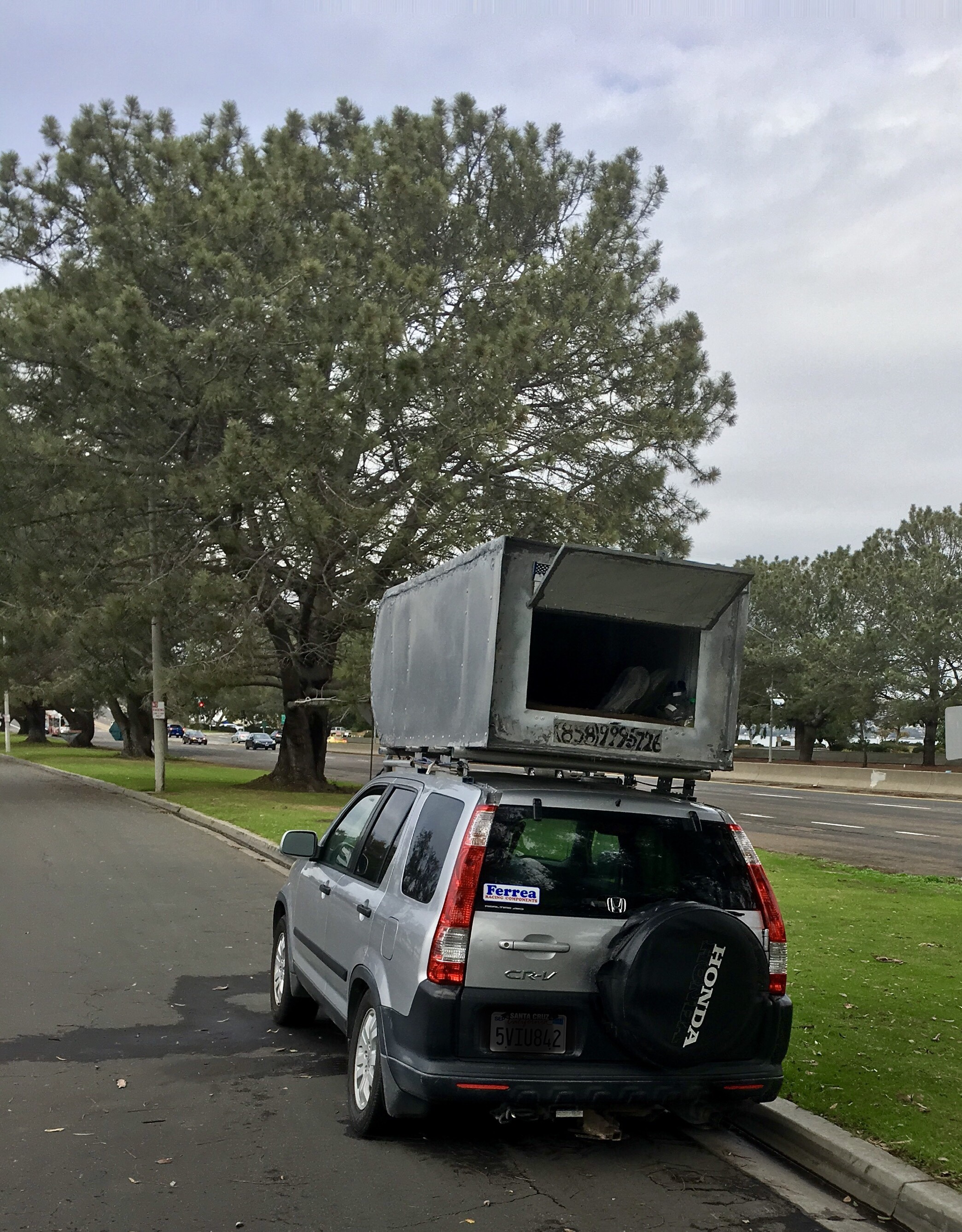 The beach is our happy place. As cold and wet as we were, as we crossed the bridge into Mission Beach, we could hardly contain ourselves with giddy joy.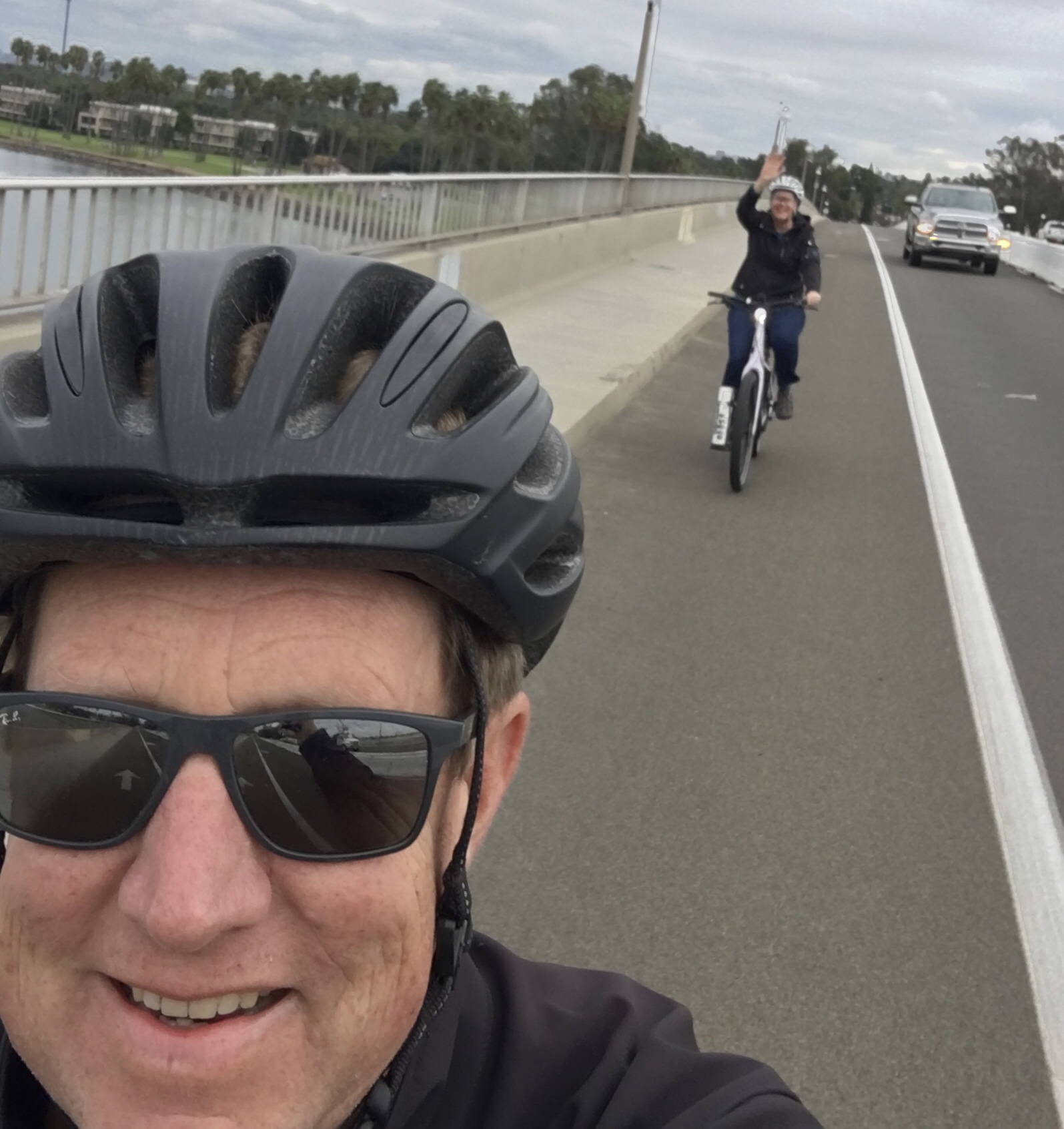 Mission Beach and it's sister Pacific are a lot like most every beach town you've ever been to. Sand, waves, boardwalk, t-shirt shops, taffy and combers of every size, shape and color pushing baby strollers, riding Bird scooters and eating Taco Tuesday specials. While we were bundled up for 50 something degrees, dudes in wetsuits were coming out of the surf like it was just another day at the beach.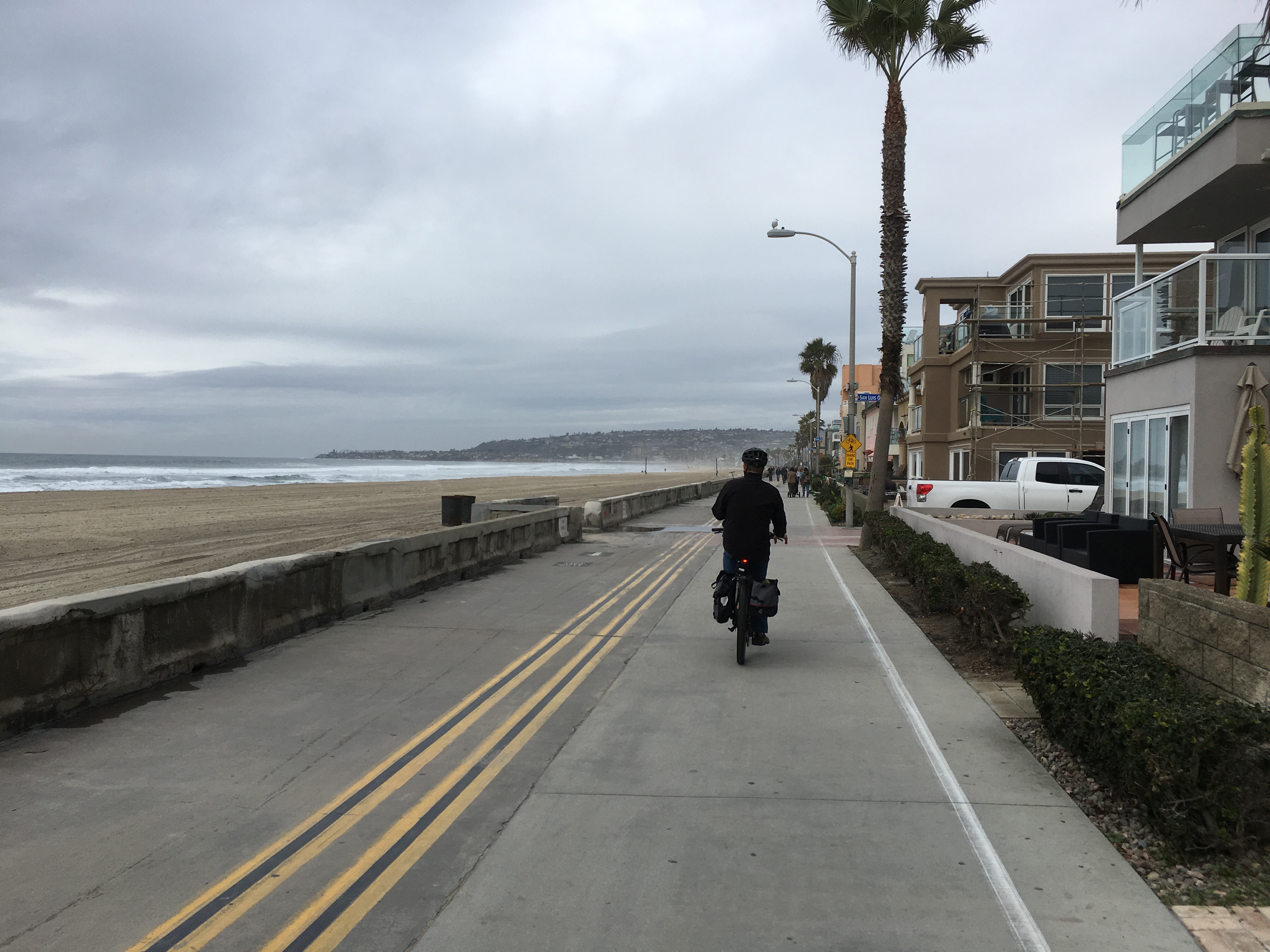 Twenty miles from home and ominous skies, you'd think we'd be turning back by now, but a roll up Garnet Avenue demanded a stop for coffee and ice cream at Bird Rock Roasters and Afters Hand Crafted.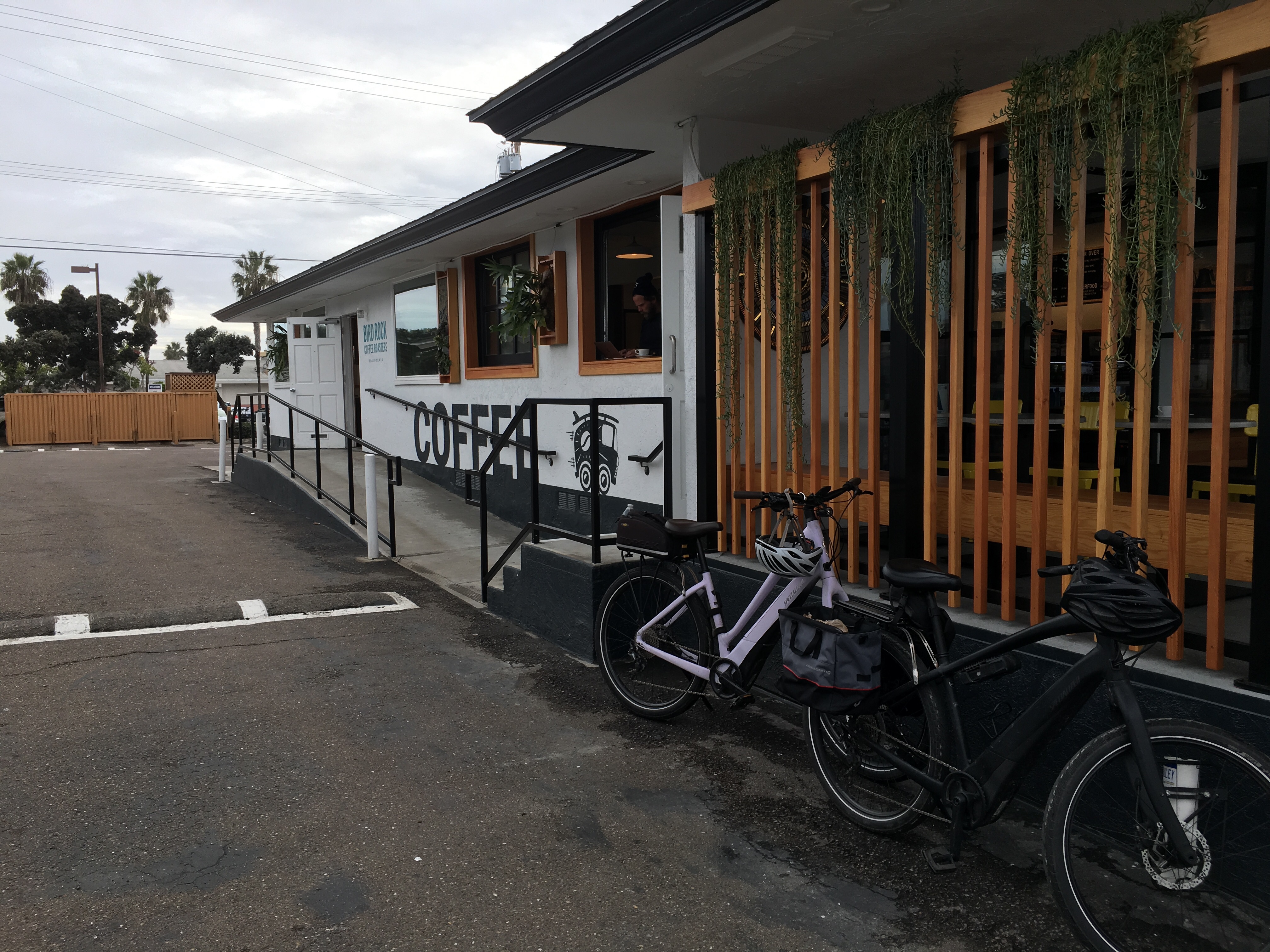 Bird Rock looks the "it" place for a doggie meet up and a skinny double cortado. Beautiful people with tiny pups drinking a South American-Indonesian blend of fudge, black pepper and red apple. As weird as it sounds is as delicious as it was. Ground bag to go – check.
Next door to Bird Rock is the ultimate ice cream bar – Afters – home of the Milky Bun. If we eat no other dessert the rest of our lives, we will be forever wedded to this ultimate mix of a warm sweet bun, stuffed with homemade vanilla ice cream, fudge, caramel and chocolate chunks topped with caramelized corn flakes. A hot-cold sensation.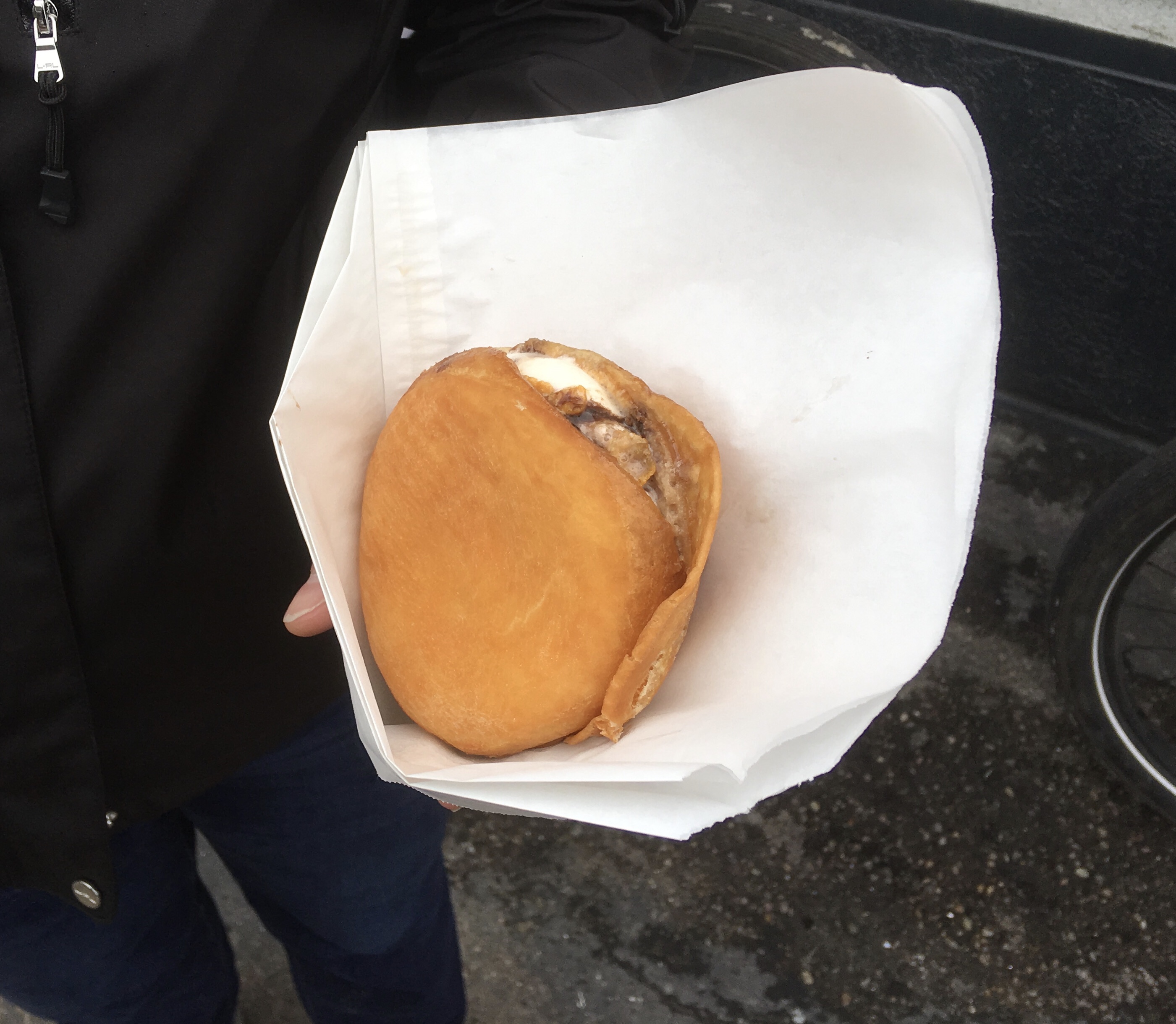 As we swooned over the Milky Bun, raindrops started to fall so we geared up for the backtrack to Admiral Baker, still with the unfulfilled grocery list in our pocket.
The rain changed from sprinkles to full-on downpour. The fat Como tires kicked up the water in broad rooster tails that soaked our backs. The clear lens kept the rain out of our eyes, but visibility was near zero.
Approaching the high-end retail we had passed on the way out, we ducked under the shelter of the awning at Trader Joe's. Shoppers stopped to ask about the bikes like they typically do, this time adding a few questions on our choice of weather in which to ride. Salty bike gurus gave us an approving nod for using green transportation no matter the weather. We did not tell them that we had no choice.
Loaded with 40 lbs of provisions in two stuffed paniers, we splashed our way back to Betty grateful for the electric assist on the impossibly steep San Diego county hills. And there waiting for us at the end of the 35 mile, wet and wild exploration was Airstream with a van greeting us with … "Did you find the trail?"