Moab Madness
Moab is a crazy place. Young men named Aaron live out of their van and work odd jobs to enable them to play in this unique landscape in the most extreme ways.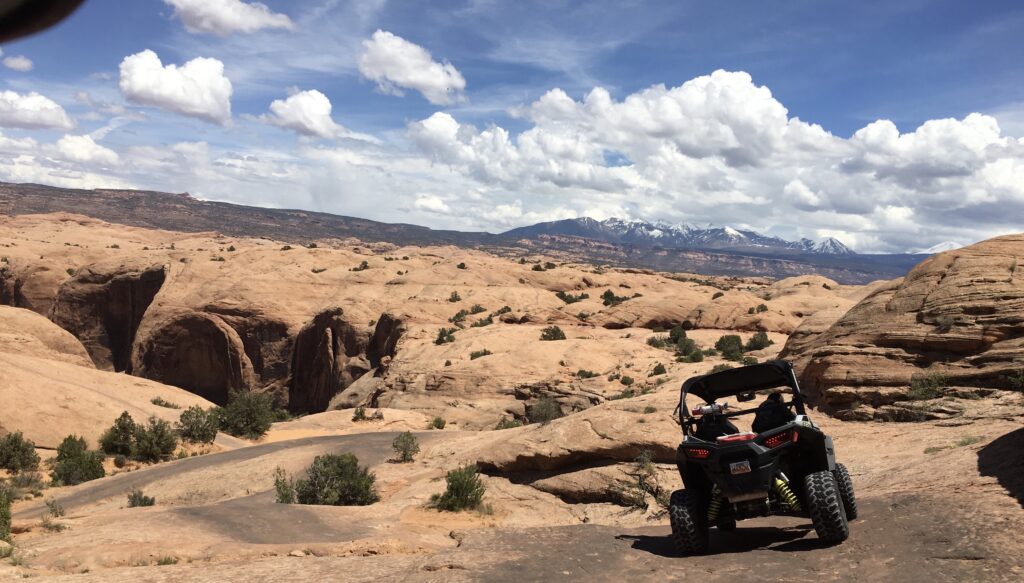 Mountain bikers fly through rolling slickrock formations maneuvering a foot or two from huge drops. Rock climbers scale vertical rock faces that jut out of the earth like gargantuan totem poles. Motorheads drive their tricked out jeeps over impossibly rough boulder fields. None of it is particularly safe or regulated. The state collects a $5 fee to enter some of the wilderness areas, and that is about the last you will see of anyone in a uniform. Everybody seems to know that in today's over-legislated world, this can't last forever. But, it exists now and that is all that matters.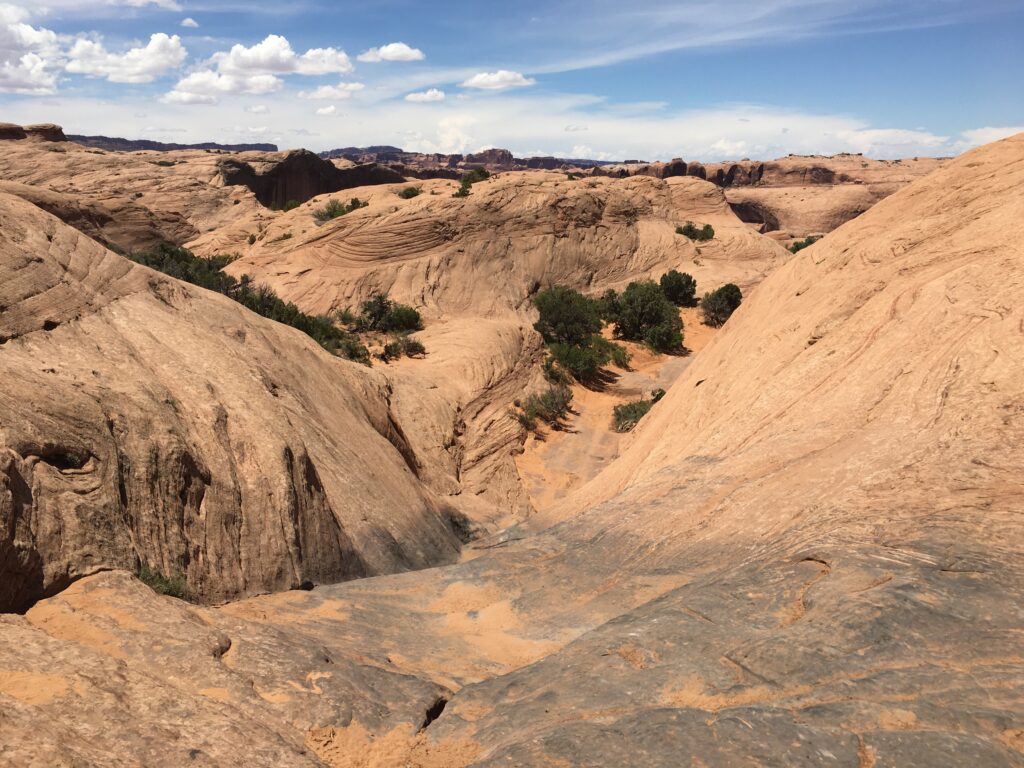 On a Dead Horse Canyon hike we looked down to see a string of four ATVs moving slowly down a dirt road playing follow the leader. It looked like fun, or at least a way to get another look at the unique Utah landscape, so we decided to treat ourselves to an ATV ride to kick off birthday weekend. At Ultimate UTV, they offered a variety of packages from guided tours to all day rentals. Not knowing the difference, we signed up for the two and a half hour, guided beginner tour.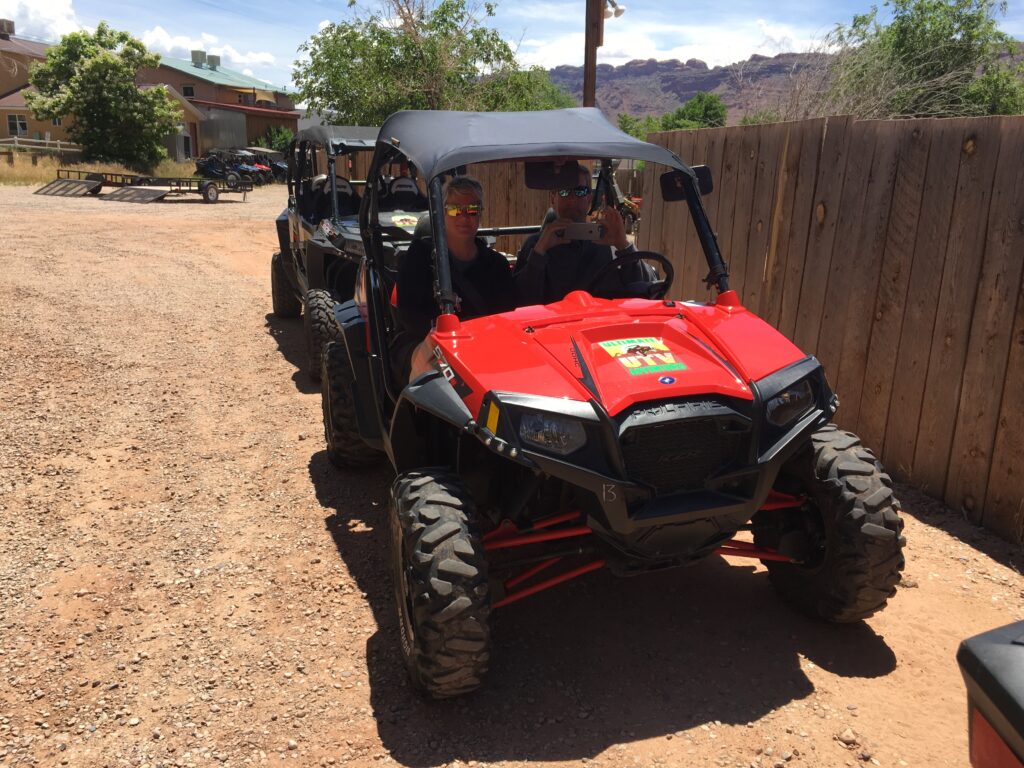 Aaron was our twenty-something tour guide. He put us in a red Polaris RZR 570. Getting ready for the orientation, we gathered near to listen closely. Aaron said "These things are pretty simple. Stay in 2WD on the roads and go to 4WD on the rocks. Hop in and follow me." Orientation over. In the commercials, the folks driving them always seem to be wearing helmets. We asked about that. He said we can have one if we want but they are not required by law. Following Aaron's lead, we let our hair fly in the breeze. It was the beginner tour, after all.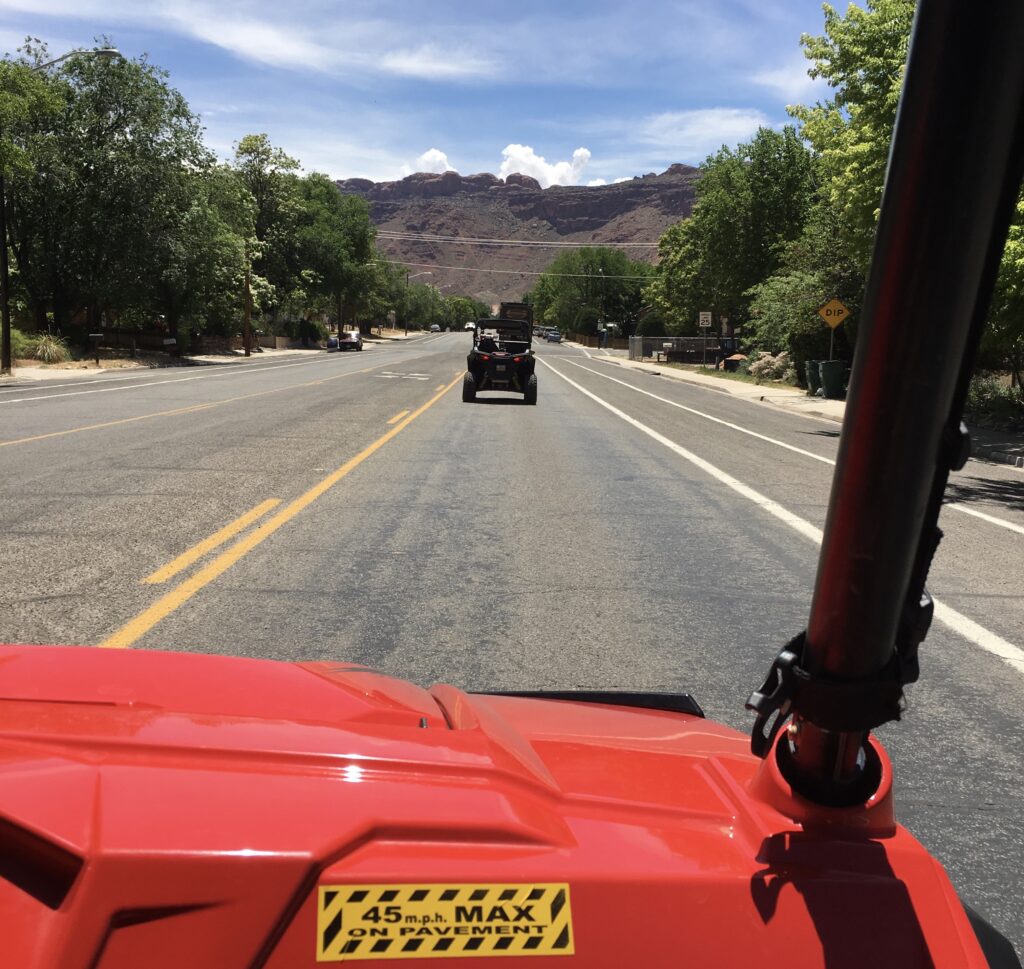 Whipping out onto Main St, we merged with traffic and kept the pedal on the floor to keep up. A couple of miles later we were at Sand Flats Recreation Area, nature's giant playground for all things off-road. We supposed this was where we would pick up the flat dirt road we had seen the ATVs on the day prior but that was not how this worked.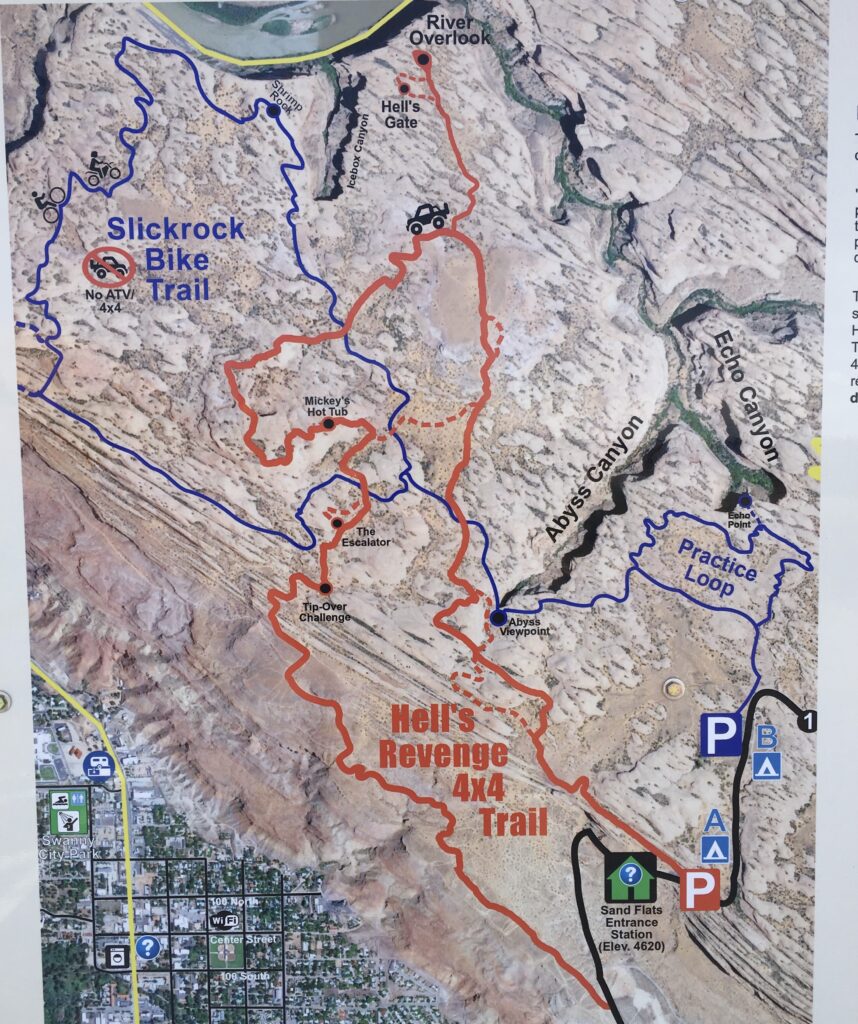 Aaron explained that he would be leading us around the Hell's Revenge 4×4 Trail, described as "a difficult extreme trail requiring excellent driving skills." That didn't sound like us, two first-time operators on the beginner tour, but Aaron must really have been impressed with that left turn we made into the parking lot. Aaron did share what turned out to be good advice with us before launching off. "Put your tires where I put mine, so, you know, you don't fall off the rocks and cliffs. This will be fun."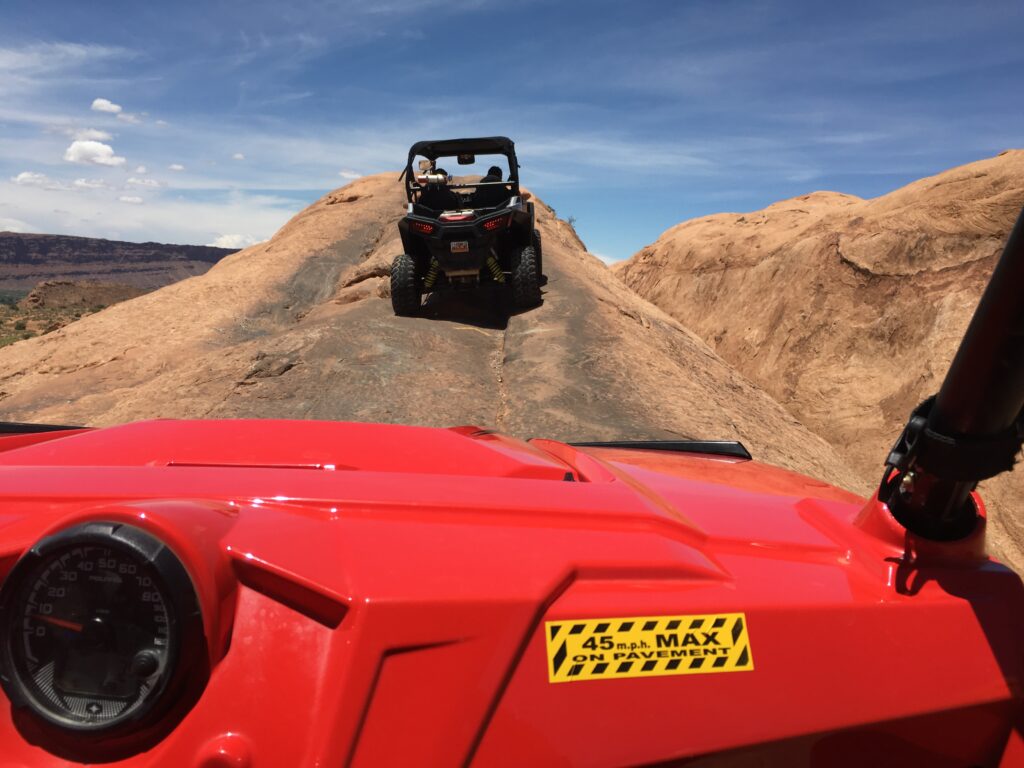 Aaron took off immediately in his UTV launching up an impossibly steep rock face and traversing the spine of a narrow ridge. Quite in shock, we sat there in awe not sure what to do. Looking at the terrain it seemed quite impossible, and yet his UTV had done it with its engine screaming and its four fat tires wildly clawing at the ground. As Sheri looked at me mouthing, "this can't be right," I shoved the accelerator down and tried like hell to put my wheels where Aaron had put his. 30 seconds later, we joined Aaron and at the top of a massive slickrock formation. "You are going to love this trail. It has some really crazy stuff up ahead," Aaron screamed back to us clearly not understanding the effect it had on our mental health.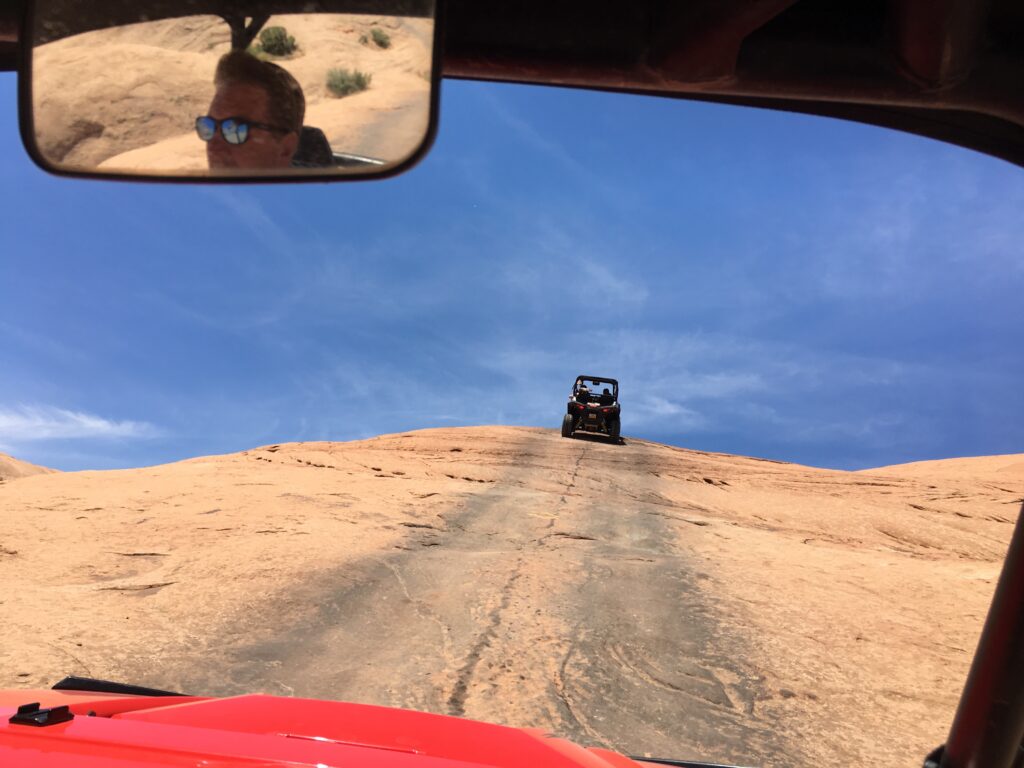 And so it went for the next two and a half hours. We followed Aaron through slickrock formations that any normal person would intuitively know would kill you if you tried and failed. We raced at too high speeds through chicanes of sand dunes kicking up enormous clouds of dirt and dust.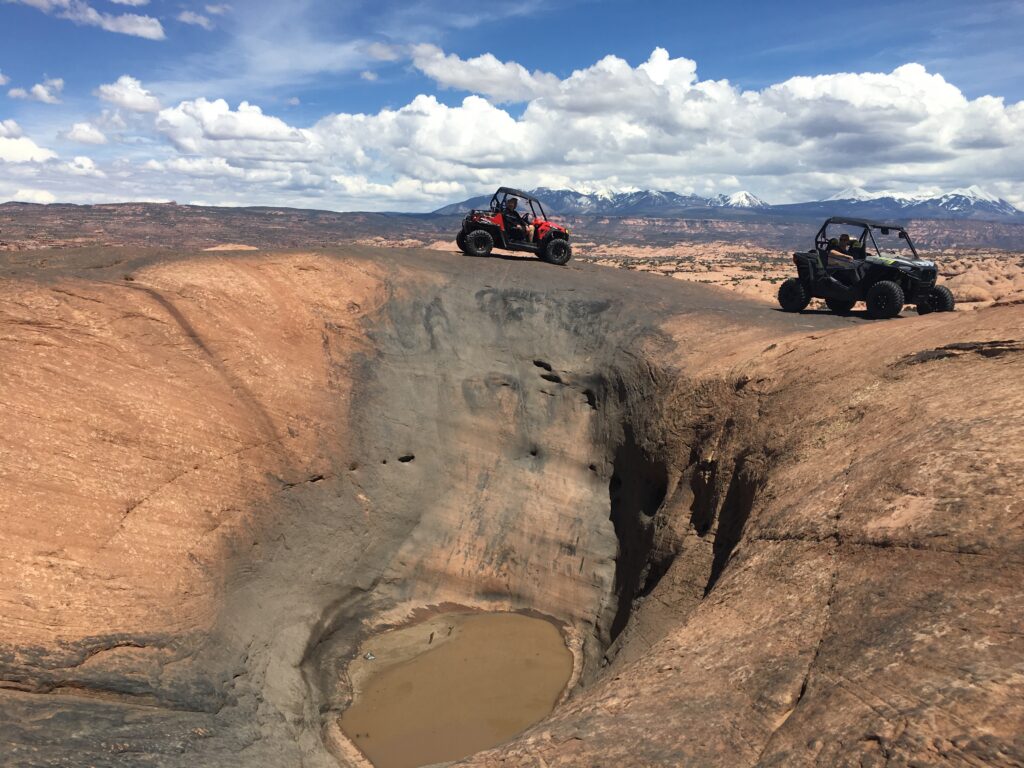 We dropped into sink holes (Devil's Hot Tubs) and then rocketed out the flat face of the opposing side on two wheels. We raced along narrow rims hundreds of feet above the floor below.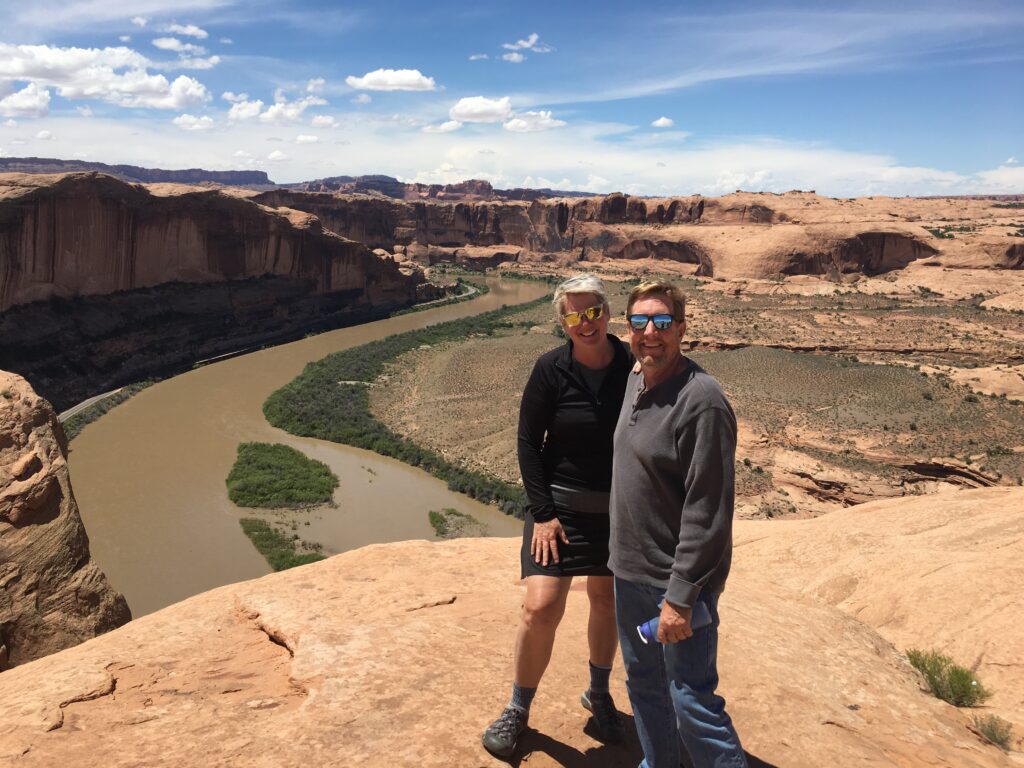 In between moments of shear terror and bliss, we took in panoramic views of Arches National Park to our north and the snowed capped La Sal mountain range to our south.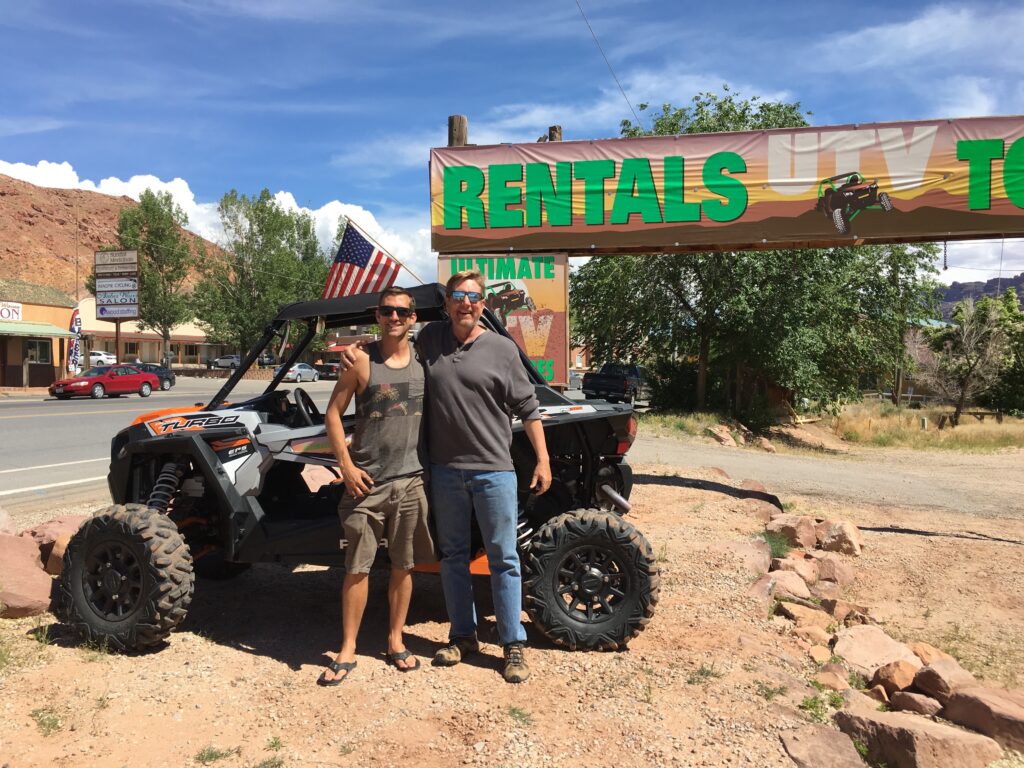 When we had completed the 7-mile loop, Aaron told us that wehad done OK, so we should do the extreme trail on our next tour – 'some of those climbs are nearly impossible to execute without wrecking or tipping over.' Clearly, this was nuts. But it was great, really great – so much adrenaline laced excitement we felt like we might just stay in Moab, parked on BLM land eating PBJ sandwiches for a few more days, or months, or years.