La Jolla is 90 minutes and 20 miles as the Como flies so it was surprising when Eric said, "Let's go to La Jolla today." But, with an ebike everything within about a 25 mile radius is within our reach. From Baker, that may not get you to LA, but it covers all of San Diego metro. A brisk, windy 60 degrees and 40 miles round trip, we debated under/outerwear and took off on the San Diego River Trail. We opted for a workout rather than a high speed run, so we kept the Como's in eco (manual) for much of the trip. Sheri only used 2 of the 5 bars giving her a potential range of 80+ miles. Having only been back in the saddle for a week, the battery is lasting longer than our seat for sure.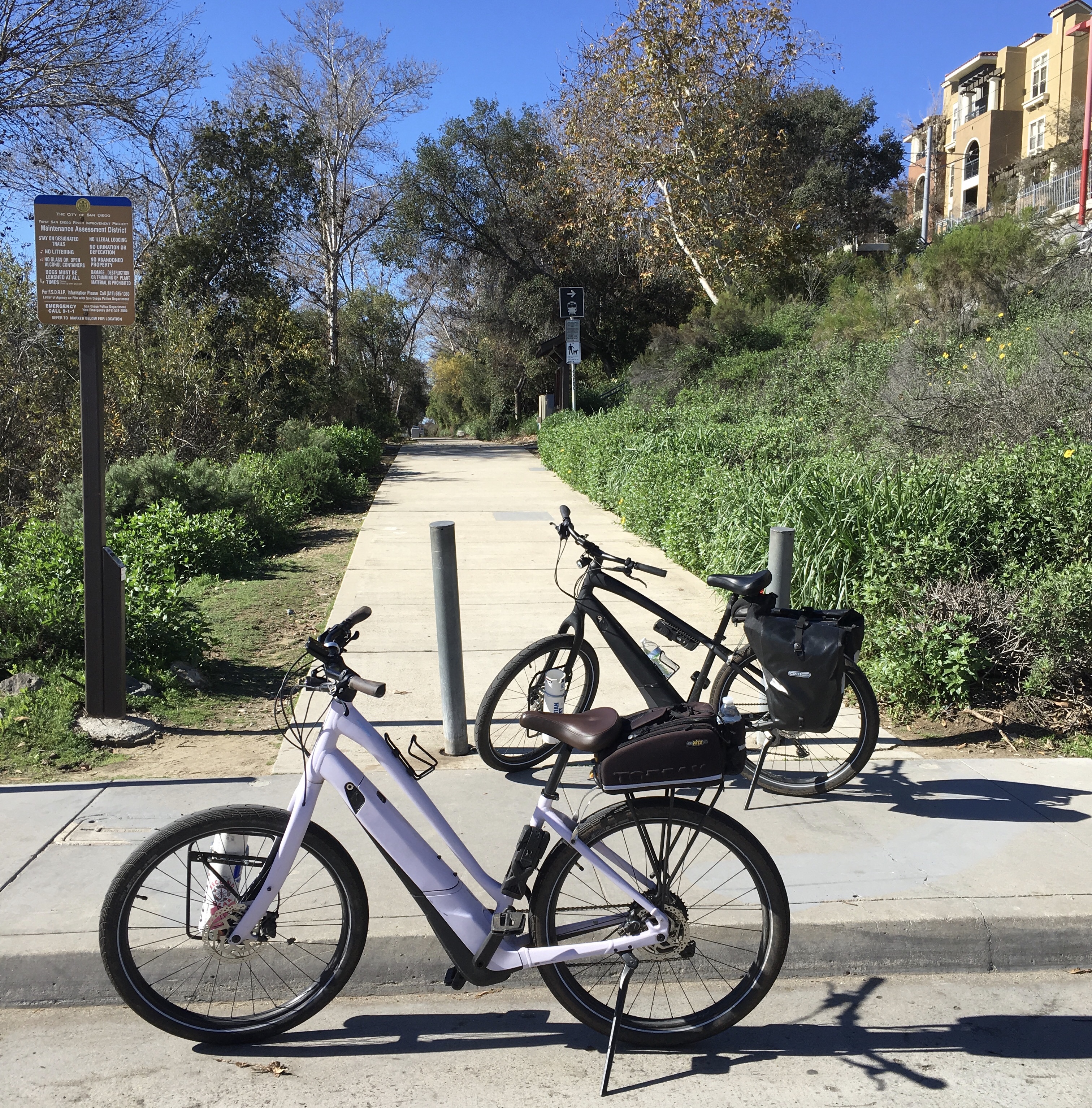 The off road trails are a magnet for homeless and addicts. On this run, we actually saw a guy on his knees, cooking his drugs on a used CapriSun bag while we and other travelers whooshed by like he wasn't even there. It's a recurring theme here, more in-your-face than in other cities we've combed by Como. As a nation, we need a plan to fight this crisis. Whomever scratched this message into an electric box on the trail concurs …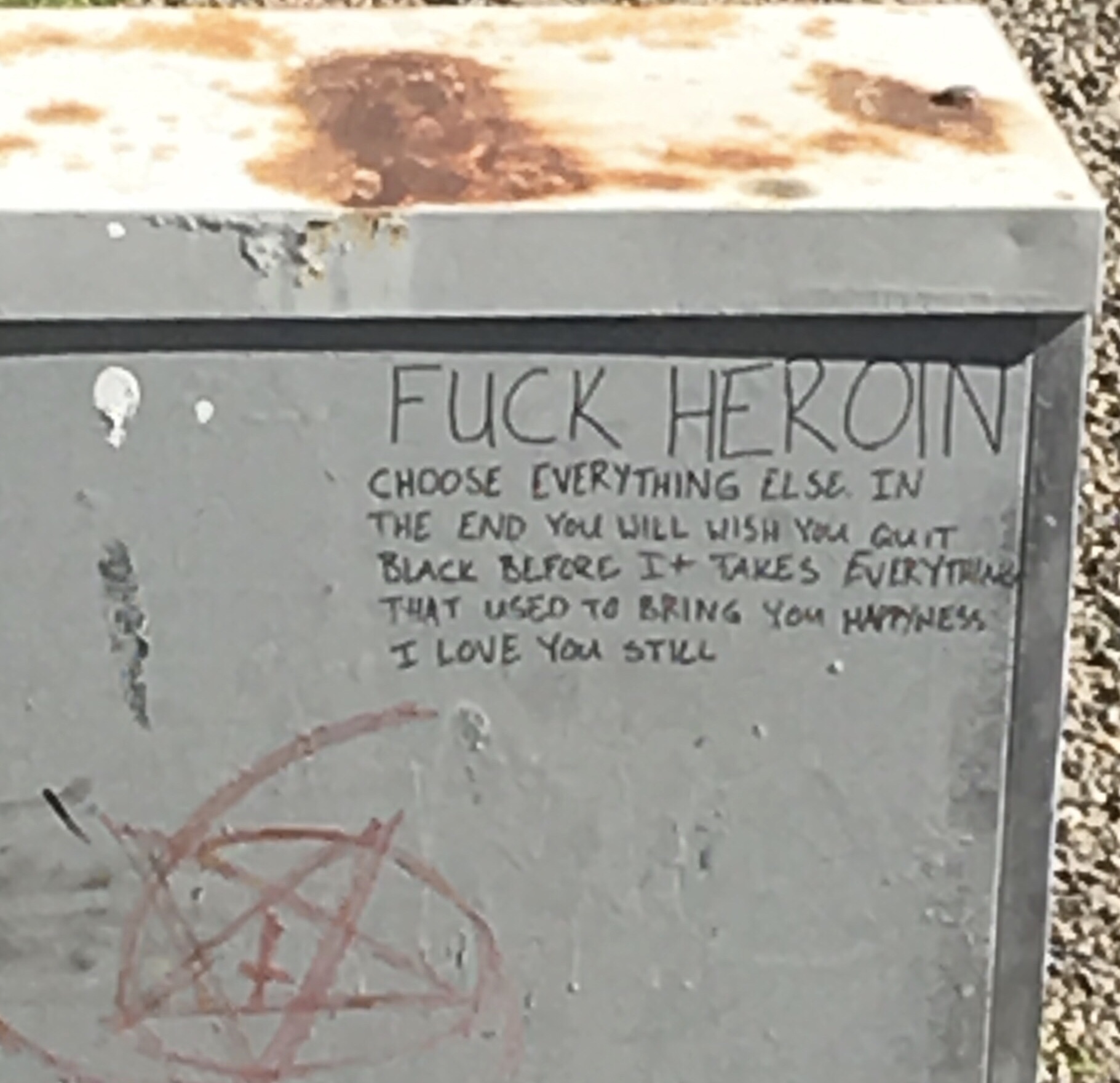 San Diego is a city under construction. On the 20 mile route across Mission Valley to Pacific Beach and up to La Jolla, this was a familiar site – detours, lane closures, giant cranes. It's all part of their $4B, 2019-2023 CIP – Capital Improvements Program – infrastructure projects to keep the city safe and functioning. You can get a really good look at what they're doing if you ride the bike trails. We pulled off here to check the map and they tried to put Sheri to work since she already had the safety vest.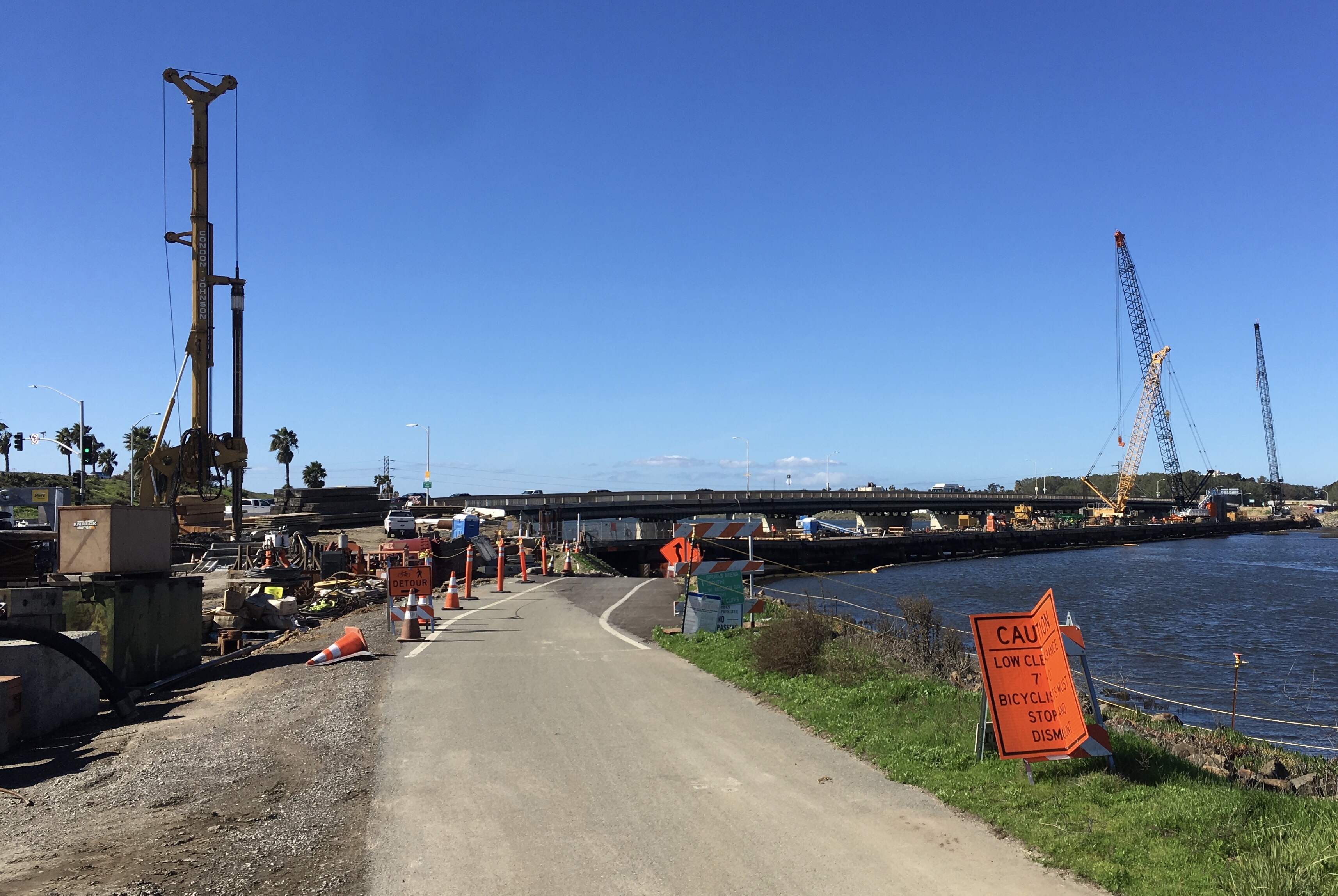 Speaking of the safety vest. Sheri's younger self would be mortified to be seen biking, dining, touring in a pencil-pocket fluorescent yellow vest. It's like wearing comfort shoes with little black dress. Never! Can someone please design a fashionable alternative?! Fashionable or not, anything to get the distracted drivers' attention is a good thing in this Mission Bay section of San Diego where highways cloverleaf in a tangled mess making bike crossings of the waterways treacherous.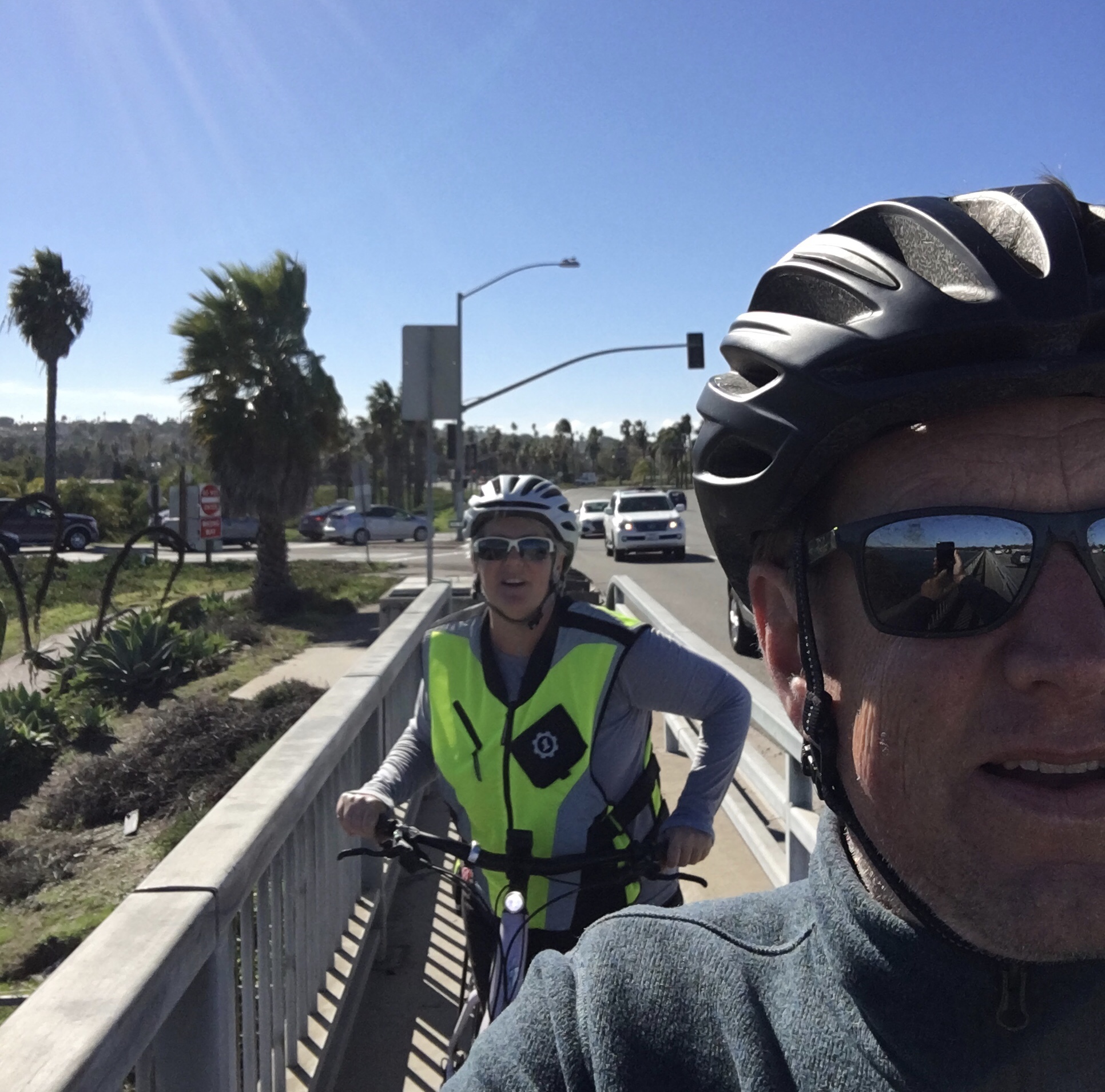 When we pulled into Pacific Beach we decided to stop for lunch. The stock google search "healthy food near me" turned up a slew of choices within half a mile and we decided on "authentic Mediterranean" at the Vanoos Grillette. We have a thing about homemade falafel and the reigning champion from all our travels was Moti's in Rockville, MD. With Moti's now under new management, Vanoos has taken the title with their delicately spiced, perfectly fried balls wrapped in a soft pita with pickled cabbage and tahini sauce. BEST EV-AH. Add a side of chicken schwarma fries and we don't know if you get healthy, but you sure do get yummy with a side of delicious.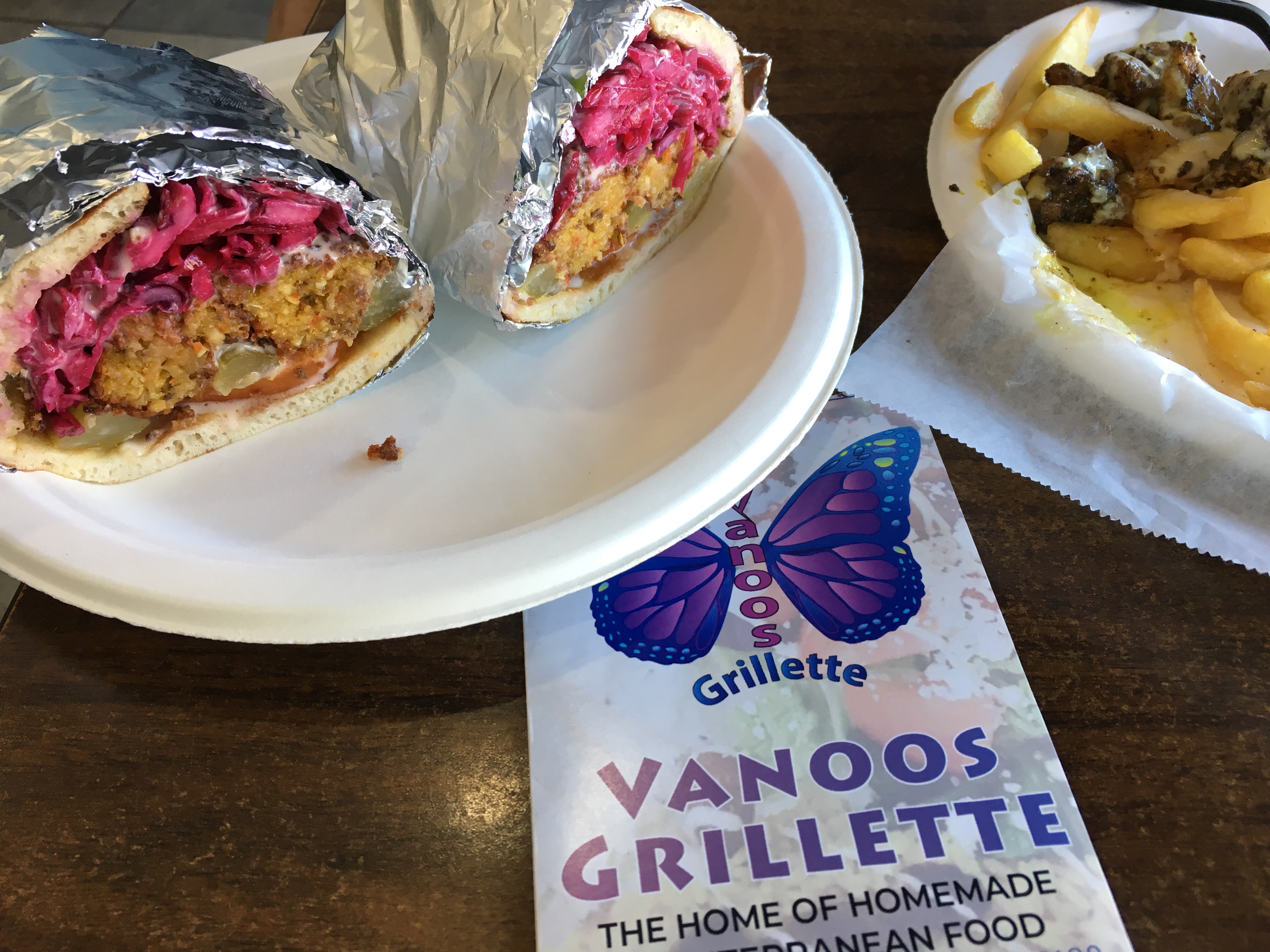 Satisfied but not stuffed, we kept on truckin thru Pacific Beach, with a stop at Palisades Park to watch the Kiteboarders before the last 4 miles pump to La Jolla. If you're wondering why we always pose the bikes, it's because they're more photogenic than us and nobody knows where the Comos will go. Evidence! One day we hope Specialized will pick us up as their GenX ambassadors.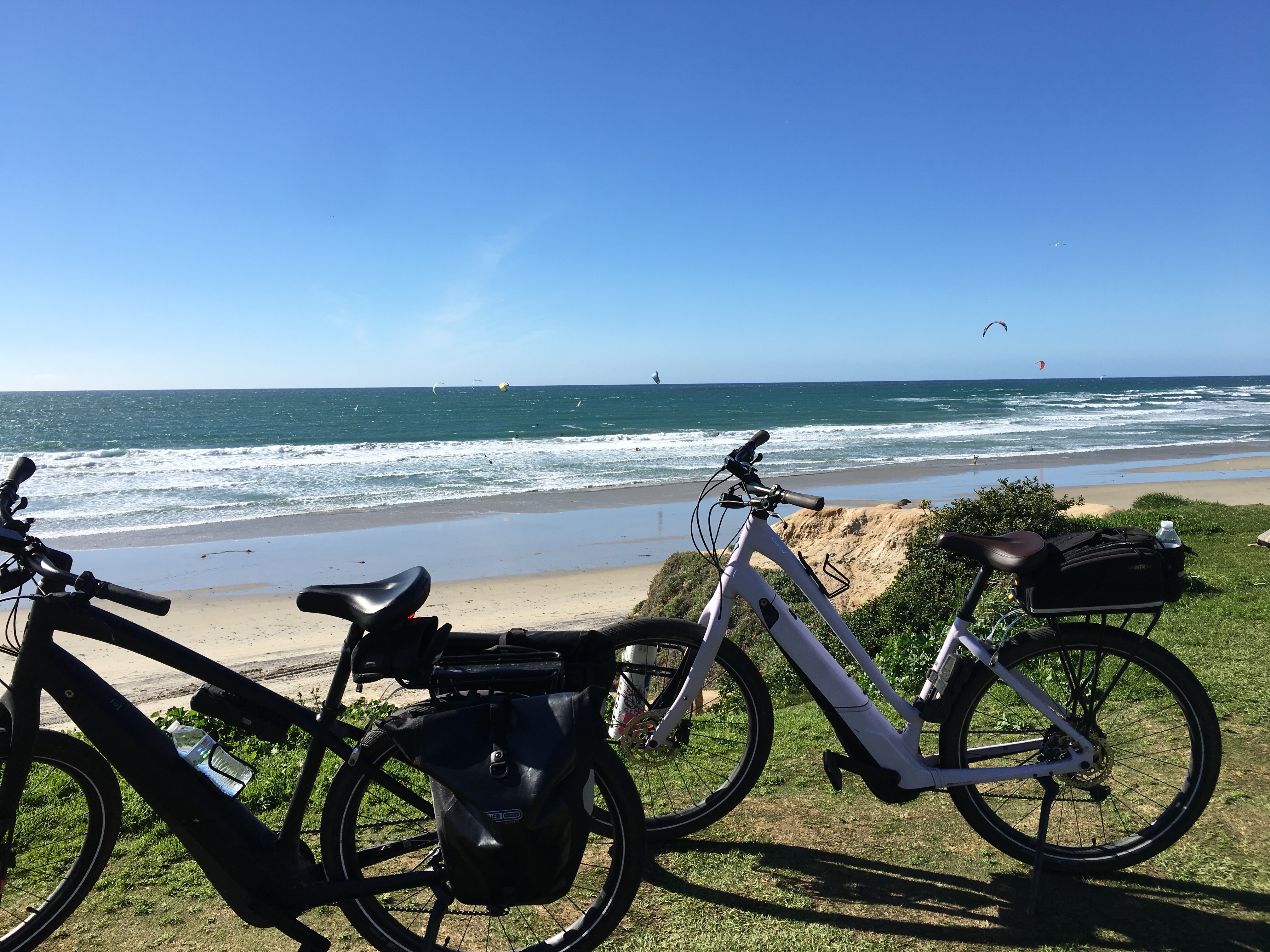 La Jolla is the consummate upscale waterfront community. We wanted to call it a beach town, but it is too high brow for that moniker. The car dealership is Lamborghini. The real estate firm is Sotheby's. A one bedroom with a view is a million. The crowds came out on this MLK holiday, checking out Seal Rock and Children's Pool Beach before lunching and shopping. With a prohibitive winter water option, we didn't imagine hitting the surf, so we joined right in.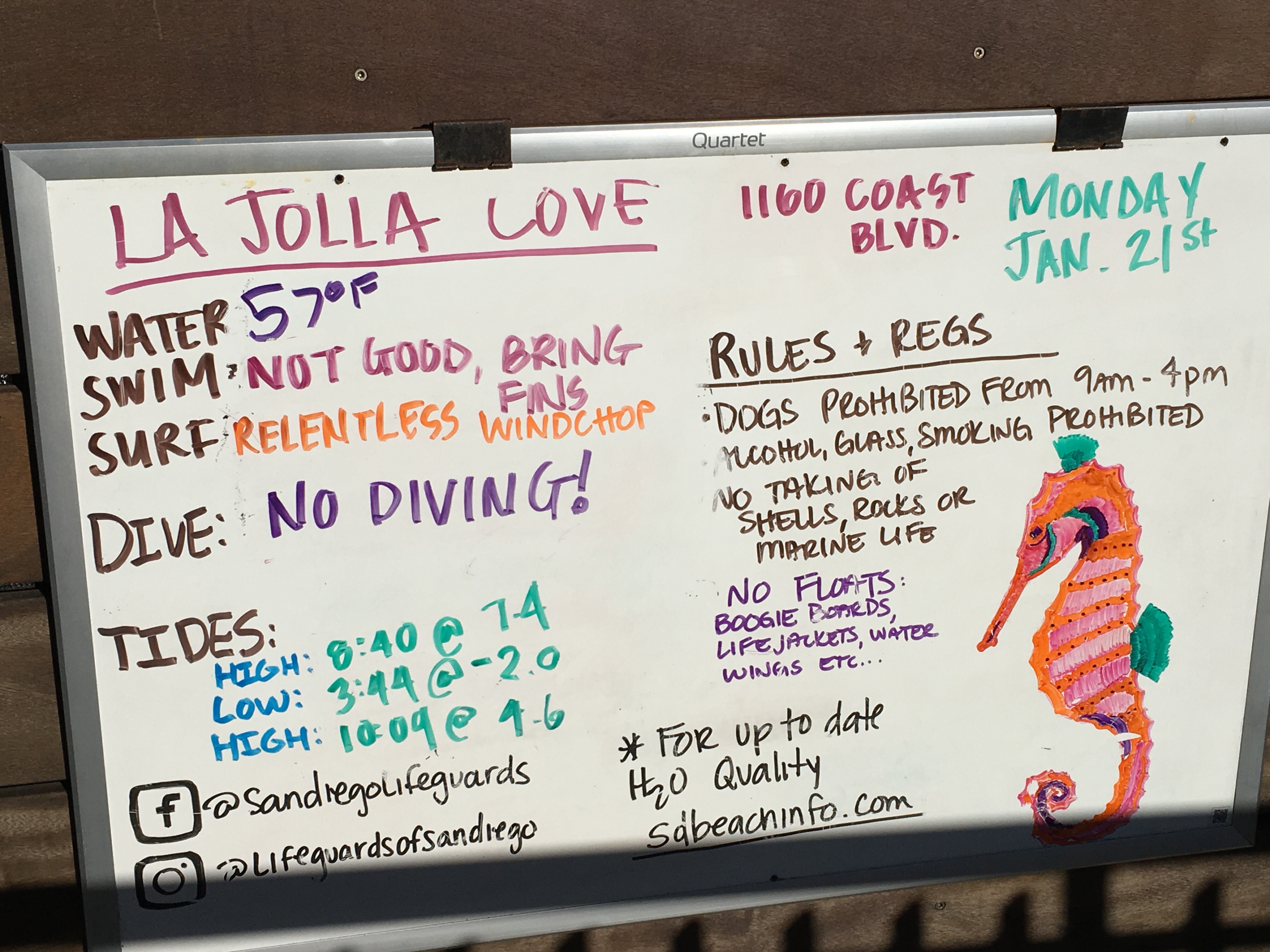 We took a ton of pictures, and it was hard to choose just one or two. In this scene, two teenagers jump the fence, scale the rocks and disappear into a cave while ignoring a voice on a loudspeaker bellowing, stop – get off the rocks – return to the the platform – you are breaking the law. A fit, ponytailed surfer lifeguard fresh from the Bay Watch remake audition in red shorts appears, hops the fence and heads down to get them. The teens make their way halfway up to where we are standing at the platform and then all three turn around and head back into the cave. What in the world is going on?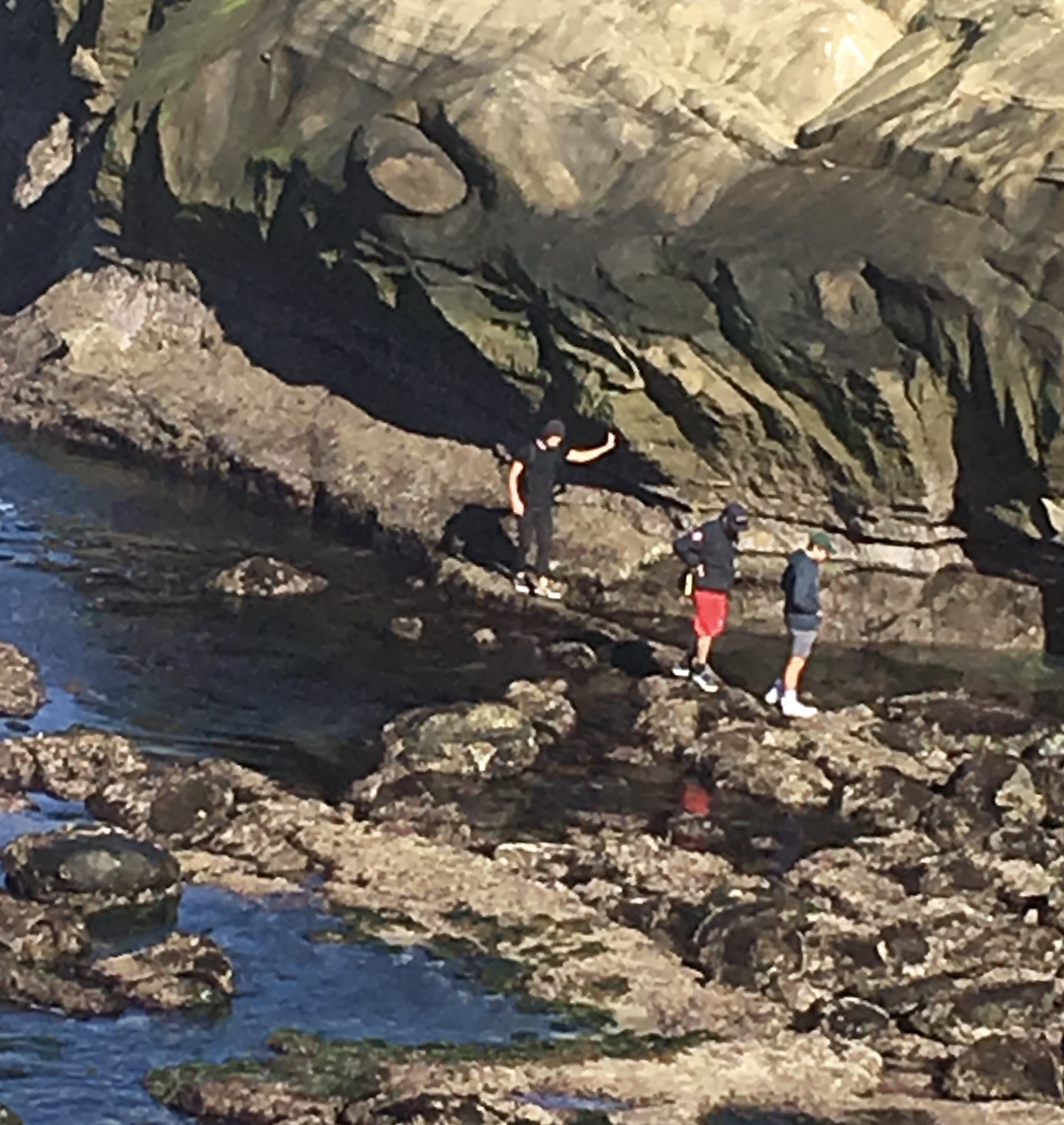 Now the zoom out. No clue what was going on.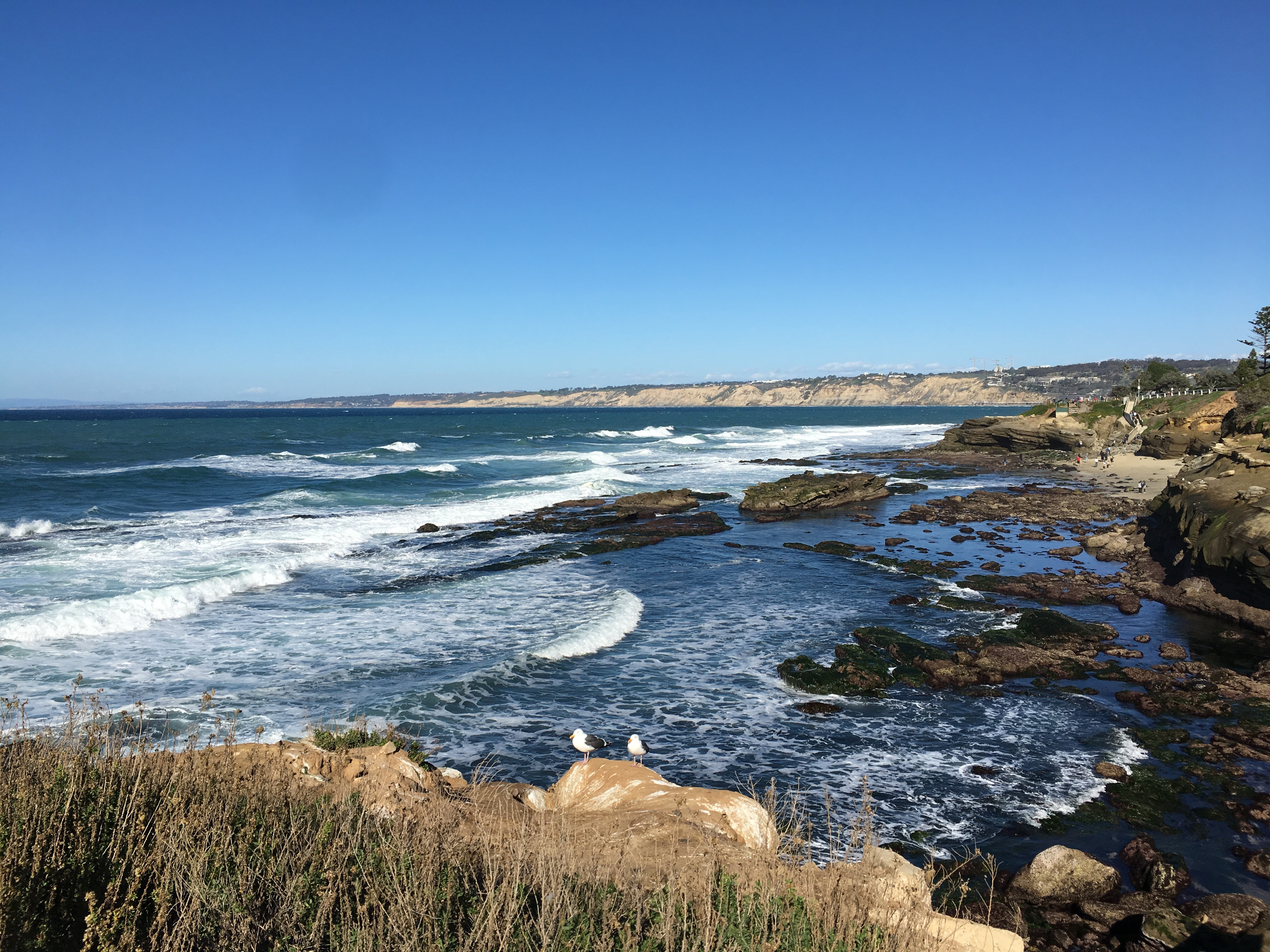 In this scene, we are having coffee and a Parisian almond croissant at a bistro table on Prospect Street. The bikes are parked in front of AT Coffee House. A pop up fashion shoot shows up and the crew chats up the patrons at the table next to us. The Como doubles as an excellent resting station for the director!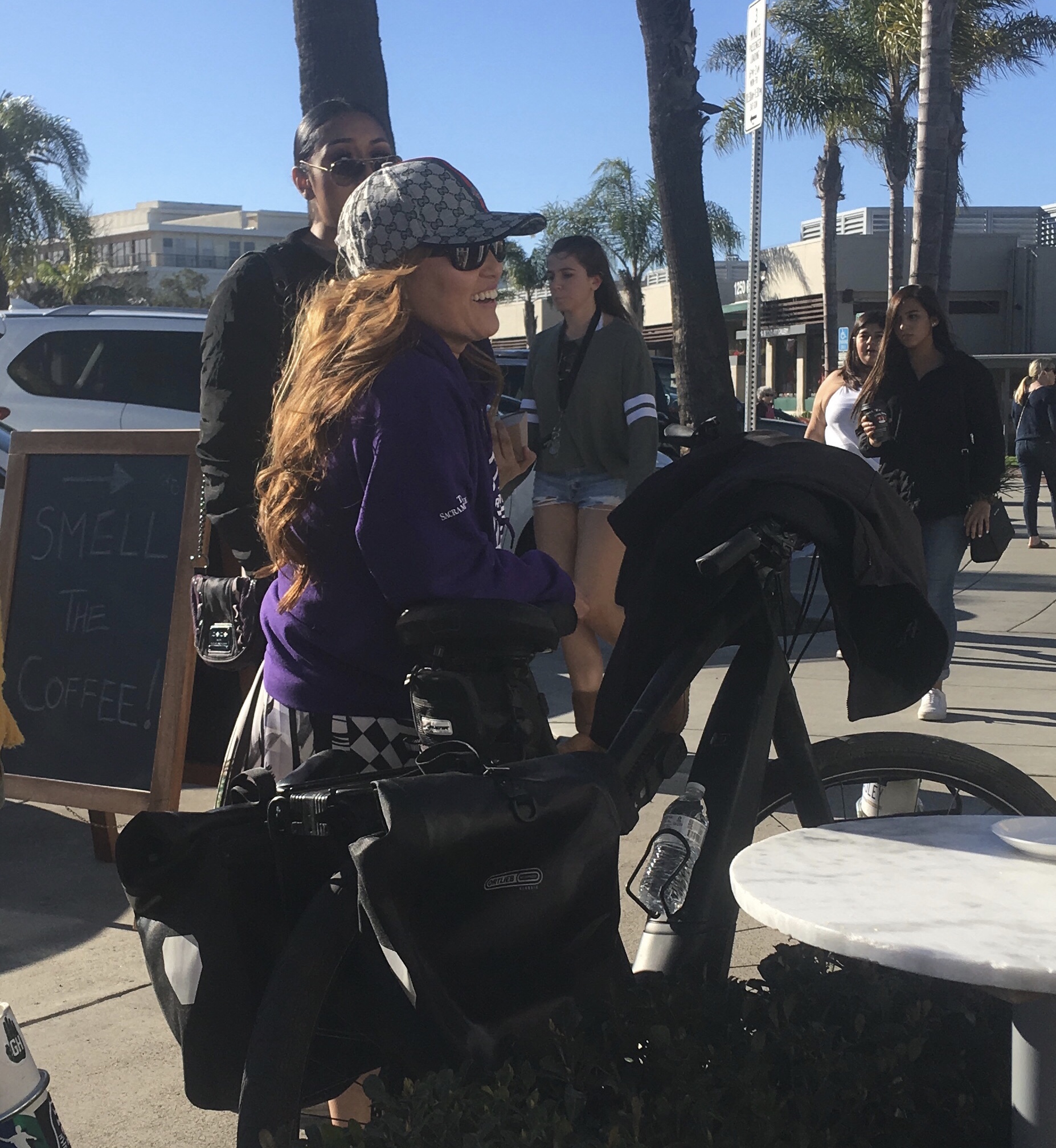 We tried to find an alternative route home to Admiral Baker. When google maps told us to cross the ridge line on this road (foot trail) we knew we were foiled and returned to our familiar route around PB, down the San Diego River Trail, past Fashion Valley, connecting over to Friars and down the hill home. 7 days and we know our routes. Locals!